Richie Ashburn - Broadcaster
Richie Ashburn HOF Biography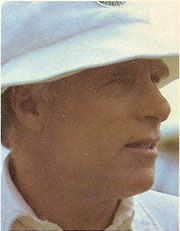 Don Richard Ashburn
Born:  Tilden, Nebraska 3/19/27
Died: New York, New York 9/9/97
Following his Hall-of-Fame career with the Phillies, Cubs and Mets, Richie Ashburn retired after the 1962 season, even though he had been named the Most Valuable Player on the expansion Mets team that lost 120 games. He was immediately brought back to Philadelphia to join the broadcasting team with By Saam and Bill Campbell. Ashburn would serve as the Phillies' broadcaster until his death in 1997.
Known for his trademark hats and pipe, Ashburn was extremely popular with the Phillies fanbase. Though unabashedly pro-Phillies, Ashburn nevertheless provided an expert viewpoint on the action taking place on the field. His banter and friendship with fellow broadcaster Harry Kalas made the Phils' broadcasts fun to listen to throughout their 27 years together.
Along with his broadcast duties, Ashburn also wrote columns for both the Philadlephia Bulletin and the Philadelphia Daily News. During his broacasting career, Ashburn regularly answer trivia questions on the Phillies posed by Kalas. In 1983, Ashburn wrote his lone book, Richie Ashburn's Phillies Trivia.
As a player, Ashburn was a career .308 hitter and one of the best defensive center fielders in the history of the game. Even though Ashburn was one of the best Phillies players ever, his lack of power (just 29 home runs in a 15-year career) prevented his inclusion in the Hall of Fame for 33 seasons following his retirement. It seemed fitting that, when the Hall did finally call Ashburn to join the greats, that he went in with another Phillies great, Mike Schmidt. Both were inducted in 1995.
Ashburn would continue to call games until his sudden death from a heart attack on September 9, 1997. His death shocked and saddened many (so-called) hardened Phillies fans, thousands of whom paid tribute to him while his body lied at state in Philadelphia's Fairmount Park. Perhaps the most beloved Phillie ever, the outfield concourse in the new Citizen's Bank Park was named Ashburn Alley in his honor.
Signature Calls:
·          "(Player Name) looks runnerish (or hitterish)."- Whenever Ashburn believed that a player was ready to attempt a stolen base (or looked eager to hit).
·          "Hard to believe, Harry."- Whenever something went against the Phillies, whether a umpire's decision or a bad play on the field.
·          "Was it that... (answer to trivia question)."