Chris Wheeler - Broadcaster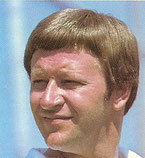 Born:  Philadelphia, Pa. 8/9/45
A native-born Philadelphian, Chris Wheeler came to the Phillies as the Assistant Director of Public Relations in 1971. Six years later, "Wheels" found himself in the broadcast booth with the likes of Harry Kalas, Richie Ashburn and Andy Musser. He has remained in the booth ever since, along with his other capacities with the team, which for a time included being the Director of Community Affairs and Director of the Speakers' Bureau. He currently has no role in the front office listed on the Phils' website.
Wheeler's style of broadcasting has spurred some controversy among Phillies fans who suspect him of being a corporate plant. He does tend to be sometimes a blatant homer while calling a game. At other times, his apparent attempts at being an "inside guy" and his heavy use of cliches while broadcasting have detracted from showcasing his knowledge of the game, which is more considerable than many of his detractors admit. The corporate image has been enhanced by run-ins with both the late Richie Ashburn and Harry Kalas, which came out in the public during the negotiations of Kalas' contract before the 2004 season.
Since Ashburn's death in 1997, Wheeler has been the lead TV analyst for the Phillies. As such, he usually works inning 7, 8 and 9 with Kalas. During some seasons, Wheeler has also worked the first three innings with Kalas. During his contract negotiation several years ago, Kalas stated a preference of working with Larry Anderson, which also came up during the 2005-2006 offseason, when Wheeler was originally slated to work all nine innings on television. However, Kalas and Wheeler were able to keep a professional relationship, working together until Kalas' death in 2009.  Wheeler now works with Tom McCarthy and former Phil Gary Matthews in the booth.
Wheeler was a graduate of Marple-Newtown High School in 1963. He graduated from Penn State University with a B.A. in Journalism and Broadcasting in 1967. Before he came to the Phillies to work in the public relations department, Wheeler worked at WCAU Radio as a newswriter and reporter, as well as a traffic reporter. He also worked in radio at WBBM in Chicago and for CBS radio in New York.