Camden Courier-Post - August 9, 1980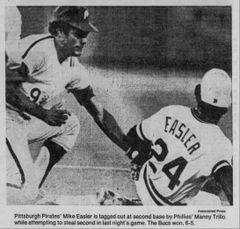 Pirates nip Phils on Lacy's
By Rusty Pray of the Courier-Post
PITTSBURGH – The first round of the annual August showdown between the Phillies and Pirates came to a typical – and some would say inevitable – conclusion with a tight, 6-5 Pirate victory last night.
As 30,354 Three Rivers Stadium fans looked on, the Phils scratched their way back from three runs down to tie the game before the Bucs won it in the bottom of the eighth on a sacrifice fly by pinchhitter Lee Lacy.
"We battled the hell out of them," said Phillies Manager Dallas Green, who ordered Phil Garner intentionally-walked to load the bases with one out to precede Lacy's game-deciding fly ball to center field. "We came back in a game that looked like it was going to get out of reach. It was a typical Pirate-Phillie game."
It was typical, at least, in its outcome, .The Phils and Pirates now have met 28 times in August and September series since 1974. The Phils have won precisely seven of those games.
Down 5-2, the Phils resurrected themselves in the seventh off Pirate starter Rick Rhoden when Garry Maddox and Manny Trillo slugged back-to-back home runs on consecutive pitches. They tied it in the eighth off reliever Kent Tekulve when Lonnie Smith walked, went to third on a hit-and-run single by Pete Rose and scored on Bake McBride's double play ball.
The game remained tied only until the bottom half of the inning, when reliever Tug McGraw – the fourth and final Phillies pitcher – was greeted by Mike Easler's double to left-center. Bill Madlock was intentionally walked before Ed Ott sacrificed both runners over. That's when Green had Garner walked and Lacy pinch hit for Tekulve.
"You got to load the bases to get the force at any base," said Green. "You can't pitch to one of the best contact hitters (Garner) they have."
The Phillies were not particularly happy with the Pirates' designated runner, Matt Alexander, when he crossed home backward with the winning run. Alexander, who does nothing but pinch run for the Pirates, went into the game for Easler.
"Mr. Alexander has to be part of the team," said Green. "I guess that's the way he does things. I often wonder what would happen if it were reversed."
The Pirates began teeing off on Phillies starter Dick Ruthven in the fourth, when Dave Parker opened with a single to center and Willie Stargell followed with a towering home run over the wall in right field. Stargell's homer – the eighth of his long career off Ruthven brought to a close a streak of 63⅔ innings in which the Phillies' pitchers had not allowed a homer.
Easler continued the assault by doubling to left-center on Ruthven's next delivery, Madlock scored Easler with an ensuing double to right, but began a string of Pirate baserunning faux pas by getting caught rounding second. Gamer, who singled an out later, picked up where Madlock left off by getting caught leaning too far off first by catcher Bob Boone.
The Phils used three hits and two Pirate errors to draw within 3-2 in the sixth, Boone opening with a double to left-center and continuing to third when Easler's throw eluded several Pirate infielders. Rhoden got George Vukovich, hitting for Ruthven, to fly to shallow left, but Boone scored by bowling over catcher Ed Ott after Lonnie Smith topped a slow bouncer to Madlock at third.
Madlock was charged with an error on the play and Smith wound up on second, from where he scored on a looping double to left by Rose. Rose, however, was cut down trying to score from second by Omar Moreno after McBride lifted a soft single to center.
It took Kevin Saucier, Dickie Noles and another base running gaff to hold the Pirates to two runs in the sixth. Saucier fell into immediate trouble by walking Stargell, who went to second on a ground ball by Easler. With a base open, the Phils decided to walk Madlock. But Saucier's first pitch got away from Boone and Stargell rumbled into third. Ott followed with a single to right, which brought Noles into the game.
Noles, who hasn't had much success during the second half of the season, faked a pickoff throw to third and caught Ott breaking from first. Noles then intentionally walked Garner to get to Rhoden, who promptly made it 5-2 with a single to left.
The first three innings passed uneventfully enough after the start of the game was delayed 1:26, partly because of rain and partly because Pittsburgh insisted on celebrating the birthday of its mascot, the Pirate Parrot.
Ruthven managed to survive the first three innings despite issuing walks to Parker and Easler and a single to Moreno. The walk to Easler opened the second, but he was gunned down attempting to steal second by Boone. Moreno singled between Ruthven's legs with two out in the third, stole second despite a pitchout and continued to third when Boone's throw went into center field. Ruthven, however, got Tim Foli to ground out, ending the inning.
PHIL UPS – Tim McCarver, who retired at the end of last season to begin a career in broadcasting, worked out with the Phils yesterday in preparation for returning as an active player in September... "It was not," McCarver later said, "like I never left the game."... When McCarver does return, he will become the only catcher ever to play major league baseball during four decades... Prior to last night's game, the Phils had not homered in 51 innings... Phillie pitchers, however, had not permitted the opposition a home run in 60 innings... Phils have bad difficulty winning in Three Rivers, which should come as no surprise to fans... Since 1970, the Phils are 30-63 (.323) here... Pirate bullpen leads National League in saves with 28... Phils, Astros and Cubs are next with 27... Nino Espinosa was scheduled to pitch against John Candelaria in today's game.
Phils' Christenson may start next week
By Rusty Pray of the Courier-Post
PITTSBURGH – Phillies righthander Larry Christenson, who has been on the disabled list since undergoing arm surgery in May, will probably start a game next week against the Mets in New York.
"I've heard nothing negative about him," said Phillies Manager Dallas Green last night after the Phils had lost to the Pirates, 6-5, here in Three Rivers Stadium. "We'll probably give him a start in New York."
Green originally planned to put Christenson, who has not pitched since May 21, in the bullpen. The idea did not exactly thrill Christenson and Green apparently has relented.
"My wild idea was one nobody seemed to like," said Green. "And (Christenson starting) has some merit. We're in a situation where we can pitch him and he feels he can give us five, six innings."