October 19, 1980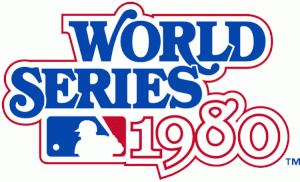 Game Five was the turning point of the World Series. After being up 2-0, the Phils had lost two in a row, and were in grave danger of going down to the surging Royals. Into this game, Dallas Green once more went with one of his cherished rookies – one that was a September call-up, at that. Marty Bystrom, who went 5-0 as the Phils overtook the Pirates and Expos to win the division, went five innings against the Royals. It was not his best effort, but Bystrom managed to keep the Phillies in the game. However, they had their backs against the wall in the 9th inning, down 3-2. For some reason, George Brett played the Phils' top slugger, Mike Schmidt, to bunt. Schmidt instead hit a screaming line drive off Brett's glove for a single. He would score the tying run on Del Unser's pinch-double. Two-outs later, Unser scored the winning run after Manny Trillo hit a shot off Dan Quisenberry. Tug McGraw survived a bases-loaded situation in the bottom of the ninth, and the Phils went home with a chance of wrapping up the World Series with their ace, Steve Carlton.
Quotes
"A lot of people think we have some magical powers because we're always winning in the 8th, 9th, 10th innings. There's nothing mysterious about us though. We just play good baseball and I hope people are finally realizing it." - Larry Bowa
"I got him (Cardenal) out with my Cutty Sark fastball- it sails." - Tug McGraw
"It was similar only in that it was a fast ball- his sinker. The only difference was that this one was in a little more. I said to myself that if he threw in on me, I would be able to pull it." - Del Unser
"The triple in Houston was a very big hit. This one is kind of important for me; it was the winning RBI." - Manny Trillo
"Basically, as everyone knows, I'm not a strikeout pitcher. However, I was trying to strike Trillo out." - Dan Quisenberry
"Tug is a very hyper and nervous type guy. I was just trying to keep it calm back there and keep him under control as best I could in the ninth. We just don't seem to do anything easily, do we?" - Bob Boone
From "The World Champion Phillies and the Road to Victory"
World Series records showed that in 28 previous classics which had been tied, 2-2, the team which won game 5 wound up being the World Champion 20 times.
Dallas Green called on Marty Bystrom to make his WS debut against Larry Gura. Bystrom had made six previous starts in the big leagues since being recalled on Sept. 1st. The Phillies had won all six, including Game 5 of the playoffs.
It was a game where the Phillies scored first, only the second time in the series. KC came back and the Phillies had to perform another one of their patented Comeback Kids heroics to win.
Held to just one single through three and one-third innings, the Phillies struck against Gura. Bake McBride bounced a ball to the right side of the mound. Gura fielded it and flipped to Willie Aikens. McBride was safe when Aikens missed the bag for an error.
Mike Schmidt gave the Phillies a 2-0 lead by hitting a 2-2 pitch over the center-field wall at the 410-foot sign.
Bystrom scattered five hits over the first four innings but couldn't escape giving up a run in the fifth.
U.L. Washington and Willie Wilson each singled. Both runners moved up on a bunt. Washington scored as George Brett grounded to Trillo.
Amos Otis tied the score with a lead-off home run to left in the sixth. When the Royals put runners on first and third on singles by Clint Hurdle and Darrell Porter, Ron Reed relieved Bystrom.
Washington's fly ball to Greg Luzinski put KC in a 3-2 lead. A tremendous defensive play by the Phillies saved further damage. Wilson doubled to right after Washington's RBI. Porter, trying to score from first, was gunned down at home plate on a brilliant relay- McBride to Trillo to Boone.
The Phillies threatened in the seventh before Dan Quisenberry relieved for the fifth time in the series. He retired Garry Maddox and Trillo on grounders with two men on base.
Tug McGraw came in for the fourth time. He got out of a two-on, two-out jam when Jose Cardenal flied to Maddox.
The Phillies eighth had been the key in the playoffs and Series. But not today. Brett threw wildly on Bob Boone's one-out grounder to get the Phils going in the eighth. Boone wound up on second and went to third when Rose bounced to White. But Quisenberry kept the score at 3-2 by getting McBride on an infield out.
McGraw pitched a perfect eighth setting up a last chance for the Phillies.
Schmidt started the ninth with a single off Brett's glove. Green then decided it was time for the deluxe pinch hitter, Del Unser. Unser tied the game with a ground-ball double beyond the grasp of Aikens.
Moreland moved Unser to third by sacrificing for the first out. Quisenberry got out No. 2 when Maddox grounded to Brett, Unser holding. Trillo fell behind the count, 0-2, before hitting a slider back to Quisenberry.
The ball deflected off Quisenberry's glove. By the time he had recovered, Trillo had an infield hit and Unser had crossed home plate with the go-ahead run.
The Comeback Kids had done it once more. Now, they turned into the Cardiac Kids as McGraw pitched a heart-stopping ninth.
White started by drawing a walk on a 3-1 pitch. McGraw fanned Brett on three pitches. Aikens walked on four. McRae hit the next pitch deep to left. It hooked toward the foul pole and landed foul. McGraw clutched his chest and patted his heart.
McRae then bounced to Bowa, who forced pinch runner Onix Concepcion at second. The tension increased at Otis drew a four-pitch walk to load the bases.
Up stepped Cardenal. McGraw got ahead in the count, 1-2. Cardenal fouled off the next pitch and then another one before striking out. It was the third win for the Phillies in the Series and the third time the final Royal had struck out to end the game.
There was a day off tomorrow before Game Six at Veterans Stadium, Tuesday night.