October 18, 1980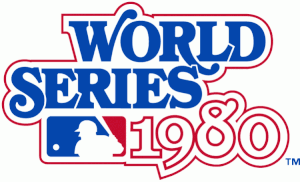 Phillies fans began to get nervous during Game Four. The Phils' starter, Larry Christenson, could not get out of the inning, giving up four earned runs in just one-third of an inning (an astronomical 108.00 ERA). To their credit, however, the Phils did not give up, and came within a pair of runs as the Royal tied the series at two, winning the game 5-3. The highlight of the game, however, was Dickie Noles. Pitching four and two-thirds inning of relief for the shellshocked Christenson, Noles faced George Brett in the fourth inning, and promptly set Brett on his hindquarters (or, as Pete Rose said later, on his hemorrhoids) with a high and tight fastball. The chin music brought Kansas City manager Jim Frey out of the dugout, first yelling at Noles, then the umpires, and finally with Pete Rose on his way back to the dugout. Whether the Brett knockdown help the Phillies to ultimately win the Series is debatable: Brett himself still hit over .300 the rest of the Series, but the Phillies would win a comeback victory in Game 5 before cruising to a title in Game 6.
Quotes
"Well, if you've got a book on Willie, I'll use it. I do believe we're not pitching him right. The kid's on a roll." - Dallas Green
"Everybody gets some good pitches to hit in a game. But Aikens is taking advantage of them. Hot hitters do that." - Bob Boone
"I'm just in a streak. Everything is going good for me. When that happens, I'm capable of hitting five or six home runs in a week." - Willie Aikens
"I just told the umpires I wanted it stopped right then. I didn't want one of those wars." - Jim Frey
"Now, it's the best two out of three, with one game in KC and two in Philadelphia. We've been in best of three in Montreal and Houston recently." - Larry Bowa
"We're right back to square one. However, it's not a desperate situation by any means. Right now I just want to get out of here with a win tomorrow. If we can do that, it would put them in a position of having to win two in our place. I'm not worried about this team. We've had our backs against the wall most of the year and we've come through." - Mike Schmidt
From "The World Champion Phillies and the Road to Victory"
Dennis Leonard was called on for his second WS start and Larry Christenson made his first in Game Four.
The Phillies got another chance to come from behind as the Royals bombed Christenson in the first inning. Ten Royals went to bat, four scored as they collected a walk, two singles, two doubles, a triple and one home run.
Willie Wilson hit a 2-1 pitch to left to start the game. He went all the way to third as Christenson threw wildly at first on an attempted pick off. Wilson held third on Frank White's shallow fly ball to Bake McBride.
George Brett tripled down the right field line and rode home on Willie Aikens' home run into the right field waterfall. Hal McRae and Amos Otis followed with back-to-back doubles chasing Christenson.
Washington's throwing error helped the Phillies score an unearned run in the second. Larry Bowa's single drove in Manny Trillo.
Aikens matched that run with a towering blast deep into the Royals bullpen in right field off Dickie Noles.
The two homers made Aikens the only player in World Series history to have two multiple home run games in a single series.
The homer was the only run Noles gave up in his 4.2 innings of work. Six of his 14 outs came via strikeouts. In the fourth, ahead of Brett in the count, 0-2, Noles brushed back the KC superstar with the next pitch.
Royals manager Jim Frey was so incensed, he charged the field yelling at Noles and the umpires. Frey retreated a bit and then went nose-to-nose with Rose in an argument. Both teams were warned by the umpires about any future knock-down pitches.
Noles wound up striking out Brett and Aikens in the inning. In the rest of the series, Brett would get only three more singles, Aikens one hit and the Royals would manage to score just four more runs.
Meanwhile, Leonard held the Phillies scoreless following their second-inning run. Trillo's double and Bowa's RBI single made it 5-2 in the seventh. When Rose began the eighth with a double, Frey called on Dan Quisenberry for the fourth straight game.
Rose advanced on Bake McBride's grounder and scored the third run on Mike Schmidt's fly ball. Del Unser followed with a single but Quisenberry retired the next four to even the series.