October 22, 1980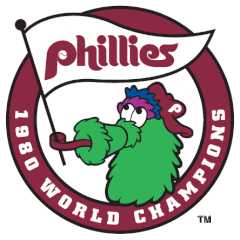 Following the Phils' Game 6 victory over the Kansas City Royals, it was time to party.  The city of Philadelphia held a parade for the team that started at City Hall, and headed down Broad Street towards John F. Kennedy Stadium.  An estimated half-million Phillies fans jammed the parade route to cheer on the team, and an additional 800,000 was at the stadium to receive the champions.  Pennsylvania governor Dick Thornburgh proclaimed October 22 "Philadelphia Phillies Day" throughout the state. 
For the Phillies, 1980 marked the first World Series championship in their long and mediocre history.  The City of Philadelphia, however, had witnessed a handful of Series victories over the years.  The Phils' counterpart in the American League for years, the Philadelphia Athletics, had reached the pinnacle five times before departing for Kansas City in 1955 after the Mack family was forced by financial pressures to sell the team.
The championship also marked the zenith of the team built by Paul Owens.  After the player strike of 1981, Ruly Carpenter made the decision to sell the team his grandfather had bought in 1943 to a group headed by employee Bill Giles.  The stars aged, and by the time the "Wheeze Kids" won the National League pennant in 1983, there had been a large turnover in personnel.  Gone were Manny Trillo, Larry Bowa, Greg Luzinski, and Bake McBride among the 1980 regulars, and Steve Carlton was the lone member of the starting pitchers to make a meaningful contribution to the 1983 NL champs.  Marty Bystrom did start 23 games for the team, but went just 3-9, while Dick Ruthven won a single game before being traded to the Cubs.  Tug McGraw had surrendered the closer's role to Al Holland, and, while pitching decently, did not register a save that season.
After the final thrill in 1983, the destruction of the team accelerated, and by the end of the decade not a single player remained on the team.  Mike Schmidt, who retired in May of 1989 after a Hall-of-Fame career, was the last man standing.
1980 Phillies World Series Parade