Philadelphia Daily News - October 13, 1980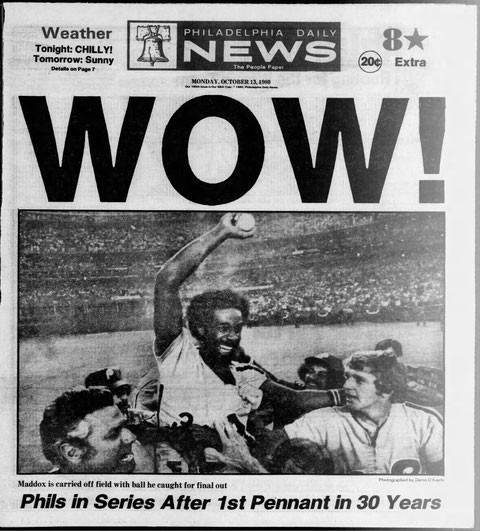 No sweat! Phils get down to series business
By Bill Conlin
The inscription was already being chiseled on the tombstone the Phillies seem to erect for themselves in left field when the playoffs roll around.
Left field in the playoffs was to the Phillies what Palestine is to the Middle East, a permanent flashpoint. The fence was Ruly Carpenter's Wailing Wall.
People were ready to scatter the ashes of the 1980 Phillies in left last night, ready to seal up the mausoleum for another long winter.  Greg Luzinski butchered a slicing liner by Denny Walling in left-center, the Astros turned the two-base error into a sixth- inning unearned run and a 2-2 tie. And the fifth game of this tense, incredibly wacky confrontation with Houston's Little Engines that Tried seemed to fall apart when the Astros ravaged Larry Christenson - Larry Christenson? - and Ron Reed for three seventh-inning runs to take a 5-2 lead.
But the Phillies took a step back from the gallows.
The first class of Dallas Green' School for Character graduated.
And the Phillies won the pennant. The Phillies won the pennant. The Phillies won the pennant.
THEY SCORED FIVE runs in an incredible eighth-inning rally that chased Nolan Ryan, a man whose fastball in the early innings was lighting up the radar scope at speeds as high as 99 MPH.
They saw the 7-5 lead melt away in the bottom of the eighth, when a bone-tired Tug McGraw went out to nail the pennant down with little more than courage. The gallant Astros scuffled their way to a pair of runs.
And for the fourth straight game the teams careened into overtime, a record for post-season play of any kind.
The Phillies won it, 8-7 in the 10th, when Garry Maddox, whose dropped line drive in Dodger Stadium nailed shut the coffin on the 1978 playoffs, doubled home bench hero Del Unser. Unser, whose pinch single drove home a run in the wild eighth-inning rally, started the brief 10th-inning explosion when he bad- hopped a double over first baseman Dave Bergman.
"I got tremendous topspin on the ball," the 13-year veteran said, awash in the champagne of the Phils' first pennant since 1950. "That's as hard as I've hit a ball in quite some time. I'm overwhelmed with my own feelings and the feelings I have for all the people who were rooting for us to win this thing."
After Championship Series MVP Manny Trillo sent Unser to third with a booming drive to center, Maddox jumped on reliever Frank LaCorte's first pitch and scalded a sinking liner to center.
"HE'S A FASTBALL pitcher and I was looking fastball," Maddox said. "When I first hit it I thought it was in, but then I saw him (centerfielder Terry Puhl) coming and coming. I thought for a second he might catch it."
The ball rolled behind Puhl and Maddox legged out a double. Unser walked home with the biggest run the Phillies have scored since Dick Sisler's homer won the 1950 pennant in Ebbets Field on the final day of the season. The bench exploded with emotion.
And curiously, that simmering togetherness began to climb toward the boiling point after the Astros carved out the 5-2 lead.
"It was just incredible on the bench," Larry Bowa said. "When I went up to lead off the eighth, Pete Rose hollered to me, 'If you get on base, we're gonna win this bleeping game. ' I hollered back, 'Well, I'm gonna get on base. ' "
Bowa singled to center. Bob Boone, defensively brilliant once again, who drove in two second-inning runs off Ryan's fastest pitch of the night, a 99 MPH blazer, drove a ball off Ryan's glove. Enos Cabell fielded the carom but had no play.
The hitter was Greg Gross, in the game for defense. And Gross caught Cabell flat-footed with as fine a base-hit bunt as can be dropped on artificial turf.
Bases loaded, nobody out . . .
"I told myself if Cabell was playing me back I was gonna lay one down," Gross said after a 3-for-4 playoff. "It was just great that guys like me and Del and Keith Moreland had a chance to contribute. This was just one helluva team effort. And I think we gave the country four of the most exciting games back-to- back in baseball history."
BASES LOADED AND, now, Ryan was losing it. He walked Rose and Bill Virdon brought in Joe Sambito to face Bake McBride. Green countered with Moreland, who made it 5-4 by bouncing into a right-side force at second.
"It wasn't purty," Moreland said, "but it got a run home."
Virdon brought in first-game starter Ken Forsch to face Mike Schmidt and he got the third baseman with a third-strike fastball on the outside corner.
Unser hit for Ron Reed, one of six Phillies pitchers Green used in the no-tomorrow epic, and lashed a single to right which scored pinch-runner Ramon Aviles. Trillo, brilliant in the field and devastating at bat in a five-game national TV tour de force, tripled into the left-field corner to drive home two more runs and it was 7-5 and clubhouse man Kenny Busch, a batboy for the 1950 Phils, was icing down the Great Western champagne.
It would have been dramatically correct if McGraw had been the man who put it away, if he had been able to muster one more great leap for Phillieskind.
But he had performed above and beyond the ability of a 36-year-old man. And the Astros came at him with the twitching determination of a rattlesnake with its head cut off.
Craig Reynolds, a mouse that roared last night, led off the eighth with a single to right. Tug struck out pinch-hitter Gary Woods looking. But Puhl, who set a playoff record with 10 hits, pounded a single to right and the Astros had runners at first and third with one out.
"I DIDN'T FEEL that bad, honest," McGraw said during the insane clubhouse celebration. "It's not true they're shipping my arm to the Mayo Clinic and delivering it to me Tuesday. I made some good pitches that they hit. Those guys don't quit. My hat is off to them for the way they came back on me. I wasn't that easy."
He got Cabell looking for the second out, but Rafael Landestoy singled, Jose Cruz, the incredible Astros clutch-hitter, singled and it was even at 7-7.
The Astrodome crowd, 4,000 under capacity for the third straight game, was a ticking time bomb of emotion.
Green raised eyebrows when he went to Larry Christenson in relief in the seventh inning. Christenson will open the World Series against Kansas City at the Vet tomorrow night. Christenson allowed three runs and people wondered why the manager didn't follow rookie Marty Bystrom's excellent effort with Dick Ruthven.
"I didn't want to put Dick into a situation where I had to hit for him," Green said, one arm wrapped around special assignment scout Hugh Alexander, the other around GM Paul Owens, who was weeping unashamedly on this, the biggest night of his stewardship. Owner Ruly Carpenter was clapping all of them on the backs, like a jazz drummer in solo.
"I only wanted Larry to give me one inning," Green said. "And the way it worked out I had Rufus in there at the end, ready to close it out. He did one helluva job. "
RUTHVEN FACED SIX hitters in the ninth and 10th and he got them all - Bergman, Alan Ashby and Reynolds in the ninth, Danny Heep, Puhl and Cabell in the 10th.
"I told 'em I could pitch," Christenson said. "I just didn't have that much time to warm up. I'm fine for the Series. My biggest mistake was gutting that fastball to Walling. It's incredible that I felt so bad and now I turn out to feel so good. I'm so happy we won that I don't know what's going on."
Lost in the litter of a 3-hour, 38-minute ballgame was Bystrom's splendid scramble in the face of Ed Vargo's very small strike zone.
"I'm happy," he said. "I think I did the job they asked me to do. When I left, we were in the game. I wasn't real sharp but I hadn't worked since the game at home against St. Louis. Cripes, what a thrill, to come up in September and play a part in a pennant. I'll remember this all my life."
Yeah, it was graduation day at Dallas Green's School for Character. Guys who battled him, guys who might have hated him during the long, angry season will look back at last night 20 years from now and they will realize he helped prod them to their finest hour.
"Let 'em say we don't have heart anymore," said Luzinski, who would have worn goat horns the size of elephant tusks if the Phils had lost. "I think we proved to the world that we don't have a quitter on this team."
Forget that mausoleum in left field. The result now stands official.
The Phillies have passed every test, including saliva.
They finished a playoff game with Greg Gross in left and Del Unser in right.
And the centerfielder, Garry Maddox, who vanished from the lineup during the bitter final week of the regular season, lovingly clutched Cabell's fly to right-center for the final out.
And let the epitaph on that tombstone now read, Philadelphia Phillies, 1980, R.I.P. - Realized Incredible Pennant.
How Phils Rose to the Occasion
By Tom Cushman
HOUSTON – As the champagne rose in geyser-like sprays and the new champions of the National League – having arrived at a destination that had always seemed a stride beyond their capacity for travel – fell upon one another in celebration, the man who had shown them the way retreated to his locker and dropped onto a stool.
More an observer than a participant, Pete Rose talked quietly with members of the media, and all the while his eyes were busy taking in the sights. Phillies embracing, shouting in joy instead of anger, the resolute cool finally in tatters. "God," he must have been thinking, "there were times when I was afraid they'd never understand."
In the preposterous finale of a Championship Series gone berserk a day earlier, there was room for heroes in multiples. And yesterday's names were as unlikely as the events which produced them... Boone, Gross, Unser, Trillo, Maddox, a relief pitcher named Ruthven.
"THERE WERE so many hits in the game, I don't know which was the biggest," said Pete Rose, whose own contributions had been more subtle. Pete was caught stealing after his only hit, scored no runs, but made two superb defensive plays which took the Astros out of a potentially productive fifth inning. And, in the eighth Rose may have drawn the most important walk of the season.
Trailing by three runs, the Phillies had the bases loaded and no outs when Rose moved in against Nolan Ryan. Ryan came at him with great respect, knowing that if anyone was likely to send one whistling into a gap it was the guy he was pitching to.
Ryan was too fine. Pete took the base on balls.
"There were some hittable pitches," he later explained, "but the walk was a good play. It forces in a run, puts us two down with nobody out. We got the hitters we want coming up. A couple of fly balls and we're tied."
In a game that must have been scripted by Rod Serling, Pete's walk will seem minor compared to the hits which followed, but it is his kind of baseball and his kind accomplishes something the Phillies, for all of their posturing, had not accomplished during previous appearances in these post-season tournaments. It wins.
THERE WOULD, of course, have been no yesterday had it not been for goofy Saturday, a day when Pete Rose paid the most significant dividend yet to the men who imported him for this very role. Victimized by shabby umpiring, without a run for 17 innings, trailing the Astros, 2-0, in the eighth inning of a game which seemed to fit neatly into the pattern of earlier failures, the Phillies of playoffs past seemed ready to give it up. The dugout looked like a group of guys on death row, waiting for the priest to visit.
Had you taken a poll in Kensington, in Manayunk, or in the press. box, the result would have been identical. The game was lost.
Except that Pete Rose would not permit it. When Greg Gross and rookie Lonnie Smith led off with singles – neither had been through this with the Phillies before and thus didn't know any better – Rose smacked the base hit which produced the team's first run in 18 innings. And, when the Astros were careless with the throw from the outfield, took second, from where he scored the go-ahead run on Mike Schmidt's single.
"When Houston tied it in the ninth, I think that was our lowest point," Manager Dallas Green was to say later.
BUT WITH ONE out in the 10th, Pete Rose again singled. And when Greg Luzinski slammed a pitch into the left-field corner, Pete brought home the winner with an authority that Houston catcher Bruce Bochy will recall for some time, especially on days when the cold, damp air of the Gulf winter reaches the joints.
Little things these, often lost in the tape-measure profile of this team, but ones which make the difference in the heat of the playoffs.
Pete Rose, who usually entertains the writers during the pre-game festivites around the batting cage, would not stand still for interviews yesterday. Having tugged the Phillies halfway across the chasm Saturday, the intensity with which he approached the final leg of the trip was fascinating to behold.
"The game is too important," he told a reporter who had asked for a few minutes of his time earlier in the day. Nothing interrupted this mood, not the Astros' early lead, the fact that they scrambled back into a 2-2 tie in the sixth, or that they took a three-run lead in the seventh. The Houston fans, who were not unaware of the Phillies' recent playoff tendencies, filled the Astrodome with sound, figuring the only response from the Philadelphia dugout would be a death rattle.
"It made me mad when we gave them runs like we did in the seventh," Rose admitted. "Give them the one they earn, but then we wild-pitch another one home and a guy (Art Howe) hits a first pitch for a triple.
"WHEN WE GOT back to the dugout I was yelling, "We got six outs left. Let's go. We proved last night what we can do in the late innings.'
"I mean, one of the things guys have to learn is that there are 27 outs in a baseball game. You can't allow yourself to get excited over things you can't change. You keep digging as long as you got one out left. And I love it when the crowd goes crazy. The more noise, the more charged I get."
The scorecard will, of course, show that Rose had nothing to do with l winning run last night. That was the work of Del Unser and Garry Maddox, who delivered in the 10th inning of the fourth consecutive extra inning game in this remarkable series.
"I really feel that our ballcl learned in the last month the difference between winning and losing Rose said, as the rites of victory spilled around him. "In difficult situations, they bowed their necks a maybe that's something that hadn't been done before. When I came over here, I was amazed that this club had never been in a World Series, considering the talent it has.
"Knowing how to win in tough situations comes with experience. There were so many emotional ups and downs in this series ... so many highs and lows, which is really tough on you. That we survived tells me something about where these guys are now. I think they finally got tired of losing.
"THE THING that makes me happy personally is that this is gonna be appreciated by fans who deserve it.  I have a picture right now of the Delaware Valley going wild. There probably were some living rooms torn apart when we gave up those two runs in the bottom of the eighth, and the Phillies have been close so often without delivering. I understand their desperation. Those are the people I play for.
"These guys," Pete Rose added, "have learned a lot in the last few years, and now they're about to learn that there's not as much pressure in a World Series as what they've just been through. The pressure is in getting here. The Series is fun."
Still locked in a circle of media, Pete Rose smiled, obviously happy with the thought. Around him the champagne flowed, and so did the noise as teammates continued to discover each other.
Pete Rose's celebration was a more private one. The job for which he had been imported by Philadelphia which seemed so hopeless as late the seventh inning on Saturday, finally was done.
"I already knew how to drink champagne," Pete said, looking out over a clubhouse where guys who had had much less experience were busy practicing.
Trillo's Already a Champion
By Ray Didinger
HOUSTON – Maria Elena Trillo was standing next to her husband in the Phillies clubhouse last night, clutching a bottle of champagne in one hand, the Championship Series Most Valuable Player trophy in the other.
She was admiring the trophy the way any wife would admire a new piece of silverware, gently buffing the bowl with her fingers, flicking away the traces of spilled champagne. She was smiling but her eyes were misty with tears.
"This is the biggest moment in our lives," Maria Elena Trillo said, pressing against her husband's side. "This and the day our daughter (Aloha) was born. These are days when there is so much joy, it overflows your heart.
"I'm a more emotional person than Manny. He keeps his feelings inside most of the time. My feelings come right to the surface. When Manny got that triple tonight, all the other (Phillies) wives cheered. I sat there and cried.
"I cried because I thought about how hard we worked to get here," she said. "I thought about all the sad days we had... when I had to encourage Manny to keep going.
"WHEN HE GOT that hit, I thought how happy he must be, how much he deserved it. This was his year and this was his night."
Manny Trillo says he almost cried, too, when he ripped that two-run triple in the eighth inning. He didn't get all nostalgic, the way Maria Elena did. No, poor Manny almost cried in pain.
It seems third-base coach Lee Elia congratulated Manny for his clutch hit by biting him on the right arm. I've heard of third-base coaches holding the runner but, really... holding him by the teeth?
"I was just so damn happy, I had to do something," Elia explained. "Manny came into third, everybody was jumping out of our dugout, going crazy. It was the most emotional moment I've experienced in 22 years of baseball.
"I grabbed Manny and I said, "I love you. I love you." I didn't want to kiss him, so I bit him on the arm. Gave him a pretty good bite, too. Yeah, Manny looked kinda startled."
"I was surprised." Trillo said, peeling the wrapper off his victory cigar as, all around him, the Phillies celebrated their first National League pennant in 30 long, arid summers.
"I was not expecting Lee to bite me. He took my hand... I thought he was going to shake it. When he bit it, I said, 'Lee, we still have two innings to play. The arm... I might need it."
AS IT TURNED out. the Phillies had three more innings to play, because Houston came back to tie, 7-7, and force yet another overtime, the fourth in as many games.
The Phillies won this one in the 10th on Garry Maddox' two-out double and, fittingly, Trillo was named the series' MVP.
All Manny Trillo did in these five unforgettable contests was hit .381 (8-for-21) with three extra base hits and four RBI. He drove in the insurance run in Saturday's surreal victory and knocked in the go-ahead runs last night.
His fielding was brilliant, often magical. He saved a run in the first inning last night, back-handing a Denny Walling grounder behind second and throwing him out by a step.
In the second inning, he made the pivotal defensive play of the series, taking Bake McBride's throw from the right-field corner, whirling and firing a tracer bullet to Bob Boone who tagged Luis Pujols out at the plate.
"It's funny, but we practiced that play on our off-day down here," McBride said later. "1 practiced digging the ball out of the corner and making the throw to Manny. He practiced taking the throw and making the relay.
"The only thing was. Manny kept practicing making the throw to third (base). I said, 'Hey, why don't you practice making the throw to home, too?" He said he didn't need to practice that. He knew he could do it if he had to."
BAKE McBRIDE smiled, the gold in his teeth glinting in the TV lights. "I guess he was right," Bake said, "'Cause he couldn't have thrown that ball any better. No second baseman could."
McBride was pleased to see Manny Trillo win the MVP award because he feels Manny was overlooked and underrated all season. After all, the guy did hit over .300 most of the year and he fielded his position well enough to almost surely earn a second consecutive Gold Glove.
Yet he was not named to the National League All-Star team, losing out to Davey Lopes and Phil Garner. He was not given all that much publicity and he did not appear on many MVP ballots.
Manny's quiet but vital contribution to this pennant was lost in the rush to enshrine Mike Schmidt and Steve Carlton in Cooperstown. McBride, Trillo's best friend, didn't think it was fair.
"We wouldn't be here if it wasn't for Manny," McBride said. "You look back over the year and see how many big hits he got for us. How many big innings he started, how many times he moved guys over, made the hit-and-run work.
"He's just so good day-in, day-out, I think people take him for granted. He makes difficult plays look routine. He's smooth, he isn't always diving for the ball so people don't realize how hard he's working.
"THIS (SERIES) is great for him," McBride said. "It will make people across the country realize what kind of player Manny is. He's amazing but we (the other players) knew that all along."
Manny Trillo was standing on the edge of the interview platform, talking into a tangle of microphones and tape recorders. Photographers were snapping shutters in his face, newsmen were straining to pick the words out of Manny's thick Latin accent.
Through it all, Manny smiled. It was the same smile you see in the clubhouse three hours before a game, the same smile you see around the batting cage in spring training.
Manny is always smiling so it was hard to tell if this night held any special meaning for him.
"Oh yes," Trillo said. "This is best thing that ever happened to me in baseball. To win a pennant is exciting. To have someone say you contributed this much (nodding toward the trophy) is... uh, more than I can put into words.
"I wasn't nervous tonight. I don't get nervous before most games. Just the opening game of the season, then the opening game of the playoffs. I was nervous before the first game (of this series) but not tonight.
"BEFORE I WENT to bat tonight, Garry (Maddox) said, 'Stick out your hand. I want to see if you're shaking.' I held out my hand and it was steady. I told him, 'See, I told you... only before the first game. The rest are fun.'
"You know," Trillo said, his smile widening, "1 told my wife I would win this (MVP) award for her. We were talking about the Kansas City-New York series at lunch today.
"She asked me who was the Most Valuable Player in that series. I said Frank White. She said, 'He's a second baseman. If he won the MVP, you can, too." She said the way 1 played (in the first four games) I had a chance to win it.
"I asked her, 'Do you want me to win it?' She said, 'Yes, I want you to win it for me.' I said, 'All right, I will.' I didn't know if 1 could do it but (smiling) I always try to please my wife."
Maria Elena Trillo was standing nearby, her gaze shifting from her husband to the trophy and back again. She smiled shyly when the TV lights swung in her direction.
She spoke softly, almost reluctantly, when interviewers approached. She answered questions politely but, every few sentences, she would say,"You really should talk to Manny...
SHE FELT THIS was Manny's moment and he should be allowed to bask alone in the hero light. After all, he was the guy who hacked his way up from Huron, S.D., where he broke in as an 18-year-old catcher in 1968.
"Remember those days, Manny?" asked Dallas Green, who managed Trillo that season in Huron, then embraced him in a tearful Astrodome clubhouse last night.
"Was it worth it? Didn't I tell you it would be worth it?"
"It was worth it," Trillo agreed, lighting his cigar.
Someone asked Maria Elena Trillo if would now ask her husband to win the World Series MVP Award for her.
Why not? I mean, why stop at a mink coat when you can go for sable?
Mrs. Trillo paused a moment, rolling her eye thoughtfully. Finally, she smiled.
"I think so," she said. "I think anything is possible the way Manny is playing now. It will take hard work but this team has worked hard to get here.
"They will be champions. I really feel that."
Judging by the look in Maria Elena Trillo's eyes, you got the feeling her husband was a champion already.
Maddox Takes Ride of His Life
By Ray Didinger
HOUSTON – When they immortalize the Phillies' 1980 pennant clinching on canvas, when they chisel the whole crazy scene in stone or squeeze it onto a postage stamp, it will come down to Garry Maddox' victory ride.
It will come down to Garry Maddox bouncing along on the shoulders of his teammates, his fists clenched above his head, the outline of his sideburns bristling against the bright Astrodome roof.
It was a game that decided perhaps the greatest post-season series in baseball history, a game that turned on one sudden flick of Garry Maddox' bat. With two out in the 10th inning, Maddox stroked a Frank LaCorte fastball to center field.
Terry Puhl charged the ball but couldn't come up with it. It skipped past him, Del Unser scored the decisive run and Maddox streaked into second base like a cheetah sniffing a fresh kill.
THEN, IN THE bottom of the 10th. the final two Houston Astro batters hit fly balls to Maddox. He watched them both disappear into his Gold Glove and then, in an uncharacteristic display of emotion, Garry Maddox danced with joy.
He rushed toward the infield, toward the mob of Phillies who had come streaming from the dugout. He leaped into the arms of Larry Bowa, then into the arms of Manager Dallas Green.
A moment later, Garry Lee Maddox was up on their shoulders and riding toward the dugout, a man who had just been reunited with his destiny.
Remember, it was Garry Maddox who dropped the fly ball that brought the curtain crashing down on the Phillies in the 1978 National League Championship Series.
Remember, it was Garry Maddox who lost a critical fly ball in the sun against Montreal two weeks ago, then vanished from the starting lineup in circumstances that could only be described as puzzling.
Now, when the Phillies came face-to-face with their final hour, when they would either win their first pennant in three decades or surely be cast to the baseball winds, Garry Maddox delivered the hit that delivered a franchise from bondage.
IN THE CLUBHOUSE later, Maddox looked like a man who had just fought his way through a long, dark tunnel into the daylight. He drank his champagne gently, respectfully. He didn't guzzle it. he didn't spray it like the other players.
Garry Maddox had struggled with this cork too long. He was entitled to take a nice, mellow sniff.
"I've never had a feeling like it," Maddox said. "This was such an emotional series, there were so many turns, so many comebacks. You just ached on every pitch.
"I can't say enough about this team. These guys never quit. They never let down. When Houston came back to tie us (in the eighth) the guys on the bench encouraged us, told us to get our heads up.
"I got the winning hit." Maddox said, "but I'll tell you. this was a real team effort. We got great clutch hitting, we got some great defensive plays and Dick (Ruthven) did a super job in relief.
"When we got to the playoffs, we dedicated ourselves to one thing and that was going all the way. We knew we wouldn't be satisfied – and our fans wouldn't be satisfied – by anything less than a National League pennant.
"We adopted the motto, 'Whatever it takes." That means, whatever it takes to win. that's what we're gonna do.
"Coming back to win that crazy game on Saturday, then coming back to win again tonight, I think we proved something to a few people. I think we showed we have a lot of character on this ballclub."
COACH BOBBY WINE edged through the group of newsmen around Maddox and he embraced the centerfielder. "Great job." Wine said.
"Thank you." Maddox said. His voice was weak, filling with emotion.
"I've never felt this way before... never in my life." Maddox said. "I'm elated but I'm almost limp. I'm tired from playing, I'm exhausted from jumping up and down in the dugout, yelling.
"The (winning) hit? I don't suppose I'll ever forget it. I was just looking to make good contact. I was trying to hit the ball back through the middle.
"Even when we scored the (go-ahead) run, we knew the game was far from over because they had come back so many times before. When we went back in the field, we were thinking. 'We can't let up. We can't let them get (a rally) started."
"I wasn't really praying they would hit the ball to me," Maddox said, smiling, "but when they did. I was glad. I felt confident in my ability to make the plays. They weren't that tough."
"Will this make up for the (dropped)' ball in Los Angeles?" someone asked.
"That's in the past," Maddox said, gracefully handling the painful memory. "This (win) is what's important now. This team and what it has accomplished.
"I'm elated. All the disappointments, all the frustrations I felt (in years gone by) are washed away. Hey, I can't tell you how it felt to have those guys pick me up and carry me off that field.
"I didn't know they were gonna do that. In fact, I didn't know what they were doing at first. When I realized. I thought, 'This must be a dream. This all has to be a dream.'"
So a season of conflicting emotion, a season tinted with controversy – perhaps real, perhaps imagined – ended happily for Garry Lee Maddox. The memory, like the bottle he sipped from, had no jagged edges.
The relationship between Dallas Green and Garry Maddox has not always been an easy one. There have been clashes of pride, clashes of wills, differences of opinion often more semantic than genuine.
However, it is worth noting that as Garry Maddox rode off the Astrodome field last night, the man clutching his left leg and hoisting him toward the ceiling was Dallas Green.
It was, indeed, a moment for all to cherish.
Boone's Injury Just a Bruise
By Ray Didinger
HOUSTON – The Phillies' pennant clinching survived a scare when it was determined Bob Boone had received nothing more than a bruised foot in his home-plate collision with Luis Pujols.
The Phillies catcher was jolted in three close plays at the plate in last night's electrifying 8-7 win over the Houston Astros at the Astrodome.
After the game. Boone was taken to nearby Methodist Hospital where his left foot was X-rayed and examined by team physician Dr. Phillip Marone. Dr. Marone's initial findings were a huge relief to Phillies Manager Dallas Green.
"The X-rays revealed no break." said trainer Don Seger. "At this point, it appears to be just a bad contusion. It's gonna be painful but it shouldn't keep him out of the (World Series) opener Tuesday."
BOONE STAYED IN THE trainer's room for 30 minutes after the game and missed most of the traditional champagne splashing. While his teammates were pulling bottles of Cardon Rogue from an ice bin. Boone was sticking his foot into an ice machine.
There was much concern for Boone's health, since he had delivered several key hits in this past week. His RBI single kept the Phillies alive in their Eastern Division clincher in Montreal last Saturday.
Yesterday, Boone stroked a two-run single off Nolan Ryan to put the Phillies ahead early. He later added another single to keep the five-run eighth-inning rally alive.
"Boonie will be there on Tuesday," Dallas Green promised last night "He's from the Andy Seminick school of catching. He's tough. He'll just rub a little tobacco juice on the foot and go out there."
"It was a very painful injury," Seger admitted. "I believe he got it on his first tag play at the plate, when he tagged out Pujols.
"He stayed in the game and was involved in two other (similar) plays. (Enos) Cabell came into him hard (in the fifth) and another guy (Denny Walling) a few innings later.
"HE WAS HOBBLING AROUND after the game, so we taped the thing up so he. could go to the hospital. It's still taped and we'll send him home with a portable ice machine to keep the-swelling down.
"Actually, it loosened up a little bit after he got back to the hotel," Seger said. "He was moving around pretty well (at the team party) but, then, most of the guys were.
"We'll take a good, close look at the foot (today) and see how it looks after a night's rest. We'll check it for further swelling, discoloration.
"If Dr. Marone feels it's necessary, we'll take more X-rays, but, at this point, we're pretty optimistic. We think it's just a bad bruise.
"I think we might have lucked out with this one," Seger admitted. "It could have been a lot worse."
Del Works Out the Kinks
By Tom Cushman
HOUSTON – At mid-afternoon yesterday, Del Unser, the pinch-hitter and Billy DeMars, the hitting coach, met in front of the Shamrock Hilton, the Phillies' hotel in Houston, and caught an early ride over to the Astrodome.
It was not a tourist call. The sights inside the home of the persistent Astros they already had seen too many times.
"I had struck out a couple of times recently on pitches I normally handle," Unser was recalling in the Philadelphia clubhouse late last night. "After the Saturday game I asked Billy if he'd go over early with me. Billy takes a lot of razzing from the guys about his techniques but his little fundamental things sure do work for me."
"Del had fallen into the one really bad tendency he has," Billy DeMars was to explain later, throwing in some hip twists and wrist movements to illustrate problems that only those who deal with them really understand.
"I STUCK ABOUT 10 balls in my pocket. He must have taken 50 or 75 swings before regular batting practice. He was hitting the ball super when we finished. I told him, "Now go out and do the same thing irt the game.'"
The rest, well that's National League history. The Phillies, trailing 5-4 and with the tying run at third in the eighth inning, seemed poised to spit up another opportunity. Mike Schmidt had just been fanned by Ken Forsch for the first out.
Up steps Del Unser, pinch-hitting for Ron Reed, to stroke a line-drive toward center field. "I saw (second baseman) Joe Morgan leap, and when it cleared his glove I knew we had a tie ballgame," Unser said later. "I was thrilled... how else can I explain it."
Manny Trillo followed with a double that provided the Phils with two-run lead, but back came the Astros to force a tie. And the game, following a precedent established before the series left Philadelphia, rumbled into extra innings.
Schmidt led off the 10th by striking out for the third time. "Let me say this about Mike," Del Unser offered. ''He has been so emotional during this entire series... people aren't used to seeing it from him. and 1 think that in itself was a lift for the team. 1 think Mike was maybe pressing too hard.
"ANYHOW, JUST BECAUSE one guy doesn't do it, you don't quit. I went up there in the eighth with really good concentration, Forsch got the pitch where he wanted, and I got the luck. I didn't hit it that well, but the one in the 10th I hit as good as I can hit a ball."
The one in the 10th became a double, and when Garry Maddox ripped a line drive to center that Terry Puhl could not reach, Del Unser brought the run that put the Phillies into the World Series across the plate.
"We used as many guys as we can use in a baseball game, and everybody contributed in some way," Unser said. "Mine just sort of fit in with all the rest. There's no way there could be a more exciting series than what we've just been through. I'm thrilled. I'm sure I'm gonna be able to look back on this with great satisfaction."
Phils Will Battle Royals, History
By Rich Hofmann
A quick check of the Free Library indicates that the only book on the shelves shorter than "Religious Freedom in the Soviet Union" is the Phillies' World Series history. A third chapter will be written tomorrow night against the Kansas City Royals, but the book currently has only two, both of which end drearily. Its pages are yellow and tattered.
The first entry was made in 1915, when the Phils won their first-ever National League pennant. Although it was accomplished with a percentage of only .592 the lowest up to that time in NL history, the Phils semi-breezed home with a seven-game advantage.
The team's star was pitcher Grover Cleveland Alexander, who finished with a 31-10 record, 12 shutouts and a 1.22 ERA. On offense. Manager Pat Moran's club was led by rightfielder Gavvy Cravath, whose 24 home runs was high for the century. Of course, that was before Babe Ruth started playing every day.
IN 191S, RUTH was a pitcher for the Boston Red Sox, the Phillies' opponent in that year's Series. In Game 1, Alexander the Great hooked up with Boston's Ernie Shore. The Phils picked up two runs in the bottom of the eighth at the old Baker Bowl and won that opener, 3-1.
That was on Friday, October 8. 1915. Remember the date. It was the last time the Phillies won a World Series game.
The Phils, flushed with victory, promptly went into a hitting tailspin, finishing the Series with a less-than-robust .182 team batting average. Four straight one-run losses followed the bad bats – 2-1, 2-1, 2-1, 5-4. Even President Woodrow, who motored up from D C. to Philly for Game 2, couldn't help the Phils.
The people of this town lived with the memory of those dormant Series bats for 35 years, until 1950, when Manager Eddie Sawyer's Whiz Kids became the next Phillies team to make the Series. And, once again, the bats died.
After a brilliant stretch run against Brooklyn, which the Phils won on the final day of the regular season with a 10th-inning Dick Sisler home run, the kids were simply whizzed out for the Series with the defending champs, the New York Yankees.
THE TEAM'S ACE pitcher, Robin Roberts, had worked in three games in the regular season's final five days, so Sawyer pulled a surprise and started bespectacled righty reliever Jim Konstanty in the Series opener. Konstanty had relieved 74 times over the season – then a record – but hadn't started a game, and he almost pulled it off. He threw a five-hitter at the Yanks, but his teammates only gave him two hits worth of support, and the Phils went down, 1-0.
The Phils lost the next one, 2-1, on a Joe DiMaggio homer in the 10th. Three eighth-inning walks and an error by shortstop Granny Hamner gave the Yankees Game 3, 3-2. The finale was a wipeout, 5-2. In the four games, the Phils managed but five runs, only three of which were earned.
It's pretty safe to say that, by comparison, the only way this year's Series team can go is up.
Wild Win Saturday
Saturday was a do-or-die day lor the Phils, and they did, winning 5-3 in 10 innings. Greg Luzinski was the hero as he ripped a pinch-double in the 10th that scored Pete Rose all the way from first. Manny Trillo followed with an other double that scored Luzinski for the insurance run.
That was simple. The nine innings that preceded were not. Especially the fourth.
That was The Rhubarb Inning. Phils have first and second, nobody out. Garry Maddox hits soft liner to pitcher Vern Ruhle. The replays seemed to show he short-hopped it, and that was the initial call given by plate ump Doug Harvey. Ruhle throws to firsi. Maddox is out, the other two runners advance to second and third with one out.
But no. Consulting other umps, Harvey rules Rhule caught the ball on the fly. His throw to first baseman Art Howe therefore doubled off Manny Trillo. and Howe's race to second beat Bake McBride, constituting a triple play. The Astros leave the field.
But no. A 15-minute argument ensued, and it was finally called a double play, with McBride restored to second because of all the confusion. Both teams protested the game as a result.
The rest of the day was no less wacky, but the fourth-inning battle will be what's remembered.
All Nolan Ryan could do was cry
HOUSTON (UPI) - Nobody cursed. Nobody threw anything. Nobody made excuses.  But most of the Houston Astros cried, and no one shed more tears than Nolan Ryan.
He tried not to. For an hour he tried to talk, to explain how he felt. But it was midnight before he could compose himself and discuss how a 5-2, eighth-inning Houston lead slipped way from baseball's best-paid pitcher.
A soft single, a bouncer back to the mound that he couldn't handle, a perfect bunt and a walk - then Ryan was gone and the Astros' lead was vanishing.
He was not around when teammate Frank LaCorte surrendered 10th-inning doubles to Philadelphia's Del Unser and Garry Maddox to give the Phillies the 8-7 victory that snatched the National League pennant away from Houston.
The loss was LaCorte's but Ryan shouldered the blame.
"IT'S THE BIGGEST loss I've ever had in my career," Ryan said. "I can't sum it up in words. It was a more emotional time that any game I've ever performed in.
"It's one of those situations where when it's over, that's it. There's not another game tomorrow. Another season is gone. It's hard to say it's over with and put it out of your mind.
"If they hit you hard, you know you don't deserve to win. But I felt good.  I felt like I had good stuff and it just wasn't enough. "
Someone asked if the Phillies really were better than the Astros, as if somehow a negative answer could change the outcome of the five-game NL Championship Series - which saw a record four games go to extra innings.
"That's a good question," Ryan said. "They battled us. They never quit.  They beat us, so I guess you have to say they're better.
"I think their bench was the deciding factor. They just kept fighting back and they showed a lot of heart. We did, too. It's a shame somebody had to lose. "
Ryan was one of many tearful Astros who could not believe the game had gotten away from them.
"I thought we were going to win it," said Houston's Enos Cabell, who made the last out on a soft liner to Garry Maddox in center. "We played our tails off. I think we're a better ball club and down deep, if they don't know it, they're stupid.
"I'VE CRIED BEFORE and I'll probably cry again. I'll cry again tonight when I get home but there's nothing you can do about it. God sometimes moves in mysterious ways. "
Just a few feet away, outfielder Jose Cruz sat with a bat in his hand, pounding several pairs of shoes with anger. He, too, was crying.
"I can't believe it," he said. "I still can't believe it. Those guys, they don't give up. They keep coming and coming. I thought when we had a three- run lead we had it. But they just kept coming. You've got to give them credit. They've got a great team, too. We lost but we're still the best.  I had a good year but it doesn't matter now. I just wanted to win and be in the World Series. That's all I wanted. "
Veteran Joe Morgan, whose hitting and baserunning came to life in September and carried Houston into the playoffs, paced back and forth across the locker room floor, spurning all requests for interviews. Manager Bill Virdon removed the scrappy second baseman in the eighth inning after he had gone 0-for-4.
"I've got nothing to say," Morgan said bitterly as he moved among his teammates, offering his congratulations.
Ashby, who delivered a clutch RBI single in the sixth inning to tie the score despite playing with a pair of painfully separated ribs, found a five-run eighth inning for the Phillies even more painful.
"It's not a happy smile," Ashby said of his post-game expression. "We just had a whale of a game and came up short. They simply beat us. I don't see how you can say it got away. "
Ashby was later seen intercepting Nolan Ryan on the way to the showers. He gave him a hug and a handshake.
"I'm proud of you," Ashby said. "You never did anything wrong. We just didn't do enough for you. "
9 Winners
There were nine winners during the final weekend of the Daily News Home Run Payoff.
In the second inning of last night's Phillies-Astros game, R.D. Reeder of Brookhaven won $10 on a single by Pete Rose. Hoddy Funk of Doylestown and Richard J. Russo of Trooper, Pa., each won four tickets to a Phillies game next season.
In the eighth inning of Saturday's game. Gilda Geronomi of Philadelphia won $35 on an RBI single by Pete Rose, Helene M. Kain of Havertown won $35 on an RBI single by Mike Schmidt, Jack Dirk won $25 on an RBI sacrifice fly by Manny Trillo, Vonne Vecaro of Havertown won $10 on a single by Greg Gross and Raymond Mahan won $10 on a single by Lonnie Smith. Peg Harmer of Cheltenham won four tickets to a 1981 Phillies game.
For the year, the Daily News paid out $19,410.