Kansas City Star - October 24, 1980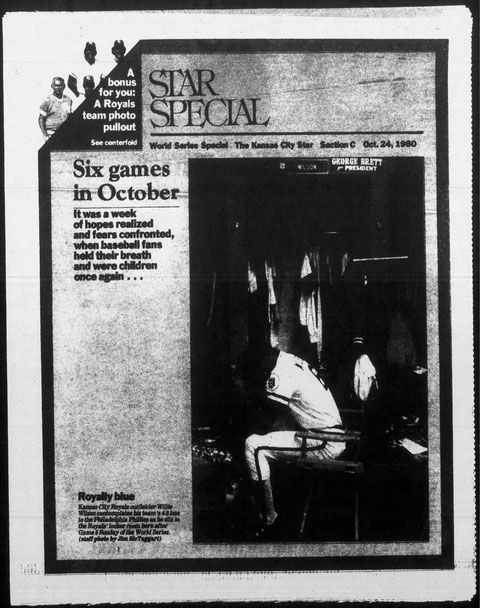 The dream comes true
City's historic love of baseball rewarded with World Series berth
By Joe McGuff, Sports Editor
Kansas City's first World Series was something to embrace, revel in and marvel at. It was a party, a festival, a happening. For eight days baseball dominated the life of a city.
These were eight days of innocence, a period when just being there was more important than winning.  Quite likely, given their youth and talent, the Royals will be in other World Series, but the first will be unique.
When the Royals defeated the New York Yankees in the American League Championship Series, there was a mental adjustment to make.
The World Series in Kansas City? Was the World Series really coming? For so long it had seemed so remote.
There were the Arnold Johnson years when the Kansas City Athletics were so inept. And the Charlie Finley years when they were even worse, Then, when the Royals became good, the Yankees were perpetually blocking them.
The World Series was a television event played in New York or Baltimore or Los Angeles — not in Kansas City.
But, gradually, Kansas City adjusted to the idea. Then the scramble was on for tickets and hotel rooms. Friends unheard of since childhood were calling for two seats in any location.
Friday night, Oct. 17, the World Series opened in Kansas City. The Royals were trailing the Philadelphia Phillies two games to none, but no one seemed to mind.
If the Royals were to lose in four names, well, so be it. There would be no crying or complaining. They had swept the Yankees in three games and getting back at George Steinbrenner and the folks in the Big Apple was what really counted.
Hating the Yankees was easy. But the Phillies? How could you hate the Phillies? They hadn't won anything since 1950, when they appeared in the World Series and lost four straight to the Yankees.
Philadelphia and Kansas City had little in common except that their baseball teams had been in the playoffs in 1976, 1977 and 1978 and had lost each year.
When the Royals won Game 3, their fans were delighted. Now there would be no sweep by the Phillies. When they won Game 4, their fans were ecstatic. The teams were even, and the Royals might just win the whole thing.
By the time the fifth game was played, the fans were expecting the horne team to win. When the Royals lost, the fans' reacted as baseball fans everywhere do. They second-guessed the manager, Jim Frey, and grumbled about the defeat.
Tuesday night, the Royals lost in Philadelphia, and Kansas City's first World Series was over. There was little anguish in the defeat for fans or players. This was the year that George Brett hit .390, Willie Wilson had 230 hits, the Royals ran off with the American League West and crushed the Yankees. There was no reason to wail.
What did the World Series mean to Kansas City?
It meant dollars, millions of them. It meant the sort of media exposure that comes only with a political convention or a major sporting event. It was a chance for Brett to unload on a New York writer who called the Series boring.
"The only reason it's boring to him is because the Yankees or Dodgers aren't in it," Brett said. "On the East Coast and West Coast, they don't realize there is a Midwest."
But more than anything else, the World Series was the fulfillment of a dream shared by generations of Kansas Citians.
Before the first game played here, I made a short, sentimental detour on the way to Royals Stadium, stopping for a few moments at 22nd and Brooklyn. This was the site of Blues Stadium, which was enlarged and later named Municipal Stadium. Nothing remains but a vacant lot surrounded by a chain-link fence, but this is where baseball in Kansas City firmly took root and grew for 50 years.
This is where the Blues played and Satchel Paige pitched for the Monarchs. Thu is where Ted Williams, Mickey Mantle and Willie Mays played as minor leaguers. Kansas City's entry into the major leagues was made there. The Yankees and Baltimore clinched pennants at 22nd and Brooklyn and Early Wynn won his 300th game on this site.
Through the 50 years baseball was played there, youths and old men dreamed of some distant day when Kansas City might be in the majors and, who could tell, perhaps a World Series. At times the idea seemed awfully farfetched, but that's what dreams are all about.
In October of 1980, the dream came true.
Brett's blazing bat but a symptom of thrilling 1980 season
February
29 — Full squad reports to spring training in Fort Myers, Fla.
March
18 — Catcher Darrell Porter leaves camp for "personal reasons." It is later disclosed that he is attending a drug and alcohol rehabilitation center.
April
1 – Major League Players Association and club owners fail to agree on a new contract. Players announce they will boycott the remaining week of exhibition games, but agree to open regular season on schedule.
If no contract accord is reached by midnight May 23, players say they will walk out the next day.
9 — On the eve of Royals' American League opener, outfielder Amos Otis is placed on the disabled list because of a ruptured tendon in the little finger of his right hand.
10 — Detroit's Jack Morris pitches' three-hitter, beating Kansas City 5-1 in the season opener.
11 — Royals defeat the Tigers 4-0, as Larry Gura pitches a six-hitter.
21 — Dave Stieb pitches Toronto to a 7-1 victory over Kansas City. Royals' record drops below 500 for the last time at 5-6.
Kansas City, in fifth place, faces its biggest deficit of the season, 3½ games behind American League West leader Oakland.
28 – Royals stop Baltimore, 7-0.  George Brett injures his heel and misses the next nine games
May
2 — Porter, who missed Royals' first 18 games, makes his debut aa a pinch hitter against Boston. He flies out.
4 — Porter makes his first start. As Royals' designated hitter, he gets a single and triple.
10 — Relief specialist Renie Martin goes 8⅓ innings to his first major-league start, and gets credit for a 13-8 victory over Boston.
12 — Porter drives in five runs as Royals defeat New York, 12-3. Hal McRae suffers a torn muscle in his left calf and misses 22 of next 23 games.
20 — Rich Gale wins his first game as Kansas City edges Oakland, 1-0.
21 — Brett goes zero for six against A's and his batting average plummets to.247.
22 — Martin wins his fourth straight game as a starter and fifth cousecutive game overall as Royals collect 21 hits and topple two runs, increasing his RBI total to 22 for 18 games. Player strike deadline is just hours away.
23 — Strike is averted in the early-morning hours. Royals slip into first place (to stay) by besting California, 13-9.
28 — Otis makes his first appearance of the season after missing Royals' first 39 games.
June
1 — Royals send pitcher Steve Busby to Omaha.
7 — Brett, Porter, Otis and McRae are in the starting lineup together for the first time.  Royals win, 7-2, at Texas.
10 — Brett suffers a torn ligament in his foot in Cleveland and misses the next 26 games.
July
1 — Royals lose their third straight as the Twins win, 2-1.
6 — Royals lose to Seattle, 5-3, and enter the All-Star break with a 47-33 record and an 8½-game lead over Chicago.
10— Brett, sidelined since June 11, returns to the lineup and goes two for four.
16 — Royals' 21-hit night jolts New York, 13-1.  Willie Wilson gets five hits, and Brett and Otis four each. Brett's average rises to .377.
21— Wilson, in the hospital at the start of the game for X-rays of a shoulder injury, singles and scores the winning run in the seventh inning as Royals edge Chicago, 2-1.
August
1 — Gura wins his 15th as Royals edge Chicago, 4-3. Brett bats in a run for the ninth consecutive game, setting a club record.
9 — Brett ties Otis' club-record batting streak of 19 games. Dan Quisenberry equals Ted Abernathy's club mark for saves with his 23rd and Gura matches his best record, 16-4, as Kansas City beats Detroit, 5-4.
15 — Quisenberry records club-record 24th save as Royals stop Toronto, 4-3.
17 — Brett goes four for four with his final hit of the day raising his average to .401.
18 — Brett's streak reaches 30 games as he goes three for five against Texas, lifting his average to .404.
19 — Jon Matlack ends Brett's 30-game batting streak, which began July 18. Brett is zero for three, but Kansas City beats Texas, 4-3. Brett went 57 for 122 during the streak (.487).
21 — Indians end Royals' eight-game winning streak, 4-3. Kansas City signs veteran outfielder Jose Cardenal.
23 — Gale wins his 11th consecutive decision (12th straight as a starter) as Kansas City edges Cleveland, 3-2.
24 — Royals 7, Indians 5. Quisenberry gets his 29th save in the franchise's 1000th regular-season victory since its inception in 1969.
26 —  Brett is five for five and raises his average to .407; Royals edge Milwaukee, 7-6.
27 — Royals beat Milwaukee, 5-4. Reoord goes to a season-high 39 games over .500 (83-44)
28 — Rangers stop Kansas City's streak at five, winning 10-6.
29 — McRae hits two homers as Royals defeat Texas, 7-3. Royals add pitcher Ken Brett and infielder Onix Concepcion to their roster from Omaha, and release Busby and outfielder Rusty Torres.
30 — Quisenberry loses for the first time since June 24 as Texas wins, 7-5, in 11 innings.
31— Royals seize their biggest lead, 20 games over second-place Oakland.
September
1 — Gale's winning streak ends at 11 as Brewers win, 6-1.
4 — Brewers' eight-run ninth inning beats Kansas City, 9-5; crowd of 21,898 pushes Royals' attendance beyond 2 million mark.
5 — Splittorff's four-hitter improves his record to 11-9 and ends Royals' three-game losing streak as Kansas City edged Cleveland, 2-1. Brett goes 1 for 4, slips to .399.
7 — Royals, having lost four of their last five games, defeat Cleveland, 6-4. Brett, batting .396, is sidelined because of a wrist injury suffered the night before. Leonard improves his record to 17-9, and Quisenberry gets his 32nd save, tying Kansas City's major-league record (set in 1988 by Jack Aker of the Athletics).
11 — Royals keep intact their 1980 record of never having lost more than three straight, defeating California 7-2, after three consecutive losses to the Angels.
13 — A's 6, Royals 2. Loss is Royals' fifth in six games and ninth in their last 12.
14 — Quisenberry gets his 33rd save, setting a Kansas City major-league record, as Royals edge Oakland 4-3.
17 — Royals clinch fourth West Division title in  ftyefive years, with Dennis Leonard's three hit. 5-0 victory over California in the first game of a double-header. Oakland is eliminated from the race. (Royals are 90-55, A's 74-73.)
Brett misses ninth consecutive game because of wrist injury, but returns in the nightcap and goes two for five in Royals ' 7-4 loss.
19 — Brett's average is .3995 — .400 officially — after a two-for-four game against Oakland.;;
20 — Brett goes zero for four against the A's his; batting average falls to .396 and never again reaches .400.
October
4 — Leonard wins his 20th as Royals defeat Twins, 17-1. Brett, playing his final regular-season game, goes two for four and ends his season with a .390 average.
5 — Royals stop Minnesota, 4-0, and finish with 97-65 record, 14 games ahead of Oakland in the American League West.
The American League Championship:  How the Royals won it
Game 1
Larry Gura was many things in 1980, but Mr. September he was not.
After Gura beat Milwaukee Aug 25 and improved his record to 18-5, the Cy Young Award still appeared within reach for the Kansas City Royals' left-handed pitcher.
The sky seemed the limit. The only thing is, it started to fall. Two no-decision games. Three losses. Another no-decision. Two more losses.
Physical problems? Maybe. Ineffective? Surely. Cy Young Award? No way. A good man to start in the playoffs? Hardly.
The New York Yankees' Reggie Jackson also was many things in 1980. Including Mr. October. At least, Mr. Very Early October.
Jackson whose late-year and postseason heroics in seasons past are legend, added to his lore by hitting a division-clinching home run Oct. 3.
Kansas City, Oct. 8, 1980 — Mr. October vs Anything-but-Mr. September.
• First inning. Runner on second base. Reggie Jackson at the plate. Larry Gura pitching. Jackson fouls to left.
• Third inning. Man on second. Jackson grounds to second.
• Fifth inning. Runner on first. Jackson takes a curveball over the plate. Strike three.
• Seventh inning. Men on second and third. Jackson grounds to second.
"I just couldn't see the ball," Jackson said, referring to shadows that flickered across Royals Stadium. "I never had a really good cut all day… he (Gura) pitched me perfect."
The Yankees get two good cuts against Gura — second-inning home runs by Rick Cerone and Lou Piniella — that threaten to extend the pitcher's woes even further into the calendar. But Gura seizes control.
Frank White's two-run double in the second, Willie Aikens' two-run single in the third, George Brett's home run in the seventh and Willie Wilson's two-run double in the eighth produce a 7-2 Kansas City victory as Gura beats Ron Guidry.
Game 2
Spring training is a time to regain the old batting eye. Loosen up that arm. Take 200 ground balls a day.
Mostly, however, it is a time to go over the fundamentals. Again and again. The pickoff move. The rundown play. The squeeze. Hit-and-run. The relay.
Ah, the relay. Hit the cutoff man. Be sure you hit the cutoff man. Well, if you cant hit the cutoff man, at least bit the trailer.
Good. Do it again. Once more. Who knows this might be a godsend somewhere down the line.
Kansas City, Oct. 9 ,1980 — The Royals lead by one run. There are two out in the Yankees' eighth, and Willie Randolph is on first base with a single. Bob Watson is the batter. Dennis Leonard, pitching a masterful game, throws.
Watson drills the pitch into the left-field corner. Randolph tears around second, the tying run in flight. Willie Wilson fields the ball and rifles a throw toward the cutoff man, shortstop U.L. Washington. Toward Washington, but over his head — and right to the trailer, third-baseman George Brett.
Randolph speeds around third, and Brett pulls back his arm. Brett's throw zings its way toward catcher Darrell Porter. Randolph is… out!
"I was the trailer," Brett said, "…if I'm not there and the ball rolls all the way to the catcher, where do you think I'd be? In his (manager Jim Frey's) office…"
Relief pitcher Dan Quisenberry works out of a ninth-inning jam, getting Graig Nettles to hit into a game-ending double play. Willie Wilson's two-run triple and Washington's run-scoring double — both in the third inning — hold up. Royals 3, Yankees 2.
Game 3
No major-league team has come from a 2-0 deficit and won a championship series. The club that finally pulls it off probably will have a great winning tradition, like 32 pennants and 22 World Series titles.
A great slugger, like Reggie Jackson. Two of baseball's best pitchers, like Tommy John and Ron Guidry. A renowned reliever, like Rich Gossage. And the team probably will have an Indian sign — maybe even a Royals sign — on the other club.
Perhaps foremost among the requisites for the Big Comeback would be the Big Guy out of the bullpen. The man who intimidates, stops, wins, saves. Couple him with the other team's will-we-ever-beat-tbose-guys syndrome, and you have a chance to win three straight.
New York, Oct. 10, 1980 — Now pitching for New York, in relief of Tommy John… No. 54, Rich Gossage.
There are two outs in the Royals' seventh. New York leads 2-1, and Willie Wilson is on second after hitting a double. U.L. Washington beats out an infield hit, bringing George Brett to the plate.
Power vs power. Strength against strength. Gossage's first pitch is a blur — coming and going. The ball lands in the third deck in right field.
"I thought it was going out of the bleeping stadium," Brett screamed. "Oh God. Oh, man. How about that…?"
Gossage said: "I feel like I'm the best and he's the best. He just beat me tonight."
Dan Quisenberry squirms out of a bases-loaded, no-out situation in the Yankees' eighth, and Brett's home run — two innings after Frank White's bases-empty homer — proves decisive. Kansas City 4, New York 2. American League pennant to the Royals.
Game 1: A rookie pulls a fast one on the Royals
With a tired bullpen, Phils' manager gambles… wins
By Mike Fish, Sports Writer
PHILADELPHIA — Rookie pitchers and World Series games aren't supposed to mix. You don't send a boy out to handle a man's chore.
The Royals were supposed to blister Philadelphia Phillies rookie Bob Walk. The 23-year-old starter didn't stand a chance, theory had it, not against the American League champion Kansas City Royals and certainly not in Game 1 of the World Series.
But Walk stood up to the Royals' bats Tuesday night, lasting, seven innings as the Phillies won 7-6.
The Veterans Stadium crowd of  65,791 in Philadelphia, the largest to see a Series game since 1964, went wild as the Phillies won their first World Series game since 1915.
Walk accomplished his mission of keeping the Phillies — their pitching staff burned out after a grueling five-game playoff series against the Houston Astros — in the game. Relief ace Tug McGraw allowed just one hit the final two innings.
"They (Philadelphia) had a good night with the bat; we made a few mistakes,'' said Royals manager Jim Frey, who called a three-run homer by Philadelphia outfielder Bake McBride "the key hit.''
"The young kid (Walk) was struggling for control, but we hit the ball well off him. We just couldn't hold the lead,'' Frey said.
"I just tried to overpower the hitters early, and I really didn't have the fastball," Walk said. "After that, I changed styles and got the ground ball."
The Royals made one last run at the National League champion Phillies with Willie Aikens' two-run homer in the eighth — his second two-run homer of the night. But the last-minute push proved futile. As the crowd roared on every pitch in the ninth, McGraw retired the Royals one-two-three.
Walk "kept us in the ball game," said Phillies manager Dallas Green. "He's calling himself 'Boom Boom' now because of the home runs. That's not Bobby.
"He's generally got the control, but it's tough any time you haven't pitched in 11 or 12 days."
The Royals' starting pitcher Dennis Leonard was cruising along with a 4-0 lead in the third, but the veteran righthander saw his early success turn into a nightmare as the Phillies took the lead with five runs in that inning.
After Leonard retired the first seven Phillies he faced, shortstop Larry Bowa bounced a single over second base and then stole that base. Bob Boone sent Bowa home with a double to left.
.That's where life turned miserable for Leonard With Boone at second, rookie Lonnie Smith singled to left and tripped as he rounded first. Royals third-baseman George Brett had Smith caught in a rundown after he took Willie Wilson's throw from the outfield.
But when Brett turned his back to Boone, the Phillies' catcher took off for home and scored.
"I was screaming at the top of my lungs (for Brett) to throw home," Leonard said. "But once be committed himself, the play was dead."
Leonard compounded matters when he hit Pete Rose with a pitch and walked Mike Schmidt on four pitches.
Boone's run "didn't really rattle me that much, but then I go out and give up a walk and hit another guy. He (Rose) never tried to get out of the way. It was a breaking pitch and he knew it wouldn't hurt. I wish I had thrown him a fastball or hit him in the knee."
The Royals' 4-2 lead evaporated when cleanup hitter McBride hit a home run over the 371-foot sign in right field.
The Phillies scored again in the fourth, sending Leonard to the showers. Manny Trillo beat out a slow roller to second, advanced to second when Leonard's pick-off throw skipped past Aikens and scored on Boone s second double of the night.
Leonard, 13-4 since the All-Star break, was replaced by Renie Martin. Martin worked out of the fourth-inning jam, but the Phillies reached him for another run in the fifth.
It was Walk who was expected to self-destruct. After all, Green handed the ball over to the rookie out of desperation — he was the only available starter.
After an easy first inning, Walk's early demise appeared imminent. The Royals readied the rookie for a pair of runs in both the second and third innings.
Amos Otis hit a two-run homer in the second, and Aikens, celebrating his 26th birthday Tuesday, followed with another two-run homer.
It looked as if the Royals were going to run away from the Phillies — until Philadelphia's five-run third inning turned the game around.
At that point, the best the Royals could hope for was to head back to Royals Stadium after Wednesday's game, tied at one game apiece. But that is easier said than done. In Game 2, the Phillies will go with veteran left-hander Steve Carlton, 24-9.
"I have all the confidence in the world in Lefty," Green said. "There's no better pitcher in the game.
"If he was rested, I'd want to pitch him three times (in the Series). I might just pitch him two more times if I have a chance."
Frey will counter with left-hander Larry Gura, 18-10. Gura, who struggled in the last month of the season, snapped out of his slump in beating the New York Yankees 7-2 in Game 1 of the American League playoffs.
Bitter aftertaste
The Royals' should-have-won loss to the Philadelphia Phillies is particularly galling
By Joe McGuff, Sports Editor
PHILADELPHIA — George Brett squeezed some toothpaste into his mouth, looked at the writers gathered around his locker and said, "I think I'll go brush my teeth. I have an awful taste in my mouth."
The problem: switching from champagne to vinegar.
The Kansas City Royals lost the opening game of the World Series to the Philadelphia Phillies 7-6 Tuesday night in Philadelphia, and the game left an especially bitter aftertaste because it was one the Royals should have won.
"It means we cant win in four,'' Royals manager Jim Frey said, attempting to minimize the damage. "We have to go five."
Unless the Royals beat Steve Carlton, the Phillies' best pitcher, Wednesday at Veterans Stadium in Philadelphia, they will have to go six. Or seven. Only seven teams have won the World Series after losing the first two games, and only the 1978 Yankees rallied from a 0-2 deficit and won in six.
The Royals had everything going for them Tuesday night but the final score. Dennis Leonard, their leading winning pitcher, started against Bob Walk, a rookie who was pumping gasoline last year at this time. The Phillies had been led to believe the Royals resembled the Houston Astros. What they got instead was a facsimile of the 1927 New York Yankees.
Amos Otis hit a two-run homer in the second, and Willie Aikens hit two-run homers in the third and eighth. Brett and Hal McRae hit drives that were caught at the wall.
"Their hitting impressed me," said the Phillies' Larry Bowa.
"They can hit the long ball and run," Phillies catcher Bob Boone added. "You've got to respect them a lot."
Nevertheless, the Royals lost, giving the city of Philadelphia a new outlook on the World Series. Until Tuesday night, the feeling in Philadelphia was that the World Series was about as much fun as being hung by your thumbs or listening to Johnny Carson tell Philadelphia jokes.
Before defeating the Royals, the Phillies had gone 65 years without winning a World Series game. The Phillies had lost eight straight Series games, which is an imposing losing streak. The last time the Phillies had won a World Series game, Woodrow Wilson was president and the American League was only 15 years old.
The Phillies made their first World Series appearance in 1915. They won the first game and lost the last four. The 1950 Series was even more fun. That time, the Phillies lost in four straight.
Although the Royals lost Tuesday night, Aikens spoke confidently of eventual victory.  "The guys felt we could go out and play the Yankees and beat them," Aikens sai.d "We feel the same way about the Phillies."
Even so, the Royals, like the Astros before them, have found the Phillies to be resourceful opponents.
The big hit in the game was a three-run homer by Bake McBride that capped a five-run third inning and put the Phillies ahead to stay.
Bowa singled with one out in the third and then went against the book by stealing second, although the Phillies were four runs behind. Bowa knew his manager, Dallas Green, might disapprove.
"The only reason I tried to steal is that I wanted to get something started," Bowa said. "If I get thrown out, I might as well keep on running because Dallas is going to have something to say about i.t"
Bob Boone doubled, sending Bowa in to score. Lonnie Smith singled and was retired in a rundown as Boone added another run.
The next batter was Pete Rose, who managed to get his leg in front of a pitch. It could be said be offered a sacrificial calf.
"Oh, yeah," Leonard said. "He knew it was a breaking pitch, and he didn't try to get out of the way."
When Leonard made a throw to first, Rose shouted, "You (had) better worry about the guy up there. He can hit it out with one swing."
The guy at the plate was Mike Schmidt, renowned for his home runs this season, and he did not hit it out. Instead, he walked and McBride hit it out, putting the Phillies ahead 5-4.
When the Royals threatened in the eighth inning, Phillies relief ace Tug McGraw came in and saved the game. McGraw pitched in all five games in the playoffs.
Although Carlton will pitch Wednesday, the Royals are optimistic about their chances.
"We can do the same thing we did in this game," Otis said. "If we played in this park, we'd be among the leaders in home runs. We'd hit 180 or more. I guess the people got their money's worth. We got our feet wet, and we got rid of the jitters. I'm sure a lot of guys are over being nervous."
The Phillies declined to look on the victory as being unusually significant, although they are ahead and Carlton will pitch.
"It's nice to have Steve pitching and us up 1-0," Bowa said. "He's been our stopper. But he's done a lot of pitching by this time of the year. He led the league in strikeouts (286), so you know he had to throw a lot of pitches.
"They're (the Royals) not going to get down after one loss. They're too good a team. This Series will go six or seven (games)."
A special present
Birthday-boy Willie Aikens gives Royals home runs
By Mike Fish, Sports Writer
PHILADELPHIA — If only Willie Aikens could have rewritten the ending. Everything else went according to schedule for the burly Kansas City Royals first baseman.
For openers, he celebrated his 26th birthday by starting in Game 1 of the 1980 World Series. Not bad for a guy who just a year ago — while with the California Angels — missed the American League Championship Series because of an injured knee.
But Aikens did more than just show up at Veterans Stadium in Philadelphia Tuesday night. He launched a pair of two-run homers in his first World Series game.
Here was Willie Mays Aikens, born during the 1954 New York Yankees-San Francisco Giants World Series and named after Willie Mays, the Giants' great center fielder, strutting his long-ball power on national television.
The only drawback was the final score — Phillies 7, Royals 6.
"It could have been better if we won the game," Aikens said "I was just so glad to go out and do well — and have it be on my birthday.
"The first time up, I hit a fastball out over the plate (a fly out to center). Next time, he (Phillies starting and winning pitcher Bob Walk) was behind in the count, so I kind of guessed on the pitch. I was looking for a fastball inside and it was there.
"I kind of had an idea from what he did the first time. If I get an idea, there's no way in the world you can throw me a fastball and get me out."
The Phillies' starting pitcher, the first rookie to start the opening game of a Series since Joe Black opened for the Brooklyn Dodgers against the Yankees in 1952, is now a believer. But then, Walk wasn't privy to any pregame scouting information on the Royals. Phillies manager Dallas Green figured Walk was better off being kept in the dark.
"I didn't have any of that stuff (scouting reports)," Walk said. "I guess they just wanted to take all the worry away from me. It wasn't something I had to worry about.
"I just did what Boonie (catcher Bob Boone) said. Maybe I gave him (Aikens) too much to hit."
As Aikens sat half undressed in the Royals' clubhouse, the opening-game slugger was being quizzed about his name and Baseball Hall of Famer Mays, after whom he was named.
"I was kind of disappointed tonight that the announcer was calling me by my full name," Aikens said. "This is the first time it's happened this year… I wanted to send him (the announcer) a message 'cause I have a middle name just like everybody else.
"He didn't call anybody George 'Something' Brett or Hal 'Something' McRae. He just wanted to make a big deal out of it.
"I feel like I'm Willie Aikens. I'm not Willie Mays or something ridiculous. I've never met the man."
When Aikens faces left-hander Steve Carlton Wednesday, you can be sure he'll be pitched differently.
The scouting reports likely were tossed out after Tuesday night's performance. The word is out — you don't pitch Aikens inside, not with the fastball.
"We might have to pitch Aikens differently tomorrow (Wednesday)," a relieved Green said. "He showed us a lot of power tonight."
Rookie is a screwball
Phillies' Walk is full of surprises
By Mike DeArmond, Sports Writer
PHILADELPHIA — Phillies rookie pitcher Bob Walk is a flake. A pitcher with that name would just have to be. To wit:
• Walk once went up to the plate to hit, but forgot his bat.
• Walk once went out to the pitcher's mound without his glove.
• Walk once was knocked out of a game early, went home and then returned to talk to reporters.
• The first ball Walk threw in a major-league stadium was a tennis ball, heaved at Dodger Stadium from the stands when he was a young fan instead of a young major-league pitcher.
• Walk turned on the television set in the training room at Chicago's Wrigley Field this season and asked, "Who's playing?'' The Cube and Phillies, he was told. "Oh," Walk said. "I guess I'd better get out there."
So, in a wacky sort of way, it made sense that Walk was the winning pitcher Tuesday night when the Philadelphia Phillies edged the Kansas City Royals 7-6 in the first game of the World Series.
Walk gave up three two-run homers — one by Amos Otis and two by Willie Aikens — and still won before 65,791 fans at Veterans Stadium in Philadelphia.
Walk, who started the game because the Phillies' pitching staff had been put through a wringer during the National League Championship Series against the Houston Astros, was unimpressive despite the win.
"Everybody figured we could hit him," Otis said.
The Royals built a 4-0 lead on Otis' line-shot home run over the left-field wall in the second inning and on Aikens' first homer with two outs in the third.
Seemingly, it was going to be easy. But the Phillies who, rallied in three victories over Houston in the National League Championship Series, did it again against the Royals starter Dennis Leonard.
Leonard retired the first seven Phillies, then gave up three straight hits in the third, hit Pete Rose with a pitch, walked Mike Schmidt and yielded a three-run homer to Bake McBride as Philadelphia scored five times and seized the lead.
The Phillies scored once in the fourth off Leonard and again in the fifth off relief pitcher Renie Martin, then held on despite Aikens' second homer off Walk in the eighth.
"I couldn't get my breaking pitch over worth beans tonight," Leonard said. ''I got behind and had to go with my fastball, and they hit it."
The game seemed a perfect opportunity for the Royals to take advantage of the chaotic situation on the Philadelphia pitching staff. Now, however, Kansas City must face the Phillies' 24-game winner, Steve Carlton. And the prospect looms that the Royals could return to Kansas City trailing 2-0 in the best-of-seven Series. The Royals were unrattled by the possibility.
"You'd hate to lose the first two games," Otis said.  "But Carlton's been erratic his last two times out. We're looking for a split."
Game 2: Phillies fight to fore again
'Comeback Kids' are victorious despite Royals' bold bats
By Mike Fish, Sports Writer
PHILADELPHIA — They had Steve Carlton on the ropes.
Any inning, the Kansas City Rovals were certain to deliver the knockout punch. Carlton, the best pitcher the Philadelphia Phillies have, couldn't flirt with danger forever.
Sure enough, Carlton wasn't around at the end. But it was Royals reliever Dan Quisenberry who was battered and beaten in Game 2 of the 1980 World Series. Quisenberry, who has saved the Royals most of the season, didn't save them Wednesday. The Phillies scored four eighth-inning runs and went on to a 6-4 come-from-behind victory, leaving the Royals behind 2-0 in the best-of -seven Series.
Carlton surrendered 10 hits and six walks through eight innings, but he was the winning pitcher. The Series resumes Friday night at Royals Stadium with rignt-handers Rich Gale for the Royals and Dick Ruthven for the Phillies scheduled to pitch.
Quisenberry, who had 33 saves during the regular season and another save and a victory in the American League Championship Series, entered the game in the seventh after the Royals had scored three runs for a 4-2 lead. Starter Larry Gura had pitched six strong innings, but Royals manager Jim Frey wanted his late-inning specialist to finish off the Phillies.
It was the other way around. The Phillies took care of Quisenberry.
"He's been the guy that's been doing it all year," Frey said. "We had the right man in there. It just didn't work out.
"Gura came off the mound after that inning (sixth). He said he just didn't feel he had his fastball anymore. He said he was getting tired. He more or less told me he was running out of gas."
The last Philadelphia rally started when Quisenberry walked Bob Boone. Pinch-hitter Del Unser drove the next delivery into the left-center field gap, scoring Boone and bringing the Phillies within a run.
Pete Rose bounced a ground ball to the right side of the infield, advancing Unser to third. Bake McBride bounced a chopper over the head of second-baseman Frank White, and Game 2 was tied.
Mike Schmidt followed with a double to the base of the right-field wall, scoring the go-ahead run. Keith Moreland drove in the final run with a single.
"I don't think anybody thought we wouldn't scare them (Royals) to death," said Schmikdt.  "We've just got a great deal of confidence. This is why teams win championships.
"We knew we were going to win. Steve (Carlton) at his worst will keep us in every ballgame he pitches."
Once again, the Phillies had bounced back. The Royals jumped out to a 4-0 lead in Game 1, but Philadelphia came back.
"Not too shabby," Phillies manager Dallas Green said. "It looked like one of the wins was going to be a loss for a while, but we got some key hits and fought back.
"That's been Philly baseball all season long.  We got some juices flowing in that dugout right now.  Everybody is involved."
The story in Game 2 was not only that Quisenberry couldn't hold a two-run lead. The Royals did not take advantage of a subpar performance by Carlton.  Ron Reed pitched the ninth inning.
"Lefty (Carlton) was struggling," Green admitted.  "But Lefty was struggling because of the baseballs.  The baseballs tonight were as slick as any I've ever seen.
"I'm going to make a complaint to the commissioner. We got to get these balls rubbed up. Boonie came in (the dugout) one time and told me, 'These things are at slick as ice.'
"Lefty has to have the feel of the slider, and he didn't have it tonight."
Amos Otis, who killed two scoring opportunities in the first three innings, got the Royals started in the sixth when he singled and scored Kansas City's first run.
Otis put the Royals ahead 3-2 with a two-run double in the seventh, and he scored Kansas City's final run on John Wathan's sacrifice fly.
It was a personal revenge of sorts for Otis, who remembers the 1869 season when — in his only previous confrontation with Carlton — he struck out four times. Otis, then a New York Met, was the final strikeout victim of the game in which Carlton fanned a career high 19.
While Otis was warming up, Carlton was staggering. He walked three Royals before Otis stepped to the plate in the seventh.
Meanwhile, Gura was a model of perfection through the first four innings. He retired the first 13 Phillies in order before rookie Keith Moreland reached on an infield single with one out in the fifth. Shortstop U.L. Washington made a brilliant effort on fielding and releasing the ball in midair. But the throw was not in time, and Gura's early good fortune was soon ended.
Garry Maddox followed with a double to left, putting runners at second and third, and Manny Trillo hit a sacrifice fly to Jose Cardenal in right field for the game's first run. Larry Bowa put the Phillies ahead 2-0, scoring Maddox from third on a single.
Meanwhile, Carlton was able to work his way out of trouble. The Royals stranded a pair of runners in the first two innings and eight through the first six innings.
In pain, Bowa bows out of play
By Mike McKenzie, Sports Writer
PHILADELPHIA — In the first inning, he bounced a single up the middle. In the third, he singled to center. In the fifth, he walked on four pitches. In the sixth, he took himself out of the game.
George Brett, suffering from hemorrhoids, had had enough. He was in pain. He couldn't run. He felt he was letting down his Kansas City Royals teammate.s He realized he could no longer play Wednesday night in what turned out to be a 6-4 loss to the Philadelphia Phillies in Game 2 of the World Series.
"I couldn't help the club,," Brett said afterward adding that he was going to check into St Luke's Hospital when the Royals arrive in Kansas City Thursday. "I've experienced worse pain. It's just that I couldn't run.
"I'm going to have some surgical procedure tomorrow, probably lancing. Dr. (Paul) Meyer (Royals' team doctor) says a day helps a lot, and I expect to be ready Friday."
Brett's condition was bad enough Wednesday that it dominated World Series conversation.
How do you talk about a man's hemorrhoids? About the only thing worse than suffering from the "thrombosed vein," as Dr. Meyer termed the ailment, is talking about it.
That's why Brett, the center of the baseball universe this summer, kept quiet about his condition that developed during the playoffs in New York last weekend. That's why euphemisms such as ' 'personal medical problem" were forwarded by Royals officials when word filtered throughout World Series headquarters that Brett might not play Wednesday night.
At the ballpark, after Brett was in the lineup after a day of beat treatments while lying on his belly, ace reliever Tug McGraw of Phillies said: "George is in the toughest position of anyone in the world. He had to announce to the nation he has hemorrhoids."
During the pregame batting practice, the media swarmed around the batting cage — 350 reporters in search of insight.
It was all-important because it was Brett, the center of attention all season. For once, Brett wished he wasn't. He timed his arrival from the clubhouse to the batting practice cage for 6:44 p.m. Practice started at 6:45. The only utterance he had for reporters was, "I feel great."
He didn't, however. In a World Series, you don't take yourself out of a game when your bat could very well mean file difference between victory and defeat.
But Brett did just that.
Saving the Series
The Kansas City Royals find themselves in a perilous condition after the second game
By Joe McGuff, Sports Editor
After 28 years, the World Series has come to Kansas City, but it has arrived in damaged condition.
George Brett, suffering from the world's most widely covered case of hemorrhoids, is in St Luke's Hospital for treatment. He rested on the charter flight from Philadelphia by stretching out across three seats in the coach section Wednesday night. Brett was in pain on the trip, and for that matter, so were the Kansas City Royals.
Until Tuesday, everything had seemed so easy for them. They won the American League West from here to Seattle. They won the American League Championship Series from the New York Yankees in three games and left a sulking George Stetabramer working on a Yankee hit list.
Now, for the first time this season, the Royals are dealing with adversity. They trail the Philadelphia Phillies 2-0, and if they lose Friday night at Royals Stadium, the tournament to determine the best team in the world of Bowie Kuhn will be all but over.
In 76 years of World Series competition, no team ever has lost the first three and come back to win. Only seven have lost the first two games and survived to bathe in champagne.
"It's nice to go home for three straight," declared Ewing Kauffman, owner of the Royals. "We'll win them all."
Who knows, maybe the Royals will come back to win. After all, the Yankees lost the first two games to the Dodgers in 1971 and then won four straight. But if the Royals are going to get back in this World Series, quite a few positive things must happen. Above alla the Royals will have to get better pitching.
"We've got to hold a lead," Royals outfielder Hal McRae said. "We can score runs, but we've got to hold them when we get in front.  The pressure is on us now, but if we win Friday, the pressure will be on them (the Phillies) because they won't want to see us even it up."
The Royals have had some base running problems, and they botched a rundown play in the opening game. But to blame their deficit on these lapses would be like blaming the energy crisis on Jimmy Carter because someone left the lights on in the White House.
The Royals had a 4-0 lead in the opening game, but Dennis Leonard, who pitched brilliantly against the Yankees in the playoffs, was unable to hold it. Wednesday night the Royals went into the last of the eighth inning with a 4-2 lead. Dan Quisenberry, who led both major leagues in victories and saves, wound up a 6-4 loser.
"I thought we had the game won," Royals first-baseman Willie Aikens said. "We get leads and cant seem to hold them."
The Royals also need to get George Brett back in the lineup. He left the game in the sixth inning Wednesday night after getting two hits and drawing a walk against Steve Carlton, the Phillies best pitcher. His status for the third game probably will be in doubt until shortly before game time.
It is ironic that Brett, widely acclaimed at the best hitter in baseball, might be forced out of his first World Series by an ailment everyone jokes about except the sufferer. Brett said he is frustrated, but still hopes to play.
"I just want to get the damn things taken care of," Brett said. "I've done everything they've asked me to do. I feel disgruntled. I keep saying, 'Why me? Why not Joe McGuff?'"
Brett grinned wryly and added, "I'm going back to the same room I always have at the hospital. I've had it five yean in a row."
If the pitching improves and Brett returns, the Royals still must find some way to cool off the Phillies. The Phillies have won four consecutive come-from-behind games, including the playoffs. They are high rollers who can't wait to get the dice.
"We keep coming back because these guys are good hitters," Phillies first-baseman Pete Rose explained. "They think they're going to score some runs."
According to Phillies third-baseman Mike Schmidt, his team is full of confidence. "We just feel this is a good team," Schmidt said. "It's Just a feeling of confidence. That's why teams are in the World Series. They do these types of things late in the year."
It is indicative of how well things are going for the Phillies that they won the second game even though Carlton was not at his best and they made some mistakes. Carlton gave up 10 hits, six walks and threw a wild pitch. He also managed to log four double plays and induced the Royals to leave 10 men on base. They added an 11th in the ninth inning against Ron Reed.
How did Carlton react to such an unusual performance? He was speechless; but then he always is because he refuses to give interviews.
The Phillies played far from a flawless game. The Royals got their first run in the sixth with the help of a throwing error by Manny Trillo. In the seventh, Royals outfielder Willie Wilson walked after being struck out three consecutive times by Carlton. He was sacrificed to second, and Dave Chalk, hitting in Brett's place, walked. Carlton then picked Chalk off first, but Rose was so concerned about holding Wilson at third that Chalk escaped to second.
"I should have got him out at second," Rose said, "but I didn't want to start throwing the ball around."
Perhaps playing in the friendly setting of Royals Stadium will change the dynamics of the Series. Or maybe the Royals can con themselves  into thinking they are playing guys named Reggie and Graig and Goose.
Dan Quisenberry likes to slide in those witty one-liners
By Mike DeArmond, Sports Writer
Dan Quisenberry, the world is discovering, is a marvelous piece of mustachioed flimflam. Groucho Marx without a cigar. WC Fields with red hair instead of a red nose.
Quisenberry, the Royals' ace relief pitcher, brings new meaning to the traditional one-liner. Playing off reporters as if they were straight men in a burlesque house, Quisenberry is fast becoming a media star as the World Series turns to Kansas City for Game 3 Friday night at Royals Stadium.
Royals fans have heard most of Quisenberry's quips. They already knew that Quisenberry:
• "…always had underhanded tendencies, but I came out of the closet in college."
Kansas City fans already have heard Quisenberry's description of pitcher Renie Martin:
• "Some people throw to spots. Some people throw to zones. Renie throws to continents."
There's the one about Quisenberry not liking to be compared with New York Yankees pitcher Rich Gossage:
• "I don't feel comfortable being compared to a guy who throws harder than God."
Then there's the one about the kind of house Quisenberry never dreamed of having.
• "I've got no dreams of a palace. I will not get a moat — I can't afford the alligators. I don't like drawbridges. There's always that wasted dungeon."
Even in defeat, as Wednesday night in Philadelphia when the Phillies scored four runs off him and defeated the Royals 6-4, Quisenberry is a delight.
When a television reporter asked, "What happened?" Quisenberry deadpanned, "We lost."
Asked why, Quisenberry said, "They didn't hit the ball at people."
Finally, regarding Eel Unser's eighth-inning double in the Phillies' winning rally against him, Quisenberry said: "He doesn't know better. He's supposed to ground out on a low-and-away sinker."
Quisenberry, in victory or defeat, has style with a twist. Class spelled with a "K." Why?
"Ask my mom," Quisenberry said. "I grew up talking that way. Actually she knows how I'm doing by what I say in the paper."
Reporters have been driving themselves crazy trying to come up with unique descriptions of Quisenberry.
"One thing I didn't like was when one guy said I was a left-hander caught in a right-hander's body," Quisenberry said. "I think I'm sane. I don't want to be thought of as a left-hander.
"I think he (the writer) was a Harlequin romances writer caught in a sports writer's body."
Quisenberry is amused by the attention he has received, but purports to be concerned by his status as a media star.
"I'm not prepared," he said. "I want to do well, but I don't want to be a national figurehead. I don't want the pressure of being a national figurehead.
"I don't like to be praised all the time. I don't know how to respond to that."
Can the press of the media and his 33-save Fireman-of-the-Year season spoil Quisenberry?
"Please, God," be prayed, "don't let me change."
Game 3:  Last-minute heroics revive Royals
By Mike Fish, Sports Writer
Willie Aikens was the heavy man in Game 1, hitting himself into World Series history with a pair of home runs. But in the final outcome, it meant little.
With an easy swing of the bat in Game 3, Aikens' lined a 10th-inning single that brought the Kansas City Royals back into the World Series.  The Royals prevailed, 4-3, over the Philadelphia Phillies before a Royals Stadium crowd of 42,380.
Aikens snapped the Royals back to life. A loss Friday night, and they would have been fighting history. No team has ever won the World Series after being down 3-0.
It was Aikens, relief ace Dan Quisenberry and the hometown throng that got the Royals back into the Series. With a Royals victory Saturday afternoon, the Series, which began with a pair of come-from-behind Philly victories, would be evened up. The Phillies won the first game 7-6 on Tuesday despite Aikens' homers, and they won the second game 6-4 on Wednesday.
Aikens orchestrated his game-winning heroics at the expense of reliever Tug McGraw. The Royals' first baseman lined the pitch into the left-center field gap, past the outstretched glove of Phillies centerfielder Garry Maddox, scoring Willie Wilson from second base.
Wilson jogged triumphantly home after rounding third, his right arm raised into the late night sky.
"When the ball got up in the air, I knew he (Maddox) didn't nave a chance of catching it," Aikens said "The ball was kind of in the gap, plus Maddox plays a short center field."
Aikens stepped to the date after George Brett, with two out and Wilson on second, was intentionally walked. After swiping wildly at McGraw's one-ball, no-strike delivery, Aikens took a pitch and then lined his opposite field single.
The inning opened when Royals shortstop U.L. Washington hit a single past Phillies shortstop Larry Bowa. But, after Wilson walked on four pitches, Washington was thrown out attempting to steal third with Frank White bunting.
When White later struck out, Phillies manager Dallas Green played the percentages and had Brett walked.
"There was no way they were going to pitch to George," Aikens said. "I knew I was going to have a chance to hit. If White bunted them (Washington and Wilson) over, they were going to walk George.
"I just prepared myself to hit. If they walked George, I was going to concentrate enough to get a base hit."
Aikens singled, and the Royals were within a game of the Phillies. And Aikens, who blasted a pair of home runs on his 28th birthday Tuesday night, was the man of the hour.
Before Game 3 was over, the Royals came face to face with defeat in the ninth and 10th innings. Relief ace Dan Quisenberry miraculously worked himself out of both jams.
White snagged Mike Schmidt's liner in the 10th, doubling Bob Boone off second to end the threat. In the ninth, Quisenberry retired Phillies second-baseman Manny Trillo and Bowa with a pair of runners on base.
"We have to be realistic," Quisenberry said. "We still have another game before we tie it up.
"I think there was tremendous excitement out there. We were down two games, plus the way we'd gotten beat. We were back home and playing before our crowd."
For most of the night, Game 3 had all the makings of a repeat of the previous nights. The Royals would grab the lead, hold it for an inning or two, then the Phillies would come roiling back.
Royals starter Rich Gale and reliever Renie Martin did cough up the lead, but the Phillies flubbed several scoring opportunities.
Brett provided the initial cushion by driving a pitch by the Phillies' Dick Ruthven into the right-field seats.  It was Brett's seventh homer in 20 career postseason games.
But it was not Gale's night from the start. He got out of trouble in the first inning by getting Phillies outfielder Bake McBride and catcher Keith Moreland to fly out with two men on base, but he couldn't escape in the second inning.
With the bases loaded and one out in the second, Gale looked like a lost puppy when outfielder Lonnie Smith grounded back sharply to the mound. Gale fielded the ball, looking every which way but home before throwing Smith out at first. While Gale considered his options, Trillo scored from third to tie the game.
The Royals grabbed another one-run lead in the fourth on Aikens' first major-league triple and an RBI single by Hal McRae. Aikens' sinking liner eluded a diving Smith and rolled into the left-field corner. It was Aikens' first triple since the 1978 season in Salt Lake City.
Before the next Philly was retired, however, the lead was gone.
Schmidt led off the fifth inning with a blast into the bullpen in left field. It was the first post-season homer for Schmidt, the 1980 major-league home run king with 48.
The Royals snapped the 2-2 tie in the seventh on Amos Otis' home run over the right-field fence. It was the second round tripper of the Series for Otis, who hit a two-run homer in Game 1.
Philadelphia first-baseman Pete Rose, hitless in his previous 10 times at bat, looped a run-scoring single to right field, tying the score 3-3. Philadelphia's Bowa had beaten an infield single and stole second. Lonnie Smith drew a walk from Royals reliever Renie Martin before Rose tied the score.
The National League champion Phillies wound up stranding 15 runners. "We left 15 men on base, and if we had gotten a couple of big hits, there would have been no contest," Green said.
Instead, 20-game winner Dennis Leonard faces Larry Christenson this afternoon with a chance to tie the series at 2-2.
"I think I'd still rather be in their (Phillies) shoes… up two games to one," said Brett, who came directly to the park after being released from St. Luke's Hospital for treatment of hemorrhoids. "But I'm not dissatisfied. Winning in the 10th inning like we did could put momentum on our side.
"It's great to have 43,000 people screaming for your side."
Brett, whose hemorrhoid condition gathered more national attention the last few days than President Jimmy Carter's similar problem did in December 1978, hit a home run deep to right in his first trip to the plate.
"It was a great satisfaction just to play…. Just to nit a home run in the World Series is something special," Brett said.
"After that, I felt a little more relaxed."
After dropping bat, Clint Hurdle picks up reporter's pencil
By Mike Fish, Sports Writer
The World Series scribe is convinced the Kansas City Royals are trying too hard.  And like many of his cohorts, he feels that third baseman George Brett's hemorrhoids are the story of the '80 Series.
Clint Hurdel is leading a double life. During Games 1 and 3 of the Series, Hurdle was the Royals' right fielder. But after the pressures of the game, he turns into a modern-day Clark Kent.
Hurdle began his journalistic career just in time for Game 1 Tuesday night in Philadelphia. Since then, his column "Hey, Mom, I'm at the Series" has appeared daily in The Orlando Sentinel-Star in Florida.
So far, Hurdle, 23, has been full of witty comments and wild off-the-field observations. The hometown readers (Hurdle actually grew up in Merritt Island, Fla., about 40 miles from Orlando) aren't blitzed with Xs and Os or the details of strategic maneuvers.
Hurdle has been upbeat from Day 1:
"I'm glad The Sentinel Star is going to use me every day and not just against right-handed pitcher," said Hurdle, the Royals' part-time right fielder, his Game 1 column.
In the eyes of Hurdle, the cub reporter, he and his Royal teammates should have won Games 1 and 2. With comfortable leads in both games, they played not to lose rather than to blow out the Philadelphia Phillies.
"I've tried to be objective (in my column)," Hurdle said. "For me, it seems like we're trying too hard. The idea should be to play like we did during the season.
"If we got ahead qf somebody during the season, we'd just bury them. We should have buried them both nights."
Hurdle has avoided stirring up controversy — so far.  There's no chatter about what the Royals did or didn't do in Phialdelphia after Game 1.  No gossip about the victory celebrations in New York. 
But the first time World Series performer has recreated some of the clubhsouse conversations George Brett and his ailment have found their way into a coupie of columns.
"This whole scene is like P. T. Barnum. It's a circus. It was in Philly, and now it's moved here. ABC, NBC, everybody is looking for the perfect story. Why did this happen? Who's fault was that?"
Hurdle now has a better perspective of the entire ordeal — writer vs player. The press, about 600 for this year's Series, have questions that need to he answered. For the player, it seems like the same question 600 times over.
"It's tough on the player," Hurdle said. "It's so much pressure. You struggle to keep your mind on the game.
"I can't let it get in my way.  You want to be a nice guy, but this isn't the time. I'm scuffling to get into the game, and everybody wants my time."
Hurdle said his second job hasn't been a Series distraction. He was one-for-three in Game 1 against rookie pitcher Bob Walk, sat out Wednesday night's game against left-hander Steve Carlton and started in right field, going two-for-four in Game 3 Friday night.
"He's been surprisingly good with it," said Sentinel-Star sports editor Larry Guest. "We stay away from the game itself. He talks into a little tape recorder, then I stt down at night and put it into story form."
"I saw some of the stuff today, and it linked pretty good," Hurdle said Friday night. "This is all new to me, so I don't know what I'm doing. I'm trying to stay away from all the heavy theories."
A homecoming has never been sweeter for Frank White
Native son fulfills a dream
By Mike DeArmond, Sports Writer
Frank White settled back into the stiff vinyl of the taxicab and let his mind wander. He gazed out the window and saw neither trees nor buildings, but laces.
"Not one special person," White said. "I can sit down and I can see all the faces of people from all those years that we lost. I can see a lot of those faces when they were in defeat, when they were really down, when all they really warted us to do was beat 'he Yankees.
And you can still see a lot of people who kept saying, 'Next year. Next year's our year.' You take them to the end every year, and then you feel somewhat like you've let them down because you didn't get the job done.
"But now, I really feel that no matter which way the Series goes, the fans of Kansas City are going to be a lot happier than they've ever been before.
"It's something they've waited a long time for. We've had a lot of mediocre teams in Kansas City, and now that they've got a team worthy of winning the World Series, I think it just makes then-whole year."
White, perhaps, feels the pulse of Kansas City especially well because this is his city. He spent the summer days of his boyhood picking asphalt off the soles of his tennis shoes around 22nd and Brooklyn. Municipal Stadium, major-league baseball's first home in Kansas City, resided there in Frank White's old neighborhood, in the heart of Kansas City's black community.
The old park is gone now, replaced by Royals Stadium on the city's eastern boundary.
There once was a lot of pain for White in the modern ballpark that at 7:35 p.m. Friday will be filled when the Royals and Phillies play Game 3 of the World Series, with Philadelphia leading 2-0.
It is an old story filled with scars and memories of how coins and obscenities were hurled toward the young black kid who pushed fan-favorite Cookie Rojas off second base.
But White, recently notified he has won his fourth Gold Glove Award for defensive excellence (the official announcement has not been made), finds himself floating on a higher plane where all the memories are good.
There have been times White hated Kansas City, when he looked upon his favorite-son status as a curse.
But now, it seems, all is forgiven. White fervently hopes tine Royals will compromise on renegotiating his contract, enabling him to return to Kansas City next season. There is peace and joy at being back in a city whose people clamor to envelop this team with affection.
"It's a really great feeling," White said. "It's a feeling that I guess I've been looking for a long time."
It extends beyond race. Beyond the financial and soda! barriers that exist in any society, any city. It extends, White said, "beyond winning and losing."
"I think it's more a pride that your team is one of the two best teams in baseball. To come back to Kansas City, and to get the media coverage for the city. For our people, it's showing everybody what Kansas City is all about.
"It's not the cowtown that was portrayed in the first years (1976-78) of the (Royals' appearance in) American League Championship Series. Now I think people will get to see Kansas City as a growing city, that it's not all stockyards and plowed fields."
White paused, fell silent, then resumed in quiet, relaxed tones spoken from the heart.
"People come up to you and say, 'I'm 70 some odd years old, or I'm 80 some odd years old, and I've never seen a World Series game.'
"Those are the people that make you feel good, make you feel what this is all about. You know that you've made them happy, just our city being in the World Series."
Somehow, White didn't feel like the second baseman of the Kansas City Royals. He didn't identify with being the Most Valuable Player in the Royals' three-game sweep of the New York Yankees in the American League playoffs.
He was, at this moment, Frank White, Kansas Citian. That was the most wonderful feeling in the world.
Phillies exude confidence, despite Royals' extra-inning rally
By Gib Twyman, Sports Writer
The Royals pulled the plug on Tug.  A hole appeared in the Phillies' Bottomless Bag of Big Plays. And for once it was Philadelphia — not Kansas City — that ran out of rallies.
Kansas City cut its deficit to 2-1 in the 77th World Series with a 4-3 victory Friday night at Royals Stadium To do it they had to beat Tug McGraw, the Phulies' ace reliever who had 20 saves in the regular season. He had saved one game in the National League Championship Series against Houston and the Phils' first victory in the World Series Tuesday night in Philadelphia.
But Willie Aikens hit a fastball up the left-center alley, and Willie Wilson scored the decisive run with two out in the 10th inning.
McGraw spent 45 minutes in the training room icing his left arm and mulling the outcome. When he emerged, he said, "The only fact that is hard to swallow is that I feel like I made a mistake on the pitch to Aikens. I didn't get it where I wanted it. I wanted to get it up and in. I got it down and over the plate."
Two other big plays, from the Phillies' side of things, went them before the game-winning hit.
U.L. Washington led off the 10th for Kansas City with a line smash right at shortstop Larry Bowa. The ball handcuffed Bowa, doing a short hop. Bowa spun away from the ball and took a back-handed swipe at it as it sizzled into left field.
"I had no chance on the ball," said Bowa, shaking his head. "He hit the heck out of it. Boonie (catcher Bob Boone) said be just crushed it. I could see it, but I couldn't do anything about it. I was just trying to backhand it get in a position to catch it. It skipped, came on a short hop. There was no way I could make a play."
Wilson walked. But Washington nearly ran the Royals out of the inning when he was caught to far down the line as Frank White attempted a sacrifice bunt. White struck out.
But Wilson challenged the Phillies and won with a steal of second. Boone called for his second pitchout against Willie, but Wilson went anyway. He beat the tag when Boone's throw came to Bowa on one hop.
"A good throw gets him," Bowa said. "But you have to hurry it with a guy who has the speed of Wilson."
Boone said he didn't feel rushed. In fact, he had Wilson right where he wanted him — in his sights. He just misfired. "I did everything I wanted to to set that play up," Boone said. "I was very comfortable about it; I came up throwing with my normal rhythm. I did everything right but throw the ball. Unfortunately for us, I threw it away. Five feet low. I just did not make the throw I had to."
The play came with a two-balls, one-strike count on George Brett. After that, Philadelphia intentionally walked him. "They're (Brett and Aikens) both good hitters. What are you going to do?" Bowa asked. "No rip against Aikens, but you've got to put Brett on. You can't let a .390 hitter beat you. Even if the next guy is hitting the beck out of you."
When Aikens hit the ball, centerfielder Garry Maddox said he could quickly see it might be beyond his grasp. "When a ball is hit that well and hit by a left-hander, it tails away from you. There are just some balls you can't reach."
Maddox plays perhaps the shallowest center field in the majors, but he said that was no factor in not reaching the ball. "Shallow had nothing to do with it," he said. "Depth was no problem. Placement was. Actually, I feel I had a better chance at it playing shallow because I could get to the gap quicker."
The biggest problem for the Phillies is that Aikens now has them in a quandary as to where to play him. "He hits two home runs over the right-field fence," Maddox said. "Then he gets his triple tonight down the left-field line. But we're still playing him in right-center and he gets the hit that beats us up the alley in left-center. He sprays the ball all over. I don't know what we should do against him now."
One thing on which the Phillies were agreed: The game did not shake their confidence, even if they failed to come from behind to win for the first time in six playoff games.
"Heck, I'm not down," Phillies first-baseman Pete Rose said "We didn't say we were going to sweep nobody. Ain't nobody that is easy to sweep.  Shoot, they got a good ball club.  All this means is that it is going to be more fun."
Aikens hits on all cylinders as he smashes crucial pitch
By Mike DeArmond, Sports Writer
In the relatively short time it took him to cover the relatively short distance between the on-deck circle and the batter's box in the 10th inning, Willie Aikens walked a thousand miles in his mind.
Fleetingly, he thought back to a day in the middle of June when Royals manager Jim Frey pinch-hit for him.
"A left-hander was pitching, I think Sparky Lyle, and he (Frey) called me back and sent (Hal) McRae up. I was disappointed and upset."
Aikens' mind raced further back, to the opening series of the season, when Detroit manager Sparky Anderson walked McRae to get to Aikens, and Aikens beat the Tigers with a hit.
"Sparky said he'd walk Hal McRae a thousand times to pitch to me. That's exactly what he said," Aikens said.
But finally, as Aikens readied the plate, he had to look no further back than the eighth inning when, with George Brett on second and two outs, Aikens looked at a third strike.
"I said to myself, 'You had a chance to win it one time. Don't let this second chance get by you.'"
Aikens didn't. The Royals' mammoth first baseman reached out to slice a Tug McGraw fastball into the outfield gap in left-center field in the extra inning Friday night, driving home Willie Wilson for the Royals' 4-3 victory over the Phillies.
Afterward, there were questions as to why, with two down and George Brett coming to the plate, Wilson stole second. Didn't Wilson know the Phillies would walk Brett with first base open?
"Sure, I knew that. Jim Frey knew that. George knew that," Wilson said. But he wasn't concerned.
"Willie Aikens is hot. And when Willie is hot, you could throw it off the roof and he'd hit it."
Brett said he wasn't concerned, either. "I would have had to hit a double or a triple to score him (Wilson), and Willie (Aikens) has been hitting the heck out of the ball," he said.
Frey said much the same thing, and McRae was talking about how "you can't put the load on one or two guys."
Aikens wanted the load on only one man, himself. He wanted it so bad, in fact, that after taking ball one, he took one mighty swing — trying to drive the ball over the fence — and got nothing but air.
"Sometimes, I have a tendency to overswing," Aikens said "I did just that. I told myself after that to calm down and see where the ball is pitched."
McGraw wound up, Aikens swung and, as center-fielder Garry Maddox raced to his right, the ball began to race inevitably farther and farther away.
"I saw the ball headed for the gap, and I knew Maddox was playing a short center field," Aikens said. "As soon as I saw the ball get up in the air, I knew he didn't have a chance at the ball."
Practice makes perfect
Players try to exorcise naggy snags
By Bill Turque, Staff Writer
The elements of a zoo are all at hand: A cage, a gawking crowd, an array of impressive physical specimens casually scratching, spitting and displaying their skills.
But the pregame ritual of batting practice is more than a loosening of the muscles and sharpening of the eye: It is a press conference, a non-alcoholic cocktail party and the collective, brooding meditations of highly paid jocks wrestling with performance anxieties.
They also wrestle — verbally — with the hundreds of reporters here for the World Series who are not in pursuit of The Story. For Friday evening's game, The Story was The Hemorrhoids.
When Royals' third-baseman George Brett emerged from the dugout for his stint in the batting cage, members of the press headed for him like piranhas for raw hamburger. Brett was armed with a collection of hemorrhoidal quips, including the observation that his malady will go down "in the anals of World Series history."
Brett's beef to reporters was that while his hemorrhoids were headlines, the diarrhea that felled Phillies slugger Greg Luzinski received barely a mention.
"Why didn't everybody say, 'Luzinski has diarrhea'?" Brett asked. "That's a story. That's a story.'' The answer, of course, is that Luzinski may have had the runs, but hadn't been driving in many this season. Brett, on the other hand, batted .390.
While Royals outfielder Hal McRae took his cuts, Phillies first-baseman Pete Rose's pint-sized son, Petey Jr., watched intently. Not even old enough to shave, he already has the pregame mannerisms: the casual lean against the cage, the contemplative chewing of the gum (tobacco will come later), the stoic facial expression.
"Now pay attention, Little Petey. You watch this. This is what your daddy's been unable to do," said McRae, needling his former Cincinnati Reds teammate, who has had a ragged Series at the plate. McRae lashed a line drive to the outfield.
"That's an out," the kid shot back.
For all its outwardly casual appearance, batting practice is run with near-Prussian precision.
The Royals, who hit first, are split into four groups for this purpose, each swinging for a precise period of time. From 4:59 p.m. to 5:11 p.m. there is "Group A" (Chalk, LaCock, Quirk, Mulliniks); from 5:12 to 5:24 "Group B" (Aikens, Wilson, Washington, Porter); and so on with other 12-minute slots for "Group C" (McRae, Hurdle, Cardenal, Brett) and Group D (Otis, White, Wathan, Concepcion).
It's not all that much time, and players studiously observe the schedule, breaking off interviews with reporters when it's their turn.
Once in the cage, each Royals ballplayer becomes absorbed in putting wood to horsehide, scrutinizing the flight of each ball.
"I'll take that," Frank White said, studying a looping fly. He sliced it down the right-field line, He hit another one. "I'll take that, too," he said to no one in particular.
Willie Aikens, resembling an oversized kid with the bill of his cap pointed up, peppered the left-center field wall with a couple of line drives and moaned about the configuration of Royals Stadium.
"I hate to play here. It kills me," said Aikens, who, ironically, would drive in the winning run Friday night and hit two home runs Saturday. "This place is the Grand Canyon, If Mike Schmidt played here, he wouldn't hit 48 home runs."
On his next turn in the cage, Aikens smoked the ball deep into the right-field bullpen. As he made contact, he gave out a short, excited grunt and broke into a home-run trot toward first base.
At this late point in the season, batting practice holds varied significance for players.
"If you're not swinging good, it's important," said utility man Rance Mulliniks. "If you've got your stroke down, it's not important." For a player sitting on the bench, he added, it is always important.
Those Phillies phanatics aren't all in Philadelphia
By W. S. Wilson, Staff Writer
While some, perhaps most, members of our society breezily waft from one trend to another, Kert Geldersma and Pride Turpin waver not.
They are rocks. Rocks standing staunchly, solidly and foursquare for that which is in their own hearts rather than the societal whims surrounding them. They are testaments to principle, evidence that perhaps the children of the Space Age aren't such softies after all.
Kert and Pride are Philadelphia Phillies fans, the only two in George Brett Southeast Elementary School, where teachers unabashedly wear Kansas City Royals jerseys to class and even the french fries in the cafeteria are named after Willie Wilson.
To say they stand alone is an understatement. A vote of their 580 schoolmates overwhelmingly anointed the elementary school on Northwood Road with the temporary George Brett moniker earlier this week. The halls of the building are plastered with class projects saying, "You are cute George Brett," "Pete Rose go lay an egg" and team photographs of the Royals.
Why, even the principal's office sign says "Darrell Porter, Principal," even though the principal's name is Lee Short.
To say Kert and Pride are lonely is far from the truth. As the two 9-year-olds walked into the school cafeteria Thursday, they wrapped their arms around each other's shoulders and like a pair of wholesome fourth graders in a Norman Rockwell painting.
"I like (Phillies third-baseman) Mike Schmidt," Pride said.
When asked if Schmidt were better than Brett, the Royals' third baseman, Pride didn't bat an eye. "Yes, definitely," was his answer.
Well, Pride, why do you like the Phillies?
"It's kind of like… well, it's just that they haven't been in there for a while," he said.. "They should have been in there a long time ago"
Kert, a catcher on the Silver Hawks baseball team of the South Platte County Athletic Association, strives to make the point that he does not dislike the Royals, it is just that he likes Pete Rose more than just about anything.
What's more, Kert said he would be willing to bet the entire $7 he saved last winter — earned by carrying firewood — on the Phillies. Alas, he can't find any takers.
The boys' teacher, Phyllis Renshaw, says the rough retribution that might be expected to flow from the emotional stuff of which World Series are made has not surfaced.
"The kids told him (Kert) that he couldn't be a Phillies fan, and I said, 'Wait a minute. How would you like it if someone wouldn't let you be Royals fans? This is a free country and all.' And they agreed. It was OK," she said.
Game 4: Willie Aikens' majestic bat sings
By Mike DeArmond, Sports Writer
Not so long ago, Willie Aikens was a callow youth plodding the streets of Seneca, S.C., seeking nothing so much as a place to hide.
Somewhere between his brain and his tongue, Aikens' thoughts turned into a stutter, and the impediment made Aikens withdraw into a protective solitude.
"It did make me feel really bad," Aikens said. "I really couldn't accept that I was a stutterer. It made me shy.
"I didn't have confidence to go into a store or restaurant and ask for anything. I used to get my friends to go ask for everything. I was afraid to talk to girls. I was ashamed."
Saturday afternoon in Kansas City that self-conscious kid had blossomed into the center of attention at the 77th World Series.
With 42,363 people watching at Royals Stadium and with millions more sitting before television and radio sets around the world, Aikens hit two home runs and boosted the Royals to a 5-3 victory over the Philadelphia Phillies that evened the World Series at two games each.
Aikens dumped his first homer into the water spectacular behind the right-center field wall, a two-run shot in the midst of Kansas City's four-run first inning. On his next at bat in the second inning, Aikens drove his second home run of the day into the right-field bullpen for a 5-1 Royals' lead.
That power display was more than enough for Dennis Leonard, the Royals' starting pitcher, who worked seven innings plus one hitter in the eighth. He gave up nine hits and all three Phillies runs.
Dan Quisenberry, relieving for the fourth straight time in the Series and for the sixth straight dating back to the American League Championship Series, came in with Pete Rose aboard in the eighth, gave up a sacrifice fly to Mike Schmidt and a single to Del Unser, then recorded the final four outs for the save.
The Royals, who ran away with the American League West during the regular season and swept into the Series by beating the New York Yankees three in the American League playoffs, reegained some of that stature Saturday.
Philadelphia starting pitcher Larry Christenson retired only one Kansas City batter in the first.
The Royals' Willie Wilson led off with a single to left, and Christenson threw wildly to first trying to pick off the Kansas City leadoff hitter.
Wilson wound up on third, where he stayed as Frank white filed out to right. But George Brett ripped a triple down the right-field line, Aikens powered his first homer and Hal McRae and Amos Otis followed with doubles.
McRae's double actually was a ground ball up the middle, but, to center-fielder Garry Maddox's surprise, McRae slowed down only briefly coming around first and beat Maddox's weak throw to second.
Otis then hit his double off the wall in right-centerfield.
"I have no alibis," Christenson said. "I just went out and pitched the worst game of the year."
Dick Noles relieved Christenson and managed to get out of the first inning with no more runs scoring. Then in the second, Aikens hit a Notes pitch for his second home run.
Like Reggie Jackson, Aikens dropped the bat at the plate and simply watched as the ball sailed on a high arc and then began re-entry into the bullpen.
"I used to watch him (Jackson) a lot when I was a kid," Aikens said. "I figured if he could do it, I could do it."
Aikens, who hit two homers in Game 1 of the Series at Philadelphia is one of only seven players to have hit four or more home runs in a World Series. Duke Snider hit four for Brooklyn in 1952 and 1955; Babe Ruth hit four for the Yankees in 1926; Lou Gehrig of the Yankees hit four homers in 1928; Hank Bauer of the Yankees hit four in the '58 Series; and Gene Tenance of Oakland hit four homers in the 72 Series.
Jackson holds the Series record of five homers in one Series — including three in one game three years ago Saturday — for the Yankees in 1977.
Aikens said he felt right at home in such company. "Right now I'm doing something they've done in the past," he said.
Philadelphia manager Dallas Green wasn't concerned with power hitters of the past. His main concern was — and is — finding a way to stop Aikens, who is batting .467 (7 for 15) in the Series with a triple, four homers, 21 total bases and eight runs batted in.
"If you've got a book, I'll use it," Green said. "I do believe we're not pitching him right. The kid's on a roll."
Philadelphia, which rallied to win the first two games of the Series in Philadelphia before falling in 10 innings 4-3 here Friday night, collected 10 hits off Leonard and Quisenberry but could score only single runs in the second, seventh and eighth innings.
Maddox singled with one down in the second and was forced at second base by Manny Trillo. Triilo reached second when Royals shortstop U.L. Washington, trying for a double play, skipped his throw into the Royals' dugout.  Larry Bowa singled to to left for the Phillies' first run.
A double by Triilo and Bowa's single end stolen base put the Phillie runners at second and third with one out in the seventh inning, but only Trillo scored as Bob Boone lifted a sacrifice fly to the warning track in left with Wilson making a running over-the-shoulder catch.
Rose's double to left-center field chased Leonard leading off the eighth, but after Schmidt came through with his sacrifice fly, the Phillies had, for this day, run out of comebacks.
In fact, the greatest threat mounted by the Phillies came in the fourth inning when Noles, with a two-strike count, sailed a fastball right under Brett's chin.
Royals manager Jim Frey raged first at the home-plate umpire, then at Notes and later at Rose. A warning was issued to both benches, but the warning was ignored by a fan who threw a paper cup at Rose as he headed for the Philadelphia dugout.
But when it was all over, there stood one man. Willie Aikens.
As Aikens walked off the field, he looked back to the early part of the regular season when he was struggling, when all he heard were boos.
"They (the fans) got on me pretty good," said Aikens, who came to the Royals in the December 1979 trade that sent Al Cowens and Todd Cruz to the California Angels.
But after each of his home runs Saturday, Aikens was summoned from the dug-out by a stadium full of cheering fans.
"The two standing Os (ovations) really went deep down in my heart," Aikens said. "I plan on staying here and showing the fans a lot of excitement."
Aikens delivered that promise haltingly, with a stutter, but even he didn't seem to notice the speech problem as he added another brush stroke to a World Series that is beginning to look like Aikens' personal triumph.
There's no such thing as halfway for McRae
By Mike Fish, Sports Writer
Hal McRae is a picture of relaxation in the Royals dugout, stretched out comfortably on the top step.
Life is easy being a designated hitter, right? Step to the plate three or four times a game, take your swings, sit back down and watch the action from the sidelines. But don't let McRae's relaxed posture fool you.
Turn your back on McRae and he'll turn a single into a double, motor from first to third on a lazy single.
It is McRae who symbolizes the Royals' aggressive style of play. Even the modern day master, George Brett, learned at McRae's side. And so did Willie Wilson, U.L. Washington, Frank White… Mac is the teacher.
Take game 4, for instance. His first two times up, McRae stretched what appeared to be singles into doubles. First Phillies' centerfielder Garry Maddox and then rightfielder Bake McBride were victimized by McRae.
While Willie Aikens continued his awesome display of power Saturday, McRae scooted around the bases like an over-stuffed Roadrunner. He wouldn't settle for a single. Everything had to be a double.
In the first inning, when Maddox lobbed a soft toss into the cutoff man, McRae never stopped after rounding first and made a belly-slide into second.
"I did what I thought I could," McRae said. "I watched Maddox yesterday. He was getting to the ball slowly and he'd throw to the cut-off man.
"I always notice something. I'm never just out there."
The gamble paid off. Maddox threw easily to the cut-off, McRae had his double and Amos Otis followed with a run-scoring double.
Thanks to some earlier heavy hitting by Aikens and Brett, McRae's run gave the Royals a 4-0 cushion. McRae produced another double in the second.
"Once he (McBride) laid back and waited for the ball, I knew I had it," McRae said. "Being a DH (designated hitter) who clogs up the bases won't help the club.
"I'm a hitter, that's all I do. If I get on the bases and get thrown out, it complicates things. So you gotta get a feel for it, like a tempo."
In the course of two innings, McRae had transformed singles into doubles. He had studied the opposition, ascertained their tendencies, and taken advantage of them.
It was a display of hard aggressive baseball – head-first slides and dirt-stained uniforms.
"The on-the-job lesson did not go unnoticed by the younger Royals. "He just busted his behind getting over there," Washington said. "I know Mac's played that way his whole career, but when you see a leader do those things, it makes you play harder."
Wilson said: "It's great to see Mac go like that. He inspires us."
Comin' to Kansas City awakens sleepy Royals
By Joe McGuff, Sports Editor
Willie Aikens, an oak of a man, stood at home plate and watched the flight of the baseball as it soared majestically toward the bullpen area in right field. Satisfied with the of his masterpiece, he jogged slowly around the bases while the crowd at Royals Stadium cheered his genius.
Aikens' home run, his second in as many at bats, gave the Royals a 5-1 lead over the Phillies in the second inning and was obviously viewed by the crowd as the clinching bit of evidence that the Royals of summer had replaced the imposters who occupied their uniforms in Philadelphia.
The World Series was no longer just an oddity to be gawked at in Kansas City: It was something to be won or lost and to lose your composure over.
The team that looked as if it might expire in four games was alive and well and even with the Phillies after finishing the day with a 5-3 victory.
After the Royals defeated the Phillies Friday night, Royals outfielder Hal McRae said he thought the Royals would go on to win the World Series. Asked for his rationale, he said, "Because we have the best team."
The only problem at that point was that the Royals had succeeded in keeping their ability well camouflaged. Even in winning the third game, the Royals did not play as well as they are capable of playing. Through the first three games they were only a so-so team. Having conquered the Yankees, the Royals seemed a bit indifferent to the importance of conquering the world.
On Saturday, though, the Royals were the team that had dominated the American League West and swept the Yankees in the playoffs. Hal McRae ran two singles into doubles. Dan Quisenberry relieved Dennis Leonard in the eighth and stopped the Phillies. Willie Wilson was on base twice and made a Willie Mays-like catch on a 400-foot drive to left-center field in the seventh inning.
Among the spectators at the game was Lucille Webb, Aikens' mother, who saw her son play for the first time in a major league game. The Royals' only regret is that she has stayed away so long.
Aikens hit a home run into the water spectacular in the first inning with George Brett aboard, and his second home run landed deep in an open area adjacent to the Royals' bullpen.
The Phillies are discovering that stopping Willie Aikens is about as difficult as stopping the common cold and nuclear proliferation. Aikens hit two home runs in the first game of the Series and singled home the winning run in the 10th inning Friday night.
"He's had good pitches to hit," commented Bob Boone, the Phillies' catcher. "But that's to his credit. We all get good pitches, but he's hit them."
Aikens has a relatively simple explanation for his success.
"I think I'm a pretty good hitter," he said. "I'm a streak hitter."
At present, Willie is on the streak of his life. Saturday was Mother's Day, the World Series and a touch of New Year's Eve rolled into one.
Not only did the fourth game bring out the best in the Royals, but it brought out a little belligerency on the part of Dick Noles, the Phillies' second pitcher. He knocked down Brett on an no-balls, two-strikes pitch in the fourth, and Jim Frey, the Royals' manager, came running to the plate to protest to umpire Don Denkinger.
Frey shouted at Noles, had to be restrained from going to the pitcher's mound and exchanged words with Phillies first-baseman Pete Rose.
After the game, the debate continued as to whether Noles had thrown intentionally at Brett. Frey said he had; Noles said he hadn't.
"He's (Noles) the only guy who knows," Brett said. "I'm not going to accuse him of anything."
Mike Schmidt, the Phillies' third baseman, spoke on behalf of the accused.
"A pitcher doesn't like a hitter standing up there relaxed and hitting a line drive every time he goes up," Schmidt said. "I've been knocked down, but I've never had a manager go out there pleading for me. Jim Frey loves George Brett. I understand why."
Schmidt, illustrating Brett's batting stance, added, "When a guy stands at the plate like this, a pitcher has got to say, 'Whoa.' He's not putting a quarter in the pitching machine out there. He's (Brett) got a chance to be one of the greatest hitters of all time, and he's going to be brushed back a few times."
The Phillies. who rallied to win the first two games of the Series in Philadelphia. attempted yet another comeback Saturday but were thwarted in the seventh inning by Wilson and thereafter by Quisenberry.
In the seventh, with one run home and and Larry Bowa on second, Boone hit a drive to deep left-center that Wilson hauled in with an over-the-shoulder catch.
"When he first hit the ball, it looked like it was off the wall or out," Wilson said. "It got caught in the crosswind and Amos Otis kept talking to me all the way. He kept telling me I had room and wouldn't run into the wall."
Quisenberry relieved Leonard in the eighth when the Phillies added their third run. In the ninth, the Phillies did an uncharacteristic thing: They went down one-two-three.
Sunday the Royals will try for a sweep of the three games in Kansas City.
"If we get this one, I think things definitely will have turned around," Wilson said.
"It's going to be two out of three now," Rose said. "I don't know if this means Sunday's game is important for us because they've won twice or important for them because we're going back to Philadelphia. It's getting in high gear now. It's getting exciting.
"We're in the kind of position we've been in all year. We make it exciting. Give them credit. They played good."
Whatever happens in the rest of the baseball commissioner Bowie Kuhn fall festival, the Royals are playing like the Royals, and the World Series has become the World Series.
A wild pitch
While Brett recoiled from Phillies' pitch, manager Frey flipped his lid
By Gib Twyman and Mike Fish, Sports Writers
The Kansas City Royals do not pay George Brett approximately $1 million a year to perform gymnastics. But there he was, in the fourth inning, jackknifing through the air.
When Jim Frey got an image of Brett with a baseball sticking in his ear, Frey charged out of the dugout.
Dickie Noles, Phillies' reliever, unloaded a 0-2 fastball that sailed at George's head. Brett did a back flip with a half twist and came up glaring. Frey ran out to deliver a few tongue-lashings — to Noles, to plate umpire Don Denkinger, to Phillies' first-baseman Pete Rose and nearly everyone else in hearing.
"I thought it was a knockdown pitch," Frey said. "The way we were hitting the ball today and with a good hitter up there and a 0-2 count… the situation was there. He threw the ball at his head and I went out there to stop that. I told the umpire to stop it right now. I don't know if he (Noles) threw at him (Brett) or not, and no one else does but the pitcher. I didn't want one of those battles where there's a lot of throwing at heads. I don't believe in retaliation. I don t buy that high-and-tight stuff."
If Noles was the only one who knew for sure, there was no doubt in his mind what his intention was. He fixed a glare straight at a questioner who had asked him if he got the pitch where he wanted it.
"You mean," he said, putting his body as well as his voice into the words, "did I throw it where I wanted it and try to hit him in the head? I don't throw at anybody. I never throw at people's heads.
"A pitcher has to have the ability to throw to both sides of the plate. I was trying to set up the next pitch. I tried to throw him inside, that's all."
How about Frey's exchange with Rose?
"Pete told me to get off the field," Frey said. "He said he (Noles) wasn't throwing at him. I said, 'You don't know that and 1 don't know that.'"
Rose said, "Never in all my playing days have I ever seen a manager come out of a dugout like that to yell at a player for brushing a hitter back."
Brett remained calm. "If he was throwing at me," the Royals' third baseman said, "he missed. That was a close one. If I say anything, I don't accomplish anything. If I go to the mound and get kicked out of the game, I don't do the team any good."
About Frey going after Rose, Brett said, "Jim is not going to accomplish anything if he has a fight with Rose. It was funny to see him jumping around, though. I enjoyed it."
The Royals are playing on thin ice
Will they fall on their skates in Philly?
By Joe McGuff, Sports Editor
The Kansas City Royals trail the Philadelphia Phillies three games to two in the World Series following a 4-3 loss Sunday. When the tournament resumes Tuesday night in Philadelphia, we will be told there is no tomorrow for the Royals unless they win.
The information, of course, is erroneous. Barring a major upset, such as the end of the world, the sun will come up Wednesday. What is in doubt is whether anyone will be playing major-league baseball.
Winning two games in Veterans Stadium is not impossible, but it will be difficult: memories of the events that took place Sunday scarcely will be inspiring. The Royals lost a game they should have won, and the numbing effect was reflected in the silence of the crowd as it left Royals Stadium.
One observer compared the atmosphere to that at old Municipal Stadium in 1971 when the Chiefs suffered a stunning National Football League playoff loss to Miami in the longest NFL game ever played.
The game between the Royals and the Phillies came to an end when Jose Cardenal struck out with the bases loaded in the ninth. No sooner had Tug McGraw 's fastball touched Bob Boone's mitt than the second guessing began.
In some respects, the Royals' defeat could be blamed on bad luck. Additionally, some of Jim Frey's managerial decisions drew strenuous questioning after the game. Most of the misfortune and controversy were crammed into the ninth inning.
The Royals carried a 3-2 lead into the ninth, and as the Phillies came to bat there were two managerial decisions to be made. First was the question of replacing Willie Aikens at first base with Pete LaCock, who is strong defensively.
Frey has made this move frequently this season. Sunday, he did not. The second question was whether the leadoff batter, Mike Schmidt, should be played at normal depth. Schmidt had bunted for a base hit in Game 4 and had attempted to bunt on one other occasion.
"I asked Jim, 'Do you think he'll bunt?'" third-baseman George Brett said. "He (Frey) said, 'We can't give it to him.' I moved in five or six feet."
Schmidt drove a ball on the ground to Brett's left. Brett dived and got his glove on the ball but couldn't hold it, and the Phillies had the start of what was to be a winning two-run rally.
Schmidt, who led the majors this season with 48 homers, scoffed at the idea he would bunt in such a situation.
"That would be like Babe Ruth bunting with the other team leading 3-2," said Schmidt. "Not that I'm Babe Ruth, but I've got to get my three swings. There was no thought in my mind about bunting."
The second batter of the inning was Del Unser, who batted for Lonnie Smith. He hit the ball sharply at Aikens, and it skipped past the Royals' first baseman and carried to the right-field corner for a double, with Schmidt scoring.
Would LaCock have fielded the ball? That question will be debated for some time.
"I really can't say how many guys would have caught that ball," Aikens said. "When it hit it kind of shot up. If you make it, you've made a good play. If you don't, it's a double and a run scores."
Keith Moreland advanced Unser with a sacrifice. Garry Maddox bounced to Brett on the third-base line and Brett threw him out, with Unser holding third.
At this point the Royals were in a position to get out of the inning with a tie, but bad luck overtook them.
Manny Trillo lined a ball back to the mound. It bounced off Dan Quisenberry 's glove and rolled a short distance away. Brett picked up the ball and threw to first but he was too late, and Unser crossed with what proved the winning run.
"I didn't see it until it was right in front of me," Quisenberry said.  "I didn't try to catch it until the last second. I wish I would have let it hit me in the stomach. That way it would have fallen in front of me.
"If Aikens gets the ball that was hit at him, it's a double play. He didn't. I think I made good pitches. They hit the ball Aikens just missed catching. George got his dove on the ball and it bounced out. I got the ball in my glove and it bounced out. Three inches. That was the game."
But there was more to come.
Frank White, Royals' leadoff hitter in the ninth, walked and the fans were on their feet cheering. Brett was coming to the plate and after him would be Aikens. One home run and the Royals would go back to Philadelphia leading the Series.
The first pitch to Brett was a called strike. The second one Brett swung at and missed. At this point McGraw took one of the great gambles of his pitching career. He threw Brett a fastball on the outside corner and Brett took it for a third strike.
"It's not that he threw it, but that he put it where he did," Phillies' shortstop Larry Bowa said with a sigh of relief.
"It was a fastball away," Brett said. "I was thinking about pulling it through the hole. I hesitated a second, and he who hesitates is lost."
One Casey had struck out, but another was coming up in Aikens, who hit four home runs in the first four games. How did the Phillies pitch him this time? Ever so carefully: McGraw walked him on four pitches.
Hal McRae hit McGraw's first pitch down the left-field line into the seats, but the ball curved foul. McGraw stood on the mound patting his heart.
"It's one of those scary moments," McGraw said. "I do that to get people laughing and loosen them up."
McRae then forced Onix Concepcion, who had run for Aikens. McGraw, facing one of the Royals' hottest hitters in Amos Otis, walked him on four pitches.
Cardenal, the veteran who once played with the Phillies, was the next hitter. The expectation in the press box was that Frey would replace Cardenal with John Wathan, a tough contact hitter who batted .306 this season. Instead, Wathan remained in the dugout. Cardenal struck out, and the game was over.
Frey said after the game he stayed with Cardenal because Cardenal came from the National League and knew McGraw.
"I don't know why you would pinch hit for him," Frey said.
Wathan carefully sidestepped the controversy when asked if he were surprised when he was not called on.
"No, not really," Wathan said. "I've played too long to be surprised. I go along with the manager the best I can. I don't second guess. I would like to have had the opportunity, but Jose hit well in September."
Cardenal said: "I have to feel like a bum. If you don't come through, that's how you feel."
This was a game that had a little bit of everything. Frank White made three great defensive plays and Otis hit his third home run.
In the fourth, Aikens' failure to touch the bag allowed Bake McBride to reach first safely, and Schmidt followed with a home run. Darrell Porter was thrown out trying to score from first on Willie Wilson's double in the sixth, and then Wilson failed to take third on the throw to the plate.
"I think today's ballgame was a big game," Schmidt said. "There was more pressure than in any game we've played to date. I thought it was a pivotal game."
Brett concurred.
"We're not in a good position," he said. "Saturday, everyone would rather have been in our shoes. Today, everyone would rather be in theirs. This game is amazing."
Unless the Royals do something amazing, their second trip to Philadelphia will be more unpleasant than their first.
Game 5: Phillies treat the Royals to a few tricks still left in their bats
By Mike Fish, Sports Writer
The Kansas City Royals seemed to have the Philadelphia Phillies tucked into their hip pockets. If only relief pitcher Dan Quisenberry could tame the potent Philly bats for one more inning — three more outs.
Then there surely would be dancing in the streets. The Royals would grab a 3-2 lead in the 1980 World Series, and the Phillies would be a loss away from extinction.
But the Phillies have come bade all season. They rallied to catch the Montreal Expos and later the Houston Astros. In Game 5, with the Royals hanging on to a 3-2 lead, the Phillies came back for a pair of ninth-inning runs.
With a wild flair for the dramatic, they battled it out to the Royals' Jose Cardenal's final swing before the Phillies headed home with a 4-3 victory.
So the Royals trek to Philadelphia with a hatchet dancing loosely over their heads. They must handle the Phillies not once, but twice at Veterans Stadium. Slip in Game 6 on Tuesday night, and the Phillies will reign.
"They got to win a game, we got to win two," Hal McRae said. "If we don't win, we go home. Nobody's afraid of going there."
The final inning began with chants of, "One, two, three… one, two, three,'' from the Royals Stadium stands, the fans urging Quisenberry to retire the Phillies in order. The crowd's hopes were never met. It wasn't to be "one, two, three.''
Instead, the Phillies scratched out a pair of runs on Mike Schmidt's infield single off the glove of third-baseman George Brett, pinch-hitter Del Unser's double and another infield hit by Manny Trillo.
It was Trillo's game-winning hit that broke the Royals' hearts. With two outs, Trillo lined the ball back at Quisenberry, and it glanced off the pitcher's glove.  Brett fielded it between third and the mound, but not in time to get Trillo. Meanwhile, Unser was scoring.
"I thought, 'Hey hurry up and get it,''' Brett said. "When the ball ricocheted off the pitcher, I didn't know where it was.
"It hit him and just died behind the mound. Mac (Hal McRae) hit a ball like that earlier (in the second inning), and it bounced nicely to the second baseman. Just bad timing."
The Royals mounted a final threat in the ninth, loading the bases with two out for Jose Cardenal. It was ex-Philly against Philly, Cardenal against Tug McGraw.
McGraw worked him over — screwball, slider, screwball, slider — and then snapped the suspense with an inside fastball that Cardenal swung at and missed.
From the Phillies' game-winning hit to the Royals' game-losing strikeout, the entire affair was a matter of poor timing, bad hope and missed opportunities.  Unser's ninth-inning double, for example, took a strange hop that first-baseman Willie Aikens couldn't handle. In the fourth, Bake McBride was safe at first base when Aikens failed to touch the bag. Then Schmidt followed with a home run to left-center.
"Guess It was do-or-die," Aikens said of Unser's double. "It came up, took a short hop and I couldn't get in front of it. If I make the play, it's a double play.
"I couldn't get in front of it. If I could've, I would've stopped it with my chest.''
The outcome boiled down to the ninth inning — McGraw against Quisenberry. No sooner had (he Phillies taken the edge than the Royals made a run at McGraw.
Second-baseman Freak White, a defensive master all afternoon, opened the ninth with a walk. Brett was fanned on three pitches, and Aikens walked to give the Royals runners at first and second.
"I thought he (Brett) thought I would waste one," McGraw said. "I think Brett's strikeouts are highlights, but Cardenal 's strikeout was the big one."
The Phillies' relief ace then enticed McRae to ground out, forcing Aikens at second. McGraw walked Amos Otis on four pitches, so it was up to Cardenal with the bases loaded and two out.
"I got a chance to be a hero or a goat,'' Cardenal said. "So I'm a bum. No excuse. He gave me a good inside pitch… I can't handle it."
The game-ending strikeout was the final blow of Game 5. It wasn't the whole story, however. The Royals stranded 13 men on base.
There also was Darrell Porter being tagged out at home in the sixth inning, his attempt to score from first on Willie Wilson's double falling short.
"In my mind he's (Cardenal) one of the best pinch-hitters with runners in scoring position," McGraw said, "but because I knew him from the other league and because of his time… I was fairly comfortable pitching against him."
It was another case of the National League "Comeback Kids'' working their magic. When the Phillies have won in postseason play, it has been because of a comeback. They came back in all three playoff victories over the Astros and in every World Series defeat of the Royals.
They jumped off to a 2-0 lead on Schmidt's home run in the fourth, but that was all starter Larry Gura and Quisenberry would surrender until the fatal ninth.
For Gura, it was another strong pitching effort. He was pulled after six innings in Game 2 only to have the Phillies bounce back for four runs in the eighth off Quisenberry.
The Royals ended a shutout bid by Phillies rookie pitcher Marty Bystrom when U.L. Washington scored in the fifth on Brett's ground out. They grabbed their only lead in the sixth on a solo homer by Otis — his third of the series — a pair of singled by Clint Hurdle and Porter and a sacrifice fly by Washington.
Game 6: Phillies smother Royals' sputtering rally
By Mike Fish, Sports Writer
PHILADELPHIA – The Kansas City Royals' dream of a World Series championship died on the base paths of Veterans Stadium in Philadelphia Tuesday night.
Once again, Philadelphia Phillies reliever Tug McGraw was the executioner. It was McGraw, the master, who worked his way out of bases loaded jams in the final two frantic innings.
With the crowd of 65,838 on its feet, McGraw flirted with on every pitch. He was the escape artist plying his trade against the eager Royals' bats.
In the nail-biting end, the Phillies held on for a 4-1 victory that clinched the franchise's first World Series championship.
For the Royals, it was a case of falling behind too much too soon. They could not come back, not against starter Steve Carlton, not against McGraw. The night's madness belonged to the Phillies.
The Royals made one last mad rush in the ninth inning. But it ended with McGraw striking out Willie Wilson, the 12th time in the Series that Wilson had fanned. Wilson thus ended an otherwise stellar season with the glum knowledge that he had set a record for most strikeouts in a Series, breaking the old standard of 11 set in 1958 and 1973.
Jose Cardenal, who struck out and ended Game 5, lined sharp singles in the eighth and ninth innings. But it was not enough.
"I got kind of concerned in the eighth when my arm felt a little tired," McGraw said. "I just wanted to throw strikes and let my defense play.
"If I hadn't got Wilson out, I was going to call him (manager Dallas Green) out there and tell him I had had enough."
The Royals' George Brett summed up the game as "a little bit of frustration; the frustration of coming so close. Beating the Yankees in three straight was the greatest thing in my life. An all-time high, not only for myself but for the other guys who were here with me. We get into the Series and we didn't get the hits when we needed them."
Things did not start well for the Royals Tuesday night in Philadelphia.  They had two base runners in the second inning, when Amos Otis and Willie Aikens walked, but John Wathan grounded out to shortstop Larry Bowa, who started an inning-ending double play.
The Royals' dream started to disintegrate in the third when the Phillies scored a pair or runs.
Bob Boone started the fire when he walked on four pitches.  The Royals contributed fuel when Frank White fielded Lonnie Smith's grounder and his toss to second pulled U.L. Washington off the bag.
The call by second-base umpire Bill Kunkel brought Pete Rose to the plate with runners on first and second. With Brett playing back at third, Rose bounced a perfect bunt to the third-base side of the mound, loading the bases for Mike Schmidt.
The All-Star third baseman — later tabbed the Series's Most Valuable Player — lined Rich Gale's pitch to right field, scoring Boone and Smith. The Royals might have had a shot at Smith, who stumbled rounding third, but Cardenal elected to throw to the cutoff man rather than home.
Gale, starting his second game of the Series, was replaced by Renie Martin after the Phillies scored those two runs. Martin prevented any more runs, stranding runners at first and third.
The Phillies, meanwhile, built their lead, scoring single runs in the fifth and sixth innings to move ahead 4-0.
Smith led off the Philadelphia fifth inning with a line drive to center that he stretched into a double. He advanced to third on a fly ball by Rose. When Martin walked Schmidt, Paul Splittorff came in to pitch for the first time in the Series.
Smith scored on a broken-bat grounder to shortstop by Bake McBride, but Splittorff, who had complained about not being used in the first five games, got out of the inning when Greg Luzinski grounded to short.
The Phillies scored on Splittorff in the sixth. Gary Maddox led off with a ground single, but Manny Trillo bounced into a double play. Bowa followed with a double to the left-field corner, and Boone drove him home with a line single past the outstretched glove of George Brett at third.
Carlton, meanwhile, turned in the strongest pitching performance of the 77th World Series. He held Kansas City's offense scoreless through six innings, striking out seven, before he was taken out of the game in the eighth.
The Phillies brought in McGraw, the pitching star of Game 5. That was when the Royals' mounted their most serious threat. Wathan walked, opening the inning, and Cardenal followed with a single to left.
McGraw got Frank White on a pop fly but walked Wilson, loading the bases. With one out, U.L. Washington lofted a fly to center, scoring Wathan and making the score 4-1. Brett then beat out a infield hit, loading the bases again. Hal McRae, however, bounced a three-balls, two-strikes pitch to second-baseman Trillo, ending the inning.
Royals relief pitcher Dan Quisenberry retired the Phillies easily in their half of the eighth, and the Royals came up for their last turn at bat.
Amos Otis, leading off for Kansas City in the ninth, took a called third strike, although it appeared he didn't agree with home-plate umpire Nick Bremigan. Willie Aikens, who has been hero and goat in the Series, drew a walk from McGraw, bringing a flicker of hope to the hearts of Kansas City fans.
Onix Concepcion was brought in to run for Aikens. Wathan lined a single to right, bringing up Cardenal, who singled to center, loading the bases.
Once again, Green stayed with McGraw, providing him with yet another chance to work himself out of deep trouble.
White again popped up, and the ball drifted toward the Philly dugout. Boone raced over and got his glove on the ball, which fell out — right into Rose's glove.
That brought up Wilson. McGraw struck him out to end the Series.
Royals' bid to rule world is put on hold
By Joe McGuff, Sports Editor
PHILADELPHIA –  The reasons the Royals lost to the Phillies in the World Series are numerous and go beyond any one individual. But, in the first flush of misery that followed the sixth and final game, Willie Wilson had the distorted feeling the world was pointing at him.
Never mind his regular-season batting average of .326. Never mind his 230 hits. Never mind his 79 stolen bases.
In his tormented state, Wilson was convinced only the World Series would be remembered. They would talk of his .154 batting average, the few times he reached base and his record 12 strikeouts, the last one coming with the bases loaded and two outs in the ninth.
In another dressing room, Tug McGraw, Phillies' pitcher who struck out Wilson in the ninth, was laughing and drinking champagne. Wilson was hurting.
Most Royals were disappointed over losing, but the devastation that marked their three playoff losses to the Yankees was missing. They had beaten the Yankees, they had brought a World Series to Kansas City for the first time and they felt a strong sense of accomplishment despite losing to the Phillies.
Having conquered the Big Apple, they would get around to the world at a later date.
Only Wilson was suffering the anguish of personal failure.
"Nobody wants to get here and play bad," Wilson said in a low voice that had reporters straining to catch his words.
"This is the worst offensive series I've ever had. I wish I could say what I did wrong.
"Nobody wants to get here and play bad," Wilson said in a low voice that had reporters straining to catch his words.  "This is the worst offensive series I've ever had.  I wish I could say what I did wrong.
"I put pressure on myself by reading that we were losing because I wasn't getting on base. We had a 4-run lead and lost (Game 1). We had a 2-run lead in the game we lost in the eighth (Game 2). We gave it to them Sunday (Game 5). This game was the only game they took from us.
"I'm disappointed I didn't get on base. I think other people are saying I'm responsible for what happened. I don't like it because they're saying the Royals lost because I didn't get on base. They keep talking about if you stop me, you stop the Royals, but we had leads in the eighth and ninth. Granted, when I get on base it's easier."
Earlier, George Brett had said that despite losing, playing in the World Series had been fun. His perspective of the Series is one Wilson does not share.
"It stopped being fun for me when I didn't get any hits or get on base," Wilson said. 
"Things just didn't go our way, and they didn't go my way. If you want to say I lost it, you can say it. What it all boils down to is we lost. I'm a bad loser."
None of Wilson's teammates was blaming him. The players were, in fact, speaking of their season in positive tones.
"It's hard to describe how I feel right now," Brett said. "Losing to a team like Philadelphia is nothing to be ashamed of. I thought we played well. Someone has to lose, and unfortunately we lost. It would have been a lot sweeter to win."
Dennis Leonard, who started the first and fourth games, was philosophical.
"I'm not going to go home and cry," he said. "I'm going to think we accomplished a lot of things this year. It would be great to be No. 1, but there's no shame in being No. 2."
Amos Otis, one of the Series stars with three home runs and a .478 average, thought the Royals could have won just as easily as the Phillies.
"I thought we should have taken the first four," Otis said. "We had leads in the two we lost. The fifth game, we should have won that, too."
Paul Splittorff, who earlier was angry because he did not get to start, said he had made peace with Manager Jim Frey and expressed a positive view of being in the Series.
"I think we played a pretty good Series," said Splittorff, who pitched in relief Tuesday night. "The thing that stuck out for me was the competition. These were two strong-willed teams that didn't expect to lose. It was like two bulls charging at each other."
For the most part, the Royals said they played well in the Series and, though they didn't win, this was a good season.
They would not have felt that way had they lost to the Yankees in the playoffs.
Conversely, the Phillies believe their season would not have been successful without winning the World Series.
The most obvious pattern regarding the Royals' losses to the Phillies was an inability to hold leads, with the Phillies coming from behind in their first three victories.
Tuesday night, the Royals were the team attempting to come from behind and they failed, despite having opportunities in the eighth and ninth innings.
Hal McRae came up in the eighth with the bases loaded, two outs and one run home. He grounded out. The Royals had the bases loaded with one out in the ninth, but McGraw retired Frank White on a foul pop and struck out Wilson.
"We can walk across this country or walk around the world with our chins up and say we're No. 1," McGraw said.
The Royals had a very good season, but as time passes, they probably will have a deeper regret over losing the World Series.
World Series baseball, Philadelphia-style
By Mike Fish, Sports Writer
PHILADELPHIA – It was baseball, Philadelphia-style.
Police dogs were stationed along the dugouts, helmeted officers were standing guard, cherry bombs were exploding and the Kansas City Royals were staging the patented Philly comeback in Veterans Stadium.
The Phillies had done it at the tail end of the season against the Montreal Expos. It had been repeated against the Houston Astros in the National League Playoffs and against the Royals in the World Series.
Now the Royals, their backs against the wall in Game 6, were trying to create that same magic.
They tried in the eighth inning and again in the ninth. They loaded the bases, but each time relief pitcher Tug McGraw bent only so far. A sacrifice fly brought home the only run he surrendered as the Phillies defeated the Royals, 4-1.
"It was very distracting out there, very distracting," Royals second-baseman Frank White said. Twice in the late-inning surge, White, the Series' defensive master, lofted innocent pop-ups.
"You had dogs all over the place," White said. "Cherry bombs were going off all over the place. It was just wild. It was like winter ball all over again. I thought I was back in Venezuela."
Faint signs of hope for the Royals began to surface in the eighth. Starter Steve Carlton tired, giving way to relief ace McGraw. The Royals scored a run, chopping the lead to 4-1, but Hal McRae was retired on a grounder to second-baseman Manny Trillo. That killed the threat.
"When I was up, I thought I'd hit it out," McRae said. "Once the count got to three-balls, two-strikes, I was just looking to make contact. I was going to be the guy to get them. I was going to hit it out.
"He (McGraw) won, though. I had a chance to beat him two days, and he won."
As it turned out, it was up to Willie Wilson. The Royals' left fielder was in the same position in which Cardenal found himself in Game 5. It was Wilson against McGraw, the bases loaded, two out and the outcome still in the balance.
McGraw won the battle and the Series. For Wilson, it was a strikeout that may linger in his mind all winter.
"Nobody likes to get here and play bad," said Wilson, who struck out three times Tuesday. "I wanted to be up there. I wasn't going to go back and say, 'Jim (Frey) put somebody else up there.' At that time, I just didn't have it."
Cardenal knew exactly bow Wilson felt.
"You're only human and can just try," Cardenal said. "I know how he feels. When you try too hard, things go differently.
"It happened to me before. You try your best, you try too hard. It's like you have no control, no feeling for what will happen.''
And the world turns
As the Royals lose in Philadelphia, Kansas City resumes everyday life
By The Star's Staff
Tuesday, 11 pm: a dog was barking, leaves were falling, the moon showed almost full in the sky.
The Royals had lost the World Series. The world continued to turn.
Kansas City relaxed. There were no drunken brawls. No partying in the streets. No honking horns or traffic jams.
"I'm glad it's over," said Det. Charles McKinnie of the Police Crimes Against Persons Unit. "I couldn't take this every week."
His feelings apparently were shared by many Kansas Citians. Police said they received no reports of any unusual incidents during or after the Royals bowed to the Philadelphia Phillies 4-1 in the final game of the series played in Philadelphia.
For a few tense moments Tuesday night, it looked like the Series story might come to a different end. Customers at the Blarney Stone Pub, 3801 Broadway, were ready to scream, shout and knock down the walls as the Royals loaded the bases in the ninth inning.
But a Pete Rose catch and three strikes ended all hope, and the Irish pub grew quiet as the television announcer confirmed what had been evident — the Phillies had taken the World Series.
Elizabeth Johnson, an art student, stood outside the doorway. "I'm not disappointed," she said. "I'm proud that the Royals got as far as they did."
Many shared that view.
Jim Hatcher, a truck driver who sat quietly at the Blarney Stone during the game, said there was a time when "Kansas Citians hoped for a team that played a .500 season."
Still, there were others who did not seem to care that there was a World Series game going on.
The folks at the Bigger Jigger at 71st and Troost mostly talked and joked, ignoring the game on television. The discussion covered topics such as the quality of fly swatters.
Blinkey, one of the regulars, complained that all the cabdrivers were home watching the game.
"It's taking those cabdrivers 45 minutes to find me.  Usually they get me home in five minutes," he said.
At Michael Angelo's, 6307 Brookside Plaza, the television screen in the wall was dead and gray, a closed eye. "Go 'way leave me alone," it seemed to plead.
The patrons were experiencing the same withdrawal. Only at the last booth was there animated conversation about the Series.
"The Royals have always been good enough except when the money was on the line," said Charles Tobin, a New York Yankee fan who has called Kansas City home since 1973.
New York lost the playoffs, he said, only because "they can't win 'em all."
Little boys in blue, come blow your horns
The Philadelphia Phillies took care of the Royals' attempt to be world champions when they won the sixth game 4-1, but Kansas City's boys in blue were welcomed home in a Downtown parade and rally at Liberty Memorial Wednesday by a throng 85,000 strong.
As confetti fluttered from the rooftops, covering the players, fans pushed ever closer to be near their beloved ballclub.
They seemed to be saying, "World Series? We'll get that next year. This year the Royals are American League champions!"
The cavalcade wended its way up Grand Avenue to Liberty Memorial where the fan erupted Brett's into a frenzy. The Royals' George Brett picked up a trombone, played a few notes and said: "It (my musical playing) may not sound good, but it's my version of the greatest fans in the world. OK, maybe my trombone didn't work, but you did. I love you and I hope I spend the rest of my career here."
Catcher Darrell Porter echoed Brett's sentiments about the team's followers.  "You fans are really awesome," he said.