Philadelphia Inquirer - October 29, 1980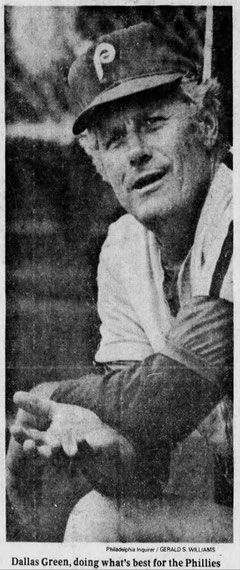 Encore
Will heaven wait another year for Phils' reluctant manager?
By Frank Dolson, Inquirer Sports Editor
NEW YORK – His feelings haven't changed. Dallas Green still doesn't want to manage the Phillies. His future is still upstairs, in the front office, not downstairs, in the dugout. Sitting behind a desk, making executive decisions, signing players, overseeing the. operation of a major league baseball team, that's Dallas Green's idea of heaven.
But it is becoming increasingly clear that, for the man who stepped out of the front office for one stormy, chaotic and ultimately wonderful year to lead the Phillies to their first world championship, heaven must wait.
"I never fell in love with managing, I'll guarantee you that," Green said yesterday in the Empire Room of the Waldorf-Astoria Hotel, where the Phillies' giddy post-World Series whirl continued. "Except the last night. I loved the hell out of it that night."
The six months that preceded that night had taken their toll, left their scars. Teams win pennants in assorted ways. Los Angeles won two in a row with Tommy Lasorda oozing "Dodger Blue" and hugging his heroes with such warmth, such passion that they practically wound up black and blue. Pittsburgh won with Chuck Tanner always searching for – and finding – a silver lining, with Willie Stargell as the father figure on a team that came to be known as "fam-a-lee."
Then there was Dallas Green and his Phillies. Instead of Lasorda's hugs, he gave them a kick in the pants. Instead of Tanner's non-stop optimism, he gave it to them – and the press – straight. He screamed, he raved, he ranted. He incurred their wrath.
And he won.
"That's the big factor," Lasorda said yesterday at the Waldorf, where baseball people met to honor World Scries MVP Mike Schmidt. "That covers a lot of things.... A man has to get it done the way he thinks he can do it. Dallas did it that way. He thought it was best."
Let the record show, it was best. At least for this Phillies team in this baseball season.
It is becoming increasingly clear that he will try to do it again. Not because he wants to. He doesn't. Not because all the men who played for the 1980 Philllies want him to. They don't.
Dallas Green, It appears, will put on that uniform again, wage war – if necessary – with the hired hands again, manage the Philadelphia Phillies his way again because, after all, he is an organization man and the men at the very top of the organization would like him to do it.
"If you know Paul Owens and Ruly Carpenter, they're very persuasive. They can persuade you to do almost anything," Green said, while Schmidt was hopping from TV interview to TV interview, from mass interrogation to mass interrogation. "I'm a Phillies guy. I'll do what they think's best for the organization. I have my preferences. I've stated those preferences. (But) the timing, may not be right in their minds...."
Least of all, in general manager Owens' mind. Last spring, the man who built this team from a cellar-dwelling joke to a contender and, finally, to a world champion talked seriously about leaving that wood-paneled office in the Vet, about removing himself from the big league rat race and returning to his first baseball love: dealing with kids on their way up.
He is not talking that way now, and you can hardly blame him. After all those years of fighting to get into a World Series, after all the disappointments and frustrations encountered along the way, Owens wants to enjoy life at the top for a while. And he apparently doesn't think it would be fair to Green to stick the manager of. the 1980 champions into a secondary role upstairs in 1981.
"I think where we are in the thing, Paul feels when I come up there he should go," Green said. "... I don't think he'd come out and say that (publicly), but that's just my feeling. He feels it's like severing the umbilical cord or whatever. He doesn't want the feeling that he's looking over my shoulder and helping make decisions when I would go upstairs.
"I just told him, 'I think that's ridiculous, Pope. You and I have worked together. You know I'm going to say my piece whether you like it or not, and there are so many new things to learn (about the challenges faced by a general manager in the 1980s) that I think you could help teach me.'
"He's mulling on it. So am I. We still want to do what's best for the organization. It may be that I'm still the best guy to keep molding the youth and the older guys together because that's basically what we'll have (again) in 1981."
The longer Green talked, the more he gave the impression of a guy trying to talk himself into the positive aspects of managing the Phillies for another season.
Maybe 1980 had been rough. Maybe six months of screaming and hollering, raving and ranting are as difficult for the ranters as they are for the rantees. But the fact is, Green's way worked. Even those players who didn't like it can't dispute that. Surely, the triumph of 1980 should make it easier for Green to get his ideas across in 1981.
"I don't think anything I went through in 1980 would necessarily repeat itself in terms of getting the guys to believe my way was basically right," he said. "I don't have those qualms anymore because I think in their own minds they're convinced, 'At least it worked for us in 1980.' The only thing I would not want is for us to slip back into the laissez-faire situation that we had before, and, of course, winning can do that if you're not careful."
Naturally, they asked Schmidt yesterday how he felt about the prospect of Green returning as Phillies manager.
Not at all surprisingly, the World Series – and, most likely, soon to be National League – Most Valuable Player felt fine.
"You know me," Schmidt said. "I think I'm going to play the same for anybody. When you have a good year, when you're doing well statistically as an individual player, it's very easy to get along with whoever the manager is. When you're having a subpar year, when you're one of the guys involved with Dallas, when you're one of the guys in his doghouse... then it can be tough on you. I can't speak for guys who may be in those positions. All I can say, I thought Dallas Green did an excellent job.
"There are three things a manager has to do: make strategical decisions, handle the press, handle the pitching staff. Our manager really didn't care what the rest of the team thought. He was just there to win, and he did it. So he must've done a great job."
Schmidt reiterated the feelings he had expressed earlier about Green occasionally being too blunt when discussing the players' shortcomings with the media.
"He may say something that maybe next morning, when he got up, if he had his druthers he may not have said it," Schmidt said, explaining that that was. the "only minus" on Green's managerial report card as far as he was concerned.
"I had to take something away from Dallas this year because I didn't think he was tactful enough," the major league home run champion said. "That's my own opinion. I'm entitled to my opinion.... I think that concept of 'We, Not I' (that) I had to look at in the clubhouse on signs everywhere from spring training to the end of the season is fine as long as the manager is always part of that 'we.' I think there were many times he used the term 'they.' It's supposed to be, 'We, Not They,' as far as the manager is concerned and, 'We, Not I,' as far as the players are concerned."
But when all was said and done, the man who didn't want to be manager of the 1980 Phillies got the job done so well that he's likely to get saddled with it again in 1981. The final decision, Green indicated, will be made as soon as Owens returns from the general managers' meeting he is attending.
"It's going to be quick," Green said, "because we've got a couple of guys hanging now that really shouldn't be hanging, myself included. We're going to do it very quickly, within a week. As soon as Paul gets back I'll be right there with him."
And, it appears, doing it his way.
"In '77 and 78," Lasorda said, "all you heard about was hugs and kisses. Last year at this time all I read about was 'the family.' This year I'm reading about something else. Eighty- one? Let's hope it's back to hugs and kisses again."
With, of course, time out for a little raving, a little ranting and an occasional Dallas Green kick in the seat of the pants.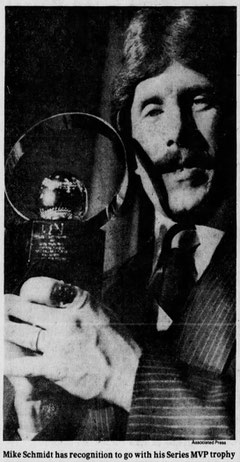 Series MVP Mike Schmidt:  'Awesome'
By Frank Dolson, Inquirer Sports Editor
NEW YORK – He won three consecutive home run titles in the mid-'70s. He hit 45 last year and a major league-leading 48 this year during the regular season. But what happened after the regular season changed Mike Schmidt's life.
"It's awesome, really," the Phillies third baseman said yesterday as he accepted the World Series Most Valuable Player award. "Everywhere I go, I'm recognized now. Not that I think that's the greatest thing in the world, but the impact of the World Series ts unbelievable.... I'm hoping that some where around Thanksgiving I can sit back and relax and realize what's happened to myself and the Phillies."
What's happened is that the Phillies have become the team in baseball after all those years, all those decades of being just one of the crowd. And Mike Schmidt; along with Tug McGraw, has become a symbol of that accomplishment.
"I think he deserves everything he gets," Phillies manager Dallas Green said just before yesterday's awards luncheon, "and if he's not the MVP in the National League there isn't any.
"I've got guys that we could lean on in 1980 and make good cases for – Manny Trillo, Bake McBride, certainly Steve Carlton but Mike Schmidt did some things this year that brought him on in my mind as a), a team player, and b), as probably the best baseball player around.... He's the guy that had to glue us together. He was the power aspect of our offense. If he collapsed, we'd have been in trouble."
It was the mark of the 1980 Phillies, as Schmidt was quick to point out, that on those occasions when he did fail to knock in vital runs, one of his teammates picked him up.
That happened most dramatically in the eighth inning of the fifth playoff game against the Astros when Ken Forsch came in to strike out Schmidt with the tying run on third and one out... only to give up a game-tying single to Del Unser and a two-run triple to Trillo.
"That's what was fun about the (last) three weeks," Schmidt said. "Starting in Montreal, every game, every series... so many different players were involved there was no one star.
"As a matter of fact, I was the goat, I guess you could say. I didn't get a hit in that one at-bat against Ken Forsch, and that made the whole world think I had a bad playoff. Had I hit a ground ball to shortstop, no one would've said I had a bad playoff; that's what's funny. (But) that strikeout made Del Unser's hit possible, made Manny Trillo's play possible...."
At that moment, however, when Schmidt took the third strike and headed back to the dugout with the TV camera zooming in on him, a great season seemed in danger of going down the drain.
"If you can imagine," he said yesterday, "walking back to the dugout and seeing the whole MVP season pass in front of you...."
But this year was different. This year belonged to the Phillies. "Strikeouts," Schmidt discovered, "can lead to good things. I'm proud to be the goat of the National League playoffs if other guys got to do what they did."
And because those other guys – the Unsers, the Trillos, the Garry Maddoxes – delivered in the clutch in the playoffs, Schmidt got the opportunity to play, and star in, the World Series.
They asked him how much the World Series MVP trophy meant to him, how it compared in importance to the National League MVP award he is almost certain to win, and he replied thoughtfully: "I would have to say that anything involving the team and a world championship is something that you have to put on the best shelf in your office. When I look at this I'll say, 'That was the 1980 World Series. That was the greatest thrill of my life.' On the other hand, if that other award comes about, you have to look at what went into that – 161 ball games, a heckuva lot of sleepless nights and road trips and 0-for-4s and knockdown pitches and errors. That's what it takes to win the MVP in the National League."
Eight hits in six games, including two homers; seven runs batted in, including two game-winners; a.381 batting average, a perfect job in the field, that's what it took Mike Schmidt to win the World Series MVP award. That's why, after all these years, even on the sidewalks of New York, they finally recognize Mike Schmidt from Greenville, S.C.