Philadelphia Inquirer - October 3, 1980
A baseball shake-up?
Bill Giles says that by 1982, you might not recognize baseball's pennant races anymore. The Phillies' executive vice president thinks that each league probably will go to a three-division set-up much like pro football's by 1982. And, for the first time in baseball history, a second-place team would make the playoffs and have a chance to play in the World Series. Giles says the matter is likely to be voted on this winter, and "the American League is very apt to vote for it. They've had a scheduling problem with the seven-team divisions, and they've had a bad race this year with Kansas City. The National League had been against it. But I think a majority might be in favor of it now." Giles says the Phillies would wind up in a division with Montreal, New York and Pittsburgh. If that were the case, the Phillies not only would be battling the Expos for the lead in their division now, they also would be fighting Houston and Los Angeles for the wild-card spot. And Cincinnati, now destined to finish third in the NL West, would be an easy winner in the new NL Central (Reds, Braves, Cubs, Cardinals).
Attendance falls off, but still third best
The Phillies drew 23,806 fans to rainsoaked Veterans Stadium last night, ending the 1980 home season with a total attendance of 2,651,650.
That is 123,361 less than last year's all-time record attendance of 2,775,011, but it is the third best in Phillies history and is the club's fifth consecutive year above 2 million.
The Phils drew 2,480,150 in 1976, 2,700,007 in 1977 and 2,583,389 in 1978. On the surface the attendance decline would appear a symptom of falling popularity, since the Phils were a fourth-place also-ran last year and now are (lest we forget) still fighting for a pennant on the season's last weekend.
"We're about 120,000 behind last year," said executive vice president Bill Giles, "but we were about 300,000 behind going into August.
"I think this would have been a record year had it not been for the strike talk in May. We had a big home stand with Houston, which was very hot then, and with the Pirates, scheduled right when the strike was to have taken place (May 23).
"Late May also is the time when our group business really picks up, but people were afraid to buy the tickets because they were afraid the games wouldn't be played," he said.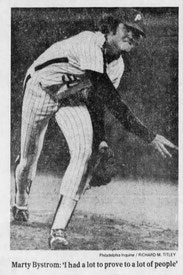 He's Phillies' man of the hour
Marty Bystrom strikes out skeptics with 5-0 start
By Frank Dolson, Inquirer Sports Editor
There must be some red faces in Florida these days... and it's not all from spending too much time in the sun. Marty Bystrom, the kid whose pitching efforts as a high school senior in Miami drew large yawns from college coaches, has been mowing down National League batters as if they were – well, Miami high school kids.
Bystrom may have arrived in the big leagues too late to be in the running for rookie of the year, but yesterday he was named National League pitcher of the month, and nobody can deny he's the Phillies' man of the hour. Where would they be without his five straight victories, without his 1.50 earned run average, without his ability to step into a pressure-cooker of a situation and remain calm, cool and supremely confident? Not careening madly into the final weekend of the season with a chance to finish first in the National League East, that's for sure.
"I don't think they expected me to do what I've done so far," Bystrom was saying the other evening between television interviews. "I know they didn't expect that."
He flashed a cheerful, carefree smile. Sitting there in the Phillies dugout or standing alongside it answering questions on a live TV show he looked so comfortable, so thoroughly at home that it was hard to realize that his big league career was barely a month old. And even harder to realize that this same young man had spent most of the 1980 season in the minors struggling mightily to save it from being a total loss.
A severe pull had killed his chances of making the team in the spring, and turned much of the summer into a rehabilitation grind. For weeks, he'd run up and down stadium steps in minor league parks, trying to get his legs in shape, wondering what he'd done to deserve this.
"It was a big disappointment being hurt," he said, "but I thought I was going to be ready in a couple of weeks, and it kept going on and on and ended up being 3½ months."
Those must have been the longest months of Marty Bystrom's young life.
"I thought the whole year was ruined for me," he said. "I was thinking about next spring training. I wasn't even thinking about the end of the year up here (in Philadelphia). I thought the whole year was gone."
It would have been gone, if Bystrom had thrown in the towel. To his everlasting credit, he didn't.
"I just had the drive inside me that kept saying, 'You gotta do it. Go do it. Keep doing it,' " he said. "And that's what I did. I didn't give up. Like I told you in Wichita (during a June road trip with the Oklahoma City 89crs), 'I can lay down and say forget it; it's not getting any better. I can just quit, just give up for the rest of the year, but I'm not going to do that. I'm going to keep at it.'"
The biggest test came shortly after the Triple A season opened... and Bystrom, the kid who had hoped to make the Phillies, was told to report to Double A.
"That was the low point," he said. "We were in Omaha, maybe the third game after opening day, and (Oklahoma City manager) Jim Snyder came up and said they were sending me to Reading. I skipped Reading last year (jumping from A ball to Triple A), and I'd heard how bad it was (traveling in the Eastern League). To go there and just work out on my leg and not pitch, I just didn't want to do it."
He had no choice. And anyway, they told him it would only be for seven to 10 days.
"I ended up staying there' for a month," Marty said.
It wasn't all bad. Reading trainer Dick Cummings played a major role in the rehabilitation of Marty Bystrom, and the pitcher is grateful to him. But that month was long enough for Bystrom to find out that the stories he had heard about the Eastern League weren't all that exaggerated.
"I made one road trip with them," he said. "It was like being back in A-ball again. I rode the bus to Waterbury and West Haven...."
Ah, West Haven. Quigley Field. If ever there was a professional baseball stadium designed to convince young athletes that they'd chosen the wrong line of work, it was Quigley Field.
"Getaway night there we – were going back to Reading after the ball game – and they didn't turn the water on," Bystrom recalled. "So we couldn't shower after the game. We just had to get out of our uniforms and put on our clothes and get on the bus. Just the whole scene was bad."
But still that little voice inside him kept saying, "You gotta do it. Go do it. Keep doing it."
And he did. This is a highly motivated young man.
"When I was little,' when people used to ask me what I wanted to do I would say. 'I want to play major league baseball,'" Bystrom said, "and they'd kinda go, 'Yeah, uh-huh, that's what everybody wants.'"
Such skepticism never deterred him – not even when people who were supposed to be able to judge baseball talent decided Bystrom didn't have enough of it.
"I had a lot to prove to a lot of people," he said. "The people back home, they said I'd never make it to the big leagues. I mean certain people down in Miami – different coaches of schools and stuff. They didn't offer me anything hardly. I had one scholarship offer out of high school and that was Virginia Poly. I wasn't looked at, at all. I had a good arm and everything, but I had a bad record. We had a bad team that year and I went to junior college. Now I'm glad I never went there."
In fairness, the Marty Bystrom who pitched for Miami-Dade Community College South was two inches taller, 20 pounds heavier and considerably more impressive than the Marty Bystrom who went 3-8 as a high school senior. But those early disappointments ran deep – and seemed to provide Bystrom with even greater determination to make it to the big leagues, to prove all those people wrong.
"A lot of guys got scholarship offers that I thought I was just as good as, or better," Bystrom said. "It bothered me at the time, but I finally said, 'All right, I'll show 'em.' That's what I'm doing right now.
"This winter it's going to be fun to go back there and see the look on their faces. I don't know what I'm going to say, but I can't wait to get back."
You can hardly blame him. His success here has been little short of phenomenal. Kids who have never pitched a big league game before aren't supposed to walk into the stretch drive of a tense pennant race and do what Bystrom has done – least of all kids who have spent most of the season running stadium steps instead of pitching. Yet this remarkably confident 22-year-old never seemed to doubt for a minute that he could do the job, if given the opportunity. And he apparently did it without an excessive amount of help.
"Nobody told me a thing (when I got here)," Bystrom said. "None of the pitchers helped me out as far as going over the hitters. I didn't even go over the hitters with Boonie (catcher Bob Boone) or anybody. It was just kinda like they were giving me the ball, go out there and see what I can do.'
"Dallas (Green) knew what I could do. That's why he gave me opportunity. But there were a lot of guys that had doubts in their minds about sticking me out there instead of some of the older guys. A lot of the players, they'd never seen me pitch."
For a while after he got here, Bystrom didn't think they – or anyone else – would see him pitch for the Phillies during the stretch drive. "When I came up they told me I was going to start in San Francisco (the next day)," Marty said. "And then two hours later they're scratching me. They're going to pitch (Larry) Christenson. So 'right then I said, 'Well, I'm not going to pitch at all.' I was really disappointed. I didn't want to sit here all month and not throw. It didn't seem that great to me just to be sitting here (watching the big team play).
"Then they stuck me in the bullpen (a place Bystrom dislikes with all his heart). One night they told me to get up they wanted me to warm up in the bullpen to get ready to go in the game and I'm sitting in the dugout; I don't even have my glove out there. I thought if I wasn't going to start I wasn't going to pitch. I wasn't ready to pitch in relief."
But he threw a scoreless inning at the Dodgers in Los Angeles in his first appearance. Even as cool and confident a customer as Marty Bystrom had butterflies that day.
"I was really nervous coming in there with 45,000 in the stands," he said, "but I pitched good, and from then on I just knew I could do it."
And from then on, he has done it. Start after start after start after start after start.
Now one big question remains: Will Marty Bystrom, the kid who won five straight September games for the Phillies, gel a chance to win some more in October – in the event the Phillies reach the playoffs? His eligibility for postseason play remains up in the air, a fact that concerns him greatly. "I talked to my folks the other night," Bystrom said, "and they're going to come up if I'm eligible for the playoffs. I told them, 'If I'm not going to be eligible I'm not going to buy any tickets.' Sitting there watching it would tick me off more than watching it on TV. I don't even know if I'd want to watch it on TV. That would be a letdown to me knowing I helped them in the drive and then I wouldn't get a chance to pitch for them in the playoffs."
And Marty Bystrom, the Phillies' man of the hour, has battled back from enough letdowns for one year.
Phillies sweep Cubs, gain share of lead
By Jayson Stark, Inquirer Staff Writer
Tonight they play in Montreal with the whole world watching. But last night they played at the Vet, with only 23,806 rain-soaked people watching. And as they rolled tensely into the seventh inning, Montreal was starting to seem as far away as Siberia.
There, in the seventh, were the Chicago Cubs, those ever-popular losers of 96 baseball games, tied with the Phillies, 1-1. And there, on third base, was the go-ahead run, with nobody out.
And there, on the mound, was Philadelphia's favorite flake pitcher, Bob Walk, the whole season staring him in the face. But Bob Walk stared right back.
He got Jesus Figueroa. He got Mike O'Berry. He got Scott Thompson. The run never scored. Then Keith Moreland put the Phillies ahead to stay with an RBI single in the bottom of the seventh, and the Phils went on to set up the weekend mini-playoffs with a 4-2 victory.
"Going in there this way is certainly better than having to look at the scoreboard to see what's going on," said Dallas Green. "And I think we feel very confident about the job we have to do up there.
"I'll tell you one thing – we've played pretty damn good baseball for a long time, with our backs up against the wall. And with some driving, we've gotten the job done."
Mike Schmidt helped get the job done early by touching rookie Randy Martz for a 425-foot line drive over the centerfield wall in the fourth inning to tie the game at 1-1. The homer gave Schmidt 46 for the season, a Phillies' club record.
But last night's game meant more than the difference between dropping a game out of first place or going to Montreal tied. A loss last night meant the weekend took on a whole different dimension.
The Phillies knew they would have to take two of three from Les Expos no matter what. But "if we'd lost tonight, we'd have needed two out of three to tie it," said Pete Rose. And a tie would only have earned them the right to try it one more time at the Vet next Monday. With the win last night, two of three means they can pop the champagne – and maybe even save Steve Carlton for the playoffs.
"It's even-steven going in there now," said Tug McGraw, who pitched the last 1⅔ innings to pick up his 19th save. "Whoever wants the division is just going to have to eat the fastest." Nobody was measuring how fast Walk was eating last night. But when Jim Tracy led off the seventh by slicing a triple just beyond Del Unser's glove in center, Walk was sure swallowing hard.
"I just tried to make good pitches," Walk (11-7) said after winning his first game since Sept. 4. "You've just got to hope you can get a strikeout or a pop fly or something. You need a little luck to get out of stuff like that."
Walk first had to go after Figureroa, a tough little contact hitter. But Figureroa was just all right with him. He got him to 1-and-2 and threw him a tough slider down. Figueroa chopped it down the first-base line. Walk pounced on it two steps from the line.
"The first thing I did was turn around to check Tracy, and Figueroa kind of ran right into me," Walk said. "So I just tagged him. I'm lucky Tracy didn't go home."
That was one out. Next was O'Berry (.209), who had struck out on four of his last five trips to the plate. Walk went from 0-2 to 3-2 on O'Berry.
"On the 3-2 pitch, I just tried to throw something he'd hopefully take for a strike," Walk said. "It was a situation where even if he walks we've got a shot at the double play with the pitcher coming up next. So I just threw up this curve, and I was lucky it went over the plate (as O'Berry watched for strike three)."
Thompson then pinch-hit for rookie pitcher Randy Martz. Walk jumped ahead of him, 1-2. Thompson popped a curveball to Bake McBride and Walk was out of it.
That was the sequence that turned the night around. Bill Caudill came on to pump those inimitable fastballs , of his in the bottom of the seventh. And Del Unser lashed one into the corner in left for a one-out double.
Next was Moreland. He lined an RBI single to center, and it was 2-1. "Every game seems like the last game of the World Series to me now," Moreland said.
"Every inning just seems more intensified. I'm an emotional player, maybe too emotional at times. I get excited about all this."
It wasn't over yet, though. Walk had flashed his best control and finest stuff all night. But he walked Steve Dillard with one out in the eighth (only his third three-ball count), Bill Buckner stroked a single through the middle and on came McGraw.
Larry Biittner bounced his second pitch into a double play. Then a Dillard throwing error set the Phils up for two unearned runs in the bottom of the eighth.
NOTES: The Phils head into Montreal having won 19 of their last 25 games on the road. But the Expos are 50-27 at home this year.... The Expos lead the season series, 8-7. The teams have split their six games in Stade Olympique. Meet the 3-piece portable talented as you are.
Schmidt's critics don't hit home
By Don McKee, Inquirer Staff Writer
Mike Schmidt has heard the allegations. He's heard the bad jokes. He has endured the commentary about most of his home runs, about how they invariably come in the first four innings and with no one on base.
He has answered the only way a slugger can answer – with home runs.
In a season that may end with his election as the National League's Most Valuable Player, Schmidt now has hit 46 home runs. That's not only a career high, it is a Phillies single season record.
The 46th, a line drive to near-dead center, tied the game at 1-1 in the fourth. Yeah, yeah, in the first four innings, and with no one on base.
He smiled while he answered questions about the public perception that he doesn't hit them in the clutch.
"Get off that subject, will you?" he said, smiling all the while. "I like to hit in the clutch every chance I get. Sure it (last night's shot) came with the bases empty, but it was a damn big hit. Call it what you want to.
"It just felt good to hit the ball and get us on the board. I'd never seen the guy before (Cubs rookie Randy Martz) and I sure wasn't trying for a home run."
They've come, though, and never at so crucial a time for the Phillies. Schmidt now has hit 11 homers since Sept. 1. Of his last 12, nine have tied games or put the Phillies ahead. Only four of his 46 have been with the Phillies more than three, runs ahead or three runs behind. His 117 RBIs also are a career high and lead the National League. One more home run will tie the major league record for home runs by a third baseman (held by Milwaukee Brave Eddie Mathews, who hit 47 in 1957).
"Schmitty's had a lot of big home runs for us this year," said manager Dallas Green. "Maybe they weren't all game winners, but a lot of them cracked the ice and spurred us on.
"That home run tonight started us off because it told that pitcher he wasn't gonna get everyone out and I think maybe he felt he was gonna get everyone out."
Green groped for words to describe Schmidt's late-season hitting, choosing "patience" for lack of a better term. Maybe he meant selectivity.
"I think Schmitty's displayed a lot more patience, if that's the word I want" Green said. "He has a lot more confidence in his ability to hit now. Yeah, patience is the key word.
"All year he lived with the thought that he didn't have a guy behind him. Now he's found out that he didn't need anyone behind him all along."
Schmidt prefers to speak in team terms.
"The major difference between this weekend (in Montreal) and last weekend is in our offense," he said. "Our offense has more confidence as a team. We're getting runs... we're running guys around the bases. We weren't doing that the last time."
Schmidt was still smiling as he headed for the showers.
"We've got momentum now," he kidded. "We won last night and they didn't."
Showdown in Montreal
After six long months and 159 games of baseball,, the schedule has boiled down to a three-game shoot-out between the Phillies and the Montreal Expos to determine the 'champion in the National League East.
Montreal holds an advantage, because the series, which opens tonight at 7:35 (TV-Channel 17, Radio-KYW-1060), will take place in Olympic Stadium, where the Expos have been overwhelming this year, to say the least.
BASEBALL
PHILLIES at Montreal, 7:35 p.m. (TV-Ch. 17; Radio-KYW-1060)