Wilmington Morning News - October 6, 1980
If Phils win, Green may quit as manager
By Hal Bodley, Sports Editor
MONTREAL – The stands were rickety and uncomfortable and the stifling heat and humidity made the night in Pulaski, Va., even more unpleasant.
"This is what you have to go through to be a career manager," Dallas Green said later. 'You have to pay your dues. I guess you can see why I don't want to make a career out of this."
That was August of 1969 and Green was piloting the Phils' youngsters at Pulaski in the Appalachian League. The players loved the former pitcher, but even then he was strong in his belief that he did not want to be a manager.
The Philadelphia Phillies regained the National League Eastern Division championship on Saturday night with a remarkable 6-4, 11-inning victory over Montreal. And they returned to the top of their division with Dallas Green at the controls.
You'd think by now the Delawarean would be liking this business of managing professional baseball players.
Wrong.
Dallas Green feels the same way he did that hot night in Pulaski. He wants no part of becoming a career manager. After a short night's sleep following his finest hour, Green was telling friends how he would like to give it up after this year – if the Phils can make it to the World Series, something they failed to do when they won their division three consecutive years before disaster set in last season.
"I'd like nothing better than to win this whole thing and step aside," Green said. "I would have accomplished what Paul Owens and Ruly Carpenter wanted me to accomplish. There would be nothing left for me as a manager."
Green sat back behind his desk, relaxing for the first time in months. "I would prefer not to come back if we win the. whole thing," he added.)"I haven't talked to Ruly Carpenter or Paul Owens, but that's the way I feel."
The obvious move would have Green become player personnel director and Owens, who has repeated that that is his desire, retire.
"This is a young man's game," Owens said during a quiet dinner in Chicago three weeks ago that included Green. "The fact he has managed would make him one of the most qualified general managers in the game."
"We haven't even thought about this thing," said owner Ruly Carpenter when Green's feelings were relayed to him; "All I can say is he has done an outstanding job this year. All we are thinking about right now is winning the playoffs and getting to the World Series. After that, we'll talk about it."
Green's outstanding managing, especially his blending of youth with experience, was the main reason the Phils regained their championship form.
Even last September when he took over for the fired Danny Ozark, players talked behind his back about his methods. His loud, open style was a shock that continued to spring training and through much of this season.
But soon after his emotional tirade in Pittsburgh on Aug. 10, a change could be seen in the clubhouse.
"They probably didn't realize it, but they began to do it my way," said Green. "They were tired of fighting me. They knew I would not give in to them."
As recently as last Monday night, Green was openly criticizing his players. He said he had the feeling that some of them probably didn't really care if the Phillies lost. He revealed those feelings after he had benched slumping veterans Bob Boone, Greg Luzinski and Garry Maddox. Shortstop Larry Bowa told his radio audience there was no way the team could win with those players on the bench.
Yet in the end, the Phils won six straight games to clinch the championship and everyone contributed. The youngsters he started last week against Chicago came through. Then, when he used the veterans, they also contributed. Luzinski drove in two key runs with a clutch single on Saturday and Boone supplied a game-tying RBI single.
Even though, according to Green, 10 percent of the players still do not do it his way, they all pulled together when they had to, winning 24 of their last 34 games.
"I really didn't think we'd win the first two games here, but I thought we'd win it," said Green, who turned the managerial duties over to coach Billy DeMars for yesterday's meaningless game. "I thought it would come down to the last game on Sunday. But after we won that first game on Friday night, I thought it might carry over to Saturday – and it did. I can't remember a team that has had a September like we've had. You can talk about backs being against the wall. Well, I think our backs were against the wall many, many times the last month."
To Green, the key to the whole season was wrapped around last Monday night's 6-5, 15-inning, come-from-behind victory over Chicago.
"We're down by two runs and Montreal has already won," he said. "That win showed me the character I had been yelling and shouting about all year. Without that, we might not be where we are today."
Despite the resistance, the sometimes-stubborn Green always felt his way was The Way.
"I think the results speak for themselves," said Green. "I think we proved to the people we can do it our way. No question about it, it became very frustrating at times. We've had our peaks and valleys. More frustrating than anything was my inability to convince our players that we were on the right road. I think most of them truly believe that now. We still have our work cut out for us. we have worked awfully hard for the opportunity to be National League champions."
So, for the players who have fought with Green and talked behind his back, the one way they can get rid of him is to win the World Series.
And then who would manage?
"I would like to have some say in who takes over this team," he said. "I would like it to be someone who can keep this thing going. We have a pretty bright future."
One name that comes to mind as a successor, if and when the time comes, is just-fired Texas Manager Pat Corrales, a close friend of the Phillies and Green. He is considered one of the best in the business and works well with youngsters. Corrales was released yesterday by the Rangers, although he was offered another job there if he wants it.
He may well be watching what happens in Philadelphia with special interest. Maybe.
Expos win 'rookie' finale
By Hal Bodley, Sports Editor
MONTREAL – Dallas Green, who says he never really enjoyed managing anyway, took the day off yesterday along with most of the other Phillies regulars.
Only the durable Pete Rose started in the meaningless finale against Montreal that had to put ABC-TV viewers in Houston and Los Angeles asleep.
Jerry White's three-run homer with two out in the 10th off Warren Brusstar gave the Expos an 8-7 victory in 10 innings.
The setback ended the Phils' winning streak at six games and left them with an overall record of 91-71.
Rookie Ozzie Virgil's double, followed by a two-base throwing error on Bob Dernier's grounder snapped a 5-5 tie in the top of the 10th. John Vukovich's single through the middle brought home Dernier with the seventh run. Brusstar got two quick outs before Chris Speier and Willie Montanez singled. White then came up and blasted his seventh homer, a drive to right field.
Rose, who played in 163 games in 1979, played in all 162 this year. Pete ended his second season with the Phils with a .282 average. He had 185 hits, and his 42 doubles led the league.
The 39-year-old Rose, who has 3,557 career hits, needs just 73 next year to tie Stan Musial (3,630) for the all-time National League mark.
"I wanted to play, even though it was for just a couple of innings," said Rose. "I wanted to get the average over .280 and also wanted to play in all 162 games.
All the others, including Mike Schmidt, hero of Saturday night's 6-4, 11-inning victory over the Expos, relaxed during the cool afternoon at Olympic Stadium. Schmidt, certain to win the National League Most Valuable Player Award, ended his most productive regular season by leading the league in home runs with 48 and runs batted in with 121.
Bake McBride, who might have been an MVP. candidate on most other teams, finished with a .309 average and a career-high 87 runs batted in.
Green turned the managerial duties over to coach Billy DeMars yesterday, but sat in the dugout thinking about some serious decisions he must make before the National League playoffs open in Veterans Stadium tomorrow night against either Los Angeles or Houston at 8:15. Steve Carlton will pitch the opener, with Dick Ruthven going in the second game on Wednesday, also at 8:15. Thursday is an open date, with the next three games – if all are needed – being played on Friday, Saturday and Sunday.
The World Series will open in the winning National League team's park on Oct. 14 at 8:15.
The major decision facing Green, aside from his starting line-up, revolves around rookie pitcher Marty Bystrom. Bystrom, whose 5-0 record and 1.50 earned run average kept the Phils in the thick of the chase the final month, might be declared eligible if Green can prove to National League President Chub Feeney that another pitcher is hurt and should be disabled. The obvious person in question is Nino Espinosa.
"I would say it's a 60-40 chance they'll let us have Bystrom," said Player Personnel Director Paul Owens. "Chub Feeney said he will not make a decision until Monday."
As far as Green's lineup is concerned, he refused to reveal who will be starting until he finds out which pitcher the opposition will start.
Green did reveal that Garry Maddox was examined by a doctor in Philadelphia and that the center fielder's ailing little finger on his left hand is improving. Maddox has not started a game since Sept. 28.
Maddox, however, has played some defense the past week and pinch hit on Saturday night.
Phils sold out for NL playoffs
PHILADELPHIA - If you didn't get your National League playoff tickets yesterday you waited too long.
Tickets for the two home playoff games between the Phillies and either Houston or Los Angeles went on sale immediately following the Phils' Eastern Division-clinching 6-4 victory over Montreal Saturday night.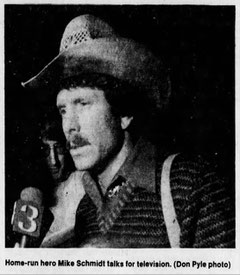 Phillies welcomed home
By David Hughes, Staff Correspondent
PHILADELPHIA – The Phillies received a wild greeting from over 5,000 fans as they stepped off the plane from Montreal at 10:30 p.m. last night at Gate 55 of the overseas terminal at Philadelphia International Airport.
Unfortunately for the throng, the team didn't stick around very long. After a brief greeting on a makeshift podium by Philadelphia Mayor Bill Green, Manager Dallas Green, Mike Schmidt and Tug McGraw gave brief speeches and departed. Moments later the team took off in four charter buses and headed off. Most of the crowd was held beyond 30 yards of the plane by a 10-foot high fence.
The United Airlines charter plane, originally scheduled to touch down in Philadelphia at 8:30, was delayed leaving Montreal for over an hour because of mechanical problems. Nonetheless, hardly a soul left despite the increasing chilliness.
When the plane finally landed, the cheering began to rise and finally reached a crescendo as the jet taxied into the terminal area. The Phillie Phanatic was in uniform to help the pilot taxi the plane.
First out of the doorway was General manager Paul Owens, followed by Green and owner Ruly Carpenter.
After a delay of several minutes, the entourage of players, club personnel and media made its way to the podium near the screaming throng. Dallas Green, introduced by the mayor, was the first to speak.
"It's great to be back here as a winner," said the Phillies' manager, "and it's important that this baseball team go on and keep winning. We've proven to you that we can win, and we will. I promise you that."
Schmidt, whose dramatic 11th inning home run on Saturday gave the Phils their division-winning runs, moved to the microphone next.
"This has been the most exciting weekend of my career," said the Phils' third baseman, who was sporting a Texas-style cowboy hat. "We're going to do our best to keep baseball here in Philadelphia for the next two weeks."
Reliever Tug McGraw, who had received the largest ovation of any player when the players filed down the airplane steps, was the third and final Phillie to speak.
"I think we're ready to go all the way," McGraw yelled confidently. "There's no way we're going to let it get away this time."
As soon as McGraw was done, the remaining players still outside headed for the busses, which two minutes later roared out of the airport vicinity. The crowd, which had spent the long wait listening to a barbershop quartet as well as burning Astros and Dodgers pennants, dispersed almost immediately afterward.