Philadelphia Daily News - October 8, 1980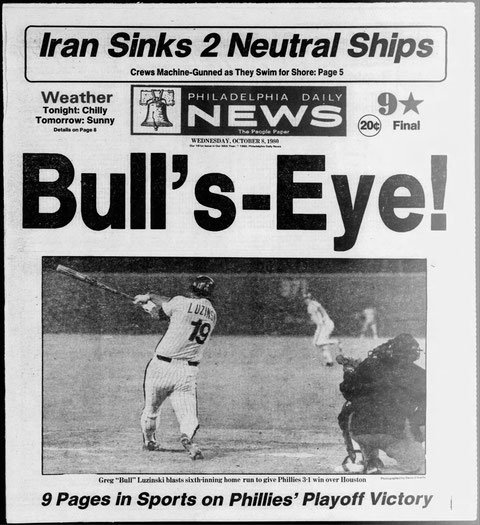 Bully, Bully for Phils
By Bill Conlin
When General Pershing went shopping for a war hero to help sell more Liberty Bonds in 1918, do you think he sent for Private Jones?
Nah, Sergeant York had a much better ring to it.
When a World War II general was trying to hype a dangerous mission, he asked for a West Point graduate, a "West Point football player." Do you think George Marshall was going to ask for somebody from the National Guard?
"Kilroy was here" was scrawled on ruins the length of Western Europe during the same conflict. Would it have caught on if somebody had scrawled, "Smith was here?"
In 11 previous National League playoff games, Greg Luzinski had left. "Bull was here." scrawled on outfield fences. He slammed five home runs in those 11 games and hit safely in each of them. While all about him lost their nerve, he never had to doubt his own contribution. Greg Luzinski didn't have to hang his head at roll call. He had been present and accounted for.
The Phillies beat the weary Astros. 3-1. last night to end a 65-year, 10-game Schneider in post-season play in their home park. It was tenser, denser than it should have been because Steve Carlton showed the rust of six days' rest. The Astros, who almost never play a bad baseball game, threatened to blow it open in each of the first three innings. But they settled for one lonely run and a clutter of six stranded runners while the NL playoff record crowd of 65.277 sat in an ominous funk, waiting for their heroes to spit up the bit once again.
It never happened.
GREG LUZINSKI, large child of scorn, scrawled. "Bull was here," one more time.
The crowd came alive for the first time since the lineup introductions when Pete Rose led off the sixth with his second leg hit, a bouncer deep into the shortstop's hole.
Righthander Ken Forsch was pitching up a storm at the time. He put a swinging strike under Bake McBride's rib cage and got Mike Schmidt on a fly to center.
Luzinski was the hitter and the vast mob, so used to cheering him in seasons past, so disdainful of him during his travails of the last two seasons, murmured restively. Bull had been pitiful in his first at-bat against the older, taller of the Forsch brothers, striking out without taking a full cut, a four checked-swing combination of flowing adrenalin and excellent pitches which immediately turned the crowd against him. To the fans' credit, they did not break out in a chant of, "We want Lonnie," the way Eagles crowds have been known to do when they wanted a new quarterback.
Bull popped up to the shortstop in the fourth and the fans seemed to be cheering reflexively when Forsch worked a 3-2 count in the sixth. It was the kind of cheering reserved for blind squirrels on acorn hunts. Maybe, the fans suggested. Bull would find a hanging acorn this time.
The pitch was a fastball, down and too far inside to be called a strike. But if Luzinski's swing has been confused since he returned from knee surgery in late August, it has not been slow. The two-run homer he drove deep into the 300-level seats under his Bull Ring section was not one of his all-timers, but was sufficient for Howard Cosell to remark. "He got it all."
WELL, HOWARD, AS Dick Allen used to say. he got all he had coming to him. Two runs were enough and Dallas Green wisely pulled Carlton for another day, sending up pinch-hitter Greg Gross, who strummed Garry Maddox home with a banjo single.
Tug McGraw did the rest, shutting down the Astros with two hitless innings, despite struggling in the quicksand of a reconstructed mound.
Luzinski reads the newspapers. And he read in most of them that Dallas Green had sealed his lips on the identity of his left-fielder. There were days during a slump-ridden September when he drove to the park figuring he wouldn't play. There may have been days when he was swinging so badly that he hoped he didn't play.
But this was Oct. 7, and he drove to the park yesterday knowing that he would play. Never mind newspaper bingo or Green's Chinese menu of a lineup card.
This was Liberty Bond-selling time and Greg knew that Green would not play Pvt. Jones over Sgt. York. He wouldn't go for a National Guardsman over a West Point football player. He wouldnt go for Smith over Kilroy. This was a night for buying stock in Luzinski, despite his Chrysler Corporation season.
"There was no doubt in my mind I was gonna play." Luzinski said. "The press in Philadelphia raised the question whether it was gonna be me or Lonnie Smith. But the man stuck with me so long. If he was gonna let me play in Montreal he was gonna let me play in the playoffs. It was typical Philadelphia press. The big to-do wasn't about us going into the playoffs, it was about whether Boone, Maddox and Luzinski were in the lineup. I just put it out of my mind. When I came to the park, I knew I was playing and I knew he knew I was playing."
MADDOX SINGLED leading off the seventh and went to second on Larry Bowa's sacrifice. Bob Boone, who was splendid defensively, chased Jose Cruz to the warning track for the second out and Green sent Gross up to hit for Carlton. Maddox stole third, which is a great two-out play only if you make it. And Garry scored when Gross, a former Astros regular, slapped a flare into the no-man's land of shallow left.
"They were bunching up on me," Gross said. "Forsch made a great pitch, in on my fists, and I fought it off. Fortunately, I got just enough of it to flare it over the infield and it fell in. I wasn't surprised that Dallas hit for Carlton. We've learned over the season that he will do whatever he has to do to get an extra run and it doesn't matter who the pitcher is."
Green's decision was helped by the knowledge that Carlton already had thrown 112 pitches through seven innings. And people who know Green are aware that the manager won't hesitate to come back with his ace Saturday, should the Astros win the next two games. And why waste the almost sure hammer McGraw represents in this, the best groove of his career?
OK, the Phillies came out on tiptoes. But if you thought Larry Bowa's first-inning throwing error was representative of the shakes, you are wrong again. Bowa injured his back during the Montreal weekend and was close to becoming a doubtful starter during Monday's workout.
"WE WERENT TIGHT," the shortstop said. "They've just got one of the best pitching staffs in baseball. We're not gonna blow 'em out of here. Even the games we won against them this year were close."
Nolan Ryan will pitch for the Astros against Dick Ruthven tonight, and Luzinski recalls seeing Ryan only once this season. That's because in Ryan's first outing in the Astrodome, he was lighting up the radar gun at 98 MPH, and his breaking ball was unsafe at any speed.
"His curve was breaking straight down," Luzinski said. "When it's doing that he's awful tough to hit when he's in the strike zone. The second time we saw him he couldn't get his breaking ball over and we could wait on the fastball. I hit a double off the fence in right-center."
Nobody was happier for Luzinski when his homer leaped out of the park than Mike Schmidt, who was 0-for-3.
"He kind of relieved the pressure bubble that was over us," Schmidt said. "Got us up on the board. It took a little starch out of them and kind of relieved some of the butterflies. The pitch was about a half-foot inside and down and that was probably good, because it kind of forced Greg's shoulder to stay down in there."
SOMEWHERE, THE GHOST of Grover Cleveland Alexander is grinning. He beat the Red Sox in Baker Bowl on a long-forgotten afternoon in 1915 to bring the Phillies back from an 0-2 deficit in the World Series.
There were no radio broadcasts then. And the only thing printed on paper the Kentucky farm boy who would become Sgt. York had probably ever seen was a Sears Roebuck catalog.
It took 65 years and 10 defeats to put tip another post-season victory on a National League scoreboard in this town.
And Greg Luzinski knew that when Dallas Green made out -the lineup he would remember five October home runs. He would remember that Bull was there before.
Phils' Fans No Rabble Rousers
By Tom Cushman
in a rousing display of support – one which no doubt will be cherished by the men of destiny – Philadelphia's baseball fans reported to Veterans Stadium in record numbers last evening to greet a team the bookies say will be a pennant winner before the moon rises over the Astrodome on Saturday.
Influenced, perhaps, by the knowledge that a national television audience was looking in, the crowd manners were extraordinary. Only four of the nine Philadelphia starters were booed during the introductions, meaning that majority approval finally was offered to the club which had jetted down from the Canadian scrimmages, bringing along as a souvenir its fourth division title in five summers.
Ah, sweet romance. How proud the Phillies must have been at that moment.
ACTUALLY, IT should be pointed out here that the booing of Greg Luzinski, Garry Maddox, Larry Bowa and Bob Boone was neither universal, nor proportionate. Maybe 60-40 for one, 70-30 for another. And that to determine with any accuracy the ratio of boos to cheers would have required the services of someone like the Gallup agency, which declined the assignment when it learned that the Phillies were playing Harry Truman at shortstop.
Showered by the most enthusiastic outpouring of disaffection, Larry Bowa tipped his cap, bowed, then turned and yelled something in the direction of the Houston team, which was lined up along the third-base line at the time, weary but suddenly feeling better.
When the Astrodome first rose from the oilfields of Texas, the tenants were told that they were working in the eighth wonder of the world. Standing there last night, looking up info the 700 sections at Veterans Stadium, listening to the sounds, the Astros knew they had been lied to.
The precise text of Larry Bowa's response to the pre-game ceremony was not made available to the press in general, which is of no real concern because it probably wouldn't pass muster, even in this newspaper. But Larry's motor reaction was there for all to see. He singled in his first at-bat, and later bunted Garry Maddox, who represented an insurance run, to second base.
"THE BOOS PROBABLY hurt Larry less than they do a guy like Bull," Pete Rose was to later suggest. "I think that kind of reaction rev Larry up. Luzinski, well, I imagine he feels as badly when he's booed as he feels good when he hits one out and they cheer."
Luzinski hammered one in the sixth inning, a titan shot which produced two runs and, in effect, ended the game. And, like Pete Rose said, fans who had booed earlier were on their feet cheering while the ball was deciding whether to fly into the upper deck or complete a more modest arc.
Depending on your loyalties, it was either nice to know that there still were folks in the stadium seats, or rude of Greg to awaken them. This is a city which seemed convinced by the events of the weekend in Montreal and Los Angeles that this Philadelphia team will cross over into the World Series.
And, yet, the first five innings last night were like watching a silent movie. The ticket stubs insisted it was a championship affair, but the Phillies and Astros tiptoed about their sometimes shabby work undisturbed by the audience. The town that blew Burt Hooton's cool by turning up the volume in 1977 sat back and watched Ken Forsch take a 1-0 lead over Steve Carlton in 1980, a detached presence which seemed to be saying, "Do it, and then we'll cheer about it."
IT WAS THE KIND of night where the ladies are wondering why they didn't bring their knitting, and the guys are wondering why they brought the ladies. The Phillie Phanatic could not even fan the flicker with his customary routine while the groundskeepers groomed the infield in the fifth. The Phanatic has had better response when the Cubs were in town.
"The first four or five innings, I thought we were flat and that the crowd was flat," said Pete Rose, who had as a reference point Cincinnati, where the fans would cheer an Ohio River flood if it carried away the enemy.
"I'm sitting there in the dugout, waiting for something to happen," Pete added. "The crowd was so quiet, after a while you get the feeling they're waiting, too, thinking, 'It's gonna be the same old thing.'"
And when Rose walked to the plate in the sixth inning, you got the sense that if anyone was in sync with the people up in the seats, this was the man. It has been that way for some time now.
Philadelphia has a problem with this team in a city which reviews its baseball history with embarrassment, which desperately wanys to hang a World Series flag atop the stadium but is not comfortable with some of the people carrying the colors this fall.
PETE ROSE, THE ultimate mercenary, understood. Pete asked to start Sunday in Montreal, the day after the champagne had been poured. And got a hit, and did a half-gainer to second base. There is in Rose and Philadelphia bond between the parties involved, the working man's guide to a better way of life. You may hear complaints in the neighborhoods about taxes, and the oil companies, Carter, and the salaries of the teachers, but it will be a rare day at the neighborhood saloon when you hear anyone suggest that Pete Rose is overpaid.
And, so it was that as Rose led off the bottom of the sixth last night, there was a stirring the stands. Shortly thereafter, Pete was aboard with an infield hit. Cheers. Life. The possibility that maybe, with Pete out there, the other team would mess this one up.
Two outs later, as the fans sank back into the seats to meditate, Luzinski hit it high and into the night. Nothing which happened before or afterward really mattered after that.
"I don't like it when we just sit around a wait for home runs," Pete Rose said, "but if that's what we're gonna do, then somebody had better get on base and the guys who hit them had better do it."
It has been suggested in past dispatches from the press box at the stadium that Rose is a winner, at his best during these playoff exercises. Statistics say so. Pete also says so.
LAST EVENING his teammates reminded him of same. "There was some kidding about, 'Hey, you're the guy who's supposed to do it in the playoffs, so let's see it,'" Rose later recalled.
"Hey, I'm not gonna carry the team any more than any other one person is. But, this is the time. This is when I don't worry about money, I got to think that right now there's nothing more important than winning, and enjoying it while we're doing it."
Visiting the Phillies' clubhouse late last night, you could see that the Rose manifest has not yet won universal acceptance. Guys were hiding in the same anterooms, after receiving the same mixed reviews from the stands they have heard throughout the summer.
The response at the end of Game 1 was better than it was during Game 1, but still uneven. Much depends on Game 2, and so on. For Philadelphia, even truce is not easy to achieve.
Green's Style Burns Bake
By Stan Hochman
Bake McBride thinks Dallas Green speaks with forked tongue, and he is tired of getting his ego punctured.
If Green comes back next year as manager, McBride is not sure he wants to be around.
That's what he told America last night in one of those cutesy little upper-left-corner-of-the-screen mini-interviews on ABC-TV, while the Phillies were beating Houston, 3-1.
"What I said," McBride hedged afterward, "is that if Dallas comes back I don't know if I'll be here. Hey, I might get traded."
The Phillies win a post-season game at home for the very first time in 65 years and they celebrate with the usual... sour grapes.
The manager gagged on his post-game ham hoagie when he heard about it. There are approximately 40 million people out there who think he must be an all-time, authentic, cold-hearted, 14-karat jerk.
HE PAUSED, TAKING time to remember that six more victories and those 40 million people can kiss his world championship ring.
"Everyone," he said sweetly, "is entitled to his own opinion."
Those crazies in Oakland won three consecutive championships snarling at the manager, punching at each other. The Yankees won the whole gonfalon with a clubhouse that was part zoo, part asylum.
The Phillies tried the quiet approach and that didn't work, partly because the manager fell asleep in the ninth inning of one playoff game. Now, nobody sleeps with all that grumbling going on.
And if Charlie Finley worked wonders with a jackass for a mascot, what's wrong with a 20-mule team?
The idea has caught on. Even in this National League Championship Series. The Astros have had the kind of plane rides lately that only the Red Baron would have loved.
Last week three Astros were expelled from a PSA flight for clogging an aisle with a music box. And on the plane ride east, Cesar Cedeno is supposed to have stopped Joaquin Andujar's crude monologue with his right fist.
The team that flays together plays together?
A game without bickering is like life without laughter? A day without sunshine? A meal without wine? But why would McBride need his daily fix of venom on the first night of the playoffs?
THE ANSWER WAS THREE feet away. Nino Espinosa, who has been certified by the commissioner of baseball as damaged goods, poked at a slab of steak. Never mind that Bowie Kuhn wouldn't know his ascot from Nino's elbow, Espinosa has been declared out of the post-season action, giving way to young Marty Bystrom.
McBride, Espinosa and Manny Trillo locker together in that section of the clubhouse. A sort of Manny, No and Black version of the Pep Boys. They are closer than grits and the mood was solemn.
"Is he upset?" McBride said, gesturing behind him to Espinosa. "I think he understands why they did it. Everybody knows he's not throwing like he used to throw. His arm still bothers him.
"But that isn't why I said what I said. See, I have nothing against Dallas.
"I feel that the only problem that he has is that he doesn't communicate that well with the ballplayers as far as calling 'em in and talking with 'em. And telling 'em why he's doing stuff.
"Plus, some of the things he says in the papers. Like we're not hustling or we don't want to win. That makes guys upset. If you're going out there giving 100 percent and you have to read in the papers that we're not hustling, you have to wonder where the manager is coming from.
"He cares for me. He's told me many times I was the most valuable player on the team.
"BUT COMMUNICATION IS all it takes. On the players' part and his part. Why whip me in the paper the way he did after that game against St. Louis?
"I'd had my knee drained that day. I didn't go from first to third on a single to right and he ripped me. All he had to do was call me in and talk about it.
"It's just some of the things he does. The way he goes about doing things. I know, we've won. And that's what counts. That we won.
"I didn't know about those roster changes until I went out for batting practice. And once I go out on the field, that crap doesn't bother me."
Espinosa looked like a guy who had had his uniform yanked off his back. The once-carefree pitcher has turned glum.
"I feel bad, very, very bad," Espinosa said. "But I don't wanna stir up any bleep. We're playing, we're winning, let's let it go.
"Me and Bake and Manny, we all care for each other. We do things together. But they got a job to do. I know they gonna go out and do it.
"Me, I want 'em to win, but I don't feel much like cheering or yelling right now."
McBride had a hit last night, stole a base. Trillo was his usual spectacular self in the field, starting a fifth-inning double play, sprinting in behind Ken Forsch to pick him off on a botched Houston bunt in the seventh.
THERE IS LITTLE, OTHER than a bad tube of Crest, that would wipe the smile off Trillo's face, but last night he was somber.
"What can I say," he said, glancing at the crestfallen Espinosa. "I just work here.
"There is nothing I can do about it. I feel bad because we got a great chance of going to a World Series. But what good is it gonna do me, feeling bad?
"Me and Nino, we're good friends. I think he could still help us.
"I always say, I don't think Nino needs to throw that hard to win... just throw good pitches.
"I been through this before. Mike Andrews in Oakland, when they tried to get me into the World Series."
You remember that one. Andrews kicked a couple of grounders and Charlie Finley wanted him declared a victim of cerebral palsy or something. The commissioner wouldn't allow that bit of chicanery, perhaps because it involved Charlie O.
Different rules for different fools.
"I remember," Trillo remembered. "So many sportswriter came up to me and said, 'What's going on ?'
"I had been working out with the team. I told them I wasn't in any ballgames. I wanted to play, but not that way.
"HERE I'VE PLAYED THE whole season. Here, we go to the World Series I know I'm gonna play every day, not just go in defense, for one or two innings.
"It felt strange tonight. Like a new season. And for me, always the first game, I'm kind of, not nervous, but inside of me I let funny until the first at-bat or the first ground ball."
It is ironic that Trillo walked out for the pre-game introductions like a good soldier, while some of his teammates dance and pranced out there.
"I know, I know," he said. "I got a picture in my house. First game in Oakland, I don't remember which year, all nine guys standing out there.
"I'm last, I got my hands flat against my sides, just like in in Army."
The Phillies are like Coxie's Army, a depression rabble that marched on Washington muttering every step of the way.
Green turns a deaf ear to the muttering. Two deaf ears. Six more victories and no messengers will approach him with monotonous mumblings. If the Phillies are going to grumble their way to three championships, they are going to have to win the last two with somebody else for a whipping boy.
Was he worried about how Trillo or McBride would handle the scratching of Espinosa from the eligibility roster?
"I worry about all of them," Green said. "I made the decision based on what's good for the 25 men on the team, not just for one guy.
"AND THE ONE GUY WHO understands it pretty good is Nino Espinosa. We've done everything we can to convince him."
Someone suggested that loyalty was a two-way street and tha Espinosa probably had brought on the arm miseries by pitching with three days' rest last year.
"Who pitched him with three days' rest?" said Green. "Not me.
"At this stage of where we are, you can't worry about one guy. It's the same with Randy Lerch (also deleted from the roster) These decisions aren't easy decisions.
"I think what people have to learn about me is I mean what I say. I am not a grudge-holder.
"Secondly, I'm pretty honest. I'm pretty good with my word.  If I give my word, that's the way it's gonna be.
"Communication is a two-way street. I'm a firm believer in that. I'm not afraid to talk to anyone one-on-one. But I don't call people in every five minutes and discuss what's going on.
"The door is always open and it will always be open. This team is not a very good conversational team. It's been trained that way.
"I'm not worried about Bake. Bake will play his tail off because Bake McBride has got a lot of pride in his ability. And Manny, I can't say enough about Manny."
GREEN ONCE GOT SENT down to the minors in the middle of a ballgame. He tried to pitch in the big leagues with a lame arm and a fastball that wouldn't get arrested for speeding in a school zone. Some of his teammates resented the way he was treated but nobody kicked any sand.
"I've been through more adversity than any of these guy have ever thought of being through," Green said.
"Other than John Vukovich. In terms of being pushed around by major league managers. If you're not man enough to overcome that... you're not going anywhere in this game.
"And I think I've overcome it."
Six more victories and Green can move upstairs, away fron the clamor, away from the cantankerous clubhouse, away from a 20-mule team that just might win it all and then break the whip over Green's knees.
McGraw Sr.:  Tug Having Good Time
By Ray Didinger
Tug McGraw burst into the Phillies' clubhouse last night, the reporters and TV cameras rumbling through the door behind him. A dozen guys were waving microphones, trying to get his attention, but Tug was in a hurry.
"Gotta see somebody," he explained.
Tug McGraw turned the corner and smiled when he saw the tall, grey-haired man in the tweed overcoat sitting patiently by his locker, nursing a beer. McGraw walked over and embraced the man, thumping him warmly, lovingly on the back.
"Well, Dad, whaddya think?" McGraw said. '"Looks like we did it again, huh?"
"You were great." Frank McGraw Sr., replied. "Just great."
They are a team. Tug McGraw and his dad. They have been through these pennant races, these championship playoffs, before. Tug thrives on pressure. He likes nothing better than to come into a big game with the October sky falling in chunks all around him.
The tougher the situation, the more Tug McGraw enjoys it. He has nerves as tough as bailing wire, he has a stomach lined with armor plate. Spend 12 years in major league bullpens and you get used to the manager handing you a grenade, then pulling the pin.
FRANK McGRAW SR. is still a little squeamish about his son's perilous occupation. He sits in the stands and chews his fingernails while Tug squirms his way free of his latest predicament. His heart doesn't pound the way it used to. however.
"I've been through it so often." he says with a fatherly shrug.
As October nights go, this was an easy one for the McGraws. Dallas Green brought Tug into relieve Steve Carlton in the eighth inning. All Tug had to do was pull the sheet up over the Houston Astros, which he did, preserving a 3-1 win in the opener of this National League Championship series.
"Dallas gave me plenty of breathing room," McGraw said. "He brought me in to start the inning, so I didn't have to worry about men on base. All I had to do. basically, was concentrate and throw strikes. It wasn't one of those door-die situations."
"Oh. I knew he'd get the job done," Frank McGraw said. "He's pitching so well now. with so much confidence and power. He's pitching the way he did in 73, when he helped the (New York) Mets win the pennant. He thinks nobody can get a hit off him."
Frank McGraw is a retired water treatment erigineer from Vallejo, Calif. Ask his age and he says. "Sixty-nine plus." He has been living in Tug's South Jersey home for the past week, hanging around the clubhouse and sharing in the Phillies' rush to the division title.
TUG'S OLDER BROTHER, Hank, a former minor league player, has been around the park, too, helping shag balls during batting practice. You might have noticed Hank these past few days. He's the guy in the red sweatshirt who looks like the drummer for The Grateful Dead.
After last night's game. Tug was walking through the Phillies' clubhouse introducing his brother to local newsmen. "This is Hank, the last of the hippies." Tug would say with genuine affection.
"We're a close family." Frank McGraw said. "We're typical Irishmen. I guess. We're a little goofy but we care for each other. I raised the boys myself after my wife and I split up. We all shared the cooking, the housework. We made a go of it.
"I was fortunate to have good boys. They were bright and they weren't afraid to work. They all wanted to be ballplayers. Hank was the oldest and he blazed the way. Tug idolized Hank and he set out to follow in his footsteps. He wound up passing him.
"Tug was always a little... well, different. He was always the most exuberant kid on his team. If something good would happen, he would yell, jump up and down. He wasn't being a show-off. It was just his way of letting off steam.
"Tug always believed in having a good time," Frank McGraw said, "and 1 guess he took that from me. When I was younger, I took life one day at a time. I took each day and used it the best I could. I wasn't bad, but I wasn't dull, either."
LAST NIGHT, WATCHING his 36-year-old son entertain wave after wave of newsmen, Frank McGraw recalled the time he helped Tug tie on his first official drunk. Like most events around the McGraw household, the occasion was closely linked to a baseball game.
"Tug was 17 at the time," Frank McGraw said, "and his American Legion team was playing for the (California) state title. I told him he could have a party if he won and I would supply the refreshments.
"Well, Tug's team won so I put a jug of Bushmills Irish Whiskey on the kitchen table. Tug had a bunch of the other kids over and I took off. I had to drive south to see Hank play in a ballgame that night.
"I came back and my other son (Denny) met me at the door. He said, 'Dad, there's one passed out on every floor." He was right. We lived in the top floor apartment and, the whole way up, I kept stepping over these kids. Tug was passed out, too. I looked and the (Bushmills) bottle was empty.
"I guess some (parents) would think that was terrible," Frank McGraw said, "but that was the relationship I had with my boys. I trusted them and, really, they never let me down."
Tug McGraw has the same kind of relationship with his baseball father-figure, Dallas Green. Green trusts his left-handed reliever and Tug seldom, if ever, lets him down. Mixing a juiced-up fastball with his trusty screwball, McGraw has become the hottest pitcher in baseball.
Last night's save was Tug's 21st of the season, his 14th since coming off the disabled list July 17. McGraw has not allowed an earned run since Sept. 1, a span of 17 appearances in which he has collected five wins and six saves.
COUNTING HIS SUPERB work in the division-clinching series in Montreal, McGraw has now allowed just one hit in his last six innings, while striking out nine and looking virtually unhittable.
Naturally Tug is still into his usual antics, bouncing off the field, slapping his glove against his thigh, clenching his fists and exhorting his teammates to "get fired up ... go nuts."
It's the same routine he used in New York back in the old "you gotta believe" days. Back then, the folks suggested Tug was a little wacko. They thought his behavior bizarre, even by New York standards.
"When he was younger, the people called him feisty," Frank McGraw said. "They said he was flaky. Well, he's not really. He's just an easy-going guy who likes to have fun and likes to express himself. If he's happy, it bubbles over.
"There were some writers who totally misjudged Tug. They thought he was cocky, even arrogant. Look, I know my son and he's not that way at all. He's very sensitive towards people. If he ever did offend anyone, even unintentionally, he would feel terrible.
"When people get to know Tug, they remark at how bright he is," Frank McGraw said. "He has a real good head on his shoulders. He's been very successful in business, in writing... but his first love is still baseball.
"I MEAN, LOOK at him," the proud father said, nodding toward Tug, who was recounting for the 400th time how he fanned Jeff Leonard in the ninth. "He got those six outs and he is the happiest guy in the world.
"Bringing up these boys hasn't been all that easy, especially with baseball being so much a part of it. They (Hank and Tug) have had their ups and downs. As their father. I've had happy times and sad times, times when I cried for them.
"But when I'm around them on a night like this, it makes me glad they stuck it out. I have a good feeling about this Phillies team. They're alive, they're confident. I really think they're gonna win the World Series."
If they do, be sure to look for Tug McGraw's car in the victory parade. You'll find Frank McGraw, Tug and Hank, the world's oldest hippie, all sharing a family tradition – a jug of Bushmills.
Bystrom Gets an Afterlife
By Dick Weiss
Marty Bystrom finally found out whether he was going to be part of the Phillies' active roster for the National League playoffs when he arrived at the Vet early yesterday afternoon.
You can take the gun away from your temple, son. Nino Espinosa may want to use it.
After taking the matter under advisement for almost two days. National League President Chub Feeney and baseball Commissioner Bowie Kuhn declared Bystrom, the undefeated 22-year-old rookie righthander, eligible for all post-season play. At the same time, Feeney ordered the Phillies to place pitcher Espinosa on the injured list with chronic shoulder bursitis.
Certainly and expectedly, there will be bitterness on the part of some of the veterans who had watched Espinosa shut out the Cardinals for seven innings just three weeks ago and felt Manager Dallas Green should have dealt the cards another way.
BUT NOW. suddenly, the Phillies have unearthed a treasure who easily could swing his way into the rotation should the Phillies go into a fourth game of the league Championship Series at the Astrodome np 2-1 in this best of-five series.
"Dick Ruthven was actually the guy who told me," Bystrom admitted. "It just made me feel good all over. I knew that when I was down in Oklahoma City, I would have a chance to come up here if I got healthy again. So I just kept working hard on getting my leg back in shape. And I finally did it and I started pitching good down the stretch there. I won like my last five out of six starts there."
Bystrom was even more impressive in the bigs, rolling to a 5-0 record and a gaudy 1.50 earned-run average since being called up in September. Bystrom got his first start 10 days later and shut out the Mets, 5-0. He threw 20 consecutive scoreless innings before the Cardinals finally touched him up for three runs in his third start.
The consistency of Bystrom's performances dramatically corresponded to the Phillies dune-buggy race to overtake Montreal in the Eastern Division and. to no one's real surprise, he was deservedly selected as Pitcher of the Month by the National League.
THAT DID NOT guarantee him a spot on the 25-man roster, though. The Phillies had to appeal to the league office for special dispensation, claiming Espinosa was physically unable to throw anything nearing major league velocity.
"I was a little worried for the last couple days." Bystrom said. "I really don't know what I would have done if they ruled against me. It would have been depressing and I probably would have just gone home. That would have been tough. But sitting in the stands would have been tougher."
Bystrom is just trying to make up for lost time. He was a prime candidate to make the Phillies' staff in spring training but he suffered a freak accident at Clearwater when he slipped on a wet concrete floor while wearing spikes in spring training. The fall injured Bystrom's hamstring so severely, he was unable to pitch until nearly mid-season.
Even now. he is cautious about the leg.
"I'm still not 100 percent," he admitted. "It's not bothering me throwing any. But, according to the weight machine in the trainer's room, it's only 50 percent strength-wise now. I'm just trying to take it easy so I don't blow it out again. That wouldn't be too good."
By 50 percent, Bystrom says, "It's a matter of my leg is not strong as compared to my other leg.
"SO THAT takes some away from you," he said. "But, on the mound, it just feels good. Sometimes, the day after I pitch, it'll be real tight I get a little pain in there. It's a little tender, still. But it's nothing really serious, anymore. I'm just glad I'm well again."
So are the Phillies. Bystrom has been mesmerizing National League hitters so far, showing an excellent command of all his pitches. If he gets a call in the Houston series, this will be his first outing against the Astros.
"They don't have all that power," Bystrom analyzed. "They're a singles-hitting team. And they can run. And that's how they've won all their ballgames. They just seem to put singles together like they did in that playoff game with LA.
"Before tonight. I had never seen them before. But I'd never seen any of the other clubs, either. It don't matter to me who I face."
Astros' Forsch Patient In Loss
By Jay Greenberg
Steve Carlton's slider is a guillotine looking for a neck. When it's descending over the plate like a runaway elevator, there is no escape. You have as much chance of interviewing him as hitting him. His counts run to three balls about as often as he's quoted.
"I had the feeling," said Gary Woods, who touched up Lefty for an RBI single and a 1-0 Houston lead last night, "that tonight was one of his off nights." Carlton walked three batters, two to start innnings, gave up two hits to a pitcher, and still managed to beat the Astros, 3-1.
The source of the Houston frustration was not that one more well-placed line drive if only half the size of Greg Luzinski's homer, could have made the difference. The Astros have big innings about as often as Lefty gives them up. But in their own way they had enough baserunners this year to win 93 games and enough last night to get the first-game' jump on the Phillies. They could have done it their way, said Joe Morgan, and he was wondering afterward why they didn't.
"THEY DIDNT DOMINATE us," said Morgan. "A break here or there and we could have won. Our game is running. Carlton obviously has a good (pickoff) move, but you can't let anyone intimidate you. You get picked off a couple times, that's better than standing there and letting the next guy hit into a double play.
"That happened a couple times tonight. We have to force the action. And he does balk a lot. "The first two days against Los Angeles we didn't play bad, but we weren't aggressive. The third day we were more aggressive and the fourth one it was us again. And we won."
And if Joe Morgan's cranky knee permits him to play in Game 2 tonight, and if he gets on base, he will go. Dick Ruthven is not Steve Carlton. The Astros, he believes, are not an inferior brand to the Phillies. A hit here, a stolen base there, and they can go back to the Dome even.
"If you'd watched the game today, you wouldn't give them an edge in said Joe. "They made more mistakes than we did. These guys are good guys, they've got a lot of character. We can bounce back.
"You look at those three games in LA, we played great. We just lost three one-run games. We could have won 1-0 tonight. Ken Forsch is one of our pitchers capable of throwing a shutout It's tough to do, but he could have. Nolan Ryan is capable of it tomorrow night.
THAT'S WHY I knew the Dodgers weren't going to beat us four in a row. Three, maybe but not four. I just knew that one day out of four, one of our guys would dominate them. And we'll score more runs against these guys than the Dodgers because the Dodgers have a better pitching staff."
Ken Forsch was better than the Phillies' best last night until Luzinski beat him. He was also better in the locker room afterward, patiently going over the fatal pitch again and again as another reporter descended.
"I didn't want to walk him in that situation putting the lead run on base," said the Astro pitcher. "So I challenged him and he got the best of me.
"The fastball was the right pitch, I just wish I would have gotten it up a little more. I went 3-2 on him earlier in the game, too. Threw him a slider and he popped it up.
"You keep in a pattern, they'll figure it out. And I didn't want to hang anything."
So he threw the fastball and the Bull hit it out, but there was no noose hanging in the visiting locker room because Game 1 had gotten away.
"The only other thing that bothers me," said Morgan, "is that there's two guys in their lineup who can do that to you and we let one of them do it. Manny Trillo, who was the next batter, isn't going to. That's all that bothers me."
Bill Virdon, the Astros manager, didn't look bothered at all. He wondered, after the Astros' long Monday pennant clinching and coast-to-coast flight, if he could stay awake long enough to get back to his hotel room, but his appetite as testified to by a rapidly disappearing sausage, was intact.
"It means," said Virdon. "we have to win three and they have to win two. Forsch pitched about as well as anybody could, it was just one of those things."
With the right-handed Ruthven going tonight, Virdon said Alan Ashby will catch, and Terry Puhl will play right field. "I'm not sure about second base," said the Astros manager "We'll see how Joe is tomorrow."
Joe says he'll be OK. "I wasn't driving in any runs, I couldn't swing the bat," said Joe of his early exit from the Dodger series. "I took a day off, the doctor gave me a shot, and it was ai ready feeling better today."
Having been through the grinder of having to win a playoff after losing the first three games of the LA series, winning three of the next four does not strike the Astros as impossible. Even the full Vet Stadium house, unnerving as it was to Burt Hooton three years ago, was nothing compared to what they heard in L.A.
"I didn't even notice the crowd," said Forsch "Out there it was so noisy, your insides vibrated.  This was tame by comparison."
Ryan Not Nervous as Tonight's Starter
By Dick Weiss
Nolan Ryan says he is not nervous.
But Houston's potentially overpowering righthander knows he will be the guy Manager Bill Virdon is depending on to short-circuit the electrical current that is running through the middle of the Phillies lineup as the Astros try to even their best-of-five National League playoff series tonight at the Vet.
One false move, as Kenny Forsch discovered last night in the opener, and Greg Luzinski can set your hair on end.
Ryan will be wearing kid gloves when he pitches against Dick Ruthven, a 17-10 righthander who has beaten the Astros three times this season. At the moment, Ryan is thinking positively, though.
"I ALWAYS GO out there with the intention of shutting out my opponent and the loss in Game 1 doesn't really change my attitude or how I'm going to pitch." Ryan said.
Ryan came to Houston this year with a big hype but finished the season with a less-tban-awe-inspring 11-10 record and a 3.35 earned-run average. He is 1-2 against the Phillies this year with a credible ERA of 2.88. To his credit, Ryan shut out the Phils once, striking out 10 during a four-hit, 3-0 victory at the Astrodome May 16. Both of his losses, incidentally, came at the Vet.
"Any time I have a good game," he pointed out, "I have to have a good fastball and a good curve. Get my breaking ball over. Look, we win one game here and we're in good shape. Last year, when I was with the Angels, we had the same situation when we went into Baltimore. I like to be in that situation and I hope I have the stuff to be able to do it."
Ryan certainly got an up-close and personal look at the Phillies last night, studying their habits during a 3-1 loss. "We hadn't seen these guys for a while," he said, "so it was good for me to watch Kenny (Forsch) pitch. We're similar. He throws sliders where I throw a curveball.
"I GOT A pretty good idea of who is swinging the ball good, who isn't. The pitches they were handling well, the ones they weren't So I think it was good for me to get the opportunity to see them one game before I pitch to them."
Ryan is sure of one thing, though.
"You have to keep the middle of their lineup in the ballpark," he said. "They're very capable of blowing the game open with one big swing, which they did tonight. That's basically what beat us. I think you have to keep Pete Rose and Bake McBride off the bases too."
Surprisingly enough, Ryan said he did not consider the Vet that much different than the spacious Dome when preparing to pitch against the Phillies.
"I don't think there's that much difference " he said. " 'Cause Mike Schmidt and Luzinski, they hit the ball. It doesn't matter what park it's in. It's going to go.
J.R. Due for Surgery
By Jay Greenberg
The Astros are facing only a 1-0 deficit and Dick Ruthven today. Their teammate and inspiration, pitcher J.R. Richard, will undergo another operation within the next few days for a blood clot in his arm.
Richard's agent, Tom Reich, confirmed a report that J R. faces more surgery in a California hospital, but refused to say where it would take place. "He still has a clot," said Reich from Pittsburgh. "The surgery will be to correct the problem."
Manager Bill Virdon said he was unaware of J.R.'s new round of problems, but some word had filtered among Richard's teammates.
"I heard something about it," said Enos Cabell, Richard's closest friend on the team. "But I haven't talked to J.R. since Sunday, before he went into the hospital. I'll call him today.
"A setback? You never know. He really improved after the last operation. I still think hell be pitching again. I know he will, that's how strong a person he is."
3 Winners
John McGuire of Philadelphia won S10 plus four tickets to a Phillies game next season on a single by Pete Rose last night in the Daily News Playoff Home Run Payoff contest.
Winners of four tickets each in the third inning of the Phillies-Astros game were Victor Tripp of Philadelphia and Monroe Saxon of Westpoint. Pa.
To date, the Daily News has paid out $19,285.