Philadelphia Daily News - September 17, 1980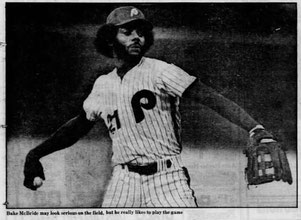 Bake Quiet A Guy
THE BIG MACs By Stan Hochman
First of two parts
PITTSBURGH – Bake McBride does this quickie commercial for an all-news radio station.
"When I come off a road trip," McBride says in that bayou mist voice of his, "the first thing I do is check in with my old lady... and then I check out KYW for the news."
It is a hip, flip, bit, the best of a series of "promos" the Phillies made for KYW. You could have gotten 25-to-1 that McBride would crank out the most memorable spot in the series. The solemn rightfielder had to think twice about even doing the bit.
"I did one of 'em on inflation," McBride said yesterday. "And then the guy asked me if I'd do this other one.
"First thing I did was call my wife, ask her what she thought of it. She said yes, I could do it. I wouldn't have done it unless she wanted me to."
Bake is old-fashioned that way. But once he agreed to do it, he delivered the lines smoothly, surprising a whole lot of people who have heard McBride speak only in months that have Rs in them.
IS THIS IT? Is McBride rolling back the boulder he has placed in front of that cave in which he hides?
"Maybe," McBride said. "Maybe as the years go by. IH open up a little. But... truthfully... I'm a little afraid. I'm afraid I might get hurt."
He is 31. but he cannot forget the anguish he felt when his father died. It has apparently scarred him for life.
"He was 35," McBride said. "We were so close. I couldn't deal with it. I changed.
"I even dropped out of school. I went back because" of basketball, because I loved it so much and I wanted a chance to play.
"But from then on I was different. Did a 360-degree turnabout.
"Before. I was loud, a troublemaker, a street fighter, a bad kid. After that. I was quiet, kept to myself."  
A psychologist could have a field day with McBride, poking around in that unresolved grief to explain his moody ways.
The ironic thing about McBride, is that he has a terrific idea of what makes him tick, softly like a pocket watch.
"In spring training I read psychology books." he said. "In college. I majored in psychology. I apply it to every day life.
"And in baseball, I go up there and I just think about making contact. I dont think, 'I gotta get a base hit.'
"I GO UP THERE relaxed. What's gonna happen is gonna happen. If I get a base hit, I get a base hit. If I don't, I don't.
"There'll be a next time. I learned that in college, in psychology."
It sounds more fatalistic than Freudian, but it works for McBride, and that is the bottom line. He was 15-for-21 going into last night's game with the Pirates and went a soft 0-for-4. But he has 80 RBI and 13 game-winning hits and he might be the Phillies' most valuable player.
He has been one of The Big Mcs in the Phillies' pennant rumble, a solemn, stone-faced contrast to the other Mc, Tug McGraw.
"That," said McBride of McGraw's St Vitus Dance approach to pitching, "is his business. As long as he keeps getting guys out, what difference does it make how he acts out there?
"Whatever works, just keep doing it."
What has worked this year for McBride is that short, swift stroke. He has 30 doubles, running them out on legs hinged with gimpy knees.
"The knee cap is rubbing against the bone," he said. "Sooner or later, they'll have to go in there and scrape 'em out.
"What it is, is wear and tear from the Astro-Turf. It all started in St Louis, where the turf was as hard as concrete."
THE CARDS SWAPPED him to the Phillies and he ran into the grim concrete of clubhouse cliques.
"There were these groups," McBride said. "Guys were set. "Maybe I should have made more of an effort to fit in, maybe they should have made more of an effort to help me fit in."
Now, he is close to Manny Trillo, which is ironic. Trillo grins all the time. McBride scowls. Pose them for a photo and they will look like the comedy and tragedy masks you see outside theaters.
 "I think we have a lot in common," McBride said. "He doesn't really talk that much either. We eat together, play cards together.
"Why shouldn't he smile out there? Most people are gonna think he's a hot dog anyway. But he's just a happy fella and he's been that way all his life."
Trillo dusted the ash off an ominous cigar in the hotel lobby and talked about McBride.
"He's quiet," Trillo said, "and that's the way I am, too. I guess the only time we talk, is to each other.
"Bake really likes the game. You gotta be in the dugout to realize it. Hey, that's what we're here for. If you don't like it, you ought to go home.
"We kid, even on the field. The other day against the Mets he caught a ball in short right field. Runner on second.
"Now, he throws the ball over my head. I hollered at him. I said. 'Hey, throw the ball to me.'"
What did you expect? Hope and Crosby? Martin and Lewis? Frick and Frack?
The friendship must be deep, because it has even survived squirrel stew.
"I invited Manny, T.T. (Tony Taylor) and Nino (Espinosa) to my house in St. Louis last year," McBride said, grinning that gold-toothed grin.
"I MADE 'EM rabbit and squirrel. Smothered the squirrel in gravy. They ate it. said it was great, then I told 'em what it was."
Squirrely is what big-league baseball can make you if you let it. McBride deals with the pressures by matching other people's agonies, thriving on the soap operas.
"What you see happen in real life," McBride insisted. "I don't have to go out in the streets to see life. I can see it every afternoon on television.
"Look, there's a lot of stuff to deal with being a professional athlete. You're never able to be alone, to do what you want to do.
"Make a wrong step and everyone knows about it.  Sometimes, you'd just like to let it all hang out. But you can't do it because of what might happen or who might see it."
The pressure intensifies in September, with a title up for grabs. McBride likes the Phillies' chances.
"This team has the most talent of any team in the league," he said. "It's just a problem of putting it all together for a length of time.
"They care enough. Right now they do. Oh, maybe towards the middle of the season, when seemed to be just going through the motions.
"BUT THE PAST few weeks you can see the intensity in guys' faces, how much they want to win."
If the Phillies won the division and McBride won the batting title, the fans might change the way they feel about McBride, and he might just win the MVP voting.
"Right now, they take me for granted," he said. "It's getting better, but there was a time where if I ran into a wall to catch a ball they'd say, 'Hey, he's supposed to be such a good outfielder, how come he didn't know where the wall was.'"
Where the wall is is between McBride and strangers. Strangers become friends and friends get traded or retire or die.
He is peeking out of that cave of his. but it will take more time. Ask him who the most valuable player on the Phillies is, and he will pause, twisting his lips this way and that, through his beard, that shrub of hairdo and finally say "Me!"
(Tomorrow:  The Other Mc)
Easler Plays Himself, Buries Phils
By Bill Conlin
PITTSBURGH – When the wonderous Willie Stargell was moved from first base to the disabled list last month, baseball historians were quick to point out that although the defending world champions had suffered a grievous wound in the area of field leadership, it was not necessarily a fatal one.
Two years ago, as the season turned into September, the Pirates' position was far more desperate than it is in the claimers' race the division is offering this fall. Suddenly Dave Parker arose, picked up the team, and carried it all the way to the final Saturday. Eastern Division pitchers still discuss Parker's production that month only with their psychiatrists.
Once again, Parker is a noble presence in the heat of the stretch run. He is hitting at .391 for September and last night's was not the only virtuoso performance he has contributed in the outfield. But this time the work is being done on a wheel that could collapse at any moment
"Every time he does something like that," Chuck Tanner said, referring to Parker's diving, run-saving, grab of a Pete Rose line drive in the third inning, "my heart stops. I ex- pect him to get up and not be able to goon."
TAKING NOTE OF this possibility several weeks ago, Mike Easier felt a stirring not uncommon to a young thoroughbred. "With Willie out, and Dave hurting, I think there was at least a subconscious attempt on my part to expand my role, to contribute more," Easier was saying, after the Pirates had clasped last night's 3-2 victory over the Phils to their breasts.
The result was not unique in a profession where many of the pressures are self-imposed. "I started pressing," Easier recalls, "and instead of doing more, I was doing less.
"Willie took me aside and reminded me that you can't be what you aren't. He told me I'd contribute more by staying within my limits. I enjoy playing baseball, and now that I'm back to being Mike Easier I'm having fun again. I can't carry the Pirates."
Oh? The Phillies hadn't noticed. Mike Easier has just been tons of fun for them this year. After last night's 2-for-3, which left considerable wreckage, his average against Philadelphia pitching is hovering at around .460. It seems more like .860.
"Strange you should mention that," said Chuck Tanner, when this impression was passed along. "A lot of clubs that come in here tell me the same thing. He must be having a good year."
NOT EXACTLY THE ribald humor of the average clubhouse, this. But a dig. nevertheless, Chuck Tanner style, Following testing days in Philadelphia and Montreal last week, Tanner had returned to Utopia last night. Jim Bibby pitched his strongest game in a month. Kent Tekulve emerged from the bullpen and screwed down a Philadelphia rally in the ninth. The hitting, while hardly robust, was timely.
"All we have to do is keep winning, and something's bound to happen," said Chuck Tanner. Translation: While the Expos and Phillies chop each other up in the final week, we'll ride past and into the sunset.
There is no end, it seems, to the Pirates' optimism. Following two losses at the Vet that should have hit them like a ton of gravel, off they went to St Louis where they swept the Cardinals. In Montreal over the weekend, they lost two of three. "But we were the same bunch of guys when we left Montreal as we were when we started the series," says Jim Bibby. "It's not the way of this team to dwell on the past."
Mike Easier says he applies that philosophy to even his personal habits, which include terrorizing the pitchers of the Eastern Division much as Dave Parker did two years ago. "I had no idea I was hitting that well against the Phillies," he insisted when the numbers were presented. "Once you start thinking aboui streaks, you're involved with the past. I think about the next day, the next time at bat."
THIS IS SMALL comfort at an hour when the race is winding down, but Easier is being honest when he says he has no fixation with the Phillies. Others suffer comparably. He is hitting at .325 for the season, but .400 against teams from his own division.
Despite being platooned with Lee Lacy in left, Easler's 112 hits rank him fifth among the Pirates. He is the team leader in home runs with 19. During a stretch when Parker was forced from the lineup by his injury he played daily and did well enough against left-handed pitching that he probably will not be platooned indefinitely.
With this in mind, he has devoted hours during his second year in the majors to working on his fielding, an area where the latitude for improvement was considerable. "Me and (coach) Al Monchak are out there almost every day, 30 minutes before the game, working on defense," he pointed out.
"It may sound strange, but that's been the key to my offense improving. I hit the ball harder late in a game, after I've been up a couple of times. Now that my defense is coming around they don't replace me ir the late innings. Instead of three at bats, I'm getting four or five."
None of this is news that will be welcomed by the Phillies. There is, in fact, very little in the way of good news to pass along from last night. A week ago, having lost in 14 innings at the Vet, the Pirates seemed for the first time to have misplaced their swagger.
"That game hurt," Mike Easlei conceded, "but I have not yet seer anybody on this team hang his head. It goes right back to the idea of what can you do about it when it's over, i look at our position now as being similiar to where we were last year In the Series. We were down 3-1, but don't know anybody here who ever thought we'd lose."
A WEEK EARLIER, in Philadelphia Kent Tekulve had devoted a postgame hour to studying the wall at the rear of his locker. Last night, Tekulve had turned around on his stool. A week ago Chuck Tanner admitted his pitching had dazzled no one recently. "Man, was it good to see Bibby popping again like he was early in the season," Tanner said late last evening.
"For the first time in a while, everything clicked together," Mike Easier added. "I loved it. We're relaxed and having fun again. I know the Pirates are gonna dig deep, pull out something that will help us carry this thing down to the last day."
Tonight, if the rains which are predicted for this area drift past, the Pirates will have to dig down and deal with Steve Carlton. Which means the Phillies probably will not have to deal with Mike Easler.
As a replacement they get Lee Lacy, who is hitting at .349. "We don't deal in giving you breaks," said Mike Easler, laughing all the way way to the shower.
Phils Jinxed by Bucs
By Bill Conlin
PITTSBURGH – After tonight, the Pirates won't have the Phillies to kick around Three Rivers Stadium anymore.
After tonight, the Phillies and Pirates will part company and that contested divorce – the Bucs would like to play the rest of the season here against the Phils – couldn't be granted a minute too soon.
"I usually don't get spooked playing in certain ballparks," Pete Rose said after the Phillies were a ground ball to the right side short and a base hit too late in a could've, should've 3-2 loss to the Bucs. "But we just don't have good luck in this park. We don't play good here. I hit two balls tonight as hard as I could hit 'em and they were caught. I hit another ball where the second baseman is guessing against where I usually hit the ball batting left-handed and takes a hit away from me up the middle. If I get two of them hits instead of none of them it's a different game."
The Phils have lost seven of eight here this season, 30 of 68 in the past 10 seasons. But it's certainly not huge, intimidating crowds which do the Phillies in here. Only 22,239 turned out to watch a game devoid of pennant-race type thrills until Jim Bibby lost his stuff in the ninth.
BIBBY WAS BREEZING, 3-1, going right at them with a buzzing fastball and a late-breaking slider. Mike Schmidt led off the ninth and the towering righthander snapped off a slider that hung belt high. Schmidt drove it over the fence in left for his 39th homer. Things deteriorated rapidly for the Pirates from there.
Bibby walked Greg Luzinski and Del Unser, who batted for Manny Trillo. Nobody out... tying run on second... swift pinch-runners Jay Loviglio and Bob Dernier revving their engines on the bases. Chuck Tanner went to Kent Tekulve – you were expecting maybe Mrs. Nussbaum?
Dallas Green wanted two things from his next two hitters, Garry Maddox and Larry Bowa. From Maddox, the manager wanted a sacrifice. And whaddayaknow, Garry laid down a bunt so good he put Tekulve down for an eight count fielding it.
A lot of people are probably wondering today why Green would hit for Trillo and let Bowa hit for himself. Good question. Larry beat Tekulve 7-6 on May 26 with a ninth-inning single. Last week, the shortstop bounced a two-run double over a drawn-in infield to fuel a four-run eighth inning rally. You don't run just any old hitter up there against Tekulve, just because a guy is a better hitter on paper than Bowa. Larry has always made Tekulve work hard to get him out.
THAT'S WHAT GREEN had in mind. He didn't need any heroics. He didn't need a two-run gapper up an alley, or a singing line-drive single. All Dallas wanted was a ball bounced to the right side slowly enough to let Loviglio streak home from third. And if the ball took the right bounce, the way it did last Monday night, maybe it would bounce over an infielder and the Phillies would reap a one-run lead.
It didn't work out that way.
Bowa lunged at Tekulve's first pitch and skied it to very shallow center. Loviglio faked a dash for home and retreated back to third.
"Impatience," Rose said. "We didn't execute what had to be done in that situation.
Green echoed the thought.
"All he's got to do is pull the ball in that situation and we've got a run," Green said. "But I wanted two runs, not one. I get greedy now and then."
Bob Boone was the next hitter and he's had similar, success against Tekulve. "Boonie got a big hit back in that era when we were getting big hits off him. Boonie is the fourth-leading RBI guy on our ballclub, right? Sure we considered pinch-hitting, sure we considered squeezing with Bowa. I don't think it's a good play when you're a run down on the road. All that crap goes through your mind. We know what we're doing."
BOONE HOISTED A feeble pop to second baseman Phil Garner and the Phillies were 2½ games behind the Expos, who swept a doubleheader from the Mets.
Boone squeezed home the winning run in the 14th inning to beat the Pirates in the second game of last week's Vet series. And the great reliever was thinking in that direction when Bowa came up.
"We talked about the squeeze," Tekulve said. "You keep it in the back of your mind, but you've still got to pitch to the guy like he's swinging away. The main concern is making good pitches, getting him out. I knew Boone got a big hit off me in Philly earlier in the year. It was just go at him with my best stuff."
The Pirates did all their damage to Dick Ruthven in the second and third innings, when they scored all their runs on six of their nine hits.
"Dick didn't have much of a fastball and they waited on his breaking ball," Green said. "But he settled down a little and kept us in there. He contained 'em."
Most of the defensive fireworks revolved around Rose. He led off the game with a hard bouncer up the middle. Garner had him shaded perfectly and made a fine stop and strong throw. In the third he smoked a liner into the right-center gap. Dave Parker made a September dive and gloved the ball off the turf. In the fifth, Pete drilled a liner to center. Right where Omar Moreno was standing shallow.
"One of these days I'm gonna hit one over his head," Pete said.
Unless there is a sudden-death playoff between the Phils and Pirates, Rose will get his last 1980 chance to hit one over Moreno's head tonight. The last gunfight at the not-so-OK Corral, thank God.
"We'll throw a little more offense at 'em tomorrow," Green said. "And we've got Lefty going for us."
With Lefty, no rainout and a strong wind at their backs, the Phillies can stagger out of the 1980 season with a 2-7 record.
Luck be a lady tonight.
PHILUPS: Rain was in the forecast last night, but it held off until about 10 minutes after the game... Jim Bibby even cooled off Bake McBride, who said while his body needed Monday's open date, his bat would have preferred playing. "I just didn't feel good up there tonight," Bake said. "I was physically tired yesterday but my bat wanted to play, if you know what I mean. I was overstriding and not getting the bat out there quick enough"... Steve Carlton vs. Bert Blyleven tonight.
3 Winners
There were three winners last night in the Daily News Home Run Payoff.
In the eighth inning of the Phillies-Pirates game Ina Courtney and Richard C Smith, both of Philadelphia, and Anna Heppard of East Lansdowne each won four tickets to a Phillies game next year.
So far the Daily News has paid out $17,975. Today's entry coupon appears on this page.