Philadelphia Inquirer - September 19, 1980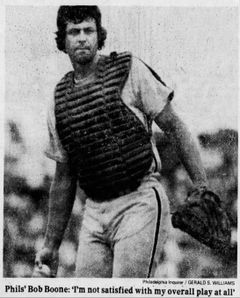 Boone pained by off-year performance
By Frank Dolson, Inquirer Sports Editor
PITTSBURGH – On Tuesday night against the Pirates he went 0-for-4, including a game-ending pop-up with the potential tying and winning runs in scoring position. On Wednesday night he went 0-for4 again, twice failing to score a runner from third with less than two out. It's been that kind of year for Bob Boone, the kind that prompts veteran big league scouts – Baltimore's Jim Russo, for example – to scratch their heads and say:
"I don't understand it. He doesn't swing the bat the way he did. He doesn't throw the way he did. He was one of the premier catchers in either league, so you know he can do it."
You know he can do it because he has done it Again and again and again. Not with a tremendous amount of flair. Not with reams of publicity. But quietly, and consistently.
Bob Boone, after all, has played in three All-Star games, batted in the.280s three straight years. Not this year, though. This year he's hitting in the.220s. He's hearing boos at the Vet.
Boone has handled those boos the way he handles Phillie pitchers: calmly, smoothly.
"No," he said the other day, forcing a smile, "it's not hard to handle (the reaction of the fans), because I tend to agree with them. I'm not satisfied with my overall play at all, regardless of what it takes to get there."
That's the thing, though. It's taken so much for Bob Boone to merely get in a crouch behind the plate this year. He's been battling so many handicaps, so much pain.
People have a tendency to forget that. Somewhere, in the deep recesses of their minds, they remember vaguely that Bob Boone was injured late last season. What most of them don't remember, or perhaps never realized, is that Boone went through a serious knee operation, comparable to the one Bill Bergey had.
Bergey is a hero at the Vet – and rightly so – for the comeback he's made. Boone has become a target of the boobirds, although his comeback required just as much effort, just as much dedication, enduring just as much pain.
Maybe if Bob Boone were an outspoken guy, maybe if he routinely made headlines, it would be different. Then, in all likelihood, there would have been big stories about the injury, the operation, the rehabilitation.
But Boone is not – and has never been – the focal point of media or fan attention on this Phillies ball club.
"We have the kind of ball club where – well, I don't consider myself a sensational player," Boone said. "I'm the kind of player, when I'm good I'm not recognized. What I'm recognized for is doing poorly. The things I'll contribute to this club you're not really going to notice. I pride myself on the way I call a game. I get a lot of self-satisfaction out of some things I do that maybe nobody else knows. Maybe the pitcher knows it, maybe he doesn't know it.
"This ball club has some sensational athletes. When you talk about competing in the media with the players on this team. I run way behind. If you're going to write up the game you're going to write about a 900-foot home run hit by Mike Schmidt or Bake McBride scoring from first on a double…."
Or a great catch by Garry Maddox.
Or a fantastic stop by Larry Bowa.
Or the latest record-breaking achievement by Pete Rose.
Boone has never captured the imagination of the public. He's good. He's solid. He hits.280. And, gee, did you see how far Greg Luzinski hit that ball?
Now, though, Boone is scuffling like a dog, and suddenly all eyes are on him.
Sitting in the press box at Three Rivers Stadium, 300 miles away from the Vet, you could almost hear the boos from the East when Boone struck out on a low outside breaking ball with a runner on third and one out in the 11th inning Wednesday night "It gets frustrating at times," he was saying before his bad series in Pittsburgh added to those frustrations. "You look up (at the scoreboard) and you keep seeing that.230 hanging up there next to your name."
But it could be worse. He could be having this kind of year for a Phillies team that wasn't in the race.
"Being in a race like this makes it exciting for me," he said. "It makes it fun, and my concern has always been to make sure when I come to the ballpark I was having fun. It wasn't true last year (with the Phillies out of the running), and this year a lot of times it hasn't been... but now, with the guys playing good ball, the enthusiasm's there, the emotion's there."
Also, the pain is still there, but Bob Boone has to be pressed before he'll talk about that.
"Right now I can't squat," he was saying a few hours before a game, and to show what he meant he went into a semi-squat, forcing himself, pushing himself as far as he could go.
It's such a seemingly simple thing, a catcher's crouch – until you can't do it without limbering up, without getting down in slow, easy, painful stages before each game.
"That's what I look forward to every night prior to the game," he said. "It takes about five minutes breaking it down, I mean just literally forcing it (the left knee) into a crouch. That's where the pain is. Once it's there (in a crouch), it's all right. But mentally it's worn on me – just thinking, 'I've got to go through that."'
But he has gone through it. OK, maybe his throwing early in the season was far below the All-Star standard he had set. And maybe his hitting slump has grown deeper in recent days. Yet the pitching staff is doing well... and Bob Boone deserves some of the credit. That's the thing about being a catcher; you can contribute in ways that don't show up in the individual stats.
The remarkable thing is that Boone has been able to force himself into a catcher's crouch so many times this season.
"Everybody's amazed that Bill Bergey's playing," Boone said. "Bergey and I were operated on at the same time. I didn't expect a whole lot out of this season. In rehabilitating my leg so much time was taken away from the things I really had to do in spring training. I never really got into the groove at all. I kept battling to catch up all year.
"I sat back the other day and tried to analyze the thing. What the hell went wrong this year from a hitting standpoint? I've been through a thousand different thoughts at the plate."
If ever a man had a reason for a subpar year, it's this one. But Boone isn't an athlete who looks for excuses.
"All that's irrelevant as far as I'm concerned," he said. "If you're ready to play, that means you're ready to function at a very highly competitive level. If you can't function at that level you're not ready. I'm not satisfied with the way I've played."
Neither are the fans. They had grown accustomed to watching a healthy Bob Boone, an All-Star caliber Bob Boone. This year they're seeing a struggling Bob Boone, a slump-ridden Bob Boone, but above all a courageous Bob Boone.
If only there were a way to measure courage statistically.
Finding definition of MVP would be most valuable
By Jayson Stark, On Baseball
As soon as the world's scholars get through figuring out how to design a car that runs on only leftover hamburger, they ought to turn their attention to something truly important.
Such as, just what is a Most Valuable Player anyhow?
Baseball gives an award to one every year, so clearly somebody must know what one is. But obviously, nobody really does. And this year, it's tougher than ever to define an MVP.
Last year, if you'll recall, a lot of people were sure that Pittsburgh's Wilver D. Stargell was an MVP if they ever saw one. So Stargell got more than twice as many first place votes as anybody else. But if it was all that clear-cut, how come two other voters didn't even rank him in their top 10?
The reason, ostensibly, was that Stargell didn't play enough. He hit 32 homers and knocked in 81 runs. But if he had been in the running for the batting title, he would not have qualified because he didn't get to the plate enough.
But if Stargell didn't play enough to be an MVP, how could Bob Gibson or Sandy Koufax have won it in 1968 and 1963 respectively? Those guys were pitchers, and neither even got into 50 games.
Pitchers are always getting discriminated against when writers vote for the MVP. But pitchers have value, too, maybe more value than anybody else.
The last time the Phillies got to the World Series, for instance, pitcher Jim Konstanty was the National League MVP. That is interesting to note, because this year it is possible that nobody has been more valuable in the league than Steve Carlton.
"If you want to just talk about pure value," says Tim McCarver, "who in the league would mean more than Lefty if their team had to replace him?"
If the Phillies had tried to replace Carlton this year, they would have had to find somebody who could win 14 times after games they had lost. They would have needed somebody who could allow one earned run or fewer in 15 games, and two or fewer in 20.
They would have had to find even one other starting pitcher who could beat the Pirates in Pittsburgh. They would have had to find somebody who could guarantee that four runs would assure them of winning all but five of his starts.
Possibly the Dodgers could claim Jerry Reuss has been that valuable. Reuss is a remarkable 11-1 against the Astros, Reds, Pirates, Expos and Phillies. (The Phillies, in fact, are the only contender to beat him.)
But did he have to cement together a shaky, unstable pitching staff all by himself for the first two months? No way. Reuss wasn't even in the rotation until late May. In late May, Carlton had more wins than the rest of the Phillies staff combined.
Still, it is foregone that Carlton won't win the award because pitchers almost never do. Mike Schmidt is a lot more likely to win it. But there is sentiment on the Phillies that perhaps the guy who really deserves it is Bake McBride.
"What I look at with Bake is eight homers, but 80 RBIs," said one player. "Schmitty is going to have his 45 homers and his 120 RBIs when it's all over. But you look at 80 RBIs on only eight homers, and that means a lot of clutch hits.
"The trouble is, you and I have seen Bake every day. But of the 24 guys who vote, most haven't seen him more than, what, 18 times? They're just going to look at the numbers and vote for Schmitty. I don't think Bake can win it. but on this team he's the guy I'd favor."
McBride's year has been especially noteworthy because his knee problems have taken away one of his biggest offensive weapons – his legs. And between aches, pains and the four-man outfielder-rotation system (whatever happened to that anyway?), he has not started close to 30 games.
Not that Schmidt doesn't have a case, mind you. He has more runs produced than anyone in the league except Keith Hernandez. People have claimed his 104 RBIs have been often invisible. But you don't hear anybody requesting that he take them back.
He also has been bugged in the past by claims that he hardly ever hit a big home run. But of his 39 homers this year, 22 either have tied games or put the Phillies ahead. And perhaps more noteworthy, 35 were hit while games were still in hand (meaning the Phillies weren't more than three runs ahead or three behind).
Schmidt's drawbacks are that he is headed for a career high in errors (26 already, tying his career high, and while he held the club together offensively early, he hit only.244 In June and.231 in July and didn't get going again until after the four-game sweep in Pittsburgh in August.
Still, if the Phillies win it, it's 2-to-1 it will be his award. What may cinch it is the shortage of candidates on other contenders.
One Phillie says he would back Andre Dawson (.299, 77 RBIs, a shot at 40 stolen bases) if the Expos win. Besides offense, "he holds that outfield together defensively," the player said. "LeFlore on one side of him, Valentine playing when he wants to on the other side – that's a big thing."
Then there are Dusty Baker (28 homers, 90 RBIs) and Steve Garvey (.300, 171 hits, 96 RBIs), the Dodgers candidates.
Danny Ozark says he would vote for Baker because "it seems like he's never had a bad spell."
Should the Pirates somehow regroup to win, their strongest candidate might be their leftfielder, Lacy Easier (23 homers, 95 RBIs,.355). Trouble is, that actually is two guys, Lee Lacy and Mike Easier.
Since the MVP could turn out to be a September award, Dave Parker might have a shot, too. He is hitting .353 in September so far.
The Braves have Dale Murphy, the Astros have no candidate and St. Louis' George Hendrick has simply had a great year for the wrong team.
Yes, it is as impossible to define an MVP as always. Who knows, maybe the winner actually ought to be Stargell again. Just look at what happened to the Pirates without him.
NOTES: Ironically, if the Phillies win in Wrigley Field today, it would be the first time they have gone 14 games over.500 since the 23-22 game (May 17, 1979) Greg Luzinski since knee surgery is 16-for-73,.219, 2 HRs, 10 RBIs, 12 strikeouts. But Mike Schmidt since then is 26-for-88,.295, 5 HRs, 14 RBIs Bob Walk (10-5) vs. Rick Reuschel (11-11) today.