Philadelphia Daily News - September 22, 1980
Phils Win, Friend Lost
By Bill Conlin
CHICAGO – This is for Harry Hoffman, who was the sports columnist, for the Atlantic City Press.
Let's get the ballgame out of the way quickly. Phillies 7, Cubs 3. Montreal's lead is down to a slender half-game. Dick Ruthven won No. 16 with professional relief help from Ron Reed. Greg Luzinski hit a homer. So did Mike Schmidt, who slammed No. 41 in his last 1980 at-bat in Wrigley Field, a park he treats like a telephone booth.
Harry Hoffman never missed an assignment in a newspaper career which spanned 29 years. He always came to the ballpark early, despite the hour drive from the shore. He hung in there. Once he was robbed at knifepoint in a Connie Mack Stadium phone booth while dictating his game story. "You'll have to excuse me a second." he told the Press rewrite man. "I'm being robbed." "OK." the rewrite man replied, "but dont forget, we're on deadline."
I was worried when Harry wasn't in the press box for the national anthem yesterday, but he had mentioned that a guy he used to be friendly with in Atlantic City had given him a call. I thought maybe he was sitting down in the stands with his old friend.
THE WORRY increased when he didn't show up by the second inning. It was getaway day and I knew he had planned to write a column before the game so he wouldn't get jammed up against his morning paper deadline after a 7:45 flight to St Louis.
Guys who travel with athletic teams on a regular basis have a recurring nightmare. Nobody wants to have the big one in a hotel room. Nobody wants the indignity of being found by a maid or a hotel security guy two days after the team checked out. So we quietly look after each other. I remember Rich Ashburn calling me in San Diego after a wearying flight from Philly. The hotel had failed to deliver the wake-up call I had left before the game and my body was still functioning on Eastern Daylight Time. Whitey told me it was the second inning and I better get started for the park.
So, with rising misgivings, I asked the hotel operator to ring Harry Hoffman's room. And when she put the call through without comment, the negative vibes were overpowering. When a ballclub checks out, hotels normally pull the folios for everybody. She should have told me that Mr. Hoffman had checked out. His room didn't answer, so I asked for the bell captain and explained my concern. Would he have the room checked and call me back?
It was the top of the third. The game was tied, 1-1, and the phone next to me in the press box jangled. It rang just as Greg Luzinski launched a towering two-out homer into the bleachers in left-center.
The telephone message was brief.
LIFE HAD BEEN too short for Harry Hoffman. He was dead at 56. He is survived by wife Barbara, daughter Lori, 27, and sons Bruce, 25, and Keith, 20.
Life had been shorter still for his eldest son. Gary, struck and killed by a truck last summer. Gary was bicycling home from a doubles tennis match in which he had partnered his dad. He was 27, a devoted conservationist and a brilliant engineer out of MIT.
Harry Hoffman had his son cremated and scattered his ashes in the surf off Ventnor City. Nobody ever had a simpler or more loving funeral.
Harry Hoffman had three great passions in life.
He loved to play tennis, despite painfully arthritic knees.
He loved racetracks – when Atlantic City opened, he was the first newspaper handicapper there. Hairbreadth Harry was the name they put on his selections. For years, he covered the races in the afternoon and the Phillies home games at night, a brutal schedule.
He loved modern jazz.
I'd like to tell his tennis and racetrack friends, the people who knew him at the Vet. his wife and three surviving children that Harry went out the way he would have wanted to go.
When the Phillies got here from Pittsburgh Thursday afternoon. Harry made his executive decision of the day. "I'd like to go out to Arlington Park," he said, "but it's a little late and it's a gorgeous day. Let's play tennis."
WE WENT TO the McClurg Sports center, three blocks from the hotel. His knees have been so bad the last couple of years that when he played singles, he asked his opponent to let him play the entire court, including the doubles boundaries. Doubles was his game. He played doubles five days a week, mostly on the courts next to his condominium near Atlantic City Race Track. He played the game with boyish enthusiasm, as if each match was his first. His strokes were wristy from years of winter squash playing, but Harry knew the shades and nuances of doubles. And he battled you.
We only played an hour at McClurg. He said he was tired after the early flight from Pittsburgh.
The next night we had dinner at an Italian restaurant on Rush St. named Armando's. He drove the cab driver crazy, twice telling the guy we were going to Armand's, twice to Armando's. When the cabbie pulled up at Agosti-no's and shrugged we knew we were in trouble. But we finally got there and the meal was excellent. Afterward, he fulfilled another passion. We caught the 11 o'clock show of bop legend Dizzy Gillespie at the Jazz Showplace.
Sometime between midnight Saturday night and 2 p.m. yesterday afternoon, Harry Hoffman, a good man, died.
LIFE WENT ON. The Phillies went about their grim pursuit of the Expos. Tug McGraw felt badly. Harry bought him a drink Friday night. Paul Owens felt badly. He bought Hoffman a drink after Friday's game. Most of the Phillies didn't really know who Harry Hoffman was, though. He was a guy from a newspaper which only covers the home games, unless something like a crucial trip in a pennant race comes up. This was the only road trip he made all season.
I knew him. He covered me when I was competing in beach patrol rowing and swimming events at the South Jersey shore. That was more years ago than I care to remember, a half-dozen years before I decided I might like to write for newspapers someday.
I knew him. Back when caddies at country clubs made more money than small-paper sportswriters, Harry Hoffman supplemented his meager income by hustling ice cream on the Ventnor and Margate beaches during the day.
"Hustling" does not accurately sum up the job. Only World War II vets could get a vending license and the rules were ridiculous. A man could only sell as much as he could carry, then he had to walk his empty box back to his starting point to pick up fresh ice cream. The boxes weighed about 45 pounds each and Hoffman would get around the silly ordinance bv carrying three of them.
I STILL REMEMBER him plowing through the soft sand in shimmering heat like a bow-legged camel, sun visor jammed down over his eyes.
I was 18 the humid day I approached him – I didn't even know his name – and asked how the hell he did it.
"Pal," he said, "the money's better than what I make as a sportswriter. And a man could do a helluva lot worse than walk along the beach on a beautiful summer day."
He knew how to smell the roses.
History win record that on Sept. 21, 1980, the Phillies beat the Cubs, 7-3.
Let me add a footnote: On the same day, life ended for Harry Hoffman, a colleague, a friend, a decent human being.
It was the first assignment he ever missed. At 56, he was terribly cheated.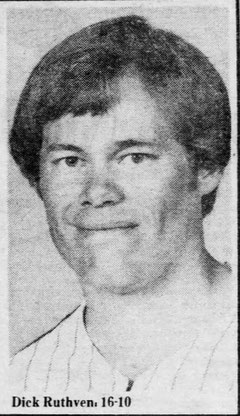 Ruthven Gets Some Help
By Bill Conlin
CHICAGO – Dallas, meet Dick Ruthven. right-banded pitcher, currently 16-10.
Dick, meet Dallas Green, manager, currently 81-67 and breathing down the Expos' necks from a half-game back.
Ruthven beat the dreadful Cubs, 7-3, yesterday with 3⅓ innings of hitless relief from Ron Reed, a forgotten man since Sparky Lyle joined the Phillies.
Afterward. Green said he felt Ruthven was less than sharp because he was starting too many hitters off with a sinker that kept dropping out of the strike zone.
"He should be using that as an 0-2 or 1-2 pitch." Green suggested, "instead of the pitch he's trying to get them out with.
"As usual, hell disagree with me, as he's always done."
Give Dallas a cigar for clairvoyance. As usual, Ruthven disagreed with his manager.
"THE PITCH HE'S talking about is not a sinker. it's kind of a screwball," Ruthven said. "As a matter of fact, I only threw two of them today. Go back and tell him I only threw two of them and see what he says about that. I don't throw it when it's not going down because if I make a mistake it's going out in the street. My ball goes down a lot anyway. The pitch he's talking about is an off-speed pitch that runs away and I didn't use it today.
"It's hard to tell from the bench. He has to ask me or he has to ask Boonie because we're not calling it. I shook a bunch of them off."
Ruthven almost had to shake off the 225-pound bulk of friendly Cliff Johnson in the sixth after Mike Vail came up lame following a single to left.
While Vail was receiving first aid. Ruthven wanted to stay loose, but Johnson was planted in the batter's box.
"I think Cliffs just retarded," Ruthven said. "I was asking him to move so I could throw while the guy was getting tended to after dribbling the ball through the infield. I just gestured with my thumb trying to get him out of the box and he said, 'You don't tell me, you ask me." Then I said, 'Get the bleep out of the box.'"
Johnson started toward the mound and both benches emptied. Cautiously, it turned out, because nobody knew exactly what was happening. It had a chance to be the first baseball brawl started by a pitcher who failed to say, "Please."
PHILUPS: The Phils hit the ball well for the second straight game, pounding 15 hits, including a homer and double by Greg Luzinski and Mike Schmidt's 41st homer, his eighth of the season in Wrigley Field, which is two more than Dave Kingman's home park total. It was also his 29th career homer in Wrigley... Steve Carlton vs. Pete Vuckovich in St. Louis tonight... The Phils have won nine of their last 12... Larry Bowa returned to the lineup after missing two games with a hamstring pull... Pete Rose jumped into the record book again. His five at-bats gave him 601 for the season and gave him a major-league record for most consecutive seasons with 600 or more at-bats, 13. He was tied for the old record of 12 with Nellie Fox.
9 Winners
There were nine winners in the Daily News Home Run Payoff contest during the weekend.
In the eighth inning of yesterday's Phillies-Cubs game, Joe Lynch of Upper Darby won $50 on Greg Luzinski's double and Helen Russell of Atco, N.J., won $35 on an RBI single by Garry Maddox. Winners of four tickets each to a Phillies game next year were J.E. Green of Philadelphia, Walter Dunn of Fine Forge, Pa., Estelle Quirk of Thorofare, N.J., and John Timtishin of Cressona, Pa.
In the eighth inning of Saturday's game, Victor Mariano, Jr. of Beverly, N.J., and Philadelphians W.J. Patterson and Fred Smith each won four tickets to a 1981 Phillies game.
To date the Daily News has paid out $19,125. Today's entry coupon appears on Page 64.