Philadelphia Daily News - October 15, 1980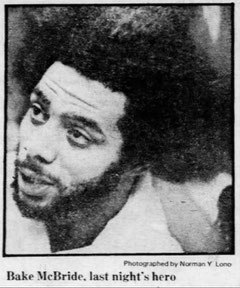 The Spirit of 7-6
By Bill Conlin
Bake McBride was too tired to go through Monday's batting practice ritual at the Vet.
But he knew his bat needed therapy as badly as his aching knees needed icepacks, as badly as his aching eyes needed sleep, so he dragged his played-out, partied-out bones down to the indoor cage with Phillies batting coach Billy DeMars.
He was 0-for-5 during Sunday night's insanity in Houston. He didn't make solid contact and that puzzled him. It puzzled him because he was seeing the ball too well to be in a certified slump.
"I even saw the smoke Nolan Ryan was throwing." McBride said in a Phillies clubhouse that was little different than the regular-season variety, the one departure being the presence of several hundred members of the national media here to cover the first World Series game played in this town in 30 years.
"When I wasn't making good contact I knew something was wrong, but I didn't know exactly what it was. I didn't even hit live pitching at first. I hit the ball off the tee and let DeMars watch my whole swing. About the fifth ball I hit off the tee he said. 'Bake, you're overstriding. I cut down on the length of my stride and started to feel better right away when he threw some to me."
The Phillies hung on to beat the Kansas City Royals. 7-6, in a Series opener that was merely terrific, but one which seemed like another night at the yard to the survivors of the Outer Limits playoff with the Astros.
The Phillies went into the bottom of the third trailing, 4-0. Their chances looked about as good as Ozzie Myers' chances after the Brooklyn Grand Jury viewed the Abscam tapes.
They were in against 20-game winner Dennis Leonard, a right hander who lets four-run leads slip away as often as OPEC slashes oil prices. Amos Otis and Willie Mays Aikens already had roughed up rookie righthander Bob Walk for two-run homers and the Whirlybird was still on Dallas Green's lineup card only because the manager had the DH rule at his disposal and felt that going to his weary bullpen too early was a potential path to disaster.
So the Phillies went out and scored five runs with one out in the third. Bake McBride drove in the last three with a booming homer to right.
THEY BUILT A 7-4 lead for Walk, who settled down nicely in the middle innings, scoring a run in the fifth on Bob Boone's second RBI double and one in the sixth on a one-out sacrifice fly by Garry Maddox off Royals reliever Renie Martin.
The Maddox RBI turned out to be the winning run because Aikens smoked Walk for another two-run homer in the eighth and Tug McGraw bounced in from the bullpen for the sixth consecutive post-season game. McGraw plans to have his left arm pickled in John Jameson Irish whiskey after the season and exhibited at the Smithsonian Institute.
"Our advance scout, Hugh Alexander, said their doubles hitters would be home run hitters in this park," Larry Bowa said. "Those guys proved it tonight."
Besides the three homers, Hal McRae and batting king George Brett splattered McBride and Maddox off distant fences with lusty drives in the fifth. Brett drove his to almost dead center and Maddox made a fine leaping catch after a long run.
"I was playing him fairly shallow." Garry said. "He gets a lot of extra-base hits up the alleys and I was trying to cut down the angles on him. I thought his ball might have been out of the park and I wondered if I'd get back in time to make a play if it stayed in. But I got a pretty good jump and the ball stayed up just long enough so I could catch up to it. The ball was realIy carrying tonight. Aikens' balls both kept going and going and going. There was no doubt about Bakes – it just jumped out."
BOWA STARTED THE third-inning rally with the first hit off Leonard. who did not have the same stuff that beat the Yankees in the American League playoffs. He stole second on his own and that seemed to wake up the record crowd of 65,791 fans, who suffered brief laryngitis after the Otis and Aikens assaults.
Boone scalded a double into the left-field corner, limping gallantly to second on his battered left foot. And the next hitter. Lonnie Smith, showed America why the Phillies have been so much fun to watch over the past month.
Smith singled to left, made a wide turn and fell down. While Lonnie was scrambling to his feet and putting himself in a rundown. Boone trundled home. G. Brett did not make a wise play when he started running toward Smith, just as U.L. Washington didn't make the right play in the eighth, when he passed up an easy force at second on Boone and just edged Greg Gross at first with a long throw.
McBride singled Mike Schmidt into scoring position in the fifth and he singled to right in the seventh. And he seemed as happy with the pair of well-stroked singles as he was with the first Phillies homer in World Series play since Fred Luderus hit one in 1915 against the Red Sox.
"In the past when I've batted cleanup and hit a homer I've had a tendency to overswing the next couple of times up," Bake said. "Tonight I was determined to take nice easy swings my next times up. I didn't want to get in any bad habits. It felt good when I got the single to left. I knew I was swinging within myself, hitting the way I'm supposed to hit. I'm no home run hitter. I'm strong, so if I get the right kind ol pitch and the right part of the bat. it'll go."
And no. America, this was not Bake McBride's biggest thrill in baseball.
"I STILL THINK the biggest was the homer I hit to beat Montreal here to win the first game of our series with them," he said. "That was the first time in my career I was called back out to take a bow after the game."
He wouldn't go that night unless his teammates accompanied him to the dugout. Last week, still in the dumps over his good friend Nino Espinosa being declared ineligible for post-season play. Bake told Howard Cosell that if Green comes back as manager he would have to consider whether he wants to play here next season.
"No comment," he said last night when the subject was raised.
McBride was not built to bask in the spotlight that hones in on World Series heroes. He refused to appear in the post-game interview room with its raised platform, hot lights and sea of media. He conducted his only real interview of the evening seated at a card table. But there is no arrogance about his refusal to answer questions with the patience of a Pete Rose or Tug McGraw. He is not an arrogant or self- centered man. Bake thinks perhaps too much media attention is focused on the good-talkers and not enough on the accomplishments of Maddox, Manny Trillo and, yes. Bake McBride.
"How come you guys only want to talk to me after I win a game with a base hit or a homer?" he has said many times this season. "Guys could at least come by my locker and say hello and talk about the game when I go 0-for-4."
PEOPLE FIGURED THE Phillies would be emotionally drained after the five desperate battles with Houston. They figured Walk vs. Leonard was the biggest mismatch since Nixon vs. McGovern. And a surprising number of people, many of whom have been conceding for years that the Phillies have the best talent in baseball, picked the Royals to win the Series on the basis of superior talent.
All of which gets Green back to talking about character and wanting it, etc.
Incredible, but true, the one-run victory in the first game of an event the town has hungered to be part of for 30 long years was probably the least pressure-packed game the Phillies have played since Montreal blew them out early on Sept. 28. Excluding, of course, the final game of the regular season in Montreal.
"We've been through a very nice kind of hell the last 10 days," Green said. "We've played the types of games that have prepared us for any eventuality. Tonight was a piece of cake compared to some we played before. It's the first game we've played in some time where if we lost it our backs wouldn't be against the wall.
"I think all the stuff about us being drained by the playoffs, about our pitching staff being exhausted, is overrated. All I needed from Bobby Walk was a good-enough, long-enough outing to give some of my bullpen guys another day of rest. He gave us that and now our pitching is all lined up. Steve Carlton has pitched with three days' rest many, many times in his career and he'll be well-prepared to do it again tonight. Dick Ruthven and Larry Christenson will have their full rest when they pitch. And you'll hear from Mr. Bystrom, too."
In one night, the Phillies topped the total World Series run production of the 1950 Whiz Kids. With one swing. Bake McBride tied Fred Luderus as the club's most prolific home run hitter in World Series play.
"Fred who?" Bake said.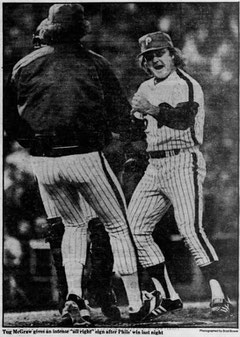 McGraw Came Well-Armed to Pitch
By Tom Cushman
A city which cares deeply for its professional athletes – while they are winning – Philadelphia on Monday awaited the return of its National League baseball champions from Houston with a mixture of gratitude, celebration and widespread concern for their well-being. Would they be drained by the Texas experience? Were the injuries serious? Would they have headaches as bad as those who were asking the questions?
More to the point, could they pull themselves back together by Tuesday night? Not to seem ungrateful, but the World Series stops by here only every 30 years or so and it would seem a nice gesture if the ballclub attended along with the fans.
While discussing this with the guys at the local variety store, I noticed . that the case of Tug McGraw seemed to cause anxieties to peak. Tug this ; fall has become a sort of ceremonial - addition to each game... the national anthem begins them, Tug finishes i them.
FROM WHAT I could gather, it seems that the television reports during Tug's Sunday appearance were distressing. So were the line drives stroked by the Astros. Making much of the latter, Howard said things which caused McGraw's neighbors to fear that he had left his arm in Houston. Others, unaware that the Phillies would return by charter, were afraid Tug might have wrapped what was left of the arm and checked it with the luggage on a U.S. Air flight, meaning that by Tuesday night it might very well be in Phoenix.
And so it was that there was relief throughout the Delaware Valley when Tug stepped off the plane, a whole man. Even lifted his left arm and waved it."Later I unscrewed it, put it to bed and went about my daily business," he said, while entertaining the national media in the Philadelphia clubhouse late last evening.
This was after the remarkable Tug McGraw had again taken the. cart-ride in from the bullpen in right field, and closed the show.
The city, appreciative, suddenly ambitious, more concerned with the final game than the opener – for which the prospects were dull anyhow – seemed to be prepared to excuse Tug from first-game duty. So, apparently, had Manager Dallas Green, who worried publicly about McGraw's physical limitations.
All this was before starter Bob Walk, who gave his team seven valuable if not very tidy innings, tried to slip a fastball past Willie Aikens of Kansas City with George Brett aboard in the eighth. "I got it up," Walk explained.
SO DID WILLIE. Up, up, up, and out onto the tarp beyond the fence in right-center. The Royals, not a team to fool with, suddenly were within 7-6. Dallas Green's response was the kind you hope you get if someone taps your with a hammer. Reflex.
On came Tug. Some nights I wonder why they don't let him use Phillie Phanatic scooter so he could get there quicker.
Kansas City batted six men thereafter, the minimum. One, Amos Otis singled.
"On a Peggy Lee fastball," McGraw pointed out. Since the World Series brings people to town who might not understand this, that's the one where Tug takes something off, and the batter asks, "Is that all there is?"
John Wathan pinch-hit for Clint Hurdle at that point, and bounced a Peggy Lee slider to Larry Bowa who started an inning-ending double play.
The Royals went quietly in the ninth grounder to third, strikeouts by U. L. Washington and Willie Wilson, those on John Jamison fastballs. "Straight," Tug was to explain to those who didn't know. "The way I like my Irish whiskey."
He had been called to the mass interview area immediately after the Phillies had completed the victory around which this series may pivot, arriving with a beer in one hand and another in the hip pocket of his uniform. John Jamison would have to wait.
HOWARD COSELL did not. "My strongest desire is to prove Howard wrong," Tug said, in answer to the first of several questions designed to explore the wonders of his left arm. "He was talking Sunday about 'going to the well once too often,' and he doesn't know enough about baseball to make those judgments."
Well, how did it happen then that a man who figured to have a better chance of being a patient than a pitcher last night managed to contribute his customary two innings in World Series style. Literally hundreds of newsmen had rushed to the bowels of Veterans Stadium to learn this information so that it could be shared with the universe.
Tug was asked if perhaps the secret was in his mental preparation.
"If that was true, I'd be down in the trainer's room soaking my head in ice," he replied. "I've never been paid a dime for my brains yet.
"What it comes down to, simply, is the ability to do what you're paid to do. The catcher has to throw the ball every day, so do the shortstops. What's so different about me throwing it? I like to think that I'm capable of doing my job at the time of year when you have to reach back."
Beyond that Tug offered this sequence of his preparation: "I was tired when we got back from Houston, but by tonight I'd had a day's rest. I ran during the workout yesterday to get fresh blood flowing. I came to the ballpark today and took a whirlpool, had a shoulder massage."
THERE WAS ALSO a message. The World Series is a forum not only for the home-run hitter who would like to get away from the bubble gum cards and into serious commercials... health foods such as Lite Beer, or maybe underwear. It is an opportunity to edit information distributed during the regular season.
"Then I took my Tylenol, and I was ready to pitch," said Tug McGraw. "Hey, I think it's important to say this, because it's legit.
"You see so much in the headlines these days about athletes and drugs, people come to believe we're all eaten up with the thing. There may be the old 10 percent involved, but most of us are not drug addicts. We're like everybody else... you got a little ache, pain, you take something which is legal. I do use Tylenol.  I think it helps me."
This having been aired, Tug moved on to the questions concerning his splendid year and the reasons for it. Most of them are redundant in Philadelphia; the summer past produced evenings when there was reason for them to be asked.
He was wearing a T-shirt, on the front of which was printed the words, "I Made Someone Happy."
"The fans, my teammates, myself, everyone who likes the Phillies, we're all happy," he pointed out, from the center of the media swarm which surrounds him these happy days. "I wore this under my uniform tonight, and afterwards when I came in and changed (under)shirts I put it back on so you could see it. I felt great tonight. I mean, did I look like I was tired?"
Someone wanted to know when Dallas Green had come around and asked Tug if his arm was awake. If he would be ready.
"He didn't i have to ask," Tug McGraw replied. "I told him."
Bowa steals Royals' thunder
By Stan Hochman
Larry Bowa stole second with the Phillies trailing, 4-0.
The play is not straight out of the Spalding Guide, or the Joe McCarthy book of big league managing.
But then again, Joe McCarthy never managed on AstroTurf. And he never managed Larry Bowa. If he had, he might have grabbed Bowa by his red neck early on, but that's another era, another story.
Last night, in the third inning of the very first game of his very first World Series, Larry Bowa stole second with the Phillies trailing, 4-0. 
"I just figured," Bowa explained, "it was early in the game, maybe I could start something, get some movement.
"Bob Boone (the next hitter), it's not that he's vulnerable to the double play, but he does hit the ball hard.
"The pitcher got behind, 1-0, and the first time he went home, I could see I could get a good jump. I looked over and got the sign, 'Go ahead if you want,' so I went.
"I THINK WE caught 'em off-guard. Nobody's supposed to run in a World Series when you're four runs down.
"But Dallas (Green) said if we're gonna lose, we'll lose aggressively. It's been said we don't run enough, especially me, so I ran. "
Bowa ran and was safe and Boone doubled and Lonnie Smith singled and the Royals botched a rundown play and Pete Rose got hit by a pitch he didn't bother to duck and Mike Schmidt walked and Bake McBride hit a three-run homer through the brittle autumn air.
Ho hum, another five-run inning, and a lead they never lost.
"When Bo stole," Green said, "it told Kansas City we were not gonna sit back on our duffs and watch the game go by.
"Being down four runs at the Vet, we've always got a shot, with our guys. "
Pete Rose, who mixes reality with fantasy the way bartenders mix gin with vermouth, saw the play in the context of a lineup that included a designated hitter.
"It illustrated we were gonna play aggressive," Rose said, "and that's the way we've got to play.
"But it's a little different down at the bottom of the order when you don't have a pitcher coming up. You've got Boone up next, and you don't worry about them putting Boone on to pitch to a pitcher."
WHATEVER, THE stolen base spark started a five-run bonfire and Bowa had helped chase another phantom out of the haunted house that is Phillies history.
"The last World Series they lost four in a row," Bowa said. "So, now we've got that off our shoulders. You play here, you live with ghosts.
"A couple of years when we had big leads, people said, 'Remember '64. ' Hell, I don't remember '64. I was in high school. But they act like we were part of it.
"And now, it was, 'Remember 1950.' "
Bowa was five years old then, a switch-hitting red-necked kid growing up in Sacramento. That makes him almost 35 now, adding an element of urgency to this year's tournament.
"That's reality," Bowa said. "I've played 11 years. Average player plays three-point-five and doesn't even qualify for the pension.
"I don't think our regulars are over the hill. Regardless of what happens I'm sure there's gonna be some changes. If we didn't get in the Series, there would have been a whole lot of changes made.
"Now, maybe we can keep 'em to a minimum."
He weighs 158 and is as pale as chalk. He has survived the longest summer of his life, a season filled with bitterness, overflowing with rancor. He decided that silence meant never having to say you're sorry.
"I'VE BEEN mentally fatigued," Bowa admitted. "Little things. Like the drug thing. Like the deal with Dallas that wasn't as big as people made it out to be.
"Dallas, he's a lot like me. Says things one day and is sorry he said 'em the next.
"He even said that if he told people everything about Larry Bowa I'd never play another game here. I don't even know what he means by that.
"He says things when he's mad. I know the feeling. And now, I'm not saying we're the best of buddies, but I respect what Dallas has done here.
"I'd rather respect the manager than like him. Dallas has his own ideas, but they don't mess with our success. He has involved all 25 players, which didn't happen here before.
"He has blended the rookies in with the vets. And he's not afraid to use them. Hey, he sent Bob Walk out there to pitch the first game of a World Series.
"And the kid pitched a helluva game. "
The kid drifted into the game with Bowa's darts dangling from his earlobes.
The shortstop got to the ballpark at three and spent a lot of time needling the rookie.
"He was reading the papers," Bowa said. "I got on him. I didn't want him reading how everybody picked Kansas City to win in five or six games.
" HE SAID, 'I ain't reading no sports pages. '
" I think he's dumb like a fox. Everybody calls him 'Whirlybird' because he does things like go up to hit without his bat."
Last night, thanks to the designated-hitter rule, Walk didn't have to go up to hit, batless, hatless or spatless. And the rule, which Green detests, worked in the Phillies' favor all night.
So they won a game with a rookie pitcher going seven exciting innings and now people were whispering about the possibility of a sweep. None of the whisperers were wearing cleats, however.
"No one is gonna win four in a row," barked Bowa. "They've got too much thunder over there.
"I was impressed with their hitting. They came out smoking. In our ballpark, their doubles hitters turned into home run hitters.
"(Dennis) Leonard was tough. But Pete comes up with his own scouting report. He came back and said Leonard was sneaky. He said we were gonna get him . . . but he says that about everybody.
"I've never played in so many games in a row that meant something. So many close games. Why can't we have a laugher? Ah, if we had a 12-0 lead, we'd probably wind up 12-11."
BOWA IS GAUNT on his best days and as turbulent as the last act of an Italian opera. He ought to be bankrupt of energy, of emotion, by now.
"I didn't feel drained," he insisted. "You come out, see 67,000 in the stands, hey, this is the World Series.
"The fans were positive tonight. Even when we were down, 4-0. They're amazing.
"Even when they were getting on me. Then, I started getting some hits and I think they thought they'd be funny. It was like they're saying, 'Let's keep booing, so he'll get some more hits. '
"You could tell how they felt when we got back from Houston. The crowd at the airport. And again tonight.
" I just can't imagine what might happen if we're fortunate enough to win. "
Go ahead, Bowa, imagine. Imagine that the rope they were readying for your red neck will be used to hold back the crowd that comes to watch the parade.
In Philadelphia some things change, some things stay the same.
Bull 0-for-3, but DH Still a Success
By Bill Conlin
Hal McRae, the Royals' excellent designated hitter, told Greg Luzinski the key to the role is to keep busy.
"I talked to Hal before the game and he gave me some helpful hints," the Bull said last night after DHing in the Phillies' 7-6 victory over the Royals in Game 1 of the World Series. "He said to keep active, keep loose and at the same time to try to keep in touch with the game. He says when the game is on TV he likes to spend some time in the clubhouse to get a good look at how the pitcher is throwing."
So the Bull spent some time in Gus Hoefling's weight room riding the stationary bicycle. He spent some time watching Dennis Leonard and Renie Martin on TV. He spent some time in the clubhouse swinging a weighted bat. He spent some time on the bench cheering his mates and getting caught up in the flow.
All of that activity added up to an O-for-3 for the Bull. He took Leonard to the warning track in the second, struck out in the five-run third, was drilled by a Martin pitch to load the bases for Garry Maddox' sacrifice fly in the fifth and struck out in the seventh.
ALTHOUGH THE PATIENT died, the operation was a success.
Dallas Green, who hates the DH the way Ronald Reagan hates welfare cheats, will be the first to admit that the American League way of baseball, inserted into the World Series format even years, saved the Phillies last night.
The DH didn't get a hit, but the guy in the nine spot helped win the game.
Green had Bob Boone hitting behind Larry Bowa in the spot which normally would have been occupied by Bob Walk, an exuberant but basically inept hitter. All Boone did was go 3-for-4, driving in two runs with a pair of doubles.
Walk was down 4-0 when Larry Bowa, the guy most American league managers would have used in the nine spot, singled with one out in the third.
Under National League rules. Walk would have been the hitter with one out and a runner on base. Which means Green would have been forced to squander a pinch-hitter and go to a bullpen he was trying to beg, borrow or buy one more day of rest.
"Going to that bullpen would have hurt us that early in all probability," Dallas conceded. "But I probably would have done it if Walk was the hitter. He had good stuff and as we've seen him do in the past, once he got over that early hump, he gave us a good three-four innings. That's what we got out of him. But. yes. I probably would have hit for him. When we got the 5-4 lead all I had to do was let him go back out there."
DESPITE THE BALL he dropped in left Sunday night. Luzinski is a sure-handed leftfielder who has played the best defense of his career over the past six weeks. Green raised some eyebrows when he listed Bull as the DH and put Smith in left.
But the manager's reasoning was sound.
"I didn't want to use a defensive replacement in the middle of the lineup. It's not too shabby to have Greg Gross in left leading off and the Bull's bat still in the game. Besides, I've got confidence that Lonnie can do the job on defense and I think he played extremely well out there tonight. I did consider starting Del Unser out there briefly, because it would have given us another left-handed.bat. But their bullpen strength is from the right side and by starting Del, I'd be taking away from my bench later on in the game."
Smith went 2-for-4 and he helped keep Walk in the game with the best throw of his big league career.
The Royals had a 4-0 lead in the third after Willie Mays Aikens rainbowed a two-run homer to right-center. Walk's troubles were not over, though. Catcher Darrell Porter walked and Amos Otis legged out a hit on a chopper to Mike Schmidt. Clint Hurdle drilled a single to left. Porter, one of the few Kansas City starters who doesn't trail exhaust fumes, came around third at less than world-class speed.
SMITH CHARGED THE ball swiftly, fielded it cleanly and hit Bob Boone with a strike.
Porter eased into the third out standing up and Walk survived the four-hit inning to give the Phillies seven.
Would Green favor National League adoption of the DH, now that the Phillies have used it to score some runs and to give a precious night off to all the bullpenners but Tug McGraw?
"I feel the same way now about it as I did before the game." Green said. "I like baseball the way it was when I played it. And I wasn't much of a hitter, either."
Boone:  The Name of the Gamer
By Ray Didinger
Bob Boone missed the champagne party in Houston. He missed all the whooping and embracing, the guys crying and sagging in each other's arms like marathon dancers who can no longer hear the band.
Boone was alone in the trainer's room, watching his left foot inflate like a cheap inner tube. His ankle was changing colors like a mood ring. It started with a pale blue, turned a deep green, then black.
The trainers poked around to see if they could feel any broken bones. They decided he should go to the hospital for X-rays so, while Tug McGraw chugged champagne. Bob Boone hobbled out the back door to the nearest emergency ward.
Isn't that the way it always is for catchers? I mean, isn't that what Ray Boone told his son to expect the day the Phillies first strapped the shin guards on him back in 1970?
"ITS THE TOUGHEST position in this game... maybe any game," said Ray Boone, an All-Star infielder with the Cleveland Indians and Detroit Tigers in the 1950s. "Catchers are always taking a beating. There's no such thing as any easy game behind the plate.
"People don't realize how much pain a catcher has to endure. They see him take a foul tip on the shoulder. They don't realize that thing tightens up overnight and the next day, he has to try to throw somebody out. That really hurts.
"I knew Bob got hurt in the last Houston game," Ray Boone said. "I saw it when that guy (Denny Walling) slid into him at the plate. Bob kinda jerked his foot back and winced. His next up, he got a single and limped to first.
"We were watching on television and I said to my wife, 'Bob's hurt. I can tell by the way he's moving around.' I talked to him on the phone the next day. I asked him about it. He said, 'Oh, it's nothing. I got some X-rays but it's nothing.'
"That's the way he is. He's tough, he's not a complainer. I knew he'd start this game tonight. A little pain's not gonna keep him out of the World Series."
"YEAH, I KNEW Boonie would be ready to play." Manager Dallas Green said. "You would've had to shatter that ankle to get him out of there."
Bob Boone started for the Phillies in last night's World Series opener against Kansas City. He chilled his foot in an ice machine all afternoon, downed a fistful of aspirin et six o'clock, then taped the ankle so tight his toenails turned blue.
He slashed two doubles off Royal starter Dennis Leonard, driving in a run with each swing of the bat. He added a single in the eighth, scored a run on a hustling bit of baserunning and played another solid defensive game as the Phillies scuffled past the Royals, 7-6.
Later, Boone stood in the Phillies clubhouse, surrounded by newsmen, trying his best to minimize his injury. He referred to it merely as a "flesh wound" and indicated it was hardly worth talking about. He looked annoyed when someone asked if he took an injection to kill the pain.
"No," he replied curtly.
Boone has never been one to complain about the discomfort of his position. For a guy who was an All-American third baseman at Stanford, a guy who wound up behind the plate by executive decree, Boone has taken on the stoic, long-suffering catcher's personality quite well.
"I'M PRETTY FORTUNATE," Boone said. "I've always been able to play with pain fairly well. I played with torn knee ligaments most of the 77 season. I brought that portable Cryo-temp (ice) unit home and left it there. That's the only thing that got me through that summer.
"I've had other injuries. My knees. my hands, my feet. It comes with the territory back there. You get nicked so often, it gets to a point where you don't even notice the little hurts after awhile."
This, however, was more than a little hurt. Enos Cabell slid hard into Boone in the fifth inning of Sunday's National League Championship game at the Astrodome. Cabell's spikes ripped a long, jagged chunk out of Boone's left shoe but he held his ground and made the tag.
The very next inning, Denny Walling crashed into Boone's tender foot while scoring a run. That's when Boone did that painful spin that sent a shudder through his parents' living room in San Diego.
"It hurt quite a bit at the time." Boone said. "I really thought I had broken the thing. Enos kinda jumped into me with his spikes. I went to the dugout between innings and took the shoe off, and it (swelled up) right away. It looked like an egg.
"They iced it and taped it up, then I went out and Walling slid into it. I kept playing because... well, it could have been our last game of the season. It was no time to rest. Besides, I could catch and swing the bat. I just couldn't run very well.
"I TOLD DALLAS. 'Look, if I get on base and represent an important run, you might want to send in a pinch-runner for me.' He said he would but he never did. I guess I didn't look any slower than I normally do.
"After the game, I got X-rays taken. I was at the team party a few hours later and Dr. (Phillip) Marone came in. He said the hospital messed up the X-rays. He said they missed half my foot (with the photographs). But he said the half they got looked pretty good.
"Dr. Marone examined it again when we got back to Philadelphia," Boone said, "and he said everything appeared to be OK. He doesn't feel it's anything more than a bad bruise. Yeah, I've got some pain in it but it's no big deal.
"I don't deal in hearts-and-flowers stories," Boone said, shrugging. "It hurt tonight but I just blocked it out of my mind."
Bob Boone was blocking more than a sore foot out of his mind last night. He was blocking out the memory of a disappointing season, a season which saw his batting average plummet from .286 to .229, a season which saw him go oh-for-23 in late September and wind up on the bench.
But in the past two weeks, with the pressure tightening around the Phillies' necks like a starched collar, Bob Boone came back to life. He stroked the ninth-inning single that kept them alive in the division clincher in Montreal.
In Sunday's LCS final he delivered a two-run single off Nolan Ryan that provided the Phillies with an early lead. Then he helped bring them back from a four-run deficit last night.
SOMEONE ASKED Bob Boone if he saw this World Series as a chance to salvage something from a "weird season." "Weird" was, of course, a euphemism and Boone, being a Stanford man, recognized it immediately.
"It hasn't been a weird year," Boone said, correcting the interviewer. "It's been a bad year. It's been frustrating for me personally but I feel good because my stroke is finally starting to come around.
"The way I'm approaching it, that (regular) season is in the past. This is the new season and I want to do my part to help us win. I don't know if that has anything to do with what happened all summer. I could have hit .350 (regular season) and I'd still feel the same way now."
For a guy operating on bad wheels, Boone did a daring piece of baserunning in the third inning, scoring from third after Lonnie Smith was caught skidding around first. When George Brett and Frank White moved on Smith, Boone tossed away his crutches and hobbled home.
"I had a lot of room to work with," Boone explained. "(Shortstop U.L.) Washington had fallen diving for the ball and George was holding the ball and there wasn't anybody guarding the (third-base) bag. I didn't have to worry about getting caught.
"Just as I broke (for home) I saw George glance my way and I thought, 'Uh, oh, he's got me, but he didn't make a play on me. I wouldn't call it great baserunning on my part. It was more chance than anything."
SOMEONE ASKED BOONE how it felt to hit ninth in the order. With the designated hitter, he had inherited the bottom spot on Dallas Green's lineup card. Boone did his best to act indignant.
"I was really upset about it," Boone said, smiling. "I told Dallas it had better not happen again. It never happened to me before. Not even in the Little League. Heck, in the Little League, I was a star."
Bob Boone was a star last night, too. If you don't believe it, just ask his teammates.
"Bob played on sheer guts and instinct." said Keith Moreland, the back-up catcher. "You (media) guys don't know him like we (players) know him. We knew he'd be in there tonight.
"Bob is a gamer."
Whirlybird Cottons to Series Victory
By Michael Knight
The Phillies like to call Bob Walk "Whirly-bird." That's because, during his first few weeks in the major leagues, the 23-year-old's head was definitely up in the clouds.
A couple of times he forgot when it was his turn to hit. A couple other times he strolled up to the plate without a bat. Another time he walked from the clubhouse to the bullpen without his glove and didn't realize it until the game was half-over and pitching coach Herm Starrette suggested he warm up for his next start.
"I've done a few other dumb things." Walk admitted last night, "but some of it's kind of an act, just to give people something to write about."
Earlier this season lots of people wrote about how Steve Carlton plugs his ears up with cotton before taking to the mound. That sounds just wacko enough for Walk to try. "No." he' said "I just go out there with bear ears."
ALONG ABOUT the second or third inning last night. Walk probably wished he could call time out and dash into the clubhouse to snitch some cotton from Lefty's locker. Dallas Green said he had no qualms about sending Walk out to start the World Series opener, but 65,791 others at the Vet obviously did.
He walked Hal McRae in the first inning. He walked Darrell Porter to lead off the second and watched him score when Amos Otis followed with a home run to left. He walked Porter again in the third, after Willie Mays Aikens powerful 390-foot two-run homer to right-center.
All of which caused more commotion in the stands than the Mary Cunningham-Bill Agee relationship did at the Bendix Corp.
"I realize through September I wasn't exactly a control pitcher." Walk admitted after pitching seven innings – without another walk – to get credit for the Phillies' 7-6 victory over the Kansas City Royals. "Since I had that rough last month throwing strikes. I guess it's something I have to expect.
"I threw an 0-2 ball in the dirt and they booed. Not a boo, really, more like. "Oh, God. it's gonna happen again."
"It does (bother me) a little, especially once when it was 0-and-2 and I wasted a pitch and heard some boos. What do they want me to do?"
Throw strikes, obviously. Walk. 8-1 on Aug. 1 but 3-6 the rest of the season, was the first rookie to start Game 1 of a World Series since the Brooklyn Dodgers' Joe Black threw a six-hitter at the Yankees for a 4-2 win in 1952. Dallas Green was confident but was Bob Walk?
"THE FIRST COUPLE innings I was a little shaky," Walk conceded.  "Even though I had a long rest (last appearance a 4-2 win over the Cubs Oct. 2) I didn't have good velocity on my fastball.
"I changed my style after the first three innings. I tried to just throw hard, go right at them, and after I gave up a couple home runs I decided I'd have to change my plan. I turned my fastball over and started throwing sinkers. Some games one in five pitches will be sinkers, but after the third inning, I turned it over every ball I threw.
"I just wanted to go out and keep us in the ballgame. I didn't care too much about winning the ballgame myself. I just wanted to go out there and not walk anybody, just throw strikes and make them hit the ball.
"I didn't want to fall behind, especially tonight because I didn't have my usual fastball. I was lacking the good velocity. Sometimes you can pitch behind when you've got the good heater but you're courting he devil when you get behind."
He was also courting an early trip to the showers. After Porter's walk in the third, Otis beat out a grounder to Mike Schmidt and Clint Hurdle singled to left, with Lonnie Smith throwing Porter out at the plate. "He (Walk) was one man away from coming with me to the bench," Green explained.
AIKENS RIPPED another two-run homer to right-center in the eighth, which finally shattered the protective shield the designated hitter had provided Walk. What the box score doesn't show are the two Royal near-misses in the fifth. McRae led off with a shot which Bake McBride gloved at the right-field wall and George Brett followed with a blast high to the wall in right-center, caught at the apex of Secretary of Defense Garry Maddox' perfectly timed leap.
Walk walked toward center to slap hands with his centerfielder. "He saved my skin." Bob said.
"Those two balls were bad pitches. They were both high fastballs and they kind of brought me back in and say, 'Hey. start concentrating and get the ball down.'
"I hate to get hurt on mistakes. I don't mind if they hit a good ball out, but both those balls were definitely mistake pitches."
But the Phillies won, which means Green has managed to get away with starting rookies in Game 5 of the playoffs and Game 1 of the World Series.
"I was pleased that Bobby settled down like he has over the year," said the manager, who doesn't figure to start Walk again in this tournament. "He kept us in the ballgame."
And then Dallas Green provided one other bit of intelligence about his "Whirlybird."
"He's calling himself 'Boom-Boom' now."
Blessed Are the Phillies' Bats
By Larry McMullen
Until last night, my father, who is 75 years old. needed only one finger to count the total victories the Phillies had managed in World Series games during his lifetime.
Now he needs two fingers.
I need one.
I'm only 46.
Last night was the first time I ever saw a World Series game in person.
The World Series comes to Philadelphia only once every 30 years or so.
THE LAST TIME IT was around, in 1950, the only way I could have gone was to find a ticket.
The Phillies weren't due to win a game in that Series, anyway.
It takes 65 years, based on past performances, for the Phillies to get a victory in any one game of a World Series.
To outsiders who move here when they're old enough to have memories of other places, this record means next to nothing. To the rest of us, the record is a disease, like Tay-Sachs or sickle cell anemia, that afflicts only people who were born here or who came here as very small children.
Or it is like an original sin that exists only here and can never be forgiven.
NO PHILADELPHIAN EXPECTS to be cured or redeemed, which is why ever since the Phillies won the pennant Sunday night, even strangers passing on the street look at each other and say like they're not sure, "Finally, huh?"
When I was a kid, my father would tell me of seeing Red Grange run with a football at Franklin Field or when we'd be at Shibe Park, he'd point to the flagpole in center field and say he saw Jimmy Foxx of the old A's hit a ball over it He'd tell of seeing Babe Ruth clear the houses across the street from the right field fence. He'd even talk of seeing games at Baker Bowl.
But he could never say anything about seeing the Phillies win a World Series game. He missed the one chance he might have had, in 1915 at Baker Bowl, when he was 10 years old.
All he could ever say was that he was alive when it happened.
•
Even Philadelphians who haven't used up their whole lives following sports are affected.
My wife said the other day that it was enough for her that the Phillies finally won another pennant.
"I don't care if they don't win the World Series," she said, "as long as they don't embarrass us."
Last night, I could almost feel that notion in the quiver of the crowd when the Phillies fell behind the Kansas City Royals, first at 2-0 and then, 4-0, on two home runs that floated like silent death over the outfield fence.
In the second inning, with the Phillies already trailing, the crowd raised its voice, uncertainly but hopefully, when Greg Luzinski hit a fly ball to the outfield. The ball was caught easily for an out, and the noise was turned off as suddenly and as positively as turning off the switch of a radio.
More than 65,000 were at the Vet last night. They were among the Philadelphians who have a fear of being embarrassed.
•
When the game was over, Phillies' manager Dallas Green appeared in an interview room to answer questions from the press.
Someone asked how he felt about the Phillies having won their first World Series' game in 65 years.
"We're very proud to be the representative of the National League," he said.
I don't think Green understood the question, which had to do with cures and redemption and forgiveness of sin.
He's been around the Phillies long enough to know their history, but he wasn't born in Philadelphia.
KNOWING ABOUT A DISEASE isn't the same as having it.
And there is no guilt without recognition of sin.
No one on the Phillies' playing roster is from Philadelphia. The players were born in places like California and Florida and Texas and Puerto Rico and Illinois and Ohio.
Last night, they drove out the devils from Kansas City with their bats and acted like they might use up 300 years worth of Phillies' World Series victories before the 1980 competition is done.
The voice of the crowd near the end of the game, when a cure, when redemption seemed possible, was filled with the joy and the surprise of new life.
I don't think the Phillies have ever known what the voice of the crowd was saying, not when it cheered, not when it wailed and moaned.
In all of the team's history, its players, these outsiders, haven't been the sufferers.
All they've ever been is carriers.
•
Larry McMullen's column appears Mondays, Wednesdays and Thursdays.
Brett Ailing, But Plans to Play
By Scott Heimer and Phil Weiss
George Brett – the rock of the Royals, the slugger who rolled them right into the World Series – said he will play in the second game of the World Series tonight despite a serious case of hemmorhoids.
Brett, the Kansas City third baseman, was treated by a local proctologist for about half an hour at noon today. Upon returning to the Franklin Plaza Hotel, he dismissed the severity of the problem.
"I'm playing tonight. Why wouldn't I be playing?" Brett said as he walked off the elevator to his tenth floor room.
BRETT, CLAD IN a black velvet jacket and tight tan bell-bottoms, walked very stiffly and with his legs bowed. He grimaced as he moved through a crowd of autograph hunters, signing half a dozen pads.
Earlier today he told the United Press, "I certainly want to (play), but the pain is terrible."
The major league's leading hitter this year with a .390 average, Brett was visited by a doctor at the hotel at 4 a.m. and 8 a.m. this morning at the hotel, 16th and Race streets.
IN HIS TRIP to the local specialist this afternoon, Brett was accompanied by Royals' team trainer Mickey Cobb and team physician Paul Meyer.
"It's according to how George is feeling," Meyer said of Brett's prospects of playing tonight. "Right now he's fairly comfortable."
A travelling secretary with the team said, "The doctor evidently just told him to rest and it would be all right to play. Everybody thought it would be OK for him to play."
Cobb added, "It all depends on him, he'll decide with (manager) Jim Frey."
REACHED IN his room this morning, Frey had said the problem developed after the third and last game of last week's championship series with the New York Yankees, in which Brett crashed a three-run home run to win the game.
Last night Brett hit a double in four at-bats during the Royals' 7-6 loss to the Phillies and made an apparent mental error when he allowed a run to score during a third inning run-down.
Frey has attributed Brett's mistake to the fact that 65,000 screaming fans made it impossible for the third baseman to hear his teammates. Frey merely laughed when asked whether the hemorrhoids were troubling Brett during the play and added that the hemorrhoids did not affect Brett's play last night.
BRETT ALSO WAS one of the last players to leave the Vet because of the long time he spent on the trainer's table in the Royals' locker room.
One of the many newsmen who waited what seemed an unusually long time to speak to the amiable Brett following the game noticed that he seemed to be in pain as he put on his clothes.
"Are you hurting?" he asked Brett.
"No," Brett said.
IN THE BUSTLING lobby of the Franklin Plaza, word of Brett's ailment spread from one baseball man to another, creating surprise.
When a reporter suggested to legendary batting . instructor Harry "The Hat" Walker that Brett might not play tonight, Walker guffawed. "S---, he'd better have a hemorrhoid bigger than my fist," he said. "They'll find some way to stuff them back in."
Birthday Not a Party for Aikens
By Jay Greenberg
If only for psychological reasons, it might be better if the Royals were only batting tonight against a guy named Doyle. Or Buddy or Eddie or Eric or Harry. Even Elwin. But not a Lefty. Anything, said Clint Hurdle in mock horror, but a Lefty.
"I've never faced him," said the Royals' right-fielder. "But when you call a pitcher "Lefty' and everybody in both leagues knows who you're talking about, then the guy must be pretty good."
You don't book fights with someone named Sugar. You don't take money from someone named Abdul. And you don't go into Game 2 of. the World Series facing Steve Carlton down, 1-0, if you can help it.
Then again, you don't throw inside fastballs to someone named Willie Mays on his birthday either, but Bob Walk did that twice last night, gave up two home runs and still came away with a 7-6 Game 1 victory.
ACTUALLY, YOU don't even use Willie Aikens' middle name, unless you want him to take you downtown with his scowl. Mrs. Aikens lamed Willie after an uncle by that same name, but probably because it was World Series time, the doctor threw in the "Mays." When P.A. announcer Dan Baker used it last night, Aikens paused in annoyance.
They didn't introduce George Brett as Howard. They didn't introduce Clint Hurdle as Merrick. They didn't even introduce U.L. Washington as L. Then, on Aikens' first at-bat. mine plate umpire Harry Wendelstedt told Willie his back foot was about six inches beyond the back line of the batter's box.
Aikens claimed there was a hump where Harry said his foot was supposed to be but when Wendelstedt didn't do anything about it, Willie went into a three-minute pout. Anyway, satiated three hours later in having become the 23rd man in World Series history to hit two home runs in one game, Aikens had mellowed out by the time the media hordes left him with a half-eaten, cold hot dog.
"I wish we could have won." said Aikens. But how many guys have hit two home runs in one game, let alone in a World Series game? I'm very proud of what I did.
"The first one I hit good, but I kind of skied it. was surprised to see it go out. The second one I hit better, but a little bit off the end of the bat.
"BOTH WERE fastballs. I got an idea of how hey were going to pitch me the first time up, because the first two pitchers were inside fastballs. I figure that's what their scouting report aid. I haven't seen many of them this year. But if I have an idea it's coming, there's no way in the world they're going to get me out with inside fastballs. I'm a guess hitter, if he comes in with a breaking ball, he has a good chance to get me out.
"I especially wanted to win because this was my birthday. But I'm going to forget about that. We'll go out and have a couple of drinks and celebrate. It was my first World Series and it's my birthday. It's not that big a deal that we lost. We can still come back and win this thing."
It certainly would be more convenient, but not necessary, for the Royals to go home tied. 1-1. "All this means," said Jim Frey. their manager, "is that we can't win it in four straight." And even with a guy named Lefty going tonight, Hurdle figures Kansas City has a good chance. First, Larry Gura is going. Second, Hurdle says he knows he won't be playing.
So the Royals kept their good humor, if not their four-run lead. Dennis Leonard sat at his locker, explaining over and over again how he suspected even during his warm up that he might be on borrowed time. "All I had was a fastball," said Dennis. "I could nt get the curve over at all.
"I made a pitch on the (Bake McBride) home run, I wanted to get it in. but it came in over the plate. I made a bad pickoff after Trillo's infield hit and the guy got to second. Then a bad pitch to Boone, a slider over the plate he hit for a double. Then we made that bad play when Smith got caught off first. But a tough one for a guy running with his back away from home plate."
BOONE STOPPED at third on Smith's single, but Lonnie managed to get himself caught off first when George Brett cut off the throw. George took one look, then another, at Boone and ran toward second base. "It's better," said second baseman Frank White, "if he gets it to us right away, because we can see Boone and he can't, but those things happen."
By the time White took Brett's throw, Boone was closing in on the plate. "I couldn't hear." said George, the last of the Royals to emerge from the shower. "Sixty-five thousand fans yelling, I couldn't hear anything at all.
"Hell, we had a play like that in Anaheim this year and didn't get anybody. At least we got the one."
The other significant Royal botching of Game 1 came on the third out of their two-run third inning. Darrel Porter had followed Aikens' first homer with a walk, moved up on an infield single, and turned third on Hurdle's single to left.
Smith's throw was at the plate with Porter still 20 feet up the line. "I stumbled coming around third," said Porter. "I still didn't have my feet right when I was coming into the plate. That's most of the reason why I didn't slide."
Bob Boone, bracing for a collision, was so startled to see Porter come in waving a white flag that he might not have tagged the Royal catcher until his foot actually had hit the plate. Porter didn't argue but said the thought had crossed his mind he might have been safe.
IT WOULD HAVE been only the fifth run in a 4-0 game at that point, but half an inning later, the Royals were looking at a deficit. Porter said he was looking at breaking balls that weren't breaking all night, which would have something to do with the seven runs the Phillies scored.
"We'll pitch better," said the Royals catcher. "Renie (Martin, who relieved Leonard) didn't have his breaking ball either. It kind of limits your options."
So does Carlton's slider. White has only seen it on "This Week in Baseball," and through the Royal scout's eyes, but knows what the Royals have to do. "You have to lay off that low slider and swing at the fastball," said Frank, "and hope he gets up on the wrong side of bed. Do they have an advantage? Hell, six runs is an advantage. But they had seven."
Four runs for the Royal ace looked like advantage enough. Hurdle said overconfidence would not be the right word, but he did admit to smelling that "W" all the way out in right field. McBride's blast left an odor of "L." and being the first at the scene to watch the ball clear the wall, that initial whiff damn near knocked Clint down.
"Those 'Ls,' " he smiled. "They sure do stink."
Victory Was Just Phantastic
By Phillie Phanatic
For most of yesterday, it just didn't sink in. It just didn't seem like we were in the Series.
I came to the Vet expecting it to sink in. but except for all the reporters all over the place, it was just like any other game. It was almost like you could hear everybody go, "Ahhh, we're finally here."
All day long I was thinking, "Wow. Bob Walk's gotta be nervous." So. I walk into the clubhouse a couple hours before the game, and who's there but Bob watching TV with Lefty, first "Welcome Back Kotter." then "Wonder Woman." It was a real surprise to me, two hours before such a big game, that a rookie would be that relaxed. It was a big lift to me.
I was kind of upset before the game with all the restrictions they put on me – don't go near the band, only go on the field in the fifth inning. And then somebody told me that Jim Frey. the Royals manager, said he didn't want me to go near his players all through the Series. That just killed me.
NOW, I WAS PRETTY sure Jim Frey was a good guy. So before the game, I was standing in the chute behind home plate and he walked by. I was kind of upset and said. "Jim. you're killing me."
He said. "What's wrong, what's wrong?" And I told him I'd heard he didn't want me around his players. He said that wasn't true, that he didn't mind it before the game. He just didn't want me on the field during the game. Well, that was great – I don't do that anyway.
I can honestly say that was the highlight of my night. I was worried they were taking all my material away from me, and after I talked to him I felt so much better.
The Phanatic really doesn't get to see that much of the game because he's running around the stands. It's a way to keep me relaxed. Even when Amos Otis hit that first home run, it really didn't affect me. I was busy doing my job.
Then we had that big flurry in the third inning and the crowd just started going bananas. I was on my break then, watching on TV in the clubhouse, and I figured the Phanatic just had to get out there and be a part of it. Every section I went into, the people were great.
I just happened to go into one section and Gov. Thornburgh was there. I jumped all over him, even kissed him on the face. When things are going good in the game and the fans are happy, the Phanatic just adds to the atmosphere.
WHEN AIKENS HIT that home run in the eighth, I started feeling the pressure coming on. Dallas Green took out Bob Walk. and he came back into the clubhouse where I was. He did a great job, and I told him so. He said, "If i only could've kept 'em from hitting the ball out of the park."
I said, "You gotta be crazy, you pitched great," and he said, "As long as we win it"
Then Tug went into the game and I got this reassuring feeling. He's been through it all before, with the Amazing Mets in '69. You expect a guy like that to be a leader.
I've often thought that Tug would make a good Phanatic. He's just got the right kind of personality. He's energetic, outgoing, athletic – I don't know if he can dance – but I know he'd do well.
Anyway, when Tug came in, I think I realized for the first time that we could drop this thing if he didn't get six outs. But he'd been there before, and Kansas City hadn't, and Tug just mowed them down.
After we won, and the tans went wild, I realized these people were twice as loud as the people in Houston. I went out and danced on the field, and after that I think it really hit me. I thought, "Man, we won. we won. Lefty's pitching in Game 2, and we're ready to go."
•
Phillie Phanatic has joined the Daily News for the World Series. Follow his column every day.
30 years of prayers
By Maria Gallagher
"Thirty years," muttered every third ticketholder who passed through the turnstiles at Broad and Pattison last night. It sounded like the rosary.
It had been so long, we were almost afraid we'd never know what World Series magic looked like, sounded like or felt like. But when it arrived, we recognized it immediately.
It shined in the sleepy eyes of tots beneath Phillies caps two sizes too big for them. It glowed in the eager eyes of businessmen who'd parted with heavy cash for box seats, season after season, waiting. It burned in the ardent eyes of the 700-level dwellers, who had kept an all-night vigil outside the ticket windows after the playoff clincher for the privilege of buying the worst seats in the house.
LET US HARVEST every sensation from this extraordinary evening, and store them all in the sacred place that holds our fondest baseball memories:
Will the echo of "Tug! Tug! Tug!" come roaring back, in some future year, if we press that souvenir Phillies batting helmet to one ear? And will we remember how our palms hurt the next day?
Will we feel bad for booing Lee Elia during the introductions?
Can we forgive the bitter guy who showed up in a " We Owe You 30" T- shirt?
Will we recall the snippet of moon in the flawless sky, the mid-'40s nip in the air, and the 65,000 smiles that, laid end to end, formed a fitting frame for the Phillies first World Series win since 1915?
AH, THOSE WHO were there will remember it as a wee bit crazy and a whole lot wonderful. The scoreboard said it all: 1980 Phillies. Changing Philadelphia Baseball History.
Fans snapped up every pennant and program in the house - everything that had National League Champions written on it.
"We sold 38,000 programs," said Phillies advertising director Tom Hudson.
The previous record for World Series program sales was 17,000.
Out in the parking lot, a few nasty but enterprising merchants peddled " KC S- - -s" regalia.
All around the town, cabbies caught the spirit by flying red and white Phillies pennants from their aerials.
Hoagie City at 13th and Walnut streets turned itself into a mini- shrine to the home team.
"I was supposed to work tonight," a straphanger on the Phillies Express told his companion, " but I said hell, no. It might be another 30 years before we get another game like this.
FRANK McGINNISS, a Fishtown construction worker, came dressed as Santa Claus. Few persons followed the tradition of booing that jolly harbinger of the Gimbels Thanksgiving Day Parade.
"I'm getting lots of kisses," he leered through his snowy beard, " and a lot of girls want to sit in my lap. "
Mike Keller of East Lansdowne customized his Phillies hat by attaching stubs from playoff games he attended in 1976, '77, '78 and '80.
The most prominent banner in the stadium, in straightaway center field, bore the hand-lettered message, " Venezuela Con Trillo. " Behind it, 10 Venezuelans hollered bilingual support for the Phillies in general and in particular for Trillo, who hails from Caritito, Venezuela.
JUAN ARAUJO, a sophomore electronics major at Spring Garden College, said his friends flew up to catch the last Phils-Astros playoff game on television and then moved lock, stock and sleeping bag over to the Vet for the all-night ticket campout. They looked as happy about the score as the kids in the Bishop Neumann jackets passing a joint in front of hem.
Among those who dared to wear Royals-blue batting helmets was pro golfer Tom Watson, whose beatific smile wore off after several innings of being pestered by autograph seekers and quote-mongers.
"I don't want to talk to you now. Bye-bye," he said, waving off a reporter.
He might also have been sulking about being stuck with the plain folks in the 700 level.
Shortly after 10 p.m., Granny Squad cop Andy Kalmar was in the stadium security office, smoking nervously. He'd just been robbed of $12 in grimy, marked bills by two young punks who slapped him up against a wall and rifled the pockets of his baggy pants. Three backup officers immediately pounced on the perpetrators.
"That's the 42nd time I've been robbed this year," said the bearded Kalmar, who wears a bullet-proof vest under several layers of tattered clothing. One layer is a shapeless black coat with a slash in the front.
"Razor cut. From another job," he explained.
Kalmar - like most police decoys - usually works in Center City. Last night, he was one of three stakeout officers roaming the Vet for the first time. Not all the thieves who rampaged through the Super Sunday throngs were caught; police wanted to avert a similar situation at the Vet.
"I've got 300 pairs of glasses, 200 unclaimed wallets discarded by pickpockets and nearly 500 sets of keys," said security guard Leo Pease, who collected all those trophies at the Vet's lost and found office during the season. "I had a guy once who lost his upper bridge."
Pease said usable items that remain at the season's end are given to charities.
When it was all over but the clean- up, a few fans lingered, paralyzed by either beer or victory. One denim-clad daydreamer cradled a split of champagne in one arm, and a pretty lady in the other. Around them, scavengers  scoured the stands for souvenir stubs - and memories.
Team Mates:  Wives Share Phillies' Joy
By Carol Towarnicky
IF IT WERE ONE of those paperback romances with the out-of-focus pictures on the cover, the story of Bonnie Loughran of Germantown would have almost all the elements.
It's the story of the cute "hot pants girl" at Veterans Stadium, who meets her true love in the Phillies dugout. They marry. Then, exile. "On our honeymoon, we were traded," she remembers. Two years in Milwaukee, a year in Cincinnati. Then, the terror of every baseball player: the minors.
Indianapolis, Toledo, Reading, Oklahoma City.
But last night, Bonnie Loughran Vukovich was sitting in the section behind the Phillies dugout set aside for family at the first World Series she and her husband John and the Vet have ever seen – and the first in her slightly giddy hometown in 30 years.
"I was so thrilled to be coming back here," said Mrs. Vukovich. "This is my city. But I'm going to miss my 10th reunion at Cardinal Dougherty High School Friday night. I'll be in Kansas City." She did not look too dismayed at the prospect.
Now, if this were a fairy tale romance, John Vukovich would be the star of the team, batting .300 and winning a Golden Glove. But Vukovich is considered the "last man" on the Phillies roster, the only non-pitcher not used in the pennant clincher in Houston Sunday.
But that didn't seem to matter much to Bonnie Vukovich last night. After all, the baseball season in Milwaukee is history by Labor Day.
•
This is the first World Series for 1980 major league home run king Mike Schmidt, too, and the Phillies third baseman is caught up in the emotion of it, according to his wife.
"I guess it's because this year the team is so much closer," said the former Donna Wightman of Germantown-Mt. Airy. "He's just so excited. He's happy for the kids on the team. It's just the biggest thrill in his life."
Donna Schmidt was one of several Phillies wives who defied Manager Dallas Green's request that wives not accompany their husband's to the do-or-die playoff games in Houston.
"It's the most important thing in our lives right now, and I wanted to share it with him." She doesn't go to as many games as she used to, because it upsets the schedules of her two children, Jessica, who is almost two, and Jonathan, born in July.
But the Houston series was a chance to renew closeness with the other Phillies' wives whom Mrs. Schmidt has known for years. But for a while in Houston, it looked as if the bad old days were coming back again.
The story of the wives at the Houston series, as told by Mrs. Schmidt, Jean Luzinski, Sue Boone and Sheena Bowa, is probably the best description possible of what it means to be an athlete's wife.
"Some of the girls were literally sick," said Sheena Bowa, wife of the Phillies' shortstop. "They actually threw up."
"A lot of them were emotionally upset," said Sue Boone, wife of the Phillies catcher. "And some of them are superstitious. So, on Saturday night (when the Phillies were behind 2-0 in the eighth inning), some of us left the game."
The women went quickly back to the hotel, said Jean Luzinski, wife of the Phillies leftfielder, so they could see the game's end on television. The Phillies' luck changed and they won.
But during the last game of the Houston playoffs, when the Phillies dropped behind to the Astrns 5-2 in the bottom of the 7th inning, it just became too much for Mrs. Schmidt and Mrs. Luzinski.
"We got up and we walked," Mrs. Schmidt remembered. "We could see- the game and could see the scoreboard. It was the only way to keep ourselves calm. Celeste McBride (wife of the Phillies rightfielder) joined us for awhile. We just walked."
And then, in the 10th inning, when the Phillies went ahead 8-7, and the pennant was only three outs away, the Phillies wives stood and screamed and held hands until it was all over.
"Afterwards Larry was crying," said Sheena Bowa. "and we were all crying, we were just so happy."
•
It was a big day yesterday for Maria Elena Triilo and her husband Manny, the Phillies second baseman and the Most Valuable Player of the League Championship Series.
They got a call from the Venezuelan President Luis Herrera Campins, said the beautiful Mrs. Triilo. Only Manny and Cincinnati Reds shortstop Dave Concepcion represent Venezuela in the big leagues. That's why Manny feels he should play winter ball, said Mrs. Triilo – for the people in Venezuela.
Mrs. Triilo hasn't missed a game this season, but the couple's five-year-old daughter Aloha stayed at home in Vincentown, N.J., last night.
"She doesn't like baseball. Every time I bring her, she doesn't know what's going on and she is eating and eating..."
•
Sondra Maddox, wife of Garry, the Phillies centerfielder whose 10th-inning double in Houston won the pennant, wasn't too happy with Dallas Green's request that the wives stay home, but she did.
She watched the pennant clinching games with her sons Garry Lee, 4, and Derrick, 5.
But last night, flanked by Garry's parents Arthur and Mary Frances, in from California, and a family friend, Sister Mary Carmelita, Mrs. Maddox described herself as "elated and nervous."
"The fans have been wonderful," she said. "Everybody's reacting so well. There were cars coming alongside the buses on the way from the airport (Monday) and honking. It was just great.
"When we came home to Philadelphia, our neighbors had strung a banner across the street," she said. "We found wine in our mailbox. Someone sent Garry roses."
The Frail-Safe Side of the Phils' Homecoming
By Jack McKinney
THIS WAS GOING TO be a negative essay on the frailty of human nature.
The notion seized me after I caught the bulldog edition of yesterday's Inquirer, with its front-page story on how most of the Phillies stiffed the estimated 4,000 fans who had waited in the chilling winds to greet them at International Airport.
"Hail, the conquering (aloof) heroes," the 48-point headline scolded.
I was so offended, I immediately repaired to the Pen & Pencil Club to consult with police reporter Jack McGuire over a two-cents plain on the rocks. McGuire had seen the early edition, too, and he was so upset by it that he just had to have a beer, instead Of his usual Perrier.
"Those multiplying misbegottens," he said, or words to that effect. "I don't care how bad their hangovers were. They owed it to their fans to at least take a bow. Nobody could have had a worse hangover than Tug McGraw, but the Trigger was there."
So were playoff MVP Manny Trillo, Pete Rose, Bob Boone, Del Unser, Dick Ruthven and Warren Brusstar, along with manager Dallas Green and club president Ruly Carpenter.
But according to the Inky, as well as subsequent accounts in this newspaper, the other 18 Phillies on the active roster had ignored their waiting fans and split for the chartered buses waiting to whisk them to their scheduled workout at the Vet.
No class, McGuire and I agreed, which is something we rarely do.
•
The two of us got to reminiscing about the good old days, when the Phillies were losers but did it with class. I recalled my first wait outside the clubhouse gate of what was then known as Shibe Park. I was a wide-eyed new member of the Phillies "Knothole Gang" and still in short pants, literally.
The Phils were owned by someone named Gerry Nugent and managed by someone named Doc Prothro. They had just buried themselves a game deeper in the cellar, and the big guy we were all waiting for was locked in a horrendous slump.
But when he came out, he signed every program that was shoved at him, and he actually asked one dumb kid what it would take to break out of his slump.
"Why don't you try batting right- handed?" the dumb kid suggested, in all sincerity.
The big guy laughed and said, "I think it's too late to switch now."
The big guy was Chuck Klein, posthumously inducted this year into the Hall of Fame. The dumb kid was me.
Sadly, I noted how things have changed in this day of inflated salaries and swollen egos.
"One thing hasn't changed that much," said McGuire, hoisting his bottle as he moved in for the kill.
"You're still pretty dumb."
Touche'. But not dumb enough to write a negative essay on the frailty of human nature without checking the other side.
•
Executive vice president Bill Giles seemed like an ideal expositor for the other side, becaise Giles is nothing if not public relations hip. If Giles were unavailable, I figured I'd aim a little lower and ask for publicity director Larry Shenk.
Sure enough, Giles was unavailable. But before I could ask for Shenk, I discovered the Phils apparently believe in passing the buck to the top.
Ruly Carpenter himself got on the phone, immediately giving me second thoughts about that no-class judgment McGuire and I had passed.
Carpenter seemed genuinely concerned that the quick rotation play to the buses by the majority of the returning Phillies had been interpreted as a snub.
"The players had nothing to do with it," the club president explained. "We chose the players to acknowledge the welcome, and we decided on people who were instrumental in the outcome of the game. Like Trillo, Rose, Unser, people like that.
"We knew we couldn't have all 25 players up there, but we thought it would be appropriate to have the key people from the pennant-winning game."
In that case, the only hero missing was Garry Maddox, who had knocked in the winning run against the Astros and gloved the final out.
But according to people close to the Phillies, Maddox – whom Sparky Anderson correctly described last night as the best centerfielder in the majors – is an extraordinarily shy and sensitive man who would rather go up against Nolan Ryan without his batting helmet than face a crowd of 4,000 adulators.
If such reticence is accepted in the case of premier pitcher Steve Carlton, baseball's premier centerfielder should also be entitled.
On reflection, then, I don't think the Phillies blew the big scene at the airport, even though Ruly Carpenter hinted at a twinge of self-doubt when he added:
"You have to remember, this was a new experience for us, too. The other two times we came back after the last game of the playoffs (from Cincinnati in 1976 and from LJV. in 1978), we came back as losers."
So for the price of a phone call, I've saved myself the embarrassment of a negative essay on the human natures of a bunch of guys who seem intent on coming back the next time for the biggest motorcade in this town's history.
All 25 of them.
Series Even Touches Vermeil – a Little
By Bud Shaw
Nobody wanted to ask Dick Vermeil much of anything. The only question concerning Dallas was how long he'd stay with Bob Walk last night.
Once a week people get a chance to have their questions answered by Dick Vermeil in this paper, and only one was begging for attention yesterday.
Who do the Eagles play this week, anyway?
Dick Vermeil may have been one of the few people who knew the answer. This is the week of the Dallas game. This is the week that McFadden and Whitehead are supposed to be clearing their throats for another chorus of "Ain't No Stopping Us Now." This is the week that people are supposed to scream until the brim on Tom Landry's hat wilts.
The thing is, this also happens to be World Series week. It's following a similar week when the Phillies shook King Kong off their backs in the National League playoffs. No one, it seems, can get too excited about the prospects of Ron Jaworski shaking Too Tall Jones off his.
"I LIVE IN my own little world up here," Dick Vermeil was saying yesterday in his office. "Even as an organization, we, live in. our own little world six months out of the year.
"But this World Series is the most important thing right now. Maybe, when Sunday rolls around, the Eagles and the Cowboys will be the most important thing."
Just so you don't get worried about Vermeil's commitment, he wasn't talking about himself. He still considers the Dallas Cowboys the most important matter of business right now.
You get the idea that if it hadn't . been for the Phillies, Vermeil would have figured the World Series had something to do with a series of meetings between Iran and Iraq. Even then, it's difficult to get too concerned with four-letter word nations when you're watching Danny White negotiate with Drew Pearson.
Vermeil's world unravels inside four walls at Veterans Stadium, and he was expecting them to be quivering at their foundation last night. His office is somewhere around a 40-yard dash away from the Vet Stadium press box, but he might as well be sitting in Houston.
"There are some nights when you can hear the really loud cheers from in here," he explained. "I know it's for us and sometimes I even take a 10-minute break to go out and see what's happening. You know, you look at a film projector for 5½ hours and you can go goofy.
"BUT I DONT expect to go out there during the World Series. You know, for six months I don't know what's going on anywhere. I live in a very narrow world. I can't see taking time away because I expect my players to concentrate as much as the coaches do.
"We're not going to change our routine because of the World Series. I just hope they 'don't tow our cars away from the parking lot. That's happened before and it really ticks me off. They better not tow mine."
Vermeil's car will be parked there again tonight The walls inside his office will quiver some more. The thing is, Vermeil never realized that on some nights those loud roars were -the sound of the Phillies grumbling at Dallas Green.
No one knows what Green's status will be when this season ends, but Vermeil figures the guy could make a helluva football coach. And that was before he heard about Dallas bleeping his way from Pittsburgh to Chicago a few months back.
"I believe in Dallas Green's approach," Vermeil says. "No matter how gifted an athlete is, he still needs discipline. I just hope those players appreciate what Dallas has given them.
"I got home from Sunday's game, sipped on a glass of wine and watched the Phillies really compete. It was great," Vermeil continued. "I heard the guy on television say that some of the Phillies were mad at Dallas. Heck, maybe he ought to make them mad more often. They won the pennant.
"I'VE BEEN OUT with him socially a few times, and I'll tell you, he's my kind of guy. I really like the Dallas Green type of personality.
"You know, most people are the same. They like to be evaluated as long as it's positive. They like it as long as you don't tell the truth when it's negative.
"Things like that don't change much from sport to sport. When you have say, 45 guys on a team, not everybody's gonna like the things you say. But if you have a nucleus of people who understand, the others rally around them."
There will be several thousand people rallying around the Phillies again tonight. The only break Vermeil expects to take will be to check on his car in the Veterans Stadium parking lot. And if anyone out there wants to ask the coach a question about Dallas, Vermeil probably won't know whether Steve Carlton's still pitching or not.'
BIRD SEED: The Cowboys are 5-1, but have one less division loss than the Eagles. "It looks like we're tied, but we're really not," says Dick Vermeil... Danny White threw four touchdown passes against the 49ers last week in a 59-14 win... Wilbert Montgomery (groin strain and hip pointer) is expected to be ready to play after missing Sunday's game with the Giants.
Phils' Fate Is Crystal Clear
By Scott Heimer
We've all seen what the Phillies can do with a baseball, but how do they make out when you look into the crystal ball?
Jeane Dixon, America's most publicized psychic, took a look yesterday at a press conference in the Warwick Hotel put on by Bell of Pennsylvania to plug its new DIAL-IT service.
Looking far beyond the Vet's left field seats, she predicted our guys are going to "clobber" the Royals.
"I'm picking up heavy positive vibrations on the Phillies. I hope it's not just because I'm here," she smiled, adding the vibrations told her the Phillies would take it in six.
But, she stressed, that was only a prediction – as opposed to a prophecy which, she said, "is the will of God." A prophecy was her vision that "the young President" (John F. Kennedy) would be assassinated, a prophecy she said was made in 1952 and "documented" in 1956.
WCAU RADIO SPORTS talk show host Mickey Charles, also on hand to plug DIAL-IT, said Dixon had told him a week ago the Yankees would lose in the playoffs and the Phillies would win "a close game."
But he disagreed with her World Series vision, saying: "I rally don't think they'll win, but that doesn't count a hill of beans."
Dixon, meanwhile, ran down her track record, citing past predictions that the Detroit Tigers would win the 1968 World Series from the St. Louis Cardinals and the Pittsburgh Steelers would win a crucial game from the Cincinnati Bengals.
Guesting before an "all-male" audience at Eastman Kodak in Rochester, N.Y., she predicted the Tigers – then down 3-1 – would win, but only after finding out who was playing.
"I WAS IN Cardinal territory, too. But I got a positive wave. I said, "Detroit Tigers.' I was never booed so badly," she said.
As for football, she said she appeared before a Kiwanis Club meeting in the Midwest and predicted the Steelers would beat the Bengals.
"They booed me and they lost," she said. Yesterday's audience, mostly Bell of Pennsylvania officials, applauded.
And the Presidential sweepstakes? "I haven't figured that one out yet, but I'm picking up the thoughts of Ronald Reagan. (Many years ago) I urged him to run for governor, that it would be a stepping stone to the White House."
After a long analysis of what the country needs and what kind of man she thinks Reagan is, Dixon then apparently figured the election out.
"I'm predicting Ronald Reagan will win the Presidential election... (and) the second of November will be a big shift of votes from one candidate to another, but I do not know which one."
Bremen Puts Hoax On Series Opener
By Ray Didinger
If you were paying close attention to last night's pre-game ceremonies, you might have noticed something peculiar in the vicinity of home plate.
There were seven umpires out there reviewing the Veterans Stadium ground rules and awaiting the first pitch of this World Series. Seven umpires is one more than Bowie Kuhn assigns to these post-season games.
So what was going on?  Let's see, there were three umpires from the National League and three from the American League. Where did the seventh one come from? Would you believe an insurance office in Southfield. Mich.?
Last night's mystery umpire was none other than Barry Bremen, the 33-year-old sports impostor who has gained national attention by sneaking into everything from layup drills at the NBA All-Star game to dance routines by the Dallas Cowboy Cheerleaders.
BREMEN HAS been crashing major sports events for the past three years but he figures pulling off last night's elaborate masquerade was his greatest coup yet.
"Are you kidding me?" Bremen said later. "Getting out to home plate at a World Series game, then getting (away) without being spotted? That's like "Mission Impossible." I still can't believe I did it.
"This was always my fantasy... getting into a World Series game. I was a little apprehensive about it because, let's face it, the World Series is a big event. Everybody involved is uptight. The mood is understandably tense.
"The other things I've done have been at All-Star games and practice rounds at the US. Open. They have been ideal situations for me in that there's not a lot of pressure, the guys are loose and more inclined to go along with a joke.
"The World Series," Bremen said, "is serious business."
How did Barry Bremen pull off his latest caper? Well, like most guys who deal in undercover work, he is reluctant to disclose details. He figures if he gives away too many trade secrets, the establishment is gonna catch on to him.
This much is known about the Bremen Affair, also referred to as The Umpire Strikes Back:
He borrowed his uniform from an American League umpire. ("I can't say who... I wouldn't want him to lose tenure.") He bought new numbers for the jacket sleeves but they weren't the right size. ("Three inches... they're supposed to be three and one-half.")
HE DRESSED IN full uniform at his hotel and arrived at the Vet wearing a topcoat over his umpire's blazer. He kept his cap folded in his pocket. He somehow obtained a media credential and slipped onto the field before the game and blended in with the hundreds of newsmen around the batting cage.
As the game approached, Bremen went up the tunnel behind home plate, peeled off his topcoat, pulled on his cap and... presto, he was a World Series umpire. He walked back onto the field and joined the other umps in their pre-game huddle at the plate.
"I carry these with me," Bremen said, pulling a stack of impostor photos from his pocket, "as a way of introducing myself to people. I was gonna show them to the umpires tonight, just so they wouldn't be startled when they saw me appear out of nowhere.
"As it turned out, I didn't need these. The one umpire (Dutch Ren-nert) recognized me right away. He said, 'Hey, I know you. You're the sports impostor. You're the one who did the bit with the Dallas Cowboy Cheerleaders.' He started to laugh. He knew what I was up to.
"One of the other umpires – I'm not sure which one – heard us talking. He didn't know what was going on. This (Rennert) leaned over and explained who I was and what I was doing. The guy looked amazed.
"I heard him say, 'How does he do it?" The other umpire said, 'Who knows how he does it... he just does it.' It was great. You would've thought they were talking about the Lone Ranger. Here they were just talking about me."
A FEW OF THE Kansas City Royals were aware of Bremen's presence, mostly because George Brett tipped them off. Bremen got to know Brett back in 1979 when he – what else? – crashed the All-Star game in Seattle.
Bremen was in a New York Yankee uniform that day so he spent his time working out with the American League squad. Brett was so amused by Bremen's chutzpah, he helped sneak the insurance man through the stadium security.
"I didn't want to bother George today," Bremen said. "Hey, this is the biggest game of his life. He had enough on his mind. But he recognized me as soon as he saw me at home plate. He nodded at me and smiled.
"George tapped Frank White on the shoulder and said something to him. I saw White look over and smile. Then White told the guy next to him and they just passed it down the line. Pretty soon, they (the Royals) were all laughing.
"I got right in line when they played the national anthem," Bremen said. "When that was over, the umpire leaned over to me and said, 'OK, you'd better get out of here now." I said, 'Yeah, you're right,' and I took off."
Barry Bremen walked nonchalantly off the field, out the tunnel and past the guards without being stopped. Hardly anyone in the capacity crowd noticed him, and that, Bremen says, is the whole idea.
"The key is to be inconspicuous," he said. "You have to blend in. The moment you call attention to yourself, you're done... the kick is to be right there, in the middle of everything, but not have anybody notice."
BREMEN GOT started in this bizarre hobby on a dare from a friend in 1978. They were playing basketball in the driveway one day and Bremen said he could get on the court at the NBA All-Star game and make a layup. His friend said he couldn't. They made a bet.
Bremen scrounged together a Kansas City Kings warm-up suit, bought new sneakers and jumped into the end of the line as the West squad came out of its locker room. He was on the court and through three sets of layups (two of which he made) before anyone noticed he did not look like one of the Van Arsdales.
Bremen later crashed two baseball All-Star games, and a Pro Bowl. For the latter, he borrowed an old Pro Bowl jersey worn by ex-Detroit Lion Lem Barney. Bremen was on the sideline midway through the first quarter before an NFC waterboy picked him out.
He almost made it onto the ice as linesman at the last NHL All-Star Game. However, he was delayed coming down the ramp and a guard stopped him. "Bad break." Bremen said. "I broke the shoelaces on both skates. It held me up."
For pure nerve, however, Bremen will have to go some to top his one day fling as a Dallas cheerleader. He dressed up in the full costume – hot pants, halter top and boots – and jumped right in the middle of a neatly choreographed dance routine.
THE GUARDS didn't have much trouble picking him out that day and he was asked, rather brusquely, to leave. The Cowboys, who tend to take themselves too seriously, threatened to sue Bremen for tarnishing their image and damaging the mystique of their cheerleaders.
There was even talk of a legal action which would bar Bremen am any member of his family from ever attending a Dallas Cowboy game. That threat died out but, to this day the very mention of Bremen's name brings steam rising from under Tex Schramm's stetson.
"Aw, the Cowboys just don't have any sense of humor," Bremen said.
What were the Great Impostor-impressions of Philadelphia?
"I like it," he said. "I really like the stadium, it's real easy to get on and off the field."
Hmmm. Sounds like we might be seeing more of Barry Bremen in the near-future. Next time the Eagles host a playoff game here, be sure to count the officials.
Safety in Numbers at Third
NEW YORK – Good news for Mike Schmidt and George Brett. No matter how the World Series comes out, third basemen live longer.
Metropolitan Life Insurance Co. statisticians said yesterday a new study shows that the guardians of baseball's hot corner tend to have a mortality rate 12 percent lower than their teammates, and 45 percent lower than the general male population.
•
St. Louis Cardinals General Manager Whitey Herzog said today he will decide on a new manager for the team within two or three days.
Herzog. here to attend the World Series, said he will wail to make the announcement at the end of the Series.
Herzog has been searching for a manager since he was promoted to the general manager's job in August. Former Manager Red Schoendienst took over the club for the rest of the season on an interim basis.
Herzog said he had considered doing both jobs but had all but ruled it out.
"I've thought about it," he said, "but I don't think I will."
Herzog, who attended the American League playoffs last week, said he had been talking with the San Diego Padres and New York Mets – along with several other teams – about possible trades for a relief pitcher.
•
Science at work:
Jeane Dixon picks the Phils in four or five.
"I get very strong vibes," she said, "and they all point to the Phillies. It's not just because I am in Philadelphia. I have other vibes pointing to Kansas City, but they are a few years' ahead 1983, 1984 and 1985. That's when they should realize their pot of gold."
•
KANSAS CITY. Mo. – The kids at Kansas City's Southeast Elementary School voted yesterday to rename their school George Brett Elementary School for the duration of the Series.
Pro-Royals banners decked the halls, and most of the students wore buttons or carried signs. All except one fourth-grader, who carried a Phillies sign.
"The other kids made fun of him, but he said he's a Phillies fan, so we let him keep it," said Principal Les Shert.
•
NEW YORK – The Phils are a hit with the networks.
ABC announced that their telecast of Sunday night's pennant-clinching game at Houston was the highest-rated baseball playoff game in history and the highest-rated telecast of the week.
For numbers freaks, the game scored a 27.8 fating (percent watching of all sets) and a 44 share (percent watching of sets in use). ABC estimated that 60 million people saw all or part of the game.