Wilmington Morning News - October 15, 1980
Game 1: Phils explode, then hang on
By Rod Beaton, Staff Correspondent
PHILADELPHIA – The Phillies scored runs in bunches last night in Game One of the World Series at Veterans Stadium. Their 11-hit attack and clutch relief from, who else, Tug McGraw was enough to overcome three Kansas City home runs for a 7-6 victory.
The Phillies' erupted for five runs in the third inning, keyed by Bake McBride's three-run home run. They tacked on a single run in the third, knocking out starter Dennis Leonard and another in the fourth against Renie Martin of Dover. They needed each and every one of them.
Starter and winner Bob Walk, a right-hander was the first rookie to open a World Series in 28 years. It might take 28 for another. He gave up two, two-run homers to Willie Mays Aikens and one to Amos Otis before McGraw stalked in for the save.
The Phillies will try to earn a two-games-to-none advantage tonight at 8:30. Steve Carlton, 24-9, will pitch for the Phils against Royals left-hander Larry Gura, 18-10.
The third and fourth games, and fifth game if needed, will be played in Kansas City, with Game Three scheduled for Friday night.
The Phils had to rally from four runs down to take the lead for keeps in the third. Otis hit his homer in the second and Aikens hit his first in the third.
Bob Boone doubled in Larry Bowa in the third and then scored when Lonnie Smith was caught in a rundown after his single. Pete Rose was hit by a pitch and Mike Schmidt drew a walk before McBride's blast.
Boone drove in another run with a fourth-inning double.
Martin, formerly a pitcher with Parkway of the Delaware Semi-Pro League was touched for a run when he yielded a bases-loaded sacrifice fly to Garry Maddox.
Aikens put a scare in the Phillies and 65,791 fans with his second homer, but McGraw pitched out of the eighth and allowed nary a baserunner in the ninth.
McGraw was appearing in his sixth straight post-season game. And the Phillies, with his ace relief, won their first World Series game since 1915.
Phillies take Series opener 7-6
By Ray Finocchiaro, Staff Correspondent
PHILADELPHIA – And three to go!
If the Phillies gave anybody the impression that they were content merely to get into the World Series – and that's the impression many conveyed – last night's 7-6 victory over the Kansas City Royals should have convinced a few skeptics they might as well win it as long as they were here.
Even if it HAS been 65 years between World Series victories.
"We don't like to lose," said Phils' Manager Dallas Green, "and we' don't plan to lose, regardless of what happens. Winning was something special in front of the home fans. We like giving 'em what they came to the park for – a win."
Bake McBride's three-run homer capped a five-run third-inning eruption against loser Dennis Leonard and helped offset three two-run homers, two by birthday-boy Willie Mays Aikens, off winner Bob Walk.
The Phils will try for a sweep of their Vet set tonight at 8:30 when Steve Carlton pitches against KC left-hander Larry Gura before the Series switches to Kansas City for the next three games.
"Bake's homer really did it for me," said Green. "He's been a clutch guy, an RBI guy, all year. I don't know where we'd be without him. He's given us everything we needed in 1980 and again in the World Series."
KC Manager Jim Frey wasn't about to run up the white flag, down 1-0.
"All this means is we can't sweep 'em," said Frey. "Now we'll have to go to a fifth game back home."
McBride took extra batting practice yesterday to correct a problem of overstriding. The extra session paid off with his three-run shot off Leonard.
"I don't want to get in the habit of trying for home runs," he said. "I just want to put the ball in play. I thought we. might be drained after that series in Houston, but this is our second time around and we feel we can get it up."
Before the Series started, both managers talked about using well-rested pitchers in the opener. Well, rest seemed to do both pitchers little good.
Leonard, who hadn't pitched in six days, retired the first seven batters he faced, then allowed five runs in the next six.
Walk, who hadn't pitched in 12 days, allowed a pair of two-run homers in the second and third innings to fall behind 4-0. But he kept the Royals in the park – but just barely – in the middle innings when the Phillies surged ahead and knocked Leonard out of the game.
"Being behind 4-0 didn't bother me," said Green, "even though we haven't been scoring a lot of runs. The guys just got started. It was a perfect example of what you can do when you have to do it. I knew Bobby would get his act together."
Walk's problems came first. Darrell Porter walked to start the second and Amos Otis homered to the bullpen in left. Otis was the 16th player in World Series history to homer in his first at-bat.
Hal McRae singled with one out in the third and trotted home on Aikens' towering drive over the fence in right center.
Walk wasn't out of trouble, however, as Porter walked again and Otis beat out a high-hopping infield single to third that Schmidt barehanded but threw late to first.
Clint Hurdle, Frey's designated right fielder against right-handed pitchers, singled to left but Lonnie Smith threw the ball home on the fly and Bob Boone nonchalantly tagged out Porter a step or so from the plate.
"I'd have preferred he at least slide," said Frey, "You don't like to see a guy come up to the plate and just stop. But if he tried to knock Boone into the cheap seats, he might have gotten hurt himself."
The Phillies went to work on Leonard with one out in the third. Larry Bowa singled to left, stole second and raced home on Boone's slicing double to the left-field corner. That only made it 4-1, but the Phillies were far from through.
Lonnie Smith, a surprise starter in left when Green opted for "speed (Smith) and power (Luzinski)" in his choice of designated hitter, singled to left and Boone stopped at third.
But, oops, Lonnie tripped going around first base and, cutoff man George Brett threw to second. As Smith danced up and down the line before being tagged out, Boone scored and Lonnie's baserunning blunder seemed a blessing in disguise.
Then Pete Rose was hit in the left leg, something both managers felt was the turning point.
"You've got two strikes on Rose and they you hit him in the leg," groused Frey. "That keeps them alive."
"The key was hitting Pete in the knee," Green said. "That got us a little juiced. Pete doesn't have to get a hit to get us juiced."
After Mike Schmidt walked, McBride drilled a breaking ball off the Mets' logo under the scoreboard for a three-run homer and a 5-4 Phillies lead.
"Sure, that was a big homer," said McBride, "but the one against Montreal (for a 2-1 victory here Sept. 26) was bigger. That meant a lot more."
Leonard, a three-time 20-game winner who was 13-4 since the All-Star Game, didn't survive the fourth. Manny Trillo beat out a chopper over the mound and went to second when Leonard's pickoff throw squirted away from Aikens for a throwing error.
Boone then encored his slicing-double act, this time to right, to easily score Trillo and sent Leonard to the showers.
Renie Martin relieved and got Smith on a fly ball, but the Dover native had his own problems in the fifth when the Phillies loaded the bases with just one hit. Schmidt walked for the second time and McBride singled to right. After a discussion with Frey, Martin plunked Luzinski with a pitch to fill the bases.
Garry Maddox got Schmidt home with a fly to left, but Martin escaped any further damage.
Phils take a Walk on the wild side
By Hal Bodley, Sports Editor
PHILADELPHIA – Grover Cleveland Alexander. Robert Vernon Walk.
Everybody who knows anything at all about the American pasttime has heard of Grover Cleveland Alexander. And most everyone who has agonized over the Philadelphia Phillies all the frustrating years, has heard of Mr. Alexander. After all, it was in 1915 the great righthander defeated the Boston Braves in the World. Series to give the Phillies their first and only victory ever in the October classic.
But Robert Vernon Walk?
Well, after last night, he belongs right up there with Grover Cleveland Alexander. Maybe not in the Hall of Fame, but at least for the moment he has made the deprived Phils' fans as happy as Alexander ever did.
The 23-year-old right-hander became the first rookie to start – and win – a World Series opener since 1952 last night when he pitched the Phils to a 7-6 victory over Kansas City in the opening of the best-of-seven tournament at noisy Veterans Stadium.
Not since Joe Black of the old Brooklyn Dodgers defeated the Yankees 4-2 on a six-hitter has a rookie done it.
"Not too bad for a rookie," mused Manager Dallas Green, a broad grin on his face. "He settled down after the early innings. He has helped us all year and tonight he did the same thing. You have to be happy with that kind of a performance. He really showed me something tonight, but he has done that all year."
"They're changing my nickname to Boom Boom," said Walk, who before last night was called Whirlybird by his teammates because of his lackadaisical approach to life, "I guess Hal Bodley everybody got a little nervous when they hit that second home run."
Walk, who a year ago was pumping gas near his home in California, gave up two-run homers to Amos Otis and Willie Aikens in the second and third innings, respectively. Instead of telling the young right-hander to take a shower, Green stuck with him. The Phils rallied for five runs in the third and Walk was given a reprieve.
"I don't like to say this with him listening," said Green, "but he was one batter from coming out in the third. I thought I'd stick with him and he came through."
After' Aikens' homer, Darrell Porter walked and Amos Otis followed with an infield single. That brought up Clint Hurdle who lined a single to left. Lonnie Smith, however, threw out Porter trying to score from second and Walk and the Phils were out of the inning.
After that, he retired nine in a row before Frank White led off the seventh with a single after which he got the next two outs to protect a 7-4 lead.
In the eighth, however, George Brett doubled and Aikens blasted another two-run homer.
Enter Tug McGraw. Scroogie pitched out of a mini-jam and put the Royals down in order in the ninth to make the night the greatest ever for Walk.
"I had not pitched in 11 days," said Walk, who opened the season for the Phils at Oklahoma City in the American Association. "I thought I would have great velocity, but I was wrong. I just didn't throw as hard as I can. So, after the second homer, I changed my pitching plan. Instead of going with the fastball, I started turning the ball over, going with my slider."
When the Phils staggered to their first National League pennant since 1950, the pitching staff was battered and tired. Three starters were used in the clincher against Houston on Sunday, leaving Green little choice but to start Walk, who despite his 1 1-7 record, had not pitched well in his last few starts.
People said he was the sacrificial lamb.
"Sure, I knew that," said Walk, whose big problem when he was ineffective was his lack of control. "I wasn't nervous before the game, but I was shaky on the mound the first couple of innings. The impact of the thing hit me, but as the game progressed, I concentrated on pitching and the nervousness left me."
Just a few years ago Walk was attending a college near Los Angeles and would drive to Dodger Stadium to see major-league baseball. Once, he drank too much beer, threw a tennis ball onto the field and was led out of the park by policemen.
"Funny thing about that afternoon," said Walk. "When they escorted me out of Dodger Stadium that day and, yes, I had drunk too much beer, I made up my mind to come back sometime, but on the mound."
Walk returned in September and pitched a victory over the Dodgers.
"That was a long-time dream come true," Walk said that day. "Now, I'm looking forward to pitching in a World Series. That would be quite a thrill for a rookie."
Last night, Robert Vernon Walk had that dream fulfilled.
Aikens has at least one of his prayers answered
By Rod Beaton, Staff Correspondent
PHILADELPHIA – Monday night, Willie Mays Aikens prayed for two home runs. Last night he got them, gift-wrapped from Bob Walk with a hand from whoever Aikens was calling on.
Keep those lines open, Willie. But you should have asked for at least one more.
Aikens' two homers, both with a man on, accounted for four of Kansas City's runs last night, but even supplemented by a two-run shot by Amos Otis, it was not enough to avert a 7-6 loss to the Phillies.
"I prayed for two home runs last (Monday) night," Aikens said. "And I did it."
The Royals didn't. They're one game down in this World Series. Aikens alone hit twice as many homers as the Phillies and Astros combined in the five-game National League playoffs. And he still had to settle for a subdued clubhouse.
Happy birthday, Willie.
Celebrating his 26th last night, Aikens was in no mood for cake. He didn't even expect to contribute as much as he did.
"I came out today and felt good in batting practice," said Aikens, a first-year Royal. "Every ball I hit in BP, I hit real hard. When I do that, I usually don't hit in the game."
Aikens,' 6-foot-2, 220-pounds of left-handed hitting terror, has been a hit with the Royals since his acquisition from California in a six-player deal. He provided the leftside power they sought. See Walk for details.
Following a .278 year with 20 homers and 98 runs batted in, Aikens clouted Yankee pitching at a .364 clip, with two RBI in the three games.
When Walk got it up, Aikens kept it up.
"I got the idea how they were going to pitch to me in my first time up," he said, recalling his deep fly to center after a protracted batters-box discussion with umpire Harry Wendlestedt.
"The first two pitches were fast-balls inside. That must have been their scouting report – get it, in on me and up.
"But when I'm looking inside I can turn on a pitch."
Excluding his first-inning fly and a fifth-inning strikeout, he turned on Walk like a lover scorned. But the slugging first baseman has no love for the Phillies and no reverential fear of tonight's starter, Steve Carlton.
"I'm not concerned about him," Aikens vowed. "We still can go out and beat him. He's a tough guy, but he lost games in the regular season. He's capable of losing them in the World Series."
He's more capable of foiling the Royals than Walk, not only because of his superior repertoire and considerable savvy, but also because of his choice of delivery – left-handed.
Aikens, George Brett and Darrell Porter hit left-handed – the guts of the Royals' order. Willie Wilson and U.L. Washington are two steps farther from first when the speedy switch-hitters face a lefty.
But Aikens says a pitch's a pitch.
"This game will give me more confidence," he claimed. "Now I know I can go out and hit one out of this ballpark."
He might have his " chance deterred by a zealous home plate arbiter.
"I have had problems with the ground," he said, explaining his first at-bat stalling.
"I wasn't satisfied with the dirt."
Aikens has no quarrel with good old Delaware valley red clay. He just likes his batters box evened off.
"Up front there was a hump in the ground. Behind me was a hole. Every time I stepped into the hole, he (Wendlestedt) said get back in the box.
"I told him I'd appreciate it if he'd have someone doctor it."
No one did and after his night, Aikens may ask for a full-scale excavation before tonight's game. All he did was become the third player in baseball history to hit two home runs in his first Series game. Ted Kluszewski did it in 1959 with the Cincinnati Reds and Gene Ten-ace of the Oakland A's did it in 1972.
Speaking of names, Aikens has managed to live down his name, the Willie Mays part. As long as no one expects him to sizzle around the bases and make basket catches at first base, he's all right.
"My mother told me she named me Willie, after my uncle," he explained. "The doctor who delivered me put the Mays in."
The birth in booming downtown Seneca, S.C., was soon after the REAL Mays' spectacular 1954 World Series against Cleveland. The doctor knew he was onto something.
But Aikens, slumped in his chair, attired in' long johns and a cold, half-eaten hot dog in his hand, was not interested in omens, homers or birthdays.
"It bothered me, to blow a (4-0) lead," he said. "With Dennis (Leonard) on the mound, our best pitcher, and him getting the ball over the Elate and getting ahead, we should e able to win.
"But that's baseball. You just have to overlook that stuff."
Two home runs cascading off the right-field tarp are hard to overlook. But they'll look better if he get his benefactor to give him a couple more tonight.
Smith fields assignment well in left
By Anne Squires, Staff Correspondent
PHILADELPHIA – Phils Manager Dallas Green said before last night's World Series opener the reason he wanted Lonnie Smith in left field and Greg Luzinski as the designated hitter was "he wanted that combination of speed and power."
There was no mention of defense – something that has been lacking out there in left all season, be it the Bull or the rookie guarding that designated piece of artificial turf.
Last night Lonnie Smith surprised everyone, including himself, when he rifled a strike to the plate to erase Darrell Porter of the Kansas City Royals and end the third inning. Porter was trying to score from second base on Clint Hurdle's two-out single, with the Royals ahead 4-0. The Phils came back in the bottom of the inning with five runs to take the lead for keeps.
"I figured he (Porter) would go," said Smith after the game. "They (Royals) probably knew that I didn't have such a good arm or that I make mistakes, and Porter didn't have that much to lose by going.
"I saw that I had a good chance to get Porter – I got a good hop. That was definitely one of my better throws. I just kept my eye on the ball and threw as best I could. I was surprised considering my arm has been sore the last couple of days. It's been sore and tired."
Smith was standing in the clubhouse draped in towels, and when someone asked him what ailed his arm, he let the towel around his shoulder fall to reveal a jagged scar on his right shoulder.
"I had an operation in 1975," said Smith, smiling shyly. "It was for chronic bursitis."
Despite soreness and or fatigue, Smith and the Phillie ballclub rallied 'round rookie pitcher Bob Walk. Smith went 2-for-4 and fended off all references to rookie appearance in World Series jitters.
"All I thought about was getting a hit," said Smith. "I'm not feeling any pressure. I was a little shaky in the first inning, because I was looking for real good fastball from (KC starter Dennis) Leonard, and when I saw he didn't have that much, I got more relaxed and felt fine. I just went right into the game."
That was not the air that surrounded Smith and teammates' going into Houston with the National League flag on the line, according to him.
"Houston was incredible pressure. It was a do or die thing," said Smith. "We were down when we went in there and we knew we had to fight. Now it's just another ballgame. It feels great."
Will it feel that great if Green makes any changes involving Smith in the rest of the Series?
"I'll just have to wait and see," he said with a shrug. "I hope it's the same (the lineup), but no matter what happens I'll be there pulling for my team. It's a big enough thrill just to be here. I don't feel as though I have to prove myself anymore, though."
EXTRA INNINGS - The seven runs were a Phillies' series record, topping the four runs the 1915 Phils scored against the Boston Red Sox in Game Five, a 5-4 loss crowd of 65,791 was a Vet – and Pennsylvania record for baseball... Temperature at game time was 48 degrees, compared to last year's 41 in Baltimore... Walk's last outing was against the Chicago Cubs in the Phils' regular-season Vet finale, winning 4-2 on Oct. 2... Ken Brett and Hal McRae are the only Royals with World Series experience...
Phillies share an NL pennant with Lawrence
By Matt Zabitka
Early last Thursday morning, former Glasgow High pitcher Steve Lawrence put in a long distance telephone call to his home in Brookside Park. He was calling from Stillwater, Okla., where he is attending Oklahoma State University on a baseball scholarship.
Excitedly he told his mother he was getting ready to depart for the Houston Astrodome with a couple of college teammates, one being Robbie Wine, son of Phillies' coach Bobby Wine.
Bobby Wine had asked his son to get a couple of his teammates and come to Houston as his guests for the Astros-Phillies National League championship series. Young Wine picked Lawrence and another Oklahoma State pitcher, Tim Rogers of Broken Arrow, Okla., to accompany him.
The trio motored 10 hours to get to the Dome. They were put up in the same hotel where the Phillies were staying – compliments of Bobby Wine – and watched the Astros win Friday's 11-inning 1-0 game, and the Phillies' come-from-behind 5-3 10-inning victory Saturday that evened the best-of-five series at 2-2. They watched the pair of games from the stands.
They wanted to stay over for Sunday's fifth and deciding game, but Wine had no tickets to satisfy their wishes.
The senior Wine, a 12-year major league shortstop, all under Manager Gene Mauch, came up with an ingenuous idea.
He outfitted his son, Lawrence and Rogers in Phillies' uniforms. Lawrence, who helped pitch Yavapai (of Prescott, Ariz.) to national junior college prominence in 1978-79, before going on to Oklahoma State, was given third base coach Lee Elia's extra uniform – No. 3.
Bedecked in full Phillies' regalia, the trio watched the memorable fifth game – a Phillies' 10-inning 8-7 triumph on Sunday – from the Phillies' dugout, rubbing elbows with Pete Rose, Steve Carlton, Mike Schmidt, Greg Luzinski, Manager Dallas Green and all the rest of the Phillies.
For Lawrence, a 1977 grad of Glasgow, there was an additional thrill. In the Astrodome at 3 p.m. on Sunday, preceding the dramatic fifth game that was to follow a few hours later, Phillies' pitching coach Herm Starrette asked him to take the mound and pitch to him. Starrette wanted to see what Lawrence had on the ball.
But, there was still another gigantic thrill. Lawrence and his two buddies participated in the post-game, champagne-flowing victory celebration in the wild Phillies' locker room. In their Phillies' uniforms, the trio blended in with the whooping Phillies, celebrating their first World Series entry since 1950.
Steve and his college teammates were showered with the bubbly stuff. Each was also presented with an unopened bottle of champagne to take with them as souvenirs.
Monday morning at the ungodly hour of 2:30, Steve phoned his mother, breathlessly asking if she saw him on national TV.
"I was right there in the dugout and in the locker room," said Steve. "I was on camera a lot. I was the second guy, behind Pete Rose, entering the locker room after the game, just before the celebration started."
Disappointedly, the mother told her son that while she did watch the game she was unable to pick him out on the tube, simply because she had no idea he would be on TV, and in a Phillies' uniform yet.
Steve's father, Paul, a chief engineer for a dredging company, and Steve's brother, Jim, 28, an electrical lineman for the City of Newark, were in Moorehead, N.C., during the game, tending to some property the Lawrences own there. They watched the fifth game on TV, but also admitted they didn't see Steve on the tube, mainly because they were unaware he'd be on TV. And never in their wildest dreams did they expect to see Steve surface on national TV wearing a Phillies uniform and being very much a part of the overall joyous post-game festivities.
But friends of the Lawrence family in Brookside Park called, to tell Mrs. Lawrence they were taken by complete surprise to see him surface on national TV.
"Steve told me he is still so excited about his experiences in Houston he can't believe it all happened," said the mother. "He told me he shook hands with Steve Carlton and had talks with Phillies' pitcher Warren Brusstar and Ron Reed. They talked about pitching. Steve and his two college teammates were also presented with souvenir Phillies' baseball caps."
Lawrence and his buddies are back in Stillwater today, where they will be viewing the World Series on TV. And it's obvious for which team they are rooting.
Thanks to Bobby Wine, the Phillies spread a lot of sunshine into the lives of three college ball players, who may possibly some day be playing with the Vet Stadium Red Caps.
Lawrence, a 6-foot-3, 190-pound lefty, was picked by the Seattle Mariners in the fourth round of baseball's 14th winter free-agent draft in January 1979. He passed up a shot in pro ball to complete his college education and baseball eligibility.
Last spring he was 6-1 for Oklahoma State. One of his best efforts was a two-hitter against Southern Illinois in the University of Miami Tournament.
Now a senior, he'll been eligible for the next major league free-agent draft. And if the Phillies beckon, look for Lawrence to jump.
After all, he already considers himself a Phillie. He was there in the Astrodome, in the dugout wearing an official uniform, when the Phils clinched their first National League championship pennant in 30 years. And he was there in the locker room after the game, very much a part of the tumultuous, emotional hoopla.
Martin traveled far to get into Series
By Rod Beaton, Staff Correspondent
PHILADELPHIA – It's a long way to a Veterans Stadium October from Maracay, Venezuela. It's longer still from Dover.
Not as the pop flies, to be sure, but it's light years' difference from Parkway and semi-pro baseball to a long reliever's role with the American League champions.
It's just that designation that Renie Martin of Dover assumed last night as the Royals battled the Phillies in Game 1 of the 1980 World Series. When starter Dennis Leonard was pounded from the game in the fourth inning, Martin took on the Phils for 4 innings. He did a credible job, too. His 5-hit, 1-run effort kept Kansas City in striking range. But the Royals could not strike back, falling 7-6.
The ride to baseball's summit has been bumpy, with one excursion to South America and stopovers in such exotic locales as Omaha, Neb., and three burghs in Florida.
For Martin, 25, bat-thin at 6-foot-4, the trip has been tempestuous – and he has loved it.
"I played here once before," he said last night, surveying the empty Vet several hours before game time. "Parkway played here in a kind of All-Star game. It was five years ago, I think, before the Phils played St. Louis.
"It was a thrill playing. I pitched, played some outfield. The mound was great, like being on top of the hitter. It doesn't look as big now."
Of course not, he's in his second year in the pros, coming off a 10-10 season with 4.39 earned run average compiled as a starter and reliever.
He has thrown well in both roles and been bombed, too.
"He was pressed into a starter's role in Boston in April," said Royals pitching coach Billy Connors, who spent the previous three years as a minor league instructor with the Philies. "He pitched well versus Boston.
"Three days later (Paul) Splittorff came up with back spasms Before a game with the Yankees. We brought Renie out, he had a no-hitter through five innings.
"He became a starter for us." For three delicious weeks Martin was a starter like none other.
"He reeled off six wins in a row," Connors said. Actually, he won six of seven. "He was throwing great."
Martin was dazzling the American League with just two pitches – a curve that broke big and broke hearts and a fastball that was better than average.
"It's one of the best curves in baseball," stated Connors. "He sets it up with his fastball which is good enough – sneaky fast."
Connors just wishes Martin would throw his sneaky slider more often.
"It's a good, hard slider," the beefy, tobacco-spitting Connors said. "We're trying to get him to use it, especially when he's behind in the count."
Suddenly that's just where Martin was, and often. From behind in the count, he'd fall behind in the game. Finally he was behind the fence, in the pen again.
"I had to realize I was no superstar," Martin recalled. "I had eight or nine starts in a row and it was catching up to me.
"I realized what I'd done. I was 8-5. It hit me, 'Am I this good?' I was thinking more than I should."
He had plenty of time for introspection. He was hanging out with team-wit Dan Quisenberry and several others from the Royals' bullpen and comedy troupe.
Pitches as likely to hit the dust as his catcher's mitt were the source of the problem. Martin's deliveries were so erratic Quisenberry turned the phrase heard 'round the league:
"Some pitchers throw to spots," he said. "Renie throws to continents."
Connors agonizes over Martin's lapses.
"If he can keep his stuff over," he said. "Renie can win big in the majors."
With that in mind, and with Martin penciled in to rejoin the Royals' aging starting staff next spring, he'll travel across the Caribbean soon after the series.
"I'll be in Venezuela," said Martin, who pitched there last year. "It's not at all like the U.S. At least nobody got shot, but conditions down there are not something I'm used to.
"I'll work on the slider there; maybe a change(up)."
Martin knows all about changes. He has been through plenty on the staff and getting there.
"I realize it's not always a matter of talent," he said, a modest grin gracing an angular, mustachioed face. It's a face baseball fans could be seeing a lot of in the next week.
"I do have some talent, but this is also a matter of being in the right place at the right time.
"I was in Double-A ball (in '79) and they needed a right-hander. Then I pitched a couple good games and this year when Splittorff was hurt I pitched well some more."
He left his calling card in a mediocre 0-3, 5.19 rookie season. Yet when Jim Frey took over as manager, Martin had to prove himself.
He was in a three-way battle to be the short reliever, but Quisenberry took it outright, going on to become AL Fireman of the Year.
So now Martin is the No. 1 long reliever. He did not pitch in the AL playoffs.
"But I threw 12 times in the bullpen," he said. "I almost got in. I wanted to."
Last night "he was in the right place," when opportunity beckoned. He got in and gave the steadiest mound performance in the game. It wasn't as smooth as it looked.
He retired Lonnie Smith on his first pitch, coming in with one on and two out. That big Veterans Stadium mound was little help next inning.
Control evaded him again, a walk and a an errant pitch that hit Greg Luzinski combined with Bake McBride's single to fill the bases. He navigated out of the one-out trouble with minimal damage. A run scored on a sacrifice fly. He got that out with 65,791 Phillie zealots on their feet, screaming in full lung.
He put two on in the seventh, but bore down again, showing what Connors called "his good toughness." A strikeout and fly ball helped him escape.
Martin was tested, to be sure. He survived with at least passing grades. And this wasn't a band of Semi-Pro bailers to whom he was serving.
Play-by-Play
Royals First
Bob Walk's first pitch of the Series was a ball. Willie Wilson struck out. Hal McRae walked on a 3-2 pitch. George Brett popped up to Mike Schmidt at third. Willie Aikens flied to Garry Maddox in center.
No runs, no hits, no errors, one left.
Phillies First
Dennis Leonard's first pitch bounced in the dirt. Lonnie Smith grounded to Frank White at second. Pete Rose grounded to U.L. Washington at shortstop. Schmidt struck out.
No runs, no hits, no errors, none left.
Royals Second
Darrell Porter walked on a 3-2 Pitch. Amos Otis hit a home run over the left field fence, the 16th man to homer in his first World Series at-bat. Clint Hurdle flied to Smith in left. White flied to Bake McBride in right. Washington grounded to Rose, who flipped to Walk covering first.
Two runs, one hit, no errors, none left.
Phillies Second
McBride grounded to Washington. Greg Luzinski, the designated hitter, hit a long drive to left that Wilson caught near the fence. Maddox grounded to Brett.
No runs, no hits, no errors, none left.
Royals Third
Wilson grounded to Manny Trillo at second. McRae, the designated hitter, singled to center. Brett struck out, tipping the ball into catcher Bob Boone's glove. Aikens homered to right-center, giving the Royals a 4-0 lead. Porter walked. Otis beat out an infield hit although Schmidt made a fine barehand catch of the grounder. Hurdle singled to left and Porter was thrown out attempting to score, Smith to Boone.
Two runs, four hits, no errors, two left.
Phillies Third
Trillo grounded to Washington. Larry Bowa bounced a single to center. Bowa stole second. Boone doubled down the left field line, scoring Bowa. Smith singled to left, with Boone holding at third. While Smith was trapped in a rundown between first and second base, Boone scored and then Smith was tagged out. Rose was hit in the leg by a Leonard pitch. Schmidt walked on a 3-1 pitch. McBride lined a three-run homer over the right field fence, giving the Phillies a 5-4 lead. Luzinski struck out.
Five runs, four hits, no errors, none left.
Royals Fourth
While grounded to Rose, who flipped to Walk for the out. Washington grounded to Bowa at short. Wilson grounded to Schmidt at third.
No runs, no hits, no errors, none left.
Phillies Fourth
Maddox struck out. Trillo bounced an infield single up the middle. Trillo went to second when Leonard bounced a pickoff throw to first for an error. Bowa grounded to While, Trillo moving to third. Boone doubled down the right field line, scoring Trillo for a 6-4 Phillies lead. Renie Martin is the new pitcher lor Kansas City. Smith flied to Hurdle in right.
One run, two hits, one error, one left.
Royals Fifth
McRae flied to McBride against the right field fence. Brett flied to Maddox against the center field fence. Aikens struck out.
No runs, no hits, no errors, none left.
Phillies Fifth
Rose grounded to Washington. Schmidt walked on a 3-1 pitch. McBride singled to left, Schmidt stopping at second. Luzinski was hit in the back with a Martin pitch, loading the bases. Maddox hit a sacrifice fly to Wilson, scoring Schmidt and giving the Phillies a 7-4 lead. Trillo popped to Aikens at first.
One run, one hit, no errors, two left.
Royals Sixth
Porter popped to Schmidt in foul territory. Otis flied to McBride. Hurdle grounded to Bowa.
No runs, no hits, no errors, none left.
Phillies Sixth
Bowa fouled out to Porter, the catcher. Boone grounded to White. Smith bounced an infield single to third. Smith was thrown out attempting to steal, Porter to Washington.
No runs, one hit, no errors, none left.
Royals Seventh
White singled up the middle. Washington lined to Smith. White stole second. Wilson Hied to Smith. McRae grounded to Schmidt.
No runs, one hit, no errors, one left.
Phillies Seventh
Rose grounded to Washington. Schmidt hit a bouncer that Washington fielded at deep short, but the throw to first was too late.  McBride singled to right, Schmidt stopping at second.  Luzinski struck out.  McBride popped to Otis in center.
No runs, two hits, no errors, two left.
Royals Eighth
Greg Gross replaced Smith in left field for Philadelphia.  Brett lined a double to left-center.  Brett moved to third on a wild pitch.  Aikens slammed his second home run of the game over the right field wall, scoring Brett ahead of him to make it 7-6.  Walk was replaced by Tug McGraw.  Porter flew to Gross in left.  Otis singled to left.  John Wathan pinch hit for Hurdle and grounded into a double play, Bowa to Trillo to Rose.
Two runs, three hits, no errors, one left.
Phillies Eighth
Wathan stayed in the game in right field.  Trillo flied out to Wathan.  Bowa grounded to White.  Boone singled to right for his third hit.  Dan Quisenberry relieved Martin for Kansas City. Gross grounded to short.
No runs, one hit, no errors, one left.
Royals Ninth
White grounded to Schmidt.  Washington looked at a third strike.  Wilson struck out.
The Phillies won 7-6
No runs, no hits, no errors, none left.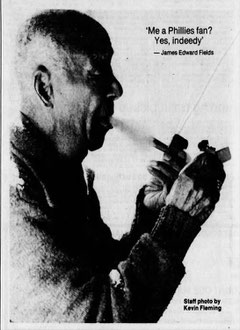 The Phillies are good, but Mr. Eddie takes the cake
By Betty Burroughs, Staff Writer
"Me a Phillies fan? Yes, indeedy," chuckled Mr. Eddie, "for a good many years now and they're in pretty good shape this time."
At 104, James Edward Fields, Middletown's Mr. Eddie, doesn't claim to be the oldest active Phillies rooter. But it's a safe bet that there aren't too many centenarians in the stands or tied to TVs or radios for the World Series.
Although he's a lifetime baseball enthusiast, Mr. Eddie never has been to a ball game and now that his eyesight is failing, he listens more than he watches.
"I watch the games on TV some but mostly I listen to them on the radio because I don't see so good," he said.
That also gives him more privacy. As his daughter, Edna Young, admits, We have to take his meals to him on the sun porch when he's listening to the game. Pop wouldn't leave the game to eat his dinner. And he doesn't want a whole lot of talking when the game's on."
Fields lives with Mrs. Young and her husband, Irving, at 112 Anderson St. in Middletown.
A mild-mannered man, whose hearing is good but not as sharp as he'd like it to be, "Pop" does not set himself up as a baseball authority or a World Series prophet.
What are the Phillies chances of winning?
"I don't know," he said. "They'll have to keep in shape and they'll have to play pretty good ball. It's all according to how they start out. One time Sunday they had me kind of a little shaky. Yes, indeedy! They were on the lead by four when I went to bed. Then they got caught up with. Then they won by one run. I had my daughter come up and tell me the score every little while."
Fields says he doesn't get as excited as some fans – his family included – but just "takes it as a sport. The Phillies are my favorite team. I just like the team. As for favorite players, I don't have any because I can't remember their names. It was different when I could see. But I do like that pitcher, Steve Whatsisname… Carlson. He's the best the Phillies got. Yes, indeedy."
Mr. Eddie is partial to pitchers. The only baseball he ever played was as a schoolboy in St. Georges where he grew up and "I was a right good ball player," said the slim, 5-foot centenarian. "Mostly they had me a pitcher, me and another fella. But I was never so hot at batting."
Although as he grew older he never was a participant, Fields says he's always been interested in baseball. He doesn't remember the Phillies last try in 1950 when they lost the Series to the Yanks.
"I was working then. I didn't have the time or the interest," he said.
Fields retired in 1958 after 15 years as custodian at Middletown High School. He remained on as school trustee until 1964.
Mr. Eddie is fondly regarded in Middletown where he has lived since 1912 and been active in school and church work. The town has named a street for him – Fields Terrace.
The popular ex-custodian and Phillies fan observed his 104th birthday last Thursday, Oct. 9, with great sadness that still lingers. Anna, his wife of 68 years, died at the age of 94 on Oct. 1 – four days after their 68th wedding anniversary. She was buried on Tuesday, Oct. 7.
Mrs. Fields, the former Anna White, had lived on Anderson Street in Middletown for 84 years, coming with her family from Cecilton, Md. In 1957, Mr. and Mrs. Fields moved in with their oldest daughter, Edna Young. Another daughter, Lillian Jordan and two sons, Joseph and James E. Fields Jr., live nearby and another son, George, is in Philadelphia.
Mrs. Young took care of her mother at home during her 10-month illness. She died in the Memorial Division in Wilmington the day after she was admitted.
Her death cast a shadow on Mr. Eddie's birthday and has taken a lot of the spirit out of his Phillies boosting.
"It isn't the same," he said simply.
Yet, baseball is a bright spot and a diversion he truly enjoys and everybody knows it. A belated birthday cake, yet to be cut, is decorated with a raised baseball cap and reads, in red and blue icing: "The Phillies are good, but Eddie, you're tops."