Philadelphia Daily News - October 16, 1980
Not complete!  p. 70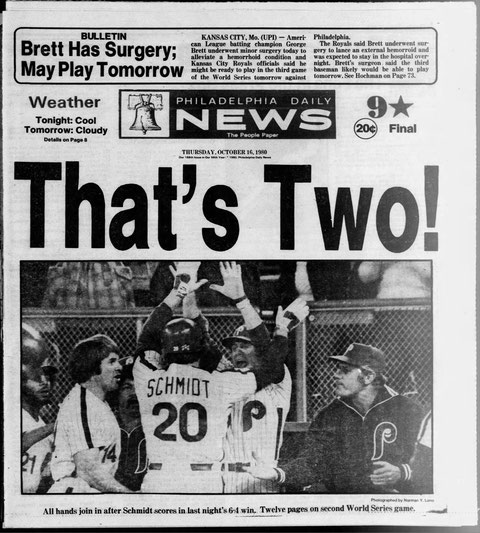 Phils Just Two Tough
By Bill Conlin
Mike Schmidt's daddy told him to stop taking so many first pitches.
Mike Schmidt says when you're in against a Dennis Leonard, a Larry Gura, guys who throw a fistful of pitches at different speeds, you've got to take the first pitch most of the time. "You've got to take a look at the guy's breaking ball, his velocity, how he's trying to set you up," Mike said after the Phillies moved two victories from the Millenium.
Last night, father knew best, even though he runs a swimming club in Dayton and wouldn't know Dan Quisenberry from the Marquis of Queensberry, couldn't tell the difference between the sinker the Royals relief ace throws from the one the Pirates' Kent Tekulve throws.
For the third time in their last three post-season games, the Phillies did their Mount St. Helens imitation. They belched out four eighth-inning runs, coming from two runs down to defeat Kansas City, 6-4, and take a 2-0 lead in the World Series to Kansas City.
The Phillies crammed half their eight hits into the fevered rally and the biggest was Schmidt's screaming double to right, a bazooka shell that roared over the head of tiny, not-so-fast-anymore Jose Cardenal. It scored Bake McBride with the lead run. And two Quisenberry pitches later, Keith Moreland. a DH selection when Greg Luzinski was sent home with a 103-degree fever, ripped a single to score Schmidt with the run that gave Ron Reed a 6-4 lead to protect.
Reed nailed down the save with a strong ninth and, afterward, played Harpo Marx to Steve Carlton's Marcel Marceau.
Carlton labored eight innings. struggling with baseballs that felt abnormally slick and with a Royals strategy aimed at breaking - his Sphinx-like concentration and the' rapid pace he likes to set on the mound. Kansas City's hitters kept jumping in and out, calling time, walking back for the resin bag, and, in general, doing a good imitation of a North Carolina basketball team in a four-corners stall.
"Billy Connors, their pitching coach, was the pitching coach at Oklahoma City before he went to the Royals," said pitching coach Herm Starrette after Carlton's 157-pitch, 10-strikeout, 6-walk marathon. "I'm sure between him and their advance scout, Tom Ferrick, they tried to cook something up to disrupt Lefty's concentration. But he didn't have any trouble concentrating. His big trouble was with the balls. It was a cool, kind of damp night and he was complaining that the balls were slick. He was even rubbing a resin bag on his fingers between innings and asked "the home plate ump. Bill Kunkel. to rub up the new balls."
THE PHILLIES jumped to a 2-0 lead against Gura, who retired the first 13 hitters. Moreland legged out a hit to deep short with one out in the fifth and held at third on Garry Maddox double into the left-field corner. Manny Tnllo lofted a sacrifice fly to right. Larry Bowa. who tied a World Series record for infielders by starting three double plays, scored Maddox with a single to left.
Tnllo set up an unearned Royals run in the sixth when he fielded a right-side chopper by Willie Mays Aikens with runners on first and Second and zipped a 90-MPH throw past Pete Rose. It zipped past Rose on the home plate side of first because Manny was only about 15 feet away when he unfurled it. Rose had to feel like a guy who got up to answer the front door and was greeted by a double-barreled shotgun blast.
"No way I should have the error charged to mc." Manny grinned. "I just don't think Pete ever see the ball."
The Royals waited and waited on Carlton in the seventh. And they took a 4-2 lead with a rally which featured three walks, a sacrifice bunt, a double by Amos Otis and a double-play sacrifice fly by catcher John Wathan.
The Phillies struck with blitzkrieg swiftness in the eighth. Bob Boone bled Quisenberry for a leadoff walk and Dallas Green sent Del Unser up to hit for Lonnie Smith. Unser gapped a double to left-center, his third consecutive hit in post-season play, and Boone scored. Rose moved Unser to third with a bouncer to the right side and McBride scored him with a single to right.
SCHMIDT CRUSHED the submarining righthander's first pitch. like Dad instructed, and it was 5-4. Moreland drove home the insurance run on an 0-1 pitch.
"I did not want to get behind him." Schmidt said after finally reaching his locker stall. "Also, he's kind of a one-pitch pitcher. He's got 33 saves and the best sinker in the American league. It ain't like Tug McCraw, where he's got a scroogie, a slider, a fastball and a change-up. I guarantee you he's gonna throw me a good, hard pitch, first pitch."
What Schmidt is saying is he'll attack the one-pitch pitchers like Tekulve, Quisenberry and Bruce Sutter.
"That's right," he said. "I'll look for a pitch in an area from a guy like Sutter. But I think it depends on the pitcher. He's not a five-pitch pitcher. He's predominantly a 9-out-of-10-pitches-you're-gonna-get-a-sinker pitcher."
Somebody suggested that Schmidt finally had vindicated his failure to hit in post-season play. The third baseman had his brief prepared with the detail of a Percy Foreman.
"First playoff I hit over .300." he said. "Next playoff I didn't do too well. Playoff after that I hit about .280. When you talk about me not hitting in the playoffs, you're talking about me not leading the team into the World Series, right? If you don't do that you don't have a good playoff, it's that simple.
"I DIDN'T HAVE a good playoff against Houston. I went 0-for-5 in the last game. Up until-the last game I was 5-for-19. If I get one hit Sunday I don't have a bad playoff. One at-bat made the whole world think I had a bad playoff. I had a great playoff if I hit a sacrifice fly, right? But maybe we don't win if I hit a sacrifice fly. If Unser don't come up he don't get a hit. I didn't run through all that thinking at that point. My whole year flashed in front of me after that strikeout.
"But that just goes to show you what a great game baseball is, how much you can learn. It's ironic that 1 had the year that I had and now, when it means the most, I was completely humble. My teammates did it. I did nothing and they all did it. And that's why this is a great ballclub."
All year, Dallas Green preached the virtues of grinding it out and, now, the grind-it-out style is starting to snowball into big innings. There was the five-run explosion against Nolan Ryan in the eighth inning Sunday, the five runs they hit the Royals with in the third inning Monday night.
Now. four runs in the eighth on a night when the Royals had the Fireman of the Year going for them and Steve Carlton looked like a beaten Cy Young award winner.
Character only helps when you can produce base hits off a nasty sinker-bailer two runs down in the crucible of a World Series. And when you get this deep into a baseball season, you're going on a combination of skill and pumping adrenalin.
ONCE A TEAM gets in this kind of "No way we can lose" groove, it is tough to derail, discourage or out-score.
"We're right down to another best-out-of-three series on the road," Bowa bubbled, while the milling national press stared at the preponderance of vacant locker stalls the locals have come to accept as a fact of life. "Montreal, best-out-of-three. and we did it. Houston, best-out-of-three. and we lose the first and look buried in the next two and we did it.
"Hey. ain't nothing going to scare this team now."
Finally, the Phillies have been to the top of the mountain. They have discovered that there's a helluva view up there.
And this weekend, they might even see the Promised Land.
At Death's Door, Phils Never Say Die
By Ray Didinger
There was a time when the Phillies treated the late innings as kind of an inconvenience, something they had to sit through before they could get to their cologne bottles and scurry off into the night.
The Phillies figured if they couldn't win a game in the first seven innings, why bother? They looked at late-inning rallies the way the Gabor Sisters look at housework. I mean, you might get all sweaty and dirty. Really, how demeaning.
If the Phillies were a run down going into the ninth, there wasn't much chatter in the dugout. Oh. you might hear a few guys discussing their post-game plans, whether they were going to have the veal oscar at La Truffe or the sole amandine at Bookbinders, but that's all.
That was the style of the Ozark Phillies, the team that played baseball as if it were a board game, the team that sniffed at the word "emotion" and wrapped itself in a climate that was more frigid than cool. Losses were just flicked away. like pieces of lint.
WELL, IN CASE you haven't noticed, the Phillies have changed their act. They no longer stand around waiting for the final out, tapping their feet like impatient businessman waiting for the 5 p.m. elevator. They no longer issue concession statements in the eighth inning.
In these past few weeks, the Phillies have become scrappers, honest-to-goodness battlers. They go into the late innings trailing, they get a runner or two on base and hey, they are like sharks in a feeding frenzy. Next thing you know, they have the other team by the throat.
In last night's second World Series game, the Phillies were trailing the Kansas City Royals, 4-2, going into the eighth. The pitcher was Dan Quisenberry, who tied for the American League with 33 saves this season. Normally, handing him a two-run lead is like stashing your billfold in a wall safe.
But last night Bob Boone led off the eighth with a walk and. suddenly, the Phillies dugout was alive. Guys were on their feet, howling and pounding on the walls. The huge Veterans Stadium crowd could sense something coming, something building on the horizon.
When Del Unser followed with his pinch-hit double, that ripped the first big chunk out of the Royals' hide. Then Bake McBride tied the game with a chopping single, Mike Schmidt slashed a double off the right-center field wall and, that quickly, the Royals were gone.
THIS WAS THE fifth straight come-from-behind win for the Phillies in this memorable post-season tournament. They rallied to take all three games of the National League playoffs against Houston, then they overcame a four-run deficit to beat the Royals on Tuesday night.
They came from behind to beat Montreal in the Eastern Division clincher two weeks ago, then hung tough last weekend, facing elimination and winning two straight in the hostile Astrodome. If this team has acquired any one thing this season it is the will to live.
"Is this a different team?" Manager Dallas Green said last night, repeating a question. "Oh, I don't know if we're any different than we were most of the season. We have the same personnel. I think maybe we have a better perspective on things now.
"We've been down so much this year, I think it's made us mentally tougher. We know what it is to be behind. We know what it is to be the underdog. We know what it is to have the other team with the momentum. We've been in those spots and we've battled through them.
"We went up to Montreal needing two wins (to win the division). Nobody thought we could do it but, by golly, we kicked their butts. We went to Houston needing two wins and we kicked their butts, too. Each night we fell behind, each night we came back.
"WE DEVELOPED A lot of confidence in our ability to rally, to make things happen," Green said. "This team falls behind now and nobody gets his head down, nobody sulks. The spirit we have going is what I've been striving for all year.
"We've got the juices going. I know I preached all summer about 'character' and grinding it out' Well, I think now some of these guys will look around, see where they are and realize the value in that kinda thing."
Dallas Green helped create that new atmosphere by sweeping away the deadwood that littered Danny Ozark's bench and replacing it with hungry young players, like Lonnie Smith and Keith Moreland. Green also added John Vukovich, the only man this side of a tobacco auction who can out-yell him.
You get into the eighth and ninth inning, the time starts running on toward midnight, things can get rather mellow in the dugout. It helps to have John Vukovich there, yapping and rattling the bats for luck. It helps to have Keith Moreland, pacing back and forth, smacking guys on the butt.
"I believe a lot of this game, any game, is emotion." Moreland said. "You can't just wait for things to happen, you have to make them happen. You can help by just being alive, staying in the game (mentally). If you sit back, hey, it's like you're giving up.
"We went through our tough times this year. We had our lulls, periods when I guess we weren't all pulling together the way we should, but we got it cranked up in September, We started jelling and now this is as close-knit a team as I've ever seen.
"WHEN I WAS at Texas (playing football), I saw what a college atmosphere was like," More-land said. "I didn't think I'd ever see it again, at least not at this (pro) level. But we're pretty close to that.
"Dallas is a great believer in positive thinking and that's had a lot to do with the way we've been coming back. I remember the last game in Houston. Hey, they came back on us and took the lead. We could've hung our heads real easy.
"But we got the first two men on the next inning, then Greg (Gross) laid down that beautiful bunt and there wasn't a guy on our bench who didn't believe we were gonna comeback and win that game. We were goin' nuts.
"I know all about Nolan Ryan's stats," Moreland said, "but we felt like we were gonna beat him somehow, someway." Keith Moreland contributed to that comeback, battling Houston's top reliever, Joe Sambito, to a 2-2 count and, finally, chopping an RBI ground ball to the right side. Moreland's grounder enabled the Phillies to cut the Houston lead to one and set the stage for Del Unser's game-tying pinch single.
Moreland contributed again last night, filling in as a last-minute replacement for designated hitter Greg Luzinski and picking up two hits. His eighth-inning single off Quisenberry drove home Mike Schmidt with the insurance run that enabled 65,775 Phillies fans to slide back off the edge of their seats.
IN A WAY, Keith Moreland epitomizes this new, grittier Phillies team. He is not a great stylist, he is not much concerned with image. His only passions in life are country music and Texas football. But, he is a guy who loves to get his uniform dirty and, most of all, loves to win.
"You know what I like about Keith Moreland," Dallas Green said. "He has innards (tapping his stomach). I'll take a guy with innards every time. He'll scratch, claw and run over you, if that's what it takes to win."
Moreland's innards were put to the test last night when, an hour before game time, he was informed he would replace Luzinski as the DH. It seems the Bull came down with a virus and was sent home by the team doctor. That meant Moreland, the rookie, would start.
"How did I feel?" Moreland said. "I felt good. I wasn't real nervous, if that's what you mean. I've been trying to keep my emotions in check these past few weeks. I haven't let myself get all caught up in the 'pennant race' stuff.
"I've been trying to convince myself that every day, it's just another ballgame. I try to approach it as if it's a sandlot game, a game I'd play with my friends back in Lewisville (Texas). I don't want to go out there and start thinking about all the hoopla.
"I'm not gonna lie to you," Moreland said. "This is the biggest thing that's ever happened to me. I grew up dreaming about being a major league ballplayer and dreaming about getting to a World Series. I'm here now and I'm as excited as can be. My whole family is.
"BUT I CANT let it get to me. If I did I'd be so nervous, I wouldn't be able to pick up a bat. I'm doing my best to focus my attention on the field and block out everything else."
Someone asked Keith to widen his focus a bit and consider the possibility of the Phillies winning this World Series. After all, they only need two more wins.
"If we win it," Moreland said, smiling, "I'll be so happy, I might just retire."
He paused and saw several newsmen dutifully entering the quote into their notepads.
"Hey," he said quickly, "I'm only kidding. I wouldn't quit. I don't think I'll ever quit."
That could be the motto for this whole, crazy team.
Del-ving into Heroics
By Tom Cushman
Call this the third installment in a continuing series if you will, the first chapter having been written on a mid-September evening in Pittsburgh.
It was there, at Three Rivers, that the autumn adventures of Delbert Bernard Unser really began, but since me national media was not yet swept up in this improbable sequence the Phillies have going, Del's work that night was not shared with the world at large.
To recap briefly, the Phillies were lagging 1½ games behind Montreal at the time, but seemed less concerned with that statistic than with the Pirates, who were four out and have been known to show a lot of foot in late September. For proof of this, if you can find one of the Phils in the post-game clubhouse during our current Octoberfest, ask him to roll up his jersey and show you the heel marks of seasons past.
Anyhow, when the Pirates scored twice off Steve Carlton in the seventh inning that evening, forging a 4-4 tie, one could sense that the mood in the Philadelphia dugout was that of a guy standing on a hillside, in the path of a very large truck.
AND, THEN, IN the 11th inning, pinch-hitter Del Unser won the game by stroking one of the finest pitches Kent Tekulve can deliver for a single. If Kansas City's scouts were present and reported the incident, there should have been an uneasy feeling among the Royals when Unser stepped forward to face Dan Quisenberry last night. The only obvious difference between Tekulve and Quisenberry is that Dan looks like he has eaten recently.
Chapter 2 of the Unser story was done last Sunday in Houston in the finale of the National League championships. And if the puff distributed by the televising network can be believed, even the Ayatollah may have been watching when that trick was performed. Del, pinch-hitting again, singled to tie a game the Phillies already had lost. And later, when it seemed they would lose it again, he doubled and scored the winning run.
Del Unser says the hits in Houston were the most important of his career. Fans, management, and others among the Phillies' labor force, are finding it increasingly difficult to choose. It is like trying to select from the finest of dessert carts.
"He's unreal," Mike Schmidt said, after Chapter 3 had been punctuated last night at the Vet.
Dallas Green, the manager, approved of Schmidt's description. "Unreal is the word I'd probably use," said Dallas. "We've asked Del Unser to sit on the bench in I980, and he's done that when I'm sure he'd rather have his four at-bats a game.  When we call him, he produces. I'm not afraid to use him in any situation"
UNSER WAS ASKED later how he sees his role. "Whenever the manager says, 'Del,' I get a bat or glove," Del Unser replied. "It's that simple."
The Royals were sitting in apparent comfort atop a 4-2 lead in the eighth inning last evening when Bob Boone drew a leadoff walk. Lonnie Smith was due next against Quisenberry, who in the seventh had retired the Phillies on three ground balls that bounced like marshmallows across the stadium turf.
"Del," said Dallas Green.
Like Kent Tekulve before him, Quisenberry later insisted that the pitch he threw Unser was a good one. "Yes, it was," Del agreed. "It's one you can easily top to shortstop or second. It's tough to pull unless you dive out over the plate. I went with it, and happened to hit it solidly."
The ball trailed sparks as it sailed up the alley in left-center. As the Kansas City outfielders tracked it down. Bob Boone, whose injuries have added another minute or so to his 40-yard clocking, rounded the bases like a marathon runner climbing Heartbreak Hill, but scored, and that was only the beginning.
Later, with the 6-4 victory in the books and the Phillies up, 2-0, in a series the form sheet said they wouldn't win, Unser was one of those called to the interview area where hundreds of journalists waited to record his comments for international distribution. For the next hour Del moved in an uneven patter toward his locker, intercepted at every turn by television crews, tape recorders, and floating clusters of authors.
IT WAS TEDIOUS, but it was also one of the fine moments in this World Series because people across the land will now have the opportunity to meet Del Unser who, as a man, is as solid as one of his line drives. In a time when most baseball egos are structured like the Goodyear Blimp, Unser remains a quiet, efficient departure from the norm.
The questions he answered last night were, in general, the same ones he had answered in Pittsburgh and in Houston. He would, of course, prefer to play every day, "but you don't replace a Pete Rose or Garry Maddox."
He repeated the story, several times, of how he phoned Paul Owens while at a racquetball tournament in Las Vegas in 1979 and asked for an invitation to spring training (he was an unsigned free agent). The other details can be filled in by all in the Delaware Valley who are familiar with the Phillies' recent history, but it should make a nice story in, say, Tucson.
It was suggested to Unser that a night like last night should have special meaning for one whose career has taken him from York, Pa., to the Washington Senators, to Cleveland, to Philadelphia, to the Mets, to Montreal, and back to Philadelphia.
"All the travel has brought me close to a lot of people in a lot of places," he replied, "so I would guess there were a lot of friends who were watching on TV and enjoyed this as much as I did."
HE EXPLAINED, as he has before, that as a potential pinch-hitter he spends portions of the evening jogging down the runway, doing stretching exercises in the clubhouse, getting ready for a call that might not come.
"I don't let other things cloud my mind during a game," he said. i get loose, I get excited like everyone else and what made this particularly exciting is that (a) it's my first World Series, and (b) once I'm in it, I'm wondering if I'll ever get a hit."
Well, almost everyone wanted to know, how did he manage to get on off someone with the gunslinger reputation of a Dan Quisenberry. "Luck," Unser said. "I could have hit the ball at somebody."
Does he like pinch-hitting?
"It beats hell out of unemployment," Del Unser pointed out.
And that is the way it went, much like it did in Pittsburgh and Houston, except that the crowds of reporters are larger. Noting his relaxed and cordial manner in the clubhouse one fellow asked how he got along with his teammates, some of whom have been known to be testy on occasion.
The reply was typical of Del Unser, honest, clever, with a message for this most special season, and another reason to hope there will be a Chapter 4 to record over in Kansas City.
"We're not all buddies, we don't all go to the same restaurant," he said "But when we come to the ballpark we all go out and do something together."
Phils Bitten by Injury Bug
By Bill Conlin
Greg Luzinski watched the four-run eighth from bed at his home in Medford Lakes, N.J.
Home to bed is where Phillies trainer Don Seger sent Luzinski last night after the Bull showed up at the Vet running a 103 fever and displaying the other debilitating symptoms of an intestinal vims.
When you're hot you're hot. Keith Moreland subbed for the ailing Luzinski in the DH role and singled home the final run of the 6-4 victory over the Kansas City Royals.
When the Phillies came whooping into the clubhouse, Garry Lee Maddox was in civilian clothes, his left knee filling with fluid after fouling a Larry Gura pitch off it in the second inning.
The centerfielder hung around long enough to fuel a two-run fifth with a double and Greg Gross hit for him in the ninth. Before the team's noon charter flight left for Kansas City today, Maddox had precautionary X-rays taken at Methodist Hospital.
"I DONT THINK there's any kind of fracture," Maddox said. "But it's just to the side of the kneecap and there's some fluid building up in there. Hey. nothing's gonna keep me out of there at this stage."
Dick Ruthven says all he has is pneumonia, but tomorrow's starting pitcher in Game 3 has been known to exaggerate on occasion.
"I expect to be out there able' to pitch," Ruthven said. "I have a cold and had a sore throat today, but I'm taking medication for it and it's no big deal."
Seger seemed most concerned about Luzinski.
"His temperature elevated quite a bit before the ballgame. up to 103, and we had to scratch him." Don said. "We've got him on antibiotics, but he has some intestinal discomfort, including diarrhea. He's got two days before the next game and Bull usually bounces back pretty good. We'll just have to wait and see."
Maddox was limping noticeably when he left the clubhouse, but Seger doesn't feel there's anything more sinister involved than a contusion.
Announcers Out of Touch with the Real Carlton
By Bill Conlin
Nobody who just reads the newspapers knows who Steve Carlton is. People who don't know him think he's cold, that he doesn't have a lot going for him except that he's a good pitcher. They don't know that he's a pillar of concentration out there, and that he's a great team leader. And they don't even know how really good a pitcher he is, and how he showed it last night.
During breaks, the Phanatic usually spends his time in the clubhouse, watching the game on TV. Now, the baseball announcers obviously know a lot and they deserve a lot of respect, but last night one of them, Joe Garagiola, was saying how maybe if the Series goes six games we'll see a good game out of Carlton. They were saying he wasn't having a good game because he wasn't striking out 11 and being perfect and all that.
WELL, EVERYBODY COULD tell he wasn't perfect. It was obvious Lefty didn't have his great stuff, but he showed what makes him a great pitcher – that he can hang in there when he isn't at his best. It was obvious Dallas Green didn't want to go to the bullpen too early, so Lefty's ability to keep on working, keep on pushing all the way to the eighth inning showed what a pro, what a great pitcher he is.
The Phanatic was in the clubhouse during the eighth, watching the Phillies on TV starting their comeback. For a while before that, in the stands with the people, I was worried that maybe we were going to lose this thing, that maybe we'd run out of comebacks. But then, all of a sudden, they did it again.
The Phanatic is in there, crowded around the TV with Tug McGraw's father and his brother. Hank, and a couple other people, really getting into the rally, when all of a sudden we realized Lefty was out of the game because he was in there with us in his shorts and with an ice pack on his arm.
And then he started cheering with us. "Yeah," he said, "Let's go, let's win this thing."
The rally kept going, and going, and we're all cheering. "Get more," Lefty yelled, "get more." And they did.
THE PHANATIC TOLD HIM what a great job he'd done, how he stuck with it and even struck out the last guy he faced, just blew him away on three fast ones. Somebody must have showed him a pitching chart, because he knew just how much he'd thrown. "Gosh, 157 pitches," Lefty said. "That's a lot of pitches."
And because he was able to stay in that long and throw all those pitches, we'll have plenty of strong pitchers out there in Kansas City.
•
During most of the game, the Phanatic was having a pretty rough night. Things just weren't flowing. Nobody was laughing, everybody was watching the game. But then everything changed in about two innings, with the eighth-inning rally. It changed from a rotten night to a great night just like that.
On the field after the game was a lot of fun. It always is when we win. Shaking hands with the players, clowning around, giving "high-fives" and "low-fives". That's what the players are saying when they leave the field – "Gimme a 'high-five,' " or "Gimme a low-five.'" It's all a lot of fun.
And then I was thinking after the game, and it all sunk in. We're going to Kansas City two games up. All we need is two wins and we'll have a parade up Broad Street.
Chats Not Off-Base With Rose
By Bill Fleischman
With 65,775 certified World Series fanatics screaming their ears off, it's an upset that the players can hear themselves think. It's an even bigger upset when you learn they occasionally can hear each other over the waves of noise.
To the surprise of no one, Pete Rose, one of baseball's most sociable people, was involved in two revealing conversations last night during the Phillies' latest great escape.
Chat No. 1 occurred in the first inning after George Brett arrived at first base following a single. Somehow Brett, the world's best hitter, arrived in good humor despite a nationally renowned pain in his rear end. For his formal greeting Rose wound up to smack Brett on the painful posterior.
"He told me, "Oh. don't do that," Rose recalled following the Phillies' 6-4 victory. "He must be hurt bad. It's a shame. Guys like Brett and Luzinski wait a long time to play in a World Series, then they can't play."
Chat No. 2 occurred in the ninth inning. By then, the Phillies had climbed back on top, 6-4, but with one out Kansas City's Hal McRae arranged to visit Rose by singling.
"HE SAID TO me, 'If you guys win this one, you're gonna be in great shape," " said Rose. "I said, 'We've got a long way to go.' Then he said, 'You know who you're talkin' to – don't give me that bleep. You don't want to trade places, do you ?'"
Rose wouldn't trade places with a filthy oil-rich sheik now. Hell, in Saudi Arabia it's even too hot to play night games. The underdog Phillies surprised almost everyone by sweeping both Veterans Stadium games and were looking forward to a weekend in Kansas City where – and don't these words sound strange – they conceivably can clinch their first World Series ever.
What, someone wondered, should the Royals be thinking now?
"They just have to realize they're going home,"-said Rose. Pausing, a twinkle flickering in his eyes, the Phillies first baseman added, "They also have to realize they can't win it at home. If they'd won one game here, they could win it at home."
Wisely, no Phillies, under penalty of listening to an album of Dallas Green gargling at full stereo power, would discuss a Series sweep. As Larry Bowa put it when reminded that Kansas City's best two starters. Dennis Leonard and Larry Gura, plus relief ace Dan Quisenberry, have been battered by the Phils. "All it means is we've gotta win two games. The number is four. Two doesn't mean anything. There's no way we're gonna go in there overconfident. Like I've said before, we've never done anything to be overconfident about."
THE ENTIRE Delaware Valley – those few who aren't too hung over – will hoist another beer to that candid statement. As Bowa, Rose, the rest of the team and the millions who have been squeezed through this emotional NL East-playoff-World Series wringer know, it would be easier on the nerves if the Phillies could start scoring early, as they did against Leonard in the Series opener rather than agonize through four hitless innings as they did against Gura last night. Curiously, as soon as Keith Moreland broke Gura's spell, the Phillies'assault began.
For the edification of those surrounding his locker. Rose, who hit .400 against Houston but is 0-for-7 against the Royals, graciously addressed himself to this phenomenon of facing a pitcher for the first time:
"That's why I've been such a good player in playoffs and a bad player in World Series. I dont hit pitchers (who) I don't know, what they're throwing. Just because a scout says he's got a screwball, a slider and a curveball . . . everybody's slider and curveball don't break the same way. That's why the first time up I try to see a lot of pitches. Gura hasn't thrown me a curveball yet. He's thrown me some sliders – he almost hit with me two of them."
A 20-game winner like Leonard and an 18-game winner like Gura were supposed to help send the Royals off running like Willie Wilson in the Series. Shortly past midnight, Dallas Green reminded us that while Leonard and Gura are excellent pitchers, they were not considered Hall of Famers by the Phillies' heavy thinkers.
"I HAD THE benefit of seeing Kansas City so I had a little knowledge of the team," said Green," referring to his tour as the Phils' farm director. "I had seen most of their pitchers and Hugh Alexander and our other scouts updated most of those things. We felt most of those pitchers could be beaten if we stayed within ourselves as a baseball team."
However, what's happening within the Phillies and Green can be deceiving, the manager pointed out.
"Confidence is fooling in that we had confidence going into this thing. (But) it's funny I talked with Manny Trillo this afternoon during batting practice. He told me he was over his nervousness. I said, 'Hey, you were nervous?' He said, 'Yeah, first game. I was nervous.' I said I was relaxed but it's starting to hit me now."
When a listener suggested that Green never appears to be nervous, he laughed and said, "The hell I'm not."
Maybe still being nervous with a 2-0 Series lead is the best way to be.
Brett's Problem No Laughing Matter
By Stan Hochman
The Royals clinched it at Yankee Stadium last Friday. That gave them three days to squander in New York " while- the Phillies and the Astros mud-wrestled for the National League pennant.
"Three days of Mexican food and Italian food," George Brett muttered last night. "And champagne . . . lots of champagne."
Call it Steinbrenner's Revenge if you want to, but George Brett, young, handsome, .390-hitting George Brett, has a severe case of hemorrhoids. Film at 11.
Maybe it was the jalapenos or the mussels marinara. Maybe it was the strain of finally bearing the Yankees in their own ballyard. Maybe it was the cheap champagne.
"I don't know what it was… I've never had 'em before," Brett said, surrounded by grown men studying his every weary move as he stepped gingerly into his clothes, his cowboy boots.
HE HAS THEM now. And he is at St. Luke's Hospital in Kansas City today, trying to get rid of them.
He sits there, very tenderly, on the Royals' World Series hopes.
Philadelphia celebrates a two-game sweep and Kansas City fidgets, its championship dreams in the hands of a proctologist. Who said baseball is a funny game?
"The guys kidded me at first," Brett said. "They said I'd probably wind up getting 100 grand for a commercial for Preparation H."
Baseball thrives on barracks humor. But the laughter died when his teammates saw Brett wobbling about the clubhouse like a guy whose ankles were latched with barbed wire.
He tried to play last night, lasting five painful innings as the Phillies came from behind to beat the Royals, 6-4.
"We talked about it in the cab coming to the ballpark," Manager Jim Frey said. "Me and the coaches. We said that he's the type of player who will go all out."
So Frey wrote Brett's name in the lineup even while he was stretched on a clubhouse table under two layers of warm compresses.
Brett singled the first time up, singled the second, time, struck out the third time. Handled four chances (two pops, two grounders) warily.
When Brett got to first base the first time, Pete Rose pretended to slap him on the backside. The crowd ooooohed. They knew.
MAYBE SOME monks in a monastery in Tibet didn't know. But the rest of the world knew about Brett's awkward ailment.
"He saw me." Rose said. "And he said, 'Oh, noooo.' I could see he was in pain. And then we tried to pick him off.
"He said. 'I'm not gonna steal.' But, hey, maybe he could have. You slide head-first, that's got nothin' to do with your butt."
Teammate Jose Cardenal winced with every dainty step Brett took. He has been that agonizing route himself.
"He showed a lot of class," Cardenal said. "I went through the same thing many years ago. It's the worst pain any human being can have.
"He's the leader, he don't want to let us down. But you could see the tears in his eyes, the pain was so bad. And after the game, someone called but he couldn't walk to the phone."
Someone mentioned Cesar Cedeno shattering an ankle in the playoff series... and Luis Pujols limping out of a game... and Vern Ruhle's freakish finger injury. Cardenal cocked his head suspiciously.
"You tellin" me somebody got a voodoo on 'em?" Cardenal asked. "You not gonna trap me into that. It's just one of those things... everything falling into place."
There are places and then there are places. Brett is an open, earthy, bright guy. He sensed the craziness of grown men glued in a semi-circle around his locker, poking gentle questions at him about... hemorrhoids.
BUT THE DAY before he had bragged about the way he handled the media crush that accompanied his assault on .400.
"One guy followed me for two months," he said. "Magazines were with me for two weeks. After every game I had to tell 'em every pitch I saw.
"It got to be a pain in the ass. But I've got my hair. I didn't lose any hair, 1 didn't lose any sleep."
But maybe the pain in the ass persisted, someone suggested.
"If it did, it's a chain reaction," Brett said, "because I didn't feel 'em until Saturday.
"I was in Billy Martin's Western wear store. Me and my brothers and Jamie Quirk. I mentioned to 'em that I was hurting.
"They told me to get some stuff and I went across the street to a pharmacist. He said it was good stuff and it seemed to help.
"But I felt it again at Sunday's workout and I told the trainer and we've been working on it ever since.
"After Tuesday's game I was up at 6 a.m., up again at 8 a.m. And then went to see a doctor (Dr. Benjamin Haskell).
"Now, I just decided, instead of going home and doing the treatments myself, why not check into a hospital? They know what to do.
"I've talked to a doctor friend o mine and he says that if they lance 'em, in 24 hours, I could be playing. Well, we've got a day and a half.
"LOOK, ITS A horsebleep subject. It's a pain in the ass. I've never felt such discomfort.
"Sure, I used to see the TV commercials. I laughed. Same way with the tampons. But it hurts like a son-of-a bitch. And the more you move, the more it hurts.
"I was out there, playing everybody a lot shallower. I knew I couldn't run too good. The ball Maddox hit in the fifth, I asked 'em how close I came to it.
"They said it went just under my glove."
Before the game, Maddox was one of covey of players sending salve and sympathy Brett's way.
"Yeah, I sent over a beat-up tube of medication," Mike Schmidt said, startled. "How did you know? Ain't no thin' goes on in a World Series you guys don't know.
"I've been through it. Played with 'em the whole season in '75. Hud an operation afterwards.
"I think it runs in third basemen. Maybe only third basemen get it Personally, I think it's inherited. And sometimes, it comes when you're pregnant. Maybe George is pregnant?"
Two hits, a 2-0 lead in the World Series, has a way of warping your sense of humor.
"Ah," said Schmidt, uncomfortable just talking about the ailment, "all he's gotta do is take a lot of sitz baths and everything will come out all right."
Phillies trainer Hon Seger squelched Schmidt's theory about third baseman, listing catchers as prime candidates because of the basic squatting posture of the position.
"POOR GUY," said Seger. "Here he is, playing in something he should enjoy, and that pops up."
Brett has 36 hours to ease the pain. If he can't play, the Royals are in deep trouble. They are 22-22 without him, that's .500 ball, and only five games remain in this tournament.
Tug McGraw, who gulps Tylenol to chase the inflammation out of his left elbow, doesn't want the Phillies' dramatic antics overshadowed by Brett's ouchy rear end.
"Hey," he said, "Bob Boone played six innings the other day on a foot we thought was broken. The thing was all swollen.
"We've had our share of bad breaks… with injuries, wiih the umpires. But we're just not letting anything beat us.
"Tonight, Bull was sick. And Zonk (Keith Moreland) comes off the bench and does a good job. That's why you have a ZS-man roster."
Sure, Tug, sure, but Brett hit .390 and drove in 118 runs, and that ain't chopped calamari. You do not replace those figures with something off a drugstore shelf.
So, if Brett can't play, the chances increase of a world's championship flag flying over Philadelphia and people dancing in the streets.
They will, you should excuse the expression, be dancing cheek to cheek.
Brett Has Surgery; May Play Tomorrow
KANSAS CITY, Mo. (UPI) - American League batting champion George sur-Brett underwent minor surgery today to alleviate a hemorrhoid condition and Kansas City Royals officials said he might be ready to play in the third game of the World Series tomorrow against Philadelphia.
The Royals said Brett underwent surgery to lance an external hemorroid and was expected to stay in the hospital overnight. Brett's surgeon said the third baseman likely would be able to play tomorrow. See Hochman on Page 73.
Comic Relief for Quisenberry
By Jay Greenberg
Dan Quisenberry's downfall last night was that he put on Bob Boone to start the eighth, not the reporters who were asking him about it.
"The only time I get called strikes on 3-2 pitches is when Willie Randolph is up, with two outs in the ninth in Yankee Stadium with 60,000 people going crazy," said the Royals reliever.
"Why?" intoned a voice from the pack. "Do-you think that umpires have it against sidearm pitchers?"
"I think that's definitely so, said Quisenberry. "Umpires think we're freaks and that we belong in paddy wagons with lace wrapped around our faces and should be whipped."
"Do umpires ever say anything along these lines to you?" asked the reporter. He was wearing straight face. Honest.
"No," said Dan, realizing he had taken this turkey to the limit. "I usually get good calls. Honest, he did a good job tonight."
DAN QUISENBERRY did a better job with the media than he did in the game last night. Honest. His two-run lead disappeared faster than a Phillie ducking into the players' lounge, but when the writers were let into the Royals' locker room, there was their ace reliever, waiting patiently in his locker for a combination confessional and sit-down routine.
"I didn't think the script was going to end that way," said Quisenberry, but he was doing better without one. One deadpan line followed another. The humor was dry, sort of like we always pictured Steve Carlton entertaining writers with Steve Martin's arrow through his head. Instead Lefty has chosen to do Charlie Chaplin. Quisenberry is more like a Henny Youngman. Take that loss last night. Please.
"I like my wrists," Quisenberry said. "I don't want to destroy them. I did my best."
"What was the problem tonight?" someone asked.
"Uh, which problem are you referring to?"
"Were you getting the ball up too much?"
"No. I wish 1 had a replay here to show you. The only thing I didn't have tonight was velocity, the quick sinker. The only good pitch I didn't make were to Moreland and to Boone. Actually the Boone pitch was a good pitch, but not a good 3-2 pitch.
"I HAD THE poop sinker. The catcher catches it and it goes poop instead of pop. Or someone asks him how I was throwing and he says, 'Poop.'
"It sort of drops like from a big dog. Cecil Cooper hit my sinker a couple times like (Del) Unser did. Tony Armas tried to kill me once. But no one hit them as far as Unser and Schmidt.
"The ground ball (chopped over the infield by Bake McBride) in Kansas City is an out. This turf has more bounce. It's a tough break, but it had nothing to do with positioning. I really think that no matter where the infielders are, they'll hit the ball right at them.
"Actually, I'd like one guy about three feet from the hitter. That would be really intimidating.
"How," someone asked, "will your teammates react after seeing their best reliever fail to hold a lead in a game like this?"
"They'll probably all get drunk. And cry. No, really, it's not the first time I've been lit up, they'll probably think that I'm now going to throw 40 straight scoreless innings.
"Basically I'm a happy guy. I can live with this. We've lost two in a row before and we've won four in a row before. It'll be nice to get home. See my daughter. Have fans yelling nice four-letter words. Even hear a drawl.
"WHEN THE inning is over, I sit on the bench and think about why things happened. I feel like Drano. Everything's gone out My whole job is changing momentum and even if I couldn't do it tonight, I've gotten hit before and come back. I don't see why the team can't."
And though the locker room mood was one game darker than the night before, that's the way the Royals felt.
"I'm sure once we get back to Kansas City we'll bust out for a win or two," said Willie Wilson. Willie had busted out of an 0-for-8 with a walk and a stolen base which started the Royals' three-run seventh-inning rally. "I'm hoping 1 can get this off my mind."
When the Royals let it get away, they hurt almost as much as George Brett does when he sits down. Still they had it won without him.
The presumed winning rally was manufactured after George had retired. Dave Chalk drew a walk in Brett's place, but Amos Otis, who followed two outs later wiih a bases-loaded double, had the feeling that had George come up that inning, there would have been more.
"The way I've hit these two games. I just know, with George feeling better, we would have come out with at least one win," said Amos. "We lost 'cause they got the breaks at the right time, that's all."
LARRY GURA, perfect through four innings, said that a more mobile Brett might have gobbled up Garry Maddox' double. Still, Frank White insisted that was missing the point. "We had the lead," said the Royals second baseman. "We should have been able to win the ball-game. All the other stuff, the (10) guys we left on base, doesn't matter. It shouldn't anyway.
"You get a two-run lead with six outs left, you got to hold it. You walk a guy, you leave yourself open.
"Quis didn't look too sharp. I would have brought someone else in. It just seemed like the right thing to do, that's all. But Quis has done the job for Jim (Manager Frey) all year long, so he's going to go with him.
"We should have won both games, but last night wasn't as frustrating as tonight. We're beating Steve Carlton, maybe the best pitcher in baseball, and couldn't hold it.
"We're going home but, besides the fans, I don't see much advantage in that. Baseball is baseball. The guy throws it, another guy hits, another catches it. In a short series, home field doesn't mean too much. We could have won both here except for walks. And that didn't have anything to do with where we were playing. You just gotta make them hit the ball."
The Royal Treatment Irks Kings
KANSAS CITY, Mo. (UPI) – A sparse crowd of 5,753 turned out last night to see the Kansas City Kings play the No. 1 drawing card in the National Basketball Association, the Los Angeles Lakers.
There were radios and portable televisions galore in the stands as a large segment of the crowd split its attention between the game going live before its eyes and the World Series game being broadcast from Philadelphia.
"You always like to play in front of a big crowd and have the attention of that crowd," said Kansas City Coach Cotton Fitzsimmons later in the evening. "But this (World Series) is a once in a lifetime thing here in Kansas City. You expect the people to be excited about it."
WITH 2:45 LEFT in the third quarter and the two NBA teams huddled in front of their benches during a Los Angeles timeout, a huge roar went up in response to a sixth-inning throwing error by Phils second baseman Manny Trillo that allowed Kansas City to cut Philadelphia's lead to 2-1.
With the Kings working their offense in the Los Angeles end with 2:55 left in the fourth quarter and a 98-97 lead, spontaneous cheering broke out once again when Amos Otis gave the Royals a 3-2 lead over the Phils with a two-run, eighth-inning double.
With the Kings again on the offensive, this time trailing 99-98 with 2:10 left in regulation, cheering broke out a third time in response to John Wathan's sacrifice fly in that same eighth inning that gave the Royals a 4-2 lead.
But a half-hour later, that crowd filed out of Kemper Arena a double loser the Kings had fallen to the Lakers 112-107 in overtime and the Royals had collapsed at the hands of the Phillies, 6-4
A Stripper for a Hoagie?  You Bet!
KANSAS CITY, Mo. – A strip tease show and a quart of Crown Royal whiskey says the Kansas City Royals will win the World Series.
That's the wager of a K.C. disc jockey, who has joined the barrage of bets being hurled between fans of the Royals and Philadelphia Phillies as World Series fever heats up. Beef and pretzels seem to be the favorite bet among politicians, but Mike Beach of radio station KBEQ wagered the performance of a strip tease artist and a quart of whiskey against a 6-foot hoagie and a case of Schmidts beer that the Royals will win.
Beach made the bet with Philadelphia station WIOQ's "Harvey in the Morning."
Kansas Sen. Bob Dole, relying on some political history, has put 25 pounds of prime Kansas beef on the Royals while Pennsylvania Sen. John Heinz countered with 25 pounds of Philadelphia-style pretzels and mustard.
Dole said, "There is one element in my favor, however, and I think it might make Senator Heinz have some misgivings about his support of the Phillies. In nine of the past 10 presidential elections, Republicans have won when the American League has taken the Series, and Democrats have won when the Series has gone to the National League team.
"The only time this went awry was in 1948, the year Harry Truman was elected President and the Cleveland Indians won the title. But, by applying this formula I am confident that neither our presidential candidate nor my 25 pounds of beef is in extreme danger."
Mayor Richard Berkley of Kansas City bet Mayor William Green of Philadelphia a "few Kansas City steaks" against a "huge amount of Philadelphia soft pretzels" on the outcome of the series.
"We should be enjoying all those pretzels in just a few days," said Berkley.
•
From the TV ratings people at NBC, a bonanza:
The network estimates that 68 million people watched at least part of Tuesday night's first game: In New York, that represented a whopping 23 percent increase over last year, while the increase in Los Angeles and Chicago was a more modest 11 percent.
•
Caller after angry caller asks the same thing: How come Richie Ashburn, Andy Musser, Hairy Kalas and the other Phillies radio and television play-by-play stalwarts aren't in the Vet Stadium broadcast booth for the World Series?
In a fit of righteous indignation heard from the Far Northeast to South Philadelphia, Phillies fanatics are upset that they must watch NBC and listen to CBS instead of the familiar TV-17 and KYW Radio regular-season coverage. Channel 17 alone has received over 300 call from fans wondering what happened to Richie, Andy, and Harry.
Turns out NBC has exclusive rights to televise the Series, while CBS has a similar contract covering radio. Both were signed months ago, when making the Series was just a twinkle in Dallas Green's eye.
"It's depressing, frustrating and disappointing that after working the Phillies through the entire season and playoffs, we can't work the Series," said Kalas. "It's like being in reach the plum and not being able to grab it. But that's the nature of the beast, I guess."
The Fans in the Press Box
By Larry McMullen
I had a terrific seat last night for the second game of the World Series but I missed a couple of plays because in our section we had some wild fans from both Kansas City and Philadelphia. No matter which team was at bat, there were people all around me ready at the crack of a bat to jump up and down and go crazy.
I sat next to a guy from New York who had a little self-control. He never once got in anybody's way or screamed in anyone's ear. He did become a little frustrated, though, in the eighth inning when he was blocked from seeing one of the game's most important plays by a couple of fans in front of us who were performing a victory dance.
The thing is, the guy from New York was trying to take notes because his job is to write about sporting events for a newspaper.
"A lot of reporters root," he said to me after he missed the big play, "but at least they could do it quietly."
Our section had nothing but reporters in it, since we happened to be sitting in the press box at Veterans Stadium.
We sat along the third-base line, some distance from the main section of the press box, which is reserved for the writers who regularly cover the Phillies. Our section was for out-of-towners and local writers who aren't normally on the baseball beat.
The guy from New York I knew by reputation and by reading his stuff the few times over the years. I've gotten my hands on the newspaper he works for.
He wrote a baseball story about 15 years ago that I read and clipped out so I could read it again whenever I wanted to remind myself of how a reporter -with style and grace conducts himself in print.
•
In the seventh inning of last night's game, Phillies' pitcher Steve Carlton walked the Kansas City Royals' Willie Wilson on four pitches.
Carlton then showed Willie Wilson his pick-off move.
A pickoff move is when a pitcher acts as though he's going to deliver the ball to the plate but throws it to a base occupied by a runner instead. The intention is to fool the runner so that he can't react quickly enough to get back to the base before he is tagged out.
Carlton's pickoff move doesn't just fool runners. It freezes them, catching them in stop action with all the body muscles straining in one direction while the brain is screaming, "Get back."
Phillies' fans love Carlton's move. Fans of teams the Phillies play think if it isn't illegal, it should be.
When Carlton showed his move in the seventh inning last night, ice started forming on Willie Wilson, who was posed about 10 feet away from the safety of the bag. At the last instant, Wilson dived back toward first. Pete Rose took Carlton's throw and swept his gloved hand at the runner.
"He got him," screamed one of the Phillies' fans sitting in our section of the press box.
The umpire signaled safe.
"Yo. ump," shouted the Phillies' fan.
Right then, I felt Philadelphia was trailing Kansas City badly.
Not in the baseball game.
In the press corps.
We saw the replay on one of the television monitors in the press box. Willie Wilson was clearly safe.
Carlton then tried his pickoff move on Wilson again.
"That's gotta be a balk," one of the Kansas City reporters yelled.
He yelled so loud, even other Kansas City reporters gave him a look.
Thank God.
We were tied again.
•
It went back and forth like that, with first the Philadelphia fans in the press box and then the Kansas City fans in the press box on their feet screaming for rallies.
When it was over and the Phillies had won the game on the field, the fans in the press box put on their reporters' faces and went down to the interview room, where journalists are supposed to ask calm, objective questions and pretend the outcome of the game meant nothing to them.
Managers from both teams and a couple of Phillies' players came to the interview room last night They were supposed to answer the questions the reporters were supposed to ask.
Kansas City manager Jim Frey was first into the room.
"Carlton has a suspect move to first," one of the Kansas City fans said to Frey.
That's all he said. There wasn't a question mark anywhere.
He waited for Frey to answer his statement.
Frey did.
Hell, in Kansas City they don't even know how to pretend to be reporters.
•
Larry McMullen's column appears Mondays, Wednesdays and Thursdays.
Game 2:  A Hit and Miss Affair
By Maria Gallagher and Julia Lawlor
Ho hum. another World Scries game, another Phillies win. So what took 'em so long, if it's this easy? Oh, you say they didn't have the Kansas City Royals to kick around in 1915 and 1950?
Another 65,000-plus crowd turned out last night, roared with a single voice, and generally made themselves at home at the Vet.
For many fathers, it was a night to bring sons for a rite of Phillies passage.
"I want him to remember this," said Jim Pastore Jr. of Springfield, with a fond glance at 12-year-old Jim III. "If we have to suffer another 30 years without one, at least he'll be able to tell his kids."
Other fans between the ages of Jim Jr. and Jim III seemed to have more than history on their minds.
"NO PROGRAMS, no pennants – and no date, either," reported a suburban high schooler just back from a reconnaissance mission at a nearby souvenir stand.
He and two friends huddled to chart the next play in their "game plan," settling on a sweep of every female-run souvenir stand on the 300 level. What baseball game?
The temperature was about 10 degrees warmer than opening night, but the fever remained high in the trenches. And no one was happier about the Phillies than the folks behind the recent boom in illicit capitalism.
"Bake McBride's home run bull! $50," a hawker cried after Game 1, holding high a scuffed sphere of uncertain origin.
This was on the northbound Broad Street Subway. The hawker refused one offer of $5. There were no other takers.
UNDAUNTED, THE hawker – who'd obviously studied his P. T. Barnum – resumed his pitch when a kid in a Royals batting helmet boarded the train.
"Amos Otis' home run ball! $40," he hollered. The kid wasn't in a buying mood.
An L&I inspector standing outside the stadium before game time last night said he'd confiscated a number of tickets from scalpers, but wouldn't say how many (or what he did with them). Talk about inflation – the asking prices were $50 and S60 a seat for the 700-leveI seats that go for S2.50 during the regular season.
"You can't solve it all," he shrugged. "Tonight's about the same as last night."
An usher was overheard telling a fan that some guardians of the gates were accepting $25 to admit persons without tickets.
PROGRAMS, WHICH SOLD out fast at the $2.50 over-the-counter price were being offered for $5 apiece from underneath the coats of speculators by the end of the game.
Two legitimate vendors, Len Ciancaglini and Chris Lucasti, reported that their post outside the stadium was cleaned out a half-hour before the National Anthem. They sold 1,800 last night and 1,350 the previous night.
If he were a Royal rooter instead of a Phillies fan. Charles Walakovits of Bethlehem, Pa., would have given his kingdom for a program last night.
Walakovits said 22 of his co-workers at the Bethlehem Post Office had given him money to bring home the souvenir books.
"It's supply and demand – a collector's item. But I can't believe it I can't get a program," he mourned. "It don't happen but every 30 years."
THE SEPARATION of church and stadium didn't exist for Angela Friday, who claimed to be affiliated with the Hare Krishna religious group. She was busy slapping Phillies stickers on lapels of fans as they walked by, while soliciting donations to "Iskcon." She said the non-profit, world-wide organization prints books that "help people develop God -consciousness."
It was a good thing Friday didn't try rapping with the Canadian who'd driven all the way from Ottawa with two friends.
Disappointed to find himself ensconced in the very topmost row of the stadium's topmost level, the man yearned to further dampen his dampened spirits at a local saloon. But where to go?
"I want a bar where people talk about baseball," he insisted, "not about existentialism or anything like that."
ANOTHER TOURIST lured here by baseball was Julie Schnuck of St. Louis, who attended as a guest of the St. Louis Cardinals. She said the group had a split opinion about which team would win the World Series.
As for her own opinion. Schnuck decreed that Philadelphia was "great" after a fulfilling day of lunch at the Saloon, a social call on the Liberty Bell and a brisk jog up the Art Museum steps.
Some of the spirit of brotherly love must have rubbed off on her friends, too.
"I hope Brett gets over his hemorrhoids," said one humane fellow-traveler.
The limousine driver for National League president Chub Feeney waited out the game in the car, reading a book royally-entitled "To Catch a King."
The driver, who shuttled Feeney from the Barclay Hotel to the stadium Monday night and last night told a reporter "I took the job 'cause I figured I'd get a ticket to get in."
Phils Usher Recalls Lean Years
By Julia Lawlor
The year was 1950. Walt Reynolds was paid $1.50 a day in small change to shake his finger and raise his voice at errant Phillies fans who couldn't seem to harness their enthusiasm for the Whiz Kids.
Thirty years later, the Phillie Phanatic does the "Watusi" on an astro-turf dance floor, a computerized scoreboard lights up the night sky, and 65-year-old Phillies usher Walt Reynolds is doing the same thing, give or take a few bottles of Excedrin.
IF HE DID indeed leave his heart with Richie Ashburn and Robin Roberts at Connie Mack, he won't admit it. His shoes were stirring up miles of peanut shells last night as he patrolled the most coveted section of the stadium – the area directly behind home plate on the second night of the current World Series battle between the Kansas City Royals and the Philadelphia Phillies.
"We saw some real bad years with the Phillies," said Reynolds, a South Philadelphia native. "But I like this team better than the Whiz Kids. I think they're faster.
"You miss the closeness of Connie Mack," he continues, shooing young gatecrashers from the aisles. "It was more intimate than here. They played on grass then, instead of on a pool table. But I still go for this," he points up to the stands, at the crowd of 65,775 (3 more than Monday night).
"THAT PARK (Connie Mack) was cozy – no headaches like here. Kids today just don't behave themselves, that's all. The world – it's changing. They got no respect for each other. They just don't pay attention.
"You can't stay here, go in the back," he repeats over and over again to stragglers who stop to watch the game in front of seated fans. Then he smiles.
"You gotta get plain nasty – not stern – plain nasty. If we don't move the walkers and the standers, the ones in the stands start hollerin'. There's a clown every place you go. They don't listen, they don't give a damn. Trying to control this crowd is unbelievable."
While Reynolds talks with some fans. Republican Arlen Specter and his wite, city councilwoman Joan Specter, do a little between-the-innmgs campaigning in his aisle.
REYNOLDS BRISTLES. "This politickin' here – they're not supposed to do that. Them kind of people always have a ticket and they don't pay for it – somebody buys it for 'em."
A feisty man with a Jimmy Durante delivery. Reynolds joined the Phillies as an usher in 1949. when he and Joe Yank, now head of the Phillies security office, were working as machinists at the Philadelphia Navy Yard.
Yank and Reynolds were assigned as ushers to adjoining sections at Connie Mack during the 1950 World Series, at $1.50 a night.
Ushers now make $18 a night, and it is not unusual for someone to rake in $40 in tips, especially during the World Series. After Monday night's game, stadium manager Pat Cassidy decided to hire an extra 125 ushers to handle the crowd.
LAST NIGHT the aisles on the 300 level were jammed with youths who had snuck in without tickets, but Reynolds finally gave up in the 8th inning and let them crouch on the cement.
"I keep one eye on the field, the other on the people." he says, giving the evil eye to a pair of teenagers wearing "Ice Palace Hockey" jackets. While the Phillies scored four runs in the eighth inning, he, unfortunately, was fan-chasing.
"I missed the whole thing," he said. "Usually I'll read the paper the next day to see who made the hits. But I can't call this a bad night – I enjoy it. And I can understand – the people are just charged up – they're hyper. They waited 30 years for somethin' like this."
That "somethin' like this" happened again last night – how did he feel about the Phillies beating the Royals 6 to 4?
"Jubilant. And very, very glad it's over."
A Big League Win
Phillies Fan Cops Nobel Prize
By Dave Bittain
Lawrence R. Klein, winner of the 1980 Nobel Prize for economics, doesn't look like the Nebraska kid who was a batboy for the Omaha team in the Western League 50 years ago.
With his horn-rimmed glasses, gray hair and three-button Brooks Brothers suit coat worn with a sleeveless sweater and gray flannel cuffed pants, he looks exactly what he is an esteemed economics professor at the University of Pennsylvania.
The night before the big announcement. Klein, 60, had settled down to reading a student's Ph.D. dissertation after getting bleary-eyed watching the Phillies knock off the Royals. Maybe he even fantasized about his childhood dream of becoming a big-league catcher.
DURING AN IMPROMPTU press conference yesterday at his Penn campus office, the friendly, soft-spoken professor pardoned himself while he talked on the phone to another Phils' fan.
"That was Mayor Green." Klein said. "He told me he would pay more attention to me once the World Series was out of the way."
Klein becomes the eighth American to win the prestigious Swedish award this year – and the ninth VS. citizen to win the Nobel economics award since it was established 12 years' ago. He received the prize for his building of economic models that help the analysis of economic growth and policy.
KLEIN WAS AWAKENED at 6:50 yesterday morning "by a friend in the department" who told him the good news.
"I was sleeping when he called." he says. "I wasnt thinking along those lines." But he admitted he has heard "some gossip" about his being considered.
He took the announcement that he had won the award, worth $215,000, in stride – saying he plans to remain at Penn, where he has taught at the Wharton School and has been a member of the Faculty of Arts and sciences since 1958. The father of four, he lives in Wynnewood, Montgomery County. His wife, Sonia, is a Wharton School economist.
"I've been here for 22 years and this is my home and this is my life. It (the award) will have little effect on my life. The recognition is more important than the money."
HE SAID HE WAS DISAPPOINTED that the uproar about winning the prize prevented him from teaching his morning class yesterday, but insisted on teaching his afternoon session.
The professors who are Klein's office neighbors at Penn say the Nobel award was "well-deserved." One called him "an incredibly accessible man" and the other described him as "a gentleman."
Klein was mentioned as a possible Nobel Prize candidate in 1976 when he got his first major national media attention as presidential candidate Jimmy Carter's economic task force coordinator. He didn't join the Carter team in Washington after the election, but says he counsels the president occasionally on economic matters.
"I'm going to vote for Carter." he said yesterday. "There isn't any doubt. He's my friend. What people find unsatisfactory about him will be less of an issue if he wins a second term. He's learned something and should take more long-range action."
Klein's family is scattered, with only his son, Jonathan, 24, a Penn graduate who works as programmer, remaining in the area. Jonathan and the oldest of three daughters, Hannah, 31. a University of Chicago geneticist, both celebrate their birthdays today. Rebecca, 29, teaches the retarded in Boston, and Rachel, 26, is a free-lance editor in New York City.
Klein's father, who is 88, and his mother, 82, still live in Omaha.
WHEN A REPORTER described the Kleins as "a family of over-achievers," the professor laughed.
Klein has eight honorary degrees, including an M.A. from Oxford University in England, where he taught from 1954 to 1958, and four other degrees from foreign universities.
But he can kid about his forecasting of economic conditions, which he agrees is an imperfect science, with "everybody making errors day in and day out." But he claims the degree of error usually is small and that there would be fewer errors if international incidents such as the Iran-Iraq war and the Soviet invasion of Afghanistan, could be predicted in advance.
Four of his staff members, who called themselves "the light-headed members of the economics department," sent him a bundle of balloons yesterday after hearing that he had won the Nobel Prize.
Clutching the balloon strings at the request of photographers, Klein described them as "an inflation symbol."
"I can stop inflation by sticking a pin in a balloon," he joked.
Morgan Remark-ably Sorry
HOUSTON (UPI) – Second baseman Joe Morgan, who told a reporter he did not want to play for Houston Astros Manager Bill Virdon next year, has said he did not want the remark publicized and will discuss his future with club officials.
"Joe explained to me that he hadn't expected what he said to be made public." said General Manager Tal Smith, who characterized the remark as, "said in the heat of the situation. He said he was sorry it came out.
"We didn't really talk about 1981 other than to say that we would get together soon."
Morgan, signed as a free agent last year to a one-year. $255,000 contract, spoke to a reporter from radio station KILT after Sunday's playoff loss to the Phillies. He told the reporter he was disappointed Virdon took him out in the eighth inning of that game and he did not expect to return next year.
VIRDON THIS SEASON often replaced Morgan with Rafael Landestoy. who is quicker and younger than Morgan. Morgan said he believed experience should be valued more and he never agreed that the regular practice of inserting Landestoy in late innings was wise.
As it turned out Sunday, Landestoy delivered a key single in the two-run eighth inning that briefly tied the final game after the Phillies had taken a 7-5 lead. The Phillies eventually won, 8-7, to advance to the World Series.
Morgan, suffering from a knee injury, had two hits in 13 at-bats in the five-game playoff series. On two occasions, he took himself out when he reached third base to allow the speedier Landestoy to run for him.
Smith said he met Morgan after the Astros were eliminated and that the meeting was much like meetings held with other players.
"A number of players came by to say goodbye and I congratulated them and we talked about the series." Smith said. "Joe was no different from the others. He did want to say to me that he was sorry that what he said got out."
•
The news on J.R. Richard from the West Coast is very good.
Vascular surgeons from the University of California-San Francisco announced yesterday an apparently successful 18-hour operation was performed on Richard Tuesday to replace an obstructed artery in his right shoulder.
The doctors also said the outlook is good for Richard's return to baseball.
J.R.'s Surgery Is Successful
SAN FRANCISCO (UPI) – Vascular surgeons at the University of California Medical Center announced yesterday that Houston Astros pitcher J.R. Richard has been successfully operated on to replace an obstructed artery in his right shoulder.
The procedure took place Tuesday and required a team of surgeons working for a period of 18 hours.
A spokesman for the hospital said the operation was a success and the outlook for Richard to return to baseball following a stroke last August "appears good."