Philadelphia Inquirer - October 16, 1980
A man you most want to see at the plate in a pinch
By Lewis Freedman, Inquirer Staff Writer
They do not besiege Del Unser to endorse after shave lotion. Since 1968 when he broke into the major leagues with the Washington Senators, he has been known as a guy who will give you a good day's work for his day's pay. Nothing flashy, just solid.
But somewhere along the line, the Senators, the Cleveland Indians, the New York Mets, the Montreal Expos and – oh my, yes – the Philadelphia Phillies voted him the Man You Most Want To See At The Plate In A Pinch.
The reason the Phillies are in the ' World Series is because Unser did an imitation, if not of Babe Ruth, then of Manny Mota, baseball's all-time clutch pinch-hitter, in the fifth game with the Astros.
And a major reason the Phillies are up two games to nothing over the Kansas City Royals in the World Series is because the journeyman outfielder-first baseman had his lumber ready in the bottom of the eighth inning when manager Dallas Green beckoned to him.
The Phillies were trailing Kansas City, 4-2, when Bob Boone walked and Green decided he would rather have the veteran Unser, 35, face Dan Quisenberry thnn. Lonnie Smith.
Last Sunday when the Phillies had to beat Houston to get here, Unser had tied the game once with a pinch single and doubled in the 10th inning before scoring the run that won the pennant.
This time Unser unloaded on a Quisenberry slider, driving it hard on a line to the gap in left-center. The double scored Boone standing up and sparked a four-run Phillies rally that gave them the 6-4 victory.
For Unser, the last week has been like a child's first visit to Disneyland after a lifetime of anticipation.
"This is a 30-year itch," he Joked. "I didn't know anything about baseball until I was five years old. This is unbelievable."
Unser may not have played with many winners in his career, or established a reputation as a feared slugger, but he has not been The Invisible Man when it comes to pinch-hitting.
In 1979 as a pinch-hitter he set a major league record with three straight pinch homers and hit .304 coming in cold off the bench. Lifetime, he has seven pinch homers.
"There's no better feeling than having Del Unser to put up to pinch hit," said Green. "Unser has done everything asked of him in 1980." Unser and the rest of the bench, said Green "have done it all year."
Unser is even astounding his teammates.
"Unser's been unreal," said Phillie slugger Mike Schmidt. "I can't believe Del Unser."
As Schmidt spoke to the large crowd of reporters, Unser waited in the wings, smiling and kiddingly patting his hair down as if he were about to debut with Johnny Carson on "The Tonight Show."
"There's a guy over there," said Schmidt, nodding in Unser's direction and alluding to the Houston finale, "who got the biggest hit I've ever seen. He's probably the reason I'm standing here and am in the World Series."
In most of those years kicking around two leagues, mostly as a starter, fame eluded Unser. Now, when he plays only periodically, he is becoming a household name in South Philly, Bryn Mawr and Cherry Hill. But he clearly knows his function.
"My role?" asked Unser. "Whenever he (Green) says 'Del get your glove or bat,' I go to work. It is just that simple."
Unser hasn't had that many opportunities to talk about himself to ag assemblage the size of the World Series press corps, but when it came down to it there was little "I" and a lot of "we" in what he had to say.
People wanted to talk about how he gets the big hits. He wanted to talk about the Phillies' confidence and, how they are doing it, coming back from deficits again and again.
"We are doing it," said Unser. "Then we have done it. Now we expect it."
Unser has done it so often the Phillies now expect him to do it. Last night he did it again.
Bearing Royals loyalty bravely
Kansas City fans expect, and get, some ribbing
By David Zucchino, Inquirer Staff Writer
Larry Slater does not suffer lightly the slings and errors of outrageous baseball fortune.
No, Slater is a prudent sort, a Kansas City pharmacist whose discretion is matched only by his undying homage to the Kansas City Royals. So when he watched his Royals win the American League East in Yankee Stadium Friday, Slater turned his ice-blue Royals jacket inside out to obscure the huge Royals logo across his chest.
"Those Yankee fans," he explained yesterday, "wanted blood."
But in Philadelphia, as Slater wandered across Independence Mall, he was feeling reckless. Why not, he thought? Why not wear his Royals jacket with the offending logo for all to see?
They saw, these Phillie fans who seem to have sprung from the dirt here like winter wheat. They saw, and they hooted and they taunted, but gently, with the affable air of Game 1 winners.
"After Yankee Stadium Friday, this is a piece of cake," Slater reckoned, sizing them up. And so he baited them, argued with them, threatened them with a four-straight Royal blitz.
Larry Slater, 36, has come to know well of such things, for he is a baseball alien. He is one of those rare creatures who follow a team's every flight across the continent, falling to earth in strange cities with strange fans.
He began this latest venture last June, making airline and hotel reservations in New York, Houston and Philadelphia – the cities he judged most likely to host the Royals in postseason games. And, owning Royals season's tickets next to the wife of then-Royals manager Whitey Herzog the past four years, he managed to ease his way into playoff and Series tickets.
Oh, how he planned and schemed. He arranged for two weeks' vacation. He bought traveler's checks (pick-pocketed this weekend, courtesy of the New York subway system). He arranged to stay in Philadelphia with members of a national pharmacist fraternity, for which he just happens to be a national officer.
By Monday, he had met Scott Hubbard, 24, a Royals fan from Cambridge, Md. Hubbard is a former minor league umpire whose rapport with the men you love to hate pays off in tickets.
Slater and Hubbard hit it off, and Hubbard agreed to drive the 21 hours to Kansas City after last night's game. That would save Slater round-trip plane fare; both men plan to return here for next week's games, if necessary.
After Tuesday's game, they wore their Royals gear into the heart of Pat's, the well-known South Philly bar, at 3 a.m. They did not go unnoticed by the local folks.
"This jacket," Slater said, "is a hell of a conversation piece."
It is a fine, expensive item, but only an incidental part of his $2,000-some investment in the Royals' postseason. Slater smiled a wicked smile. "Nothing – I mean nothing – comes before baseball," he said.
The stroll to Independence Park, of course, was a mere time-killer. It was where most of the Royals fans went after they tired of ogling ballplayers in the lobby of the Franklin Plaza Hotel.
On the mall yesterday, Several park rangers were immediately upon Slater, drawn to his jacket. "You ain't got a chance," said one. "You come all this way just to get beat?" said another.
Ah, this was child's play for a man of Slater's experience. "Yeah, yeah, I heard that from the Yankee people, too. But here we are in the Series," he said.
And then, before they could regroup: "We're gonna win it, and we're gonna take that with us," and here he gestured grandly to the Liberty Bell.
At the Bell, ranger Raymond W. Morris could not ignore Slater's jacket. Addressing a group of tourists, he pointed to the jacket and said that rubbing the bell brought good luck.
"But we can't guarantee any luck for Royal fans," Morris said.
Slater kept silent, waiting his chance. It came moments later, when a black limousine with a Royals flag pulled up outside. Out stepped an ornate en'nurage headed by Muriel Kauffman, wife of Royals owner Ewing Kauffman.
Slater and Mrs. Kauffman embraced, kissing like lost friends, though they had met only briefly in the past.
Mrs. Kauffman was being ushered about by Sandy Sudofsky, a guide for a local tour agency. Sudofsky is an ardent Phillies fan, but she did not mind fraternizing with the enemy.
"Not when I'm treated so royally," she said beside the limousine, pretending not to notice her awful pun.
Mrs. Kauffman had completed her tour of Strawberry Mansion, East River Drive, New Market and the City Tavern. "Gotta rest now," she said. "I'm pitching tonight, baby."
Beside her stood Charles (Pete) Bentley, a ranger and a Royals fan who moved here from Missouri in May. Bentley gave Mrs. Kauffman a Liberty Bell stickpin, smiling warmly. Moments later, out of the side of his mouth, he whispered the secret password of all baseball aliens: "Royals in six."
Bonanza
Gilded by World Series glamour, renting a Phillie will cost more
By Arthur Howe and Tom Belden, Inquirer Business Writers
Pete Rose in a three-piece suit selling insurance? Tug McGraw munching on chocolate bars on national television? Steve Carlton chewing cookies and Mike Schmidt swilling 7-Up?
Suddenly, the Phillies have become hot property in the advertising world.
The morning after the team clinched the National League pennant, an agent representing Rose received calls from agencies seeking his participation in marketing campaigns for 11 different products.
Since then, the tempo has increased, with advertising men salivating over the heroics of the whole cast of Phillies players.
In the players, the advertisers see a group with enormous public appeal – a gutsy, come-from-behind group the likes of which has not been seen since the Amazin' 1969 Mets.
For that kind of appeal, advertisers ranging from bankers to brewers are willing to pay big bucks. As they see it, the possibilities are endless.
"You're going to see a lot of Phillies shaving on television, driving cars eating hot dogs – anything," said Bill Pettit, head of All-Star Productions Inc. "The national advertising people are terribly impressed with the kind of team they are, coming up from the mat and all to win."
"Advertisers are watching the World Series just like everyone else," said Dave Landfield, a players' representative. "And the minute they see the Phillies on the tube winning, they become very valuable commodities."
After Tuesday night's Series victory, Landfield, of Cherry Hill, began negotiations with the makers of 7-Up to increase the $50,000 advertising contract for Phillies third baseman Mike Schmidt. Landfield also has begun negotiating with a "major cookie company" for pitcher Steve Carlton's endorsement.
Hefty pay for product endorsements, additional fees for personal appearances, the unlimited business deals – all are spawned by the national fascination with baseball players and, in particular, with World Series stars. This is on top of the $27,000 earned by each losing player and the $35,000 earned by every winner in the Series.
"The dollar amounts double once you're involved in a World. Series," said Landfield, who has been representing athletes for nine years. "And it obviously gets even better when you have a really great Series."
National television commercials, which take one to three days to film, usually net from $10,000 to more than $100,000 for athletes. The amount hinges on how many times the commercial is used, what the product is, and how popular the individual star is.
For instance, Rose, who does commercials for Wawa Stores, the Clover Division of Strawbridge & Clothier, and WCAU radio, last year received $5,000 for one local commercial. But he received about $100,000 for shaving on national television with a Gillette razor.
Most endorsements earn players a flat fee. But other endorsements can include royalites of from 4 percent to 6 percent of the product's sales.
"The calls are really coming in for possibilities later, but nothing is solid yet," said Pettit, who handles bookings and endorsements for McGraw, shortstop Larry Bowa and the Phillie Phanatic, among others.
But it is McGraw, with his zany antics and late-inning heroics, who has intrigued the public the most, Pettit said.
CBS Television has requested rights to use a commercial of McGraw chewing on a Phillies Frank in one of its sportscasts. MAB paint marketing executives want to air a commercial with McGraw "saving your house with MAB paint, just like he saves a ball game." A McGraw-inspired comic strip titled "Scroogie," concerning the lives of a flaky lefthanded pitcher (McGraw), a Spanish-speaking second baseman and a handsome blond pitcher, likely will be syndicated nationally.
"It's like Tug has been reborn," Pettit said. "I've had to put a lot of things on holding pattern because Tug isn't sure what his schedule is after the season."
There is magic in a product endorsement from a World Series baseball hero, player representatives say.
"Have you ever noticed that 99 percent of the athletes that you see on television have been in a World Series at one time or another?" Landfield asked.
"And when you've been in a World Series you're talking easily hundreds of thousand of dollars."
The list of past World Series players who have profited from commercial endorsements includes Yankees pitcher Catfjsh Hunter (Chapstick and beer); Reggie Jackson ("Reggie" dandy bars, Panasonic television products, automobiles, numerous apparel ads); Pirates outfielder Dave Parker (7-Up); Reds catcher Johnny Bench (Krylon Paint).
Kansas City Royals third baseman George Brett, the American League batting champ, already is doing Lifebuoy soap commercials.
To a whole generation of Americans, Joe DiMaggio is more famous as the "Mr. Coffee" man than as the "Yankee Clipper" who hit safely in 56 consecutive games.
The most valuable player of the World Series achieves a special status in the eyes of advertisers.
"They get the the sweetheart endorsements," Pettit said. "For them, the endorsements are unlimited."
Along with product endorsements, athletes often are asked to lend their names to business ventures. Residents of Dallas, for instance, consider it a status symbol to have bought a house from former Cowboys quarterback Roger Staubach, who used to sell real estate in the off-season.
Former Phillies "Whiz Kid" Richie Ashburn lends his name to clothing stores and the Bulletin, in addition to broadcasting the games.
There also is Hollywood, where baseball players have not done quite as well as former football greats such as Jim Brown, Don Meredith and Fran Tarkenton. However, Yankees second baseman Bucky Dent, voted most valuable player in the 1978 World Series, has made cameo appearances on such television shows as "Love Boat" and "Fantasy Island."
Finally, there are the off-season" appearances. Since the Phillies captured the National League pennant, requests for players to attend money-raisers, banquets, and shopping mall extravaganzas have doubled, said Chris Legault, who books appearances for the players.
Until this year, players such as pitcher Warren Brusstar might make $250 per appearance, Legault said." McGraw charges from $500 to $1,500 per appearance. Schmidt gets about. $2,000. Rose, who makes from 10 to 15. appearances a year, charges about $5,000 per event, agents said.
This winter, however, the cost of booking any Phillie may quintuple, agents say.
"It's the one chance they do have to make up for the cut rates they've given in the past," Pettit said.
"One guy thought you couldn't touch Tug McGraw now for $1 million. But believe me, he's available"' for less."
How others view this World Series:
Dick Young, New York Daily News:
"Karl Marx was close to right. Baseball is the opiate of the people. Baseball has the people here (Philadelphia) thinking they live in Shangri-la. Philadelphia, Pa., wins one stinking National League pennant in 30 years, wins it staggering in an extra inning of the last possible game of a playoff, and right away it becomes the Garden of Eden instead of Joke City.
"Here's a town with a crime problem that's worse than ours in New York, if that's possible, and with subway cars so filthy they make the IND look like a sterile operating room, but why , worry about such trivia now that the Phillies are in the World Series"
United Press International:
"The Royals rely on pitching, speed and defense while the Phillies are more suited to play longball. A seventh game, if necessary, would be played in Veterans Stadium, a better home run park than Royals Stadium."
Chuck Heaton, Cleveland Plain Dealer:
"Philadelphia Philies manager Dallas Green runs a disciplined ship, but he did put a notice in the clubhouse reading: 'You can miss infield practice any time. Just write me a check for $100 to either the Philadelphia Children's Guidance Center or the Foundation for Retarded Children.' Attendance at infield practice has been perfect."
Red Smith, New York Times:
"This is the first time since 1920 (Brooklyn-Cleveland) that a World Series has matched two teams that never won a World Series. As the clientele in this town (Philadelphia) dislikes being reminded, the Phillies have played in the National League for 98 years, and before this month they had participated in nine World Series games. They won one, the opener of the 1915 series agains the Red Sox. The Royals are only 12 years old and now are pennant winners for the first time. In 1976, 1977 and 1978 they and, the Phillies topped their divisions and lost in the playoffs.
"Basing his calculations on past performances, an objective handicapper would have to conclude that neither team could win this thing."
Mike Lupica, New York Daily News:
"Whether it goes five games, or six, or seven, it is a World Series that will belong to two players. There are two characters in this Series who will set it apart, two characters who will fight each other for the spotlight as they dirty uniforms and hit line drives, and push their teams ahead. The two men are separated by 12 years, and 100 batting average points this season, but the old guy has about 1,500 more hits. The names, of course, are George Brett and Pete Rose. This World Series is their stage."
Joe McGuff, Kansas City Star:
"Until Tuesday night the feeling existed in Philadelphia that the World Series was about as much fun as being hung by your thumbs or listening to Johnny Carson tell Philadelphia jokes."
Jerry Izenberg, New York Post:
"So Dallas (Green) is a mean man who abuses his team which is struggling along as the highest paid collection of athletes in baseball – and that includes the Yankees.
"Meanwhile, the team is leading the tournament.
"Somewhere in that there ought to be a message."
Hubert Mizell, St. Petersburg Times:
"If you were born the year the Phillies won their first pennant, you would be old enough to run for President the year they won their second pennant and old enough for Medicare the year they won the third pennant."
In Kansas City, even legendary Bryant's upstaged
By Steve Twomey, Inquirer Staff Writer
Surely this must be a joke.
There it slumbered, the pride of the city, the first jewel in a town that has many, the place that Calvin Trillin of the New Yorker once called "the single best restaurant in the world." And it is a total, complete dive.
Soft rugs and fine tablecloths? Try linoleum floors and formica tops. Intimate lighting and cozy nooks? Forget it. Fluorescent lights, bare walls and a ceiling that sports a six-inch hole that drips the last vestiges of a fall shower.
And the service is hardly Le Bee Fin. It's not even Winston's. Step to the window, order and watch Richard France slap down a piece of white bread, pile high some four inches of roast beef and grease, splat some of the secret sauce and shove it across. Take it or leave it. You want a meal? Then be quiet and eat.
But wait.... There is no one else in the place. All 25 tables, save one, are barren, and it's only 8:30 on a Tuesday night. Has a fraud been exposed? Has Kansas City turned its back on the one and only Arthur Bryant's Barbeque, 18th Street and Brooklyn Avenue?
What about it, Arthur?
"Hell, people aren't worried about eating," the 78-year-old owner said in a tone of exasperation at the sheer naivete of the question. "People's worried about the Royals. They's crazy about the Royals. Hell, yeah. Me, I was back in my office watching the game until you called me out here. Who wouldn't be? Who wouldn't be?"
Not France. He had his own little portable television hooked up back behind the barbecue pit and was stealing glances in between slicing beef slabs and tossing them into a smoky fire that burns 24 hours a day, seven days a week. Not the women in the kitchen, who had their own portable radio to listen to in between washing dishes and ringing up the infrequent sales.
And not Lee and Fern McDonald, who were the only customers camped in front of the restaurant's 1950-vintage black-and-white television whose picture was so fuzzy it was barely discernible. Their own television had broken, and what better place to spend the evening than their favorite barbecue spot, although McDonald observed that perhaps the baseball mania had gone a little too far back at the pit.
"Tonight, they're terrible," he said, devouring a rib. "They're tough. I think they're too worried about the baseball game back there and they're not watching the cooking."
But he did not really mind, for he understood. Even legends like Bryant's come in second to the beloved Royals in this crazy week. When the madness is over, McDonald, 51, will come back, just as he has every week for the last 20 years.
And so will everyone else, for Bryant's sticks to this city's 1.3 million souls that much, with its heaping portions of ribs and beef, the light and tangy sauce, the barely peeled and delightfully greasy french fries, the mugs of beer.
"When I'm away from Kansas City, and depressed," Trillin, a native, once wrote, "I try to envision someone walking up to the counterman at Bryant's and ordering a beef sandwich to go – for me."
Such affection says a lot about Bryant's, for this is a city that lives on its steaks and ribs, the legacy of the stockyards that used to give Kansas City its cow-town reputation. In Philadelphia, it's tough to find a decent steak. Here it is hard not to.
There are the Golden Ox and Gates' and Snead's and Hayward's and dozens of mom and pop places that dot the neighborhoods and their hills.
But it is Bryant's that ranks first. It is Bryant's that the out-of-towners will come to when the World Series opens here tomorrow. It is Bryant's that presidents from Truman to Carter have visited.
"I've got the know-how," the owner said, easing his fireplug frame into a plastic chair, "about everything."
And the decor? Well, he said, it can be no other way.
"There's nothing fancy about a barbecue place," he said. "When you get all fancy, tablecloths and rugs on the floor and that stuff, you're getting away from barbecue. A barbecue place has got to be a grease place."
Baseball, in fact, fed the legend of Bryant's. Nine years after Bryant opened his two-story brick place on the east side of town in 1946, the old Philadelphia A's moved to Kansas. City and took up residence at the municipal stadium, just four blocks up Brooklyn at the top of the hill. The fans went to Bryant's, before and after.
The stadium is gone now, nothing but a big green field. And so are the A's, gone to Oakland. But Arthur is still there, in his dive, with as many customers as ever.
Except this week. This week, it's all the Royals, not ribs and beef. And Arthur is hoping they make his city even more famous than he has.
In pain, Brett heads for Kansas City hospital
By Danny Robbins, Inquirer Staff Writer
It prompted the usual rush of bad jokes and sly lines, most of them coming from the press box. George Brett would not, of course, appreciate this.
It's hard to keep a sense of humor 'when your immediate world, the World Series, is interrupted by a painful case of hemorrhoids.
The Royals lost another lead and another game to the Phillies last night, 6-4. Brett gamely started the game and even came up with two hits, both singles, and a walk in his three trips to the plate against Steve Carlton. But the third baseman with the .390 batting average took himself out of the game before the Phillies hit in the sixth inning.
The hemorrhoid condition was just too much, even at World Series time, and Brett was expected to be hospitalized as soon as the Royals returned to Kansas City early this morning. Dr. Paul Meyer, the Royals' team physician, said Brett would spend the night at St. Luke's Hospital, where he would be examined by a proctologist – "maybe tonight, maybe tomorrow," Meyer said after the game.
"We're going to put him directly in the hospital tonight in Kansas City," he said.
Meyer said there was a possibility of surgery, but added: "It doesn't mean he'd be out for the whole Series."
The teams are idle today, then play tomorrow night in Kansas City.
"This (the Brett situation) is a day-today thing," manager Jim Frey said after a harried day and night. "That's all I can tell you. I don't know any more than that. It's something that just happened to George on Saturday for the first time in his life."
Brett, his eyes closed, was undergoing treatment in the trainers' room after the game as his teammates dressed and wondered about the future.
"It looked like he was hurting out there," Darrell Porter said, "but I never heard Gorge say anything."
"Well, you just try not to think about something like this," Hal McRae said. "You can't dwell on it. If hospital he's injured and can't play, you've just got to go with what you've got."
For several hours yesterday, it looked as if the Royals would not have their star third baseman at all for Game 2 at the Vet. For four days, Brett had endured the ailment, and it wasn't easy to do. Finally, after the Phillies' 7-6 Tuesday win, he was running out of patience.
He complained to Kansas City trainer Mickey Cobb, and the pain grew worse as he tossed and turned very early yesterday morning. So, sometime before noon, Brett had an appointment with Benjamin Haskell, a Philadelphia proctologist recommended by the Phillies.
"He took George right in," Cobb said, "and examined him. He suggested treatment, and we followed it to the letter."
Brett was told to stay off his feet. Cobb was told to administer heat treatment and salve. Frey was told to be flexible.
Frey watched, waited and worried, and finally, at 6 p.m., told reporters that Brett could play.
"The lineup will have George Brett at third base," Frey said. "The proctologist and the team physician both examined him and assured me that there was no real danger of a lasting, serious problem. It's simply a case of: How much pain can he stand? And I talked to George, and he assured me that he felt at least as good, maybe better, than he did at the start of last night's game."
Of course, as Frey spoke, Brett was stretched out in the clubhouse gearing up for the ordeal ahead,
"He's just lying on a table, not moving, and he hasn't done anything all day," Frey said. "The question is: What happens when he runs?"
Brett took batting practice, but steered clear of chats with reporters. Cobb and Meyer followed him back into the clubhouse, and then Brett grimly returned for the infield workout.
Finally, he answered Frey's question. Brett could hit, and run, in pain. But the pain became too much, and he was replaced by Dave Chalk after the top of the sixth. You knew Brett was really hurting, because he was going to hit again in the seventh. "The inning before, he said he was starting to feel it," Frey said. "And when he came off the field, he said it was starting to hurt him again."
Brett did not come up with this ailment overnight. He first .noticed the hemorrhoid trouble last Saturday in New York after the Royals had swept the Yankees to win the American League Championship Series. In fact, he played with some pain Tuesday night.
"I guess we thought we could control it a little bit," Frey said yesterday afternoon., "But I just know that Mickey Cobb is treating him now. Before, he (Brett) was moving around and running, and I didn't think it was serious."
But Brett's condition took a turn for the worse after the opener. Indeed, some of the Royals were amazed that he performed so well under such cruel circumstances.
"I think he was in a lot of pain early this morning," Frey said. "He was having problems at 4, 5 o'clock in the morning."
Still, Frey had him in the lineup against Carlton, and he promptly singled up the middle in his first at-bat.
Pete Rose provoked a roar from the crowd when he jokingly faked a swing at Brett's posterior at first.
"Let's hope he doesn't have to slide," Frey had said, in a serious vein. "But if you know George Brett, you know that he will go out there and play without thinking of anything else.
"That's just the kind of player he is. We (Kansas City coaches) were talking about it on the way to the park in the cab. We were talking about how he's the type of player who will go all out."
Brett seemed all right in Game 1. He had one hit in his four trips to the plate, a ringing double into the gap in left-center just before Willie Aikens finished Bob Walk in the eighth inning with his second home run. But Frey spent much of yesterday afternoon fretting over his lineup.
Without the great third baseman, he was in trouble. Dave Chalk might be a decent stand-in. But the figures don't lie: With Brett, the Royals were 75-43 during the season; when Brett was sidelined with his heel, ankle and thumb problems, they were 22-22.
"Can you win a game without him? You sure can," Frey said. "I don't think anybody knows the real measure of his value. But there's no reason we can't walk out there on the field and beat anybody."
Frey looked long and hard at his options, including using Brett as his designated hitter. "The problem with that," the manager said, "is what do you do with (regular DH) Hal McRae? I don't want him out of the lineup. I could put him in the outfield, but he hasn't been there in several months. That wouldn't be fair to Hal or the team.
"I could keep George on the bench as a pinch-hitter, but that situation may not arise."
In other words, the Royals, already in a spot where they had to keep pace with the Phillies, needed George Brett. They were as relieved as Brett himself when he seemed well enough to be a part of the starting lineup.
But now there's uncertainty again.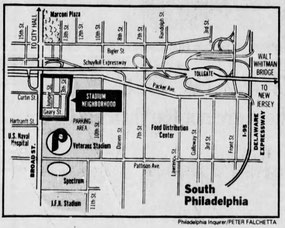 Life in the shadow of the Vet
Some call it fantastic; others are not too thrilled
By Murray Dubin, Inquirer Staff Writer
Al Bianchini loves it. Willie Saraullo says it's "no good." Amelia Appel has mixed feelings.
All these people live in the "stadium neighborhood," the community just north of Veterans Stadium, just a "Bull Blast" from the left-field wall. In this Italian enclave of neat, scrubbed two-story brick homes, on the 3200 blocks of South 13th and South Juniper Streets and on Geary and Curtin Streets near Broad, the stadium is a looming presence.
There are those who say living near the stadium is a fantastic, exciting experience, second to none. And there are those who disagree. They say it stinks.
"Ah, there's nothing bad about it, it's good," says Bianchini, 70, a retired truck driver who lives on Juniper and works part-time at the stadium as a security guard.
"I love it. Couple of neighbors complain, but it's not bad. Nah, the kids aren't a problem. Parking? Always room for us neighbors. Kenny and George Brett just had lunch at my house. Bob Walk lives down the block. Tommy Hutton used to live around here. It's great."
All of the homes in the area were built in the early 1950s, when the stadium and the Spectrum across the street were empty land, a drive-in movie and a bowling alley. When the city first talked about building the stadium there in the late 1960s, most of the residents howled, remembering the deteriorating North Philadelphia neighborhood near Connie Mack Stadium at 21st Street and Lehigh Avenue.
"No one knew what it was going to be," Margaret Romano, of the 3200 block of South Juniper, says almost apologetically.
But since the stadium opened its doors in 1971, Bianchini, Mrs. Romano and others feel almost privileged to be its neighbors.
"It's exciting," says Roseann Rafter, who lives at Broad and Geary Streets. "The noise doesn't bother me. I don't want to live somewhere it's dull."
Willie Saraullo, 58, who has lived on Juniper Street for 28 years, would not mind some dullness. "It's no good living near a stadium. You get a lot of riff-raff. They park their cars here, they leave their garbage here, they even urinate and do everything else here," he says.
The community residents all have special parking stickers – VSN for Veterans Stadium Neighbors – that should keep outsiders away, but parking in their community is not always policed effectively, residents say.
The residents acknowledge, however, that they have hollered in the past when the police have enforced the parking ban too effectively and kept friends and visitors away.
"It has good points and bad points "(living here)," says Amelia Appel, a -neighbor of Saraullo's. "I have two sons and they love sports, they get to a lot of games. But some of the people who want to park here are nice and "some are ignorant. And for football games on Sunday, they stay for the 'whole day and leave beer and garbage."
A neighbor, Mina Collazzo, says it Is good for the neighborhood children to play ball in the streets with a ballplayer like Richie Hebner, who once lived in the area, but she agrees that the parking and garbage problems are annoying. She adds that when there is a Phillies or Eagles game, residents are literally "prisoners," because traffic is so heavy.
Ann Deluca, 38, who lives on the 3200 block of South 13th Street, has a Phillies banner on her house and a glorious, unobstructed view of a stadium parking lot from her front window. She does not mind,
"That doesn't bother me. We love living here. We hear the crowds, seemthe fireworks, and we always know when something is going on. And we get to sneak into the gate once in a while,'' she says.
The stadium literally defines where the people in this area reside. When people ask Mrs. Deluca or other residents here where they live, the answer is invariably: "Behind 'the stadium."
Back at Al Bianchini's house, his wife, Evelyn, was telling stories of her "boys."
"I love them all. Dick (Ruthven) is my little boy. The 'Hacker' (Richie ' Hebner) used to come here all the 'time. He still sends me cards saying 'I Love You.' Larry Christenson, Mike Ryan, Tommy Hutton have all been 'here."
Mrs. Bianchini is a charming Phillies fan who enjoys cooking for the three or four Phillies players or coaches who liv in the community each season. Even when players are traded, she says, they come back and bring their friends.
That's how Kansas City Royals Ken Brett, a former Phillie, and his brother, George, happened to have sausage and peppers at the Bianchini's on Tuesday. Though she is loyal to her "boys," Mrs. Bianchini is a Phillies fan first.
Tommy Hutton, who once played with the Phillies and now plays for Montreal, still visits the stadium neighborhood regularly.
"He kids me about who I'd root for if he was pinch-hitting," Mrs. Bianchini says. "1 told him I'd root for him. We can afford a little hit. But then he said 'what about if the game was on the line,' would I still root for him.
"I said, 'No way.' "
Phillies walk away with a victory despite all those bases on balls
By Allen Lewis, Special to The Inquirer
Frankie Frisch, the Hall of Fame second baseman, managed several major league ball clubs, including the famous St. Louis Cardinals Gas House Gang of the 1930s. His most frequent lament was how many times bis teams lost because his pitchers issued too many bases on balls.
"Oh, those bases on balls," he used to moan. "I see them in my sleep."
If Kansas City Royals manager Jim Frey and Phillies manager Dallas Green counted bases on balls instead of sheep in their sleep last night, it wouldn't be surprising.
For awhile it appeared that the Royals were going to win the second game of the World Series last night at Veterans Stadium, and four of the six walks issued by eventual winning pitcher Steve Carlton of the Phillies led directly to Kansas City runs.
When the Phillies came from behind to score four runs in the eighth inning and go on to their 6-4 victory, it was a walk that started it all.
Dan Quisenberry, the submarining righthander who has been Kansas City's best bullpen pitcher all season long, came on in relief when the Phillies came to bat in the seventh trailing, 4-2, and threw only eight pitches to retire three Phillies on three ground balls.
When Bob Boone came to bat to start the home eighth with the Phillies still two runs behind, Quisenberry threw a strike that the Phillies catcher watched go by.
But Boone was patient even after the count went to one ball and two strikes.. He took ball two, fouled off two pitches, took ball three and then ball four.
As rookie Keith Moreland said later, "When Boonie walked, our bench exploded. We knew we were going to do something."
They did plenty. First, pinch-hitter deluxe Del Unser doubled Boone home and scored the tying run after an infield out and Bake McBride's high hopper that bounced over the drawn-in infield to right field. Mike Schmidt followed with a clutch double to right that scored McBride on a close play, and scored the insurance run himself on Moreland's single.
That proved to be enough for reliever Ron Reed, who gave up a single in the ninth but struck out lead-off pinch-hitter Darrell Porter and final batter John Wathan to end the game.
In a way, it's ironic that the two Kansas City pitchers issued only three bases on balls in eight innings and Carlton doled out twice as many in the eight innings he worked.
Green blamed the slickness of the balls used last night for the lefthander's control problems.
"I don't know why they were slick," Green said, "but they felt like ice and Lefty couldn't get a good grip on the ball, and he has to have a good grip to throw his slider."
Of course, Royal lefthander Larry Gura was presumably throwing the same slick balls and he walked only two. What's more, the southpaw had a perfect game working until Moreland beat out a grounder to deep shortstop with one out in the fifth inning to start a two-run rally.
Carlton, on the other hand, was in trouble in every inning, and escaped until the sixth, when he walked Wathan on four pitches after a lead-off single. A throwing error then allowed Amos Otis to score from second.
Carlton started the seventh by walking Willie Wilson, a batter he had struck out three times in a row, on four pitches. After a sacrifice, George Brett's mid-game replacement, Dave Chalk, walked on five pitches and Hal McRae drew a pass on a 3-2 pitch. That set the table for Otis, who doubled down the left-field line for two runs. McRae scored what appeared to be the insurance run on Wathan's sacrifice fly.
The Phillies have played so many close games in the last six weeks, they seem to feel it's their destiny to win. If they can keep from walking too many Royals in the remaining games, they may wind up as world champions.
Phils, chills, thrills, etc.
By Tom Fox
On the night that young Bob Walk, a rookie righthander who started the season in Oklahoma City, opened the World Series for the Phillies against the Royals, a delicious little slice of irony was unfolding at Clements & Sons Auction House out in Lansdowne.
At that very hour, Pat Clements, a bearded man of 50 who eats too much and has the waistline to prove it, auctioned off a coveted collection of baseball memorabilia – including a baseball autographed by Robin Roberts and another by Whitey Ford, of the Yankees.
The room was jammed to capacity, and the bidding was spirited. But most of it centered on a fine old red velvet Victorian love seat, not the autographed baseballs. In truth, few people in the room have ever heard of Robin Roberts or Whitey Ford.
Sic transit gloria mundi.
At another time, when the World Series was played in the daytime on grass, Robin Roberts pitched the second game of the 1950 set against the Yankees here in Philadelphia, and it took a towering home run by Joe DiMaggio in the top of the 10th to beat him.
And then
And two days later, Whitey Ford whipped the Phillies in the fourth game in Yankee Stadium, notching the first of many Series victories by the stylish Yankee southpaw.
Now, 30 years later, on the night the Series opened in Philadelphia once again, the bidding for baseballs autographed by Robin Roberts and Whitey Ford brought little more than yawns.
Life's like that sometimes. And baseball's a lot like life.
Baseball, like life itself, is high drama. It is filled with anticipation and frustration, with high hopes and dashed dreams, with pratfalls and poignancy.
The players have their moments in the sun and then they fade into the shadows and nobody really remembers.
And yet there is something singular about baseball that sets it apart from all the other games played by men. And that singular something is the high drama that is part of every baseball game.
Moments
There's the frenzy of the double play, the roar of the home run, the hush of the pitching change, the daring of the base stealer and the cold-eyed waiting game between pitcher and baserunner when a pick-off is in promise.
These moments make baseball utterly fascinating, despite the evergrowing and insatiable greed of the players and owners.
Baseball, a wise observer of human bang-bang once said, is too much of a sport to be a business and too much of a business to be a sport. Perhaps that puts baseball in proper perspective.
But whatever it is, baseball, for all its warts, is pure fantasy, pure storybook fantasy, the kind that sends tingles up the backs of yesterday's sandlotters, now aging men who rely on pills to make it through the night. Yet, to a man, these aging dreamers would gladly give their molars to be in Pete Rose's shoes this week.
It evens out
Baseball does things to people this time of year. Everything else seems to stand still, and baseball takes over. Everybody wants to be an eyewitness to the great drama of early autumn.
I know. I saw my first World Series here 30 years ago. I was in Shibe Park when DiMaggio lost a Robin Roberts fastball in the upper deck. It was a moment I will never forget. It will always be a part of me.
But despite the glamor and the hype, the World Series is just another page of life. In the end, it all seems to come out the same, even for those now-forgotten heroes of those unforgettable yesterdays.
The baseballs auctioned off in Lansdowne – two balls signed by a pair of Hall of Famers who were leading men in the World Series the last time it was played in this city – were gaveled down at the very hour that the Series, back in Philadelphia after 30 years, was about to begin. And the bottom line at the auction house wasn't very poetic.
The Robin Roberts ball brought a mere $15 – $3 less than a Tim McCarver bat.
And the ball signed by Whitey Ford went for only $8.
It just didn't make sense. On a red- letter night in Philadelphia baseball history, it seemed all wrong.
But that's life. Yesterday's heroes, like the Himalayan feats of their prime, are soon forgotten.
Sic transit gloria mundi.
Rallying cries
Red-hot Phils' enthusiasm sparks late-inning infernos
By Frank Dolson, Inquirer Sports Editor
Each day, it seems, somebody lights the fire.
In Game 4 of the National League playoffs it was Greg Gross touching off a three-run eighth against Vern Ruhle with a pinch single. In game five it was Larry Bowa igniting a five-run eighth against Nolan Ryan with a single.
In Game 1 of the World Series it was Bowa again with a single and a stolen base that triggered a five-run rally in the third. And last night, in Game 2, it was Bob Boone, who battled and scrapped and ultimately squeezed a leadoff, eighth-inning walk off Kansas City relief ace Dan Quisenberry, who didn't douse the fire until four Phillies runs had grossed the plate and another standing, screaming, pennant-waving throng at the Vet had gone bonkers.
The Phillies trailed, 4-2, when Boone, behind in the count at one-and-two, laid off the bad ones, fouled off the good ones and got that precious base on balls.
That was the signal – in the stands and on the Phillies bench. The fans were hollering... the players were hollering... the Phillies were coming.
"It was unbelievable," Bowa said. "It's like we figure (if) we get a man on, we're going to explode. I'll tell you, we had as much enthusiasm then as when we were ahead, 2-0."
This, remember, is the baseball team people used to think didn't care, didn't have the drive, the spirit to win the tough games. Now it cares so much, drives so hard that last-ditch, come-from-behind rallies under the greatest pressure imaginable have become the norm.
"It's been like this the last month," said Moreland, the rookie who delivered two key hits – one a rally-starter, the other a rally-capper – in his first World Series appearance. "We need runs, guys start yelling. We just get the bench into it. The guys that are not playing are into it. The guys that are not hitting but are playing are into it. The pitchers that are not playing, everybody just starts screaming...."
And, almost as if they're following a carefully rehearsed script, the Phillies start scoring.
Their comebacks the last 2½ weeks rate a spot on "That's Incredible"
•  Sept. 29 – trailing 5-3 in the 15th, they rally to tie the game on a two-out hit by Garry Maddox and win it on a single by Manny Trillo.
•  Oct. 4 – down 4-3 in the ninth inning in Montreal, they tie it on a two-out single by Bob Boone, then win it on a Mike Schmidt homer in the 11th to clinch the division title.
•  Oct. 7 – behind 1-0 in the first game of the playoffs, they surged ahead on a two-out, two-run homer by Greg Luzinski In the sixth on the way to a 3-1 win.
•  Oct. 11 – trailing 2-0 after seven innings and six outs from elimination at the Astrodome, they score three runs in the eighth and eventually in the 10th.
•  Oct. 12 – down 5-2 after seven and once again six outs away from their fourth championship series defeat in five years, they explode for five runs and go on to win the game, and the pennant, in the 10th.
•  Oct. 14 – behind 4-0 after 2½, they get five runs in the third en route to their first World Series victory in 65 years.
•  And now Oct. 15 – trailing by two in the eighth, they win by two.
"It's not going, to happen all the time," Moreland said. "It doesn't happen all the time...."
Maybe not, but lately it's been happening most of the time.
"It happened in Montreal,". More-land nodded. "It happened in Houston. It happened tonight. We've got to score some runs and Boonie gets on and (Del) Unser – what can you say about Del? – he hits a double and Bake gets him in. Then Schmitty – he's my MVP of the world right now – he takes the ball and hits it off the right-center-field wall, and I'm fortunate enough to get a run in and we win a ball game. It just comes from four or five guys screaming and yelling, from everybody getting into it – the fans, everybody."
The transformation of this ball club is nothing shun of astonishing. You look at it and wonder, can this possibly be the same group of men who lost four in a row in Pittsburgh in mid-August? Can these possibly be the ballplayers Dallas Green chewed out that miserable weekend?
They are, of course. The names are the same. The numbers are the same. But the way they're playing the game, the way they're pulling together, the way they're shocking the opposition and electrifying the city is different.
"We just got that feeling," More-land said. "Maybe during the year there were some times we didn't pull together... but we got it together at the right time."
"I think after that four-game sweep in Pittsburgh, when Dallas aired us out, the guys took a good look at themselves," Bowa was saying to the group of writers gathered around his locker.
"I think Dallas' involvement with the whole team has something to do with it. Before we used to rely on eight guys, (plus) four starting pitchers and one reliever. Now every guy on the ball club contributes. You can go to the Avileses, the Noles, the Bystroms, the Morelands. They all feel that they're part of the team, and they've all contributed as much as the Bowas and the Trillos. They really feel in the eighth and ninth innings that it's their time to excel. They're mentally in the game. I think that's because Dallas has used them all year long, not just once every three or four weeks."
They're the cheerleaders when a late-inning rally begins, when a Bowa or a Gross or a Boone reaches base and the feeling sweeps through the dugout.
It's a feeling that, by now, has swept through the Vet Stadium stands, all the way up to the 700 level, a feeling that has swept through an entire city.
The 1980 Phillies are going to be tough to stop now.
Rallying Phils go 2 games up
Schmidt RBI keys 6-4 win
By Jayson Stark, Inquirer Staff Writer
The Phillie's actually used to win a few easy games once in a while. Honest.
Now their idea of a good time is to get about two runs down in the eighth and see if they can figure out some new way of pulling one out.
Last night they forged a typical come-from-behind 6-4 win over the Royals in Game 2 of the World Series. The plot followed the usual pattern.
First, the Phils got no-hit by Larry Gura for 4 innings. Four batters later, they had a 2-0 lead. They also had Steve Carlton out there to protect it.
But it would have been too easy if Carlton had just gone ahead and struck out the next 12 guys in a row. So he gave up an unearned run in the sixth, three more in the seventh and the stage was set for the nightly comeback blitz.
They got to the eighth, still down, 4-2. All they had to do to win this one was rally off the Royals' Kent Tekulve clone, Dan Quisenberry, a guy who had managed to save 33 games this year. Heck, they had the Royals right where they wanted them.
Naturally, they rallied for four runs in the eighth off Quisenberry. And so they will head for Kansas City leading the World Series, two games to (gulp) none.
"That two-nothing lead is not too shabby," Dallas Green said. "I'll take two wins any day. Hey, it looked like one of those wins was gonna be a loss for a while."
Nobody had to guess which one he was talking about. Quisenberry had relieved Gura in the seventh and proceeded to look like the ground-ball machine he has been all year. Garry Maddox grounded to third. Manny Trillo grounded to short. Larry Bowa grounded to second. It looked like Tekulve's greatest hits.
But along came Bob Boone to battle Quisenberry for a leadoff walk in the eighth, and 65,775 disbelieving people at the Vet began to sense that here they came again.
Del Unser pinch-hit for Lonnie Smith and watched one of Quisenberry's submarine sinkers sail over the outside corer. Then he went with the next one, drilled a double up the alley in left-center, and it was 4-3.
"Quisenberry said I hit a good sinker, and I did," Unser said. "It was similar to the one I hit off Tekulve in Pittsburgh (for a game-winning pinch single). They're similar type pitchers. That was a ball I just blooped over the shortstop's head. This one I waited back on a little bit more. I just got the good part of the bat on it.
"It was one of those balls I could easily have popped up to the second baseman. It's almost impossible to pull the ball against a guy like that unless you dive over the plate or something."
Pete Rose moved Unser to third with a ground ball. Bake McBride chopped an RBI single over second baseman Frank White with the infield in, and that tied it. Winning was only a matter of time.
Mike Schmidt slashed an RBI double to the track in right-center, and that would have been enough to win it. But Keith Moreland, last night's mystery DH, singled in one more run with a rope to center. Moreland was the only guy in the lineup who had faced Quisenberry before (in Triple A).
But details like that don't seem to matter to these guys anymore. Change the faces on the mound. Change the faces in the batter's box. The same come-from-behind magic seems to pop up in the script. Not that anybody's getting bored with it.
"It's sort of a feeling of confidence we have now," Schmidt said. "I don't think anybody had any doubt at all that we were at least going to scare them a little."
Unser, a guy who has seemed to be in the middle of virtually every one of these comeback acts lately, said that the confidence has come simply "because we're doing it and have done it and now we expect it."
"You don't get a feel of confidence unless you start doing anything," Unser said. "It might be a type of mental momentum that just keeps on going."
The daily heroics earned Carlton the first World Series victory of his life. But Green had to leave him in for eight constantly adventurous innings and 159 pitches to get him there.
Carlton had a good enough slider to become the first pitcher to strike out 10 hitters in a Series game in seven years. But he also failed to throw a single 1-2-3 inning for only the second time this year. The Phillies helped him out, though, by turning a neat four double plays behind him.
One of his big problems was that the Royals weren't content to flail away at all those sliders off the plate the way thousands of National League hitters have.
"I'm sure hitters' concentration in the World Series is probably at a higher level than it is during the regular season," Schmidt said. "Also, they have a lot of real good hitters, guys who are able to stand way off the plate, guys who wait on the ball real well.... They're more apt to lay off the hard slider, down and in."
Carlton also was having trouble holding onto the baseball, Green charged. The manager contended that the balls hadn't been rubbed up properly by the umpires. Green said he "told the umpire (presumably, home plate ump Bill Kunkel), and he admitted it. He said, 'Dallas, these things are just like ice.'"
Carlton pitched his way in and out of jams in five straight innings. One reason was that the lefthanded-hit-ting George Brett overcame his hemorrhoids to go 2-for-2 with a walk. And the lefthanded-hitting Willie (Don't Call Me Willie Mays) Aikens walked and singled his first two trips as well.
One of the great mysteries of the baseball-playing earth is why Carlton hasn't thrown a great, or even near-great, postseason game.
His win over Houston in the first game of the playoffs was accomplished without his best stuff. And we'll never know how he might have fared in Game 4 had there not been that 20-minute pause to debate whether Garry Maddox had hit into a triple, double or single play.
"He had as good stuff warming up that day as he'd had in three or four starts," said Phillies pitching coach Herm Starrette. "I think that little argument had something to do with the way he threw afterward.
"He didn't lose everything, but you could see the difference. The guy just concentrates like the dickens out there. And I think he lost some of his concentration after that."
Last night, the game rolled along smoothly. But nevertheless, for four and a half innings Carlton had all the trouble.
Gura, meanwhile, wouldn't have known a baserunner from a baseboard for the first four innings. Twelve Phillies came to the plate. Twelve Phillies made outs. Don Larsen undoubtedly was stirring a bit in his living room somewhere.
Schmidt was the first batter in the fifth, and maybe if he'd used a little better body English, he would have had the first hit. He worked the count full and then pumped one into the 500 level in left. Schmidt squirmed and wriggled like crazy, but it still hooked foul. So he bounced to second, and it was 13 in a row.
It was right there that Gura's leisurely October came to an end. Moreland, who replaced Greg Luzinski (intestinal virus) as DH, chopped an 0-1 pitch deep into the shortstop hole and just beat U.L. Washington's jump throw for a hit. That seemed to trigger things the way Bowa's hit and steal had Tuesday.
Maddox lined a double two feet inside the left-field line, and More-land headed into third. Trillo scored Moreland with a sacrifice fly to the edge of the track in right, and it was , 1-0. One pitch later, Bowa lined an RBI single to left, and it was 2-0.
But Carlton couldn't keep sneaking out of those jams forever. The Royals finally got a run in the sixth. Famous Amos Otis lined a single to center and John Wathan walked on four pitches.
Aikens thunked a high Astroturf chopper. Trillo leaped for it, came down and whipped the throw past Rose for an error, so the Royals were within 2-1.
The Royals also had men on first and third, nobody out. But Carlton fanned Jose Cardenal for one out and got his third double play of the night out of Frank White to hang on.
But only for an inning. He started the seventh by walking Willie Wil son, whom he had previously - whiffed three straight times. Washington bunted him over, and Wilson stole third two pitches later. It was his first steal of the postseason after a mere 79 in the regular season.
At least Carlton didn't have Brett to worry about by then. The hemorrhoids had benched him by the middle of the sixth. His replacement was Dave Chalk, but Carlton walked him.
He went 3-2 to Hal McRae, then picked Chalk off first. But Chalk broke for second, and Rose was so worried about Wilson scoring that he let Chalk have the base. Carlton then walked McRae anyway.
The incredibly tough Otis was next. He smoked a two-run double down the left-field line, and the Royals finally had the lead, 3-2. Wathan made it 4-2 with a sacrifice fly to center.
Otis got doubled heading into third for one of those numerous sacrifice fly-double plays that seem to be going around. But that two-run pad looked awfully big, because on came Quisenberry to close it out.
Instead, the Phillies rallied, and Ron Reed wound up giving Tug McGraw a night off and saving it for Carlton.
So the 1980 Phillies had won more Series games in two nights than all the previous Phillies teams had in a century. Is this really happening?
Royals beginning to wonder what they have to do
By Larry Eichel, Inquirer Staff Writer
They had wasted their chances early, squandering six singles in the first five innings, leaving seven men stranded on the bases. They had, at long last, taken a two-run lead through four gift runs donated through a throwing error by Manny Trillo and three seventh-inning walks from a struggling Steve Carlton.
And the Royals had entrusted the lead to their relief ace, the underarm righthander Dan Quisenberry, author of 12 wins and 33 saves in 1980.
"I didnt think they were going to score again," Quisenberry said.
Then the game blew up in Kansas City's face. Suddenly, the Royals, who had seemed so confident even in defeat Tuesday night, were down two games to none, a deficit from which only a half dozen teams have come back to win in 76 previous World Series.
"We'll go home and win three in a row," said Royals owner Ewing Kauffman, as he strode out of the ball park. "Then, we'll own this thing."
But in the Royals locker room, among the players who must fulfill the owner's prophecy, there was no such bravado, only quiet gloom. "We've won three in a row before this season – we've won four in a row," said Quisenberry, the victim of the four-run eighth inning uprising that gave the Phils their come-from-behind 6-4 win. "Right now, it'd, be nice to win one in a row. I honestly didn't think the script was going to be written this way."
"It's frustrating," said Royals left-fielder Willie Wilson, he of 230 hits, 79 stolen bases and a .326 average during the regular season. In this series, Wilson is hitting .111. No matter how fast a man can run, it is hard to beat out a strikeout.
"The thing that bothers me most," Wilson continued, "is that these guys (the Phillies) haven't seen us play before, and we're not showing them what we can do. Of course, they may have a little something to do with that – making good pitches, keeping our speed off the bases, making every double play they can and coming up with a lot of big hits."
This night, the Phils got no hits, big or otherwise, off starter Larry Gura, an 18-game winner during the regular season, until the fifth, when Keith Moreland beat out a single to deep short. The Phils quickly converted that crack in Gura's armor into a two-run rally and a two-run lead.
But the Royals battled back with one in the sixth and three in the seventh the product of Carlton's wildness and a clutch double by Amos Otis to take the lead. Then Royals manager Jim Frey yanked Gura, who was pitching well, in favor of Quisenberry.
"Maybe he thought I was struggling," said Gura, who was obviously not pleased to leave the game. "But if I were the manager, I wouldn't be afraid to throw Quiz in there any time. I told Jim that I didn't think I could throw my fastball over the inside corner for strikes anymore. He took me out after that."
After mowing down the Phils on three ground balls in the seventh, the submariner got into immediate trouble in the eighth, walking lead-off hitter Bob Boone on a 3-2 pitch and yielding a long double to left center to pinch-hitter Del Unser. That made it 4-3.
Quisenberry got Rose on a ground out. Then Bake McBride bounced an AstroTurf single over the drawn-in second baseman, Frank White, and the Phils had tied it.
That brought up Mike Schmidt, who smashed the first pitch, low and outside, to right for the double that drove home the game-winner.
Two pitches later, Moreland singled Schmidt home and the damage was complete.
The Royals can come back. One need not look very far into World Series history to find teams that have won after falling two behind. The Pirates were down, 3-1, to the Orioles last year and won the next three. The Yankeers were down, 2-0, to the Dodgers the year before that and won the next four.
But what may make it harder for the Kansas City Royals is that they have already had two excellent chances to win.
"This team, the Phillies, has been coming back and coming back all year, especially in the playoffs, and now they come back on us," Wilson said.
Save for a small lapse, NBC covered Game 2 quickly and efficiently
By Lee Winfrey, Inquirer TV Columnist
NBC televised the second game of the World Series last night with the same spirit and hustle that the Phillies used to win it.
NBC's three announcers and their 12 cameras left no major questions unanswered, although commentators Joe Garagiola, Tony Kubek and Tom Seaver seemed inexplicably puzzled by a comparatively routine play in the seventh inning.
With Kansas City speedster Willie Wilson on third base, Phillies first-baseman Pete Rose chose not to make a throw on Dave Chalk taking second after an attempted pickoff throw. The announcers wondered why.
All the people sitting around me in Veterans Stadium knew why: Wilson is so fast that Rose was afraid he would score if Rose made a throw on Chalk.
But all the rest of the time, the announcers and NBC's $5.5-million worth of equipment covered the game like the Phils' Manny Trillo covers second base.
Particularly noticeable so far is NBC's use of a new piece of equipment called a Quantel. It was used only sparingly two years ago, the last time NBC covered the Series, while director Harry Coyle and his crew figured out the best way to use it.
The Quantel can take the picture off one camera tnd insert it as a small box in the main feed from another camera. Its main use last night was, delightfully, to show a succession of Phillies runners scoring.
The Quantel was also used a few times on runners around second, but its employment there was more distracting than helpful.
NBC kept up adequately with all the developments on the field, such as Garry Maddox's knee injury from a foul tip, and off the field, such as George Brett's now-nationally famous hemorrhoids.
Seaver expressed the only doubt I heard or saw about NBC's paraphernalia. He said he thought Phillies pitcher Steve Carlton was throwing faster than the 88 or 89 miles per hour recorded by the network's radar gun.
Seaver, who now pitches for the Cincinnati Reds after earlier heroics with the New York Mets, brings a touch of contemporary locker-room wit to the telecast. He described a pitcher the other night as having a "Peggy Lee fastball ('Is That All There Is?')"
Before the game last night, I talked with the president of a major-league baseball team who agreed to give his impressions of NBC's and ABC's coverage of postseason play.
.He prefers NBC, both the announcers and the camera work.
"There's a lot of lore in baseball," he said. "Garagiola and Kubek, as former players, know more of it. (ABC's Howard) Cosell in particular, doesn't know baseball deeply.
"Baseball has a big playing surface," he continued, "and all of it can't be shown adequately at once. NBC, with more experience (this is the 32d World Series NBC has covered out of the last 34) is better at finding the key things to show."
Preliminary figures indicate that Tuesday night's opening game drew an even larger TV audience than last fall's Series premiere between Pittsburgh and Baltimore.
Schmidt ready to join the Phils' hit parade
By Bill Lyon
He called himself a "spectator" when The Team That Wouldn't Die won the National League.
He took the collar that final, whacky day in Houston and that 0-for-5 hung around his neck like an anvil.
"It was a humbling experience, but some days you're gonna just watch and not be a contributor," Mike Schmidt said last night. "But I took something out of that; I realized just what this team has going for it. We've got a feeling now you wouldn't believe. Confidence. That bench is just exploding."


It exploded last night. Again. The Team That Wouldn't Die crawled out of another two-run grave. And this time Mike Schmidt was not spectating; he was contributing.
He flicked a double to right that drove in the go-ahead run and then scored an extra one himself, one that, for a change, The Team That Wouldn't Die would not need.
Last night, it was a four-spot in the eighth for the Phils, who waded out from under a two-run deficit with startling swiftness.
"You can't believe the juices that are flowing in this dugout," Schmidt said. "There wasn't a player there who didn't feel that when we were behind 4-2 we were gonna at least scare the Royals to death.
"I guess we're finally doing to other teams what they did to us for so long."
Those who monitor Mike Schmidt's textbook swing say his double to right last night was a favorable omen, that he's staying with the ball now, relaxing, not pressing so hard, not trying to bust out of his playoff slump with one big blast.
He almost homered twice last night, clubbing a pair of long foul balls.
"When I hit them, even though they hooked, I felt like I was getting back some rhythm," he said. "I'd gone two-three games without stinging the ball and my shoulder was starting to fly out."
Because he was trying to unload one, get untracked, cap off an MVP season with a big World Series salvo. And Mike Schmidt is most deadly when he doesn't try to be. He slapped a single earlier, going back through the middle, and that told him he was edging back into the groove.
"I hit a 3-2 changeup, just went with it, and that got my confidence back," he said.
For long stretches this season, he carried The Team That Wouldn't Die. But in the playoffs his bat had melted. He may have been trying to fine-tune too much, until finally he paralyzed himself.
With runners on. he was bending over, taking called third strikes, peering closely at each ball as though it were not quite in his sweet zone, discarding it, waiting for another, better, offering, one he could drive some majestic distance.
The result was that the biggest gun in the National League couldn't pull the trigger.
When that happens, Mike Schmidt knows he must forget about clouting one into orbit, curb his anxiety. It is a time for patience, but it comes at a time when he is most impatient.
"I watched the Royals these first two games, saw the hitting clinic they're putting on," he said, "and I told myself I've got to not rush it, just try to work myself back into the flow. Going to the opposite field, that's a good sign."
The Team That Wouldn't Die does not have to be carried now. It has 25 different broad backs to shoulder it, lift it. Mike Schmidt doesn't have to do a solo any more.
"I really realized that in Houston," he said. "Not that I didn't have confidence in this team before. But we won and I didn't do anything, and now what we've got going for us is unreal."
What The Team That Wouldn't Die has going for it is a tidy 2-0 lead in the World Series. The Phils are halfway home, folks, and now they go on the road, assured that they will be coming back to the Vet. Yet they have been a scorching road team down the stretch. They won two out of three at Montreal to win their division then two out of three at Houston to win the National League.
Two out of three at Kansas City and it's all over. Goodbye forever, Choke City.
There would be a press box full of alleged experts wondering what went wrong.
"I guess the whole world picked the Royals, figuring we would be drained and our pitching staff exhausted," Schmidt said.
He did not add hat there were those forecasters who also assumed the Phils would revert to postseason form instead of transforming themselves into The Team That Wouldn't Die.
"But I felt we were due to bust out offensively," Schmidt said.
To a degree, they still are. They have had only one home run in the Series, only two in seven postseason games. Last night, they put up four runs in the space of nine pitches and less than five minutes, against Kansas City's best reliever. And there is still the feeling they haven't really exploded.
Now that is kind of scary.
"Isn't it, though," grinned Mike" Schmidt.
Series attacts all-star lineup to Philadelphia
They were in the restaurants, the bars, the hotels, the shops and boutiques. Some took time to go to the museums, others took the opportunity to run up the Art Museum steps, a la Sylvester Stallone.
You couldn't go far in Philadelphia without running into the stars, luminaries and beautiful people here for the World Series. They had come to Philadelphia because, for the last two days, this – not New York, not Hollywood, not Washington – was the place to be.
Compiled by The Inquirer Staff
Dennis Leonard, the losing pitcher in the first game, dined at Arthur's last evening with his wife, Audrey, and several other relatives. When a reporter asked Mrs. Leonard whether she was the pitcher's wife, she laughed and said: "Well, I'm not sure after last night." Leonard chuckled and said: "We're renegotiating that contract."
Leonard ordered stuffed flounder, which he washed down with a few sips of wine, which he said he didn't think would hurt him. Leonard said, smiling, that he obviously hasn't had much of a chance to see the city, but that he hoped to do so.
However, his wife had been around town, and Mrs. Leonard said of Philadelphia: "It's a lot nicer than being in New York.... The people are friendly, they're not rude. The fans in the stadium are better, too, not as rude and animalistic." Chimed in Leonard: "They don't throw as many things, either."
Asked what she had done yesterday, Mrs. Leonard said, she had walked through City Hall, gone into Lord and Taylor, Wanamakers, Saks and The Gallery, and run up the steps Sylvester Stallone ran up in Rocky.
When a reporter commented admiringly on her energy, Leonard said: "She has a lot of energy and I have no money now. Thank God we're in the World Series."
•
Inside the Fairmont, the bell captain was brandishing some rolled-up' Phillies pennants. He probabiy is a Phjllies fan, but he wasn't holding tha pennants for that reason. Joey Bishop, dashing between places, had given the pennants to the bell captain, asking him to hang onto them until he returned. Bishop, a South Philadelphia native who now lives in Newport Beach, Calif., has been in town for negotiations concerning a new TV game show that he would host. The negotiations, he says, are at the point of determining whether the show should originate from Philadelphia or Resorts International Hotel Casino in Atlantic City.
Bishop attended the two National League playoff games in Philadelphia and went to the first Series game Tuesday night, but reluctantly had to give his tickets for the second game to a friend because of meetings concerning the game show.
Bishop, who was attired in a natty, soft-leather windbreaker and brown suede running shoes, said that he had been given the Phillies pennants by a vendor.
"This guy down on Broad Street gave me these pennants. He said Joey, take them.' You know, another guy gave me a pretzel. What I want to know is, when I didn't have nothing to eat, where were they?"
•
For the last two days, Fairmont Hotel bellman John Williams has been helping celebrities in town for the World Series in and out of their limousines and keeping an eye peeled while they dash in and out of the hotel.
Yesterday afternoon, Williams proudly displayed his reward for looking after the equipment-filled NBC limo – a set of freshly scrawled autographs from Joe Garagiola, Tom Seaver and Tony Kubek.
•
Frankie Avalon, another South Philadelphia native who made good, was back at Palumbo's Tuesday night. Normally, the audience gives Frankie its rapt attention. Tuesday night, however, many of the patrons had transistor radios glued to their ears, and Avalon good-naturedly asked them to please hold it down because the noise was making it too tough for him to sing.
Avalon himself, of course, is a Phillies' fan from way back, and he and members of his band also had radios going backstage. It was the backstage radio listeners who tipped the bandleader that Bake McBride had hit a three-run homer. The bandleader then passed the word along to Avalon, who announced the score to the audience – most of whom already knew it anyhow.
•
Some of the regulars at the Stadium Club at Veterans Stadium are grumbling. NBC has booked the club from 6:15 p.m. to game time on each of the nights that the series is played here.
Carl, the maitre d' at the club, said that regulars and any other fans who want to eat at the club may make reservations to do so during and after the game. Carl said that, as one would expect, business has been booming. "Everybody and his brother has an uncle who wants to come.... I'm a little pooped, but all of us are really excited."
•
When the teams were introduced before Tuesday night's game, Nino Espinosa, the Phillies' pjtcher taken off the eligible list before the playoffs, was announced and joined his teammates on the field. But what about Randy Lerch, the pitcher who joined Espinosa on the sidelines for postseason play? Lerch, wearing a black cowboy hat, watched the game from Section 214 with the players' wives.
•
The walls at Old Original Bookbinders are covered with photographs of presidents, stars and other luminaries who have stopped by to sample the restaurant's vaunted fare.
Not surprisingly, celebrities have been streaming through since the series began. They include Pittsburgh Pirates general manager Joe Brown, Pirates manager Chuck Tanner, Los Angeles Dodgers owner Peter O'Malley and Dodgers manager TomLasorda...
•
For vice presidential candidate and former Wisconsin governor Patrick Lucey, last night's game was a chance for a quick campaign: swing through Philadelphia as well as the only baseball game he would see in person this season.
"I don't know that I'm a great baseball fan," acknowledged Lucey, running mate of independent presidential candidate John Anderson, just before heading out to the stadium. "But I used to see the Braves when they were in Milwaukee – I remember well in '57 when they won the World Series from the Yankees – and I've seen quite a few Brewers games over the years."
Anyway, he added, it's always nice to see "somebody like the Phillies'" make it big. "Underdogs do have a chance, including Nov. 4," he commented.
But now, Governor, the hard question: Who are you backing in the Series?
"Well, I don't know.... I suppose as a national candidate I ought to profess my neutrality," he replied slowly. "But since we have a much better chance of carrying Pennsylvania than Missouri... I think I'll come out for the Phillies."
•
Although it could not be determined whether any art world luminaries were in town for the World Series, at least one baseball star was seen yesterday in the 20th century wing of the Philadelphia Museum of Art.
George Brett acknowledged the greetings of several guards before he fled after being recognized by too many people, according to museum personnel.
Accompanied by a lady wearing a black beret, he rounded the corner of the modern gallery and bumped into a triangular plexiglass sculpture by Philadelphia artist Charles Fahlen.
"Watch out," the guard said sharply. "Don't worry," Brett replied jokingly, "I could make that in a minute."
"He's gorgeous," sighed Lulu Lippincott, assistant curator of the museum's Johnson Collection. But another museum staffer sniffed: "I was hoping to see somebody like Mike Schmidt. I wouldn't know a Kansas City Royal if I saw one."
•
O'Dwyer's, at 18th Street near Arch, and Mace's Crossing, at 17th Street and the Benjamin Franklin Parkway, have also been attracting many out-of-towners in for the Series – primarily, the writing press, who, employees of the restaurants report, are spending a gratifying amount of money at the bar.
•
A house specialty at the Barclay is the duckling pate, which is served on a long, narrow pan and displayed on the buffet in the hotel's elegant new restaurant.
Tuesday night, before the first Series game had started, the pate was decorated with a red baseball bat and a white ball, and a scoreboard with – are you ready – the score: Phillies 7, Kansas City 6. Last night they were trying to repeat the feat. The score they predicted before the second game was Phillies 5, Kansas City 3. Hotel publicist Stephen Gary said: "Jimmy the Greek, roll over. The duckling pate's gonna give you a run for your money."
In the hotel cocktail lounge Tuesday night, pianist David Stanley kept patrons informed of the score musically. He had the earphone of a transistor radio in his ear and trilled the score, never missing the beat of whatever ditty he was playing.
•
Ballplayers and their relatives have also been frequenting Philadelphia's dining out spots. Kansas City manager Jim Frey and a handful of his players lunched yesterday at the Fish Market at 124 S. 18th St. Mrs. Darrell Porter, wife of the Royal's catcher, hosted lunch for seven Royals wives at Periwinkle, 115 S. 19th St..
•
Restaurateurs and saloonkeepers all over town report they are doing land-office business. The Series spillover has even affected Le Bec Fin, the posh French restaurant at 13th and Spruce Streets. Owner George Perrier says his business is up and "there is a festive mood in town now."
•
He was, in a way, as important as anyone in bringing a pennant to Philadelphia. But as he sat last night in a private booth on the Press Level of Veterans Stadium, no one was pestering him for autographs or offering congratulations.
Reuven Katz, a distinguished Cincinnati attorney, served as Pete Rose's representative and adviser two years ago in the so-called "flying circus," the highly publicized bidding for Rose on the free agent market.
It was Katz who helped get the Phillies back into bidding even after they had officially dropped out, saying they could not compete with the wild offers of race horses, lifetime employment and oodles of cash that Rose was getting.
It was Katz who understood that his client wanted to stay in the National League and play for an offensively oriented team that had a real chance of making it to the World Series – in short, the Phillies.
"Wasn't Pete something in the playoffs?" Katz said last night, as he sipped a beer. "But he always has been something special, and we've always known that, haven't we?"
The irony of all this is that if Rose had not signed with the Phillies, he might well have ended up playing for another very serious bidder – the Kansas City Royals.
•
Sipping beers in the oriental-styled cocktail lounge of the Barclay were several members of the British rock group Yes, who will play at the Spectrum tomorrow night, and in Bethlehem tonight. Last night, they had tickets to the game. Tall blond drummer Alan White, 30, said that the group is rooting for the Phillies because of the influence of their sound crew, who come from the small Pennsylvania town of Lititz.
White said that to keep abreast of the score during a performance Tuesday night in Nashville, the group had a courier watch the game on a TV set in their dressing room, scrawl the score on a small blackboard, and periodically run it to them on stage.
•
Meanwhile, over at the Warwick, general manager Irving Anderson said that the hotel is so crowded they sold an office with a bathroom for use as a hotel room and were forced to turn away singer Diana Ross, who is appearing at the Valley Forge Music Fair. Miss Ross managed to find space at the Barclay, where employees said she lunched yesterday on steak and eggs.
•
At the Fairmont Hotel, which is NBC's World Series headquarters in Philadelphia, sales manager Robert Boyle said that the hotel's problem is "not that were overbooked but that we're underdeparted."
Boyle said that businessmen and others in town for purposes other than the Series are extending their stays as they manage to get tickets, thus making it difficult for those coming to the Series looking for rooms.
A reporter phoning in information on the NBC executives staying at the Fairmont mentioned the name Don Ohlmeyer. Asked by his editor what Ohlmeyer's exact title was, the reporter said he was not sure. However, it turned out that the man at the next phone booth was Ohlmeyer, who overhearing the reporter's comments, volunteered the information that he was the network's executive producer. The unabashed reporter then asked Ohlmeyer if he had any comments he cared to make.
There was a low buzz of conversation heard over the phone, after which the reporter then told his editor to quote Ohlmeyer as saying "Hi, to his mom."
•
Persistent autograph hounds were doing OK. Mike Vassaluzzo, a teenager from South Philly, got the following signatures on his baseball card collection during a two-hour vigil yesterday afternoon at the Franklin Plaza. Among those whose John Hancocks he secured were Dennis Leonard, Paul Splittorff, Clint Hurdle, John Wathan, Willie Aikens and Jose Cardenal.
•
Joseph Sparks, a Franklin Plaza Hotel bellhop from West Philadelphia, started the week as a Phillies fan. Then he met Royals star Frank White. "I met him when I took his bags to his room, and offered my services to him and his wife, who is pregnant. I got him some food after room service closed, and I took care of some laundry for him. I also tried to give him some support after the game last night (Tuesday). He was down, not too lighthearted.
"He's a real nice guy, a good tipper, too," Sparks added.
"I was a Phillies fan, but he made a semi-Royals fan out of me."
•
Remember Harry (The Hat) Walker, who got his nickname from his nervous habit of removing and fiddling with his hat between every pitch? Guess who was seen yesterday in the Franklin Plaza lobby, fiddling with his hat? You got it.
So certain were they that Houston would win the pennant, a trio of sports fans from Rochester, N.Y., dug out their cowboy boots and made plane reservations for Houston. When the Phillies won instead, the trio from Rochester came here, even though they had no hotel rooms or game tickets.
But luck prevailed – at a price – for Pat Trimaldi, 38, Tom Cordaro, 35, and Dick Marino, 39. The Warwick found them a luxurious $300-a-day suite and they picked up $150 tickets from scalpers outside the Vet.
They have had "nothing but a good time, so far," said Cordaro. "I'll be honest with you. I definitely came squeezing for Kansas City, but everyone has been so nice, I'd like to see Philly win it."
•
"How has the Series affected you?"cab driver Abe Pacheco was asked.
"Last night wasn't too bad," he' said. "I was sick and I got to see most of it. But tonight I had to come in to prove to my superintendent I wasn't just faking."
•
Before last night's game, Pittsburgh Pirates manager Chuck Tanner said: "I'm very disappointed we're not in it, but this game can be a very humbling experience. It tasted so good when we were in it, but maybe it will taste better if we can get back here."
•
Dodgers manager Tommy Lasorda, watching a series he, too, hoped he would be participating in, said: "I always come to these things. We sit around and talk and start on the trading business. I'm not surprised the Phillies are here, even though they've had a lot of difficulties."
Asked if he sympathized with those problems, he said: "I can't worry about Dallas Green, I have troubles with my own team."
•
Maury Wills, the former Los Angeles Dodgers base stealer now managing the Seattle Mariners, said he was in town to look for players he might be able to acquire for Seattle.
Asked if he had anyone in mind, he said, wishfully: "Yeah, there's a guy at third base for the Phillies," referring to major league home run champ Mike Schmidt.
Asked about his reaction to Philadelphia, Wills said: "Yeah, this is the City of Brotherly Love, as long as the local team wins."
Sitting next to Wills was Mariners' owner Daniel F. O'Brien, who said that he was staying at the Franklin Plaza. He said that the new hotel still has a few bugs to work out – like the shower in his room, which he couldn't turn off.
"But I love Philadelphia," he added.
•
Ewing Kauffman, the owner of the Kansas City Royals, said: "I think Philadelphia's wonderful. I like the Philadelphia fans. They have a good team, but they're not as good as ours. I predict Kansas City (will win) in six. The secret is whether we win tonight. If they go into Kansas City two games up, we're probably dead."
Contributing to this article were Inquirer staff writers Sue Chastain, Maryanne Conheim, John Corr, Larry Eichel, Lewis Freedman, Al Haas, Carol Horner, Chuck Newman, Rick Nichols, Danny Robbins, Marc Schogol and Mary Walton.
The Series:  Try thinking first next time
By Clark DeLeon
Does anyone have a muzzle big enough to fit over Wayne Shannon's mouth? He's the guy does a bit on the 11 o'clock news at KYW-TV called "Thinking Out Loud," which demonstrates more of the latter than the former. For instance, here is Philadelphia in the World Series by the grace of God and the Phillies, playing the best team in the American League, and Shannon refers to them as the "Chancre City Boils" two nights in a row and then belittles them as Midwest hayseeds.
It was bush. Let's hope the Phillies don't have to eat Shannon's words.
•
What the Phillies did have to eat in the locker room after last night's game was a far cry from the traditional lunchmeat or pizza spread that the players are usually offered after the game. In a gesture of appreciation for bringing the World Series to Philadelphia, Fish Market restaurant owner Neil Stein catered the locker room meal, which consisted of crab claws, jumbo shrimp, quiche, champagne and fancy desserts.
•
If you've been listening to the Series games on the radio, you have no doubt longed for the familiar tones of Harry Kalas, Richie Ashburn, Andy Musser et al. The CBS network crew they have in there lacks the familiarity with the players and the fans. But worst of all, they actually referred to the Phillies Phanatic as "Phanatic Phil."
•
Jimmy Carter should be rooting for the Phillies to win the World Series. Every Democratic president elected since 1952 has won in years that a National League team has won the Series. Conversely, Republicans have won during the same period during years that the American League team won. It started with the Yankees and Eisenhower in 1952 and 1956. Then there was Pittsburgh and Kennedy in '60, St. Louis and Johnson in '64, Detroit and Nixon in '68, Oakland and Nixon in 72 and Cincinnati and Carter in 76.
Traffic flow at stadium kills lots of his business
Parking entrepreneur Don Tesauro thought he had it made.
With a record 65,771 fans at the World Series game on Tuesday night, he figured it was a sure bet that his six parking lots near Veterans Stadium would be filled to capacity. When the first pitch was thrown, though, more than 900 spaces in Tesauro's lots remained empty, prompting the loquacious owner of Independence Hall Parking Inc. to blast the Police Department for routing traffic away from his lots.
"They routed the cars so they couldn't get anywhere near us," Tesauro said yesterday. "There's no way we could have gotten the cars."
Tesauro said that the police's routing of traffic cut off access to his lots on 10th Street and at 10th and Paulson Avenue, which are located only a block from the Vet. According to Tesauro, police closed 10th Street between Packer Avenue and Pattison and prohibited southbound Broad Street traffic from turning east onto Pattison.
Instead, he complained, cars were routed into lots at nearby FDR Park, which are located several blocks further from the stadium.
Police Captain Nicholas Martino, of the traffic division, acknowledged that, during peak traffic periods, police had forbidden southbound cars on Broad from making a left turn onto Pattison. This was done to prevent traffic from backing up on Broad and onto the Schuylkill Expressway, he noted. Tenth Street had been open to southbound traffic only, Martino added.
"Why should a person have to walk through the darkness of a park," Tesauro said, "when we have paved lots 50 yards away?"
Two down, two to go
Phils rally again, drop Royals, 6-4
The Phillies did it again last night.
To the joy of 65,775 screaming fans at Veterans Stadium, they staged another dramatic, heart-stopping comeback, scoring four runs in the bottom of the eighth to defeat the Royals, 6-4, for a 2-0 lead in the World Series.
Bob Boone led off the inning with a walk, and Del Unser doubled to left-center, scoring Boone. After Rose hit a grounder to first, advancing Unser to third, Bake McBride chopped a single to right, scoring Unser and tying the game at 4-4.
Mike Schmidt, who had lain dormant so far in the playoffs and Series, powered a double off the wall in right, scoring McBride with the go-ahead run. Keith Moreland followed with a single to center to drive in Schmidt and give the Phillies a 6-4 lead.
The Phillies got their first two runs in the fifth inning. Schmidt led off with a ground out. Then Moreland, the designated hitter who replaced Greg Luzinski in the starting lineup when Luzinski showed up at the park with a virus, got an infield single.
Garry Maddox doubled down the left-field line, moving Moreland to third. Moreland scored on a sacrifice fly by Manny Trillo, then Larry Bowa singled to left, scoring Maddox.
The Royals went ahead, 4-2, in the seventh, scoring three runs on three walks given up by Steve Carlton, a double by Amos Otis and a sacrifice fly by John Wathan.
They got their other run in the sixth inning on a throwing error. Otis had singled to open the inning, and after Wathan walked, Willie Aikens hit a chopper to second. Trillo's throw to first was wild, with Otis scoring on the error.
Game 3 will start at 8:35 p.m. tomorrow in Kansas City. Righthander Dick Ruthven is scheduled to start for the Phillies, with righthander Rich Gale on the mound for the Royals.
Whiz-Kid Roberts will pitch against Ormandy any time
Series notebook
Robin Roberts figured he was a lock to make a better showing of throwing out the first ball before last night's second World Series game than his predecessors in postseason games this month at Veterans Stadium.
"Eugene Ormandy cant throw, James Michener has a bad arm and Eddie Sawyer has arthritis," Roberts said with a laugh. The retired conductor of the Philadelphia Orchestra threw out the first ball at the first National League Championship Series game, author James Michener did the honors at the second one, and the manager of the 1950 National League champion Phillies did it at the Series opener Tuesday night.
"It took us 80 years to win a World Series game," exaggerated Roberts, who won his 20th game in the 1950 last-day pennant-clincher, "and last night I jumped up and cheered."
He was asked if it bothered him that people only remember that the New York Yankees won all four games in the 1950 Series, that they don't realize that the first three were all decided by one run.
"I always remind them," said Roberts,. who lost the second game, 2-1, when Joe DiMaggio hit a home run in the 10th inning. "If we had played them in August or early September, we might have swept them. That was when Curt was really hot."
Curt was pitcher Curt Simmons, who went into the service and did not pitch in the Series.
Getting back to this year's Phillies, Robbie said with admiration, "I've never seen any player do what Pete Rose has done for this club. Willie Mays didn't do it, Hank Aaron didn't. They say they act cool, but he doesn't."
Roberts thought it "risky" of the Phillies to start the World Series with rookie Bob Walk, a 23-year-old pitcher who hadn't thrown in the playoffs. "I thought it was a big gamble. But it paid off. It's something I would not have done."
•
Speaking of Willie Mays, Willie Mays Aikens of the Kansas City Royals said yesterday he would prefer not to be known by his full name, although he doesn't consider it a problem.
"My mother named me Willie after my uncle, and the doctor put in the Mays after the (1954) World Series.
"I've never had a chance to meet him," said Aikens, who got Mays' old number, 24, because his favorite, 22, was already taken by pitcher Dennis' Leonard.
Aikens said he thought both his home runs in the opener would have been caught in the Kansas City park. "The ball park here is a hitter's park," he said. "If you hit it good hare you wont get cheated."
•
Jose Cardenal, the outfielder the Phillies traded to the New York Mets last year and was released by the New Yorkers and signed by the Royals this summer, was asked if he expected to be in a World Series so soon.
"I knew when I left New York a contending team would call me," Cardenal said. "I gambled and the gamble paid off. Everything worked out real well."
So did Cardenal's sale of a World Series ticket late yesterday afternoon. Just as the Royals bus was pulling away from their hotel, a young man handed Cardenal $S for the ticket. As the bus drove away, the youngster looked at the date, and found it, was for Tuesday night's game.
•
Righthander Rich Gale, who is scheduled to pitch tomorrow night's game for the Royals against Dick Ruthven of the Phillies, hasn't pitched since October 5, the last game of the regular season. At that time, he had some shoulder soreness, but says now, "My shoulder feels great at this point, and I think it will feel great Friday night. I hope the layoff won't hurt me.
NOTES: Six Royals had played at the Vet before last night's game. They were Ken and George Brett, Jose Cardenal, Larry Gura, Pee LaCock and Hal McRae. The only three Phils who have played in the Royals park are Manny Trillo, John Vukovich and Pete Rose…. NBC estimates that 68 million people watched Tuesday night's opener, and the three major markets of New York, Chicago and Los Angeles were up 23, 11 and 11 percent, respectively.... The Royals will work out this afternoon at 3 p.m., with the Phillies following at 4:30 in Kansas City's Royals Stadium.
Contributing to this article were Allen Lewis and Inquirer wire services.