Philadelphia Inquirer - October 18, 1980
For autograph hounds, the real World Series is in a hotel lobby
By Steve Twomey, Inquirer Staff Writer
KANSAS CITY, Mo. – It's not much, of course. Just a simple hotel lobby in the Old World tradition.
A mere four stories high, for example. The lobby, not the hotel. The conversation pit runs from here to Topeka. Balconies overlook balconies, chrome piles on chrome piles on glass. Two suspended walkways course overhead, real trees sway in a fake breeze.
There are futuristic gaslight contraptions, sleek sofas and chairs, tinkling cocktail glasses, sunlight pouring through giant skylights and a three-story black sculpture, apparently modeled closely after an unsuccessful launching at Cape Canaveral.
For some reason, there is no water. Not a single pool, spouting gargoyle or lovely waterfall. But who cares? It's got everything else. Just one more understated, 7XVroom, 40-story, multimillion-dollar Hyatt Regency Hotel.
Outrageous. But then, what better place to hold a World Series, itself outrageous, glamorous and anything but Old World.
Oh, sure, technically they played Game 3 last night out at Royals Stadium, east of downtown. But don't believe it. The real World Series went on all day yesterday in that intimate little lobby at the Hyatt, part of the new complex called Crown Center that is the New Kansas City, south of downtown.
Even Pat Riedel of Overland Park, Kan., knew that. That's why he arrived at 11:30 a.m. and grabbed a leather bench just inside the revolving doors.
Now, by all appearances, Pat Riedel is an adult male of reasonable intelli gence. He is 41, balding and a bit overweight. He has a good business in suburban Overland Park selling audio equipment. He has a wife and kids, and on any other day, he would have been working.
But Pat Riedel is really a kid. To wit, a baseball autograph junkie, and this was junkie heaven. The World Series – The World Series – was in town. The best in baseball, right here in Kansas City.
The Philadelphia Phillies, champions of all the National League, were in that hotel. And so were the managers of most of the other baseball teams. And scouts and executives and sportswriters, all camped in the Hyatt, all so available.
And they all had nothing to do. Game time was eight hours away. So they mingled endlessly in that lobby. They sought each other, swapped rumors, talked trades and then moved on to repeat the rumors and repeat the trade talk a few feet away.
And the rest of the lobby watched eagerly: businessmen in suits pretending not to notice, teen-age girls gawking at the sleek male bodies, dowdy ladies – purportedly attending a medical aides convention – also gawking at the sleek male bodies. Hotel employees dressed in Royals uniforms hawked hot dogs at the top of their lungs. People pointed. Who is that guy?
Hey, there's Don Zimmer, the ex-manager of the Red Sox. There's Gabe Paul, the general manager of the Cleveland Indians. And John MacNamara, the manger of the Cincinnati Reds. And Herman Franks, the ex-manager of the Chicago Cubs, and Ruly Carpenter, the owner of the Phillies, and Dave Bristol, the manager of the San Francisco Giants.
Fine and good, said Riedel. But he had no time to simply sit back and take in this spectacle, this traveling circus that had descended on Kansas City. He had work to do. Autograph time.
And what about work? "Let the wife do it," he said. "She doesn't mind."
His mission was to get the Phillies. Being National League players, their autographs are hard to get, because Kansas City is an American League town. So he had come prepared.
In a slim leather binder in his right hand were covers from recent issues of the Sporting News, featuring photographs of Phillies players. In the top left pocket of his blue sports shirt were photographs of all the Phillies in action – not photographs taken from newspapers or purchased in stores, but real photographs taken by friends in National League cities.
Players like to sign the Sporting News because that shows you're a true fan, Riedel said. And they like to sign real photographs more than the mass-produced variety for the same reason, he added.
He scouted the lobby furtively, peering around the milling bodies. Can't afford to miss one.
"This is great, just great," he said. "This is so great for baseball. The Phillies are tough, though. They're the worst team in baseball for getting autographs. We can name four or five Phillies that are just terrible. Carlton, Ruthven, Reed, they just walk right by you."
There was a sudden stir among the other autograph hounds on the bench near the conversation pit. Yup. It was Larry Bowa, Garry Maddox and wives, heading for the door. There was a rush. Not Riedel. He had gotten those two the night before. No sweat.
"This lobby's hard," he went on. "Over at the Crown Center (another hotel in the complex), they don't hassle you. But a couple of guys here got thrown out last night. We have to be careful."
Time was running out now. Riedel said he would wait a little while longer, but then he would have to leave in order to make the "other" World Series. He had two box seats. 
Get ready for parade – if Phils win it
By Murray Dubin, Inquirer Staff Writer
If the Phillies win the World Series this weekend, the parade down Broad Street will be held at 1 p.m. Monday.
If the World Series is won on Tuesday, the parade will be at 11:30 a.m. Wednesday.
And if the World Series is won on Wednesday, the hoopla will start at 11:30 a.m. Thursday.
Neither schools nor city offices will be closed on the day of the parade.
The parade will start at 18th and Market Streets, go east on Market to City Hall, then south on Broad Street to John F. Kennedy Stadium in South Philadelphia. Traffic and parking will be prohibited on Broad Street during the parade.
The parade, which is expected to take about 90 minutes, will conclude at the stadium with brief remarks from state, city and Phillies officials and the players.
The public will be admitted to the stadium, which seats 103,000, at 9 a.m. on the day of the parade.
City managing director W. Wilson Goode said he expected a "spontaneous demonstration" immediately upon victory in the city, and added that he was concerned about the public safety.
"When the Flyers won, and when the Phillies won the pennant, we found widespread drunkenness and civil disobedience throughout the city," he said.
He promised that there would be "adequate police protection to make sure property is protected and to make sure that bodily injuries do not occur."
How others view this World Series:
Gary Smith, New York Dally News:
"If Johnny Bench had had hemorrhoids in the 76 playoffs, the Phillies would have thanked the Lord and sent the poor sucker a bottle of jalapeno peppers."
Jim Murray, Los Angeles Times, in a letter to Bowie Kuhn:
"Where are the New York Yankees, Commissioner? Who in heaven's name are these guys in those funny-looking violet uniforms? I mean, the KAN-SAS CITY ROYALS, for cryin' out loud?! They're a Yankee farm club, aren't they?... I'm not too thrilled about the Philadelphia Phillies, to tell you the truth. In my day, we didn't take them all that seriously. The 'Phutile Phils' was what we called them."
Dave Kindred, Washington Post:
"The consensus was that (George) Brett would play (last night), but he wanted to renegotiate his contract and add a no-slide clause."
Furaan Bisher, Atlanta Journal:
"The 'Cradle of Liberty' (Philadelphia) may be in history, but it has been the 'Cradle of Defeat ' in the National League. "
Mike Marley, New York Post:
 "They are the Phussing Phils. They think their manager is a chain-gang leader... (that their) fans are fickle and overly harsh and that the press should write sugar-plum fairy tales instead of critical baseball stories... They look like the world's best baseball team. They are the miserable millionaires who are the world's worst winners. Their clubhouse is a mausoleum, and their motto is meanness, rudeness and ignorance. Their town deserves them."
Art Spander, San Francisco Examiner:
"They can sign Pete Rose. They can trade for Steve Carlton. They can put together a team of all-stars, They can hire new managers by the dozen. But something always goes wrong. They always step on a banana peel, fall down the open manhole cover. They always screw up. They always lose."
Leaving 8 on base, Schmidt can only welcome Game 4
By Danny Robbins, Inquirer Staff Writer
KANSAS CITY, Mo. – There are players who seem to carry their teams at times during a season but come up short during the playoffs and World Series. And then there is Mike Schmidt.
He is not having a totally futile Series by any means. But the man who should be MVP has not been Mr. October, either, his big hit in Game 2 notwithstanding. There is, after all, as Schmidt himself would say, always Game 3.
And Game 3, a 4-3 triumph for the Royals in 10 innings last night, was a very tough one for Schmidt, a good example of just how fast things can change for a guy.
True, the Phillies' third baseman did hit a home, run, a shot into the Phils' bullpen in left in the fifth inning, his first homer in postseason play. Otherwise, the Phillies stranded 15 base runners, eight of them personally left out there by Schmidt.
"The best thing is," he was saying later, "I only have to wait – what? – 10, 12 hours, and then we play again. And it's fun. Hey, this (Royals Stadium) is a great stadium. This is fun.
"Give them (the Royals) credit. They got it going tonight. That's why the Series is best four-out-of-seven, not two-out-of-three. There's enough time for the breaks to even out. Four in a row hasn't been done in a long time. So we go out tomorrow. That's all."
And that's vintage, collected Mike Schmidt. He simply added last night's work to his list of times he was robbed.
First, and foremost, was his chance in the top of the 10th inning. Bob Boone was standing on second, Pete Rose on first. There was one out, and so Dan Quisenberry was in a rough spot. But Schmidt yanked him out of it.
Schmidt tore into Quisenberry's first underarm pitch, driving a low line drive up the middle. How hard did he hit that ball?
"You could hang your wash on that ball," Schmidt said, "and I didn't hit it out of the infield."
Frank White, the Royals' excellent second baseman, was playing Schmidt just right in this case. He stretched to snag the ball and stepped on second – double play, two more in the LOB column for Schmidt.
"He (White) was playing him to pull, I guess," said Larry Bowa, "and Mike just hit the ball right at him."
"He didn't have to go that far to make the play," Schmidt said. "He was just playing me right. I hit the pitch right on the nose, and he got it.
"The bunt, that... we're talking about six inches. I missed having a helluva ballgame by a foot. The bunt was six inches foul, I guess, by what the umpire said. But six inches or 10 inches, it's still foul."
Yes, the bunt. Schmidt came up with two out, runners at the corners, in the eighth. Quisenberry had just entered the game. Schmidt bunted this first pitch, the bunt rolling up the third-base line, just foul. Then he poked a sinking liner to center that Amos Otis grabbed with a one-handed, running catch.
"Well, the whole game comes down to Willie Aikens hitting a damn good pitch and hitting the hell out of it to right center."
Aikens' drive scored Willie Wilson from second with the Royals' winning run in the 10th off Tug McGraw, beatable for a change.
"He hit a fastball up over the plate," McGraw shrugged. "I just didn't get the ball (the 1-1 pitch) where I wanted it, that's all."
OK. But he would not have been out there, perhaps, had the Phillies – and Mike Schmidt – gotten some hits when they counted.
"Schmitty hits a bullet right at White. (Keith) Moreland just misses a home run," Bowa said. "Good Series."
It is getting interesting.
No shock:  Stranded Phils tie 2 marks
By Allen Lewis, Special to The Inquirer
KANSAS CITY – If the Phillies go on to lose this World Series, they will remember Game 3 as Black Friday. It was a game in which the Phillies had so many chances to win in regulation time that they tied the nine-inning record and the extra-inning mark for runners left on base.
With all the missed opportunities, it seemed almost inevitable that the Kansas City Royals would finaliy break through and win their first game in this World Series. It took them 10 innings to do it, but a couple of walks around a stolen base and a two-out single to deep left-center field by Willie Aikens produced the run that won the game for the home team, 4-3.
The Phillies could have gained a stranglehold on the first world championship in their history. No team has ever won a World Series after losing the first three games, and there was no reason to think the American League champions would be any different had they lost last night. But now the Royals have been given new life, and the big edge with which the Phillies came here is in serious jeopardy.
Time and again the Phillies failed to come through with the hit that could have given them the lead. In only one inning did they go down in order, and six times they stranded two or more runners in the first nine innings. In all, the 15 left on base tied the extra-inning record the New York Mets set in a 12-inning game in 1973, and the 14 stranded in the first nine innings tied the regulation game mark, a dubious distinction gained by only three teams in a World Series game, all of them National League clubs.
Mike Schmidt, the major league home-run champion, finally hit his first homer in postseason play, but it came with the bases empty leading off the fifth inning. In his other five appearances at the plate, he walked in the first and stranded eight runners after that. In all fairness to the Phillies third baseman, he got some good wood on the ball three times in the game, but he wasn't very lucky.
With the bases loaded and two out in the second inning moments after the Phillies had tied the score, 1-1, Schmidt hit a long fly ball to left-center that center fielder Amos Otis camped under and caught with no trouble. In the 10th inning, after a leadoff single to Bob Boone, a sacrifice and an intentional walk to Pete Rose, Schmidt swung at the first pitch thrown by relief ace Dan Quisenberry, who had come on to get the last out in the eighth inning.
The pitch from Quisenberry was low, and Schmidt went with it. He hit a bullet on a low line some six or eight feet to the right of second base. It looked to be a certain run-scoring single until second baseman Frank White made a last-second dive to his right and caught the ball inches off the ground. It was a simple matter for the Gold Glove Royal to jump up and run to second to double Boone, who had started running at the crack of the bat.
In the sixth inning, with Larry Bowa on second base and two out, Schmidt bounced to shortstop into a force at second on a fairly close play; in the eighth inning, after Pete Rose had singled in the run that tied the score at 3-3 with his first hit of the Series, Quisenberry relieved and Schmidt hit a weak fly ball to short center that for a split second seemed to have a chance to fall safely. But Otis caught the ball with ease.
No other Phil had as frustrating a night as Schmidt did, although Rose, who walked twice and singled in six trips, struck out twice and his second whiff in the sixth inning extended his hitless streak to 10, a very uncharacteristic trial for the future Hall of Famer who hit so well in the National League Championship Series.
Every member of the Phillies starting lineup had at least one hit, and they banged out 14 in all, but only Schmidt's homer and Manny Trillo's wasted double in the third inning went for extra bases.
Royals starter Rich Gale was supposed to be the type of hard-throwing pitcher the Phillies would hit hard. They did, but their timing was poor. He lasted until the fifth inning, and righthander Renie Martin stopped the visitors after that until Quisenberry came on in the eighth to gain the victory, one that may prove extremely costly to the Phillies' hopes of that elusive world championship.
Otis sets fielding mark
By The Associated Press
KANSAS CITY, Mo. – Kansas City Royals centerfielder Amos Otis rewrote the World Series fielding record book in Game 3 last night. Otis, a three-time American League Gold Glove winner, recorded nine put-outs, a one-game record for Series outfielders.
Phils squander a game of chances
By Frank Dolson, Inquirer Sports Editor
KANSAS CITY, Mo. – "I picked Philadelphia in six," said Sparky Anderson before the first World Series game ever played in this city, "and I think it might happen faster. It's all (on the line) tonight, boy. If they don't win tonight...."
Well, the Kansas City Royals did win the third game of the 1980 World Series. They won it despite what Dallas Green rightly called "a super" pitching effort from Dick Ruthven. They won it despite the fact the Phillies got 14 hits and six walks off three Kansas City pitchers.
They won it because the Phils' hitters – so sensational recently in clutch situations – ran out of key hits for a night. Inning after inning, the Phillies had the frenzied mob at Royals Stadium squirming. Always, it seemed, the National League champions were a hit away from taking command of this game that the Royals simply couldn't afford to lose.
Maybe it was the law of averages catching up to a Phillies team that had been almost superhumanly hot in recent days. Maybe Kansas City's beleaguered pitching staff deserves credit for making some good pitches in pressure situations. Whatever the reason, Phillie hitters were one-for-13 with runners in scoring position last night.
But even that's misleading. The last Phillie to "fail" in the clutch on this most frustrating of nights was Mike Schmidt, whose "failure" took the form of a sizzling line drive up the middle with two on and one out in the top of the 10th.
It could have been the hit that broke a 3-3 tie. Instead it was a rally-breaking double play. So it goes in this game of inches.
Never have we seen more evidence of how important an inch or two, one way or the other, can be in baseball than in the last, stranger-than-fiction week.
If Bob Boone's bouncer back to the box had been fielded by Nolan Ryan in the eighth inning of the final National League playoff game, the Houston Astros might have been playing in this World Series.
If Schmidt's line drive last night had landed in centerfield instead of in Frank White's outstretched glove, today might have been the day for the biggest celebration Philadelphia has ever seen.
Or, in what was almost the strangest twist of all, if Schmidt's eighth-inning bunt with Phillies on first and third and two out had stayed fair, there never would have been any need for extra innings.
Schmidt's bunt came as a shock to a Kansas City team that has been shocked more than a few times this week.
"There's a guy that just hit the ball 390 (feet) off me last at-bat (in Philadelphia)," Royals reliever Dan Quisenberry said. "I thought, 'Here's the leading power hitter in the major leagues bunting.'"
Maybe it seemed foolish to the Royals, but if that ball had stayed on the other side of the white line it wouldn't have seemed so foolish.
That's how close the Phillies came to taking a stranglehold on their first world championship last night. But then, in your heart you knew that it couldn't come that easily. Not after all the 1980 Phillies have been through on the road to Kansas City. Not after the incredible, almost nonstop drama in Montreal and Houston.
The story of this Phillies season was bound to have another twist or two. And last night the Phillies made certain of that by muffing enough scoring opportunities to win two ball games... by stranding 14 base runners in nine innings and 15 in 10.
Even then, there was no guarantee the Royals were going to take advantage of the Phillies' failures. Even when Willie Aikens' line drive took off to left-center field with two on and two out in the home 10th, even as the Kansas City fans arose as one and prepared to salute their struggling heroes, it appeared for a moment or two that the ball might be caught.
After all, Garry Maddox was out there, and nobody covers centerfield the way he does.
He broke to his right and began eating up huge chunks of ground with his extraordinary strides, but the ball – hit by a lefthanded batter – sliced away from him. Not even Maddox could make up the ground needed to run this one down.
"The ball was kinda in the gap," Aikens said after gettng pummeled by his joyous teammates. "He (Maddox) plays a short centerfield. I looked up and I saw he was kinda in. After the ball got up in the air I knew he didn't have a chance to catch it."
So the drama is still alive, the ending is still in doubt. Could be, Sparky had it figured right all along: Phillies in six.
Royal heave-ho
It's a 'sterile ballpark,' so the Phillie Phanatic is banned
By Danny Robbins, Inquirer Staff Writer
KANSAS CITY, Mo. – The Phillie Phanatic, who was a big hit in Houston's Astrodome during the National League Championship Series, was banned from the playing field last night at Royals Stadium.
"This is a real bummer," said Dave Raymond, the man in the Phanatic suit – when he's allowed to wear it. "I really want to be out there, not just because this is the World Series. It's because this is my job and it's fun. It makes me feel like I should have stayed home and watched the game (on TV) with my family."
Raymond did his thing at the Vet before and during the first two Series games. Then he came west, at the Phillies' expense, with one of his costumes to do the same stuff – the dancing, hand-slapping, imitations and so forth – at Royals Stadium.
He planned to do a limited, Phillies-oriented act, and he didn't think the Royals executives would mind. He did not check with them beforehand.
When Raymond arrived in Kansas City on Thursday, he was informed by Bryan Burns, director of marketing and special events for the Royals, that he could not do the Phanatic act on the field or on the Phillies' dugout at any time this weekend. Burns said he could work the stands only, and Raymond refused to do that.
"That's not the Phanatic's way," he said, "to go up and just shake some hands."
So Raymond stayed in his Phillies warmup uniform and watched the game from the Phillies' dugout-clubhouse area.
"Apparently, the owner of this club (Ewing Kauffman) is a baseball purist and doesn't believe in stuff like this," Raymond said.
"It's quite simple," Burns explained. "He (Raymond) came to see us. We told him he could go in the stands, anywhere up there. But we didn't want him performing on the field or on the dugouts.
"Why? Well, we do have a sterile ballpark, an atmosphere where the game itself is the showpiece. It's not something that's right or wrong. We just don't want anything outlandish going on. We don't have a mascot. The game is the showpiece. And it's the feeling of everyone here (in the front office)."
"My act works without destroying anything," Raymond said. "It is entertaining, and it does not disrupt the game. There's really no reason for this.
"I did it with no problems in Houston (during the National League Championship Series), and I've been to five other major league parks, some minor league parks, too. I've never experienced anything like this."
Royals come alive, win in 10th
Aikens' RBI sinks Phils, 4-3
By Jayson Stark, Inquirer Staff Writer
KANSAS CITY, Mo. – The Phillies found themselves in an uncomfortable position in Game 3 of the World Series last night. They were in danger of making this thing too easy.
After the incredible charge at Montreal and the 97 mad comebacks in Houston, they didn't seem to know quite how to deal with the luxury of coming from ahead.
So last night they decided to throw a little drama into the 1980 Series with a difficult, 10-inning, 4-3 loss.
To lose this one, they had to put all kinds of guys on base and then leave them there. They tied the World Series record for men left on base in nine innings (14). That just got them into extra innings, so they could tie the record for men left on in extra innings, too (15).
That just gave the Royals their umpteenth chance to beat them, which the Royals then did, with a run off Tug McGraw in the bottom of the 10th. So the Phillies lead the Series, two games to one, now. Isn't that a lot more interesting than 3-0?
"All you writers make a big deal out of momentum," Dallas Green snorted afterward. "But I don't think in a World Series that means a whole lot. They know their position. We know where we are. We left 15 guys on. If we'd plated a few of them, it would have been a different story."
You had to figure the Royals were in big trouble when they made the mistake of taking a 3-2 lead into the' eighth. Everybody from Joplin to Jenkintown knew what that meant – the Phillies' regularly scheduled eighth-inning rally.
Here it came, right on schedule. It began with Larry Bowa's third hit, a swinging-bunt single. Bob Boone.flied to center for the second out. But Lonnie Smith walked, bringing up Pete Rose, at the time an unlikely 0-for-the-Series.
Rose doesn't like hitting off all those unknown pitchers he has to face in the Series. But you don't exactly expect him to go 0-for-10, either. In the Kansas City dugout, manager Jim Frey stirred, wondering whether to go to Dan Quisenberry or let reliever Renie Martin, working in his fourth inning, face Rose. He stuck with Martin.
"He'd just struck Rose out the time before," Frey said. "And he made him look bad on the second and third strike. I don't know if that was a good reason (for leaving him in). But that was my reason."
Rose didn't seem to object to it. He lined a 11 pitch to right-center to tie the game. The question then became how many runs the Phillies would go on to score, right?
Wrong. On came Quisenberry to face Schmidt, who had left five men on in two of his previous four trips to the plate and homered with nobody on in another. So Schmidt shocked everybody by dropping a bunt down the third-base line. It rolled foul before everybody could recover from the shock.
"I was sure surprised," Quisenberry said. "Here's a guy hitting about.390 (in the Series), and he'd really hit the ball off me last at-bat. And the guy's the leading power hitter in the league. Maybe he was showing some respect for me, I don't know."
At any rate, Schmidt was swinging again after that. He split his bat in two with a looper to center. Amos Otis hauled it in, and the 11th and 12th men went into the LOB column.
So they'd win it in the ninth, right? Nope. They had two on, one out and Manny Trillo and Larry Bowa couldn't get them in.
They gave it another try in the 10th. Boone led off with a single. Greg Gross bunted him up, and the Royals walked Rose to get to Schmidt. You don't see that move much.
Schmidt lined one toward the middle. But second baseman Frank White snared it inches off the ground and doubled Boone off second, at least saving the Phillies from holding the Series LOB record all by themselves.
McGraw came on to pitch the 10th in relief of Dick Ruthven, who had pitched great except for homers by George Brett and Otis. U. L Washington greeted McGraw with a leadoff single that skipped past Larry Bowa.
Willie Wilson came up to bunt, but McGraw walked him on four pitches, and it looked like trouble. It looked like a lot less trouble when White missed a bunt and Washington got thrown out trying to steal third. McGraw then fanned White, and all he had to do after that was get George Brett.
But Frey let Wilson steal second, so McGraw got to walk Brett intentionally, which figured to be a break. It brought up Willie Aikens, who, Frey figured, was "more likely to hit a single than George was to hit a double."
Right you are, Jim. Aikens lined a 2-1 pitch to left-center. Garry Maddox raced over, but the ball sliced and sliced and sliced. It landed just beyond Maddox in the alley, and that was that.
"Two and one is still a comfortable position," Rose insisted afterward. "Let me ask you. Which clubhouse would you rather be in – the 2-1 clubhouse or the 1-2 clubhouse? And we still have two more games at home, if worse comes to worse. Anyway, the more games we play, the more money there is for everybody."
But this undoubtedly was the pivotal game of the Series for Kansas City. A Royals win meant it was still anybody's Series. A Royals loss meant big trouble.
"If we lose," Brett said during batting practice, "I think everybody's going to feel like they've got hemorrhoids."
Brett did his bit. He stalked to the plate in the first inning for his first post-surgery at-bat and pounded Ruthven's third pitch six rows up in right. The operation obviously helped. Before he got to the hospital, Brett only hit singles and doubles.
Brett couldn't do it all himself, though. He needed some help from the right arm of Richard Blackwell Gale, the fabled former University of New Hampshire basketball star.
Gale had a weird year, losing his first five starts, then knocking off 11 victories in a row. You have to beware of that stat, though, since the Royals got him 71 runs in the 11 wins. Then Gale came down with tendinitis and didn't win after Aug. 23.
He also hadn't pitched since Oct. S, the last day of the regular season. But Phillies scout Jim Baumer, who followed the Royals down the stretch, was still wary of Gale before the game.
"He's got a whole lot of rest," Baumer said, "and that's probably going to help the tendinitis. He's probably going to throw pretty good. In fact, he'll probably throw better than he has in a while."
Baumer must have been wondering about that analysis after he watched Gale pitch. Every time Gale looked up, Phillies were roaming around the bases. They weren't scoring much, but they were doing a lot of roaming around.
In the first inning, Smith led off with a single and Schmidt drew a one-out walk. Bu Gale wriggled out of it in a mere three pitches.
Bake McBride, last seen wearing tape over his mouth to discourage interviews after Game 2, lifted a fly ball to Wilson in left-center for the second out. Keith Moreland lined the next pitch to Otis in center for the third, and those ever-voluminous Phillies left-on-base totals continued to mount.
The Phils really had a chance to bust it open in the second. Trillo and Bowa stroked one-out singles. Gale then went 3-and-0 to Boone and walked him on five pitches to fill the bases.
Smith stung one back to the mound, and Gale could have been out of the inning if he had just remembered where his double-play possibilities were. This was the classic pitcher-to-home-to-first double-play ball. But Gale lost his bearings, wound up going to first and Trillo scored.
"Just a case," Frey shrugged, "of a young guy getting excited and forgetting where he is. I was just glad to get the out, to be honest with you. At one time it looked like he was going to second. And he was no cinch getting the out there."
That tied it, 1-1. But with Rose and , Schmidt on the horizon, Gale had cause to regret giving the Phils that extra out. He walked Rose on five pitches to reload the bases. But Schmidt just missed creaming a 1-0 pitch, lofting it to Otis in center, and Gale had squirmed out of another one.
It was more of the same in the third. With Maddox on first and two out, Trillo ripped a double about an inch and a half inside the line in right. So up marched Bowa with men on second and third.
Gale immediately ran the standard 3-0 count, fought back to 3-2 and got Bowa to bounce the next one to Brett. So it was three innings down, seven Phillies left on base, five stranded in scoring position.
Ruthven, meanwhile, was breezing along trouble-free until Willie Aikens sliced one to left with one out in the fourth. Smith roared after it in search of a shoestring catch they could stick on the World Series film.
Instead, the ball hit in front of his glove and hopped to the wall, giving Aikens his first triple since 1977. He played for Salt Lake City then.
Hal McRae lined the next pitch into right-center, and the Royals somehow had come through all that trouble with a 2-1 lead... But Gale was not long for this postseason world. Schmidt led off the fifth by bombing a 2-1 pitch into the Phillies' bullpen for his first homer since Clinch Day in Montreal. This park might be big, but it's not big enough to hold that shot. So it was tied again, 2-2.
Moreland's one-out single finished the Rich Gale portion of the festivities. Maddox made reliever Renie Martin feel welcome with a single to deep short. Could they leave a couple more guys on? You bet. Trillo ended the inning with a double-play grounder to second.
The Phils made it 10 left on in the sixth. Bowa singled to center leading it off. Boone was allowed to swing away, and he flied to center. Smith looped a base hit into center, and it was first and second for Rose.
But Martin struck him out on three pitches. The Phils still had a shot with Schmidt up there. Martin almost had him struck out with a 1-2 breaking ball. Catcher Darrell Porter was coming out of his crouch on his way to the dugout, in fact, when ump Paul Pryor called it a ball.
Then Schmidt bounced one to Washington in the shortstop hole. Washington barely got a force on Trillo at second, so it stayed tied. For any further computation of Phillies LOB totals, please get out your pocket calculator.
All those blown opportunities had to come back to haunt the Phillies eventually. The exact moment came with one out in the bottom of the seventh, Famous Amos Otis the hitter, 1-1 the count.
Ruthven had retired nine straight Royals to that point. But he got a tailing fastball up to Otis, and he crunched it to deep right-center. Maddox and McBride both trotted out to watch it drop over the 385 sign. Home run. Royals, 3-2.
Maybe the Phillies were just setting them up for the regularly scheduled eighth-inning comeback. Except they couldn't keep doing this every game, could they?
Apparently not.
Royals come alive, win in 10th
K.C. won despite mistakes
By Larry Eichel, Inquirer Staff Writer
KANSAS CITY, Mo. – The Royals still haven't had a really strong performance from a starting pitcher. And their burners – Willie Wilson, U. L. Washington and Frank White – still haven't made a contribution worth mentioning.
But the Royals are alive in this World Series despite a series of questionable moves by their manager aand some glaring mistakes, particularly on the bases.
"If we lost tonight, this whole thing was behind us," said remarkable third baseman George Brett who was sufficiently recovered from his hemorrhoid operation to hit a home run and a double. "Now it's in front of us."
The sequence of strange managerial moves and sloppy plays started in the bottom of the ninth with the score tied, 3-3. After Hal McRae led off with a single, manager Jim Frey disdained the bunt to move him to second.
His reasoning, obviously, was that he had a hot hitter at the plate in Amos Otis. Otis, who had homered earlier, was 7-for-12 for the Series. Otis promptly grounded into a double play.
Then, in the 10th, the inning in which the Royals eventually won it, Washington led off with a single, only the fifth hit in 37 at-bats for the Kansas City speed demons who were supposed to run the Phillies into the ground. Willie Wilson, who had another pathetic night – "Somebody want to buy me a hit?" he asked reporters after he had struck out for the sixth and seventh.time, bringing his average for the Series to.077 – then drew a walk.
With Frank White around to bunt, Washington managed to get himself hung up off second. He broke for third and was thrown out by Bob Boone.
"I just wanted to get the best possible jump," Washington explained. "Once I got so far off, I thought I could steal the base. If I'd put a better slide on, I would have made it."
Then White struck out, leaving the Royals with Wilson on first, two out and Brett at the plate.
Wilson, who had neither a steal nor a no-steal sign from the Kansas City bench, then stole second. That, in effect, took the bat out of Brett's hands, since Dallas Green responded with the obvious move, walking Brett to get to Aikens – a lefthanded hitter against a lefthanded pitcher, Tug McGraw.
"I didn't give Wilson a no-steal sign," Frey said, "because in a situation like that, it's probably easier for Willie (Aikens) to hit a single than for Brett to hit a double. Of course, you'd like to have George at the plate."
But the second-guessing became academic when Aikens lined a 2-1 fastball on the outside part of the plate into the gap in left-center for the hit that scored Wilson and brought Kansas City back into the series.
"As soon as I hit it," Aikens said, "I looked up and I saw that Garry Maddox was playing in. He plays a shallow center field. When I saw where he was, I knew he didn't have a chance to get it."
Frey was asked why he had allowed Aikens, a lefthanded hitter, to face McGraw, when he had the likes of John Wathan, a righthanded hitter, on the bench.
"I didn't think of hitting Wathan for Aikens," he said. "Willie's been a pretty good RBI man for us the last few weeks.... When we win, I forget the mistakes. You guys tell me the Phillies left 15 men on base tonight. A couple of nights ago in Philadelphia, we left a lot of men on. It was their turn tonight."
So the Royals are alive, even though they are scoring runs with power instead of speed, even though Willie Wilson has been a no-show and Frank White, the most valuable player in the series with the Yankees, struck out his last three trips to the plate.
Victory has a way of blotting out all those problems.
Clint Hurdle seemed to express the mood of the Royals as he raced up the runway into the clubhouse.
"Hee, hee, hee," was all he said.
Series Notebook: Brett now makes himself the butt of his own jokes
From Staff and Wire Reports
KANSAS CITY, Mo. – George Brett was back in the Royals' lineup last night, minus his now-legendary hemorrhoids.
Brett was operated on Thursday, released from the hospital yesterday afternoon and already was making jokes about his highly chronicled ordeal by evening.
"I think the whole thing is behind me," Brett quipped before the game.
He also was seen wearing what he called a "hemorrhoids T-shirt," which he said had been given to him by a fan. One side of the shirt read (more or less), "The Phillies Give Me a Pain in the Rear." The other side had a similar, but unprintable, theme.
Brett took early batting practice with the Royals' reserves. "I wanted to see if 1 lost anything yesterday."
Asked if the operation would cause him to play differently, he replied, "Well, I've never done a head-first slide before. But I think I'll break one out tonight."
At least now all the people who Series notebook made those awful jokes about Brett the last couple days don't have to feel so guilty.
•
Dallas Green was dropping hints about the Phillies' pitching plans for the rest of the Series before the game last night but said he wouldn't get specific until he saw what happened in Games 3 and 4.
Larry Christenson will work against Dennis Leonard this afternoon. There is a strong possibility Green will use Marty Bystrom tomorrow and save Steve Carlton and Dick Ruthven for the sixth and seventh games, if necessary.
Green also said he would like to give Carlton more than three days' rest after his 159-pitch outing Wednesday.
Kansas City manager Jim Frey said he will go with Larry Gura – the starter in Game 2 – tomorrow.
•
The Oregon-based firm that manufactures the Jugs Speed Gun has demanded that NBC retract statements made about the gun Wednesday night by Series announcers Tony Kubek and Tom Seaver.
JoPaul Industries Inc. of Tualatin, Ore., demanded that the retraction be made on the air during a World Series broadcast.
JoPaul attorney Jack L. Kennedy said Kubek and Seaver questioned "extensively" the gun's accuracy in timing Steve Carlton's pitches.
•
The Kansas City Star conducted a "Sportswriter for a Day" contest for today's game, with the idea of letting two fans cover Game 4 for the Star just as they see it. The newspaper got 350 responses.
It finally chose Steven A. Eubank. 32, who wrote that he had "taken some postgraduate courses in writing and not been ruined by them," and Carolyn Smalley, 33, who wrote that she is "amazed when the writers don't notice that the reason George Brett isn't having a good night is because his chaw is larger than usu al, throwing him slightly off-balance."
They should turn in some interesting copy.
•
No one in the Philadelphia area figured to be more closely glued to the television set this weekend than former big leaguer Ray Boone.
His son, Bob, is the Phillies catcher, of course, and Ray will be watching every pitch with an expert eye.
Why isn't he here?
"My dad is back in Philly right now babysitting for us," Bob said. Bob and his wife, Sue, have three boys, Bret, 11; Aaron, 7, and Matthew, 1.
•
The second-most famous ailing player in the World Series – Phils' leftfielder Greg Luzinski – was in uniform last night. Luzinski, kept in Philadelphia when the Phillies left Thurday morning because of a temperature of 103, flew here Thursday afternoon. "My temperature is normal now," Luzinski said. "I feel all right."
•
The Royals were unhappy about the conditions on their flight home from Philadelphia after the second game. All 140 seats on the plane were filled, although the basic agreement with the Major League Players Association requires that players not seated in first class be provided with three seats for every two players.
The Royals' player representative, substitute first baseman Pete LaCock, said he would file a grievance.
•
Pete Rose is a big Dallas Green booster. "I sure hope he stays," the Phillies first baseman said. "I think he ought to be Manager of the Year."
Rose offered no criticism of Green's predecessor, Danny Ozark, however. "Don't forget, he's the only National League manager to win three straight divisions."
•
Rich Gale, the righthander who started against the Phillies last night, was excited about the assignment.
"This is the chance of a lifetime," he said. "I'll pitch in a World Series before I've pitched in the playoffs."
The Royals' three-game sweep of the New York Yankees in the American League's Championship Series, robbed Gale of his chance to pitch the fourth game.
•
Going into last night, the Phillies had not won a postseason game in which they hadn't come from behind. All of them also had been by one or two runs.... The list of former Royals includes such notable ex-Phillies as Ted Savage, Billy Sorrell and Cookie Rojas.... Wednesday night's game was the highest rated Game 2 in Series' history. The NBC broadcast drew a rating of 34.4, a 53 share. It was the seventh most-watched Series' game in history.... Trade Rumors Dept.: The Red Sox are reported to be ready to unload as many as seven "name" players. One rumor is shortstop Rick Burleson to Texas for outfielder Al Oliver. Another has centerfielder Fred Lynn being pursued by both the Dodgers and Expos. Lynn and Burleson will each be in their option year.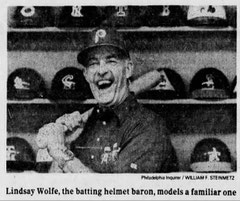 Shielding baseball's beans is big business in Media
By David Zucchino, Inquirer Staff Writer
From his box seat behind the Phillies dugout, Lindsay Wolfe witnessed a disturbing drama during a game against the Cubs two years ago.
Mike Schmidt, having just flied out, began performing a sacred baseball ritual. First, he threw his helmet. Then he kicked it. Finally, he ripped out the helmet's inner liner and shredded it.
The fans loved it, but Schmidt might as well have ripped out Wolfe's heart. Wolfe had designed, babied and built the helmet and, indeed, all the helmets that major leaguers have ever worn atop their no-cut, no-trade heads.
Wolfe, an earnest man who works out of an undistinguished one-story-building in Media, owns the company that invented the batting helmet. His American Baseball Cap Co. grinds out a quarter-million baseball helmets a year, including the models worn by the Phillies and Royals in the World Series.
It may seem that the batting helmet has been around forever, just as it seems like forever since the Phillies last won a pennant. But the first big leaguer wore a helmet in 1953, or three years after the last Phillies pennant.
Had Schmidt played with a helmet in the early 1950s, his virility would have been questioned. The first team to wear helmets, the Pittsburgh Pirates, got away with it only because they were chronic losers; it was considered unsporting to razz them.
The helmets had all the appeal of the Red Menace. "It was considered sissified," Wolfe recalled this week. "Tough guys didn't need helmets."
Superstars like Stan Musial and Ted Williams ridiculed the helmets, refusing to wear them. Ernie Banks, as a compromise, wore a protective liner inside his regular cap. But within a year, a few giants of the game began to appreciate the destructive force of a 90-m.p.h. fastball.
By 1956, every team in baseball was wearing ABC helmets. By the late 1950s, both leagues were requiring hitters to wear protective headgear.
Protection for hitters was first proposed by Branch Rickey, the well-known Dodgers and Pirates official, during a speech in Pittsburgh. Rickey deplored the fact that some young players shunned baseball because of the unpleasant effects of beanballs.
A Pittsburgh man named Ralph Davis, an engineer, proposed making plastic helmets. He and Rickey joined with Ed Crick, a designer with the Pittsburgh Plate Glass Co., to form ABC, and the batting helmet was born.
The Pirates were chosen to launch . the great helmet experiment because Rickey happened to be the Pittsburgh general manager, and most of the new firm's stockholders were Pirates officials.
"What could they do?" Wolfe said. "They were in last place on merit."
The catcher on that team was Joe Garagiola, who, despite a miserable career, worked his way up to announcing the World Series for NBC-TV. Garagiola, Wolfe said, spread the word about helmets.
"Joe would tell everybody: 'On top of playing on this lousy team, they make us wear these damn bonnets,'" Wolfe said.
Wolfe, meanwhile, latched onto ABC early. For one thing, he was Branch Rickey's son-in-law. For another, he seemed to have the proper credentials – engineer, all-American lacrosse player at Swarthmore, and football coach and business student at Stanford.
By 1960, he was president of ABC He moved the offices to Media and the manufacturing plant to Somerset, Pa. In 1970, he bought the company from its stockholders.
Wolfe caters now to the idiosyncra-cies and vanities of the modern baseball franchise. Teams want their logos just right, their helmet colors changed, their designs reworked.
George Steinbrenner, the New York Yankees owner, once asked Wolfe to produce pin-striped helmets that were never worn. The Houston Astros, perpetrators of the rainbow-striped uniform, once requested helmets of the same hues. Mercifully, they weren't used.
The Baltimore Orioles once paid $8 per helmet to have their Orioles logo hand-painted on the front. And Wolfe once destroyed the Phillies' color scheme by giving the team new cardinal red helmets to go with their scarlet red uniforms as a reward for making the 1976 playoffs.
Last month, the Montreal Expos were so certain of winning the National League East that they ordered 50 new helmets for the postseason TV close-ups. The helmets ended up as inventory after the Phillies finished on top.
It is from such skirmishes that Wolfe has become privy to the hat sizes of all major league players. They have increased over the years, he regrets to report.
Big leaguers, at any rate, represent an insignificant fraction of Wolfe's trade. Their wearing of ABC helmets (the company has an exclusive contract with major league baseball) merely ensured helmet use by amateurs from college down to Little League. ABC now supplies 40 percent of that huge and ever-growing market.
The company also patented a style of police riot helmet, 20,000 of which were sold to the Shah of Iran before he was knocked out of the Middle East playoffs. Wolfe also invented the catcher's helmet, which is simply a batting helmet sans bill.
This week, with ABC well into the 1981 production season, Wolfe was still making plans. With the original' helmets worn by Henry Aaron,! Jackie Robinson and Roberto Clemente on his desk, he talked of a day when players would wear helmets at bat, in the field – everywhere.
The stuff thrown by pitchers has been neutralized, he reasoned. The problem now is the stuff thrown, from farther away – by the fans.
The Great Series Sellout:  Orders are being reprogrammed
By George Shirk, Inquirer Staff Writer
The Philadelphia World Series program crisis, which threatened to leave every empty-handed kid at Veterans Stadium heartbroken and which promised riches for every scalper's son, eased yesterday when the Phillies announced that an extra 100,000 programs were on their way to the city and would be ready for sale on Monday.
The program shortage took Phillies officials, the program's printers and fans by surprise last week when all programs sold out before both Games 1 and 2 even started. The programs, priced originally at $2.50, brought some scalpers from $10 to $20 each.
Bill Giles, vice president in charge of promotions, said an additional 100,000 programs would arrive in Philadelphia on Monday morning for sale at Games 6 and 7, should the Series go that far, or at the city's parade should the Phils win the championship in Kansas City.
With the additional programs, the Phillies expect to have sold by next week a total of 185,000, a figure that astonishes the president of San Francisco Webb Offset Co., which prints the programs.
"It's unbelievable, unheard of and unpredictable," said Robert Laird. "This kind of run hasn't happened in any other sport anywhere....
"Day and night we've been working on the problem. It's totally destroying everything we do. Our regular customers have been told they'll face a delay of two days."
"Normally, at a World Series," Giles said, "clubs will sell about 30 percent of their potential attendance, like for every three people, they'd sell one program."
Giles said the Phillies sold 39,000 programs the first night (1,000 were given away to news personnel), and had to rush in an additional 47,000 for the second game. Of those, 46,000 were sold, while the other 1,000 again went to news people.
On both nights, all programs were sold even before the first pitch, and reports of scalpers demanding and receiving up to $20 a program were common.
Within each program sold in Philadelphia at the Series is a 32-page insert specifically about the Phillies. Programs ordered by mail through major league baseball's offices will not have the Phiilies insert, nor will they have the 16-page Kansas City Royals insert that is contained within each program sold at Royals Stadium.
"Even the Super Bowl doesn't sell like this," Giles said, "and the most that a World Series game has ever sold was 30 percent of attendance. We sold 75 percent and could have sold 100 percent," he said.
Because of the rush on programs in Philadelphia, the Royals yesterday morning asked San Francisco Offset for 20,000 programs in addition to the 62,000 the club already had ordered.
"We plan to sell all the programs in the ballpark only," said Bruce Carnahan, the Royals' director of publications. "Our ballpark only seats 40,000," he said, "so that means we figure on selling one program for every person who walks in."
Whose sign was that?  What's a rolling curve?  Who's on NBC-TV?
By George Shirk, Inquirer Staff Writer
What were we television baseball fans supposed to make of that sign?
You know, the one that someone in the Kansas City stands held up to the NBC cameras as the Royals' hemorrhoid-plagued George Brett was introduced last night during the World Series TV broadcast. It said "George Brett 'Piles' It On."
Was that a Philly fan, and if not, was it a Brett fan?
Who knows? NBC, naturally, couldn't tell us. We were, for a moment, helpless.
Thus the fate of those whose home team is 1,500 miles away. Prisoners, all of us, of the network's broadcasters and cameramen.
What did Tom Seaver mean when he said that Kansas City starting pitcher Rich Gale had a "rolling" curveball? Did he have a rolling fastball, too?
Does the National league, in fact, feature more "power" pitchers than the American League, as Seaver suggested?
Well, he didn't seem to know, even though he was the one who suggested it. "Pete Rose and Mike Schmidt would say that," he said.
And what did anyone make of Joe Garagiola's comments about the hit-and-run play with men on first and third?
"Too many times," Garagiola said, "people think of the hit-and-run play as an offensive play when it's a first-and-third situation, but it's really a defensive play as far as the offense is concerned."
Oh.
That made more sense, though, than his comment accompanying a shot of two Japanese broadcasters in their broadcast booth. Said Garagiola:
"There are broadcasters from all over the world here. Shogun."
Right.
Television ratings for the first two games of the World Series indicate that the Phillies-Royals series is the most-watched World Series ever.
There are many troubled souls, therefore, if they chose to pay attention to the commentators, and the non-game pictures rather than ignore them.
What were they to make of Garagiola's comment accompanying a blimp shot of the baseball-only Royals Stadium and the adjacent football-only Arrowhead Stadium?
"They love their sports in Kansas City," he said.
In fact, the Kansas City Chiefs' tickets aren't selling nowadays, the city lost a hockey franchise, and came perilously close to losing its NBA franchise. Terrific sports town.
Oh, well. The evening's fare was predictable enough. There would be a few pretty decent quips from Garagiola (he quoted Kansas City manager Jim Frey as saying George Brett "could get good wood on an aspirin"), but for the most part it would be banal.
It all began on Bryant Gumbel's pregame show, entitled "An Inside Look..."
The subject was, naturally, Brett, and his hemorrhoids.
So we began with "An Inside Look" at Brett's condition and ended with a televised 4-3 loss in 10 innings.
Where were Laverne and Shirley when we could have used them?