Philadelphia Daily News - October 20, 1980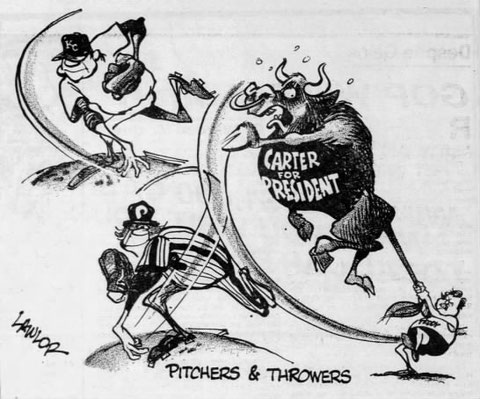 Phils One Win Away
By Bill Conlin
KANSAS CITY, Mo. - The place you normally play Mike Schmidt when he leads off the ninth inning is a $10 cab ride from home plate.
Put the outfielders on the warning track. Tell the third baseman to set up 10 yards behind the bag and six inches from the foul line. Put the shortstop in shallow left.
When Schmidt comes up in the ninth with the Phillies trailing, 3-2, you hope the pitcher can keep him in the ballpark, that he'll strike out, pop up or hit a line drive at somebody. Any time he lays down a bunt leading off the ninth the opposition should buy him an expensive gift.
Schmidt hit an awesome homer to dead center in the fourth inning yesterday to give the Phillies a brief 2-0 lead in Game 5 of this tense, see-sawing tournament.
Nobody ever said the world's leading home-run hitter was baseball's best bunter. But the power of suggestion is great.
SCHMIDT ALMOST beat the Royals Friday night with a bunt down the third-base line that just rolled foul. In Saturday's 5-2 loss he legged out a bunt single.
Which is why Kansas City Manager Jim Frey pulled George Brett aside before the Royals took the field for the ninth. "Play him five steps up," Frey told the American League batting champion. "Don't let him bunt his way on. "
It was like telling an NFL linebacker not to let Billy Sims beat him with an option pass. Brett dutifully lined up even with the bag, still guarding the line.
The Phillies' dramatic 4-3 victory was crammed with subtleties. And Frey's decision to protect against a Schmidt bunt was one of them.
Schmidt ripped a ball to Brett's left. George dove and deflected it in the direction of shortstop U.L. Washington, who had no play. It would have been a routine 5-3 if Brett had been positioned at normal depth.
The Phillies proceeded to define what a grind-it-out inning is all about.  While the bench rocked with hand- clapping, bellowing emotion, they turned Schmidt's infield hit and two rockets that were almost caught into a pair of ugly-duckling runs that Tug McGraw transformed into swans in a Perils of Pauline bottom of the ninth.
DEL UNSER, DAPPLING the first October of his career with shining moments, pinch-hit for Lonnie Smith and roped a screamer through first baseman Willie Aikens that looked like a Reggie Leach slap shot from the blue line darting through a screened goalie. The Royals' hero of Game 4 does not have a glove to match his bat. Frey had classy-fielding Pete LaCock available for defense, but Aikens was due to hit in the bottom of the ninth. Frey rolled the dice and lost.
The ball rattled into the curved right-field corner for a double and Schmidt galloped home with the tying run ahead of Frank White's relay.
Designated hitter Keith Moreland moved Unser to third with a bunt up the first-base line that might have rolled foul had Aikens let it go a few more feet.
Garry Maddox bounced Dan Quisenberry's first sinker back to Brett and Unser was still on third with two outs.
Normal life in Venezuela came to a halt when Manny Trillo came to bat.
Quisenberry immediately dug the second baseman an 0-2 hole. Trillo was looking for a pitch to drive up the middle even though White had taken a base hit and RBI away from in the seventh with a dazzling piece of larceny.
Now, after fouling off two fastballs, Manny ripped a slider back at Quisenberry. The ball deflected off his left forearm and kicked behind the mound toward third. Brett's throw to first was late and Unser scored the run which gave the Phillies their sixth comeback victory of the playoffs and World Series.
McGRAW ENDED it by striking out Jose Cardenal with the bases loaded.
"They knew what they were doing," Tug said on the charter flight home.  ''Jose has always worn me out with men on base. I always got him out with nobody on, but he got a lot of base hits off me with men on base when he was with the Cubs."
Schmidt vs. Brett . . . Michael Jack pulled into the lead in the confrontation between the two finest third basemen on the plate, the 1980 MVP favorites in their leagues. Yesterday, Schmidt laid a game to remember on America.
He knocked a baseball 425 feet to put his team on the scoreboard. He made a tremendous charge play on White's excellent bunt in the fifth, when the Royals cut the lead to 2-1. And he ignited the ninth-inning rally with his seventh hit of the Series.
"No way I was gonna bunt in that situation," Schmidt said. "Not one run down in the ninth. My job there is to get a good pitch, try and drive it, try to hit a double, maybe even hit the ball out of the park. No way would I think of trying to get on base with a bunt. But now that you mention it, my bunting twice here might have put that thought in their minds. I didn't really notice how close George was playing me. I just was aware of him guarding the line. If he's back on that ball, I guess he makes a fairly routine play."
Schmidt knows he gave a dynamite performance in the pivotal game of the Series, knows he put all of his wares on display for the vast Sunday TV audience watching two outstanding teams playing crackling October baseball.
He is happy that he doesn't face the prospect of cranking out a similar effort tomorrow night with the Phillies' backs pinned to the wall.
"The important thing is that we won, got out of here with one win after we lost our first two games here," Schmidt said. "We did it in our old fashion.  We were unable to hold the lead. Del Unser did it again, didn't he? I'm just looking forward to that 1-2-3 ninth inning one of these days. Maybe Lefty will give it to us Tuesday night."
LEFTHANDER LARRY GURA and Marty Bystrom, the 22-going-on-32-year-old righthander, were in a scoreless duel in the fourth when Bake McBride reached first on an error by Aikens, who couldn't locate first base with his foot in time after taking a routine throw from Gura. 
Schmidt worked a 2-2 count, got a fastball out over the plate and crashed it over the 410 sign in center field of lovely, spacious Royals Stadium.
"The wind was about the same as Saturday," Schmidt said. "You weren't getting it out to left unless you crushed it to left-center, which Amos Otis sure did. Gura just got it up and out over the plate and I had to go with it.
"Tug was fantastic. He walked White leading off the ninth and all he had to face was Brett, Aikens, Hal McRae and Otis. You ain't gonna get four guys lined up to win a ballgame better than those particular four. None of them are swinging the bat bad. You don't have a hole you can pitch to with those four guys. I think the key to the whole ballgame was, as great a hitter as Brett is, their unwillingness to have him bunt. If they had it to do over again, they might have him bunt. But there's no way Frey can second-guess himself. When you let George Brett hit, you're letting a .390 hitter hit."
And when Mike Schmidt leads off a ninth inning, the Phillies down, 3-2, facing a long plane ride home and out of affordable losses, he's not going to bunt, either.
Schmidt is going to hack.
Tell the coach with the white towel to wave everybody deep. And if Schmidt fools you with a bunt, thank him profusely and send him a six-pack of filet mignons.
Phils Kids In There Pitching
By Tom Cushman
KANSAS CITY, Mo. As World Series '80 is being airlifted back to its original base for a resolution which at the moment seems academic, there is some confusion of opinion as to who is most responsible for having led the Phillies to this unprecedented position. Until yesterday, you see, it was accepted that if a Philadelphia squad was leading by 3-2 in mid-October, with time running out, we could expect the other team to pull its goalie.
Instead, after 97 years of uninterrupted failure, the Phillies are within a single victory of becoming world champions, and someone is to blame. Since both teams involved lean heavily on the hired guns out of the bullpen, there is widespread sentiment among journalism graduates attending this affair to single out Tug McGraw, whose quotes usually sail like his Cutty Sark fastball.
Merit badges also have been awarded to guys named Schmidt, Trillo, Unser, MoBride and Bowa, but in my journeys through the clubhouse I have heard no one mention Dallas Green, who only happens to be on a roll like no one I have seen recently.
OK, SO EVEN at 6-5, 230, Dallas is more often heard than seen. His image is that of a guy who might shoot a little dice in the barracks, but you don't expect to see him muscling in at a table where fortunes are exchanged. He. doesn't have the slump of a guy who has played the riverboats, but in the last eight days Dallas has worked his way from Houston, to Philly, to Kansas City, back to Philly, and if he decides to go on down to Atlantic City to celebrate after this is all over, the casinos can figure on doing otherwise.
Eight days, six games of perhaps more significance to the franchise than any of the 14,744 which preceded, and in three of them Dallas Green handed the ball to a rookie pitcher. To guys who, experience-wise, even the term rookie was a compliment. Bob Walk was called up at mid-summer. Marty Bystrom was in Oklahoma City as August turned into September, and is here only by the grace of Bowie Kuhn and a fast move by Paul Owens. Had the Yankees been the American League representatives in the World Series, George Steinbrenner had promised to go to court to prevent Bystrom from pitching.
In none of the three games Dallas Green's kids have started has Walter Johnson felt a need to clear space on his pedestal, but there is a recurring theme. The Phillies have won them all.
MARTY BYSTROM WENT 5⅓ in the decisive game in Houston in the National League playoffs last Sunday, struggled with his control, but allowed only two runs (one earned) and Philadelphia eventually won in 10, 8-7.
Bob Walk was the starter for Game 1 in the World Series, a role which had been played by only two others in the Phillies' history. Young Robert had surrendered three homers and six runs when he was rescued in the eighth, but his team led. 7-6, at the time and that was the final score.
With the Series locked at 2-2 and the Royals holding the dice, Dallas Green sent Marty Bystrom back to the mound here yesterday. Traditionalists in the press box were stunned, figuring that somewhere in Green's psyche was a suicidal stain.
"Regardless of what I heard from a number of reporters before we started, 1 was not chucking this game," said Dallas Green, after the Phillies had skimmed a 4-3 win off the top of a visit to Kansas City. "Marty Bystrom is a big league pitcher, which he demonstrated today in some pretty trying circumstances."
BYSTROM'S LINE WILL not be rushed off to Cooperstown. He gave up 10 hits in 5⅓ innings, but the Royals were able to convert those into only three runs. And, as was the case in all three starts by the rookies, Marty had kept the Phillies in the game. Had carried them far enough that it was no real imposition to turn it over to the bullpen.
For Green, the payoff on his roll goes beyond the 3-2 lead in games the Phillies bring back to the Vet. He has his two most reliable veterans, Steve Carlton and Dick Ruthven, rested and ready to work in a stadium where the crowd – the end of a witch-hunt that has covered a century – will be in a kamikaze mood.
And if no one else can close it down, "Tylenol Tug" will give it a whirl. Like any other actor of style and experience who suddenly is handed the finest script of his career. Tug McGraw has responded with theatrical flair. No mundane three innings yesterday, not with a national television audience involved.
The Royals had five runners on base during those innings, including three in the bottom of the ninth. But Tug also fanned George Brett twice, Willie Aikens once, and ended the game by sailing his "Cutty Sark" fastball past Jose Cardenal.
"JOSE'S NO PIECE of cake right now," Tug later pointed out, "but that strikeout didn't surprise me like the ones with Brett. George is the best hitter in baseball today, and our confrontations were among the greatest thrills I've ever had. But I wouldn't want to have to go out and try that all summer.
"Actually, I had a lot of guilt feelings today. My wife and I were out a little late last night. I had a couple of beers, then she kept me up after we got back. I'm relieved that things came out like they did."
Beyond his gunslinger work on Brett and Cardenal, Tug contributed two other moments of high drama to Game S. With two away in the eighth, he scooped Willie Wilson's tap down the third-base line off the turf and gunned a remarkable throw to first. "The luckiest play of the day," he insists. "I came up throwing and all I saw was a blur... fans, photographers, players. I threw for the middle of them, and it worked."
In the ninth, with two Royals aboard, Hal McRae lifted a fly far down the line in left, one that finally hooked past the foul pole before it dropped into the seats.
Tug, at that moment, was standing to the front of the mound, his left hand palling the area over his heart. "When he hit the bail. I thought it had a chance," Tug was to say. "I was trying to keep my heart from jumping into my hand. I had been watching commercials about rescue squads earlier today. If that ball had gone out, they would have had to come after me."
There also is the memory of Tug McGraw bouncing toward the dugout after he had gunned down Willie Wilson to end the eighth inning, arms thrust toward the blue-steel skies of western Missouri, imploring his teammates, who trailed, 3-2, at the time, to score. The fans of Kansas City, who seemed to feel that both Pete Rose and Tug McGraw should do mustard commercials, were appalled by this display. Tug's teammates, who probably didn't notice, scored twice anyway.
"That's just my emotions working," McGraw later pointed out. "I don't think I'm any kind of an inspiration. I don't really know what my teammates think of me... maybe that I'm an entertainer, or totally goofy. Some of them probably wish I didn't show the emotions that I do. Old as I am, though, it's too late to change now."
Trillo Proves He's Top Quality
By Bill Conlin
KANSAS CITY, Mo. – For three years, Paul Owens watched Manny Trillo play second base for the Cubs and he felt like a guy who admired a sleek auto that was out of his price range.
The Pope dreamed of the night he would put a bottle of Jack Daniels on the table between him and GM Bob Kennedy and make the Cubs an offer they couldn't refuse.
"I was after him for three years," Owens was saying last night after Trillo's ninth-inning carom shot off Royals reliever Dan Quisenberry gave the Phillies a 4-3 victory and a 3-2 edge in the World Series. "I just couldn't put together the right package until last spring. What I saw in Manny was quality, a great second baseman on grass who would be an even greater second baseman on turf. I saw a tough line-drive hitter all our pitchers hated to face, a guy who could hit us .280 to .300 and drive in some runs.
"Today you saw why I wanted Manny Trillo more than any player I ever traded for, why I probably spent more hours making that trade than any other."
THE ROYALS have the American League's premier second baseman in Frank White, whose cheetah quickness and Gold Glove were on display yesterday in a series of daylight robberies. The Phillies have Trillo.
Yesterday. Mr. Trillo and Mr. White put on a helluva show.
White isn't hitting, but he's saving his pitchers a lot of runs. Trillo is doing it all.
He saved a run and a possible big inning in the sixth. The Royals had scored a game-tying run off rookie righthander Marty Bystrom on a booming homer by Amos Otis and Ron Reed was trying to keep the brushfire from flaring into a conflagration. U.L Washington greeted Reed with a sacrifice fly to left and the Royals led, 3-2.
Darrell Porter was on first with one out. The hitter was Willie Wilson. The game's swiftest runner juiced a ball off the fence in right and Porter was waved around third.
McBride threw a strike to Trillo and Manny made another scorching relay throw to Bob Boone. This one came on one true hop and Porter was out at the plate for the second time in the Series.
"The minute I turned around to see the ball in right field, I looked over and saw Porter at second base," Trillo said. "I knew we would have a shot at him if he tried to score. Bake gave me one good throw and I just fired home. I think the throw I made in Houston I was a little closer to home, but on this one I also wanted to give Pete Rose a chance to cut it off so Wilson would not go to third if we didn't have a chance at home."
TRILLO HAD A chance to drive in the tying run in the seventh, but White turned his hard bouncer up the middle into a spectacular force at second.
And he says he was lucky to hit the slider he caromed off Quisenberry in the ninth.
"He kept that slider low," Trillo said. "I tell you the truth, I think I was lucky to hit it. I hit it really good. Sometimes you're lucky, sometimes you're not. The minute I saw that the ball was going over to third base I said, 'Oh, boy, I got to run.'"
Trillo's post-season heroics are being chronicled by Caribbean Network broadcaster Juan Venet. They're getting ready to pop the cerveza from Caracas to Maracaibo.
"They started celebrating when we won the pennant," Manny said. "I have been getting telegrams from many people, including the President and many of the Government Deputies. A lot of people from Venezuela have come to see the games. They all say they love to see me play second base."
Willie Aikens told Trillo he grabbed at the chance to be a hero Saturday because it's an opportunity that might not come around twice in a World Series.
And that was on Manny's mind when he fell behind 0-2 against Quisenberry.
"I had a chance to tie the game and be a hero in the seventh," he said, "but Frank White, he made a helluva play on me behind second base. I got another chance and I was the hero this time. Usually, the eighth and ninth is a helluva inning for us. The guys who don't play are on the bench really pushing us."
HEY, THE WHOLE thing was a lot tougher on Owens than it was on Trillo. "I was sitting there thinking to myself, 'It's not cold, so why the hell are both my knees shaking like this?'" Owens said. "When Manny hit the ball it looked for a second like Brett was gonna have a play. But he got down the line as good as he can. I knew when I made the deal that Manny didn't have great speed. But that's about the only thing he doesn't have. It's just a thrill to watch both these guys play second base.
"This is the first time I've seen White since he was a young kid and he's every bit as good as they say he is. He's not hitting, but he saved them some runs today.
"I always had the feeling that Trillo was the player that would complete the picture for us as far as our starting lineup was concerned. When we lost him with a broken hand last season that was about as costly an injury as we had all season."
The Pope celebrated when he pried Trillo, Greg Gross and Dave Rader away from the Cubs for Jerry Martin, Barry Foote, Ted Sizemore and two minor league pitchers on the eve of spring training last year. The Phillies promptly finished fourth and Trillo missed 44 games.
"It took a year, but I knew he'd help win one for us," The Pope said. "He was the guy I said we needed to push us over the top and I'm one victory from being right."
Again, Unser Pinches Phils Awake
By Ray Didinger
KANSAS CITY, Mo. - Del Unser was standing there in his grass- stained underwear, quietly reviewing his life story for a fifth - no, make that sixth - wave of interviewers.
He talked about growing up with a major league ballplayer for a father, about being "born and raised" in the Detroit Tigers' clubhouse.
"Well," Unser hedged, smiling, "maybe not born . . ."
He talked about bouncing through six organizations in nine years, about learning to accept the fact that "there's no such thing as security in this business."
He talked at length about his brush with the unemployment line last spring, about going unclaimed in the free-agent draft and, at age 34, being forced to call Phillies GM Paul Owens and ask for a tryout.
He went through each step of his journey, pausing only to spell the name of an old coach or some whistlestop town he hit en route to the big leagues. 
He was retelling all this for the hundreth time but he never appeared irritated. If his baseball career has taught Del Unser anything, it has taught him the value of patience.
Every so often, a teammate or equipment manager would drift past and remind Unser that the bus was almost ready to leave for the airport.
He would nod and take a step toward the shower, only to have someone else jump in front of him and snap on a tape recorder or cue a cameraman.  Mike Schmidt was taking all this in from across the Phillies' locker room.
He was already dressed and ready to leave, having concluded his own press conference 30 minutes earlier.
SCHMIDT SMILED NOW as he watched Del Unser play the Walter Mitty role fate had written for him, the mild-mannered realtor turned World Series hero, the aging understudy staring nobly into the footlights of October.
"That man deserves every accolade he gets," Schmidt said.
"Words can't begin to express how good I feel for Del Unser. He worked too hard, too long, not to have this moment. He's put too much time into the game not to get his share of the glory.
"I'll tell you, if I should happen to win the Most Valuable Player award for this series, I'm gonna take Del up on that platform with me. And if he doesn't want to go, I'll handcuff him to my wrist and drag him up there, kicking and screaming.
"Hey, I'm serious about that," Schmidt said. "There isn't a man in this room who has done his job any better than Del has done his this year.
"There ain't nothin' he can do about starting or not starting. That's the manager's department. All I know is, everytime Del's called on to do something, he's 100 percent perfect. "
Yesterday, Del Unser added yet another chapter to what is rapidly becoming a storybook tale, slashing a pinch-double in the ninth inning against Kansas City, driving in Schmidt with the tying run, then scoring the winning run himself on Manny Trillo's infield single.
THE 4-3 VICTORY lifted the Phillies within one step of a World Series triumph, a throne which, until now, they have only seen from a peasant's distance. This was a victory which belonged to many people but, most of all, to Del Unser, who is to the ninth inning what Olivier is to Hamlet.
Unser emerged from the Phillies' dugout late yesterday afternoon, facing a situation not much different from the situation he faced last month in Pittsburgh, last weekend in Houston and last week against the Royals in Philadelphia.
The Phillies were losing, 3-2, and gasping for every breath.
Dan Quisenberry was pitching for Kansas City. All he needed were three outs and the Royals would have a three-games-to-two advantage with this World Series reeling back to Veterans Stadium for its epic conclusion.
Del Unser took his time stepping into the batter's box, silently chanting the pinch-hitter's mantra, first taught to him by Ted Williams when they were with the old Washington Senators.
"Just look for something good to hit, then hit it," Unser said. "That was Williams' philosophy and he was probably the greatest hitter of all time. I'm not in his class but I try to approach it the same way.
"As a pinch-hitter, you've gotta come off that bench swinging. There are gonna be times when you go up there and it looks like that pitcher is throwing BBs. There will be other times when it looks like he's throwing beachballs.  Either way, you've gotta swing the bat. You've gotta make something happen.
"WITH QUISENBERRY, I had batted against him last Wednesday in Philadelphia (he doubled to ignite the winning Game 2 rally) so I had a pretty good idea what he throws. He's unorthodox but I seem to pick up his release point pretty well.
"Today, I saw the way they were playing me. (First baseman Willie) Aikens was off the line, giving me a nice hole to shoot for. I was looking for a pitch I could pull and Quisenberry gave me a fastball on the inside part of the plate. "
Unser ripped the ball savagely past Aikens and into the right-field corner.
It was a carbon copy of the double Unser hit to start the winning rally in the fifth game of the National League Championship Series in Houston.
This time, Mike Schmidt came sliding home with the tying run. Unser advanced to third on Keith Moreland's sacrifice bunt and scored when Trillo lined a shot off Quisenberry's arm for an infield single.
When Del Unser came across the plate in the chilly twilight, he leaped and clapped his hands, like a kid on his way to recess. It was an unusual display of emotion for Unser but, then, these are unusual times.
"I'M GENERALLY A low-key individual," Unser said later, his voice so quiet, so even, it was almost inaudible. "I've never been the kind of guy who goes overboard after a big win. If we win, I feel good but I don't erupt.
"That has something to do with the men I've met in my career. Guys like Harmon Killebrew and Frank Howard were good players and they had a nice, composed attitude about the game. They never got too high, they never got too low.
"I saw them and I thought, 'These guys seem to have things in the proper perspective.' I've tried to be the same way and, really, it's helped because my career has consisted of a lot of stages, not all of which were up here (high). "
Unser's career has wound through Washington, Cleveland, Philadelphia, New York, Montreal and back to Philadelphia.
Most of the seasons were losing ones and much of the time Unser worked on the fringes, carrying the whiskbroom and pan in someone else's parade.
But now he is with a team that needs only one victory to claim its first world championship. It is a team of exotic personalities, a team of superstars and supersulks, but Del Unser has quietly carved out a special niche for himself, one characterized by dedication and class.
HE ONLY PLAYED enough to manage 29 hits during the regular season, yet he never complained, he never pouted. He just worked with Billy DeMars' batting tee every day to stay sharp.
He now has picked up four straight pinch-hits in the post-season, three of them doubles, all of them leading directly to Phillies victories.
If you think it's magic, just check the blisters on his hands, check his lungs for all the dust he inhaled working those lonely hours in the indoor batting cage.
"I like to think of myself as a guy who doesn't have an ego so great that he has to play every day to be happy," Unser said simply. "But a guy who has enough confidence to do the job when I'm called on to do it.
"That's just part of being a professional. Putting team goals first, personal goals second. "
Someone asked Unser if he ever despaired of playing in a World Series, if he thought he would wind up like his father, Al, who caught a decade in the majors and never got to wear a championship ring.
"I never based my whole career on it, if that's what you mean," Unser said. "I knew there was a very good chance it would never happen for me. Hey, it never happens for a lot of guys.
"I took the attitude, 'If it happens, great. If it doesn't, well, I've still had a good career and a lot of great memories. '
"To be honest with you," Unser said, "I think my wife wanted it more for me than I did. But now that it's here, yeah, it's the best thing that's ever happened to us. "
That's funny, Del. The Phillies are saying the same thing about you.
Twilight Mistakes Cost Royally
By Jay Greenberg
KANSAS CITY, Mo. – The last ray of the afternoon sun was only a 10-foot wedge in right field that Willie Wilson almost hit in the sixth inning yesterday.
The Royals were alive then, having just scored the go-ahead run on U.L. Washington's sacrifice fly, and when Wilson's drive just got over Bake McBride's glove into the sunlight, they were on their way back to Philadelphia in command of the 1980 World Series. Wilson, the Royals' slumping catalyst, had just delivered his second straight hit and Darrell Porter, the automatic out for the first five games of the Series, was on first with a single, his second straight hit.
The Series clearly had turned around as Porter turned second with the insurance run, and Manny Trillo, taking Bake McBride's throw, was Fate's Relayman. Porter kept running, and Trillo's throw nailed him by five feet at the plate.
THE SUN WAS gone five minutes later, the chain of events that probably meant the Series was by now in full motion. Night had fallen in Kansas City by the time Tug McGraw struck out Jose Cardenal with the bases loaded in the ninth inning to wrap up the Phils' 4-3 victory, but a long twilight of mistakes and inches had taken this one from the Royals in the innings before.
The point may have been Porter's not stopping at third with one out and George Brett moving to the on-deck circle, but there were other places that the game had turned.
Cardenal, whose presence at the plate as the Royals' last hope was to be questioned, was only the last actor in the three-hour tragedy. It was Manager Jim Frey and third-base coach Gordie McKenzie who had written it, leaving the second-guessers now to write off Kansas City.
An inch more to Brett's left on Mike Schmidt's ninth-inning leadoff single, another inch more to Willie Aikens' right on Del Unser's ensuing double, and one inch higher into reliever Dan Quisenberry's glove on Manny Trillo's game-winning drive, and the Royals come to Philadelphia not to try to survive, but to conquer. But this was postscript. The game had changed innings before.
"I'd do it again," said McKenzie. "It took a great throw to get him."
"I don't think he should have been sent," said Frank White. "Trillo already had the ball when he touched third."
"I NEVER EVEN thought he'd stop me," said Porter. "It must have been a pretty good throw."
"I can't fault him (McKenzie)," said Frey "It's not an easy job."
Neither is managing, but it was easy to fault Frey. Not just for not hitting John Wathan for Cardenal in the ninth inning ("I just thought Cardenal knew him better"), but for hitting Cardenal for Clint Hurdle in the first place during the seventh inning.
Or for lifting Larry Gura in the seventh after a one-out walk to Greg Luzinski.
"I took him out for the same reason I've taken others out all year," said Frey. "We have Quisenberry down there and he's done the job all year."
Or, earlier, for bunting with White, with no-out runners on first and second, allowing Marty Bystrom to pitch around Brett. "I'm not going to get as good a pitch in that situation with the base open," said George. "With fielders up at first and third I have to try to go up the middle."
Brett grounded to second, allowing Bystrom to walk Aikens. When Bake McBride caught Hal McRae's foul ball against the wall, the Phils were out of the inning with only one run's damage.
In the third inning, in the same situation White faced in the fifth, Frey had Wilson swing away. He flied out and neither White nor Brett could get the ball out of the infield.
BUT FREY HAD violated no rules in the baseball book. You play for a big inning early, you sacrifice to get the tying run into scoring position when the opportunity comes up. And you go with your best guy from the bullpen when a Series is on the line.
According to the book, Frey's hands are clean. Nowhere in that volume, however, does it allow for a first baseman not to have a foot on the base to take a throw. Willie Aikens' bats may be going to Coopers-town when this Series is over. His footprint in the Royals Stadium dirt will be going also. For the separate Merkle exhibit in the back room.
Willie did not have his foot on the bag in the fourth inning to take Larry Gura's throw and Bake McBride was ruled safe. Mike Schmidt's homer, which immediately followed, thus counted for two runs instead of one.
"I was rushing to the bag, but when Larry (Gura) started to throw it to me I was kind of in-between catching it and finding the bag," said Aikens. "I wanted to make sure I caught the ball before I touched it.
"I thought I caught the side of it, but the umpire didn't see it.
"One day you're the hero. Next day you're the scapegoat."
Which would be perfect for the epitaph on any relief pitcher's grave. Quisenberry did what Frey brought him in for – throw ground balls. But the one Schmidt hit off Brett's glove to start the ninth and then Unser's, which skidded by Aikens for the game-tying double, were not the easy bouncers Frey or Quisenberry had in mind.
"I have to guard the line," said Brett. "If I'm playing normally, I make the play."
"I REACHED," SAID Willie. "It's do or die. If it's right at me I can take it off my chest."
"They hit the ball on the ground," said Quisenberry. "The only mistake I made was probably Trillo. He was the only guy I went for a strikeout on. To me, he was the hero of the inning, he was the only guy who hit the ball in the air."
It bounced off Quisenberry's glove, and Brett's prayer to first was far too late to get Trillo. Unser was home.
"It went into my glove and off mv fingers," said Dan.
"Were there any bruises?" someone asked. "Does it hurt ?"
"Oh yes," said Quisenberry. "My aorta hurts."
And still, the Royals had one more chance in the bottom of the inning. Tug McGraw handed Brett a stick of dynamite when he walked White to start it, but defused it with a called third strike.
"I'm just not used to seeing a fast-ball on an 0-2." said George. "Ninety-nine times out of a hundred, at least this year, the guy wastes a pitch away or throws a fastball in or away.
"I'm trying to find something I can pull with White on first and I just couldnt pull the trigger. I knew it was a strike. As soon as I took it, I knew."
TWO MORE WALKS brought the final act to Cardenal. "I look at the bright side," said Jose. "A hit ties the game. It was a strike, I had to swing.
"I'm still a lucky guy. The Mets drop me, I come to a team like this and I'm in the World Series. How lucky can you get?"
The answer, of course, is just a little luckier at one more time and the Royals come to Philadelphia one game away from a party.
"Now," said Quisenberry, asked to dramatize the Royal plight, "we're up against the Berlin Wall. The East side of it."
Brett Still Headliner In Game 4
By Rich Hofmann
You already knew more about hemorrhoids than you cared to, so George Brett had to come up with something else to keep his name in the headlines. He did Saturday, with assists from Phils reliever Dickie Noles and K.C. Manager Jim Frey.
A fourth-inning, 0-2 brushback pitch from Noles at Brett brought Frey to a boil and spiced up Kansas City's 5-3, Series-evening victory.
"So far," said Mike Schmidt, "this is the hemorrhoid and knockdown World Series."
The Noles-Brett-Frey incident did its best to overshadow another two-homer day by Royals first baseman Willie Aikens. His two shots, in the first and second innings, gave him four for the Series, one short of Reggie "Mr. October" Jackson's record. Aikens also became only the fourth player in World Series history to hit home runs in consecutive innings.
Still, it was the fourth-inning fireworks that left everybody buzzing.
TO SET THE scene, the Royals knocked out Phils starter Larry Christenson with a four-run first inning. The Phils came back with a run in the top of the second, Aikens' second homer in the bottom of the second made it 5-1, and that's where it stood when Brett came to the plate with two outs in the bottom of the fourth.
He swung and missed at Noles' first pitch, on the outer half of the plate. He fouled off the second pitch, which was in a similar spot. The third pitch, intentionally or not, sent Brett reeling to the dirt, missing his head by inches.
And George Brett laughed.
"I was laughing because it didn't hit me," he said. "I was striding right into it and I was lucky to get out of the way. It was a good hard fastball. 1 honestly don't know how I got out of the way."
Did Brett think Noles was trying to hit him?
"If he was, he was," Brett said. "If he was trying to get me, he's 0-for-1. If he wasn't, it's no big deal."
Not to Royals Manager Jim Frey it wasn't. He came charging out of his dugout screaming at Noles, home plate umpire Don Denkinger, Pete Rose, everyone and no one in particular. The gist of his tirade: Noles threw at my superstar and he should be warned to stop before somebody gets hurt.
"I THOUGHT IT was a knockdown pitch," he said after the game. "Any time a team gets off to a big early lead and hits some long balls and a good hitter comes up later and gets knocked down on an 0-2 pitch, I call that a knockdown pitch. I went out and all I said was that I wanted to stop it right away. Then Pete (Rose) said he wasn't throwing at him.
"I said to him that he didn't know if it was or wasn't a knockdown pitch and I didn't know that it was or wasn't a knockdown pitch. Only the pitcher knows..."
And the pitcher said it wasn't.
"You have to use both sides of the plate," Noles said. "You can't throw him a fastball low and away. I'll be in Kansas City Memorial Hospital.
"The only reason he (Frey) came out is because it's George Brett up there. If Frank White or someone else had been up there, he wouldn't have done a damn thing. And the pitch wasnt that far inside. But he's the manager. He has to fight for his players. If I were the manager, I'd fight for my players."
The fight was successful. Denkinger went to the mound and issued an official warning. And the rest of the game continued without theatrics.
Really, it was all decided after just 22 Larry Christenson pitches. Willie Wilson led off the top of the first with a single to left. An errant L.C pickoff attempt moved the speedster to third. Two batters later, a George Brett triple scored Wilson, and Aikens' first homer of the day, a blast into the right-field waterfall, made it 3-0.
THAT'S A TOUGH pitch (the inside fastball) to make for a righthander who stands on the far side of the rubber," Christenson said. "It's the first inning, I'm not sharp with it yet. It's the first time I've been on that mound... I wasn't gripping the ball real well.
"Hey, none of that is really an excuse. I just wasn't able to make that pitch."
"I'm a streak hitter," Aikens said, "and when I get in a streak, I'm capable of five or six homers in a week."
And then, the classic understatement.
"I'm in a pretty good streak now."
Hal McRae followed with a double that would have been a single had Garry Maddox hustled the ball in a little quicker. An RBI double off the bat of Amos Otis and Christenson was gone.
As it turns out, so was the game. The Phils scratched out single runs in the seventh and eighth, but fell short.
"It looked to me," said Dallas Green, "like we weren't totally ready to play today... You can't keep hoping for rallies. You can't always call on character. Eventually, base hits and pitching are going to have to do the job."
Yesterday, they eventually did. Del Unser wasn't worried Saturday night.
"This, to me, is like a little road trip, and they've won the first two," he said. "Now we've got to start playing together, executing, doing the things we have to do to win games.
"But pressure? We're in the World Series, man. There aint no pressure here. Getting here was where the pressure was."
On Saturday night, when the Royals had come back and tied the Series at 2-2, that was an almost unbelievable statement.
Hurdle Regrets Being Pinched Out
KANSAS CITY, Mo. (UPI) – Clint Hurdle was not about to look into the Kansas City dugout in the seventh inning of yesterday's World Series game against the Phillies.
"I don't go up there looking over my shoulder." Hurdle said. "They have to yell at me to get me back."
When Hurdle heard Manager Jim Frey call his name, he knew he wasn't going to get a chance to bat.
"Jim's going to do what he thinks he has to do," said Hurdle, who would have been hitting against Tug McGraw with runners on first and second and the Royals ahead, 3-2.
"He's done it all year in that situation. The last six weeks of the season I had very few at-bats against lefthanders. But I would have liked to have had a shot."
HURDLE WAS replaced by former Phillie Jose Cardenal, who hit a fly to center to end the inning. Cardenal stayed in the game and struck out swinging with the bases loaded in the bottom of the ninth as the Phils took a 3-2 lead in the Series with a 4-3 victory.
As for Hurdle, he could only sit and watch after he dejectedly threw the batting doughnut into the on-deck circle after he was removed.
"I would have liked to have my hacks," said Hurdle, who hit .294 during the regular season.
•
It may have seemed like 36 ounces of wood at the time to Darrell Porter but it turned out to be a ton of magic to the Kansas City catcher.
Porter was discussing his season-long problems at the plate, including his embarrassing 0-for-10 performance in the World Series, prior to Game 5 of the Series yesterday when teammate Clint Hurdle gave the All-Star catcher a bat.
"It's from that girl over there behind the dugout," said Hurdle, pointing to a pretty usherette with long blond hair.
"You gave it to me for my birthday," yelled the usherette, 26-year-old Deborah Roach of Kansas City, "and you've been in a slump ever since. Use it."
"Hmmm," said Porter, studying the bat. "Good wood. I can't believe I gave it away. I must have been in a slump at the time."
QUITE TO THE contrary. At the time the birthday present was given to the usherette – June 3 – Porter was hitting .333 with three homers and 27 RBI.
But in his final 92 post-birthday games, Porter batted a mere .225 with only four more homers and 24 RBI, including just three more game-winning hits.
But with his bat returned, Porter lined a Marty Bystrom pitch into right field for a single in his first at-bat of the fifth game to start the third inning. He broke the bat with the hit – but his confidence had been restored.
Phillies' Song A Hit with Fans
By Jonathan Takiff
Ain't no stoppin' us now!
They're on the move... huh!
Ain't no stoppin 'em now
The Phillies got the groove... huh!
Look out Kansas City.
And look out Diana Ross, too.
'Cause there's only room for one number one, on the ballfield and on the radio. At this moment, the latter distinction belongs to a spanking new version of McFadden and Whitehead's song "Ain't No Stoppin' Us," lyrically immortalizing the spirit of Phillies Fever:
There's been so many things that held them dawn.
But after 30 years Dallas Green has brought 'em around.
I know they've had so many miseries.
But they'll end up winning the World Series.
"Some of the song's rhymes are really stretching it," proclaims WIP program director Bob Russo with a chuckle. "I don't think we're going to see this one nominated for a Grammy. But there's no question the song is a smash, much bigger than the version McFadden and Whitehead did last year for the Eagles, with the Liberty Belles singing backup. We're getting calls every time we play it, and every time we don't play it. It's that kind of thing."
The same story of a breakaway smash hit is also heard from the programming departments at WCAU-FM (which first aired the song on the radio Tuesday morning), WDAS-FM, WFIL and WMGK.
"WE'RE GETTING A TON OF calls for the song," acknowledges WCAU's Elaine Del Ciotto. "The listeners are out and out crazy about this version. They want to hear it every 10 minutes.
"Yes, the listener reaction has been incredible." concurs Bob Craig, program director at WMGK. Craig's station "never played the original disco version" of "Ain't No Stoppin Us Now" when it came out in 1979. But the Phillies version is in "heavy rotation," hitting the airwaves at least three or four times a day, and more often on World Series game days.
"Obviously," says Craig, "it is now the official Philadelphia sports song."
Now, Kansas City they may have George Brett.
But the K.C. Royals ain't seen nothin' yet.
Kansas City they had better watch out.
'Cause McGraw and Carlton are gonna strike them out.
Now, clearly, songwriters and performers Gene McFadden and John Whitehead haven't gotten to be heavy hitters in the Philadelphia International Records stable by sitting idly in the dugout during the big game. They know a homerun pitch when they see it coming.
But the pair does claim that their Phillies version of "Ain't No Stoppin' Us Now" was done "purely as a labor of love," without commercial consideration. The Series salute was written, recorded, mixed and dubbed onto tape copies all within just "a couple of hours" last Monday at Sigma Sound the morning after the Phillies clinched the pennant. Sigma's Harry Chipetz and KYW-TV newscaster Ron Hunter lent a hand with the words, while a crew from KYW-TV immortalized the scene for film.
TUESDAY MORNING, PHILADELPHIA International promotion executive Harry Coombes says that "Radio stations started calling us up, asking how they could get copies. Since then, it's been one big chain reaction, a genuine phenomenon. Radio stations upstate in Scranton, Wilkes-Barre and Allentown are on it, too. Discos like Scintillations and The Library are playing it. The best part is that it has rejuvenated great feelings. Wives of the Phillies players have even gone to the trouble to call us, and the stations, to thank us for the song."
By Wednesday, the Phillies tribute was getting blanket airplay all over the AM and FM dials. In less than 48 hours, "Aint No Stoppin Us Now," Part Three was number one with a bullet!
On Friday, after telling "hundreds of callers" that the song would not be released commercially, Philadelphia International Records personnel had a change of heart. "We're pressing up a seven-inch single, that should be in the stores on Monday," says the label's Billy Hendrix. "And we're hoping to also have a 12-inch pressing, in a commemorative sleeve with pictures and autographs of the players, in the stores by Wednesday." Come and get it.
Now Kansas City is a super team.
But the Phillie Phanatic, he's just as mean.
Now I know the fans have been let down before.
In the '80 World Series, watch 'em even the score!
Of the radio programmers we polled, not one thought the Phillies anthem would have much of an airplay life after the series. "If they win the Series, we'll play it for few days," figures WCAU's Elaine Del Ciotto. "It all depends on the listener response.
"We'd play it up to the victory parade, probably no furthur," says WIP's Bob Russo. "But clearly, people are going to be heading into the stores to buy the record for some time. It's a genuine relic, an historic souvenir of a great event. This year, anything with the Phillies name is going to sell. I'm even thinking about getting to a piano myself, to bang something out."
Ain't no stoppin us now!
They're on the move... huh!
Ain't no stoppin' 'em now!
The Phillies got the groove... huh!
Fans Take Fever To The Streets
By Kitty Caparella
From the sidewalk, four ladies and a dog named Champ watched the honking car inch its way up Broad Street near Snyder Avenue last night. About 25 screaming Phillies fans, waving their beer cans and pennants, were standing and sitting and kneeling on the rooftop. It was one of several such overloaded cars.
Waving her cupped hand in an Italian gesture, Mrs. Connie Tomaselli, 55, said to her three girlfriends, "Look at this. I don't believe it. How can he possibly see where he's going? "
"No streaking now," Tomaselli of Tree near 10th admonished a reveler on the car. The youth responded with a "moon" and the ladies burst out giggling.
"That's the first time I seen that."
IN ALL HER 68 years Millie Leva had never seen a Mummer's Day Parade on Broad Street, but the comeback Phillies 4-3 victory over the Kansas City Royals brought her and her Tree Street neighbors out to see the spontaneous  parade of more than 1,000 South Philadelphia fans.
It was the same all over the city. At Cottman and Frankford avenues, 2,000 fans blocked the intersection for more than an hour. At Five Points in Bustleton, at Broad Street and Olney Avenue, in the side streets and on the highways, traffic slowed as the horns blared, beer flowed and pennants waved with shouts of "We're Number One."
And this was only the fifth game, giving the Phillies a one-game edge in the World Series.
"Can you imagine the way it will be Tuesday night? They'll set the town on fire. This is just the warm up," said Anthony Mancini, 29, of Jackson Street near 15th as he watched one fan pour a bottle of beer on another. "It'll be three times better."
AND THAT, dear baseball fans, is why the police have canceled days off and vacations on Tuesday to especially man such intersections known for their more boisterous fans.
The radio advised merrymakers not to meet the Phillies at an "undisclosed location" at the Philadelphia International Airport, but that did not stop them, drunk or not. About 400 Phillies devotees discovered the team's United flight would arrive in Cargo City.
And some came from far away, and others were just far out.
"We used to live up here in Chichester Township and we came up just for this," said Lynn Jacono, 18, who drove 18 hours non-stop from St. Petersburg, Fla., with her mother on Friday.
"I've been waiting a long time (for a World Series)," said Jacono's mother, Pat, 40. "We had season tickets for four years and we sold them in January and moved to St. Petersburg." I left my husband at home and we told our bosses that my brother and her uncle died. We got sympathy cards and flowers and all. I don't have a brother. I don't know what I'll do if the Eagles win (the playoffs) - I guess, kill another brother," she laughed.
STANDING ON AN "official Philliesmobile" was the red Buick's owner, Mike Andro, 22, of Upper Darby. Immediately after the last night's game, Andro bought a bottle of white shoe polish and painted " Phillies - We're Number One" and the teammates' names of Rose, Bowa, Bull and the others all over it.
Painting up the car didn't bother Andro nor his driver, Tom Guy, 30, of Overbrook Park, who had been careening through the Broad and Snyder intersection earlier. Guy and Andro said they were gypsies who " fix up junkeroos and sell them on the street. "
"There's 3,000 gypsies in Philadelphia and they're all behind the Flyers, I mean, Phillies," said Guy.
"We put the evil eye on the Royals and the Phillies won," added Andro.
Cheering fans alternated singing the National Anthem with chants as flight time neared.
ADDING TO THE spirit was Phyllis Phanatic, the female answer to the Phillies mascot. Just for the Series, two Newtown Square, Delaware County, women spent four days sewing a green fur costume with a red and white striped skirt over a hoop, installed two baseballs for breasts and featured ruffled panties with a tiny red baseball cap attached.
About 12:30 a.m., the United flight arrived and the players, the wives and their entourage loaded onto seven buses on the ramp behind the fence. Police stationed themselves along the bus route and the people on the buses waved as they sped past the cheering fans.
That didn't end it. About 200 fans hopped in their cars and raced behind the buses to Veterans Stadium, cheering wildly as the buses unloaded.
Phils Victory Parade Planned
The city managing director's office says it's prepared for "spontaneous" pandemonium tomorrow night if the Phillies win the Series, but it would actually prefer that fans channel their jubilation – and wait for the parade.
A victory parade is scheduled for 11:30 a.m. Wednesday if the Phils take it tomorrow night. If they win in seven, the parade is scheduled for Thursday morning at the same time. If the Phillies are snapped up in the jaws of defeat, er, well, no parade.
The parade of 13 vehicles, including a flatbed truck carrying the mayor and the Phillies starters, would begin at 18th and Market streets, turn at City Hall and head south on Broad Street, ending at Kennedy Stadium.
K.C. Games Take Some Getting Used To
By Robert Strauss
KANSAS CITY, Mo. – Like a '57 Chateau Lafitte or a '57 Plymouth or any of Heinz's 57 varities, ballparks and their fans can be acquired tastes.
The Cub's Wrigley Field has its ivied brick walls; Boston's Fenway Park, its gigantic green left field wall. Detriot's Tiger Stadium has fans who throw bottles; at New York's Yankee Stadium, they throw Reggie Bars.
BUT FOR THE World Series, The Vet has us and Royals Stadium has them – and the game really ain't the same.
First of all, Royals Stadium is a bit remote. Though maps show it within Kansas City's borders, there may be parts of West Philadelphia closer to downtown Kansas City than Royals Stadium is. Traffic jams are immense on the 45-minute ride, primarily because there is no way to get there but by car. There are, indeed, city buses that make the trek, but the $2.50 fare is steep when one considers the parking fee in the ample 16,000-car lot is only $2.
But the trip out is worthwhile for what may be the most fan-conscious stadium construction this side of the Roman Coliseum. Escalators take fans from the parking lot to upper level seats. Ushers are polite. Seats are comfortable. Views of the field are clear everywhere.
UPON SITTING down, the first thing a Royals Stadium fan notices is the "Water Spectacular" the largest privately owned fountain in the world. It's a double-deck waterfall 20 feet high and 322 feet long with enough flow to bathe all the MOVE members for a year. There are 638 nozzles shooting a half-million gallons of water in the multi-colored spectacular lighted by 670 500-watt lamps.
The Niagara-like flow turns one's attention away from the gaudiest scoreboard an organ ever played to, a 12-story high monster whose gigantic "R" topped by a golden crown can be seen half way to Kansas from surrounding roads. As with most new computerized scoreboards, it functions more as a Big Brother cheerleader than information giver.
WHEN KANSAS CITY outfielder Amos Otis bats, skinny cartoon ballplayers appear on the board in the shapes of his initials, "A.O." A hit by fleet shortstop U.L. Washington, who chews a toothpick constantly, brings a cartoon of a locomotive circling the board around the words, "The Toothpick Express." Each player and event has a similarly cliched picture.
The fans even seem to love the advertisements on the scoreboard between innings. The Dubuque Plumpers hot dog commercial goes on the screen in the middle of the fifth inning of every game to the Dubuque theme song, "The Beer Barrel Polka." Not only do fans clap in time with the organist's twangy tones, but many of them start polka-ing in the crowded aisles. Imagine fans at the Vet doing the bunny hop to the Tasty Kake jingle.
YET, THERE IS a certain spirit to the Kansas City fans. With the exception of Pete Rose, the designated boo-catcher, most every Phillie got a smattering of applause or at least silence. And even Rose's boos were hardly Philadelphian. During his third at bat in Saturday's game the crowd started its boo and Rose looked up as if to say, "I get worse than this outside of my apartment."
The Royals fans also give subdued applause. If Kansas City third baseman George Brett were a Phillie, he would have to borrow 20 sets of Steve Carlton's earplugs to stifle the roaring cheers he would get. As only the best and most congenial player this side of Tug McGraw, he gets a mere Kansas City "Yay!"
It seems the Royals enjoy their fans, though. They come out of the dugout to tip their hats after each home run. They sign autographs with vigor before and after the game. They apologize for slumps.
EVEN THE ROYALS Stadium vendors are polite.
All this and no Phanatic or other tumbling, fumbling creature to harass the baseball-minded. Oh, yes, Kansas City fans themselves sometimes dress up a capella and traipse through the Royals Stadium stands to lead cheers. During the series there was a "Saturday Night Live" cone-head with a Royals cap on his peak that Mrs. Warren Brusstar, wife of the Phillies reliever, made stop for a photograph.
We're just gonna have to teach them the right way to have a ball game.
Series Tix Quite a Catch
By Robert Strauss
KANSAS CITY, Mo. – Mint Kaul of Seattle, had a problem. Here he was, a Seattle Mariners' fan, visiting his cousin, Kansas City Times sportswriter Steve Nicely, during the World Series, and even cousin Steve couldn't get him tickets.
So Kaul put an ad in the Times' personals column: "Seattle fan would like 2 World Series tickets. Free salmon fishing trip offered as bonus."
"I just wanted to pay the right price for the tickets and find someone who was interested in sport fishing to come up," said Kaul yesterday. "Instead, I got people ignoring the ad and calling to offer me $20 tickets for anywhere from $40 to $250."
Kaul said he finally got someone who was as interested in fishing as he to give him four tickets for Saturday's game in exchange for the fishing trip-to-be. "Should be fun," he said. "It'll be a good way to make friends."
Other seekers of Royals tickets might have done better to look at another personal ad over the weekend: "Need a second mortgage...?"
•
The Goodyear blimp, on the other hand, seems to be able to get a ticket to any game. The ever-present bulging missile had feeble competition the other night at Royals Stadium.
Out beyond the left field fence a large hot-air balloon would fire its engines every so often and rise a few feet on its tether for a few seconds. Trouble was that one only had those few seconds of firelight to squint and see what was written on the multicolored balloon.
Needless to say. the B.F. Goodrich balloon was not there for the weekend day games, having been blown out in the tire competition.
But watch out for the Firestone Kite and the General Tire parachute at the Vet tomorrow.
•
Beside being a tad more congenial than the Phils' never-say-boo locker room, the Royals' Kansas City club house has a few interesting artifacts.
Near the mandatory soda machine and coffee counter is a large metal cabinet full of Royals' munchies. The Royals' favorite candies are Whoppers and Payday bars. Bazooka is the American League champion bubble-gum. And there are stacks and stacks of three different brands of chewing tobacco: Redman, Beech-Nut and Chattanooga Chew, the smoother-tasting first choice. Some Royals chewers combine the Bazooka and Chattanooga Chew for an all day delight known as gumbacco. And people say it's easy to be a ballplayer!
The player's lockers also have notable decorations.
Catcher Darrell Porter has a series of designated hitter Hal McRae baseball cards on his locker. Next door, sub-catcher Jamie Quirk has those cards of pitcher Ken Brett on his. And the lesser of the two Bretts must be a real fan of his fellow bench sitters – with cards of Quirk, outfielders John Wathan. and Jose Cardenal and pitcher Marty Pattin adorning his locker.
No, no one has yet put an ad for Preperation H on George Brett's locker, though writer Peter Golenbock (who wrote "The Bronx Zoo" with Sparky Lyle and "Number 1" with former Yankee and now Oakland manager Billy Martin) yesterday gave Brett a box of All-Bran. Brett does have an autographed picture of famed baseball groupie. Morgana, prominently displayed.
Over in another corner, outfielder Clint Hurlde's has a bumper sitcker claiming, "Clint Hurdle is a 10." And reliever Dan Quisenberry has a picture of Peggy Lee on his locker for the comparision between the singer's hit, "Is that All There Is?" and the speed of his fastball.
•
One of the better places to catch Royals Fever in Kansas City is the exquisite Crown Center Hotel and Shops, the local World Series headquarters.
When the Fairmont and the new Franklin Plaza die and go to hotel Nirvana taking the choicest of Walnut Street shops with them under glass, they'll hope to be like the Crown Center, with its four-story greenhouse waterfall, rooftop restaurant, indoor-outdoor pool, mezzanine tennis courts and running track, etc.
But each game time this weekend, the pitbar in the Crown Center lobby became Royals Stadium II. A large TV screen was put up on one side of the plush chairs and couches and a set of triple tiered bleachers were set up behind. Cocktail waitresses shunned their normal skimpy low-cut dresses for Royals baseball shirts emblazoned with their favorite players' names and numbers.
And best of all, for the blue-hatted but non-ticketed Royals fans who filled the seats, there was no minimum and no cover.
N.Y. Suffering World Series OD
By Jill Porter
I have figured out what it is that makes New York so unlivable, and New Yorkers so aggressive and hostile.
It's not the density or the pace, or the crime. It's the World Series.
So often the New York Yankees are either in the World Series or in the running. And if this last week is any example, it is enough to make you grow beansprouts under your arms.
The World Series tends to destroy priorities in such a way that people and events that are otherwise critical get ignored.
I started out the week by missing Monday's exercise class – to go to International Airport to see the Phillies come home from Houston. I made Tuesday's exercise class, but the instructor cut it short by 15 minutes so she could get to Veterans Stadium in time to see the first game against the Royals.
BY THEN, THE FLESH that I whip so diligently into place began to sag into gravity's grip, but I missed Wednesday's dance exercise class so I could go to the Vet to see the second game.
The weather at the game was so medium that I was too cold with my parka off and too warm with it on. So I alternated being warm and cold – and screamed my head off – and I now have the kind of sore throat that makes you need anesthesia before you swallow. It's not bad enough to confine me to bed – just bad enough to confine anyone in my vicinity to the insults of my misery.
Meanwhile, I forgot the birthday of a friend whose birthday I haven't forgotten since we met in college. I forgot a card. I forgot a gift. I forgot to make plans to go out and celebrate. How can you remember anything when all you do is sit in front of the television set, watching people play baseball, and other people drink Pepsi and propose marriage?
I FORGOT TO CALL MY mother. When I finally called her, she said nothing was new in the tone that implied that since the last time I had spoken to her, she had plummeted down an elevator shaft, had an allergic reaction to a drug which stopped her heart, was evicted from her apartment, and had a pregnancy scare – but why bore me with details since if I cared I would have called before?
All of this is secondary to the gastric juices that have destroyed the lining of my stomach because the Phillies like to give the other team a convincing head start before they warm up their bats. Not to mention the arguments – actual arguments – I have had with other people who are watching the game with me because I don't approve of their attitudes.
("They're folding up just like the old Phillies," said one companion during Saturday's losing game, after they failed to compensate for Larry Christenson's leaden arm. "That's not fair!" I shrieked, napping the flesh of my companions eyelids in shock. "You're being just like those lousy fans who boo them! What do you want from them? They're allowed to lose a game.")
SO, AFTER ONE WEEK OF the World Series. I have lost a friend and am losing my waistline. I have an ulcer, a sore throat and severe guilt pangs. Also, my electric bill will be enough to make me giddy with fear because the television set is on all the time.
Surely, that's enough to make you behave the way the people did in this, my favorite New York story:
On-the-street parking places in New York City are ridiculously rare so when a woman appeared to be walking towards her parked car one morning, a car followed her and pulled up alongside the car in front of her. He figured he'd back in when she pulled out.
However, another car, spotting the same opportunity, pulled up alongside the car behind her, figuring he'd pull in forward when she pulled out.
The person in the first car motioned to the person in the second car that the space was his. But the person in the second car didn't budge. In fact both of them inched closer to the space – with the result being that the lady who was leaving to go to work couldn't get her car out.
SHE HOLLERED, AND IMPLORED, and argued with them, but neither of the two parking place seekers would move.
Finally, after a half hour of livid frustration, she got out of her car, slammed the door – and took the subway to work.
That is a true story. It describes the hostile, blindly aggressive and irrational behavior indigenous to New Yorkers. But what can you expect from them? Time after time, with some breaks in between, they have had to endure this World Series madness.
So, be glad the Phillies only manage to win the pennant once in everybody's lifetime. It is responsible for keeping Philadelphia a livable, comfortable city, inhabited by reasonable people.
You need 30 years to recover.
•
Jill Porter's column appears Mondays, Tuesdays and Fridays.
World Series on TV:  Thank Heaven for NBC
Television By Gary Deeb
WHEN THE baseball playoffs end and the World Series begins, it's a graduation exercise in more ways than one. Because not only have we finally determined the two finest ballclubs in America; but this year the advent of the Series means that the juvenile ignorance of ABC Sports has vanished – to be replaced by the mature baseball intellect of NBC.
The first two games of the Philadelphia Phillies-Kansas City Royals matchup were loads of fun – closely contested, suspenseful, appropriately larded with nice performances.
And in keeping with the high quality of the play on the field, NBC's visual, technical and journalistic coverage of the Series has been absolutely first-rate.
The guys at NBC don't miss important plays or dramatic scenes because they're too busy focusing on a player's wife in the box seats. They don't point their cameras toward the sky in a futile attempt to find a long fly ball. And they don't inflict on us the intolerable presence of Howard Cosell, the aging parasite who thinks a suicide-squeeze has something to do with the hang time of a punt.
 SO HERE'S A BRIEF appreciation of the nice things NBC already has favored us with, as this 1980 World Series moves into its middle stages:
•  Joe Garagiola and Tony Kubek. These two fellows give the horselaugh to the theory that retired athletes bring nothing but mediocrity to the broadcast booth. Knowledgeable and friendly. Joe and Tony also possess the knack of being able to translate the most intricate nuances of the game into perfectly understandable terms. And they aren't afraid to argue, as witness their Game II debate on whether Pete Rose was "intimidated" by the presence of KC seedster Willie Wilson on third base in an important situation.
•  Harry Coyle. He's the director the man in charge of NBC's magnificent visual coverage of the games. Coyle's been pushing the right buttons on World Series telecasts since 1947. He loves baseball, and you can tell by the way his cameras caress the sport and deliver it into our living rooms.
•  The camera operators themselves. When somebody hits a fly ball, these gentlemen don't treat it like a mashie shot at a golf tournament. They generally follow the nearest outfielder, which is exactly how any knowledgeable fan at the ballpark follows the play.
•  The instant replay. While the cement-heads at ABC gave us a lot of unrevealing replays during the playoffs (including many that were mere repeats of what we'd seen moments earlier on live-action), the NBC crew feeds us replays that frequently illuminate things. One shining example already: The throwing error charged to Manny Trillo on Wednesday night probably should have been blamed on Rose. The NBC replay demonstrated that the ball simply went right through Pete's glove at first base.
•  Tom Seaver and Ron Luciano. The Cincinnati Reds pitcher and the retired umpire, respectively, have contributed nicely to NBC's telecasts. After a shaky start in Game 1, Seaver settled down and now feeds us some crackling observations about the pitchers. As for Luciano, he's scrupulously candid about the umps whenever a controversial play develops.
•  The crowd noise. On NBC it's genuine unlike ABC, which regularly broadcasts a tape cartridge of background clatter as a way of exciting viewers. ABC's disgusting audience-manipulation via the bogus crowd tape won't be copied by the NBC people.
Sportsbriefs:
Brent Musburger, the fast-talking sportscaster, is considering a possible jump from CBS to ABC. Now based in Los Angeles, Musburger is the No. 1 CBS voice of pro basketball and the host of "The NFL Today" on Sunday afternoons during the football season.
The word from the West Coast is that ABC Sports wants Brent to be a key member of its telecast team for the 1984 Summer Olympics in Los Angeles and the Winter Olympics in Yugoslavia that same year. Early indications are that ABC would consider moving him into some of the anchor duties now handled by the rock-solid Jim McKay.
Another factor that reportedly has ABC deeply interested in Musburger is Howard Cosell's age. Now 63, Cosell might want to retire before the '84 Olympics. Furthermore, his diminishing popularity – coupled with the deep resentment millions of fans feel for him – is said to be slowly persuading ABC officials that a cutback in his on-air chores might be in order.
Ironically, Musburger and Cosell despise each other. Cosell describes Brent as "a high school cheerleader," while Musburger responds by stating that Cosell "doesn't know his a- from third base."