Philadelphia Inquirer - October 20, 1980
A sad Bull:  'It's hard  sometimes to understand…'
By Frank Dolson, Inquirer Sports Editor
KANSAS CITY, Mo. – These are difficult times for Greg Luzinski. He is a career Phillie – a man who has spent 13 years in the organization, including nine seasons in Philadelphia. He has hit 223 major league home runs, knocked in 811 runs.
But yesterday was the first time his name appeared on Dallas Green's lineup card since the first game of this World Series.
Intestinal virus benched Luzinski in Game 2.
Green benched Luzinski in Games 3 and 4.
The 29-year-old outfielder was upset over missing those two games here, and he expressed that disappointment to a Philadelphia writer the other day.
"All I said (to the writer) was, 'I guess I have to read between the lines.' That's all I said to him. And then I walked away...."
Luzinski didn't consider those particularly strong words, but, as so often happens, when they were repeated to Green before yesterday's game by a wire-service reporter they seemed stronger than apparently had been intended. And Dallas reacted ' with his usual fervor. '
"I think it's a typical Bull reaction," the manager said. "He jumps to conclusions (by inferring that he was on his way out as a Phillie). There are really no facts to back that up."
Green made it clear that no decision on Luzinski's future had been reached. "We have to be objective and realistic," he said. "We have to look and see what kind of contribution he can make in the future. Can he stay sound? If he can, can he hit like he did in the first part of this season? Is he willing to pay the price? This is what I have to tell Paul Owens."
Green concluded by saying, "Nobody loves Greg Luzinski like I do, but we're not falling back into the old syndrome of the tail wags the dog of the last five years in Philadelphia.... Isn't it time we looked for. production, looked for that type of play for 162 games? If he does that I'll be glad to play Greg Luzinski. But he's the one who hit.229, not me. He can use all the rationalizations he wants...."
All Luzinski knew' yesterday was that he was happy to find his name posted on the lineup card.
"It means a lot," he said before the game. "No question I'm upset. After being in Philadelphia nine years, contributing a lot, no question I'm upset."
Later, after getting a walk in three trips to the plate – and being removed for a pinch-runner in the seventh inning of the Philies' 4-3 victory – Luzinski made it clear that he felt very much a part of the team effort that has carried the Phillies this far and was "pulling for whoever's in there."
But the hurt was still there.
"It's hard sometimes to understand what's going on," he said. "I've been in the organization my whole career. I feel I've contributed a whole lot to where we're at now. Then you come to a dream of a lifetime, the thrill of being in a World Series and you feel you should be out there...."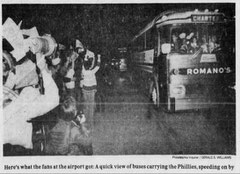 Airport II:  Phillies in new vanishing act
By Stephan Salisbury and Gail Shister, Inquirer Staff Writers
It was another public relations non-coup for the Philadelphia Phillies.
An estimated 200 fans waited, some for more than three hours, at Philadelphia International Airport for the plane that brought the Phillies back from Kansas City. They carried signs, they sang, they chanted as they waited.
About 12:30 a.m., the plane arrived. Much as they did when they arrived last weekend from their triumphant National League Championship Series at Houston, the players hurried onto buses and sped away.
A week ago, a couple of players took the time to acknowledge the fans' existence. Last night, none did.
One middle-age man was particularly unhappy.
"I think it's pretty absurd that they sneak in like this and no one gets to see them," he said. "The fans come out to cheer them on, and nobody's allowed to see them when they come back from almost winning the World Series.
"If they win it and have a parade down Broad Street, I'm not going."
"We were told the Phillies are too tired, that they didn't want to make any speeches," said Donna Mancinelli, 20, of Aston Township. "Well, nobody wants a speech. They want us to want them to win, but they don't want to talk to us."
"We figure since we're the ones who cheer them on through thick and thin, they should want to see us as much as we want to see them," said Cheryle Aponti, 22, of Philadelphia.
Hours before the Phillies did their airport disappearing act, other fans celebrated in their own way. They stood on the roofs of cars in the middle of Broad Street in South Philadelphia, waving cans of beer and shouting, "We believe! We believe!"
Phillies fans spilled from their homes and into the streets last night to exchange congratulations on their team's come-from-behind, 4-3 victory over the formidable Kansas City Royals.
They crammed themselves into and on top of cars – nine, 10 and 11 at a time – and careened down Snyder Avenue, blaring horns, waving pennants and screaming: "We're No. 1." Fans streamed out of their houses, out of the bars and onto the streets to celebrate their team's third win in the World Series.
Tom Richards, a mailman living in Queen Village, said, as he visited neighbors on the 200 block of Montrose Street, "I guess its door-to-door congratulations."
Police estimated that as many as 2,000 fans poured into the intersection of Cottman and Frankford Avenues, blocking traffic and making merry for more than an hour.
Another group of about 1,000 filled the intersection of Broad Street and Snyder Avenue. A similar number stalled traffic at the Five Points intersection in Bustleton; several hundred more gathered at Broad Street and Olney Avenue.
Police reported that the crowds were boisterous but ruly. No vandalism was reported. Police said the crowds were dispersing by 10:30 p.m.
For the fans, it was clearly the warm-up to a victory bash.
"You ain't seen nothing yet," said Donna Santucci of South 17th Street.
Several young men surrounding her shouted their agreement. "Yeah," Santucci repeated. "This is just a warm-up."
All Quisenberry needed in ninth:  4 Frank Whites
By Larry Eichel, Inquirer Staff Writer
KANSAS CITY, Mo. – Dan Quisenberry admitted after the game that he had made one unforgivable mistake.
"I didn't make them hit it to Frank White," the reliever said, paying homage to the memorable performance in the field yesterday by the Kansas City second baseman. "I didn't exploit what I had."
Quisenberry, winner of Game 3 and saver of Game 4, induced the Phillies to hit the ball to mere mortals with the game and control of the Series on the line, with a 3-2 lead going into the ninth inning.
Those mere mortals weren't covering the whole western side of the U.S. the way White seemed to be doing.
The inning began with Mike Schmidt hitting a rug-hugging liner a few feet to the left of George Brett at third. Brett got his glove on it, nearly smothered it, but could not come up with the ball.
"If you play that much over or that much deeper," said Brett, holding his thumb and his forefinger a few inches apart, "you catch it. I wasn't playing as deep as I usually would on Schmidt. In the dugout, I asked (manager) Jim Frey, 'Do you think Schmidt might bunt?'
"He said, 'I don't know, but don't give it to him.' So I was playing a little in, and since it was the ninth inning, I was guarding the line."
With Schmidt on first, Quisenberry got a strike on pinch-hitter Del Unser, then threw a sinker that Unser stroked down the first base line.
"I just wanted him to hit the ball hard (and on the ground) so we could get a double play," said Quisenberry, who was reserved though hardly morose after the game. "When he hit it, I thought I was out of trouble."
But the ball hopped past Royals'' first baseman Willie Mays Aikens, the slugging hero of Game 4. Aikens waved at it like a bullfighter while the entire Phillies' bench uttered a silent "Ole!" The ball skidded on for a double, scoring Schmidt and tying the game at 3-3.
After Keith Moreland bunted Unser to third, Garry Maddox hit a high-hopper to Brett for out two. And when the count ran 0-2 on Manny Trillo, Quisenberry felt certain, as he had before, that the fire had been extinguished.
"I was trying to keep it low and away – I was trying to strike Trillo out," Quisenberry said, even though he is not a strikeout pitcher.
He got no strikeout as Trillo lined a shot right back toward the mound. The ball glanced off Quisenberry and bounded into the unoccupied reaches of the middle infield while Unser raced home with what would prove to be the winning run.
"The ball hit the top of my glove at the end of my fingers," he recalled. "No bruises. Oh yeah. It hurts. Not my hand. My aorta."
Quisenberry paused, then he said it again.
"I should have made them hit the ball somewhere near Frank White, anywhere near Frank White," he said.
"You may think Frank was unusually good today. You're wrong. What you saw was just typical."
Until the game turned around in, the top of the ninth, it belonged to Frank White's glove, as no game has belonged to one man and his defense since a night in New York, two Octobers ago, when Graig Nettles' dazzling feats in the field stole seven runs from the Dodgers and turned a whole World Series around.
"I've had better days," said White, a quiet, modest, religious man who was the most valuable player in the Royals' sweep of the Yankees.
"It's just that this is the World Series, and whatever you do gets magnified. I've made all those plays before. What makes me feel bad is that we should have won every game."
But those plays... ah, those plays.
•  Third inning, Larry Bowa on first: Bob Boone hit a blooper down the right-field line. White was playing Boone up the middle, expecting him to pull the ball. Yet he raced toward the line and caught it over his shoulder, with his back to the plate.
Bowa, hopelessly stranded and about to be doubled up at first base, watched in disbelief from a spot near second.
•  Seventh, runners on first and third, two out, Royals clinging to a 3-2 lead: White ranged far to his right to knock down Trillo's bid for a game-tying single.
•  Eighth: White ranged deep into the hole to flag down Bowa's grounder. He dropped it, picked it back up and gunned down Bowa at first.
White is the local boy made good, a product of the Kansas City ghetto who, at 20, turned up at a mass Royals tryout at the city's old Municipal Stadium.
"Before that, my baseball wasn't played where a lot of scouts hang out," he said.
"My baseball was played in vacant lots. All me and my friends thought about was going to work and playing ball."
At the tryout, he was selected to attend the Royals' Baseball Academy. The now-defunct academy, based in Florida, was the brainchild of Royals owner Ewing Kauffman.
Kauffman believed players were made, not born, that any good athlete could become a quality player if given enough instruction.
White stayed at the academy for a year-and-a-half, leaving in the spring of 1972. A year later, he was in the big leagues, the first academy graduate to make the grade.
First in comfort and first in the American League
By Steve Twomey, Inquirer Staff Writer
LENEXA, Kan. – Somewhere, out behind the stunning trees in full fall performance, the housing tracts, new and old, the shopping centers and the wide streets filled with, yes, kids and dogs and bikes on a sparkling sky-blue day, there must poverty here.
Somewhere. But look mighty hard.
It is "the golden ghetto," Johnson County, one of the 10 wealthiest counties in all of America, the place where professional Kansas City goes to sleep each night, just a short hop across the state line from Missouri and down I-35.
Once, it belonged to the Indians, the Shawnee. Now the land belongs to the wealthy. While the rest of the country earned the median family income of $15,000, the families of Johnson County earned $23,000. In one community alone, Mission Hills, the median income was $19,000 – per person: man, woman, and child.
It is, in a way, only a logical extension of most of metropolitan Kansas City. It is a surprisingly middle-class city, even in its core. Unemployment in 1979 was 4.5 percent, 1.5 percent less than the national average and far below most other big cities.
Johnson County is first though, first in ease, money and comfort. First in the American League.
Yesterday, for example, the party was at 7915 Hauser St. here in one of the fastest growing of Johnson County's satellites.
It's the fourth split-level on the left, the two-year-old one made of stone blocks and wooden siding, the Horn-becks' place, he an executive for Sony and she an executive with a management recruiting firm. Mark Randall and Dave Pepper came, from Sondra Hornbeck's office. And Dave brought his friend, Mark Finke. Rod Chapin came from John Hornbeck's office, and Laura Cappelo and Keith and Kitty Baker came from the neighborhood.
"Anybody need any kir?" Sondra, the worried hostess, called out as the game got underway on a color television – Sony, of course – in the corner of the den. She waved a full pitcher, but most everyone was already set with cans of Coors Light.
They were set. They were confident.
The Royals had evened things up, and the crowd at 7915 oozed inevitability.
"OK; Larry, one, two, three, let's get them," Mark Finke urged Royals pitcher Larry Gura in the first inning. The pitcher obliged, and the mood swelled even more.
"Hey, everybody, did I tell you that John and I got our Las Vegas reservations for New Year's Eve?" Sondra announced. "I can't wait. Don't you know I'm such a gambling addict."
"You're not an addict, dear," said her husband, "but you're close."
While Mike Schmidt's homer tempered the audience in the fourth inning, they bounced back when the Royals took a 3-2 lead in the sixth.
"That's the way we do things in Kansas City," Mark Finke said proudly as his co-watchers applauded the lead run.
They praised their heroes collectively. They praised them individually. Amos Otis, Hal McRae, and especially the Royals' scrappy second baseman, Frank White, who continually thwarted the visiting Phillies with spectacular fielding plays.
"Man, the plays they've made today," Hornbeck marveled. "They have made some great plays. That play right there (he pointed at another White gem), that could be the difference. That could be the difference right there."
But it wasn't. With three outs to go the Phillies suddenly struck for two runs and the lead. The Hornbeck den erupted in moans and various expletives.
But unlike typical Phillies fans, this crowd didn't despair. They were certain they would rally for the victory.
But the Phillies had their relief ace, Tug McGraw, pitching in the bottom of the ninth. Finke could barely stand to watch, not so much because he feared defeat but because he hates McGraw.
"I don't want to see McGraw jumping up and down and slapping that stupid glove on his leg," Finke said, referring to McGraw's usual winning behavior. "I don't want to see it."
But the home team did not make it, and those in the room who had been sitting on the edge of their seats, cracking their knuckles and pleading with the figures on the screen, groaned and dropped their heads in despair. '
"Throw something through the TV," Pepper called out. "Break the TV."
They were certain, however, that the Series was not over yet.
"Well," Hornbeck said, "if we had won today we just would have needed one in Philadelphia. Now we just have to win two, that's all."
How others view this World Series:
Hal Bock, Associated Press:
"There was a touch of anticipation in (Larry Bowa's) voice about the return home for Game 6 of the Series Tuesday night. Bowa, believe it or not, seems to miss the Philadelphia fans with whom he has carried on a running feud. 'They don't know how to be mean here,' Bowa said of the crowds in Kansas City. They know how to be mean in Philadelphia. Maybe that's part of being in the Midwest.'"
John Schulian, Chicago Sun-Times:
"In an age where practiced indifference is standard big-league persona, on a Phillies team that sneers when it isn't snarling, (Pete) Rose plays the World Series for what it is worth to him – everything. When the 'Today' show wanted him to crawl out of bed at 6:30 the morning after Game 1, for example, he did it. 'I like to ride in limousines,' he says, 'and they sent one for me.'"
Dick Young, New York Daily News:
"They (baseball team mascots) grow more and more brazen, and now stand in front of the visiting dugout between innings, tormenting the players when the home team is ahead. This is certain to upset the visitors, and is bush. That is probably why the K.C. management has refused to let the Phillie Phanatic, a brazen green bird, perform (in Kansas City). The bird is a club employee, and should not be permitted to agitate. Humor is humor. Tactless humor is embarrassing. "
•
"Chutzpah award of the year goes to woman who phoned St. Luke's Hospital in K.C. while George Brett was there to have hemorrhoids lanced during World Series and asked that George visit her on another floor and sign the cast on her leg."
Thomas Boswell, Washington Post:
"Although (Dallas) Green doesn't say it, he thinks he inherited a team with plenty of talent but no interest. And he plans to win a Series with them, whether they want to or not. When Philadelphia lined up along the foul line for pregame introductions (Saturday), the Phils all cheered politely for each other. All except when Green was introduced. One man in Phillie maroon gave one clap, then saw that nobody else had moved a finger, so he stopped, too. He was the trainer."
Dave Anderson, New York Times:
"Say this for Steve Carlton – what sets him apart as a recluse is indivisible from what sets him apart as a pitcher. He is a great pitcher, a possible 300-game winner, but because of his reclusive nature, about all baseball fans know about him is that he's not willing to speak to newspeople, which really means that he's not willing to speak to the fans."
Ron Rapoport, Chicago Sun-Times:
"Don't the Phillies know the Royals like to run until they drop, once they have put the ball in play? Don't they care?"
•
"It will take more than knocking down George Brett for the Phillies to right themselves."
Bob Verdi, Chicago Tribune:
"Strange World Series. The Phillies have stranded more men than the Gabor sisters... (and) the Royals are thinking of voting a full share to George Brett's proctologist."
In a pinch
All good things come to Del Unser, who sits and waits
By Danny Robbins, Inquirer Staff Writer
KANSAS CITY, Mo. – When the Phillies are in a pinch, which is most of the time now, it is as the scoreboard at the Vet often proclaims – "Del Time."
Del Unser, the Phillies' pinch-hitting machine at 35, has lived through 12 other seasons in the major leagues, and it has never been this way in late October before. His life has usually been somewhat more mundane.
"I'm usually fixing up the house with all the little repairs," he said, "and my wife makes a list because I'm not home for so long. I'm usually back into racquetball, maybe playing a little golf.
"I've also been working as an emergency physician. But I'll probably get more into property management. Now I can afford to buy a rental house."
Quite suddenly, Del Unser's time has come. A guy who can say he once actually played (four years) with the Washington Senators, a guy who was once pretty much unwanted and close to retirement (1978), he is now a legitimate World Series folk hero, or something.
"He's spoiling us," Larry Bowa said after Unser delivered another crucial, if a little crazy, pinch hit in the Phillies' 4-3 escape from Royals Stadium. "He's setting some very high standards. If he makes an out, we'll get on him."
Unser's contribution yesterday was a pinch double in the eighth inning that skipped down the right-field line, scoring Mike Schmidt – who got that single past George Brett – with the tying run off Dan Quisenberry, the Royals' star reliever.
"I hit it as good as I can hit a ball," he said, "just over (first baseman Willie) Aikens' glove. I don't know if he had time to react."
He did not, and thus Unser had his second pinch-hit of the Series. If he gets one more, he ties a World Series record. If he gets one more off Quisenberry, who has now thrown his submarine stuff in all five games, he certainly rips up the law of averages.
In Game 2, also in the eighth inning, Unser muscled a pinch double off Quisenberry and ultimately scored the tying run.
"It was a similar situation for me today," Unser said, "in that I got another fastball, his sinker. The difference was, this one was a little more inside, and I had a little more of a hole with Schmitty on first. I was thinking, 'If it's inside, I'll pull it over there.'"
He had fouled off the first pitch. The next one was the one he wanted. But Quisenberry, of course, had been tough all year, the spacy guy with 33 saves. And that makes Unser's work in the Series special.
"With some pitchers, you just see the release point better," he said. "I really believe hitting against (Pittsburgh's Kent) Tekulve a lot gives us a distinct advantage now. The shoulder comes down, and it alters your perception. I've hit the ball hard off Tekulve. But it's hard to get the ball up in the air off him, just like it is with Quisenberry."
A week ago, Unser did his thing against the Astros' Ken Forsch, when the Phillies won the pennant in Houston. He came up in the eighth inning, again, with runners at the corners, two out, the Phils down by a run. Forsch had just blown three strikes by Schmidt, but Unser golfed his first pitch into right field for the single that tied the game.
"That one was a little quail," he was joking after yesterday's game, "and this one had a bad hop to it."
He is right, to be sure, but he is also selling himself short. It can't be easy when you sit and wait. Unser and the other pinch-hitters stay loose during games by swinging bats in the clubhouse, watching the game – and the pitchers – on TV. But, ultimately, they go in cold.
"We are up and back (on the walkway to the clubhouse) a lot," Unser said.
Yet when he was the Phillies' designated hitter in Game 4, Unser managed only one hit (a single in the eighth, of course) in four trips to the plate.
"When I'm starting," he said, "I probably make the mistake of taking too many pitches. When you get one chance, you take advantage of anything you can get."
And Unser keeps making the most of his chances.
"I think the big thing that has helped Del," said Greg Gross, who has a similar role with the Phillies, "is that he started those six games on the last homestand. He got 25, 30 at-bats in five or six days, and that can give you a better feeling at the plate. You always feel better if you get some at-bats."
Whatever has taken place, Del Unser has become a force in a World Series that the Phillies are one game away from winning. "Right now, it's warming up," he told the mob at his locker yesterday. "Early on, this (the Series) seemed a little anticlimactic after the Houston series. Now we're on the verge of winning something, and it's getting exciting."
There has to be a special feeling for Unser, too, because he has been around baseball all his life and never been around a team that was even close to this position. His father, Al, was a major league player and scout and now has a sporting goods store in Decatur, Ill., the family home.  
"Oh yeah, I was born and raised in a clubhouse – well, not born. My mother would take offense at that," Del Unser said. "We were nomads a little bit. But we always came back to Decatur. There were eight kids, a good home life."
Al Unser was at Royals Stadium to see yesterday's big hit from his son.
"I don't think it means more to my dad than it does to anyone's dad on the club who loves baseball," Del Unser said. "It just might mean more to him because he came close to winning this thing with either Cincinnati or Detroit. But I know he feels wonderful for me, just like my mom does. My whole family feels good and tired."
Infielders come to Phils' defense
By Allen Lewis, Special to The Inquirer
KANSAS CITY, Mo. – The pivotal fifth game of the 1980 World Series contained all the elements that make baseball an exciting spectacle. It had slugging, running, rallies, suspense, clutch pitching and both poor and outstanding plays on defense.
In the final analysis, though, it may have been a more consistent defense that decided the game in favor of the Phillies, 4-3, and put them within one victory of their first world championship.
The Phillies' best defensive play came in the sixth inning when the Royals scored twice to take a 3-2 lead, and was almost identical to a play that may well have saved the pennant for them in the fifth and final championship series game at Houston a week ago.
The inning began with rookie Marty Bystrom, who did a great job for five innings, throwing an 0-1 pitch that Amos Otis hit over the left-field wall for a game-tying home run. When Clint Hurdle followed with a ground single to center and Darrell Porter grounded a single to right, the Royals appeared on the verge of breaking the game wide open.
Righthander Ron Reed relieved, and U.L. Washington hit the first pitch to left field for a sacrifice fly that scored Hurdle with the lead run. Willie Wilson followed with a drive to the right-field wall, and it appeared Porter would score the Royals' fourth run.
However, rightfielder Bake McBride fielded the ball and threw to second baseman Manny Trillo, whose relay to catcher Bob Boone was just in time to nail Porter for the second out. A foul pop followed, and the Phillies didn't have to face George Brett with a runner in scoring position.
Royals manager Jim Frey, asked if his third-base coach, Gordy MacKenzie, made the right decision in sending the runner, replied, "I can't fault him for sending Porter. Trillo has one of the great arms."
Trillo said, "The minute the ball was hit, I turned and looked for Porter, who had just stepped on second base. Bake gave me a good throw and I looked for Porter rounding third and I knew we had a chance. This time I really wanted to hit (cutoff man) Pete Rose to keep Wilson from going to third base."
Trillo, who had failed to throw out a runner at the plate on a hit to center field in the Houston series, but gunned down Luis Pujols at the plate in the Phils' 8-7 pennant-clincher, made another perfect throw. It was so strong that Rose let it go through to Boone, who made the tag despite Porter's hard slide. The third out came on the next pitch.
Rose called it the big play of the game. "Of course, you can't overlook our hits in the ninth inning," he said. "But we wouldn't have been in the game if Manny Trillo hadn't made that perfect throw to get Porter at the plate in the sixth inning. If he hadn't made that play, they could have gone on to a big inning and taken us right out of the game."
The play that could have helped the American League champions win this game came in their half of the ninth inning after pinch-hitter Del Unser had doubled home the tying run and scored the go-ahead run on Trillo's two-out smash off relief pitcher Dan Quisenberry's glove in the top of the inning.
The last good defensive play by the Phillies appeared to be almost routine, but it wasn't.
Lefthanded relief ace Tug McGraw, who had averted trouble in the seventh inning by retiring pinch-hitter Jose Cardenal on a fly to center, breezed through the eighth, although he had to make a fine play on a bouncer to the left of the plate by the speedy Willie Wilson. He started' the ninth by walking Frank White on five pitches. After throwing a called third strike past Brett, McGraw walked Willie Aikens on four pitches to bring up Hal McRae.
McRae walked up with a Series average of .474, and he almost ended the game with one swing. He hit McGraw's first pitch into the left-field stands, but it went foul. On the next delivery, he hit a ball toward the shortstop hole. Had it gone through, White would have scored from second with the tying run.
But shortstop Larry Bowa flashed to his right to glove the ball, then turned and threw to Trillo at second for the second-out force. Amos Otis then walked, and McGraw fanned Cardenal for the dramatic final out.
"He didn't crush the ball, but he hit it good," Bowa said of McRae's grounder. "What made the play look tough was where I was playing him. I was playing him up the middle. I knew when he hit it I was going to get to it, but I didn't know if I'd be able to plant my feet well enough to get the ball to Manny in time. I knew I could keep it in the infield."
NBC camera work worth a Gold Glove
By Lee Winfrey, Inquirer Staff Writer
NBC deserves a Gold Glove award for its television coverage of the fifth World Series game last night, the networks' alert camera work more than compensating for a few isolated lapses by its announcers.
Tug McGraw and his wife, Phyllis, were the stars on camera, providing the two most unforgettable TV images of the hard-fought game.
NBC captured their two big scenes one after the other in the last half of the ninth inning.
First there was McGraw, patting his thumping heart with his hand after Kansas City's Hal McRae almost hit a decisive home run off him, the ball falling only narrowly foul.
Only seconds later, there was Mrs. McGraw shown in the stands, her head bent down as though she could not bear the tension of watching, her lips moving in silent prayer.
Her supplication was answered when McGraw struck out Jose Cardenal to end the game and capture a 4-3 win for Philadelphia.
Earlier NBC's 12 cameras snooped everywhere, capturing the rear foot of the Royals' Willie Aikens edging illegally beyond the rear boundary of the batter's box, and taking note of the toothpick that the Royals' U. L. Washington always holds in his mouth.
Perhaps the press of time was to blame for a stone left unturned here and there by the announcers. They don't have much time to talk, and sometimes the game can get complicated.
In the fifth inning, for example, the Phillies' Marty Bystrom vainly tried to pick off a runner at first. Ron Luciano, a former umpire providing expert commentary for NBC, said Bystrom's unsuccessful move would have been a balk in the National League, but not, in the American League. He said AL balk rules were being followed last night, but he didn't explain the difference that exempted this play.
Reached by telephone later, Luciano said Bystrom leaped off both feet, twisted in the air toward first base and threw. That was OK last night, said Luciano, but he indicated Bystrom better not try it in the NL's regular season next year.
Luciano likewise couldn't squeeze in a full explanation in the fourth inning when the Phils' Bake McBride bunted and was ruled safe at first. Several replays indicated that McBride's foot and that of Kansas City first baseman Aikens hit the bag practically simultaneously.
Explaining the rule of thumb that an umpire uses in such cases, Luciano said on the air, "He was behind it and the foot closest to you gets it." Unable to unravel the tight compression of this sentence, I asked Luciano later what he meant.
When two opposing feet seem to hit a base at the same time, Luciano explained, "pick the front foot (closest to you), and you're usually right." Since humans normally see close objects better than distant ones, the foot closer to the umpire is probably the winner in hairline cases. McBride's foot was closer to the first-base umpire.
Tony Kubek was in foul territory trying to create a controversy over a great catch that McBride made on McRae against the right-field wall in the fifth inning. Kubek went on and on with his opinion that the ball had bounced off the wall before McBride gloved it. But the replay seemed to show emphatically enough that the catch was a legitimate one.
Rallyin' Phils need 1 more
Unser, Schmidt key win
By Jayson Stark, Inquirer Staff Writer
KANSAS CITY, Mo. – The Kansas City Royals ought to know better by now. They went and took a 3-2 lead over the Phillies into the ninth inning. Everybody knows that's just not safe anymore.
The Phillies have won six postseason games this month, and they have been behind in every one of them. They've rerun this script more times than "I Love Lucy." But somebody must keep stealing the Royals' last page.
The Phillies unleashed their standard comeback show again yesterday, scoring two in the ninth to beat the Royals, 4-3.
Del Unser got the big hit again. Tug McGraw held the lead in the ninth. again. It was all very familiar except for what it all means.
What it means is that the Phillies are a game away from winning the World Series. (Feel free to read that line again to make sure you have it right.) And you don't need Grover Cleveland Alexander or Stan Lopata to tell you that has never happened before. Ever.
The Phillies also have two chances to win that one game, have both games at home and have Steve Carlton and Dick Ruthven ready to pitch them. It all looks so good, you have every right to be panic-stricken.
They even have history on their side. The record shows that 28 times before this year, the Series was tied at two games apiece. Only eight of those times did the loser of Game 5 go on to take both the sixth and seventh games.
"Going to Philly and having to win two games, the probabilities are against you," Unser said. "Going anywhere and having to win two games, the probabilities are against you. So it was good we were able to win this game today."
You might say that. The Phils came to the ninth with only four hits off Larry Gura and Dan Quisenberry. Their only runs had come on Mike Schmidt's two-run homer in the fourth. They had gotten only two runners past first all day, if you don't count the homer.
They led, 2-0, after Schmidt's' ball sailed over the 410 sign in deep right-center. Marty Bystrom had pitched great for three innings, then wriggled out of more trouble than James Bond.
But the Royals came back with a run in the fifth and two in the sixth. Another of Manny Trillo's copyrighted beam-of-light relay throws had cut down a fourth Royals-run at the plate.
Quisenberry had come on to shut down one Phillies uprising in the seventh with two ground balls. He got four more ground balls in the eighth, and needed two of them because a George Brett error had put Bob Boone on second with one out.
So the Phillies were looking at the edge of night, in more ways than one, as they began the ninth. There was every indication that they would have to scratch like crazy for the rally that could forge them a new dawn.
Schmidt came up to lead off the ninth. At third, George Brett thought back on those bunts Schmidt had attempted Friday and Saturday. He moved up a couple of steps, and those steps may have been fatal. Schmidt immediately ripped a bullet off Brett's glove for a single.
"I had no intention of bunting in that situation," Schmidt said. "As a leadoff batter, I was just trying to drive the ball someplace. I did notice Brett was playing me in, though. And maybe that helped me get on. If he was playing me normal, he might have had more time to get my ball."
Unser was next. And hasn't he been the man in the middle of every one of these October comebacks?
He was the man who drove in the tying run in Game S in Houston. He was the man whose double later started the game-winning rally in the 10th inning of that game. He was the man whose double off Quisenberry keyed another eighth-inning comeback in Game 2 of the Series. And he was the man here again. He slammed an RBI double that skipped past first baseman Willie Aikens, scoring Schmidt to tie it. Royals manager Jim Frey took some second-guessing for leaving Aikens and his shaky glove out there in the ninth, but the ball was spinning trickily as it hopped off the dirt cutout, and very few first baseman could have caught it.
"The ball bounced just over Aikens' glove by maybe two or three inches," Unser said. "I hit the ball probably as good as I can hit a ball, practically. I don't know what he could have done on that ball."
Keith Moreland bunted Unser to third. But Garry Maddox chopped the first pitch down the third-base line, and Brett, standing in foul territory, threw him out. It was ruled a fair ball, so there were two out.
Trillo was next, and he got down, 0-and-2, to Quisenberry in a hurry.
"Every time he's come in against me, I've been jumping at the first pitch," Trillo said. "And usually, it's been a bad pitch. The first pitch this time was a fastball. The second was a fastball, too. So all I was looking for was a bad pitch. His fastball is hard to pick up because he releases it really, really low. You can barely see the ball (against) the mound."
Trillo finally got a slider on the 0-2 pitch. He stroked it back at Quisenberry. It deflected off the lip of his glove for a single, Unser scored, and the Phillies had the lead.
All McGraw had to do was hold it. It wasn't so easy. He walked Frank White right off to start the ninth, and he suddenly found himself trying to weave through the scary bats in the middle of the K.C. lineup.
"I went out there trying to throw a 1-2-3 inning." McGraw said. "But it didn't work out that way. Then, as I began to fall deeper and deeper in trouble, I began to pitch very carefully. And that became an added problem, because I began missing a little bit."
He didn't miss on Brett, fanning him on three pitches. He dropped down to get strike two on a sidearm fastball. Then he pumped an overhand fastball over the outside corner for strike three. Brett just looked at it.
"That was one of the biggest thrills of my career," McGraw said. "He's probably the greatest hitter in baseball right now. I don't think it was a physical thing. I think we were trying to outguess each other.
"I don't think he was looking for a strike. I think he was looking for me to waste a pitch. One of the things I thought of was maybe coming in on him real good inside you know, pitch him from the Dickie Noles school of baseball. But I thought Mr. Frey would get all excited. And I was tired already. And I didn't want to hear it. So I just decided to stay away from him."
After that, though, came Aikens, whose slugging percentage for the Series is 1.222. McGraw walked him on four very careful pitches, so it was first and second for the tough Hal McRae, the guy Dallas Green said he least wants to face with the game on the line.
McRae pumped McGraw's first pitch to deep left, It wasn't going to go 500 feet. McGraw knew that. But it did have a chance to go 330 feet, which is how far away the stands are at the foul line.
The ball hooked toward the foul pole and landed three rows into the stands. It also landed foul. McGraw clutched his chest and patted his heart furiously.
"I thought I was gonna have to be rescued by one of those people they signed up for the CPR (Cardio-Pulminary Resuscitation) thing they've been advertising all week here," McGraw said. "I thought the ball had a chance. And I would have been very disappointed if it had gone out. I probably would have had a heart attack."
Of course, the ball also might have been caught by Unser if it had stayed fair by enough. But it was just as well. McRae bounced the next pitch into the shortstop hole. Larry Bowa, who has had a great Series, roamed to his right, snared it and got a force at second.
"I don't think he hit the ball that sharp," said Trillo, who was racing over to cover second. "But it was still a good play. We got the force, but that wasn't easy."
McGraw only needed one more out. But the person he needed to retire to get it was Famous Amos Otis, who. had homered earlier and was hitting a mere .550 for the Series (11-for-20). McGraw walked him, not exactly intentionally, but not exactly unintentionally, either. It was either face Otis or ex-Phillie Jose Cardenal.
"I was trying to make real perfect pitches on Otis," McGraw said. "I didn't really mind walking him. Not that I was looking forward to facing Cardenal. But I thought I knew him better than I did Otis.
"One thing that bothered me was that Cardenal, when he was with the Cubs and when he was with us, was one of toe best pinch-hitters with men on base you'll ever find. So it was a choice of that or a guy I didn't know that much about. But at least I had a little experience going with me against Jose."
Cardenal got to 1-and-2, broke his bat fouling one off and watched disgustedly as the bat sailed to the right of the mound. McGraw picked it up, poked Cardenal in the stomach with it and handed it to him.
"I didn't say anything to him," McGraw said. "But I know what he was saying to me in Spanish. I know Spanish well enough to know it wasn't anything you'd be able to say in church."
McGraw came back to fan Cardenal with his Cutty Sark fastball. ("It sailed inside on him.") But then McGraw had warned Cardenal it was coming.
"I said, 'I hope you know what Scotch is because you're gonna get the Cutty Sark,'" McGraw said. "But he probably doesn't drink anything but rum, so he probably wasn't looking for that pitch."
That out did it for Game 5. Aw, they had it all the way.
Series Notebook:  Both Royals, Phillies are suddenly 'photosensitive' at Series
By Inquirer Staff Writers
KANSAS CITY, Mo. – One of the continuing sagas of the Series has been the daily hassle-the-cameraman episode.
On Friday, the Royals went to home-plate ump Paul Pryor and accused Phillies' videotape photographer Bob Searles of attempting to steal their signs. Searles normally tapes every Phillies hitter and pitcher during each game, and players sometimes study the tapes when they're trying to get out of slumps.
Searles pointed out that you can see more on NBC's centerfield camera than you can from his dugout angle, "and they change signs every inning, anyway." So they let him keep his camera in the dugout.
Then Saturday, the Phillies complained about a Kansas City photographer who had erected a platform behind the centerfield wall. They said there was a glare reflecting in the eyes of the hitters. The umpires made the photographer dismantle the platform.
As it turned out, the delay might have hurt Phillies starter Larry Christenson more than anyone. He had to sit in the dugout and wait during the delay, while Royals pitcher Dennis Leonard at least got to throw a little. Dallas Green, however, said the delay "had nothing to do with" Christenson's quick exit.
•
Lonnie Smith was a last-minute scratch from the Phillies' lineup yesterday. Smith jammed the little finger on his right hand in batting practice Saturday. He played that day, but the finger swelled up overnight.
So Greg Luzinski played left yesterday, and Keith Moreland moved in as designated hitter. Smith eventually ran for Luzinski, then went out for pinch-hitter Del Unser.
•
Everybody knows Willie Aikens is having an amazing Series. But Aikens has decided now that he is a better hitter than Pete Rose. And here's why.
"I know that he's a great player and that he's going to the Hall of Fame," Aikens said. "But in my mind, I would have to give the advantage to myself. I can hit the singles. I can hit the doubles. I can hit the home runs and drive the runs in, too."
•
The Phillies have scheduled a workout today at the Vet at 2 p.m. But the public is not invited. The Royals are not working out today.
•
Last week, Kansas City fans raised a fuss about ABC's coverage of the American League Championship Series, saying that the network's announcers were pro-New York Yankees. Well, NBC is televising the World Series, but some Philadelphia fans are just as upset. "You can take just so much about George Brett's hemorrhoids," said Linda Lerro of South Philadelphia, who has collected 5,000 signatures on petitions to protest what she calls "the announcers' favoritism toward Kansas City."
"When Mike Schmidt hit his home run, they didn't replay it once. But when U. L. Washington and his stupid toothpick do something, we see it 90 times," she said. Lerro plans to send the petitions to KYW-TV, the local NBC affiliate.
•
Royals manager Jim Frey defends his platooning of Clint Hurdle this season, and the outfielder's performance during the regular season would indicate the manager was right.
"The man went up almost to .340 playing only against righthanders," Frey said. "Then I left him in for a while against lefthanders, and he wasn't aggressive at the plate." Frey said he sat down Hurdle against left-handed pitchers, to make sure that he maintained that aggressiveness against righthanders.
"I've seen a lot of lefthanded hitters come to the major leagues and play every day, and they went down the tube and were never more than part-timers after that."
•
On Friday, the Phillie Phanatic, alias Dave Raymond, was told by the Kansas City Royals that he couldn't perform on the field or in the dugouts during the Series. On Saturday, outs during the Series. On Saturday, Raymond says he was snubbed again.
Raymond said the Royals wouldn't let him on the field to take part in the NBC pregame show, taped about two hours before Game 4. A Royals spokesman, however, said he knew nothing of the refusal, and said the Phanatic could have taken part in the pregame show because "it didn't involve fans or anything."
•
Many of the more than 10,000 spectators in Franklin Field for the women's field hockey extravaganza yesterday, which ran from noon to 8 p.m., had transistor radios at their ears and more than field hockey on their minds. In the early afternoon, while Australia battled New Zealand, a roar suddenly erupted from the stands at about the time the Eagles scored their go-ahead touchdown against Dallas.
Later, as the game between the U.S. Olympic team and West Germany drew to a close, the crowd erupted several times during a stoppage of play on the field, when the Phillies scored the go-ahead runs in the ninth and then got the final out to win the game.
Both coaches in the U.S. game were aware of the other events. "Keep me informed (on the Phillies)," U.S. coach Vonnie Gros, a native of the area, said before the game, which West Germany won, 2-1. "We know about baseball in your country," said West German coach Wolfgand Strudter. "We saw the match on television (Friday night), and I have an 'I Like Phillies' T-shirt."
•
It was the ninth inning, one out, the Royals had runners on first and second, and Tug McGraw was on the mound. Hal McRae swung. The ball soared toward the left-field fence – then, finally, curved foul.
McGraw grinned a sheepish grin and placed his hand over his heart in a mock palpitating motion. Bob Boone rushed to the mound for a conference. What did the catcher say? According to Boone later: "Exciting game, isn't it, Tug?" Whatever it really was, McGraw laughed. Boone laughed. McRae grounded out. Jose Cardenal struck out to end the game. McGraw laughed. Boone laughed.
Tug's master of suspense
By Frank Dolson, Inquirer Sports Editor
KANSAS CITY, Mo. – The last out of the eighth inning came on a little hopper Willie Wilson sent down the third-base line. With Wilson turning on the burners, it looked like a certain base hit – but wait. There went Tug McGraw, barreling pell-mell after the ball, grabbing it, whirling and throwing his best fast ball to first base.
"Imagine," Tug would say later, "an old man like me getting over there. I just wheeled and threw."
There was no time to do anything else. "I saw fans and photographers," McGraw said. "I just tried to throw in the middle of them."
And Willie Wilson was out at first.
OK, you say, so what? The Phillies were still down by a run. McGraw's great play didn't change that.
Maybe not, but it surely seni a bolt of electricity through Tug... and next thing you knew, there he was, doing his damnedest to transmit that emotion, that excitement to the men on the Phillies bench.
It would be ridiculous to say that anybody watching McGraw bounding towards the dugout, brandishing his fist at his teammates, imploring them through words and motions to overcome the 3-2 deficit they faced, knew deep down inside that he would inspire them to produce yet another late-inning, game-winning rally.
Rally came off
And yet, rally they did when rally they must.
Now they were ahead, 4-3, and Tug was back on the mound, back in the spotlight, ready to send more waves of electricity through his teammates, his manager, the spectators, through anyone who happened to be watching this latest Phillies drama unfold.
Good, old Tug – every pitch a thrill, every inning an adventure, every win, every save something to cherish.
He is a one-man House of Thrills, this emotional lefthander who somehow has the ability to quiet his nerves long enough to make the right pitch when he absolutely needs it.
You don't protect a one-run lead against the Kansas City Royals by walking Frank White to start the bottom of the ninth. Not when the next KC batters are named Brett and Aikens and McRae and Otis.
But McGraw did. And he also walked Willie Aikens with one out and Amos Otis with two out.
And he lived to tell about it.
Fanned Cardenal
He lived to throw a third strike past an old Phillie named Jose Cardenal with the bases loaded and thrust his fist in the air, and then both arms in the air, and then meet the latest charge of the Phillies' light brigade – the Bobby Wines, the John Vukoviches, and all the rest of the cheerleaders who have grown accustomed to charging off the bench at times like this.
My God, you asked yourself as you sat, bug-eyed, through this latest Phillies trip through the valley of death, who wrote this script? Who could possibly have dreamed up the incredible sequence of events that finds the Phillies just one victory away from their first world championship in history?
Nobody who cares about who wins, who loses, should have to sit through finishes like this, day after day, week after week. Ask Paul Owens, who maybe cares more – surely as much – as anybody.
"With all the games I've watched," the Phillies general manager said when his heart stopped pounding and his voice returned, "my knees were going like that."
And he stood there, in the middle of the Phillies clubhouse, knocking them together.
"I couldn't make them stop. And it wasn't that cold out there."
No, but those were the 1980 Phillies out there. And that was Tug McGraw out there, wearing a Phillies uniform over a T-shirt that had the name of a well-known headache remedy across the front.
"You gave me a headache walking that guy (to start the ninth)," Dick Ruthven called out to McGraw as Tug returned to the clubhouse from the interview room, where he had put on his latest brilliant performance. "Nobody walks White to strike out Brett, you nut."
Wrong. Frank Edwin McGraw does.
"I'm looking forward to a one-two-three inning in the ninth one of these days," Mike Schmidt said when that nerve-wracking, one-two-three-four-five-six bottom of the ninth was finally over.
Ah, that would be too easy. That would be entirely out of character for this ball club... and for this relief pitcher.
The drama had to be played out to the very end. There had to be a three-pitch strikeout of Brett, then a long, high drive toward the left-field corner by hot-hitting Hal McRae that looked for a moment or two as if it might – just might – be a game-winning, three-run homer, then a fine play by Larry Bowa on McRae's bid for a game-tying single.
There had to be all of those things, and then the final twist of fate that left the game – and quite possibly this World Series – riding on a confrontation between McGraw and ex-Phillie Cardenal.
"I looked up at the (score)board," said Mike Schmidt, "and I saw '0 for 5 for the World Series' (for Cardenal) and I just hoped this wasn't going to be a storybook ending with Jose coming back to haunt the Phillies."
Cardenal gave it his best shot. Badly fooled on a two-strike screwball, he somehow managed to foul off the pitch by throwing his bat at it.
The ball dribbled into the Phillies dugout; the bat flew out to the mound, where McGraw fielded it and returned it personally to Cardenal. Did Jose thank him? Apparently not.
"He was cussing me like a son of a gun, screaming obscenities at me," Tug said. "So all I could do was stick the bat in his stomach and then later on up his butt."
First, though, Bob Boone took a walk out to the mound while the fans stood and clapped their hands to the beat of the Royals Stadium organ.
What words of wisdom did catcher Boone lay on pitcher McGraw?
"He comes out," Tug said, "and he says, 'Tuggles, isn't this exciting? " A pause, then, "You've taken it far enough. Let's not make it more exciting. Let's just go get him.'
"I said, 'You're right, Boonie, it is exciting. But,' I said, 'You're right. It's time to cut out the crap. Let's try to get him out.'
"He's trying to relax me. He knows how nervous I get. He's a psychology grad from Stanford University. He's got to be able to know how to handle me."
And Tug McGraw, when all was said and done, when all the hearts had stopped pounding, when all the knees had stopped knocking, when all the fans at Royals Stadium had stopped clapping, knew how to handle this latest crisis.
Did he really inspire his teammates with that emotional march to the dugout following the final out in the bottom of the eighth inning? Probably not. Even Tug was quick to pour cold water on that theory. This is, after all, a group of athletes that seems to be able to find something extra when the tension and the pressure are the greatest.
"I'll tell you what," McGraw said. "I don't really know what my teammates think of me. I just get the feeling that I'm not as much of an inspirational influence as you scribes have made me out to be. I think they probably think I'm just an entertainer or a goofy, weird guy or something... I know there are times when not just my teammates but other players wish I didn't show the emotion that I do out there on the field, but it's too late to change now."
Never change, Tug. You're beautiful just the way you are.