Philadelphia Daily News - October 22, 1980
Pop the Corks!
By Bill Conlin
Bob Boone gloved the last fastball Tug McGraw had left in his weary arm and the Phillies waded joyously onto the East bank of the River Jordan.
Hell, this final scene of the 1980 World Series looked like something Cecil B. DeMille would have filmed in the Promised Land the Phillies finally reached last night with a 4-1 victory. They erupted joyously into each other's arms, surrounded by new centurions on horseback, helmeted soldiery carrying truncheons, snarling attack dogs and a whooping cast of 65,838 extras aflame with passion, eyes blazing with the town's first World Series title.
The Game 6 script was dramatically correct. Steve Carlton, the Sphinx of the Schuylkill, paralyzed the Kansas City Royals for seven wonderful innings while leading man Mike Schmidt and Company carved him a 4-0 lead. When Carlton put the first two Royals on base in the eighth, Dallas Green, heeding a "Lefty's had it" signal from Boone, brought in Tug McGraw to part the rally-tossed waters of the Red Sea one more time.
THIS TIME McGRAW was out of miracles. His tank was empty; his cup ranneth under. He knew warming up that if he did it again it would be with mirrors, with memory, with whatever little extra he could reach back for and somehow find.
He survived a bases-loaded crucible in the eighth, allowing only one run.  While the Phillies were going out 1-2-3 in their half of the inning a bizarre thought struck Green in the dugout. "I was talking to Garry Maddox and he said, 'I think he's going for the save,' and I said, 'Christ, I think you're right. Maybe I better go talk to him. ' So I went and talked to him and said, 'Hey, Tug, let's not make this SOB as overly exciting as we're trying here. '"
So there was McGraw in the ninth, the bases loaded and only one out. There were suddenly 658,380 white knuckles in the Vet, 658,375 if you count Phillies special assignment scout Hugh Alexander, who helped orchestrate the plan for keeping sprinters Willie Wilson, U.L. Washington and Frank White off base.
"Ah was thinkin' don't let that kid make me look bad now," Alexander drawled. "Ah could see Tug didn't have that good, live stuff." 
White hit a foul that came down in front of the Phillies dugout. Boone has the surest hands in the catching fraternity and he hasn't dropped one in years. You could trust him to catch an infant dropped from the 10th story of a burning building.
BUT HE DROPPED this one. In one of the most remarkable reflex plays in memory, Pete Rose gloved it before it hit the track or was snapped up by a German shepherd. He looked like Samu the Killer Whale surfacing to snap up a thrown herring.
"It didn't surprise me that Pete did it," McGraw said. "He's always there when you need him."
McGraw still had Wilson to deal with, a 230-hit collector during the regular American League season, who in this tournament resembled a windmill jousting with Don Quixote. Wilson had already tied the Series record for most strikeouts when Carlton blew him away in the first and third innings.
McGraw knew he had a pressing, confused fish on the end of the line. The question was as the count went to 1-2, did he have the strength to reel him in?
"I was saying to myself, 'I really have a chance to be a dog out here,'" Tug said. "I was out of gas on the mound for the first time this season. I had visions of Wilson getting a hit and them sinking the tugboat they named after me yesterday. Or maybe they would have re-named it, 'Tug McGraw's Sinker. '
"Rather than get myself hyper about it I decided to use it as a motivating tool. I got myself up to throw one, last, good fastball."
It did not challenge Nolan Ryan's 103 MPH record. But it blew by Wilson's late swing and McGraw, like F. Scott Fitzgerald's gold-hatted, high-dancing lover, gave one final, triumphal leap.
"I DON'T KNOW what Dallas had in mind," he said, "but if I didn't get Wilson I was calling him to the mound because I had nothing left.  Nothing. "
Green began to feel the first rush of euphoria when Carlton completed hispre-game warmups to Keith Moreland and flashed a thumbs-up sign like a World War II bomber pilot taking off for a milk run over an undefended target.
In the first inning, he had the kind of stuff that put the press box on no-hitter alert so many times during the regular season. He was overpowering and the slider was there.
But in the second inning the Royals went into their four-corners stall. Amos Otis was stepping in and stepping out, pawing in the dirt, resining his bat handle. Carlton walked him. Willie Mays Aikens did the same number and also wound up looking at ball four.
In the fifth, Carlton struck them both out.
"I know Lefty wanted to drill one of them right in the damn knee," Green said. "But we weren't in that situation. Lefty went after those guys to embarrass them, I know that. I know he was trying for a strikeout every time and he got a couple of 'em. That hurts 'em just as much as popping 'em sometimes. He's a concentration guy and when you break that concentration it bothers him somewhat. But he's also been through that before in the National League and when guys try it, Lefty's usually up to it."
The offense broke through for Carlton in the third against towering righthander Rich Gale, whose selection over experienced lefthander Paul Splittorff will be second-guessed in Kansas City as long as there are prairies.
BOONE LED IT off with a walk and the Phillies wound up with runners on first and second when White committed a rare error at second. The Gold Glover fielded a routine bouncer by Lonnie Smith and his throw to second pulled U.L. Washington off the bag.
Pete Rose gave the vast national TV audience an at-bat that had to have people who know and love the shades and nuances of inside baseball in ecstasy, faking the bunt, faking the bunt again, swinging away, faking the bunt, and finally dropping a 3- 1 pitch toward third that had George Brett backpedaling toward the bag. Rose legged it out and the bases were loaded with nobody out.
Mike Schmidt, who won the World Series MVP Award and the $5,000 scholarship for the college of his choice that now goes with it, lashed a line single to right-center. Boone scored. Tumbleweed Smith scored despite falling down after rounding third and the Phillies led, 2-0. That was all it would take, despite McGraw's two-inning, six-left-on-base performance.
The crowd, more orderly than that at some Friday night regular-season games, built slowly toward the finale, chanting, waving banners, exorcising all the ghosts, goblins, goats and gossamer images from a history of deep valleys and brief foothills. For one unforgettable evening, who gave a damn about Bunning and Short, Bunning and Short, Bunning and Short. Gene who? The Whiz Kids faded serenely into history, a team which fell four victories short of what this team accomplished.
THEY ROARED WHEN Smith legged a single to center into a double leading off the fifth and exploded when he scored on Bake McBride's slow chopper to short after motoring to third on Rose's fly to center.
They roared with the frenzy of a Roman Coliseum mob in the sixth when Bowa doubled to left batting right-handed against reliever Splittorff, Wilson playing him so wrong that National League scouts must have been chuckling.
The shortstop, who had a grinding, emotional, born-again Series, scooted home when Boone lined a single to center.  It was 4-0. And the way Carlton was burying the Royals, it was as good as history.
But nothing has come easily to this fascinating collection of athletes this season. Destiny would not permit them to claim their rings, their World Series checks, their places in the game's lush folklore, without their backs being pinned to the wall one more time.
Carlton's last powerful inning was the sixth, which he ended with his seventh strikeout. In the seventh, George Brett ripped a leadoff single and with one out, Otis sent McBride to the warning track for his long fly.
"He was starting to feather his fastball," Green said. "But until the end his fastball was there tonight. And if you noticed, he used his fastball a lot more tonight. I think Lefty noticed from the first time that they were a little more disciplined than a lot of National League teams that he faced and a little more disciplined than we would like. And he went with the fastball and stayed with it. The extra day of rest was the key. That was my thinking all the way. It was a gamble to throw a kid out there in Game 5, but it's not much of a gamble when you've got Marty Bystrom to throw out there.
"I KNEW I had Lefty and Rufus (Dick Ruthven) back-to-back and if they beat us there they beat us with our best. I just figured the extra rest would do Lefty so much good that he'd be a power pitcher again. And he was tonight – a power pitcher. "
So Green handed the ball to the reliever they named a tugboat after. Dallas had to believe Tug could do it one more time after doing it so many times in the most exhausting October of his career.
And McGraw threw that strikeout pitch in an atmosphere more in keeping with the Chicago 7 than the Philadelphia 9.
With horses pawing the turf, attack dogs baring their fangs, riot police ringing the box seats, with 65,838 people screaming for him to close it out, Tug reached back for all he had left to give.
And, to paraphrase William Butler Yeats, 97 years of stony sleep were vexed to nightmare by a rocking ballpark. And this rough beast of a ballclub slouched toward JFK Stadium to be reborn.
Single Big Hit for MVP Schmidt
By Bill Conlin
The Schmidts of Dayton, Ohio, are a tightly knit family and the one they named Michael Jack was hoping his grandmother, a pleasant white-haird lady who cheered his appearances in Cincinnati, could be here for this. 
But his grandmother, the pleasant white-haired lady named Viola, died last month and she missed his magic moment, the World Series he starred in, the one where he last night was named Most Valuable Player.
Schmidt did not explode on America the way Roberto Clemente did in 1973.  He did not have the emotional impact of Willie Stargell last year.  His stats were .381, 8 hits, 2 homers, 7 RBI.  Hell, he's doubled those power stats in just two games during regular seasons of his career.
But this was the message that he wanted to give to America, that Michael Jack Schmidt can do more than crush home runs in brief, furious flurries.  He wanted to show the nation that he could field his position, run the bases, display the emotion appropriate to a showcase of World Series magnitude and handle the interminable round of interviews and other distractions with grace and style.
His grandmother, Viola, would have been proud.
He was locked in a tight race for MVP with a trio of Royals mashers, with Tug McGraw, Larry Bowa and Steve Carlton on his own team.  But the man who won the Division title with a memorable home run in Montreal, who slumped during the incredible, roller-coaster that was the playoff with Houston, delivered the gamer last night.  And the two-run single he slashed to right in the third inning swung the balloting by a national sports magazine his way.
They used to give a Series MVP a sports car.  And that was another bauble that had to be declared when income taxes rolled around.  Now it's a $5,000 college scholarship, a tax deduction, and Schmidt will donate the award to his alma mater, Ohio University.
"I can't get a hit any bigger than that," Schmidt said after the Phillies beat the Kansas City Royals, 4-1, to win the World Series in six games, a World Series that a guy who masquerades as a wire service sports editor called the dullest Series since the Cardinals beat the St. Louis Browns in 1944.  "I got the game-winning hit in the final game of the World Series and I guess you can't do anything better than that.  I'll stand behind what I've been telling you guys all along about personal goals versus team goals, but this has to be the highest point of my athletic career without question."
Yeah, higher than his four home run titles, higher than the four home runs he stroked on a memorable 1976 afternoon in Wrigley Field, higher than the four Gold Gloves or the All-Star game selections.
"I can't get one any bigger than this, I guess," he said in a clubhouse so jammed with media, well-wishers and dazed players there wasn't any room to move your arm let along throw champagne.  "Maybe Houston in the playoffs one or two at-bats I tried to do too much, tried to carry the club, tried to break the game open.  I wound up carrying the bat back to the dugout and I hope the good Lord proved to me that I should never try to do that.
"It's not a selfish kind of thing.  Sometimes you get so much adrenaline pumping you can't control it.  If you cannot hit the ball out of the ballpark you're less apt to try and carry that load.  But being a home run hitter, as much as you try to hold back when you go up there you find yourself trying to carry too much weight on your back.  First thing you know, you're back in the dugout."
His disciplines at-bat against Rich Gale in the pivotal third seemed to sum up everything Schmidt has been trying to say for years of playing and thousands of words of self-analysis.  Take a nice easy swing, hit the ball where it's pitched and don't worry about the home runs.  The home runs will come as surely as pitchers make mistakes and hitters guess correctly.
It is ironic that the hit which won him the World Series MVP award was the one he has always said he needed in his repertoire to be a complete hitter- the single to the opposite field.
"All I had to do that last game in Houston was hit a ground ball to short and we win the game," he said.  "So I looked at a third strike and walked back to the dugout and the good Lord proved something to me right there.  When I got back to that dugout Del Unser hit a single up the middle and made all this possible."
A Tale of Two Lefties
By Tom Cushman
It seemed altogether fitting on the final night of the grand adventure- as the police dogs and the horse soldiers pranced in the background- that the two guys whose left arms had lifted the Phillies away from the gravitational pull of history would be out there one more time, reprising their disparate acts, flawlessly.
Leading 3-2 in the longest World Series in which the Phillies had ever participated, Dallas Green handed the baseball to Steve Carlton.  Lefty returned it after seven powerful innings, along with a 4-0 lead and two baserunners who represented the only beachhead the Royals had managed to that point.
Later, wishing to congratulate this man, who surely will be remembered as the finest starting pitcher 1980 offered, Green had to force a path through the pockets of celebration and interviews before finally arriving at the gates of the Phillies' Valhalla.
Entering the trainers' room, which is off-limits to civilians, Dallas Green found Steve Carlton as he knew he would.  The two embraced and exchanged pleasantries while reporters peered through small panes of glass in the doors, the only available windows to Steve Carlton's special world.
What Carlton began last night, Tug McGraw finished.  In his own good time, bringing his manager, his teammates, his chosen city in after a roller-coaster of a ride through the final two innings.
"With all these people watching on television, I hate to make the game boring," said Tug, who seldom disappoints anyone.  Bases-loaded situations in both the eighth and ninth innings last night helped preserve this image.
"The eighth inning was fun," he later recalled, "but my arm was so tired in the ninth all I wanted was for the Royals to please hit the ball at one of our guys.  I could see the security people lining up, all the animals behind home plate.  Tired as I felt, I wasn't about to go to the dogs."
Dallas Green did not have to hunt for Tug McGraw on the night that the World Series championship came to Philadelphia because Tug, as always, seemed to be everywhere.  "I'm not very good at making concise statements," Tug said to those reporters who had opted for the mass interview area, "but I think this is the proudest I'll ever be as a baseball player.  It took us a few months under Dallas Green to catch on to what he was saying, but then we got the program together.  To me, Dallas is one helluva man.
"Now if you'll excuse me," Tug McGraw added, "I need to go back to the clubhouse, where there's more champagne."
But the Tugger was to be interviewed in the hallways, and the doorways, and in the manager's office, and on the way to the trainers' room, where he spent several minutes exchanging compliments with Steve Carlton and others who chose to lift their bottles within that sanctuary.  From what little can be gleaned from his post-championship performance, Carlton- a professed connoisseur of the grape- seemed pleased by the results of the evening.  I mean, fine wine seldom come in half-gallons.
As the doors to the trainers' room open again and Tug re-emerged to resume his exchange with the media, the wear finally was beginning to show.  The words, which have flowed like the pitches during these hyper-active days of September and October, slowed.
"I've been asked so many times already to compare this with the Mets' victory in the Series," he said.  "It's difficult to look back and make judgments right now…  but I do know that New York had had a lot of championships.
"I live in Philadelphia now, and after six years of being here I think I've been able to get the feeling of the frustration this city has experienced.  It's a very heartfelt thing for me to be part of the team that broke through after 97 years.  I get the feeling that W.C. Fields is out of his grave tonight, celebrating.  I got to believe that Benjamin Franklin turns over for this."
As Tug McGraw addressed his considerable audience, Steve Carlton continued to receive preferred guests in the trainers' room.  Ruly Carpenter was one of those who called.  Tim McCarver, Carlton's interpreter during earlier years, was hugged.  Others from the front office were awarded handshakes.  Teammates also dropped by occasionally, sharing bottles along with their thoughts.
"The ninth inning tonight might be the hardest thing I've ever had to deal with," Tug McGraw was saying outside the door.  "I've been in a couple of games before which I'd rate as '10s,' but with the crowd and the situation being what it was, this one might have gone over the hump to '11.'
"I can remember seeing the dogs behind home plate and thinking, 'What I need out of this is one more K.' But my arm was so tired.  And then Pete (Rose) caught that ball off Boonie's glove, and all I could think was, 'God, there's one more pitch I don't have to make.'  It became, at the end, a matter of not throwing a klutz pitch.  I'm exhausted, physically, mentally.  I can't even think of anything clever to say."
Seated on a table in the trainers' room, while media people from across the land kept a vigil which promised to continue into the early morning hours, Steve Carlton said nothing, whether he could think of it or not.
Outside, where the real world was working off this special moment in the history of a city, serenity was not the order of the hour.  There were attempts at one point to requisition the press elevator at the same time for both the first level and the sixth.  "I've got a heart attack upstairs," one guys explained.
"I've got a guy downstairs who fell out of the stands and busted his neck," said another.  And so on.
Meanwhile, in the Phillies locker room a reporter from a New York newspaper forced his way through the congestion until he reached the area where Mike Schmidt, the MVP of this series which belongs to Philadelphia, was entertaining.  The man delivered to Schmidt a basket of fruit and candies, then whispered in Mike's ear.
"You're kidding," Mike Schmidt said.
The basket had been sent by George Brett.  "George said to tell you it will help your hemorrhoids," the guy pointed out.
Thinking back over the moment now, that statement was – in the context of this lovely, slightly daffy, irreplaceable moment in Philadelphia's history – the end.
Finally, Happiness for Bowa
By Stan Hochman
Larry Bowa sat on the clubhouse table the Phillies used to use for pre-game card games, his right fist wrapped around a champagne bottle, almost menting in his grasp.
Dallas Green approached and grabbed the shortstop around his scrawny neck, with the same glass-melting grip Bowa had on the bottle.
Green pulled him close and whispered in his ear.
"You're a winner," Green rasped.  "You… are… a… winner.  You play my game."
Bowa grinned so hard his teeth squeaked.  "Thanks, Dallas," he croaked back.
The curtain was swooping down on an opera of a season, an opera screechy with harsh sounds and high-pitched discord.  And now, two guys who had banged swords until the sparks flew, were speaking in passionate whispers.
Only in America.  Only in Philadelphia.  Only in the Phillies' clubhouse.
As woeful as Bowa had been the first four months of the season, that's how wonderful he was the final four weeks.
He hit .316 in the playoffs and .375 in the World Series.  He doubled last night and scored a run and bounced back to the dugout on an invisible pogo stick to slap palms so hard, guys were tingling for two innings.
"Yeah, I show my emotions," Bowa said.  "But you can't tell other guys to be that way.  Pete Rose, he runs on his own batteries.  Mike Schmidt, he runs on his own batteries.  Garry Maddox, he runs on his own batteries."
Bowa has the thinnest skin and the shortest temper and the longest memory in the clubhouse.  He wears a size eight shoe and it spends a lot of time inside his loud mouth.
"You get frustrated," Bowa said, his eyes aflame, his teeth glinting.  "I'm the first to admit I say things I shouldn't say."
Like calling the fans front-running bleepers after a September screecher against the Cubs.
"The fans have been great," Bowa said.  "They have supported us.  But that one night they were bad.  Awful.
"I'm not backing down on that.  There's no sense lying.  We walked in here and 25 guys wanted to say the fans were brutal.  None of them wanted to say it (out loud) so I said it."
The fans reacted and Bowa rode the boos like a California surfer, through the crazy tides of September.
"I was lousy those first four months," Bowa said.  "I didn't start playing 'til August.
"I got into a defensive slump, an offensive slump.  I didn't know how to handle it, but that happens after 10 years.
"It wasn't Dallas who made me do that.  It was very bad mental discipline on my part."
Discipline.  Bowa used the word over and over, slinging it through the champagne-scented air like a harpoon.
"The difference," Bowa said," as much as I don't want to admit it, was Dallas' discipline throughout the year.  Not just Monday and Tuesday, but Monday, Tuesday, Wednesday, Thursday, Friday, Saturday and Sunday.
"That had a lot to do with this team not quitting.  We needed a guy to come in when we were watching a football game and say, 'You're watching a stupid-assed football game and missing batting practice?'
"A guy who yelled at Mike Schmidt making $600,000 a year and John Vukovich, making the minimum.
"I don't think it's fair to say the whole ballclub needed discipline.  It's not fair to say 25 guys needed discipline.
"But you would think veteran players knew when to turn off the TV, and not be watching it until game time and go out there without having touched a baseball."
In Philadelphia the click of a television knob echoes from Manayunk to Marple-Newton.  The shuffle of a deck of cards can be heard in Bala bars and Tinicum taverns.
"All the problems we had," Bowa said, "were the same problems everybody else has.  They're blown up here.  Sure, we had our problems here.
"But Dallas Green handled the pitching staff as well as anybody's in baseball."
The hatchet, glistening with champagne sweat, was being buried.  Bowa was joyous on the surface, but still nursing wounds deep inside.
"I won't forget," he said.  "I won't ever forget the guy who said I hit like a Little Leaguer when I first came up.
"And I won't forget that no one thought we'd win the division.  And no one thought we'd beat Houston.  And no one thought we'd win the World Series.
"But we proved 'em wrong.  We weren't the overpaid, don't-want-to-win, low-key athletes people were saying we were.  And now, the feeling is unbelievable.
"We are the best baseball team in the United States of America.  We are the best.  No one else can say that.
"But we're not a great team.  We're not a dynasty.  We're a good team."
Only a good team?  How then did this good team win the championship in six hairy-necked ballgames?
"We took advantage of every opportunity, every break," Bowa said.  "An error they made, a base on balls.  We just took advantage.
"Even tonight, the play at second base where they call (Bob) Boone safe.  I've seen that called 1,000 times the other way, whether the shortstop's got his foot on the base or not.  A break.
"Before, we didn't take advantage of breaks that came our way.  We'd lose in the playoffs and people would call us chokers.
"I'd make appearances in the winter and the question-and-answer thing was always the same.  'Why do you guys choke?  Why have you guys let us down three times?'
"Not only did we let them down, we let ourselves down.  We were a good team.  People should be satisfied with a good team.
"And last year we had injuries and finished fourth.  People don't want to hear about injuries."
People who have never seen a World Series game in town for 30 years don't want to hear anything that resembles an alibi, but Bowa filed all those cranky barbs in his vivid memory bank.
And when he ran out of local needling, someone would eavesdrop on the national telecasts and scurry to him with warped gossip.
"I got tired of hearing what Tony Kubek was saying about me," Bowa snarled.  "I dove for a ball in Kansas City that Clint Hurdle hit.
"I'm on my belly, I get up, I just miss getting him at first.  And they say that two years ago I'd have thrown him out.
"I took Kubek out yesterday and made him stand behind me and watch me throw.  He said, 'Uhhhh.'
"Hey, I'll be the first to admit I don't do the things I did at 25, now that I'm 34.  But McGraw is 38 and Rose is 39.  Sure, you lose a half-step and your arm is not as strong.
"But I am a winner.  I can play."
He played well enough to set a World Series record for starting the most double plays, eight.  And he threw one ball last night that had the radar gun whirling like a slot machine.
The slate should be clean now, but Bowa cannot abide a clean slate.  He needs the graffiti of cynicism to keep his batteries energized.
If he couldn't forgive, at least for one night he tried to forget.
"This is the greatest moment I've ever had in uniform," he said.  "I've played in All-Star games, I've hit .300, I've got some Gold Gloves, but this is unbelievable.
"I have dreamed this since I was five.  Don't tell me no.  I know what I was doing at five.
"I was throwing the ball against the garage door.  I'd chip the paint.  My father would have to paint it four or five times a year.
"And for him, this has to be the greatest moment in his life.  He came here, all the way from Sacramento.  He has scrapbooks, one for every year, 10 of 'em.
"He'd tell me, before he goes, he wanted to see us in a World Series.  I said, 'Dad, I want to be in one too.'
"And now, I'll remember 1980 as long as I live.  I'll forget 1976, when I hit .305.  I'll forget the three years in a row we won the division title.  But I won't ever forget 1980.  
Rose Was Johnny on the Spot
By Phil Jasner
Later this week, after you've thoroughly discussed this World Series championship, after you've read the papers, scanned the TV replays, savored the parade and put your thoughts in some semblance of perspective, ask yourself this:
Isn't this the reason the Phillies got Pete Rose in the first place?
"You'll have to ask Ruly (club President Ruly Carpenter) that," Pete said in the clubhouse early this morning, after his team had won, 4-1, ending a frantic six-game scramble with Kansas City.
"If he got me just for this, though, I wouldn't have had to play 'til today, would I?"
He was a gem in an acre of diamonds, getting those hits, bunting successfully to load the bases in the two-run third, making a remarkable, acrobatic save on Frank White's ninth-inning foul pop that tumbled off catcher Bob Boone's glove.
"When it was hit," Pete said, "it could have been either one of us making the play.  I couldn't hear him, but I happened to see him make the call…
"Normally, it's his ball, and with a man on third, I'd be the cutoff man to home.  But with all the cameras over there near the dugout… all the equipment and stuff, I thought there was a chance he might trip or something.  I stayed there, I normally don't do that.
"He's so good on pop-ups… I've played with Johnny Bench and Bob Boone, and those guys just don't drop the ball. It wasn't a mistake, though, it was a tough play.
"Ah, I don't think the guy on third (pinch-runner Onix Concepcion) knew what happened.  But everybody went to the right spots.  Tug (McGraw) went home… it was a good play, but it would have been a great one if the runner had gone and we had gotten a double play.  The game would have ended, and nobody would've known."
People watched the Phillies fidget, squirm, squabble and bluster all year, nobody knew what they were gonna do, either.
"I think we showed a lot of heart after we lost those four games in Pittsburgh," Rose said.  "We ended that road trip 7-and-5.  Dallas (Manager Dallas Green) had a chew-out meeting, and, for whatever reason, we just relaxed.  You don't expect a chew-out to have an effect overnight… it takes some time.
"This team seemed to really learn a lot the last two months.  We learned how to play together, how to approach a big game, how to attack a big series.  We won 21 of our last 28 on the road, and you've gotta take your hat off to a club that can do that.  And we never did it the easy way, either.  We had to be backed into a corner first."
Maybe the Phillies, before last night, didn't know about World Series championships, but being backed into corners, that they knew about.
"These guys have been so close so many times," Rose said, "it probably means even more to them to win now.  The fans?  All they wanted us to do was what we accomplished tonight."
But isn't Pete Rose the one who told us he's not a good World Series hitter because he doesn't know the pitchers?
"And if you analyze what I did in this one," he replied, "you'll see I got no hits the first game, no hits the second, one the third, then finished strong because I had seen those guys throw.  If the World Series was 51-out-of-100, I could get a lot of hits.  But it's still four-out-of-seven.
"I was the MVP (for Cincinnati) in '75, and I was so excited because that was probably the best Series ever played, or so they tell me.  It was my first time, in my hometown, how exciting can you get?
"This, though… this is the first trip through this little bed of roses for these guys.  Too bad it's a year late, but we just couldn't overcome what we had to go through.  We had 23 guys on the disabled list, six broken bones…  I was the only one who didn't get hurt.  We could have brought in three Pete Roses last year, and it wouldn't have mattered.
"This team is different…  it's even a different team than it was in April, May and June.  They attack big series now, they have the kind of feeling that, even if we're down 8-0, we think we can come back and win.
"Pressure?  I'm a firm believer that all the pressure is in the playoffs, that there's no pressure in the World Series.  But here, with this team, the pressure can build up, and people don't want to hear all the bullbleep.  These fans came in raring to go…  they were after something they had never had.  And when it was over, they stayed off the field.  I would've too, with all the dogs and horses.  With all I saw out there, I thought we were playing winter ball in Venezuela.  Only there they have machine guns, too."
There was a parade of questions and answers before the parade that will trudge through the city streets today, and Rose fielded everything sharply, quickly, with amazing patience, and ability to shut out the cacophony surrounding him.
"You could throw the squirrels and the birds in, and you wouldn't have had as many people at the parade in Cincinnati as they'll have here," he said.
"Might you retire?" one frenzied guy asked.
"What the hell should I retire for?" Pete said.  "Well, I got only 185 hits, maybe I should retire."
Well, then, did he thin Green would return as the manager.
"Yeah, I think he will," Pete said.  "I don't think he got across to us all that he wanted to get across.  I think there's more he'd like to do here."
And what will Rose do?
"I guess I'll be around 'til he does retire," he shot back.  "I mean, you can't have two managers."
Oh?
"And I don't want to take a pay cut yet," he giggled.
And then Pete Rose glanced around the bizarre room, bring together all the plays, all the players.
"We've got Mike Schmidt, the MVP, Steve Carlton, the Cy Young winner, Tug McGraw, the best bullpen pitcher," he said.  "Maybe this isn't the '61 Yankees or the '76 Reds, but it's the best club we've had.  Somebody asked me if winning a third World Series makes it old hat.  Old hat?  Coming to a new city, doing this, how could anybody think that?"  
Victory Makes It All Worthwhile
By Ray Didinger
At 11:45 p.m., with the stadium erupting around him like a concrete volcano, with the entire city reeling along the banks of the Delaware like a sailor on shore leave, Dallas Green retired to his office to talk to the President.
No, not Ruly Carpenter, the Phillies president. Hell, Dallas Green talks to him all the time. On this night of the Phillies' deliverance into the Promised Land, Dalls Green had a direct line to the Oval Office where Jimmy Carter
himself was waiting to extend his congratulations.
Dallas Green was standing behind his desk, his head tilted to one side, his eyes closed, the phone pressed against his ear. He had one hand on the World Series trophy, the other on a freshly opened bottle of Great Western champagne.
Flashbulbs were popping all around him. Mayor Bill Green was edging through the crowd to shake his hand. The White House was on hold. God, if only Gene Mauch could see Dallas Green now.
IT WAS Gene Mauch, you might recall, who said Dallas Green, a big righthander with the pop-gun fastball, would never make it in big leagues. Well, Gene, Dallas made it last night and he wept as he finally staggered onto the mountaintop.
Dallas Green was there in the jubilant clubhouse, wiping away the tears with his wife, Sylvia, and their four children. Suddenly, his weary eyes snapped to attention. The President was on the line.
"Well, thank you, Mr. President," Dallas Green said. "Yes, we're all thrilled. The City of Philadelphia has waited a long time for this moment and we're all enjoying it.
"There were a lotta people who said we couldn't do it but I think we proved ourselves in this Series. We played our hearts out to win this thing. "
Green paused, allowing the Chief Executive to get in a few words. Green laughed that big, thunderous laugh. Surely, Jimmy Carter hadn't heard anything like it since the day the silo blew up back in Plains.
"Well, I understand you're more of a football buff," Green said, 'but one of these days we're gonna get you up here and show you how to play baseball. "
Dallas Green hung up, shaking his head. Someone asked him what the President had said.
"He congratulated us," Green said. "He said he watched as much of the Series as he could between briefings and enjoyed it. "
"What did he say that made you laugh?" a newsman asked.
"OH, HE SAID he didn't play much baseball," Green said. "He said softball was his game. That's when I told him to c'mon up here. We'll show him what good, old-fashioned hardball looks like. "
Good, old-fashioned hardball, that's the game Dallas Green taught the Phillies this summer. He took over a elitist team that played baseball in a tuxedo and turned it into a street-corner gang that rolled up its sleeves and scrapped its way through September and October.
He took a team that had all the fire of a string quartet and made them play hard rock. The Phillies were once a team of royal Lipizzan stallions, all polished brass and heads held high. Under Dallas Green, they became Cossacks shrieking through the playoffs and World Series.
Dallas Green brought this team to its first World Championship. In truth, he dragged it by its earlobe, like a father tugging a whining toddler to the dentist's office.
But, last night, in the heady rush of a 4-1 victory over Kansas City, a summer of bruised feelings washed quietly away. It was an evening when the manager's "We, Not I" philosophy settled gently over this team, an embrace rather than a hammerlock.
Watching Dallas Green leave the celebration and run down the tunnel to take a bow for the crowd, watching him hug his players as they now returned, dripping champagne, to the field, it was like watching a farmer harvest the crop he had wanted a lifetime for.
PHILADELPHIA and Dallas Green they had seen a lot of tough times together. But last night, the city and the manager took a long swig of champagne and washed 30 years of ashes from their mouths.
"What do I feel now? " Dallas Green said later, slumping against the wall, grabbing weakly for a beer. "I feel drained. I feel as if I've given everything I've got to give but, goddam, it feels good to be on top.
"I know the players are happy and I'm happy as hell for them. But, in their own way, they can't appreciate it this the way I can. I've been a Phillie for 25 years. I've been through so many lean years, it's been like a damm famine.
"I made a stop at every level in the organization - player, coach, manager, farm director. I have a feel for what this win means for all the people behind the scenes, like the secretaries and the front-office staff. I know how they feel right now.
"It was a very emotional moment when I came in here (the clubhouse) and saw Paul Owens," Green said.
"He was standing there on the (TV) platform and he had tears in his eyes. I thought about all the nights when we felt like we were beating our heads against the wall. Now it was finally paying off.
"I love the man and I believe he loves me and we hugged each other there for a while and I guess that's when it really sank in. We had won this damm thing. We accomplished what we set out to accomplish way back when. "
Dallas Green gave his press conference in stages, pausing to answer a question or two as he made his way through the cluttered locker room. "I gotta see my players," Green kept saying. "Where are my players? "
EVERY TIME Green spotted one of the Phillies in the middle of a swarm of newsmen, he would work his way through the crowd to hug him and personally thank him for the season. He hugged them all, even the ones he wanted to drop off the Walt Whitman Bridge just a few weeks ago.
"I'm proud of all these guys, every one of them," Green said. "You talk about courage, you talk about character. This team showed more guts the last month of this season than any team ever. You look at all the games we won by one run, all the 'must' games we won.
"I take my hat off to them. I'm including guys like Larry Bowa and Garry Maddox, guys I had my differences with during the season. Hey, when we needed them down the stretch, they busted their butts for this team.
"I can't say this surprises me that much," Green said, "I felt at the start of Spring training that we had the talent to go all the way. I told the players that at our very first meeting in Clearwater.
"I said, 'Hey, we've got the personnel to win this thing, but we're gonna do it my way. ' There were some doubters in the group, there were those who resisted but I just had to show them that my way was the best way.
"I had help. Pete Rose pretty much explified the kind of spirit I'm talking about. He was sliding on his belly, breaking up double plays. Pretty soon, even our cool guys were sliding on their bellies. Our bench? Hey, you never heard so much noise in all your life.
"THIS TEAM was juiced. Once we hit September, I knew we were gonna win it. I could feel it, the electricity was in the air. I think Larry Bowa said it best. He said this team had some ghosts to put to sleep and these guys were anxious to do it.
"Along the way," Green said, "I made a few guys unhappy. I probably made a few guys miserable, in fact. But it was all for a reason. This (nodding toward the celebration) is the reason.
"I don't see any miserable people in here now, do you?" he asked.
Someone raised the question of 1981. Would Dallas Green now step down as manager and return to the front office? He had raised the possibility more than once.
Now, as only the fourth man in major league history to win a World Series in his first year as manager, would seem a perfect time. After all, what is left to accomplish?
Green moved his head to one side, as if to let the question whiz harmlessly past.
"I don't know what I'm gonna do next year," he said. "Hey, gimme a break, will ya? We just won the World Series. Let me savor it for one night, please? "
After waiting 25 years, Dallas Green is entitled to at least that much.
A City of Children
By Larry McMullen
By 1 o'clock of the morning after the 1980 World Series was completed, the Phillies' fans had breathed up all the air around Broad Street in South Philadelphia and replaced it with beer fumes.
At Snyder Avenue a kid who was about 16 shoved a forefinger into the air, destroying a delicate balance he desperately needed.  He fell flat on his back in the middle of the street, closed his eyes and passed out.
A beer bottle sailed high from a crowd in the middle of the street and miraculously found an open spot of ground, where it shattered.
Two tough guys, annoyed at some failure in street manners, raised their fists and started a mean, circling dance.  A helmeted policeman hurried between them and raised his club threateningly.  He didn't use it.
Drums were banged, bugles were blown, car horns were blared.
The kids on the street heard music in the noise and did the Mummer's strut to it.
Across the street, a camera crew from NBC-TV in New York began recording this lunatic parade.
Ten, maybe 15, kids saw the camera at work and leaped onto the top of a parked Toyota, caving in the roof.
Helmeted policemen ran toward the car.  The kids jumped from the smashed roof.  The policemen slowly retreated to a place where they could watch and, maybe, not interfere.
From south of Snyder Avenue as far north on Broad Street as the eye could see, these kids were jammed together sidewalk to sidewalk, strutting, boogieing, drinking, smoking, staggering and falling down.
The policemen looked on like indulgent adults, hoping they wouldn't have to punish the kids.
Not all the kids were young, of course.  Some of them were in their 30s, 40s, 50s and even 60s.
For now, though, with the championship of the baseball world belonging to Philadelphia, they were all children.
•
Professional athletes are children all of their lives.
Only the seasons change from one sport to the next.  The athletes are boys of summer or boys of fall or boys of winter.
But always boys, even at 38 or 39 or 40, and maybe for as long as they live.
The main point of their existence is how well they can hit or throw or catch or deposit a ball in a basket.
Some are likable, joyful children, the kind older people want to be around so they do not feel so close to death.
Tug McGraw of the Phillies is like that.  They could have named him the World Series' Most Valuable Player just for not causing us to regret, like some of the other Phillies, that he made us all young again for a little while.
McGraw, as was only right, was on the pitching mound last night at the end of the only sixth game of a World Series the Phillies ever played.
He bounces like a kid out there, swaggers like a kid, pats his chest after getting out of a bases loaded jam so he can let us all know, like a kid, that this is heart-pounding stuff going on out there.
No matter how many likable children played for the Phillies in other years, none helped to win a World Series.
Tug did that and he did it laughing, not pouting and throwing temper tantrums.
He reminded us of the children we all think we were and he helped to give us a championship we never had in following the Phillies when we were kids.
A lot of the other Phillies of 1980, we forgive.  For now.
•
At Veteran's Stadium last night, they knew how we were going to be when the Phillies own the World Series.
Before the bottom of the seventh inning, with the Phillies leading, 4-0, 10 mounted policemen galloped their horses onto the field, came around the outfield warning track and disappeared behind a gate in left field.
The mounted policemen were there, of course, to keep the people in the stand from rushing onto the field after the game and tearing the place apart to celebrate the Phillies' victory.  The mounted policemen were booed for the good time they planned to spoil.
Before the Phillies' eighth inning, the announcer came on the public address system and lectured us.
"Let's show the world," he said, "that Philadelphia fans can show enthusiasm without being destructive."
We would have shown the world something, all right, but there were too many cops on horses and too many cops with dogs on the field after the game.
Only a couple of us got through.  One black kid made it all the way to the pitcher's mound, where he tried to join Tug McGraw, who was jumping up and down like any normal adult baseball player would after saving a whole city's bacon.
The black kid was hustled off almost gently by two policemen who weren't using horses or dogs.
Almost all the 65,000-plus fans hung around in the stands at least half an hour after the game was over.  One man in the stands behind third base kept shaking his fist at a cop who was on the field with a dog.  The cop ignored the man.  The dog barked every time the man shook his fist.  Everyone finally left the stadium after they saw the police weren't going to be outwaited.
They took the feelings they had into the streets.  On Pattison Avenue, people on foot were running between the lines of traffic, slapping hands with the drivers and passengers in the cars speeding by them.
One of the runners tried to slap hands, missed and was brushed by the car that sped by him.  He spun around, fell to the street and bounced immediately to his feet, still not sober.  He started running again to slap more hands.
In less than two hours, it seemed like everyone in the city was acting like 12-year-olds.
If there were any adults left by the time the sun came up, they could face a terrible responsibility.
They might have to make all of Philadelphia stay in its room for a week.
A World Series of Brotherhood
By Chuck Stone
Exactly at 11:30 p.m., a half hour before the bewitching hour, Tug McGraw waved his chimerical strikeout wand for the last time.  Alakazam!  I'll be damned!
Philadelphia, Cinderella of American cities, had been transformed into the fairy princess of World Series champions and deliriously catapulted into that exclusive little group of 1980 national index finger-wavers.
We're number one!  We're number one!  We're number one!
Somos numero uno!  Siamo numero uno!  Nous sommes les meilleurs!
What a sumptuous funeral.
And that's what we really celebrated last night until a "rosy-fingered dawn" summoned us home.
Earlier, a team of nine pin-striped, red-capped white, black and Hispanic mortals playing on green Astroturf had achieved baseball immortality by birthing a championship for the first time in 97 years.
A grateful city promptly held funeral services.  Once and for all, we could bury the image of a city of losers, a city where racial tensions had made a mockery of its sobriquet, "the City of Brotherly Love."
Come together, Philadelphia, and sing hosannas of pride, even if it's one brief moment of Camelot.
Because we're human, there were still a few boos left in us.  Reserved for the pro-Kansas City bias of NBC-TV's Joe Garagiola and the splenetic envy of the New York Daily News' Dick Young who refused our invitation for the final interment of W.C. Field' "unkindest cut of all."
Philadelphians still may not agree on what should be done to bring us together in our schools and neighborhoods.
But last night, we were united on the proposition that "we hold these truths to be self-evident," that all Phillies are created superior- that they are endowed by their Creator with certain inalienable skills and among these are pitching, clutch-hitting and the ability to come from behind and win.
A World Series, yes.  But perhaps, also a victory over a bitter past that had hidden the light of black support under a bushel.
In a euphoric north Philadelphia, all was forgiven.
People lined the streets, waving Phillies pennants, shouting to passing cars and slapping palms, regardless of race, creed or speed.
North Philadelphia, one of the city's poorest areas, doesn't have that much to celebrate.
Twice within the last five years, the people have stood on corners and cheered and applauded- Muhammed Ali's defeat of Joe Frazier in the "thrilla in Manilla" and Frank Rizzo's defeat in the primary… "the people united/ can never be defeated/ dig it."
Last night, North Philadelphia united with the Philadelphia Phillies as if the players had been prodigal sons.
Without warning, Mike Schmidt, Larry Bowa, Steve Carlton, Pete Rose, Del Unser and Tug McGraw were being roared into the Soul Brothers Hall of Fame previously occupied only by Bake McBride, Garry Maddox, Lonnie Smith and Manny Trillo.  Color lines had been erased by unity within the foul lines.
On the corner of N. Broad and Clearfield streets, the Walker family- Anjanette, 14, Carol, 16, Beverly, 17, Sheila, 19, Denise, 21, and their two stepbrothers, Tony Smith, 14 and Rodney Smith, 12- were jumping for joy.
"We never won before in 30 years," bubbled Denise.  "We finally did."
"Now were waiting for the Eagles," declared Carol.  "The 76ers," insisted Sheila.
Two blocks up the street on the corner of N. Broad Street and Rising Sun Avenue, a group of blonde and brunette students from Temple University's College of Allied Health cavorted in the middle of the street.
"We've got to lead the cheers on Broad Street," enthused Jennifer Weber.  Her sister, Jackie, had come up from New Orleans "just to cheer the Phillies.  Can you believe that?"
What made the Phillies victory so special?
"This city needs a little pride in itself," replied Jennifer.  "We really care about each other."
A few blocks father north, the groups began to grow in numbers.  Brothers and sisters were following Marvin Gaye's advice to "Let's Get It On."
"It took us 30 years," declared Diane Jones.  "All we need is for the Sixers to win and this city will be gone!"
Jet'aime Carter announced that her mission for the night was "to spread some Phillies fever."
"I just love it," said Rhonda Davis.
"Ain't no stoppin' us now, we are the best team," yelled confident 14-year-old Darryl Hall.
At the corner of N. Broad and Germantown Avenue where two favorite watering holes, the Impulse and Chuck's Disco, are located, a good-humored crowd was playfully stopping traffic.
Tan, chubby-faced Diane Thompson felt "fantastic!  A miracle come true.  It's history in my time," chortled the Temple hospital worker.
"Bake McBride MVP," announced a dancing Ike Goldman, carrying a Phillies pennant, unconcerned that the decision had already gone to Schmidt.  "Shake and Bake McBride," he persisted.
A car filled with whites slowed down, hands outstretched.  Black and white palms slapped, shook and clasped.
Tall, buxom Debra Curry watched solemnly.
"Wouldn't it be nice if it were like this all the time?  I can't believe this city can be this happy and friendly to each other."  She paused, reveling in the rarity of the moment.  "It makes me feel good to see this."
A police car cruised slowly up the street, its siren blasting staccato whoops.  The blond mustached policeman stuck his fist out of the car and waved it in the typical victory sign.  The people cheered.
"That's what I mean," continued Curry.  "It's not so much the game, but the spirit of the people."
Larry McMullen said he saw the same thing happening in South Philadelphia.
As this reporter got in his car and started to drive off, a bespectacled dude ran up alongside the moving car.
"Hey, Chuck, write about this, baby, because this is on time."
I did.  It is.  And Philadelphia Phillies, thank you for bringing us together in our brief World Series of Brotherhood.  Who knows how long this beauty can last?
Kalas a Fan(atic) Announcer
By Jill Porter
The year the Phillies came back to life was 1976. But who can remember the plays that made it happen?
All I remember is... Harry Kalas. Crying. On television, the night the Phils won the division championship. Facing the cameras and talking through that cumbersome lump in his throat, his cheeks streaked with a wet path of tears.
"I'm emotional." Harry Kalas said last night through a sip of beer, standing in a booth before the game at Veterans Stadium.
"I DON'T CONTROL IT that well. That's just the way I react... I cry at sad movies a lot.
"In 1976, it was a culmination, it was something that had been accomplished after a lot of lean years. It was a milestone. This year, it wasn't a milestone. This year, we had to get into this," Kalas said, gesturing out at the field where the play had gotten underway.
But last night, instead of doing the play-by-play on Channel 17, Kalas and the other regular Phils announcers – Rich Ashburn, Tim McCarver, Andy Musser – were banished to a box overlooking first base, while NBC and ABC ruled the World Series airwaves. The NBC-TV broadcasts were frustrating for Phils fans because of the blatant pro-Kansas City bias of Joe Garagiola and Tony Kubek. And guess who was most frustrated of all?
"EVERY PLAYER'S DREAM and every broadcaster's dream is to be in the World Series. When you're not part of it, it's really disappointing," Kalas said.
He sipped beer from his paper cup. inhaled on a Parliament, and got a look of wonder in his eye as he recalled the last moments of the last game in Kansas City: The Phils were ahead, 4-3, Tug McGraw was on the mound, the bases were loaded, and there were two men out. The game ended dramatically when McGraw struck out Jose Cardenal.
"I just wanted to call that play." Kalas said with a wistful smile, "I just really wanted to call that play."
Kalas, 44, started out last night's game very nattily in a tennis sweater, blazer, and a red tie crisply in place. By the middle of the sixth inning, the tie was loosened, and the sweater was off.
He sat in a rickety yellow chair in the second row of the crowded glass-enclosed box. Well-wishers dropped in now and then, for hellos and an occasional autograph. Mostly, there was serious watching going on, some implored encouragement to the players and some loud second-guessing.
"Get in the ballgame, you turkey!" Ashburn shouted at an umpire at one point.
NICE GOIN YOU big tub of lard!" he shouted at another umpire a moment later.
Mostly, Ashburn smoked his pipe and chattered with Tim McCarver. Andy Musser watched silently, his finger across his lip. And Kalas smoked one cigarette after the other, wetting down the hot smoke with beer from a paper cup.
When the police made a show of force in the middle of the seventh inning by riding their horses around the perimeter of the field, Kalas smiled and said, "After the eighth (inning), they unveil the machine guns."
Kalas was born in Chicago, got his broadcasting start in Hawaii, and worked for the Houston Astros before coming to Philadelphia in 1971.
"I always dreamed of being a major league baseball announcer – since I was 10," he said, smiling with his mouth and his soft blue eyes, his blond hair brushing down on his forehead. "I used to be entranced by broadcasters."
BUT LAST NIGHT, due to circumstances beyond his control, he was more fan than anything else, urging on "Baker," "Big Lefty." "Big Guy (Greg l.uzinski)" and jumping up now and then in glee at a good play.
When they weren't grumbling or cheering, the broadcasters were trying to devise a strategy that would enable them to get from their booth on the fourth level of the stadium down to the Phils clubhouse for a post-game broadcast and still see the end of the game.
They made their move in the middle of the tense and touchy eighth inning. When the Royals were retired without capturing the lead, Kalas poked me with his elbow, smiled and said, "That was it. That was the ballgame."
They moved quickly. They left the box. raced to the elevator, jammed in and rode down to the ground floor. They scattered, with me following Kalas. He raced around trying to find a TV set – and found one in the groundskeepers' locker room.
•
By now it was the ninth inning. There was one out. Kalas stood in the grungy locker room, the concrete floor strewn with cigarette butts, the sofas torn and dirty. He rubbed his hands together, stared at the TV, talked to Tug McGraw on the mound.
"Come on Tugger, come on Tugger," he said almost reflexively, quietly, sticking a cigarette smack in the middle of his lips.
"Come on baby, come on Tugger," he said, calling the pitches right behind the umpires.
"Come on," he said to me abruptly, "Let's go to the locker room. Tugger's not going to give anything away."
HE RACED OUT, me behind him, shaking hands and accepting back-slaps on his run to the clubhouse.
By the time we got to the locker room – where the champagne sat on a table ready to be opened – all was silent. There was one man on.
Kalas leaned against the wall and watched. Two men on. When the third man got on, he turned, grabbed my arm and said, "Let's go back to the locker room. We had better luck there."
"Are you superstitious?" I asked on the run.
"Oh, yes," he answered with a breathless grin.
WE RAN INTO the groundskeepers' locker room again, where a few people had gathered. By then, there were two men out and McGraw had two strikes on the last batter.
"That's two, Tugger!" Kalas shouted, "One more, one more!
"Come on, baby! Come on baby!" he hollered, clapping his hands.
And then it was over.
"Yes! Yes!" Kalas shouted, both arms shooting straight up in the air.
And then as his face reddened and his voice thickened with emotion, Kalas gave me yet another unforgettable memory.
He grabbed me in a bear hug and he gave me a great big kiss.
Jill Porter's column appears Mondays, Tuesdays and Fridays.
Feeling Crowd-ed Was Scary, Fun
By Phillie Phanatic
To tell you the truth, the Phanatic was scared to death.
First, it was because of the crowd. The Phanatic went out in the stands in the second inning, but never after that. It just wasn't safe. The people were so exuberant, it was scary. The Phanatic had a guard with a billyclub, but it wasn't enough. The people were just so hungry for the title, they were going crazy. In the second inning.
The Phanatic did do his dance in the seventh inning, though, and it sent chills down his back. Everybody was watching the dance, and after it ended the applause was thundering. It made me feel like I was a little part of the whole thing, and that was the greatest.
Then it was back to the clubhouse for the ninth inning, and more of being scared to death, watching on TV with Tug McGraw's brother. We watched the last three outs on that TV, and we were dying. The Royals put those guys on base, and the Phanatic was thinking, "Geez. Tug, don't do this to us." It was like he was doing it on purpose.
AND THEN IT was over, and the feeling was like one huge sigh of relief that it was all over. There wasn't that genuine excitement that we felt in Houston, just relief.
The locker room was a madhouse, with all the press and TV people. It was hard to see the ballplayers. The Phanatic popped a bottle of champagne and sprayed it on everybody coming in – that was fun. He told Bryant Gumbel that he'd buy him a new NBC jacket because he was probably going to get the worst of it, and he did.
The whole thing was a huge blur, but the Phanatic will take some memories of certain people from the clubhouse forever.
First, there was Steve Carlton. Right after the game, he got away from everybody and headed for the trainer's room, which is off-limits to the press. He was just sitting there, with no emotion, peeling some tape off his feet. It was like he was a bystander rather than one of the main participants.
The Phanatic walked in there because he cut his finger opening a champagne bottle. He was there, kind of oblivious to all the celebrating going on outside, and when the Phanatic walked in there with the cut finger, it provided him with a link to the partying.
He'd just won his second World Series game, the whole place is going wild, and Steve Carlton is sitting there worried about the Phanatic's cut finger.
"Hey, man, you've gotta be careful with those things," he said. "Are you OK?"
"Congratulations on a great year," the Phanatic said.
"OH, THANKS, thanks a lot." was Lefty's only reaction. He's such a professional.
As low-key as Cartlon was, Larry Bowa was just the opposite. He was running around going nuts, screaming and hollering crazy things. He was so happy – out-of-his-mind happy.
There are little snippets of other people in the Phanatic's memory.
There's Dickie Noles, running around, being just as crazy as Bowa.
And Tug McGraw. He didn't come out for a while, but when he did, the thing I remember him doing was pouring a bottle of champagne all over Mayor Green.
Then, there was Mike Schmidt, so great with the press, always saying the right thing, not bragging, praising the Royals, real class.
And finally, there was Dallas Green. The Phanatic will remember him the most. Standing on a chair, watching Harry Kalas do some interviews for TV, and Dallas Green freed himself from the mob and walked my way.
He didn't say very much. Just, "Congratulations." But the way he looked up at me, and shook my hand, I don't know why, but it meant so very much to me.
That, above all, is something the Phanatic will never forget.
Overall, this is the most excited the Phanatic's ever been in his life.
What now? I'm praying for the Eagles.
At Last – We're Champs!
By Shaun D. Mullen
The roar began in South Philadelphia with the last out and moved across the city like rolling thunder.
At last.  After a half-century as the butt of bad jokes and a civic inferiority complex that not even two Stanley Cups and the blessing of Pope John Paul II could cure- at last Philadelphia is a winner and its Phillies champions of the world.
The victory of the decade became quickly the party of the century as hundreds of thousands of ecstatic fans, survivors of one of the most exciting finishes in modern baseball history, took to the streets in beer-soaked jubilation to exorcise the demons of Octobers past.
Before the night was out, city officials estimated, there were crowd of upwards of 5,000 banner-waving revelers at no fewer than 25 locations.  Streets around City Hall were clogged for blocks in every direction, a cacophony of car horns, fireworks, bells, whistles, cheers and shouts of joy filling the night air.
Strangers embraced strangers as rolls of toilet paper- Philadelphia tickertape- floated from the sky.  The sound of popping champagne corks and the sweet smell of marijuana wafted up toward the full moon.
Celebrations were smaller but no less vocal in suburban communities, Camden, Wilmington and elsewhere throughout the Delaware Valley.
Riot-gear-equipped police dealt firmly with the drunk and disorderly at Veteran's Stadium and throughout the city.
More than 100 people had been arrested, many of them for robbery and assault, by the time the sun rose over the last celebrants and city crews clearing streets for the late-morning victory parade.
Hospitals treated about 70 people injured in the madness, some the victims of muggings, others hurt when they fell from overloaded cars.  Three officers were assaulted, two with bottles, and at least three businesses were looted.
One violent death was attributed to the celebration:  A 22-year-old man was fatally wounded after a mob of 30 to 40 youths that police said had been snatching purses and gold chains surrounded his car on Broad Street and Wallace.
Shouting over post-game roar in the Stadium Club at the Vet, Mayor Green said:
"We're the only city in America that has a chance to win it all.  We won the World Series, we've got the Eagles on their way to the Super Bowl, and there's the Flyers and the 76ers.  We're Number 1!"
Although excitement- and nerve-fraying tension- had mounted through the week as the world championship became a possibility, the city lapsed into an eerie silence from the moment Steve Carlton stepped to the mound shortly before 8:30 p.m. until Tug McGraw threw a strike for the final out three hours later.
And then Philadelphia came alive as the masses poured from row homes and apartments, cars and bars.
Typical were the ragtag mob of Temple students who spilled from dormitories onto Broad Street at Norris, their number swelling to 2,000 as they headed south on foot, driving and hitching rides, screaming "Phillies Number 1!"
They were joined by about 500 neighborhood residents at Broad and Girard and marched on to City Hall where they melted in a horde estimated at between 30,000 and 40,000.  Mountains of humanity covered cars and buses.  At one point the back wheels of a gray sedan collapsed under the crush of about 40 people.
"Everyone was just loving everyone, it was just fantastic," gushed Harry Kenney, 20, a Temple sophomore from the Northeast.  But the lovefeast turned ugly at one point when an unidentified man pulled a 12-inch bayonet from his pocket.
"There were screams, some people ran away," said Kenney, "but then about 150 people took off after the guy."  Police said the man was chased down Spruce Street, 10 officers pursuing the pursuers, until the man was lost on a side street.
"Bless you, Philadelphia, bless you," exclaimed a transplanted Philadelphian over the phone from Chicago, his call one of many that flooded the City Hall switchboard from across the country through the night.  Many of the calls were from Royals fans in Kansas City, gracious in defeat.
The Phillies' Cinderella finish to the regular season, come-from-behind victories in the National League playoffs against the Houston Astros and the Series victory have been a boon to city commerce, with State Stores and bars the biggest winners.
Losers were the managers of empty movie houses and cabarets, bars and restaurants without televisions, and those foolish enough to bet on the Royals.
David Evans, 31, of Olney, bet on the Phillies- but his $200 bet was that they'd score the winning run in the seventh inning.
When the game was over- the winning run scored in the third- Evans merely shrugged:  "Well, that's all right.  When my wife doesn't get the paycheck, it'll be tough poopee."
Minutes later he was out in a crowd and beaming.
"I was born in Philadelphia, I was raised in Philadelphia, and I'm going to die in Philadelphia," he declared, raising his arms above the crowd.  "These are Philadelphians, period."
Boone Earns A Rest
By Phil Jasner
Early last night, Bob Boone began what had become a daily ritual, stretching and loosening his rehabilitated knee, forcing himself into the catching position.
"And all I could think," the Phillies catcher was saying in the groundswell of World Series championship emotion later, "was that tonight could be the last time I'd have to do it.
"After tonight, I can let that leg rest, I can let my brain rest.  The biggest feeling I have now is one of relief.  I just feel totally drained, gratified… relieved."
Boone caught Steve Carlton for seven innings, then Tug McGraw for two more.  The guy knows splashes of brilliance when he sees them.
"Steve did pitch a magnificent game, a game he had pitched all year," he said.  "We went with his power more, with his fastball, and he showed tremendous concentration.  Tug did make it exciting… knowing Tug, he was probably trying to bolster the TV ratings.
"But Steve… it was a typical job, the thing you see in great pitchers who reach back for something extra.
"Before games, you never know.  I've seen great pitchers get hit… but in the first inning, I knew he had it."
Boone contributed a walk and a single, scored a run and drove one in.
"I didn't have a late-season slump," he said.  "I had a total season slump.  But I never got down on myself, because I've been through too much of that.  During the year, I tried everything and nothing worked, but the last two weeks I got my stroke back."
Switching back to the emotion he was feeling, Boone said, "Some of the guys who have been here, who have been through all the controversy, I'm happy for them.  But I really feel we were destined to win.  I mean, Marty Bystrom came up in September and was pitcher of the month.  Tug was on fire, Del Unser was so great in the playoffs and the Series. 
"Early, the Royals tried to break Steve's rhythm by stepping out of the box.  But I knew he had his stuff, I said to myself, 'Do whatever you want, you're still gonna get a good pitch coming up.'
"Then, at the end, I saw the horsemen, the guard dogs, I figured we'd better stop 'em there.  I didn't want to see them go back in.  We had come too far.
Cheers:  It's a High-Spirited Time for Bars
By Scott Heimer
The Phillies' success had made more winners and losers here than the Vet scoreboard would indicate.
The team's uphill climb over the last month has made bars and State Stores the big hits with Philadelphians, but restaurants and movie theaters have been benched by many on nights that the Phils take the field.
"Naturally, you know, with Philadelphians and all these other people in town spending a million a day, hotels and restaurants are buying more and more whiskey and we're the only one they can buy it from," said Bill Burke, area superintendent of the State Liquor Control Board.
Burke and the Phillies' success has greatly boosted the booze business, but he wouldn't know how much for a couple of weeks.
"Most of the hotel and restaurants carry reserves.  So we wouldn't know until they start replenishing their stock, and most of them stocked up heavily three or four weeks ago.
Burke says the State Store- especially those near the big hotels- have done very well during the Phillies' come-from-behind drive for the division and National League pennant titles and through the World Series.
"The Philadelphia Phillies have brought exposure to Franklin Plaza like nothing we could have done before in terms of acceptance in the Philadelphia area," said hotel spokesman Andrew Todd.
Todd said that the hotel, which formally opened its 800 rooms and eight restaurants yesterday, had held 450 rooms exclusively for World Series people- the Kansas City Royals, the baseball commissioner's office and staff and the hordes of press- at the request of the Phillies.
Meanwhile, over at the Fairmont, business was "super-fabulous," according to spokesperson Judith Morse.
"To tell you the truth, we were 100 percent occupied before the Series, but the Phillies' winning has increased the traffic in our restaurants and bars- our food and beverage business.  We had been booked full with a couple of very large meetings and couldn't accommodate all those people calling for rooms," she said.  The Fairmont has 565 rooms.
Restaurants, meanwhile, were faring well in the daytime and early evening, but suffering later on in the night.
"Unfortunately, it's dead afterward.  Business is off.  Day business- luncheons- and early dinners have been very good, but the late dinner and late bar business during the Series has not been good," said a spokesman for Frankie Bradley's at Juniper and Chancellor streets.
The restaurant has a TV set, but people are apparently opting for either their home tubes or the giant screens at some South Philly spots.
Bogarts in the Latham Hotel never had a TV, but the management has rented one for the Series- as has Not Quite Crickett, a cocktail lounge across the lobby in the same hotel at 17th and Walnut streets.
"Mario Mira plays and sings here," said a spokesman.  "And even though he's a baseball fan, he's upset that he can't play until after the game's over- which is usually around midnight."
Over at J.R.'s café, 20th and Market streets, though, the Series has brought an outstanding bar business, thanks to its TV, said a spokesman.
And what of the biggest screens of them all – the movies?
"Basically, on nights the Phillies have played, business has taken a slight drop.  On nights they haven't played, it's jumped to fantastic proportions.  We're having a fantastic October," said Phil Edgerely, spokesman for the more than 100 Sameric theaters in the Delaware Valley.
He added:  "Yeah, there's been a slight drop on Phillies' nights, but we're just concerned about them winning.  Victory would be great for this city."  
Chicken Fries Where the Phils Caught Flies
By Juan Gonzalez
The madness hadn't started yet.
It was still the eighth inning and Broad Street in North Philadelphia was deserted.
Attendant Ferris Foster sat inside the boarded-up ARCO station at Lehigh Avenue, watching Game 6 on a small black-and-white portable TV.
Next door at Gino's, a half dozen people munched on fried chicken and french fries and listened to piped-in music.
None of them knew he was sitting in on history.
"I can't believe it," said Gino's manager Harold Wilson, when told his franchise was sitting on the original home of the Philadelphia Phillies, the old Baker Bowl.
"Got me.  I didn't know that," Foster said.  "I'm just worried about getting home tonight.  I live at 7th and Snyder and those folks down there are crazy."
The Baker Bowl, the home of the Phillies for 51 years- between 1887 and 1938- was once considered the most modern stadium of its time, with a seating capacity of 15,000.
On April 30, 1887, in their first game at the stadium, the Phillies clobbered the New York Giants 19-10, with pitcher Charley Ferguson slapping two doubles, two singles, stealing two bases and striking out six.
But times have changed.
Pitchers only bat every other World Series.  The Baker Bowl has been replaced by Veterans Stadium.  And until yesterday, the Phillies had never won the Autumn Classic.
In between the Baker Bowl years and the Vet, was Connie Mack Stadium at 22nd Street and Lehigh Avenue.  For 32 years, from 1938 until 1970, it was home for the Phillies.
But last night, the neighborhood around Connie Mack was strangely silent.
At the S & B Lounge, 21st and Cambria streets, Vickie, the barmaid, and Nathaniel Hightower sat alone, watching the final Tug McGraw save that would rewrite Philadelphia sports history.
When McGraw blazed his last pitch past Kansas City's Willie Wilson, Vickie jumped up screaming.  But outside – in the streets surrounding the empty lot that was Connie Mack- if the ghosts of Jimmy Foxx, Jim Konstanty and Ben Chapman were yelling, no one heard.
William McGregory had waited a long time for the Phillies to win.
"I went to the 1950 World Series," said McGregory, 45.  "I had free tickets because I belonged to the Boys Club at Miller Memorial Church and Robin Roberts (the star pitcher of the 1950 Whiz Kids Team) was our sponsor.  He was a great man, Mr. Roberts, a great man.
At the Chisom Trail Lounge, 21st and Somerset streets, the patrons were celebrating, but not impressed.
"I'm more excited about our win," said Robert "Hips" Dixon.  For 14 out of the past 16 years, the tavern's team, the Boomers, has gotten into the playoffs, winning the championship of the Leroy Kelly League twice.
"Ours was just like theirs," said team member Mike Hammond, referring to the Phillies win, "except anything you are personally a part of is more important."
Owner Freddie Chisom wasn't nearly as happy.
"We had to picket to get the city to tear down the old Connie Mack.  It was rat infested, but they still haven't done anything with the land… If this were a white neighborhood, they would preserve the land as part of history.  But because we're black and poor, they don't care."   
Cops Show Colors, Control Crowds
By Maria Gallagher
"I haven't seen this much red, white and blue since July 1976," cracked a plainclothes detective as the respective colors of the Phillies and the Police Department swirled around him at Veterans Stadium last night.
"You can still smell Frank Rizzo around here," quipped a Kansas City reporter, somewhat awed by the 24 mounted police, 12 dog teams and some 1,000 riot-helmeted police who kept more than 65,000 revelers off the AstroTurf after the final out.
Preventative measures paid off at the Vet, as the city's biggest party in 30 years took to the streets without major incident.
Police Commissioner Morton Solomon, mindful of previous stadium-stripping incidents in New York and Pittsburgh, canceled days off for his troops, called in every detective, and placed 60 percent of the city's 7,200-member police force on duty.
The blanket presence was clearly a deterrent at the game.  Police were everywhere- on horseback, on motorcycles, in vans and jeeps, with dogs, in undercover clothes and in dapper suits.
Solomon would not say how many officers were assigned to the Vet, but rank-and-file estimates ranged from 1,000 to 3,000 officers.
They were backed up by 90 guards from General Security- the Vet's regular security force- and 100 ushers added just for the championship game.
A satisfied Solomon, standing near the pitcher's mound in a nearly empty stadium afterward, said the plans worked out by police and the Phillies organization were "good, and they were executed properly."
The commissioner said he knew of "no violence or major problems" at the Vet, although a steady flow of handcuffed visitors received escorted tours through the security office.
"That's bound to happen with a crowd this size," shrugged a detective.
One 40-year police veteran, a captain assigned to the stadium, praised the conduct of the spectators.
"No matter how many cops, how many horses, how many dogs there were, it was the people themselves who did it," he said.  "They were just one hell of a crowd."
Another officer, assigned to the Pattison Avenue stop of the Broad Street Subway, said the postgame commuters "flowed like butter."
Fan reactions to the heavy police presence were mixed.  Some felt the show of force was necessary to discourage a free-for-all; others grumbled that it gave a "police state" impression of the city to television viewers.
Solomon said police would remain on duty "until the problems in the neighborhoods subside."
General Security president Mark Smylie said his guards were assigned to protect television equipment, working photographers and parking lots, and to act as bodyguards for such notables as NBC president Fred Silverman.
As crowds emotions rose to fever pitch in the final innings, the combined security forces moved into place to prevent a storming of the field.
"Let's show the world that Philadelphia fans can show enthusiasm without being disruptive," urged the stadium's public address announcer.
Even before Kansas City's last batter came to the plate in the ninth, police with dogs took up their posts in front of the dugout and Royals relief pitchers were ushered in from the bullpen.
To keep an eye on postgame activities, police set up two command posts at the Vet, one at Kensington and Allegheny avenues and one at Frankford and Castor avenues.
Dixon Was On The Money
Jeane Dixon, America's most publicized psychic, deserves a little more ink.  Back on Oct. 14 when nobody else was doing it, she picked the Phillies in six.
That's enough.  She didn't win the Series, she just figured out who would.
•
Some people were ready to celebrate for the Phillies last night, win or lose.
The whole 4100 block of Higbee Street in the Northeast got together to have a hot dog, sauerkraut and pizza dinner and put a barrel of beer and three TVs on Ray Corkey's lawn to watch the game.
"We stuck up banners and crepe paper and all and we've got 250 kids and 75 adults coming," said Corkey's neighbor, John McNally.  "It's quite an event."
•
Who would have sung the National Anthem if the Series had gone to seven games?  South Philadelphia's own Jimmy Darren, now appearing at Palumbo's.
•
At the Corned Beef Academy sandwich shop, 16th Street near Sansom, several waitresses wore glitter eye makeup in the shape of the Phillies' "P" logo.  And at the Parkway Room, 22nd Street and the Parkway, waitresses donned Phillies T-shirts and some of them were wearing baseball pants borrowed from Little Leaguers.
Don't Color Loser a Royal Blue
By Jay Greenberg
Having just lost a World Series they were happy enough just to be in, the Royals measured their disappointment better than they did Steve Carlton and Tug McGraw.
"I hit .390 and had the best year of my life," said George Brett.  "We gave Kansas City something to cheer about.  The three playoff losses (to the Yankees in 1976-77-78) were a lot tougher.  Beating the Yankees in three straight was the greatest thrill of my life.
"I'll be able to tell my grandson one day that I played in this one and hopefully be able to tell him that the next one I was in, we won."
"We had a super year," said Frank White.  "I'm not going to let a few games spoil it.  Just being in the World Series was a thrill.  I think it's a luxury, a reward for a great year the team has had.  You just want to show the world the kind of team you have.  And win if you can.  I'd like to think that the Phillies think we have a good team."
The thought the Royals had let it get away, three times blowing leads, was not, however, lost upon them.  Nor was the typical loser's lament that fate seemed rigged against them.
But there were exceptions.  Dan Quisenberry was asked what went through his mind when Bob Boone's dropped foul pop-up showed up in Pete Rose's glove in the ninth.  This was his cue to say, "We just weren't meant to win," but Quisenberry, who didn't say the expected as the Series went on, wasn't going to now that it was over.
"I thought of the Baseball Fever commercial," said the Royals reliever.  "We didn't get as many breaks as they did, but this is no time for sour grapes.  The Phillies played better than us, they got more hits at the right times, got better pitching and played good defense.
"Basically, it came down to me blowing two leads and Tug blowing one.  We lost it mostly because of me, but I pitched the best I could.  I'm not the kind of guy who is going to tear his guts out.  I have peace of mind.
"Except for a couple of walks, I pitched everything the way I wanted to.  I got a double-play grounder from Graig Nettles in the second game of the playoffs, the double-play line drive in the third one.  I accepted those, I can accept the (Del) Unser double (which won Game 5) too.  Being a ground-ball pitcher, that's the way it's going to go."
Which was great for Quisenberry's peace of mind, if not for Manager Jim Frey's.  Quisenberry pitched in every game, entering twice in the seventh inning and once in the sixth.  The feeling persists that his early appearances gave the Phils one or two more innings to measure his unusual sidearm delivery, which may have contributed to his two failures.
"For the most part I was an eighth- and ninth-inning pitcher," said Quisenberry.  "During the regular season there may have been five or six occasions when I came in middle innings.
"He used me the same way against the Yankees and it worked, so it's hard to second-guess him for doing it in the Series, when it didn't.
"I'm basically a short reliever, not a long one, but if it's worked, why not here?  Yeah, they probably benefited from seeing me for an extra inning or two.  But it didn't affect me during the season.  Jim Frey had never seen anything go wrong using me for a long time.  There was no reason to expect it would here."
Things unraveled for the Royals last night long before Quisenberry's obligatory appearance.  Starter Rich Gale appeared to have a live fastball, but a walk to Bob Boone started the Royals to their doom.
Frank White then pulled shortstop U.L. Washington off the bag with his throw on Lonnie Smith's force-play grounder.  "It was an error," said White.  "That's all I'll say.  I don't want to talk about the game."
Then Rich Gale failed to field Pete Rose's bunt, forcing George Brett to try to make the play.  Rose beat it out easily to load the bases.
"It was his play," said Brett.  "I'm supposed to cover third."
"I screwed up," said Gale.  "It's that simple."
Schmidt then singled in two runs, which looked like plenty for Steve Carton.
"He's good," said Willie Aikens.  "He had better control than the last time, but he was lucky.  What was it, 12 double plays?  The man was lucky."
Tug McGraw, who was continually behind hitters when he replaced Carlton in the eighth, might have been even luckier.  But he was good, too, forcing the dangerous Hal McRae to ground out with the bases loaded and a run in.
'The 3-2 pitch was a good one," said McRae.  "A fastball out away.  That wasn't the one I should have hit.  There were two others before that I should have."
When he didn't, McRae left himself in the uncomfortable position of defending his Series-long claim that the Royals, in his words a better team, would win.
"You can't express your feelings when you lose," said Hal after a long pause.  "It just doesn't sound right.  I'll say, 'No comment.'"  
Galileo and Other Sports
By Larry McMullen
I heard the breaking story about Galileo on the car radio while I was driving into work last night.  Only a matter of years after condemning the Italian scientist as a heretic, the Catholic Church said it is reviewing the case.
Galileo, as everyone knows from the last news flash about him from the Vatican, was found guilty of using a telescope to prove that the earth revolves around the sun.
When Galileo was confronted with the evidence, he took everything back.  He said after looking over the Church's figures, he could see where he made a mistake in calculating that the earth wasn't the center of the universe.
The Vatican's inquisition office said if he had any further problems with basic science, he could come back for some remedial work on the torture rack.
All of this happened practically yesterday, in 1633.
If the Catholic Church can reconsider Galileo's case this quickly, I guess I can forget baseball for a while.
●
The Phillies' celebration was finished, anyway.  By last night, we could all return to our normal pursuits.
I bet the five horse in the first race at Liberty Bell Park.
The five horse lost.
Then I bet a few more races.  I lost those, too.
Then I came to work.
I knew as soon as I got done writing the column, I was going to be stuck for something to do with myself.
I even considered the possibility to sleeping for a few hours.
Not much happens in sports between 3 and 5 o'clock in the morning.
The Eagles don't play until Sunday.
I can't stand this waiting between sporting events.
Today, for instance.
Nothing as important as a World Series game will happen all day.
It's not even like an off-day during the World Series.
At least then I could enjoy Bob Domine's interviews with Phillies' fans on television.
"Who do you like in the World Series?" Domine would say.
"THE PHILLIES," the fan would scream into the microphone.
Then Domine would put his mike in front of another Philadelphia fan.
"Who do you think will win the Series?" he'd say.
"THE PHILLIES," the fan would yell.  "ALL THE WAY."
It was fine with me that Domine asked this question of Phillies' fans time and time again, not only during the Series but in the playoffs, too, where he showed his moxie by using different words.
"Who do you like in the playoffs?" he asked then.
I love inside baseball talk.
●
Even yesterday, with the Series over, local television wasn't caught short on interviews with Phillies' fans.
The TV writers understood immediately that their reporters couldn't go to a Phillies' victory parade and ask who the fans like in the Series.
So they came up with a question that would let the viewers hear something different from each of the fans being interviewed.
It was such a great question, it was asked at least eight times on one channel, which I think was 10.
Bob Domine, of Channel 3, is not all that clearly ahead of the pack in this town.
"Who is your favorite player on the Philles?" was the question.
"TUGGER," one of the fans bellowed into the microphone.
"MIKE SCHMIDT," a girl screeched.
And this was the only time all day the question failed.  The mike was pushed into another girl's face right away.
The girl looked confused.
"I like Mike Schmidt, too," she said quietly, obviously upset because the other girl had taken her answer.
●
For the last nine days, I have been either at the ballpark for the World Series or in front of a television set, watching the games or the in-depth interviews with the fans.
I've lived around Philadelphia for all of my 46 years and that was my first taste of baseball in October.  Nineteen hundred and fifty doesn't count.  All we had then was a radio.  I should have OD'd this year.  Instead, I was looking for more when it was over.
So all day today is going to be a total waste.
Tonight, however, won't be so bad.
At around 8:40 p.m., I'll watch a sporting event that, if it turns out the way it should, will reduce my memories of the World Series to sandlot games played on a field covered with broken glass.
My Beau, a 7-year-old gelding by Dancer's Boy out of Beau Marie, will make his first start for the Little Indians Stable.
I'm one of the Little Indians.
The purse for the race is $1,700, which means the share for the owners of the winning horse will be $850, which I will deposit immediately into the stable account.
In case I'm interviewed for television after My Beau destroys his field tonight, I have made up a question for the interviewer to ask.
"How come this cheap horse race means more to you than the Phillies winning the World Series?"
"Because," I'll answer, "the Phillies don't send me a check."
Larry McMullen's column appears Mondays, Wednesdays and Thursdays.
Getting Into the Spirits of the Night
By Pete Dexter
The man didn't know anybody.  He came into Dirty Frank's a half hour before the game, smelling like two days on Race Street, and started sucking down gin.  "I told the boss," he said.  "I said this was a special night.  I said not to expect me at the usual time.  You know who the boss is, right?"  Then he laughed in a way that asked for somebody to laugh with him.
The girls in the booth behind him smiled.  "I know my baseball," he told them.  "Tonight Kansas City might as well go home, right?"  The girls smiled again, but nobody said anything.
"When they win tonight, I'm gonna buy every one of them dinner," he said.  Then he laughed again, and it was hard to listen.  The man was 44 years old.  He looked 64, and his name was Stamp.  He had come in just in time to get the last seat at the bar.  As the game got closer, the place filled up.
Stamp hadn't shaved in half a week and there were scabs on some of his fingers.  He said he lived with his sister.  In the aisle behind him people were talking about the game.  Somebody said Steve Carlton couldn't lose, somebody said the Phillies couldn't lose.  Stamp turned around to agree.
"Kansas City, give it up, right?"  He made the laughing noise.  The people behind him were mostly kids, on the way to being drunk.  They didn't hear him when he offered to buy them drinks.
•
Stamp seemed to have trouble getting himself out of smiles.  Every time he laughed an nobody laughed with him, it turned into a smile, and then the smile just lay across his face until he either laughed again or put some gin in his mouth.
"Tonight is the night," he said.  "The night I've been waiting for."  The game was beginning and Steve Carlton was striking out his first batter.  The crowd inside Dirty Frank's hung on every pitch.  They cheered foul balls and ground outs and called strikes.  "The third inning is the inning," he shouted.  "After the third, it's all over, right?"  The laugh again.
By the middle of the third inning the score was still nothing to nothing and Frank's was loud enough so Stamp wasn't the only one talking to himself.  Stamp, in fact, seemed to be having a better time now that nobody could be expected to hear him.  He shouted and smiled and talked to everybody who squeezed in next to him to get a drink.
"This is the inning," he said.  "I know my baseball, all right.  Right?  I told the boss I wouldn't be home at the usual time, and you know who the boss is, right?"
He turned around and looked at me.  "I've been waiting for tonight since I came to Philly after the Navy," he said.  "The boss says come home, I come home.  She doesn't like me out with people.  But I told her tonight was unusual.  I told her…"  He squinted, he began to worry.  "What time did I get here?"
I shook my head to say I didn't know.  Stamp laughed.
•
He killed half his drink between innings, and that seemed to put some distance between him and the boss.  The Phillies scored two runs in their half of the third and Stamp got up and bowed.  "When I tell you I know baseball, right?" he shouted to the girls in the booth behind him.
They smiled, and whispered when he had turned away.  He sat down and started a new gin.  All around him people were celebrating, outside they were already setting off fireworks.  Stamp watched the screen.  He seemed to know when the Phillies were going to turn a double play or when Carlton was going to strike somebody out.
"This is the night," he said again.  "Royals, go home, right?  I been waitin' and waitin'.  My sister- I call her the boss- she takes care of me since I came home.  She doesn't like me out but tonight, I told her not to expect me…"  His face narrowed, trying to remember.  "She thinks people take advantage."  The laugh.
A girl slid into the space between Stamp and me to order a pitcher of beer.  She listened while he told her about the Phillies and his sister the boss.  She let him pay for the beer, she took it back to the table and turned away when Louie followed her back to tell her he would buy all the Phillies dinner.
•
He got up again during the 7th inning to go to the bathroom and this time he didn't come back.  I heard him once in the 8th, when the Royals had loaded the bases.  He shouted, "Don't worry," and when Tug McGraw came out of the bullpen and got out of the inning I saw the top of his head taking a bow.
By then, the management at Dirty Frank's had taken all the art off the wall.
At the end of the game, the place went crazy.  People spraying champagne, throwing confetti, screaming, kissing, pushing.  Outside there were fireworks and car horns, citizens took over the streets.
Kids were slapping each other on the back, riding each other's shoulders, saying they had been waiting for this all their lives.
I went to the back and found Stamp.  On the greatest night of his life, he was sitting at a booth with his head on a table, sleeping like a baby.
Stamp was smiling.
Kids in Series Condition
By Philip Weiss and Ken Lockerby
At Children's Hospital at 34th and Spruce, they had the fever – Phillies fever.
On the sixth floor of the West Philadelphia hospital, Marvis Forte, 12, who'd just had his appendix out, was watching The Game with his mother and his friend Louis Maione, 9, who comes to visit his sister, who has cystic fibrosis.
Marvis, wearing a stethoscope, which he calls his "heart hearer," was disgnosing the game:  "Kansas City's just a mercy team" that counts on luck, he said.  "George Brett and Willie Mays Aikens are girls.  Aikens?  All that fat boy can do is hit home runs, he can't even steal a base."
Marvis' mother, Allie Knight, 37, who lovingly noted that her son had no trouble filling out his green, clown-covered pajamas, said:  "Marvis, Marvis, Marvis, look at YOU."
"I can run, though," he retorted.
The series seemed to have a healing influence on a lot of people.  Mary Anne Morris, nursing supervisor on the sixth floor, said that during the last week no one came into the emergency room until the games were over, then they came pouring in.
David Ascenzi of Pennsville, N.J., is an artist.  He's also being treated for cystic fibrosis. When he doesn't have the IV in his right arm, he returns to his true vocation. Last night he was working on his specialty, drawing Pink Panthers.  One of them was wearing a Phillies cap and singing, "Ain't no stopping us now…"
Maxine Martin of Southwest Philadelphia was watching the game with her young son, Tyrone, who has kidney problems.  His blood pressure was going up and up, and she was worrying.  He was happy.  He said he's watched every foot, basket and baseball game since he entered the hospital.  She didn't mind.  "I have four boys and my husband (who comes in at midnight to stay with Tyrone)," she said.  "That's all we see all day, sports."
In the infant intensive care unit, Priscilla and Anthony Harrison were standing over their 2½-month-old son, Sean, who was born prematurely and weighs a pound more than he did at birth.  The baby was wearing a tiny Phillies cap.
They come every night to be with the baby.  "He's more important than the game," his father said.
"We just ask him how he feels… have a general conversation with him," the baby's mother said.  As Sean closed his tiny hand around her fingertip, the EKG monitor over his head climbed from 166 to 199.  She said she'd told him to go to sleep and dream of the Phillies and "think about when he will be able to see them."
Phils Fans Salute Their Heroes
By Daily News Staff
Philadelphians poured into the street today to savor their championship in the clear light of day. Their heroes streamed down Broad Street larger than life, and a well-behaved crowd drank in the spectacle.
There was no official estimate of the crowd's size, but it was well into the hundreds of thousands. Many observers said the crowd seemed larger than the ones that greeted the Flyers when they won Stanley Cups in 1974 and 1975.
The apparent preponderance of youngsters in the crowd was born out by a check of school attendance. It was far below average, not only in the city, but in most of the suburbs. Trains, buses, trolleys and subways coming into Center City were thronged with youngsters anxious to join in the celebrating.
CHEERS FOR everyone and everything resounded through South Philadelphia.  Even SEPTA buses were applauded as classrooms emptied of children and adults left their desks in Center City offices to salute the boys of summer.
"New York City, take this world championship and stick it," Series pitching star Tug McGraw shouted as more than 90,000 fans jammed into JFK Stadium went berserk during a reception ceremony shortly after 1 p.m.
"It's going to take a year to clean up this city," one teenager near City Hall declared as he surveyed an apocalypse of beer bottles, Phillies posters and champagne corks. "It's a lot dirtier than it was with the Flyers in '75."
FOR THOSE who are accustomed to a 10-hour procession of Mummers down Broad Street, the parade was mighty swift.
A man dressed as Harpo Marx and riding a bicycle led the way, unofficially, and then a police limousine rolled by, its loudspeaker warning everyone to stay behind the barricades.
Police Commissioner Morton Solomon followed on foot with Civil Affairs officers. Behind him were mounted police, prancing to the latin beat of the Overbrook High School band, which was playing on a flatbed truck.
The press was next, three flatbed trucks full of them, and at last the Phillies players, on two trucks. Even silent Steve Carlton held his magnificent left hand in the air.
CELEBRANTS showered the players with all manner of pulp. Shredded telephone books, computer cards, newspapers, even store-bought confetti in rainbow colors flooded the crisp and brilliantly clear air as the triumphant baseball team lurched toward the arena.
And if a Carter-Mondale poster was torn to bits and hurled down, well, it only went to show that Phillies fans had their priorities in order this morning.
Here and there a drunken fan lurched into a Mummers' strut, and at least one spectator wondered where the genuine feathered friends had gone.
"THE PHILLIES deserve more than that," said Rose Mestichelli, of Sartain Street near Moore. "I'm disappointed, I expected to see the string bands, I spent the whole damn night up thinking about this. "
Outside the Philadelphia Center for Older Adults, near Lombard Street, the Phillies were serenaded by Pearl, a senior citizen belting, " Take Me Out to the Ball Game. "
Pitcher Marty Bystrom gleefully shook up a can of beer then unleashed the foam on the crowd. The celebrants roared with delight at the baptism of joy.
Everywhere along the parade route champagne corks were popping, beer tabs were splitting and the pungent smell of marijuana crept through the crowd.
ACROSS FROM City Hall, a boyfriend/girlfriend pickpocket team smoked a joint and calmly worked the crowd. At the Stadium Bar, Broad and Snyder Avenue, the sixpacks of beer were fetching $5 in a throng six- deep in the street.
Everywhere there were boys in the air: on the light standards on Broad Street, in the small trees outside City Hall, and - causing panic among adults - on top of an electric trolley at Broad and Snyder.
At the nearby Gino's a 16-year-old youth tried to recruit friends for a "rumble" in the packed crowd, but the spirit of restraint was alive even in the feverish South Philadelphia neighborhood.
"No, no," his friend protested, " I don't want to get my head busted open. "
As the parade approached the intersection, a bus full of police officers in riot gear crowded into the throng to clear a way for the heroes.
"I'm going to tell you one time, and one time only, if I catch you up there again. . ." an officer said, wagging his finger in a teenager's face, daubed with red and white Phillies paint. The youth had been climbing a traffic signal.
"IT'S A BLESSED event, I just hope there's no trouble," said Moyamensing Avenue fruit vendor Larry Cohen.
Sister Rose Eileen, who works at St. Agnes Medical Center, came out in her habit and a red ribbon and admitted she had been up until 1:30 a.m. this morning.
"We were positive last night, our prayers went straight up there," she confessed.
Before the parade got under way at 18th and Market Streets, City Managing Director W. Wilson Goode announced diplomatically that all State Stores were to be closed until 3 p.m. Goode said most city workers were on the job, but many city vehicles were trailing Phillies pennants. At the Police Administration Building, which was emptied for action, the highest ranking officer on duty was a detective captain.
The doctors and nurses in Methodist Hospital flocked to the roof, their stethoscopes still in hand. At St. Agnes Hospital's burn treatment center, the patients were confined to a soundproof wing. But the excitement was contagious, and they watched the parade on televisions in the ward.
SEPTA, Cops a Winning Team
By Phantom Rider
Phantom Rider last night witnessed two winning performances.  The first was by the Phillies in Veterans Stadium.  The second was in the Land Down Under, also known as the Broad Street Subway.
SEPTA placed 11 extra subway trains into service and the first express pulled out of Fern Rock Station 90 minutes before Tony Taylor threw out the ball that opened the sixth game of the World Series.
The special trains picked up fans at Olney, Erie, City Hall and Walnut-Locust stations, then whisked them nonstop to the Vet.  Phantom Rider spent $1.30 for his round-trip from City Hall Station to the stadium.
Had he driven his car, parking alone would have been $3, plus gasoline for the round trip into South Philadelphia.
Time was another important factor.  It took 7 minutes to get to the stadium, and 13 minutes to get back to Center City.  Friends who drove complained it took 40 minutes to get to the Vet, and 50 to 60 minutes to weave through northbound traffic heading back towards Center City.
A SEPTA spokeman said commuter traffic moved without incident along Market-Frankford Elevated trains pressed into service from the Bridge Street Depot and 69th Street Terminal.
Commuters aboard "Sportsmens' Special" buses, which transported fans from Northeast Philadelphia to the game via Roosevelt Boulevard and the Expressway, reported no problems.
SEPTA subway trainmen were assisted by Philadelphia police at every station along the express route, and Phantom rider credits the police presence for his trouble-free ride.  There was a tremendous amount of drinking inside the moving subway cars, both back and forth from the Vet, but none of the imbibers got out of hand.
This had not been the case earlier this season when responsibility for security was left to the SEPTA trainmen.  None of the fans last night tried to beat the SEPTA system, nor any of its passengers.
The Voice of the Riding Public congratulates both SEPTA and the Police Department for last night's game plan.  Both parties next spring should consider combining forces for the entire 1981 season to guarantee fans like Phantom Rider another winning performance.
Sites and Sounds…
Tavern Fans In High Spirits
By Kitty Caparella
"You'll know by the first batter if Steve's got it," predicted bartender Eddie Gavin at the Philadium, a sports bar within sprinting distance of Veteran's Stadium on Packer Avenue near 17th Street.
Gavin was right.
The game ended as it began.  In the first play of the first inning, Phillies pitcher Steve Carlton struck out Royals leftfielder Willie Wilson and, then, Tug McGraw did the same to Wilson for the last play in the ninth.
And, in between, nothing went unnoticed by the up-out-of-their-seats screaming fans eying two color TV sets at either end of the bar.  Not even the toothpick in Royal shortstop U.L. Washington's mouth.
"That's a disgrace," said a disgusted fan, beer in hand.
"We've been tagged the City of Losers too long," said cook and bartender Frankie Masters, 39, just as the game was getting under way.  "If we win tonight, they might party until Sunday."
In the bottom of the sixth, third baseman Larry Bowa slid home on catcher Bob Boone's double, and the patrons were off their barstools screaming.  Suddenly they burst into song, in a deep bass chorus:  "Goodbye Royals, goodbye Royals, we hate to see you go."
They started the countdown of the number of outs to go.  "Shake and Bake got that one," came a cry.  The chanting started, "Seven, seven, seven."  Then it was, "two, two, two" outs to go, a guy in a red and white Phillies shirt leaned over and waved "Goodbye K.C...."
Soon Paul Owens was crying on the screen.  Dallas Green was hugging him and the bar was in an uproar.  The patrons jumped up and down, hugging and kissing each other and one placed a kiss on Tug McGraw on the screen.
"Unbelievable… We did it… I hope we don't have to wait until 2033 until the next World Series."
The party that could last until Sunday had gotten its spontaneous start.
When the Phillies did it, the TV floodlights flashed on at Broad Street and Snyder Avenue and a sea of index fingers shot up in the air with a roar, "We're number one."
Pennants waved, fireworks exploded, beer bottles crashed.  Screams, whistles, hoots.
It was pandemonium as thousands of raucous celebrants flooded South Philadelphia as far up and down Broad Street as the eye could see.  In their exuberance to appear on NBC network television, some fans climbed on top of a Toyota and jumped up and down until the roof crashed in.
Police on horseback blocked Broad Street at Porter, and a flashing police car blocked Broad Street at Passyunk Avenue.  It was there that more than 4,000 fans converged.  "Hey, cop," said one youth, patting the cop's back, who then shook hands.
There were kids as young as eight and as old as their grandfathers drinking quarts of beer or pouring them on each others' heads.  A young Mummer in a red lame cape weaved in and out of the crowd.  The broken bottles crunched underfoot.  Two young men sought the privacy of a corner of Bell Telephone and relieved themselves. 
Kids hopped on each others' backs and waved pennants.  They shook the street signs.  And they passed out drunk.
Suburbs Get a Bang Out of Phillies' Win
By Gloria Campisi
In Harrisburg it was "dead as a doornail."
"Five minutes after the game was over there were nine hookers out, as opposed to three," said one observer of the overnight ballyhoo that followed the Phillies' first World Series victory ever.
But in other cities in eastern Pennsylvania- and especially in the Philadelphia suburbs- things were a little more lively.
In Lancaster, for instance, an impromptu parade of horn-blowing cars, featuring the Pennsylvania Dutch country's own local Philly Phanatic, rode through the center of town to Penn Square.
The closer to the city the Phillies celebration got, the livelier it grew.
But although there were arrests in the nearby suburbs, mostly for disorderly conduct, the atmosphere appeared more cheerful and less aggressive than that which fueled near riots in one Delaware County community when the Flyers won the Stanley Cup.
"It seemed like New Year's Eve, complete with firecrackers and bells," said Al Digiacomo, 47, an insurance claims manager who lives on Pennock Avenue off West Chester Pike, in Upper Darby.
"A couple hundred (persons) with no sweat at all, maybe more," including children as young as seven or eight, gathered along the Pike to watch the horn tooting cars ride by.
Last night's hoopla was reported to be unlike the Flyers' celebration in another way in a second Delaware County community, Ridley Township, where shops and homes around MacDade Boulevard took a window-smashing Stanley Cup beating.
The boulevard was littered with beer cans, broken bottles, and rolls of toilet paper last night and jammed with bumper-to-bumper traffic.  But police, riot helmeted and accompanied by K-Nine patrols during the height of the celebration, reported no vandalism.
In Upper Darby, where at least one car was turned over, police arrested 20 of the celebrants, mostly for disorderly conduct, such as bottle tossing.
At Levittown, scene of the Five Points gas riots last year, another 14 arrests were made for disorderly conduct and other minor offenses.
And in Lansdale, Montgomery County, police called in officers from 10 other nearby communities when a crowd of more than 500 that blocked traffic at Maine and Broad Streets refused to disperse by 2:15 a.m.
The glee spread to South Jersey, too.  Fireworks, spontaneous motorcades, shouting crowds were legion.  The only reported trouble was in Runnemede, where six persons were arrested and several sustained minor injuries when a crowd of about 500 persons outside a Black Horse Pike café engaged in a bottle-throwing, firecracker-tossing brawl.
The Center of Attention
By Robert Strauss
There was a sensual glaze.
It was an orgasmic city.
You didn't have to be drunk, but it seemed to help if you were.
From Vine to Pine, where everyone from Ben Franklin to generation yet unborn have partied- and will party- Center City was a red-and-white blotch of Philliedom last night.
"Can you believe it?  The Phillies won the World Series," screamed Bill Yanall, near his favorite bar, Dirty Frank's, 13th and Pine streets, soon after Tug McGraw screwballed the Royal blues into infamy.
And thousands of Philadelphians repeated his words for the next hours A.W.S. (After World Series).
Men looked for women to kiss- or more.  Women retreated to the arms of loved ones or their homes.  Broad Street was definitely a macho scene- even to the hundreds of riot-helmeted police who sometimes disturbed the party by their presence- but even the most rabid of feminists did not seem to mind.
"I coulda been raped out here," said Mary St. Croix, of Center City, as she stood with a beer and two other friends near Broad and Pine streets about an hour after the Phillies won.  "But I wouldn't have missed it for the world.  The Phillies won the World Series.  They won.  They won!  THEY WON!!!"
Yeah.  They won.
Hordes of people raised champagne bottles, cheap wine bottles, beer bottles, Lavoris bottles.  Other hordes rode on top of vans, on top of cabs, on top of drunk people who were on top of cars.  Police screamed at some, rode horses to scare others, and blared sirens- in hopes of dispersing the crowd, and half hoping they wouldn't be accepted as part of the party themselves.
Hordes of people honked horns, slapped hands in as many different ways as Tug McGraw's screwball slides, shouted at one another, looked each other in the eye.
Center City wasn't any different from any other neighborhood when the Phillies won the World Series last night, just magnified.
"I wouldn't think of anywhere else to go," said Mildred Pilliant, of Southwest Philadelphia, while she was standing at Broad and Walnut streets about midnight.  "This is the center of our town and our town did something fantastic.  Sure, it was the Phillies who won.  But it was our town that did it and we deserve a good party right in the center of town."
Hordes of people screamed every clichéd line about waiting 30 years, about how "we deserved it, finally," about Tug's heart and Pete's hustle and Lefty's concentration and Mike's Mikeness.
"They were great.  They could win again.  But I guess if they win again, I'll never feel like this," said Mike Agajanian, of South Philadelphia, as he held two beer bottles, three passing hands and assorted dreams flashing through his mind.  "It's downtown.  We're all here and we're all going to sleep well forever."
Hordes of people of all types came out in Center City to cheer the Phillies last night- transvestites, gays, macho men and women and those whose mothers have told them what a den of inequity Center City is.
Hordes of Philadelphians came to their city's heart to cheer their team last night.
And hordes of Philadelphians went home happy.   
'… We Are the Champs'
By Julia Lawlor
The White brothers of Fairmount - Kevin, Bob and Bill stood on the corner of 25th and Aspen streets last night - blissed-out, booze-ful, bleary-eyed, and not quite sure what had hit them.
The Phillies won the World Series.
" I'm 22, but I waited 30 years for this," said Kevin White, beer from Maxwell's corner bar in hand. " Now we're waiting for Butch. "
Butch, as it turns out, was barreling around the corner, sprawled across the hood of an old blue car with only a Phillies shirt, sweat socks and sneakers to protect his fair skin from the mid-October night.
Was it the full moon, perhaps, hanging out of the clouds like a Fairmounter's beer belly, that inspired the streaker-on-wheels to hop off his perch and join the crowd on the sidewalk?
MAYBE. BUT COULD BE Butch was just living up to his rep. " This is not the first time," offered Butch Riever, 33. " I do it when I'm in the mood. Last time was July 4th. "
From Fairmount to Frankford, from the Northeast to Roxborough, the city was a mass of honking horns punctuated by police sirens; red and white crepe paper tinged with a bit of squeezable Charmin; families sitting out on front stoops, giving the " We're Number One" sign to any passing vehicle; street after street of kissing, hugging, dancing, rip-roaring rowdy fans.
Police reported several violent incidents occurring throughout the night, including one fatal shooting.
The historical hysteria began at Broad Street and Pattison Avenue, minutes after the infamous third out in the ninth inning, bases loaded. One man conducted Tug McGraw's First Horn-Blowing Symphony atop a 1972 Chevy van, Eugene Ormandy- style.
MEANWHILE, along a two-mile stretch of Ridge Avenue from Manayunk to Andorra in the blue-collar neighborhood of Roxborough, drivers were surrounded by fans at each intersection and forced to " slap 'em five" before being allowed to go on their way. Police blocked off Ridge Avenue at three different locations at about 2 a.m., causing thousands of fans to gravitate to the intersection of Parker Avenue at Ridge. Three to four dozen police contained the crowd there until after the bars had closed at 2 - no incidents were reported.
There, among the firecrackers and broken beer bottles, was Rocko Delmonte the Third, a Roxborough youth with a slightly damaged ego and a badly mauled drum.
"Some old lady stepped on my drum," grumbled Delmonte, a member of the Krean string band. He said he had survived three different falls off the top of a Dodge Coronet as it careened down Ridge Avenue last night.
INSPECTOR James Martin reported that about 1,000 young fans gathered around 5th Street and Olney Avenue about midnight, where there was a heavy police presence. Minor fighting broke out, but there were no serious incidents, he said. The highlight of the night proved to be a youth who climbed up a 40-foot light pole and dropped his pants for the benefit of a largely young - 16 to 25 - crowd.
The intersection of Frankford and Cottman avenues in the Northeast, scene of much pandemonium in the past when the Flyers won the Stanley Cup, was well- policed last night with more than 40 helmeted officers and mounted  policemen. Ken Duffy, 34, of Englewood Street, had counted on the Phillies winning in seven.
"I got tickets for tomorrow night," he said, "but I don't care now that they've won. "
EVEN THE HALLOWED, ivy-covered halls of the University of Pennsylvania last night were hotter than Smokey Joe's bar at freshman rush. The highrises in Superblock (dormitories at Locust Walk between 38th and 40th streets) looked as if they had been torn inside-out. Notebook paper, torn newspaper, computer printouts, university time cards, soap suds, water balloons, beer and an occasional shot of Jack Daniels were thrown out windows, bottles were smashed on sidewalks, and otherwise sane students took to the streets.
"I think somebody's throwing out his dissertation notes," said Grant Cowan, a senior.
Finally, in honor of the force that surely was with us all the way from Montreal to Houston to Kansas City to Philadelphia, students hung glowing "Darth Vader" swords out their dorm windows, swaying them in time to the song - "We Are the Champs. "
(This story was reported by Julia Lawlor, Karen Scanlon, Kit Konolige, Gloria Campisi, Dave Bittan, and written by Lawlor.)
What the Out-of-Towners Said
Samples of what was written about the Phillies during the World Series:
Dave Anderson, New York Times:
"On the mound, he resembles a wind-up toy, a small stuffed animal with a key in his back.  But he never winds down.  Tug McGraw is that rarity, a baseball player who seems to enjoy the game as much as he did as a youngster, perhaps even more so.  Too many ballplayers perform too mechanically as they get older.  They should be carrying a briefcase instead of a glove.  But at 36 years old, Tug McGraw, the Philadelphia Phillies lefthander, remains a little boy.  He also remains one of baseball's best relief pitchers.
"He somehow symbolized the Mets in 1973, he somehow symbolizes the urgency that permeates Philadelphia now."
•
Allen Abel, Toronto Globe and Mail:
"'There is something in him,' said Jim Frey, who went to the same high school in Cincinnati as Pete Rose, 'something that permits him to take pressure off himself, not to withdraw from the pressure.
"'Even when he was a little kid, he had this desire, this inner drive.  Once, I asked him what he was doing to help himself.  I thought maybe he'd do a few exercises.  He said he was swinging a weighted bat 100 times from each side twice a day and doing 100 pushups a day.  The next time I saw him, that scrawny little kid looked like someone had blown him up like a balloon.'
"Rose retains the boy's demeanor and the barrel chest; an incongruity in a sport practiced by as many stringbeans as hulking he-men.  Invariably teammates and rivals praise the seeming durability of his youthfulness; always, there are the comparisons to the sandlot towhead.
"But Pete Rose at 39 is no longer the innocent adolescent.  Now, the field becomes the sanctuary from a world of cares, a refuge where he can conceal himself in statistics and the brown dirt of the basepaths.  Soon, an aging body and slowing reflexes will deny him that hiding place, but this day seems far off as he settles into the deep, crouching stance and laughs at the man on the mound.
"In a quieter moment a few weeks ago, Pete Rose was standing by the batting cage while the Expos took their swings.
"Rose, the survivor, was talking about the aged Willie Mays, the 42-year-old Willie Mays who limped around center field for the Mets in the 1973 playoff series against Rose's Reds.
"'Willie still had the body of a 21-year-old,' Rose said.  "He had a young man's body, but his mind wasn't in it any more.  His enthusiasm was gone.  The head dies but the body's still strong.'
"At the thought of such disaster, Peter Edward Rose shook his graying head.  'I'm not like that,' he said."
•
David Israel, Chicago Tribune:
"In six years, he will be able to collect a considerable monthly pension from baseball.  At his age, most ballplayers are pumping gas or coaching first base.  There is gray in his hair, and there are lines at the corners of his eyes.  Pete Rose is 39 years old.  Jack Benny never wanted to get any older.  Pete Rose dues not worry about such things.  Let the days keep rolling.  Every one is better than the last one.
"At his age, most ballplayers begin to search for ways to conserve energy, to relax weary muscles, to rest old bones.  Many of them sign up to work in the American League, where they can play a position called designated hitter.
"Pete Rose has never wanted that.  Doesn't like the idea, he will tell you.  Rose likes to catch and throw and spike the ball through the AstroTurf after the third out each inning.  He likes to make diving stops and scoop up bad throws that want to skip into the dugout.
"Pete Rose has often said that he thinks playing designated hitter is taking money under false pretenses.  Besides, he has played in the National League all his life, and there are a few bits of business he intends to tidy up before he departs. 
"Even though he has never aspired to DH, even though he has oft maintained that including a DH in the starting lineup is not a viable or acceptable way to conduct a baseball game, Pete Rose is now willing to make a small concession- the designated hitter might not be a bad idea.
"'That game may have proved something about the designated hitter,' Rose says now.  'You've got a guy hitting in front of the leadoff hitter who's not a pitcher.  More things happen.'"
•
Ray Fitsgerald, Boston Globe:
"Steve Carlton won't talk to the media at all, and writers have long ago stopped trying to ask him about his performance.  That's why you read nothing about how Carlton felt after pitching.
"Others on the team are rednecked enough to turn off all but the most thick-skinned journalists, so you find the media clustered around the few talkers, such as Pete Rose and Tug McGraw, while the rest of the team goes about its business in comparative solitude.
McGraw is witty and voluble, but one suspects that his teammates sometimes are tired of his act.  In fact, after a game Tuesday night, when McGraw was saying 'I did this.  I did that,' a player a few lockers away was singing that well-known ditty 'I,I,I,I,Me-Me-Me-Me-Me.'
"Before the playoffs, Philly rightfielder Bake McBride watched reporters flock around McGraw, Rose and Mike Schmidt, and said, 'The same old thing.  What about all the other guys?  Aren't they a part of the team?'
"The problem is that when reporters who don't know the Phils well try to strike up a conversation, many of the players talk in clichés or in a manner that says: 'I wish you'd leave me alone.'"
•
Peter Gammons, Boston Globe:
"Dallas Green, who is to managing what Jim Loscutoff was to 6-5 NBA forwards, smiled because the first time the Phillies played the Royals the difference was Pete Rose taking a pitch in the leg and Darrell Porter going into home like he was trying to avoid a cat on his street."
(On Bob Walk):  "He could be the junior center for the Masconomet Regional HS basketball team.  He angles his neck to the side when questioned, has adolescent acne and says 'I dunno' a lot.  But then, two years ago, he was the No. 2 starter in the Peninsula (Carolina League) rotation behind someone named Marty Bystrom and a year ago today he was pumping gas back home in Newhall, Calif."
•
Jerry Izenberg, New York Post:
"Robert could not say he wasn't warned.  His father was Ray Boone, whom those of you who are old enough to understand that Billy Martin did not invent baseball will remember as an All-Star infielder with the Cleveland Indians.  The Phillies drafted him out of Stanford University where he pitched and played third base.  The first thing the Phillies suggested to him was that he go on down to their Instructional League team and learn to play catcher.
"'You better think about that,' Ray Boone told his son.  'You are going to try to play the meanest, toughest position in baseball.  Once you agree to do it, you are going to play with pain and injury all your life.'
"Things being what they are between generations, Ray Boone got about as far with Bob Boone as you would with your kid.  Which is why the Phillies found themselves one hell of a catcher.  Last night, as the teams took the field for the pre-game warm-ups, the strange talk in both dugouts was about proctologists and George Brett's problem and antibiotics and Greg Luzinski's problem.  Nobody spoke about Young Big Foot and his problem.  Like Bob Boone said, such things go with the territory.
… "Dr, Q (Dan Quisenberry) proved that.  Bob Boone kept his patience intact.  Quisenberry, an underhand pitcher who throws as though he was falling out of a high tree, walked him.
"That brought up pinch-hitter Del Unser who slammed the ball between left and center field.  Bob Boone took off.  Bob Boone does not normally run like a gazelle.  Now, with his swollen left foot, you would expect him to move like Bambi wearing leg irons.  But he poured it on- to hell with the pain.  He sailed home and nobody will ever know how bad the spears stabbing into his left foot were because- quite naturally- Bob Boone will never tell.
"He scored a very large run."
•
Mike Marley, New York Post:
"As a group, they have about as much fun as the men along Death Row at Dannemora.  Their clubhouse is not as merry as the French Foreigh Legion barracks.  They are the Pheuding, Phighting Phillies, the talented team that leads both leagues- and perhaps all pro sports- in mental depression.
"If the discomaniacs from Pittsburgh were a happy nuclear fam-a-lee, then the team that has a 2-0 lead in the World Series is 25 players and one manager in the thick of a bitter custody battle.  The Phils are the sorest of winners- the Boys of Bummer- if you will.
"… Dallas Green is the manager of this non-glee club.  He directs Les Miserables, the team which is making the 77th Series look as one-sided as a three-card monte game.
"… Many act like playing in the Series is a drudgery.  They approach it as though it is as enjoyable as two weeks at Devil's Island.  Notable and- bless them- quotable exceptions to the rule are, of course, Tug McGraw, the screwball-throwing leprechaun, and Pete Rose, the 39-going-on-17 Cro Magnon Man.
"But they can be excused for not being in tune with the rest of the team.  The gabby pair did not learn the 'Philly Way' in their baseball youth.
"The Phillies know they must do something about their image with both the fans and the media.  Bowa said the front office tried to pressure players into being cooperative with the press and Chris Wheeler, the traveling secretary, said the team is attempting to reverse the trend of ill will to all.
"'We're trying,' Wheeler said, 'not to let the veterans' attitude spread to our kids.  We've talked to Kevin Saucier, to Lonnie and to Dickie (Noles).  We told them not to shut everybody out because you're mad at one guy.'
"'But the town has a lot to do with it, too.  Sports are a way of life in Philadelphia.  The way the Phils and the Eagles go literally affects people's lives.'"
Wilson Strikes Out At Scapegoat Role
By Jay Greenberg
The Royals kept it live just long enough last night to stretch Willie Wilson one notch tighter on the rack.
"He wasn't the guy who had 100 hits from both sides of the plate this year," said George Brett.  "I don't even know that Willie Wilson."
This one came to the 1980 World Series masterfully disguised as an out, the tragic mask of the Greek players pulled tightly over his face.  And, inevitably, fate would not let him expire in peace with the rest of the Royals on the bench.
They loaded the bases, sending Willie to a fittingly cruel doom.  He kicked at a high 1-2 Tug McGraw fastball and like an enraged goat, missed, bringing the Royals to their end and Willie's series to a grotesque 4-for-27.  His 12 strikeouts were a new Series record.
"I know a lot of guys would have liked to be here," said Wilson.  "But it was terrible to be here and play bad.
"All people will remember is the end, not the season.  And who knows whether I'll ever get into another Series to live it down."
That was only the surface of Wilson's pain, the resentment ran much deeper.  "Every time we lost," he said, "it was me.  I didn't blow a four-run lead, or a two-run lead in the ninth inning.  It's bleep.  All it was, was bullbleep.
"We played 25 men all season long and then all of a sudden it was me, who was supposed to lead everything off.  It we lost it was because I didn't get on base.  If that's the case, we should be called the Kansas City Wilsons.
"It wasn't just Kansas City papers, it was Philadelphia papers, my mom read it in New Jersey.  It was all over, man.
"Sure it's part of my job to get on base and it would have been a lot easier to score runs, but I don't want to be the one to be singled out as the reason we lost.  I might be embarrassed for the rest of my life.  I might never get into one of these things again.
"I've got feelings and they're hurt.  Hey, I'm sorry for yelling at you guys, but I'm just bleeped off.
"The World Series was not fun for me at all.  Because every time someone talked to me they didn't talk to me about a catch, it was about, 'You struck out 12 times.' It was all negative, not positive.
Someone, trying to be nice, pointed out that Series goats often have their redemption.  "There's a history of guys having bad Series being good in the next one," he said.
"I don't know if I'll get in one," said Wilson.  "I just hope I do.  To me, if I was having fun, there would have been fans out there in left field yelling at me.  It was like I wasn't even out there.
"I didn't have anybody yelling.  It was like the people here were patting me on the back for doing bad.
"People remember the last thing they see.  The last thing they saw was me swinging at a high fastball up here where I couldn't hit it."
"Did you learn anything from the experience?" he was asked.
"Yeah, not to read the papers and listen to radio and television," said Willie.  "Aw, I don't know what it was, whether I was pressing or it was mechanical.  I don't even want to figure it out.  It's over, man.  I just want to forget."
'You Missed A Mean Fight'
By Philip Weiss
World Series heroes didn't make it to Kensington last night, so the good people of Kensington and Allegheny avenues found their own.  They gathered beneath the El tracks, 4,000 strong, and coronated their heroes amid beer, nudity and destruction.
It sounded more like the end of the human race than the end of the baseball race- an unholy din of whistles, firecrackers, flying beer bottles and monstrous screams.
"Happy New Year's," cried Ernie Hamilton, 38, staggering down Allegheny Avenue with his shirt off and his tattoos glistening with beer and sweat.
Hamilton parted the struggling multitudes like Moses working on the Red Sea, but everywhere else in the crowd it was flesh pounding flesh.  The highest paid team in baseball had won the championship, and in the working class section that meant a night of celebration and the next day off from work.
Kevin Crabtree, 17, grabbed his friend Sam Toy, 17, and pulled him close so he could hear above the noise.
"You missed a mean fight," Crabtree exulted.  "I saw this big dude fight a small guy with red hair and he pulverized him.  And another guy had to go to the hospital, he needed at least 15 stitches.  I think it was Mickey Cosgrove."
"No it wasn't," said Toy.  "There's Mickey Cosgrove."
He pointed above the avenue, to the crusted green girders of the el tracks.  Mickey Cosgrove was high above the crowd, climbing up the skeleton of the el.
There were half a dozen men clinging to the girders, and one of them suddenly swung over the crowd and, dangling and swaying 15 feet in the air, walked with monkey arms above the avenue.
The crowd roared its approval, the geysers of beer spurted higher.  The acrobat, Philip Skitek, 18, lost his grip halfway across and fell into the noise.  The crowd picked Skitek up, then shouldered the stunned youth back to the edge.
Mike Swilley, 23, climbed the girders to hoist up an effigy of Kansas City slugger George Brett.  Brett swung briefly above the crowd, then went the way of all stuffing- he was lit up by the hemorrhoids.
An Army private moved through the crowd in a starched uniform.  But others were peeled to the waist, and one man screamed with laughter when two friends dashed by, dropping his sweat pants to his ankles and leaving him naked.
The crowd tore up traffic signals, No Left Turn signs, and a window or two.
During the late innings, some of the cops squeezed into bars, cradling cups of coffee.  In Kellis' bar, Officer Joe Fishkron looked at the television and saw other police officers marching into the dugouts in Veterans' Stadium.  
The dugouts- that was an easy job!
"We're the line troops," Fishkron grinned, as the noise began outside.  "We're the front line."  
Phillies Fans Salute Their Heroes
Philadelphians pouted into the street today to savor their championship in the clear light of day. Their heroes streamed down Broad Street larger than life, and a well-behaved crowd drank in the spectacle.
There was no official estimate of the crowd's size, but it was well into the hundreds of thousands. Many observers said the crowd seemed larger than the ones that greeted the Flyers when they won Stanley Cups in 1974 and 1975.
The apparent preponderance of youngsters in the crowd was born out by a check of school attendance. It was far below average, not only in the city, but in most of the suburbs. Trains, buses, trolleys and subways coming into Center City were thronged with youngsters anxious to join in the celebrating.
CHEERS FOR everyone and everything resounded through South Philadelphia. Even SEPTA buses were applauded as classrooms emptied of children and adults left their desks in Center City offices to salute the boys of summer.
"New York City, take this world championship and stick it," Series pitching star Tug McGraw shouted as more than 90,000 fans jammed into JFK Stadium went berserk during a reception ceremony shortly after 1 p.m.
"It's going to take a year to clean up this city," one teenager near City Hall declared as he surveyed an apocalypse of beer bottles, Phillies posters and champagne corks. "It's a lot dirtier than it was with the Flyers in '75."
FOR THOSE who are accustomed to a 10-hour procession of Mummers down Broad Street, the parade was mighty swift.
A man dressed as Harpo Marx and riding a bicycle led the way, unofficially, and then a police limousine rolled by, its loudspeaker warning everyone to stay behind the barricades.
Police Commissioner Morton Solomon followed on foot with Civil Affairs officers. Behind him were mounted police, prancing to the latin beat of the Overbrook High School band, which was playing on a flatbed truck.
The press was next, three flatbed trucks full of them, and at last the Phillies players, on two trucks. Even silent Steve Carlton held his magnificent left hand in the air.
CELEBRANTS showered the players with all manner of pulp. Shredded telephone books, computer cards, newspapers, even store-bought confetti in rainbow colors flooded the crisp and brilliantly clear air as the triumphant baseball team lurched toward the arena.
And if a Carter-Mondale poster was torn to bits and hurled down, well, it only went to show that Phillies fans had their priorities in order this morning.
Here and there a drunken fan lurched into a Mummers' strut, and at least one spectator wondered where the genuine feathered friends had gone.
"THE PHILLIES deserve more than that." said Rose Mestichelli. of Sartain Street near Moore. "I'm disappointed, I expected to see the string bands, I spent the whole damn night up thinking about this."
Outside the Philadelphia Center for Older Adults, near Lombard Street, the Phillies were serenaded by Pearl, a senior citizen belting, "Take Me Out to the Ball Game."
Pitcher Marty Bystrom gleefully shook up a can of beer then unleashed the foam on the crowd. The celebrants roared with delight at the baptism of joy.
Everywhere along the parade route champagne corks were popping, beer tabs were splitting and the pungent smell of marijuana crept through the crowd.
ACROSS FROM City Hall, a boyfriend/girlfriend pickpocket team smoked a joint and calmly worked the crowd. At the Stadium Bar, Broad and Snyder Avenue, the sixpacks of beer were fetching $5 in a throng six-deep in the street.
Everywhere there were boys in the on the light standards on Broad Street, in the small trees outside City Hall, and – causing panic among adults – on top of an electric trolley at Broad and Snyder.
At the nearby Gino's a 16-year-old youth tried to recruit friends for a "rumble" in the packed crowd, but the spirit of restraint was alive even in the feverish South Philadelphia neighborhood.
"No, no," his friend protested, I don't want to get my head busted open."
As the parade approached the intersection, a bus full of police officers in riot gear crowded into the throng to clear a way for the heroes.
"I'm going to tell you one time, and one time only, if I catch you up there again..." an officer said, wagging his finger in a teenager's face, daubed with red and white Phillies paint The youth had been climbing a traffic signal.
"ITS A BLESSED event. I just hope there's no trouble," said Moyamensing Avenue fruit vendor Larry Cohen.
Sister Rose Eileen, who works at St. Agnes Medical Center, came out in her habit and a red ribbon and admitted she had been up until 1:30 a.m. this morning.
"We were positive last night, our prayers went straight up there," she confessed.
Before the parade got under way at 18th and Market Streets, City Managing Director W. Wilson Goode announced diplomatically that all State Stores were to be closed until 3 p.m. Goode said most city workers were on the job, but many city vehicles were trailing Phillies pennants. At the Police Administration Building, which was emptied for action, the highest ranking officer on duty was a detective captain.
The doctors and nurses in Methodist Hospital flocked to the roof, their stethoscopes still in hand. At St. Agnes Hospital's burn treatment center, the patients were confined to a soundproof wing. But the excitement was contagious, and they watched the parade on televisions in the ward.
The parade story was written by Philip Weiss, with reports filed by Don Uaskin, Maria Gallagher, Fred Lowe, Jim Nicholson, Robert Strauss, Kit Konolige, Maria Gallagher, Mark Manoff and Scott Heimer.
Yes, It WAS Philly Fans Night
By Bob Schwabach
When Mike Schmidt singled home two runs in the third inning, the price of a program went from $2.50 to $5.
When Tug McGfaw struck out Willie Wilson to put the game away, the price jumped to ten. Everybody knew they were going to stick this one in the scrapbook.
Game 6 was Philly Fans night, and somehow they knew it from the opening gun. Scalpers outside the Vet were selling tickets in the 600 section, up near the gods, where they use Sher-pa guides for ushers, for $125 a pair – and they were moving.
SHEILA CHEIFETZ of Huntingdon Valley was up there gasping for oxygen. She had the worst seats in the house. She couldn't see right field and she couldn't see the scoreboard. "I don't care," she said. "It's the World Series." She was right on target.
It was the World Series and a circus sideshow. For some of the fans the game was just a backdrop: A guy with a Muppet monkey doll was busy trying out standup comedy routines, another fan paraded around in nothing but his long johns. Who cared? The Conehead, the Sheik, Uncle Sam, Santa Claus and the skinny one in a Raggedy Ann costume were fighting for a beer, and a guy from Norristown with a trumpet was playing the theme from "The Lone Ranger."
Prohibition was in effect all over the stadium, and the guards and ushers were checking for the booze. But you can't stop a Philly Fan that easily; a number. of people were wearing Mexican "botas," little leather wine bags around their necks. Some were bombed by the seventh inning stretch.
DOWN AROUND BACK in the first aid station a fat lady from Virgina was saying she just couldn't stand it anymore, the noise was driving her crazy. "Hey, whataya expect," said nurse Joan Rosney, "This is the World Series." "Call me a cab," said the fat lady.
She should have stuck around. Things were just getting into gear. In the 300-level seats, Joe Furtak and Ellen Leinenbach, both from the Northeast, were hanging a banner over the railing. "Sit on it, George Brett," it read. (This ain't Boston, you know.)
Bill Daniel, a Kansas City Star reporter, already had figured that out. Dejected and roaming the stands, he was the moving finger on the wall, knowing the truth and trying to figure out how to write it for the fans back home.
"THEY HAD THEIR chances," he said, meaning the Royals. "They beat the Yankees. I think people back home pretty much got what they wanted when they beat the Yankees. That was such a sublime experience it'll have to suffice for the time being."
Down the pike a few rows, eight guys from Kansas City were laying odds on everything that moved. Like:
"Hey Foley, I got two to five on a dollar that it rains by the fifth inning."
"You're on."
"OK Brodie, I say this guy gets on, base with the count two and two."
"I got $10 says the Goodyear Blimp flies by within two minutes."
"Hey Foley, I say McGraw has a black glove. How about $5?"
They needn't have worried about the glove: McGraw was coming in with-a black hand. The eighth was rocky and the top of the ninth was looking like the last remake of "High Anxiety."
Lee Dekker, a 26-year-old fan from around 20th and Lombard, started calling on "Our Lord Pete Rose" to save the situation. At this pregnant moment Bob Boone circled right for a high pop foul and saw it bounce off his glove. Rose was there to catch it before it hit the ground.
DEKKER BEGAN BOWING toward Rose like a pilgrim towards Mecca and then started to recite the 23rd Psalm: "The Lord is my shepherd, I shall not want..."
The Lord may have been a lot of people's shepherd if they knew. Circling up above and circling very warily were a couple of TV helicopters, and inside they were thinking how quickly this Series could have become one that the world would remember and not happily.
It was last week, during the first two games, that KYW-TV newsman Walt Hunter and the pilot almost got zapped by a rocket from the scoreboard fireworks. The rocket zipped right by the stabilizing rotor on the copter's tail. Had it hit, the copter would have flipped on its back and its main blades would have sucked it down onto the playing field in a booming fireball to spread over the diamond.
Even as McGraw struck out Willie Wilson the copter stayed clear. Hunter and the pilot wanted to come in for a shot of the fans pouring onto the field to mob their champions, but they daren't risk it. That would have put thousands down there in the target zone if the unlikely should happen.
BUT THEY NEVER DID pour out onto the field. The police figured this was coming and ringed the playing area with mounted cops.
A kid with his daddy in an expensive lower box reached out with an apple to feed the horsey "No kid." the cop said, "we can't let them eat. These animals do things when they eat that are murder to try and get off on Astro Turf."
But the horse got the apple anyway And sure enough the cop was right. But not till later, not till the game was over and the cops were out in the parking lot. Then the horse did it.
And Flip Ashley, 23, from the Ritttnhouse area, stepped right into it. He looked at his shoe and he looked down at the pile, and then he raised his hands skyward and shouted at the top of his voice: "I don't care! We're No. 1!"
It sort of symbolized the Phillies' season.
Letter from the Editor
By Gil Spencer
I was talking to the sports editor a couple of weeks ago. I said something about the Phillies, and he gave me a look that combined pity, disgust and nausea.
"You're talking like a fan," he said.
He might as well have said that I was for sprinkling LSD in the milk of every other baby in Philadelphia.
To the people who live in sports departments, acting like a fan is unprofessional, un-American and, when you get right down to it, unclean.
I said nothing. But through the playoffs and the Series I tried to do my rooting at home or in the car.
The car was perfect. I could yell and holler and slap hands with myself.
Yesterday, I got into the car and did my number. Then suddenly I knew – knew for a mortal certainty – that they were going to lose.
I drove off the Expressway and onto Vine Street knowing the sixth game would be Kansas City's. And the seventh.
Going into the Series, I had thought the Phillies were a lock. They were unlike anything in a baseball suit we'd seen around here in 50 years.
They won with their backs against wall after wall after wall. They came into the Series in a euphoric rage. And it was God help anything that got in their way. The more critical the shots they received, the more indomitable they became.
They returned from the corn country a game on top with one game to win for the world championship they had been denied since their birth 96 years ago.
The whole damn city was overdosing on baseball and hope.
And until I hit Vine Street yesterday morning, I was in the front ranks of the hopeful.
Nothing had happened to make me feel they had had it. I just knew they were going to get beat.
Now I am going to tell you what happened next, and you are going to tell me I am a liar. You will say that nobody can drive by the same street most every working day for five years and not notice its name.
Well, go ahead and say it. For that matter, sing it. But I'm going to tell you what happened anyway.
I drove up Vine to 16th, turned left and started up toward Callowhill, thinking the Phillies were dead.
Then I saw a street sign I had passed more than a thousand times. Saw it and read it for the first time.
Wasn't hard to read.
Seven-letter word.
CARLTON.
When I walked into the office somebody said for the hundredth time: "What'd you think about tonight?
"They're home free," I said.
I didn't mention the sign.
Phyllis McGraw prays. I see signs.
And at 3 a.m. on October 22, 1980, I'm finishing this column and the city outside is howling. The fans are acting unprofessionally. And why not? The world is different today. Because a Philadelphia baseball team is on top of it.
Waves of Calls Flood City Hall
The Phillies' world championship was only moments old when the City Hall switchboard began lighting up like the proverbial Christmas tree.
Calls poured in from across the country from fans, former Philadelphians and well-wishers alike congratulating Philadelphia on its momentous win.
Switchboard operators said many of the calls were from Kansas City residents loyal to the Royals who wanted to thank the Phils for a great Series and the police for their crowd control efforts at Veterans Stadium.
It Won't Rain Booze on Our Parade
All State Stores in the city were closed today until 3 p.m., an hour after the expected close of the wild Phillies celebration.
The shutdown was announced by Managing Director W. Wilson Goode, who said the Liquor Control Board in Harrisburg had taken the action at the request of Mayor Green.
Goode said the action was taken in the interests of maintaining public order without seriously inconveniencing State Store patrons.
'City Centre Echoes to Joy of Victory'
By Dave Bittan
Kneel ye, knights and ladyes faire, pay homage to the twice crowned monarchs of the baseball universe – the Athletics.
That purplish prose from the typewriter of an obviously excited author from another age was the first paragraph of the lead story on the first page of the Inquirer on Oct 9. 1930, the day after the Philadelphia Athletics defeated the St. Louis Cardinals to win their second straight World Series. Until last night, it was the last time a Philadelphia team had captured baseball's biggest prize.
But a check of the newspapers that covered that series indicates the victory didn't spark reaction like the tumultuous street demonstrations of 1980. Of course Prohibition was still the law, and TV had not yet been perfected, so there were no neighborhood pubs where fans could watch the game.
A 3½-INCH STORY buried on the Inquirer's obituary page the day after the Athletics' big win indicates the fans of that era were somewhat less emotional than today's beer-filled rowdies. Beneath a tiny headline reading "City Centre Echoes to Joy of Victory" the story's lead paragraph said:
"Amid a swirling storm of ticker tape, the cheers of men and the more excited screams of feminine fans. Philadelphia's business district – or at least the area surrounding 15th and Chestnut Streets – put on its own spontaneous victory celebration for the world champion Athletics."

Workers poured out of office buildings, where they had been listening to CBS's Ted Husing describe the A's-Cards game on WCAU or WABC (now WCBS), or NBC's Graham McNamee give his dramatic description on several local stations.
The office crowd joined pedestrians parading in the City Hall area. Workers who remained indoors gazed out of office windows at the celebration below.
The comparative lack of enthusiasm could have been because Connie Mack's Athletics had also won the World Series in 1929, breaking the two-year reign of the New York Yankees, who, led by Babe Ruth and Lou Gehrig, were generally considered baseball's best team of the era. The A's also won world championships in 1910-11 and 1913 and American League pennants in 1902. 1905, and 1914, losing in the World Series those years. They also won the pennant in 1931, but lost the World Series to those same St. Louis Cards.
MACK, TEAM OWNER for most of those years, also was its manager, sitting on the bench wearing a severe suit with a high collar from 1901 until shortly before the team moved to Kansas City in 1954 when Mack was forced to sell.
It was 50 years ago on Oct. 8 that the original Athletics clinched the Series by defeating the Cardinals 7-1 behind the strong right arm of George Earnshaw.
Swarthmore College graduate Earnshaw, who could have been the first jock to become an announcer and air nightly resumes of the home games, over WIP. He won the decisive game with only two days' rest.
The scenario for the 1930 Series has striking similarities to the Phils' triumph 50 years later.
The A's, like the 1980 Phils, won the first two games here. President Herbert Hoover, accompanied by five members of his Cabinet, threw out the first ball in the opening game, won by A's pitching star Lefty Grove.
The A's record of losing the first two games in Missouri was duplicated by the 1980 Phils. The old A's, like this year's Phils, returned home leading 3-2 after winning the fifth game on the road. Back at Shibe Park, the A's took the championship in the sixth game. Last night, the script was completed at Veterans Stadium as the Phils won the crown in Game 6.
There is no newspaper record of an official City of Philadelphia celebration after the A's won the Series. But then-Mayor Harry Mackey welcomed the A's at a municipal reception . when they returned home in late September after winning the American League pennant.
THEN, AS NOW, there was a mad scramble for World Series tickets at 21st Street and Lehigh Avenue. Shibe Park seated only 33,000, and not all seats were available to the public. Scalpers appeared to be everywhere, charging as much as $15 a ticket, but many were arrested. Fans who obtained their tickets legitimately got in line the night before they went on sale. Bleacher seats were $1, grandstand seats went for $3, reserved seats were $5.50 and boxes cost $6.50. Enterprising homeowners who lived on 20th Street, where Babe Ruth's homers landed when the Yanks came to town, accommodated hundreds on the rooftops of their houses at $5.50 a throw.
Shibe Park – later Connie Mack Stadium – was built before motor cars proliferated, so parking was at a premium. But auto traffic was heavy enough by 1930 to force the city to enforce elaborate traffic regulations and assign 400 policemen to direct traffic and ticket illegally parked cars.
Tow trucks hauled away 29 cars, each of which could be recovered by paying $6.
To take care of the hordes traveling to Shibe Park, 400 taxis were assigned to transport fans. Broad Street Subway trains were lengthened to six cars each, and 75 extra surface cars were put into service. The old Philadelphia Rapid Transit charged 15 cents for a two-way trolley or subway trip.
Hot dog vendors, wrote one observer, promised themselves they would buy "well-furnished townhouses or even palatial yachts" on their World Series earnings.
That dream, of course, didn't come true for the frankfurter merchants. But the Mike Schmidts, Pete Roses and other 1980 World Series stars are able to afford yachts – and more – with their multi-million dollar earnings.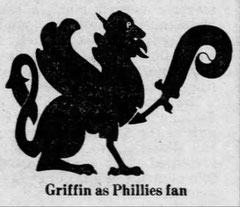 What's Up, Doc?
By Frank Dougherty
Everybody here has World Series Fever, including the Art Museum's griffin. He's wearing a Phillies cap, and identifying himself as a Phillies Phanatic to all who pass him by on East River Drive. "The griffin, a cross between a lion and eagle in ancient mythology, was guardian of the treasury," explained a museum spokeswoman. "The griffin sits on each corner of our building, guarding the art treasures within. He loves the Phillies."
The Filling Station
Every special sporting event produces its own special kind of injury. To find out what was happening as a result of all these teeth-clenching World Series games, I called my dentist to get a filling.
"I'm dealing with more broken teeth, caps, and crowns during this World Series than at any other time in the 35 years I've been practicing dentistry," explained Dr. Jerome Rooklin. He attributes the injuries to people clenching and grinding their teeth during the tension-filled playoff and series games.
"Fans are breaking teeth off bridges and chipping healthy teeth against one another, then coming here in tears with raw nerve endings," continued Rooklin, who maintains a practice in Port Richmond just a few doors from where he was born. And after healing all these sports-related injuries, how does the dentist himself unwind? "Down at the Vet," said Rooklin. "I'm a home town boy, who LOVES the Phillies."
Two Foul Balls
The love story ends at city limits. National sports writers continue to castigate our team every time they take pen in hand. Tom Callahan of the Washington Star wants to rain on our victory parade "The most singularly unattractive, unappealing and... obnoxious baseball team of modern times is about to win the World Series. How to win one more game from Kansas City isn't what's worrying the city fathers of Philadelphia. How are they ever going to get the players to come to the parade?"
Sportswriter Bob Verdi of the Chicago Tribune is just as sour. "The Philadelphia Phillies have long been detested for their overbearing arrogance, their princely lifestyle and their whimpering ways. As more than one opponent theorized, however, it was difficult to hate their guts. You couldn't, after all, hate something they didn't have."
In an afterthought to all that rubbish, Verdi did add, "Arrogant still... But gutless, definitely not."
Getting in Step with the Phils
By Jack McKinney
You have to believe some things are just destined to be.
Like the Phillies' first triumphant World Series since creation.
You didn't have to be at Veterans Stadium, or even near a TV set or radio, to know it was inevitable.
On a night when positive vibrations seemed to be everywhere, there was an overwhelming augury of the euphoria to come in – of all settings – the season's first Junior Student Concert at the Academy of Music.
It wasn't just seeing first violinist and concertmaster Joe DiPasquale stride onstage with a Phillies pennant stuck in his cummerbund. Or hearing the youthful audience scream with approval when conductor Bill Smith mounted the podium in his bright red Phillies cap.
The definitive omen was the program itself.
Planned seven months ago, when clubhouse manager Kenny Bush had barely uncrated the Phillies' equipment in Clearwater, this was a program that had to be played on the night the ultimate trophy in baseball would be conferred on the team from Philadelphia.
•
The soloist, and an exceptional one, playing the moderato assai movement from Anton Rubinstein's D-minor Concerto for Piano and Orchestra, was Jean Schneider, a 15-year-old 10th-grader from Northeast Philadelphia, whose two consuming interests are her music and the Phillies.
And even more in the spirit of the night was a baseball ballet, choreographed and performed by City Dance Works, a trio of nimble young women whose passion for baseball borders on fanatical.
Titled "Instant Replay," the work opened with a movement called "Tinker to Evers to Chance" that was redolent of World Series heroics past and prophetically highlighted by a tribute to Phils reliever Tug McGraw, the sine qua non guy of the entire 1980 Series miracle.
Jean Henderson, the dancer who mimed the "idiosyncratic" impression of McGraw on the mound, said she was "tempted to pump my hand over my heart" as a reference to McGraw's spontaneous reaction after Hal McRae sliced that long, heart-stopping foul off one of his pitches in Game 5 at Kansas City.
But not even a modern dancer can be as spontaneous as McGraw. Henderson decided against such an ad lib because she didn't want to throw off the timing of her partners, Madeline (Matty) Cantor and Jacqueline (Jackie) Blombach.
•
The three performers were out-and-out baseball buffs long before they formed their promising dance partnership last year in the home of the Phillies.
Jean Henderson was devoted to the-L.A. Dodgers from her childhood days in California, later transferring her affections to the Baltimore Orioles.
Jackie Blombach was such a fan of the Boston Red Sox that she cut classes at the Boston Conservatory four straight years in order to catch the home openers at Fenway Park.
Matty Cantor was lovingly steeped in the old tradition of the Dodgers, before they deserted Brooklyn for L.A.
But last night City Dance Works was united behind the Phillies. And as they warmed up for the fulfillment of a dancer's dream – to perform in front of the Philadelphia Orchestra in the Academy of Music – they worried about how much of the Phillies' game they might miss before they'd get back to Jackie Blombach 's house in Fairmount to turn on the television set.
"It was still scoreless in the middle of the second inning when we went out to perform," Jean Henderson recalled. "By the time Mike Schmidt drove in those two runs, we were out of the Academy and hurrying to the car."
They arrived back in Fairmount, hungry, exhausted but exhilarated.
"It's been such an incredible series," said Jean. "We didn't even take class Monday because we were so wrung out by Sunday's game."
Here, you should know that "taking class" is to professional dancers what taking infield and batting practice is to professional baseball players.
It was a significant exercise for City Dance Works to miss on the eve of the most prestigious appearance in its two-year existence. But happily, it took none of the polish off last right's performance, which was bright, light and witty and executed as enthusiastically as it was received.
In the interest of historical accuracy, it should be noted that the baseball ballet was conceived long before the Phillies were given much chance of going al! the way.
"Tinker to Evers to Chance" – named after most famous double play combination in baseball history – was premiered last March in Dance '80, the Philadelphia Dance Alliance's festival at Mandell Theater.
The work was such an unqualified hit that it's choreographer-performers were asked to expand it to four movements to help kick off this season's Junior Student Concerts. Its added movements were titled, respectively, "Second Wind" and "Jump Hail" and a kind of recapitulation coda called, "It Ain't Over 'til It's Over."
As a final prophetic touch, on a night when Jean Schneider was confirmed as a pianist of extraordinary promise. Bill Smith presented the personable young soloist with her audition award and added:
"Bring it back later this week and we'll add the inscription, 'Presented on the night the Phillies won the World Series.'"
Mike Schmidt Planning Trip to Japan
Work at the Delaware County Courthouse in Media almost ground to a halt yesterday morning when the Phillies' Mike Schmidt stopped in to pick up a passport for a trip to Japan.
This season's National League home run king was in no hurry to leave the granite-columned building not far from his Upper Providence township home after completing his business. He chatted with well wishers, signed dozens of autographs and bestowed a kiss on the cheek of 19-year-old Debbie Tipping, a bookkeeper in the sheriffs department.
"And he promised to bring Tug McGraw back for a visit when things calm down," said courthouse police officer John Juisti.
McGraw lives just a few miles from Schmidt.
After paying the $15 passport fee with a check signed by his wife Donna, Schmidt accepted an offer by Juisti to escort him to his illegally parked car across the street from the courthouse.
Did Juisti issue a parking violation ticket to Schmidt?
"That's not my job," said the county employee. "That's up to the Media police."
•
Don Zimmer has been averaging a phone call every four minutes while he waits in Florida for some definitive word on his baseball future.
But the one call he's hoping for may be a few days away.
The ousted Boston Red Sox skipper expects to know by the weekend whether he will succeed Pat Corrales as manager of the Texas Rangers.
Zimmer said yesterday he figures he is among two or three final candidates and hopes to meet later in the week in Florida with Rangers Executive Vice President Eddie Robinson.
Former Yankee Manager Bob Lemon is also thought to be in contention.
Should the Rangers' job fail to materialize, Zimmer said he will accept the third-base coaching job with the New York Yankees.
Zimmer had hoped to give New York owner George Steinbrenner a decision by yesterday. But he said Steinbrenner told him the coaching job will remain open until he hears from Texas.
Forecast On the Mark
Stan Hochman knew the Phillies would win the World Series... and said so last April 10.
In the Daily News Baseball Guide, Hochman predicted the Phils to win the National League Eastern Division and the Houston Astros to win the NL West. He picked the Phils to go on and defeat the Astros in the playoffs and win the World Series.