Wilmington Morning News - October 22, 1980
Phils are champs
And the long, long wait is over
By Rod Beaton, Staff Correspondent
PHILADELPHIA – The Philadelphia Phillies, for decades one of baseball's worst teams, a team that has been haunted by the failures of its past, last night captured the world championship that has eluded the franchise since the team was born.
Steve Carlton pitched a masterful seven innings of four-hit ball and Tug McGraw finished up for his second Series save to stop the Kansas City Royals, 4-1, in game six of the World Series, played in front of an overflow crowd at Veterans Stadium and a nationwide television audience.
The Phillies, who made their debut in 1883, won their first World Series four games to two.
With 65,838 on hand, the largest crowd in Pennsylvania baseball history, Carlton pitched one of the finer, and the most significant games, of his brilliant 16-year major league career. He struck out seven and baffled the Royals until a troubled eighth, when McGraw entered. The Phils' left-handed reliever scuffled through the inning, in which the Royals scored and twice loaded the bases.
Carlton, 35, does not speak to the media, but his strong, durable arm says volumes. He closed the book on the Royals' season with his second victory in the World Series and third victory in post-season play.
For the first time in 1980, the, Phillies won a post-season game without having to come from behind to do it. With the well-balanced attack they displayed throughout the six games, they scored twice in the third inning and added single runs in the fifth and sixth to put the game away.
Mike Schmidt smashed the game-winning hit, a two-run, bases-loaded single in the third. The Phils had loaded the bases when Bob Boone walked and Lonnie Smith was safe on a fielder's choice error as U.L. Washington abandoned second base too quickly on an attempted force. Pete Rose beat out a bunt to set the stage for Schmidt's no-out single.
Bake McBride drove in the Phils' third run in the fifth inning. His soft grounder to short scored Smith, who had opened the inning by turning what looked like a routine single into a double.
The Phils scored again an inning later when Boone's two-out single scored Larry Bowa, on with a double.
The Royals KO'd Carlton in the eighth when their first two men reached base. McGraw retired Frank White, but he walked Willie Wilson to load the bases. Washington drove in the KC run with a long fly, and George Brett reloaded the bases with an infield hit. But McGraw retired Hal McRae on a ground ball.
McGraw, known for digging himself out of his own as well as other pitchers' holes, gave up a walk and two singles in the ninth, bringing many Philadelphia fans' hearts into their throats. But the gutty lefthander struck out Willie Wilson to win the Series.
And the Delaware Valley went wild in celebration.
CHAMPS
Final inning was a heart 'Tugger' as Phillies win 1st World Series title
By Ray Finocchiaro, Staff Correspondent
PHILADELPHIA – After almost a century, the waiting ended here last night.
Poetically, this World Series should've ended with a majestic Mike Schmidt home run, drowned in a crescendo of fireworks high above Veterans Stadium where the faithful had gathered. Or in a blaze of Steve Carlton strikeouts.
Actually, it was Series MVP Schmidt's two-run single with the bases loaded – and the chanting of more than 65,000 fans, screaming with every pitch – that etched this moment in history.
And after almost a century of waiting, the Philadelphia Phillies are world champions.
The final score was Phillies 4, Kansas City Royals 1, with Tug McGraw nailing down Carlton's victory with two innings of relief, including a bases-loaded jam in the Royals' final shot.
But every diehard Phillies fan knows that. The score was anticlimactic to the simple fact that the Phillies had finally won one and those long-suffering fans had a champion at last.
"We have a lot of great fans here," said Phillies Manager Dallas Green, dripping champagne from every pore when it ended. "The city's wanted a champion for a long time and we've got our niche now."
It wasn't easy, but then nothing was easy for the Phillies this year. The Royals loaded the bases against McGraw on a walk and two singles with one out and KC had one last breath of hope.
But two World Series veterans – McGraw and Pete Rose – made the plays when they had to be made.
McGraw coaxed Frank White to loft a high foul pop near the Phils dugout and both Rose and catcher Bob Boone converged. Boone got his glove on the ball, then felt his heart in his throat as the ball popped out.
But Rose was there to catch the carom and there were two out.
"We've been practicing that trick play all year," said Rose with a mischievous grin.
McGraw got two quick strikes on Willie Wilson, then struck him out on a 1-2 fastball to set the celebration in motion.
Phillies were all over the diamond, jumping and celebrating, washing all the controversy away.
Very few fans made it onto the field, lined with helmeted and mounted policemen.
"I was running out of gas," the jubilant McGraw said afterwards. "I saw the police dogs coming onto the field and I told myself to 'find something extra, find something extra.' That's what the whole team had been doing."
And they did it again last night, when it counted.
"We had heart, we had character!" said Manager Green. "We're an unbelievable baseball team right now; we could beat anybody in the world."
After nearly a century, they finally proved it last night.
"Kansas City has nothing to be ashamed of," said Phils' shortstop Larry Bowa. "They could've won it as easy as us, with a key hit here and there."
But Carlton and McGraw had other ideas.
While Carlton was busily gunning down the Royals, striking out seven KC batters in the first six innings, the Phillies were scoring runs off the first three KC pitchers en route to the champagne.
After wasting hits by Rose and Garry Maddox in the first two innings, the Phils loaded the bases against loser Rich Gale in the third. Of course, some help from second base umpire Bill Kunkel of the American League didn't hurt, either.
Boone started the inning with a walk and looked like an easy out at second on Lonnie Smith's bouncer to second baseman White.
But White's throw pulled shortstop U.L. Washington off the bag, perhaps a split second before Boone slid in, and Kunkel gave an emphatic safe sign. Instant replays seemed indecisive but the "phantom tag" at second is a fact of life in baseball and KC Manager Jim Frey found it hard to believe that Kunkel would decide to enforce the rule in the glare of the deciding game of the World Series.
Frey, naturally, lost the argument and the Phillies had two runners and nobody out.
Rose was the next batter and the Royals figured he would bunt, so they put on the rotation play with fielders running in every direction as Gale released the first four pitches. Rose swung and fouled one off.
Then, with the Royals finally convinced that Rose would take a full cut, Rose laid down a beautiful bunt toward third and beat George Brett's throw to first to load the bases.
"We had George charging until the count was 3-1," said Frey. "We had Gale (supposed to be) covering third but he didn't get off the mound in time."
Schmidt stepped in and sliced a 1-1 fastball to right center for two runs. Smith slipped and fell rounding third but still scored without a throw.
"I'm sure someone was yelling that he'd slipped," said Frey, "but you couldn't hear anything out there."
That was all for Gale and Frey waved in Dover native Renie Martin with runners at the corners and nobody out. Martin more than met the challenge, retiring the Phils' 4-5-6 hitters on two popups and a fly to right.
The Phils finally got to Martin in the fifth when Smith stole a page from Hal McRae's baserunning book and hustled a single to center into a double when Amos Otis lobbed the ball toward the infield.
Rose got Smith to third with a fly to center and Schmidt walked. Frey finally decided to let a left-hander try his luck with the right-hand dominated Phils' lineup, calling on disgruntled Paul Splittorff, who's already stated his desire to jump ship for next season.
Splittorff got Bake McBride on a slow roller to short, but Smith scored on the play to make it 3-0.
Splittorff allowed the Phils' fourth run in the sixth. Maddox opened the inning with a single but was erased on Manny Trillo's double play grounder to the mound.
Bowa followed with a double to the left field wall, then scored on Boone's sharp single to center.
While the Phils were increasing their lead and the helmeted police were taking their positions around the stadium, hoping for the best but expecting the worst, the Royals were having very little luck with Carlton. Until the eighth, when KC got its first two runners on base, Carlton showed no sign of tiring with the taste of champagne drawing near.
Carlton is, as all Phillie fans know by now, a connoisseur of fine wines, so it was appropriate that he put the cork on the KC attack before his teammates popped the corks on their World Series champagne.
"Carlton threw a lot better than he did the first time against us," Frey said. "He had very good velocity tonight."
Kansas City got just three singles off Carlton in the first seven innings, but the Royals gave it their best shot in the eighth with the buzzards hovering overhead.
John Wathan waited out a walk to open the inning and ex-Phillie Jose Cardenal, the self-admitted "bum" of Game Five when he struck out with the bases loaded against McGraw, rapped a single to left.
Green decided that was enough for Carlton, who'd thrown 109 pitches to that point, and waved in – who else? – Mr. McGraw, who was appearing in his fourth Series game.
Tug got Frank White on a foul pop to Rose for the first out, then walked Willie Wilson to load the bases and make things interesting.
Washington-battled off several of McGraw's screwballs, then lofted a fly to center that got Wathan home. But center fielder Maddox conceded the run, throwing to third to keep the runners from advancing with two out.
That left McGraw to face Brett, a renewal of Sunday's dramatic three-pitch strikeout when McGraw fooled the .390 hitter by "wasting" a two-strike fastball over the plate as the outguessed Brett stood by helplessly and took the pitch.
This time Brett hit a chopper to the edge of the outfield turf that Trillo flagged down and rifled to Rose, who did a little dance around the bag.
Umpire Harry Wendelstedt called Brett safe and the Royals had the bases loaded for McRae, who'd hit safely in the first five games but was 0-for-3 against Carlton.
McRae fouled off a pair of 3-2 pitches, then bounced to Trillo to end the inning with the Phils still holding a three-run lead.
The 65,838 fans, the largest Vet baseball crowd ever, were roaring now, sensing the kill – of Kansas City and everything else that moved.
"I had to pinch myself," said Bowa. "It was an unbelievable feeling, with chills up and down my back. But when they loaded the bases, it went from chills to nerves. My legs are still shaking."
The Man in Washington, D.C., meanwhile, breathed a bit easier, managing a call to both managers after the game.
An interesting bit of World Series trivia dating back to the 1952 election reveals that the Democratic presidential nominee has won the election every time a National League team won the World Series, with the Republicans winning the White House with American League championships.
Tick… Tick… Phils dynamite in 98th year
By Hal Bodley, Sports Editor
PHILADELPHIA – It became a volatile time bomb, the baseball palace they call Veterans Stadium. The clock was switched on and counting when the Cardiac Kids they call the Philadelphia Phillies dazed Kansas City on Sunday 4-3.
Tick... Tick... Tick...
The frustration and disappointment that had been bottled up all those years began to seep out during Monday's respite in the World Series, the best-of-seven joust the Phillies were leading three games to two.
Tick... Tick... Tick...
And last night, long before the sun had set and the full moon peeped out of the clouds above the Philadelphia playground, the ticking became louder. It was an electric feeling and by the time the 65,838 paying customers nervously found their seats, you could almost hear the ticking. You could certainly feel it.
Tick...Tick...Tick...
When Charlie Pride sang the Star Spangled Banner there were emotional catcalls from the rafters of the stadium as the men in white doubleknits with red stripes lined the first-base line.
Tick...Tick...Tick...
As Super Steve Carlton, the world's best pitching on this cool autumn evening, walked quietly to the mound, they shouted, "Steve, Steve, Steve." And as he put the Kansas City Royals down in order, one-two-three in the first inning, the emotion swept through the mob. And as hundreds of policemen filed into the park, they even received an ovation. And when was the last time this mob gave a cop a hand? Heck, they even boo Santa Claus.
Tick...Tick...Tick...
And in the third inning when Michael Jack Schmidt's bases-loaded single gave the Phillies a 2-0 lead the ticking grew even louder. This bomb was going to explode and everyone peering down on the action knew it was going to be loud and devastating and exciting.
Tick...Tick...Tick...
Ever since this franchise came here in 1883 people had been waiting for a world championship. The Phils won just one of five games in the 1915 World Series and their next time in the tournament, 1950, they went quietly in four games at the hands of the New York Yankees. And then there was The Great Collapse of 1964. Leading the National League by 6½ games with 12 to play, they lost 10 in a row and blew the pennant. Then came the Eastern Division titles of 1976-77-78, three straight disappointments. But this 1980 team, down many, many times, but never out, found a way to win close games, a way to come back no matter what the reality of the situation.
Tick... Tick... Tick...
Lonnie Smith led off the fifth with a single he ran into a double and eventually scored from third base on Bake McBride's infield out and it was 3-0. Carlton, his arm weary from more than 320 innings, had his darting slider methodically dazzling the bewildered Royals and it was now just a matter of time.! Larry Bowa's double and Bob Boone's single in the sixth padded the lead to 4-0 and the fans were having trouble containing themselves.
Tick... Tick... Tick…
As the now ecstatic followers who had waited all these years prepared to rise for the seventh-inning stretch the cavalry arrived. Mounted policemen on 10 horses paraded around the outfield, eventually going to a hideaway in right field, had everybody wondering if instead of the normal celebration, these Phillies were going to climb aboard and ride down Broad Street, not even waiting for Wednesday's formal parade.
Tick... Tick... Tick...
A murmur of concern swept through the throng when John Wathan led off the eighth with a walk and little Jose Cardenal drilled a single to left. Now, Manager Dallas Green heard another ticking and refused to let it explode. As soon as Cardenal reached first, he strolled to the mound and called on Tug McGraw, the daffy relief hero of this World Series. McGraw, who had a Delaware River tugboat named after him earlier in the day, got Frank White on a foul pop, but walked Willie Wilson to load the bases.
U. L. Washington came up and even though it was 4-0, the laugher had become another Phillies' pulsating baseball game. Washington's sacrifice fly shattered the shutout at 4-1 and when George Brett was safe on an infield single, the bases were again loaded for the dangerous Hal McRae.
What was going on here? Can't the Phillies do anything with ease?
The count went 3-2 to McRae and the right-handed hitter fouled off two pitches. Then, with the game on the line, he grounded out to second base.
Tick... Tick... Tick...
And then it was the ninth inning. From 1883 to the ninth inning of the 1980 World Series.
Tick... Tick... Tick...
Amos Otis the batter and Frank Edwin McGraw the pitcher. Ball one. Ball two. Strike one. Strike two. Strike three called! The crowd went wild and the South Philly ball park vibrated.
Willie Mays Aikens the batter. The chanting from the fans got louder and louder. Strike one called. Ball one. Ball two. Strike two called. Foul ball to the right-field seats. Ball three called. Ball four outside. Onix Concepcion sent in to run.
Wathan the batter. Single to right field on first pitch, Concepcion stopping at second.
Jose Cardenal the batter, runners on first and second. First pitch, fouled back. Ball low. Foul ball right-field line. Pickoff attempt at first late. Foul back. Single to center, bases loaded.
Tick... Tick... Tick...
Frank White, the batter. Foul pop in front of Phils' dugout bounces out of Boone's glove into Pete Rose's waiting mitt. Two out!
Tick...Tick...Tick...
Willie Wilson the batter. Strike one called. Strike two foul. Ball high. The crowd tense for a moment, then McGraw slowly went into the windup. The pitch left McGraw's hand. Wilson swung and missed!
You could hear the explosion in New York. It rattled dishes in Washington.
The Philadelphia Phillies were finally world champions! They had defeated the Kansas City Royals 4-1 to complete one of the most incredible seasons in baseball history.
The bomb finally went off. The players dashed to the mound to grab the leaping Tug McGraw. Hundreds of policemen, with dogs and guns and horses, kept the crowd back.
Inside the dressing room Green and Player Personnel Director Paul Owens were crying.
The ghost of 1915 and 1950 and 1964 and those three playoff years had finally been buried. "We're world champions and nobody will forget that," Mike Schmidt, voted most valuable player in the Series. "We're world champions. Nobody will ever forget that!"
And as the surprisingly orderly fans chanted, just about every player interrupted the clubhouse celebration to return to the battlefield.
And that was just the beginning. This celebration will last a long long time.
Dallas Green
Green ponders the future as he savors the present
By Hal Bodley, Sports Editor
PHILADELPHIA – Dallas Green managed his final game for the Phillies last night – or did he?
"I'm really not sure," said Green. "You know my preference. I wanted to win this thing and then let somebody else manage the team, but if Paul Owens and Ruly Carpenter want me to come back, I'll do whatever they want."
Green, who turned 46 last Aug. 4, took over the Phils on Aug. 31, 1979 when Danny Ozark was fired. At that time, his appointment was only on an interim basis, but Owens talked him in to continuing for 1980.
"There's one thing that bothers me about giving it up," added Green. "The Pope (Owens' nick name) keeps telling me that he will retire so I can become general manager. I don't think that's necessary because he still has a lot of baseball left in him."
If Green does decide to leave the field, he says he would be perfectly content to serve as Owens' assistant for a few years.
"What would be wrong with that?" asked Dallas, the team's farm director before he replaced Ozark. "I have been so busy with the minor-league system I am not that familiar with the day-to-day responsibilities of the general manager. I think I could learn a lot serving as the Pope's assistant. I would hate for him to retire just to make room for me as general manager."
Green paused a moment before adding: "I've given it some thought, but not a lot. What I want to do right now is get away from everything for a few days. I want to relax and savor what we have done. I'm the happiest person in the world right now because I have been able to do something for the organization, That is what makes this so special for me."
If Green does give it up, one of his choices for a successor is Pat Corrales, the recently fired Texas Rangers' manager. Corrales grew up in the Philadelphia organization and was with the major-league club in 1964 and 1965.
Green admits Corrales is a possibility, but in the same breath says coach Bobby Wine would be just as strong a candidate.
"Wino has been my right-hand man," said Green. "He has done an outstanding job. He has helped me with the line-up, with strategy and I don't know what I would have done without him. He would make a very good manager."
"I'm sure the Pope and Dallas have talked about the managerial thing," said owner Carpenter, "but I have not been involved in any discussions. I just haven't had time to think about it because this has been such a hectic six weeks getting where we are. To be honest, I was surprised Dallas came back and did it this year. After everything settles down, we'll talk about it."
"I really don't know what I could accomplish if I came back," said Green, "but just like I said, if they want me to, I will have to give it a lot of thought. I am a company man and will do what they think is best for the organization."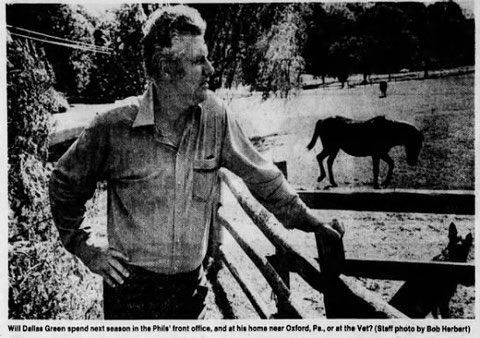 Schmidt the cornerstone of Phillies' triumph
By John Bannon, Staff Correspondent
PHILADELPHIA – The one with the mustache won it.
The glamour and glitter of this World Series tilted heavily toward the left side of the infield, a showcase for third basemen. In one corner stood George Brett, the Midwest charmer, the witty one, the single one with the dashing looks. And in the other camp was Mike Schmidt, the one with farmboy strength, quiet demeanor and stodgy image.
Today, the final loser's share of this baseball season, autumn's sad price, belongs to Kansas City's George Brett after a mercurial summer. The world belongs to Schmidt. So does the World Series Most Valuable Player award.
Schmidt reached that lofty station last night as the Phillies collected their first ever world championship with a 4-1 win over the stubborn Kansas City representative from the American League before the largest baseball crowd in Veterans Stadium history to drive the final nail in a Royal coffin that began slamming shut with the loss Sunday in Kansas City.
And just like Sunday, when Schmidt started the Phillies off with a two-run homer and then started the game-winning rally in the ninth with a single, Schmidt was in the center of this Phillie storm that gathered such angry momentum as September rolled into October. It was Schmidt's line single on an inside fastball in the third that gave these comeback darlings a cushion for a change, an advantage that would hold up dramatically through the game's final frames.
And when it was over, Schmidt stood on center stage. The MVP award reaped from a six-game set that saw him hit .381 with two homers and a team high seven RBI, including two game-winners.
Schmidt saw no duel of talented third basemen.
"I don't think you can compare George Brett and me," Schmidt said, with sweat beading on his forehead under hot television lights and champagne pouring down his throat in large gulps. "Oh, I guess you can compare anything if you want, but we're two different players. George Brett is a contact, line-drive hitter. He may be the best pure hitter in baseball. I don't get enough broken bat hits to hit .330, but I dare you to find a third baseman who is better all-around."
Schmidt, at first, wasn't quiet sure whether his credentials were worthy of the honor. Or that more imposing than his teammates.
"It hasn't set in yet. Maybe in two weeks, I'll start to truly realize what happened. I'm ecstatic. I'd like to chop up the MVP award in at least 25 pieces and give some to all the guys. Greg Gross, Del Unser you know what those guys did."
Later, he would claim there was no clear cut choice for MVP on this team that now calls itself baseball's best.
"I didn't do anything dramatic. I didn't have any real big games. I just got a hit in 'every game. I had seven RBI, that's one a game," he said. "I just tried to keep from doing too much. We have too many good players on this team for one guy to carry it. We don't need that."
Still, someone, one person wins MVP awards not 25. And with no overwhelming candidate, the honor went to the man who did for long stretches this season carry this team on brawny shoulders.
"I don't what it says with them picking me MVP. I can't say that they think I'm the leader of this team," Schmidt said. "I'd be flattered to be thought of as the leader of this team. We've been looking for a leader for a long time.
"It's just when you lose, when you don't make the World Series, it doesn't matter how good you were for 175 games. When you lose, nobody looks at you as a leader. I don't even know if you can say we have a leader on this team. We have six, seven guys on this team who have been in the major leagues for a long time and we all feel young."
For once, for the first time, Schmidt finished October baseball with a bounce in his step and a smile on his face, if not a yell in his lungs. The slick, slimy feeling of past disappoints, of three successive playoff failures, are washed away in a warm bath of success.
"Sure, this is going to make a difference in how people look at us. We're world champs. That has to make a difference, he said. "All I know is come the first day of spring training all you guys will be in Clearwater talking to us, writing about what we think because we're world champs. You won't be in Bradenton or Fort Lauderdale. You'll be with us."
He liked the sounds of those words 'world champs.' He used them often as he patiently, friendly answered questions for an hour and a half in the steamy Philly locker room. He'd say it, take a swig of champagne and like the way both tasted on his tongue and eventually even let warm emotions seep through that cold exterior.
Schmidt had been the quiet one when his friends, teammates, coworkers had fussed and feuded under Manager Dallas Green's barking regime. Now, the third baseman would stand solidly behind his boss.
"Everything Dallas Green did was right. I'm not going to stand here and criticize Dallas Green. How could you? We're the world champs and he's the world champ manager. You can't fight that."
And he has grown to like his team a little more.
"In the last month and a half, we've learned to fight and scrap. We've learned that the other guy can't beat you if you don't make outs," he said. "We've learned to grind it out."
He stopped and smiled when he heard his own words.
"I don't know if that's the right words for it, grind it out. Somebody stuck that in my head in spring training," Schmidt said.
And, just perhaps, because of those words, Schmidt's winter wait for the next spring won't have a familiar bitter taste.
Super Steve
Carlton holds off Royals to gain second Series victory
By Rod Beaton, Staff Correspondent
PHILADELPHIA – Many of the Phillies' years of futility came during the stewardship of General Manager John Quinn. His parting shot, however, was the acquisition of one player involved in a contract squabble for a Phillie embroiled in the same.
Today Delaware Valley baseball fans should take a moment for silent tribute to Quinn.
That deal, just three months before Quinn was replaced by Paul Owens, sent Rick Wise to St. Louis for one Steven Norman Carlton. The date was Feb. 25, 1972.
Carlton has indisputably been the game's best left-hander since that day, but it was not until last night that he truly reached baseball's pinnacle.
Carlton threw seven masterful innings of baseball, pitching with an arm that has coiled and thrown over 300 innings this season, an arm that has pitched to major-league hitters for 16 years.
He tired, as well he might, and gave way to another premium lefty, Tug McGraw. The combination was enough to make a four-run bulge stand up to the KC challenge in a 4-1 victory.
The Phillies won their first World Series, four games to two, and two of those wins are lined up in the Carlton column.
Carlton, as is well-chronicled, does not divulge the secrets of his success, at least not to the media. He will not tell us how this game rates compared to his trip to the Burgundy region in France last year, something he called his greatest thrill in the Phils' yearbook.
He is as willing a speaker as a mafia hitman in front of a grand jury. The Royals will tell you he's just as lethal.
Carlton defeated the Royals in Game 2, a 6-4 decision at the Vet. He was better yet last night, muffling the potent top-to-bottom Royal artillery on four hits and one run in his seven innings, striking out seven.
"His breaking ball was better," said Kansas City's George Brett, a scholar of hitting equal to the learned Professor Pete Rose. "It wasn't rolling, but it was sharp.
"I was glad when they took him out."
He should have been. Carlton mastered the left-handed hitting Brett, baseball's finest bat, in his first two at-bats. Brett grounded feebly to second and hit into a double play.
Jim Frey acknowledged that last night the Royals saw the Carlton they'd heard so much of, the man destined to win his third Cy Young Award for a 24-9 regular season.
"His fastball was so much harder," said the Kansas City manager. "His control was better, too."
It was not until speedy U.L. Washington beat out a single to deep short starting the fourth inning that the Royals could manage a base hit. Carlton took care of that nuisance with Brett's double play.
He had walked two men with one out in the second and escaped problems the same way.
It was not until the eighth that he faded, walking John Wathan and yielding a lined single by Jose Cardenal. McGraw took over and, as he had done in Carlton's first World Series triumph, saved the triumph, one that forever should elevate the Phillies from the ghosts of futility that have haunted them.
"Steve had outstanding stuff," said Bob Boone, Carlton's catcher and translator. "He started to tire in the seventh. He's a professional in every sense of the word. He went along with the manager's decision to take him out. He knew what we had in the bullpen."
Manager Dallas Green harnessed Carlton's this season with judicious laissez f aire. The 6-foot-5 stopper has his own planet to which he travels when he pitches, a fully intense, total-concentration vacuum that excludes any and all diversions. Green recognized this, and the unique regimen the man they call "The big guy" applies to hone his arm, mind and body to the proper state. He gave Carlton the ball as often as possible and sat back to enjoy.
Last night he did the same, until the eighth.
"Steve was feathering his fastball a little bit," said Green. "Lefty and I have a pretty good rapport. He gave me this (thumbs-up sign) before the game and I knew he had it tonight.
"He has to be Mr. Cy Young this year. He went with the fastball more than usual. The extra two days rest was the key. It was a gamble to throw (Marty) Bystrom out there (in Game 5), but that was the way I had planned it. I know the extra rest made Lefty a power pitcher again tonight. "
And the Carlton who overpowered the Royals with 10 strikeouts in Game 2 fanned seven more last night. He won 27 with a miserable last-place team in 1972. He has reached the 20-win plateau five times. But no win can rank with this one.
It's a shame he won't tell us so.
Tug does it once again
By Tom Lindley, Assistant Sports Editor
PHILADELPHIA – They tried to write Tug McGraw out of the 1980 World Series script last night, but the Phillies' comic reliever wouldn't allow it.
It didn't matter that the field was swarming with guard dogs and mounted police. When the bases are loaded in the ninth inning, you know McGraw is going to steal the show.
The scene was repeated once more last night. As has been the case in almost every crucial Phillie game this season, it ended with McGraw striking out the last batter (Willie Wilson), to be followed by one of his now-famous, fist-raised, six-inch vertical jumps.
One small leap for McGraw. One giant leap for the Phillies, who before McGraw lowered the curtain on Kansas City last night had never won a World Series.
"I almost didn't think I was going to make it," said McGraw, whose two saves set a record for a six-game World Series. "If I hadn't got Wilson out, I was going to get Dallas (Green) out there to take me out. My arm was dead."
However, the story-book ending was preserved when McGraw, reaching inside for that extra "something," enticed Royals' American League playoff hero Frank White to pop out to Pete Rose, with an assist from catcher Bob Boone, and struck out Wilson to end the game and a lifetime of frustration for Phillie fans.
The moment was not wasted on McGraw, a likeable character who has won the hearts of Phillie fans and had a tug boat named after, him.
"It's' probably the proudest I'll ever be as a baseball player," he said. "The kind of baseball we've played in the playoffs and the Series is the epitome of the way the game of baseball should be played."
McGraw entered the game in the eighth inning, when Green quick-hooked Carlton after "Lefty" put two men on base.
"I felt strong when I came in, but after I got the first batter out in the ninth, I could tell my arm was going," McGraw said. "I was concerned, so I tried to remind myself to throw strikes and put the ball in play."
Although his fast ball may have been scared off by the police dogs, who were positioned around the field to restrain the crowd, Lady Luck did not desert McGraw with White at bat and the bases loaded.
White got under a fastball and lifted a high foul in front of the Phillie dugout which Rose caught after the ball bounced out of catcher Bob Boone's outstretched mitt.
"That was the good sign I needed," McGraw said. "When I got that out, I felt a lot better."
McGraw then got Wilson on a strikeout, marking his second World Series triumph.
McGraw's first came in 1969 with the Mets, a team as amazing in the annals of baseball as the Phillies are controversial.
"The Mets were babies in New York, but the town had won a lot of other championships before us," McGraw said. "This was the first for the City of Philadelphia."
Royals were left on base, left out of the celebration
By Anne Squires, Staff Correspondent
PHILADELPHIA – It was a full moon at Veterans Stadium and empty bases until the late innings for the Kansas City Royals last night.
But when they finally did opt to threaten the Phils' World Series hopes, the Royals came up empty once again, leaving six men on in the eighth and ninth innings combined and losing a shot at a world championship in their first appearance.
"We just couldn't get that base hit," said Royal Manager Jim Frey. "I think that's the story of the whole Series. We fought back as hard as we could without tying the game and we had a lot of opportunities, but we just couldn't get that hit."
For this World Series, battling back became the battle cry. And the Royals did their share last night after being stymied by Steve Carlton until the top of the sixth inning.
"I thought Carlton threw better in this game, threw harder," said Frey. "But I guess the Phillies' ability to come back was the key. We watched 'em do it to Houston and then they did it to us."
Despite coming up two games shy of every baseball player's fantasy, KC strongman George Brett denied that the Royals and their fans will have empty memories of the 1980 season.
"I think, for our fans, just beating the Yankees (3-0 in the American League Championship Series) was like winning the World Series.
"It was very frustrating losing to the Yankees (in 1976-77-78), but playoff losses are easy to forget the Series is something you cherish. I think when I'm old and gray, I'll be telling my grandchildren that I was in a World Series. We didn't win it the first year, but the second year we did."
And what was it the Royal head honcho said to his charges before last night's all-important contest?
"His (Frey's) closing line was we'll get 'em tomorrow," said Brett softly in the sedate KC locker room last night. "But there will be no more tomorrows, " he added with a shrug.
"But this has been the best year of my life – hitting .390 and getting in the World Series. I enjoyed myself. This is a goal for every major and minor league player. I think when I look back on it in December or January, I'll say, well at least we were in it and didn't blow it. I thought we played pretty good, but tonight Carlton stopped our running game. You don't want get reckless and run yourself out of opportunities and I was confident in our hitting. You know in the regular season you might say 'what the heck, maybe the catcher will throw the ball away,' but you don't want to do that in the Series.
"It's frustrating," continued Brett, who was cordial yet getting a little more depressed and irritated with every, 'how does it feel' question. "To finally get here and then come up a little short. I don't think we made any physical or mental errors. We suffered with the Yankees, all the heartache, headache and stomachache, but I think they (the Phils) showed us what a great team they were."
The Phillies showed a record crowd at the Vet that they deserved to be world champs, but a few Royals will disagree when it asked to match the teams up.
"I don't think a six-game series shows who the better team is," said reliever Dan Quisenberry. "They beat us, they won, but I think we're equal."
"I thought it was our turn to win," said catcher John Wathan, " and I would have felt good about tomorrow (a seventh game) if we did, but..." and his voice trailed off.
The Royals will be back in Kansas City today thinking about beating the Yanks and the Phils this time.
Parade today
The city of Philadelphia will honor the World Champion Phillies with a parade which begins at 11:30 a.m. this morning.
The parade starts at 18th and Market, moves down to City Hall, turns right at Broad St. and on down to JFK Stadium.
Play-by-play
Royals First
Steve Carlton's first pitch was a strike. Willie Wilson looked at a third strike. U.L, Washington struck out. George Brett grounded to Manny Trillo at second.
No runs. no hits, no errors, none left.
Phillies First
Rich Gale's first pitch to Lonnie Smith was strike. Smith grounded to Frank White at second. Pete Rose singled to left field. Mike Schmidt popped to Washington at shortstop. Bake McBride lined to Wilson in left.
No runs, one hit, no errors, one left.
Royals Second
Hal McRae filed out to McBride in right. Amos Otis walked. Willie Aikens walked. John Wathan grounded into a double play, shortstop Larry Bowa to Trillo to Rose.
No runs, no hits, no errors, one left.
Phillies Second
Greg Luzinski struck out. Garry Maddox lined a double to right-center. Trillo filed out to Jose Cardinal in right, Maddox tagging up and moving to third. Bowa fouled out to catcher Wathan.
No runs, one hit, no errors, one left.
Royals Third
Cardenal filed to Smith in left. White struck out. Wilson struck out.
No runs, no hits, no errors, none left.
Phillies Third
Bob Boone walked. Smith grounded to White, who threw to second but the throw pulled Washington off the base and both runners were safe. While was charged with an error. Rose bunted down the third base line for a single to load the bases. Schmidt singled to right, scoring Boone and Smith, with Rose going to third. Renie Martin replaced Gale on the mound for Kansas City. McBride fouled out to White. Luzinski lined to Brett. Maddox filed to Cardenal.
Two runs, two hits, one error, two left.
Royals Fourth
Washington singled in the hole at shortstop. Brett bounced to Bowa, who stepped on second and threw to first for a double play. McRae grounded to Bowa.
No runs, one hit, no errors, none left.
Phillies Fourth
Trillo popped to Wilson. Bowa grounded out to Brett. Boone flied to Cardenal.
No runs, no hits, no errors, none left.
Royals Fifth
Otis struck out. Aikens looked at a third strike. Wathan singled to center. Cardenal popped to Trillo in short right field.
No runs, one hit, no errors, one left.
Phillies Fifth
Smith legged a ground ball to center into a double. Rose flied to Otis and Smith tagged up and went to third. Schmidt walked. Paul Splittorff relieved Martin on the mound. McBride was thrown out by Washington on a slow roller as Smith scored to make it 3-0. Luzinski grounded to Washington.
One run, one hit, no errors, one left.
Royals Sixth
White popped to Bowa. Wilson bunted back to Carlton, who threw him out. Washington struck out.
No runs, no hits, no errors, none left.
Phillies Sixth
Maddox singled to left. Trillo grounded to Splittorff, who threw to Washington for the force at second and Washington threw to Aikens to complete a double play. Bowa doubled to left. Boone singled to center, scoring Bowa to make it 4-0. Smith flied to Otis in center.
One run, three hits, no errors, one left.
Royals Seventh
Brett singled to right. McRae fouled out to Bowa. Otis flied out to McBride at the right field wall. Aikens tapped back to Carlton.
No runs, one hit, no errors, one left.
Phillies Seventh
Rose lined a single off Brett's glove. Marly Pattln relieved Splittorff. Rose was thrown out attempting to steal second, Wathan to While. Schmidt looked at a third strike. McBrlde grounded to Aikens, who was given an error when his throw to Pattin was wild. Luzinski struck out.
No runs, one hit, one error, one left.
Royals Eighth
Wathan walked. Cardenal singled to left, Wathan slopping at second. Tug McGraw replaced Carlton on the mound for Philadelphia. White fouled out to Rose. Wilson walked, loading the bases. Washington flied out to center, Wathan tagging up and scoring to make it 4-1. Brett grounded to Trillo but was safe when Rose's foot was off the bag. It was scored as a single, loading the bases. McRae grounded to Trillo.
One run, two hits, no errors, three left.
Phillies Eighth
Maddox fouled out to Wilson. Trillo grounded to Washington. Bowa filed to Cardenal.
No runs, no hits, no errors, none left.
Royals Ninth
Otis looked at third strike. Aikens walked. Onix Concepclon ran for Aikens. Wathan singled to right, Concepclon stopping at second. Cardenal singled to center, loading the bases. White's foul pop deflected off Boone's glove into Rose's for the second out. Wilson struck out.
Philadelphia wins 4-1 and wins the World Series 4 games to 2.
No runs, two hits, no errors, three left.