Philadelphia Daily News - October 23, 1980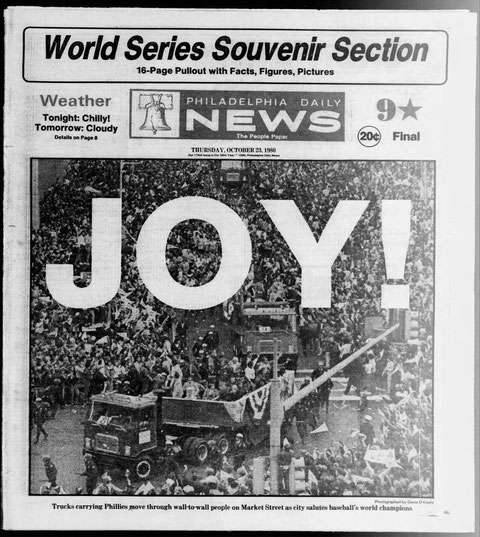 Decisions to Phil Owens' Winter
By Bill Conlin
For the second straight October, a Pope drew hundreds of thousands of people to a Broad Street parade.
This Pope, Paul Owens, the man Dick Allen nicknamed in 1964 for his resemblance to Pope Paul, yesterday blessed the joyous multitudes that lined the route of the Phillies' triumphant march to a huge, noisy reception at JFK Stadium.
This Pope took over a tattered flock in 1972, built it to respectability, molded it to an unfulfilled excellence and finally watched it go brawling over the top in 11 post-season games that made the Phillies the baseball champions of the universe.
Let them all bask in it now, the reflected glory, the adulation of the masses.
Ruly Carpenter, who holds the keys to both the kingdom and the power, Dallas Green, the rock upon which Owens built a World Championship, and the 25 athletes who made it happen Tuesday night have had their parade.  Last night the celebration continued at a gala team party at the Franklin Plaza Hotel.
IT WILL TAKE them days to come down from this incredible high.
But one day soon, the hangovers will be gone and the stoked fired of fulfillment will subside to a warm afterglow.
Carpenter, Owens and Green will gather with their subalterns and ponder the future.
The town has been concocting various scenarios ever since Green told the media in Montreal that if the Phillies won it all, he would "prefer" not to return as the 1981 manager.  He emphasized after several newspapers bannered his imminent escalation to the general manager's office that he "preferred" not to take the field job in the first place, when Carpenter and Owens thrust it at him in the dregs of 1979's fourth-place finish.
"I have every expectation that Dallas will return as manager," Ruly said Tuesday night, "but that's something we won't sit down to discuss until we've had a chance to savor this accomplishment."
Green reiterated in various interviews then and last night that he would not want to go through another season like 1980, with its peaks and valleys, crescendos and diminuendos, its pettiness, bickering, distortions, clubhouse tumults and intrigues.
On the other hand, he is an employee of Carpenter and Owens, although as close to an equal partner as baseball's chain of command permits.  He is in line for a handsome bonus for his 1980 performance and a significant raise in 1981 for duty at either the field or front-office level.
THIS MIGHT not be an expedient time to break in both a rookie manager and rookie general manager.  Despite the heady wine of October success, the goal will change in a very few days from getting there to staying there.
It will be a winter of personnel change.  There will not be a purge of the magnitude Green promised had the Phillies failed to win the playoffs.  But you probably have seen a number of 1980's heroes play in the pinstripes for the last time.
Personality conflicts, free agency and non-performance by certain individuals aside, the overall age of the team makes intelligent rebuilding expedient.  And the overall age of the team is accentuated by this season's crop of youngsters and the September 1980 harvest of callus which contributed to much to the drive on Montreal.
For 22 of baseball's 26 teams, the 1981 season has been under way since Oct. 5.  But the top of Owens' Veterans Stadium desk is littered with unanswered telephone messages from his colleagues.  There are reams of reports from scouts in the field that remain unread, three weeks of unattended 1981 business.
"We have not even talked about one thing," Owens said yesterday.  "I'm about three weeks behind in my work and as soon as this thing is over I've gotta go to the general managers' meetings in Florida next Wednesday.  Normally, by that time I'm eliminated and I've got everything zeroed in.  Outside of a briefing I had the other afternoon with my two top field men, I've got nothing going for me."
THAT MEANS deals have gone undiscussed.  The Phillies spent some time last month quietly milking Manny Trillo for his opinion of Cubs shortstop Ivan DeJesus.  But Larry Bowa's crackling post-season performances have probably pushed any thought of trading for a shortstop to the back burner.  There's a potential superstar on the way to someday replace Bowa as the club's long-term shortstop, a Dominican kid named Julio Franco.  But the best man to fill Bowa's shoes while Franco matures in the minors probably is Larry Bowa.
The frustration of the season and of the World Series was etched on Greg Luzinski's face even as he was acknowledging the cheers in JFK yesterday.  The Bull is a personal favorite of Owens and Carpenter, but this was the year when they stopped putting sentiment ahead of the job at hand.  Luzinski has put together two consecutive injury-plagued, unproductive seasons, Lonnie Smith is the leftfielder of the future and the National League will not have the DH rule next season.  As Luzinski suggested when Green benched him in Games 3 and 4, the handwriting is clearly on the wall.  The Cubs need a big bopper and it would take a Luzinski-led package to land coveted right-handed relief hammer Bruce Sutter.
Despite his playoff and Series heroics, Tug McGraw is headed for the reentry draft and the Phillies have made an expensive two-year commitment to Sparky Lyle.  Owens probably will let Tug, who has deep community roots here, enter the draft and hope he can get him back the way he got back Greg Gross last winter.
LARRY CHRISTENSON is also eligible for free agency.  With his history of injuries, Owens probably will hope clubs are wary of paying big bucks to the high-risk righthander and attempt to re-sign him.
The Phillies came close to giving Ron Reed his unconditional release when Luzinski came off the disabled list, but sentiment ruled and the aging reliever survived.  Reed is a longshot to be in a Phillies uniform next season, because they must protect 20-year-old Orlando Isales on their 40-man roster or lose him in the December draft.
John Vukovich, who has a bright future in the organization as a coach or manager, might be asked to give way to infield prospects Jay Loviglio or Luis Aguayo.  Seldom-played rookie outfielder George Vukovich deserves an opportunity to play more at his age and could wind up as part of a trade package.  Left-handed-hitting outfielders are always in demand.
Bob Boone, a marvelous catcher in post-season play, will be 33 next season and gamed-out a variety of injuries this season.  Keith Moreland will be 27 next May and his talented bat must be in the lineup more than it was this season.  The Phillies have nothing but admiration and respect for Boone, an off-the-field worker in the Steve Carlton class.  Owens will part with him only in a very major deal, but if Boone stays he probably will face a diminished role.
Randy Lerch already is being spoken of in the past tense and he could wind up as the player to be named later the Phillies owe Texas for Lyle.  Or he could be part of a multi-player deal.  Chronic shoulder bursitis have cast a shadow over the status of Nino Espinosa, who is also unsigned for 1981, but is not eligible for free agency.
THERE ARE $750,000 reasons why Green and Garry Maddox will learn to co-exist.  That is his current salary on a contract which runs through 1984.  And 1981 is a no-trade year.  Green still feels that Maddox doesn't fully understand his program.  Maddox would like to hear the manager's criticisms of him in person before he reads them in the newspaper.  But Maddox is, all-in-all, a fine man and the game's best defensive outfielder.
There are three possible scenarios involving a possible changing of the guard:
(1)   – Owens retires at the still vital age of 58 to do whatever he wants within the organization structure.  He would probably involve himself with his first love, the minor league department.  Green would become the general manager and hire his old friend, deposed Texas Manager Pat Corrales, a tough hombre cut in the same no-nonsense mold.
(2)   – Same as the above, but Green would turn the managing reins over to his 1980 right hand, coach Bobby Wine.  Wine knows the National League intimately. He also knows Green's program and the personnel at hand.
(3)   – Carpenter will give Owens and Green nice raises and they will oversee the moderate transition which will build on the veteran nucleus of Mike Schmidt, Bowa, Manny Trillo, Pete Rose, Bake McBride and Maddox.
The gut feeling here is that the field/front office lineup will remain the same.  Green had more fun this season than he admits.  It wasn't all double drill and no canteen.  Owens, who thrives on the father role he plays as the only big league GM who makes 99 percent of the road trips with the team, never had more fun in his life.  When everybody's nerves return to normal, when they've put a few good nights' sleep back-to-back, the proper perspective will return.
WHATEVER they decide, it's a longshot that they'll go outside the organization for a new manager.  This World Series bears a "Made in Philadelphia" label.  It was orchestrated totally by men who clawed their way up through the minor league department, who paid their dues scouting in the backroads and managing in the sticks.
The 1950 Phillies were forged by Herb Pennock, an outsider.  The 1964 Phillies were assembled by John Quinn and Gene Mauch, outsiders.  The 1976, '77 and '78 Phillies were managed by Danny Ozark, an outsider.
"The two toughest decisions I've had since 1972, when I took over, were letting Danny Ozark go and asking Dallas to take the field job," Owens said.  "Danny did a helluva job for us, got us around the corner.  But Dallas put us on top.  When we finally did it, it was with our people.  And that's given us all a tremendous feeling of family accomplishment."
Ex-Phils Ponder What Might Have Been
By Phil Jasner
Barry Foot is with the Chicago Cubs.  Scott Munninghoff and Mike Anderson are with the Oklahoma City 89ers, in the Phillies' system.  Jim Wright spent the summer in Oklahoma City, battling back from two years of arm trouble.  Rawly Eastwick lives in Philadelphia and is searching for a National League opportunity. Doug Bird, who pitched for the New York Yankees, is a free agent.
And Jay Johnstone is alive and well in Los Angeles, where he is an outfielder, a .300 hitter, and – for the last week – a World Series radio analyst.
In other seasons, in other circumstances, these were some of the people who might've been part of the Series fever that has gripped this city.  No one will ever again have to reach all the way back to the Whiz Kids for baseball gratification, and no one will have to deal with the demons of '64, '76, '77 or '78.
THE PARADE, and the incredible outpouring of emotion at Kennedy Stadium, were yesterday.  These are some of the guys who missed it.
●
Pine Hall Farm, in Raleigh, N.C., is home for Barry Foote, the carcher who passed through here in 1977 and '78.  He has four years left on a rich contract with the Chicago Cubs, he has a terrific time raising thoroughbred horses, and he aggravated the Cubs' front office by saying that they should do things more like the Phillies.
"I got in trouble in the Chicago papers because I said the Cubs should have an organization more like the one I came from," he was saying yesterday.
"And it's true.  From that point, the Cubs are way behind.  I'd like to have been with the Phils this year, but it's not something that was meant to be.  I don't know if anybody knows this, but I was traded because I went in and asked (GM) Paul Owens for an opportunity to play somewhere.
"I spent two years there, and I was in Montreal longer before that, but I feel closer to Philly than anywhere I've ever been.  There's something about winning, even when you're not playing a lot, and I certainly wasn't playing a lot.
"What I'm trying to say is, that's a first-class organization.  I know that everything that happens, happens for a reason, that there's somebody high than us, orchestrating it all.  But this is what I think of Paul Owens and (owner) Ruly Carpenter:  if you took away their team and told them to start over, they'd win again."
THERE'S ANOTHER side to Barry Foote, too, when he emerges as the founder of the Pro Sports Charity Foundation, a group that hustled to raise money a year ago for retarded and handicapped children in the Raleigh area.
"I wanted to do something, much the way (San Diego's) Dave Winfield has, only I didn't care if it carried my name.  Our idea is to give money to whoever needs it, but for specific situations.  I don't want a contribution passing through so many hands that you never know how much ever gets to where you originally intended it.
"I feel the need to give back to the community, in return for the opportunity I've had to perform.  All the money you've ever made as a ballplayer means nothing if you can't someday look back and say you also did something good in return."
That's why Barry has scheduled a Jan. 23 Pete Rose Roast in Raleigh, tentatively bringing in Larry Bowa, Greg Luzinski, Bruce Sutter, Gaylord Perry, Catfish Hunter, Dave Kingman, and possibly even Mike Schmidt and Willie Stargell.
"Those are the folks who'll be on the dais, not me," Barry said.  "I don't want anyone to think this is for me, or that I want the credit.  We'll raise some money, do a clinic the following day, then decide on a worthy recipient."
But why Pete Rose?
"TWO REASONS," he replied.  "First, when I was there, my son Derek – he's only five now – picked him out as his favorite player, and Pete in turn spent a lot of time with him.  And second, because Pete epitomizes the way the game is supposed to be played."
●
"Anyone asks who I am, I'm the guy who plays on all the teams that get to the playoffs, but not to the World Series," Doug Bird was saying on the phone from Fort Myers, Fla.
"I think I'm gonna set a record. Three times with Kansas City, then this year with the Yankees.
Bird went to spring training this season with the Phillies.
"I watched on TV, wishing I was there," he admitted.  "But they made a decision that they didn't want me, I ended up in New York, thought I threw well and may be there again.  But I'm a free agent, I'll look around, wait to see what the Yankees offer.  If it's right, I could be there again."
Rawly Eastwick was another spring-training deletion.
"I grew up here, played here, played for Kansas City this season, but I've got more feeling for the Phillies than the Royals," he said.
"I still feel badly that the Phils let me go, and I still think it was a mistake, but it wasn't something I could do anything about.
"I'D LIKE TO get back to the National League, though, because with the DH in the other league you don't get a chance to pitch.  That's why the Royals let me, Steve Busby and another guy go.  They felt they could get by with eight pitchers."
Eastwick didn't get to yesterday's parade, but then he missed the ones they had when he played in Cincinnati, too.
"I was out all night those times," Rawly said, "and never did make it."
Make it.  That's what Mike Anderson, Scott Munninghoff and Jim Wright have in mind.
Anderson was here from '71 to '75, then again in '79.   At Oklahoma City, this summer, he played four games at third, pitched a few innings and played the outfield, hitting .324.
"I'm happy for Paul and Ruly," Mike said, "and for the guys who worked hard, battled for a lot of years.  They're probably still on Cloud 9, it probably still hasn't sunk in, but this shows that the Phillies aren't a bunch of losers."
Munninghoff came the closest to staying with the varsity, coming north in the spring, then getting sent back as the possibility of a strike moved closer.
"I didn't do that well while I was there, and I didn't do that well in Oklahoma City, either," he said.  "I had a lot of problems with my mechanics, which is why I'm in the instructional league now.
"BUT I WATCHED the sixth game.  (U.L.) Washington being off the bag on a force play hurt K.C., Rose's bunt single set up Mike Schmidt's two-run single.  But what surprised me was the end… I was waiting to see the people on the field, the way you always seem to.  But nobody went out there, did they?"
Write has had arm surgery, costing him the '78 season, and a broken arm that sidelined him in '79.  He has a wife, two children and  dream, which is why he spent another summer at Oklahoma City and is in the instructional league again.
"Sitting out for two years, I began to wonder what I'd do if I didn't make it, what'd it be like to go find a job," Jim said.  "But in my heart I knew baseball was still my career.  I've got it in my, I have to give it a chance.
"I saw them win, I walked around all day with goose bumps.  Breaking into that pitching staff will be a tough cookie to crack, but I'm gonna try."
●
And then, finally, there's irrepressible Jay Johnstone, the Dodgers outfielder, ex-Phil and World Series analyst on a Los Angeles radio station.
"Where I picked the Phillies to win in six," he was saying from his home in San Marino, Calif., home.
"I'll admit, though, that my choice looked like it was in jeopardy Sunday.  But Willie Aikens missed first base on one play and then committed a baseball no-no.  In the late innings, you're supposed to guard the lines, keep the runners from taking extra bases.  And that's not how he played Del Unser.
"HE JUMPED off the bag when he should've been in front of the ball Del hit.  I'm not saying catch it, but block it, keep it in front of him.  He tried to ole it, and you can't do that.  It's interesting, because if I had stayed with the Phils, I'd have been in the position Unser was."
Instead, he eventually would up with the Dodgers this year.  "Rick Monday was coming back from an Achilles' tendon injury, Reggie Smith had a heel problem, they didn't have a centerfielder, so I anticipated playing a lot," he said.  "They found Rudy Law in spring training, Monday and Smith came back and I had to wait a while before I got in.
"And then there was a person when Tommy Lasorda would take me out after seving innings, and the indication was I was coming out for defense.  In reality, I was coming out so some of the younger guys could get some innings, feel a part of things, maybe get a chance at bat.  Six times I can remember coming out with us ahead after seven, and we lost.
"I finally told Tommy I didn't want to come out like that anymore, that I wanted to play the whole game. So the third game of the last series with Houston, I pinch-hit, played right field and he was gonna take me out again.  We had an argument in the dugout, I said I wasn't coming out, he said he was the manager, and I said I didn't care, I still wasn't coming out.  They had a few people between us, because it got kinda loud, but I went back to right field and made a diving catch in the stands.  I always did think I could field pretty well."
AND HE ALSO thought Dallas Green had the "method of madness" it would take to ignite the Phillies.
"I was happy to see them win," Jay said.  "Paul and Ruly are the ones who gave me an opportunity in '74, when I was down and out.  It was reassuring to see that all their hard work didn't go for naught.
"And I was glad to see Dallas step out and do the job.  Something was lacking in that team and whatever it might have been, he provided it.  Whether his way would succeed elsewhere, I don't know, but it worked there.  Yelling, screaming, pointing fingers, belittling guys… they didn't like it, they took it personally, but they did win the World Series.
"I think the key was, Dallas knew he could go back upstairs, that he couldn't be fired.  He had the final say-so, and those guys knew they couldn't go over his head, the way it might happen with some other clubs.  Hey, there was nobody over Dallas Green's head."
●
They are busy elsewhere now, no longer a part of the Phillies, but they  sent their congratulations by phone. 
Some day, some of them may yet rejoin the team.
But not yet.  Not this year.  This was the year the parade started without them.
Galileo and Other Sports
By Larry McMullen
I heard the breaking story about Galileo on the car radio while I was driving into work last night. Only a matter of years after condemning the Italian scientist as a heretic, the Catholic Church said it is reviewing the case.
Galileo, as everyone knows from the last news flash about him out of the Vatican, was found guilty of using a telescope to prove that the earth revolves around the sun.
When Galileo was confronted with the evidence, he took everything back. He said after looking over the Church's figures, he could see where he made a mistake in calculating that the earth wasn't the center of the universe.
The Vatican's Inquisition office said if he had any further problems with basic science, he could come back for some remedial work on the torture rack.
All of this happened practically yesterday, in 1633.
If the Catholic Church can reconsider Galileo's case this quickly, I guess I can forget baseball for a while.
•
The Phillies' celebration was finished, anyway. By last night, we could all return to our normal pursuits.
I bet the five horse in the first race at Liberty Bell Park.
The five horse lost.
Then I bet a few more races. I lost those, too. Then I came to work.
I knew as soon as I got done writing the column, I was going to be stuck for something to do with myself.
I even considered the possibility of sleeping for a few hours.
Not much happens in sports between 3 and 5 o'clock in the morning.
The Eagles don't play until Sunday.
I can't stand this waiting between sporting events.
Today, for instance.
Nothing as important as a World Series game will happen all day.
It's not even like an off-day during the World Series.
At least then I could enjoy Bob Domine's interviews with Phillies' fans on television.
"Who do you like in the World Series?" Domine would say.
"THE PHILLIES," the fan would scream into the microphone.
Then Domine would put his mike in front of another Philadelphia fan.
"Who do you think will win the Series?" he'd say.
"THE PHILLIES," the fan would yell. "ALL THE WAY."
It was fine with me that Domine asked this question of Phillies' fans again and again, not only during the Series but the in playoffs, too, where he showed his moxie by using different words.
"Who do you like in the playoffs?" he asked then.
I love inside baseball, talk.
•
Even yesterday, with the Series over, local television wasn't caught short on interviews with Phillies' fans.
The TV writers understood immediately that their reporters couldn't go to a Phillies' victory parade and ask who the fans like in the Series.
So they came up with a question that would let the viewers hear something different from each of the fans being interviewed.
It was such a great question, it was asked at least eight times on one channel, which I think was 10.
Bob Domine, of Channel 3, is not all that clearly ahead of the pack in this town.
"Who is your favorite player on the Phillies?" was the question.
"TUGGER," one of the fans bellowed into the microphone.
"MIKE SCHMIDT," a girl screeched.
And this was the only time all day the question failed. The mike was pushed into another girl's face right away.
The girl look confused. "I like Mike Schmidt, too," she said quietly, obviously upset because the other girl had taken her answer.
•
For the last nine days, I have been either at the ballpark for the World Series or in front of a television set, watching the games or the in-depth interviews with the fans.
I've lived around Philadelphia for all of my 46 years and that was my first taste of baseball in October. Nineteen hundred and fifty doesn't count. All we had then was a radio. I should have OD'd this year. Instead, I was looking for more when it was over.
So all day today is going to be a total waste.
Tonight, however, won't be so bad.
At around 8:40 p.m., I'll watch a sporting event that, if it turns out the way it should, will-reduce my memories of the World Series to sandlot games played on a field covered with broken glass.
My Beau, a 7-year-old gelding by Dancer's Boy out of Beau Marie, will make his first start for the Little Indians Stable. I'm one of the Little Indians.
The purse for the race is $1,700, which means the share for, the owners of the winning horse will, be $850, which I will deposit immediately in the stable account.
In case I'm interviewed for television after My Beau destroys his field tonight, I have made up a question for the interviewer to ask.
"How come this cheap horse race means more to you than the Phillies winning the World Series?"
"Because," I'll answer, "the Phillies don't send me a check,"
Larry McMullen's column appears Mondays, Wednesdays and Thursdays. 
Cleanup Power
There weren't any elephants in the Phillies victory parade, but that doesn't mean there wasn't anything to clean up.
There was, in fact, an estimated 160 tons of debris swept, scooped, sucked and washed up.
Streets Commissioner Howard Mintzer directed a flying squad of 70 street cleaners, followed by a phalanx of four mechanical brooms and five water trucks.  And what was missed first time around was handled by a 30-man crew that stayed on duty until 10 last night.
Managing Director W. Wilson Goode, who rode at the head of the 13-vehicle parade motorcade in a radio-equipped Jeep, said the total cost of city services for the parade, JFK rally and cleanup will exceed $500,000.
ASKED IF HE CONSIDERED the money well spent, he replied: "Don't you?"
The tractors used to pull the Phillies parade trailers were diverted from their usual assignment of hauling trash to a New Jersey landfill and made to "look like new" by Public Property Department carpenters, while upholsterers rigged the blue, gold, red and white bunting.
Fans Give K.C. Players The Royals Treatment
KANSAS CITY, Mo. (UPI) – Kansas Citians, all in good spirits, won't even let losing stand in the way of a good celebration.
The city feted its American League champion Royals yesterday with a 1½-hour ticker-tape parade, followed by a 40-minute rally, less than 16 hours after the Phillies had whipped Kansas City, 4-1, to win the World Series.
Police officials estimated the crowd lining the downtown parade route at a half a million people – but other observers pointed out that would have meant one-third of the city's metropolitan population was in the downtown area and suggested that the figure probably was closer to 100,000.
ANOTHER 4,000 Kansas Citians showed up at the rally to hear various members of the Royals express shock at the size of their reception, apologize for not winning the World Series and promise to do better in 1981.
"I really don't feel we deserve all this," said designated hitter Hal McRae.
"This just shows that sometimes victory isn't the most important thing around," said pitcher Larry Gura.
"When we came back here we felt like winners," commented pitcher Dennis Leonard. "We're sorry we didn't win the World Series for you."
"The Royals have always taken things one step at a time," explained second baseman Frank White.  "This year's step was the American League pennant.  Next year it will be the World Series."
The Royals landed shortly after 11 a.m. (CDT) and were bused directly to the downtown area where they found convertibles and a delirious crowd waiting.
Signs were prominent both at the parade and the rally:  "So what?  We beat the Yankees" and "This Cowtown has no goats" were among the most imaginative.
George Brett, the American League batting champion, entertained the thousands lining the downtown streets by riding a horse the entire parade route, including a 15-minute stint while sitting backward in the saddle.
BRETT THEN tried to entertain the pep rally by borrowing a trombone from a high school bandsman and attempting to dedicate a song in honor of Kansas City's baseball fans.
Brett failed miserably, only able to get two blasts out before breaking the instrument.  He was then carried off the stage by teammates Pete LaCock, Dave Chalk and bother Ken Brett.
The biggest ovations were reserved for Brett, Willie Wilson and Willie Aikens as 21 of the 25 players took part in the festivities.  Amos Otis, Clint Hurdle, Jamie Quirk and Renie Martin were absent.
"I'm deeply sorry that I couldn't perform the way you people watched me play all year," said leftfielder Wilson, who set a World Series record with 12 strikeouts.  "I guess I wanted it too badly."
"We didn't lose," said pitcher Marty Pattin.  "With great fans like you, we'll always be winners."
"It's true we didn't win," added General Manager Joe Burke.  "But we didn't lose, either.  We're looking forward to spring training in four months."
First at Last:  It's Just 1-derful!
By Joe Clark
It was a "Sea of Red."  But it never parted.
It started as a ripple at 18th Street and John F. Kennedy Boulevard.  As it proceeded along Market Street the ripples began to spread, further and further.  By the time it rounded City Hall and rolled down Broad Street it worked itself into a wave, it's "red caps" visible for miles. When it stopped 4½ miles later, this "Sea of Red" had reached tidal proportions.  And in its wake, it left a hunk of history, a hank of happiness.
After 97 years of troubled waters, Phillie fans had finally washed themselves in the waters of victory.  They drank a little of it, too.
Yesterday's ticker-tape parade saluting the World Champions of Baseball was literally a red-letter day.  And that letter was "P."
It was on red pennants, red signs, red balloons, red hats, red shirts.  One guy even painted it on his face.
FROM THE MOMENT the parade kicked off at 18th and Kennedy Boulevard to the moment it ended 90 minutes later at John F. Kennedy Stadium, there was non-stop cheering, chanting and screaming from a crowd estimated at more than a half-million.
And their heroes, particularly Dallas Green, returned the enthusiasm.  It seemed the manager – dressed in a pinstripe suit, his shirt unbuttoned at the top, tie pulled down – never stopped waving, blowing kisses and poking his finger in the air:  "We're Number One."
The parade was hardly a block old before the paper started flying from office buildings along Market Street.  Businessmen with attach cases, teenagers with bare backs, women with children, young girls with tight sweaters, stood anywhere they could to get a look at the players riding on a pair of flatbed trucks.
THEY SWUNG FROM trees, dangled from stoplights, sat on windowsills, hung from signs.  Even the steps and railing of the Union League at Broad and Sansom streets were swarmed with celebrants.  Oh yes, some stood in the street and on the sidewalk, sometimes 15 deep.
Along the entire parade route, fans waved homemade signs.  More than anything else, the signs proclaimed "love" and "thanks" to the team.  One sign, however, declared "Tugger for President."
And strung from the roof of Methodist Hospital was a bedsheet with a declaration that painfully hit home with many of the players.  Painted on the sheet, in red of course, was the message:  "Methodist Hospital, Phillies Team Hospital, Salutes the World Champions."
AS THE "SEA" rolled through South Philadelphia the waters got deeper.  Earlier in the parade late-comers ran up side streets, but as it neared the Stadium they call came running.
Once the parade had passed them, fans ran down Broad Street to keep up with the 13-vehicle caravan.  Most of them ran along side the flatbeds carrying the players and their families, but were kept from getting close by escorts of riot-helmeted police.
As the trucks pulled into the stadium, filled with 85,000 fans – some of whom had been waiting for more than five hours – a deafening roar thundered down from the stands, providing an atmosphere comparable to the bygone arenas of Rome.
But the crowd did not come to bury the Phils, they came to praise them.  "Hail Tug!  Hail Tug!  Hail Tug!," they seemed to be chanting.
Once around the stadium, the trucks stopped in the middle of the field.  When the cheering stopped, team announcer Harry Kalas got it going again with:  "Yes we can!"
WHEN MAYOR GREEN and Gov. Thornburgh were introduced the fans showed they still had a few boos in them.  Kalas then proceeded to introduce the players, some of whom said a few words.
Said Bob Boone:  "I want to thank you for giving me the opportunity to earn a living playing a game I love."
Larry Bowa:  "This is probably the greatest moment in my entire life.  I'm glad I can share it with the greatest fans in baseball."
Mike Schmidt:  "You all showed your true colors today.  I never say so many sincere faces than I saw in that parade today."
ACE PITCHER Steve Carlton, a man of fewer than few words, stood up, broke out in a big smile and thrust his finger into the air:  "We're Number One."
There was one player left.
"Who's got to finish it?  Who's got to finish it?" shouted Kalas.
"Tug!  Tug!" responded 85,000 voices.
McGRAW WALED to the microphone and for a few minutes let the front page of yesterday's Daily News do the talking.  "We Win!" was the headline.  McGraw held the paper over his head and slowly turned to every corner of the stadium.
When the cheering stopped, McGraw looked into the stands and said:  "Throughout baseball history, Philadelphia has taken a back seat to New York City.  Well, New York City can take this World Championship… and stick it!"
The place went wild.
Lookin' Good, Phila., Lookin' Good
By Chuck Stone
Maybe you don't get no respect, Rodney Dangerfiled.
But since 11:30 p.m., Oct. 21, 1980, Philadelphia has been drowning in it.
We've sat in a collective grinning stupor, watching a national ocean of awe wash away the beaten soul of our inferiority complex and crumble the sand castles of our comic reputation.
Oh, how sweet it is!
I'M AMAZED MORE phanatics weren't seized by cardiac arrest.
The impish fireman, Tug McGraw, jokingly fluttered his hand over his heart Sunday night when Hal McRae poked one into foul territory in the ninth.
The next thing I can remember was my son, Charlie, standing over me on the floor where I had – in Dizzy Dean's immortal past participle – "slud" and was slapping my face.  "Dad, dad, you all right?"
Let us now abandon all caution in our love for the Phillies.  As a wine-lover savors one of Mike Pakenham's rare vintages, let us rhapsodize the Phillies for unifying us with the giddiness of youth.
Just in case you are already taking our new nobility for granted, the Philadelphia Phillies are the World Series champions of 1980.
SURE, OTHER CITIES have won World Series championships – 14 cities in all.
But how many of them won a Pulitzer Price (journalism's most distinguished award), the internationally prestigious Nobel Prize and the World Series in the same year?  (That's one for you trivia freaks.)
Philadelphia did.  With a smug serenity as if we pull off this dazzling feat whenever our noses itch.
Earlier this year, the Inquirer won its sixth straight Pulitzer (a record superseded only by the New York Times' seven straight), Dr. Lawrence Klein of the Wharton School honored this city with his Nobel prize in economics, and one week later, the Phillies made time stand still with an unforgettable, palpitating performance.
I HAVE THIS THEORY about the propitious moment in history for a city's greatness.
It is a kind of synergistic thing, with all of the appropriate elements in politics, intellect, education, economics, journalism and sports coming together to produce a modern-day Athens.
The key is change.  (Prepare yourself.  I stop preachin' now and go to meddlin'.)
Philadelphia's rebirth may have begun in earnest when the city had the good sense to refresh itself with Bill Green over Frank Rizzo.
Green began cleaning house, first by appointing the uncommonly capable W. Wilson Goode as managing director and making the sovereign policy department a part of city government.
GREEN STILL HASN'T won any National League championship with his performance, but at least he's contending.  What makes him a minor leaguer is his retention of the nation's highest paid shop teacher, Michael Marcase, to further bungle the school system, and his apparent intention to keep on of the nation's most useless human relations officials, Clarence Farmer.
Meanwhile, another Green, Dallas, was managing the Phillies as if they were destined to top the National League.
The whole town was talking about the Green boys, the Green boys.
Not to be outdone, the Eagles had already imported an affably zealous managerial genius, Dick Vermeil.
He turned the team around faster than Manny Trillo pivoting on a double play.  Would you believe folks are talking seriously about Philadelphia in the Super Bowl in January?
AND WHO KNOWS WHT surgery The Doctor may perform on the rest of the National Basketball Association for the 76ers?
Yes, it is a joyous time to be a Philadelphian.
But shun surprise.  The World Series had been predicted in the Bible.  You think I fake you out?  Check my Queen Josephine version (that's considered more accurate than the King James version because Josephine was such a fox).
But God led the Phillies about, through the way out of the wilderness of the Red Sea of red-capped fans; and the children of Ruly Carpenter went up harnessed out of the land of second place.
And the Lord said unto Dallas Green, wherefore criest thou before me?  Speak unto the children of Ruly Carpenter, that they go forward.
And Dallas Green stretched out his hand over the Red Sea of caps and the Lord caused the sea to go back by a stong east wind blowing in from left field and made the sea dry and the waters were divided. (As would the World Series take.)
And the children of Ruly Carpenter went into the midst of the sea upon the Vets AstroTurf.
And the Kansas City Royals pursued and went in after them to the midst of the Red Sea of fans.
And the waters returned and covered the Kansas City Royals' bats and their pitchers and all the pinch hitters that came in after the Phillies.
And like, they got really wasted.
And the Phillies walked upon dry land in the Vets stadium in the midst of the Red Sea of caps.  And lo!  They pitched with exceeding good skill, they runneth the bases with daring, they swarmed all over the opposing pitchers, and when it was over, they had brought to the city by the Schuylkill, the World Series championship.
And it was the grooviest thing that had happened to the children of Ruly Carpenter in 97 years.
And the Lord was pleased and smiled as He said:  "You're lookin' good, Philadelphia, you're lookin' good."
And Walter Cronkite agreed that "that's the way it was."
Correction
In Chuck Stone's Tuesday column on incoming University of Pennsylvania President F. Sheldon Hackney, the percentage of Tulane University's 11 tenured black faculty members out of 683 tenured professors was erroneously given as 6 percent.  It should have read 1.6 percent, approximately the same percentage as Penn's black faculty members.
Chuck Stone's column appears Tuesdays, Thursdays and Fridays.
Pupils Go All Out
High Absenteeism Reported
By Bob Warner
An epidemic of Phillies Fever hit the Delaware Valley yesterday, forcing thousands of young students to skip classes and roam Philadelphia in search of appropriate care.
Many conducted their searched in the vicinity of Broad Street and just happened to catch a glimpse of the Phillies as their victory parade swept by.
Stetson Junior High School in Kensington sent a self-appointed delegation of ninth graders.  Playing hookey?  "Hell no," said Richard Burton.  "When we got to school, the teachers told us to go down to the parade… I just saw one of the assistant principals."
"Half the school's down here today," said Bill Cline, a senior at Conestoga High School in Berwyn, Montgomery County, who was toasting the Phillies with Budweiser at the corner of 15th and Market streets.
CLINE AND SEVERAL classmates described their mission as a field trip, noting the Phillies' World Series victory had certain academic overtones.  "This is history," Cline said.  "This may never happen again."
High school officials in Philadelphia and the suburbs reported absenteeism at near-record levels – 40-60 percent in many cases.
"The kids have gone down to the parade, no two ways about it," said a woman at the Upper Darby High School, where 1,000 of 2,500 students were missing.
The Philadelphia School District was unable to provide comprehensive figures on yesterday's attendance, but a sampling of high schools reported absenteeism at least three or four times higher than normal.
"WE HAD 53 PERCENT attendance today," said Central High School principal Howard Carlisle.  "But we may not be typical.  A great many of our students come from South Philadelphia and I'm sure they were all out today."
At Saul Agricultural High School in Roxborough, a perennial leader in attendance stats, 20-25 percent of the students skipped school.
Catholic schools reported comparable attendance patterns – "very poor," said a woman at Archbishop Carroll.
Northeast Catholic came up with a unique solution.  The kids were sent home just after 11 a.m. – in time to catch the el to the parade.
And one man near the parade route confided that he and his girlfriend had called in sick to their teaching jobs at a local private school.  By mid-morning, they were walking the sidewalks and selling Phillies T-shirts for $4 each.
Schmidt, Carlton, Trillo Are Stars
NEW YORK (UPI) – Third baseman Mike Schmidt, pitcher Steve Carlton and second baseman Manny Trillo of the world-champion Phillies were overwhelmingly voted to UPI's 1980 National League All-Star team yesterday.
In a survey of 50 sports editors and writers from around the country, Schmidt received 49 votes for the NL team while Carlton got 48 and Trillo 37.  The only other player to receive comparable support was shortstop Garry Templeton of the St. Louis Cardinals, who got 38 votes.
Rounding out the team were catcher Gary Carter of the Montreal Expos with 28 votes, first baseman Steve Garvey of the Los Angeles Dodgers with 28, outfielders Dusty Baker of the Dodgers with 35 votes, George Hendrick of the Cardinals with 28 and Jose Cruz of the Houston Astros with 23.
JERRY REUSS of the Dodgers was selected as the second starting pitcher on the squad while Bruce Sutter of the Chicago Cubs was chosen the relief pitcher.
By teams, the makeup of the squad was comprised of three players each from the Phillies and Dodgers, two Cardinals and one player each from the Expos, Astros and Cubs.
Carter's selection as catcher ends virtually a decade of domination of that position by Johnny Bench of the Cincinnati Reds and Ted Simmons of the Cardinals.  Carter won out at the position with .264-29-101 offensive figures – topping Bench and Simmons in both homers and RBI.
Homers and RBI also accounted for Garvey's selection at first base over St. Louis' Keith Hernandez or Chicago's Bill Buckner because the Los Angeles first baseman had a lower average than either of those rivals.
Trillo and Templeton were virtually "automatic picks" at their positions while Schmidt, the league leader in homers and RBI, got 49 of a possible 50 votes.  One writer chose Bob Horner of the Atlanta Braves as his third baseman.
BAKER WAS considered, along with Garvey, as the two most valuable Dodgers.  Hendrick, St. Louis' silent centerfielder, had one of the best all-around seasons in the majors with a .302-25-109 performance, and Cruz (.302-11-91) was considered Houston's MVP.
Carlton had a 24-9 record and led the league's pitchers in just about everything except public speaking, while Reuss had an 18-6 record and a 2.52 earned run average including a no-hitter.  Sutter once again led the league's relief pitchers in saves.
A SEPTAcular Performance
By Phantom Rider
SEPTA went down the tubes yesterday. And more than 100,000 Phillie Phanatics thanked the transit authority for the shafting.
It was that kind of day on the 52-year-old Iron Horse which SEPTA calls the Broad Street Subway.
"CONSERVATIVELY, WE transported more than 100,000 fans back and forth from City Hall to JFK Stadium." said a SEPTA spokesman, pointing out, "That's really 200,000 rides since each passenger made two trips."
Yesterday just might have been the biggest single day in the history of the 9.8-mile subway, surpassing ridership figures set on VJ Day, the 1975 Flyers Stanley Cup celebration and the visit to Philadelphia in October 1979 by Pope John Paul II.
"We should know about any record late today after analyzing ridership based on fares and figures recorded on turnstile counters," the spokesman said. SEPTA yesterday pressed almost 70 Broad Street Subway cars into operation, along with 1,000 buses, 150 trolley cars and about 100 trackless trolleys. "We had every piece of running equipment... running yesterday."
THANKS TO "SPLENDID cooperation" by the city, SEPTA and the police department, riders were spared the kind of violence that marred other celebrations such as the ones that followed the Flyers' two Stanley Cups. "Teenagers yesterday shattered windows on some cars, and light bulbs were snatched by vandals who turned them into 'pop bombs.' There was some pickpocket activity but no serious violent crime, like beatings by gangs roaming the system in 'wolf pack' fashion. It went, extraordinarily well," continued the spokesman, lauding the "outstanding performances by our employees, city workers and the police department."
It was a day when the rush hour began... after the rush hour ended. "Normally rush hour begins at 7 a.m. and ends at 8:30. But yesterday the crowds never stopped coming. Service demands did not taper down to a level we consider 'normal' until close to 7 p.m. The crowds never stopped," he continued. "There were long lines at City Hall and Pattison stations but everybody eventually was transported." 
Series Refunds
Fans who have World Series tickets to Game 7 can get refunds one of three ways:
1 – Mailing tickets to the Phillies: P.O. Box 7575. Phila., Pa., 19101.
2 – In person, beginning Monday at Phillies ticket windows at Veterans Stadium; 9 a.m.-5 p.m.. Monday-Friday.
3 – In person beginning Monday at the lobby ticket window of the Girard Bank. Broad and Chestnut Sts. only. Monday-Friday 9a.m.-3 p m.
Deadline for refunds is Nov. 17.