Wilmington Morning News - October 23, 1980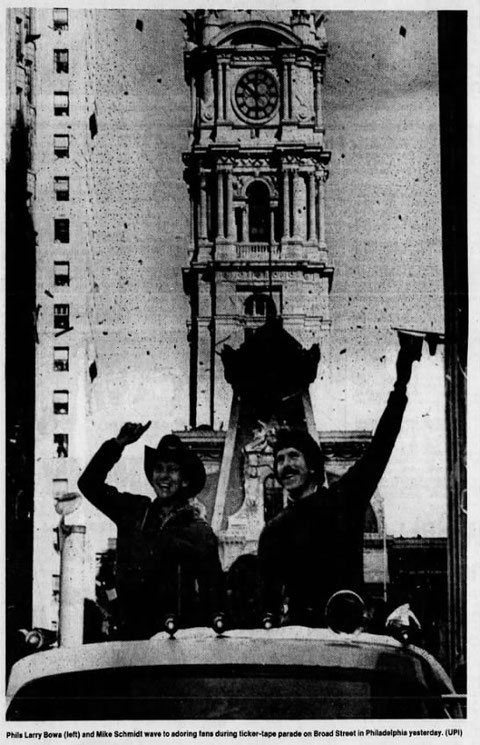 Championship feeling will last forever
By Ray Finocchiaro, Staff Correspondent
PHILADELPHIA – A day later, the feeling was still there. For another year, in fact, no matter who is left or where the team is picked by the experts for 1981, the Phillies are world champions.
They will savor it a lot longer than that, however. The taste of champagne is fleeting, but the inner feeling of winning the World Series will last forever.
The Phillies fans who waited 30 years for another World Series and 98 years for a world championship saluted the Phillies in a triumphant march down Broad Street yesterday. All was forgiven, everybody was a winner. Choke City had become the City of Champions.
Paul Owens, the Phils' player personnel director, appeared to be having the best time of all watching the team he built being honored for reaching baseball's pinnacle. After traveling the parade route lined by an estimated 500,000 fans, Owens addressed the 85,000 sardines who crowded into JFK Stadium, several hundred yards away from Tuesday night's victory site at Veterans Stadium.
"You are beautiful fans," Owens said. "Just your reaction today made it worthwhile for me and my kids."
Manager Dallas Green added, "You people are beautiful and this baseball team is beautiful."
Pete Rose told the cheering crowd, "I've been in the World Series five times, but there is no doubt in my mind that you people are the greatest."
Mike Schmidt, voted the Series MVP, said he never saw so many sincere people as he did in the parade. "Take this championship and savor it, because you deserve it," he said.
Yesterday's euphoria was a spillover of Tuesday night's celebration in the Phils' claustrophobic locker room.
"It was the greatest 25-man team victory in the history of the National League," said catcher Bob Boone, who redeemed a forgettable season with a solid postseason performance, including a World Series played on a severely bruised left foot.
"Everybody contributed in the last six weeks. Even guys like John Vukovich, who didn't get on the field, were the loudest and most supportive on the bench."
Boone's life flashed past him, much like a drowning man's, in the ninth inning of the clincher when Frank White's foul pop with the bases loaded popped out of his mitt – and into Rose's glove for the second out of the inning.
"I got over there," Boone recalled, finally able to smile about it, "and I thought it was Pete's ball. I kept waiting for him to call me off it, but I probably couldn't hear anyway. So I lunged for it at the last second. I thought we'd crash and I'd outrebound Pete – you know, reach above him and catch it.
"But I was using my steel glove, I guess. I'm happy Pete was right there."
As were the 65,838 Vet fans, now on the edge of delirium, and pitcher Tug McGraw, who still needed one out before the champagne corks could pop.
"That play gave me a tremendous lift," McGraw said after the game, before emptying a bottle of Great Western over the head of Philadelphia Mayor Bill Green. "I was very tired at that point, so I was very grateful for that play. But I wasn't surprised."
Nor was Rose, who does this kind of heartstopping thing for a living.
"Normally I peel off and cover the plate because Bob is such a good popup catcher," said Rose. "But this time I stayed. Then I saw it squirt out and pop up a little bit, so I was able to grab it. It wasn't a mistake; it was a tough play for Bob."
But not an unusual one for Pete Rose, also known as Charlie Hustle for more than a few years.
"I did it once before," said Rose, "but that was in the outfield in Atlanta. I was playing center field for the Reds and Alex Johnson was the left fielder. Henry Aaron hit the ball over the fence for a home run, but Alex slapped the ball back out and I caught it."
So it was old hat for the 39-year-old Rose. But winning the World Series wasn't. Rose helped Cincinnati beat the Boston Red Sox in the 1975 Series in a classic confrontation. "They say that was possibly the best Series every played in baseball," Rose said. "That was my first one and I won it for my hometown. I'm proud to be a Phillie and help win this one, but I'm happier for Larry Bowa and Greg Luzinski and Garry Maddox and Mike Schmidt and Bob Boone. This is their first trip through this little bed of roses."
It wasn't Pete Rose's greatest World Series performance, going 6-for-23 against the Kansas City pitching staff. But he had three hits in the clincher, which absolved a lot of sins. And his catch of Bob Boone's lost popup may have prevented a few more.
"I have a history of hitting good in the playoffs (8-for-20 against Houston) and mediocre in the World Series," shrugged Rose. "I know the National League pitchers and I don't know the American League pitchers."
Everybody was in a forgiving mood Tuesday night. Pete Rose's "subpar" Series was forgotten. Luzinski's 0-for-the-Series performance didn't draw any accusatory fingers. Larry Bowa's anti-fan tirade before the playoffs began was ancient history.
They all were heroes and more than a million Phillies fans came out to salute them yesterday in a sunny ride down Broad Street. The players carried their World Series trophy with them and the town went wild.
The celebration was long overdue and, once it was here, they all intended to celebrate together – the well-paid players and the blue-collar fans, the club brass and the city's finest.
The Phillies had won it on the field Tuesday night but they were all in it together yesterday. The memories they share may never disappear.
Heroes
Thousands cheer as Phils parade on Broad Street
By Michael Jackson and Broderick Perkins, Staff Correspondents
PHILADELPHIA – The parade was scheduled to begin from 18th and Market Sts. at 11:30 a.m., but by 10 a.m. the horn-blaring, fireworks-throwing crowd was already more than five rows deep and could be heard blocks away.
"We're number one! We're number one!" they screamed.
Red and white streamers began floating from the windows of office buildings that lined the parade route as early as 9 a.m. Below the windows, thousands of fans had already gathered along both Market and Broad Sts.
Charles A. Overby said the parade "was something you don't see all the time."
Overby, 50, said he walked from his home in North Philadelphia at 8 a.m. to John F. Kennedy Stadium in South Philly, where the parade was to end, "to see all the excitement and the people. The people were just great. I'm a Dodger fan but I wouldn't have missed this."
As the confetti drifted down to the eagerly grasping fingers, rhythmic chants from the largely young crowd were yelled up to the office workers who periodically thrust out their heads hoping for a birds-eye view of their heroes: the World Champion Phillies.
The same people that Phillies shortstop Larry Bowa had called "the worst bleeping fans in the world" waited patiently for the flatbed truck carrying the Kardiac Kids, the Phils' new nickname.
The same fans that are known throughout the country for booing and throwing snowballs at Santa Claus during Christmas now cheered anything that moved and, as in the case of the bell atop City Hall, some that did not move.
They waited for hours perched on shoulders, statues, cars, vans, even Brink's trucks to get a glimpse of Mike Schmidt, a wave from Dallas Green and maybe to get close enough to touch Pete Rose or Tug McGraw.
And then, they came.
The sound rounded the corner like a tidal wave, washing over all that stood in its path. It was deafening, but no one covered his or her ears, they just roared that much louder. The crowd was so psyched-up they even cheered the reporters in the lead truck.
All at once you could see them, or at least their heads. Pete Rose, Mike Schmidt, Gary Maddox, Larry Bowa and Dallas Green, all standing in front of the first truck, waving and gesturing to the crowd. Bowa screaming and pointing, "One! One! One!" as he looked up at the office workers leaning out of their windows.
Dallas Green waving his fists at the crowd and then pointing toward no one in particular, yelling, "Yeah! Yeah! We're number one! Yeah!" Inciting the crowd to higher levels of bedlam.
Strangely enough, Rose, the spark plug of this team throughout the too-long 175 game schedule, was the calmest of the bunch. He just looked around with a huge smile, nodding his approval in every direction.
Even as the procession passed each street corner toward its end at JFK Stadium, the party did not stop. The crowd followed the trucks on foot and in cars along adjacent streets.
Passengers in passing cars rode half-in and half-out of cars and waved championship pennants whipped by the wind.
Motorists had temporarily dubbed their red cars with names like, "Tug-Mobile," "Bull Wagon" and "Phillies Express," with white paint.
Pedestrians, one hand raised in the traditional one-finger victory salute, grasped a can of beer in the other and marched toward the arena.
Sedate homeowners sat upon stoops and carefully watched their lawns, but cheerily answered the "We're number one!" chant shouted tens of thousands of times.
Merchants outside the stadium hawked baseball caps, pennants, and T-shirts, all in red and white. Although it was almost blasphemous for another color to intrude on the red and white monopoly, blue horns sold just as fast as the other items.
"Why is it blue?" the horn merchant asked rhetorically. "It's for the hundred years of blues the Phillies had," he cleverly explained. "Buy one and then blow it all away, dig?" he said, dancing a jig.
Everyone danced that day.
At JFK Stadium, Pennsylvania Gov. Dick Thornburgh told the excited throng, "Nobody competes with the Phillies today. Philadelphia, Pennsylvania, today is the baseball capital of the world."
"This is the greatest baseball team in the world and you are the greatest fans in the world... " Philadelphia Mayor Bill Green added, "We're No. 1 and nobody does it better."
Green, still overcome with joy, merely uttered, "You people are beautiful and this baseball team is beautiful."
The crowd cheered, but the constant refrain was, "We want Tug." When McGraw was finally introduced, he received a 25-second standing ovation.
The town went nuts Tuesday night after the Phillies won the Series. People poured out of bars and houses to dance and kiss in the streets under a harvest moon. But at the Vet, Philadelphia's finest kept the more than 65,000 fans under control.
The same was true yesterday. Inside JFK Stadium there was the smell of gunpowder from exploding firecrackers, the pungent aroma of spilled beer and marijuana smoked openly, but it wasn't that Philadelphia's finest didn't care.
"You have to give credit to the police," Maxine Anderson of Wilmington, said. "They really did a good job."
The few confrontations between police officers and baseball fans ended in lighthearted obedience as few fans opted to challenge either the K-9 Corps or the Mounted Patrol.
Anderson, a Hercules employee, had watched her first live World Series game in Veterans Stadium Tuesday night and wondered yesterday, "Why I came back."
"It was just like this next door after the game. People everywhere," she said looking cautiously about. "I must be crazy to come back up here."
Betty Byrne, 20, also a Wilmingtonian, said she drove to Philadelphia for the celebration because she just couldn't pass up a chance at being a part of history.
She sat in the stadium holding a large red placard with dozens of signatures surrounding the Phillies logo and said, "I want to know who was here. Sign your name."
She realized she'd never get everyone's name on the giant card, but "who knows one of these people might become famous. Think what that would mean," she pointed out.
Joe Love, 42, of Philadelphia, said he was there in 1950, when the Phillies last won a pennant, "but this," he said, "is much more exciting. I've never seen it like this."
Horace Wildemore, 70, was also there in 1950 and, he said, "this was twice as much." The 1950 celebration, he said, was exciting but this one "was out of this world. I'm an old fart," he said, "but I still enjoy it."
One Philadelphia police officer estimated the stadium crowd at "90,000. You usually get 100,000 to 110,000 people in here during the Army-Navy game," he said looking toward one nearly empty section.
When Phillies and fans filed out of the stadium the celebration continued in the streets.
Philadelphian Albert Diaz peered into the stadium from an access ramp and said, "No way I'm going in there. No way. I'm satisfied to stand outside just to watch the fans watching the Phillies. I mean, this ain't going to happen again."
Maybe not. But throughout the crowd, both on the street and at the Stadium, heads would turn and someone would say, "I don't believe this. This is incredible."
And it was. Both the crowd and the feeling were incredible. Given how long it took to win the first one, this may not happen again during our lifetimes, but for now, the Phillies are World Champs, and how everyone enjoyed it.
Said a clerk at a 15th and Bigler streets delicatessen, "It's just getting started. You ain't seen nothing yet."
Apologetic Royals:  Next year we'll win
Associated Press
KANSAS CITY, Mo. – Buoyed by a ticker-tape welcome from an estimated 100,000 fans, the Kansas City Royals returned home yesterday after their World Series defeat and vowed to sweep to the world championship in 1981.
"The Royals are taking it one step at a time Frank White, the team's gold-glove second baseman, told a throng of screaming fans at a rally m a downtown park. "This year, the American League pennant. Next year, the World Series."
The players, along with coaches and Royals officials, attended the rally after being driven through the city s downtown in an tumultuous scene. The team arrived in Kansas City on a late-morning flight after losing to the Philadelphia Phillies 4-1 Tuesday night in the sixth and, as it turned out, the final World Series game of 1980.
The setting resembled a snowstorm as the motorcade passed between tall buildings on some downtown streets.
"I don't believe I've seen anything like it since World War II," Royals General Manager Joe Burke told the crowd.
Third baseman George Brett rode in the parade on a horse decked out with a black and silver saddle. The loudest cheers came when Brett rode up in front of the stage at the rally at the Liberty Memorial.
Brett, loose and joking with the crowd, offered to play a song in honor of the fans on a trombone borrowed from a member of a high school band. "It may not sound good, but it's my version of, 'The Greatest Fans in the World,'" Brett said before blowing a few sour notes.
"I really don't feel we deserve this," said Hal McRae, the designated hitter. "But I really felt great in the parade, and I really felt I wasn't (great) after we lost."
Willie Wilson, the team's fleet left-fielder, had the dubious honor of setting a World Series record for six games by striking out 12 times. "I'm very deeply sorry that I couldn't perform the way people have been seeing all year," Wilson said, to a chorus of "No!" from the crowd. "I guess I wanted it too bad. But one day we'll be World Series champions."
Fans at the rally and along the route held up dozens of signs for the players to read. One seemed to sum them all up: "Roses are red, Royals are blue, the Phillies won, but we love you."
Refund available for Series Game 7
PHILADELPHIA – Ticket holders for the unplayed seventh game of the World Series are entitled to refunds, a spokesman for the champion Philadelphia Phillies announced yesterday.
To obtain refunds, fans may either mail the tickets to the Phillies at Box 7575, Philadelphia, Pa., 19101, or obtain refunds in person at two Phillies ticket locations.
Starting Monday, refunds will be made at the Veterans Stadium ticket office from 9 a.m. to 5 p.m., or at the ticket office in the lobby of the Girard Bank, Broad and Chestnut Streets, from 9 a.m. to 3 p.m.
The deadline for ticket refunds is Nov. 17.
Sports briefs (excerpt)
Compiled from dispatches
Kubek, Seaver sued
Manufacturers of the JUGS Speed Gun claim in a $1 million lawsuit filed in Portland, Ore., yesterday they were libeled by National Broadcasting Co. announcers Tony Kubek and Tom Seaver on a World Series telecast.
The lawsuit by JoPaul Industries Inc. says Kubek and Seaver falsely stated on a telecast last Wednesday night that the JUGS Gun does not accurately measure the speed of baseball pitches.
JoPaul Industries, whose major line is baseball pitching machines, asked NBC to make a retraction before the series ended. The series ended Tuesday night with victory for the Philadelphia Phillies.
"We know they received the request and there was no retraction," said Rob Nelson, national sales manager for JoPaul. "We determined that a JUGS Gun was not being used."
In the letter asking for a retraction, JoPaul lawyer Jack L. Kennedy wrote that Kubek and Seaver "commented extensively as to the pitching of Steve Carlton, and while discussing his performance stated that the JUGS Gun was measuring the speed of his pitches at 88 to 89 mph.
"Your announcers then stated that Mr. Carlton was pitching faster than 88 mph and the JUGS Gun was not an accurate measuring device."
After JoPaul Industries objected to the remarks, Executive Producer Don Ohlmeyer of NBC Sports said, "We are not in the business of making JUGS look good or bad. That is not our concern. We're concerned only with giving facts to our viewers."
Ohlmeyer said the accuracy of speed guns has successfully been challenged in traffic courts, adding, "They have shown that some speed guns have clocked trees going 45 miles an hour."