Wilmington Morning News - October 28, 1980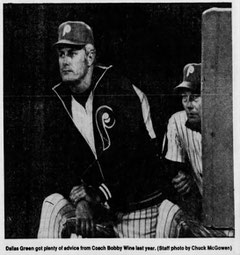 Green still undecided about managing another season
By Hal Bodley, Sports Editor
NEW YORK – Sylvia Green knows no more than anyone else, but the wife of the Phillies' manager thinks her husband will be back for another year in pinstripes.
At least that's what Sylvia Green told some friends the other day.
"What does she know?" Dallas Green asks. "No one really knows what's going to happen."
Green, here to attend Mike Schmidt's coronation as Most Valuable Player for the just-completed World Series, says he's only had one short meeting with Player Personnel Director Paul Owens and that no decision was reached.
"My preference is still the same," said Green. "There's really little left for me to accomplish. And since I'm not going to be a career manager, I really see very little sense in coming back. I would prefer not to manage. But if the Pope and Ruly Carpenter feel it's best for us and for the organization, I have very seldom turned them down and I don't feel I can."
Although Green didn't admit it, one of his considerations has to be salary. As manager, he's probably earning $100,000 or more. In a front-office position, eVen as player personnel director, he would earn much less than that.
"Salary was one of the considerations when I took the job in the first place," said the former Phils' director of minor leagues. "It wasn't one of the most important ones, but it was something I had to think about I have to think about the security of my family."
Another thing that troubles Green is the fact he does not want to see Owens retire to create an opening in the front office.
"I know one of Paul's fears is that when I give this up, he's supposed to retire," said Green. "I think that s foolish, f think that's ridiculous. There's nothing that says I can't go upstairs as his assistant for a couple of years and just learn what it's like to be general manager. I've been so tied up as a farm director and scouting director that all the new things that have come into his job have been going over my head because I've been concentrating on my thing.
"So, there's a lot to learn there before you can really say you're comfortable as a general manager. So I think Paul's wrong in saying when I go up there he has to leave. I can work with him and work for him. And it would help me gain some of the experience he has."
Green, who turned 46 last Aug. 4, took over the Phillies on Aug. 31, 1979, when Danny Ozark was fired. His appointment was only on an interim basis, but Owens talked him into continuing for 1980.
Owens, 56, has been player personnel director since June 3, 1972, succeeding John Quinn. "And the Pope's too damn young to retire," added Green. "It's that simple. And it would be ridiculous to send him to pasture when he still has good, productive years left, nobody realizes what he has done for this organization. He adds strength to the team that a lot of people don't see. He handles the press effectively. He keeps them happy even though there's turmoil between the writers and players.
"He keeps the players in line, in that they know he is the strength and that what he says is golden. He has not said anything that hasn't happened and they know he will back up everything that has been promised. That's important."
Green insists when he does step up, aside or whatever, he wants a say in his replacement. Names mentioned most often are Bobby Wine, Green's right-hand man last season, and Pat Corrales, a close friend of Green's and a former Phils' catcher who was recently fired as Texas Rangers' manager.
"I know a lot has been said that I'm leaning towards Pat," confided Green. "I think Bobby Wine deserves a lot of consideration. I'll tell you one thing – Wino has not gotten enough credit for what he has done for this team in 1980 and for me, personally. He's been my right-hand guy, there's no question about that. I leaned on him to help me offensively run a ball game.
"I can handle the pitching and he stayed totally out of that, but he handled the lineup and he handled suggestions for most of the offensive part of the game. Bobby Wine helped us win a lot of games. Bobby Wine has gotten a lot of respect from our players and I don't think you can sell that short when you start looking for a manager."
Within the very near future, owner Carpenter, Owens and Green will sit down and come to a decision regarding the manager for 1981.