Philadelphia Inquirer - September 23, 1980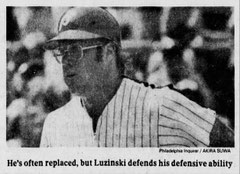 Bull frowns on defensive replacement
By Jayson Stark, Inquirer Staff Writer
ST. LOUIS – Ever since there has been a Greg Luzinski, there also has been The Greg Luzinski Defensive Replacement.
Some Phillie has been trotting out to left field to fill in for the Bull in the late innings for so long, it never even occurred to anybody to ask Luzinski if he minds.
Now, it turns out, he does.
"There's no question it's something that disturbs me," Luzinski said, "only because I feel I've really been playing decent defense."
A Jerry Martin double managed to float beyond Luzinski's grasp in Chicago on Sunday. But it represented one of the few catchable balls in a long time that the Bull hasn't hauled in.
Maybe it took the slip-sliding defensive style of Lonnie Smith to make people notice. But Luzinski has been far from a defensive liability in left this season. Still, when the seventh inning comes around, in goes Greg Gross. So why hasn't Luzinski complained before?
"Dallas (Green) has his reasons for it," Luzinski shrugged. "And like I've said, I'm here to win this thing. I don't want to cause any problems."
NOTES: Larry Christenson may not be through for the year after all. Christenson probably will start tomorrow against the Mets for two reasons. First, "We've got to find out if he's gonna be able to help us in the playoffs," said Green. Second, Green feels that Steve Carlton and Dick Ruthven could stand the extra day of rest with all the big games they have coming up. "I think the two younger guys (Marty Bystrom, Bob Walk) have handled the four-day thing pretty well," Green said. "But the other two guys, because of all the innings pitched, could use the extra day."... Green said his rotation for Montreal probably will be Ruthven on Friday, Carlton on Saturday and Walk on Sunday. Then Carlton could come back Wednesday (if Green thinks he needs him for the final Sunday in Montreal), Thursday (if the Phillies have a chance to clinch) or Friday, the opener at Montreal.... National League leaders in runs produced through Sunday: Keith Hernandez (185), Mike Schmidt (164), George Hendrick-Ted Simmons-Ken Griffey (tied at 151), Pete Rose (146).
Oh where has summer gone?
Those sports fans wrapped up in the Phillies' stretch drive and/or the Eagles' fast start are in for a shock tonight: The 76ers and Flyers will both be in action.
The 76ers, who went to the National Basketball Association finals last spring, will begin their exhibition schedule against the New Jersey Nets at Rutgers field house. It will be their closest-to-home appearance of the preseason, for their seven other games will be in varied cities from Washington to Los Angeles.
The Flyers, three games Into their exhibition slate, meet the Islanders at Uniondale, N Y.
BASEBALL
PHILLIES at SI. Louis (TV-Ch. 17; Radio-KYW-1060. 8:30 p.m.)
Phils take first
Moreland doubles to top Cards
By Jayson Stark, Inquirer Staff Writer
ST. LOUIS – The Phillies moved into first place by the enormous margin of a half-game last night. Uh, let's hold those choruses of "Ain't No Stoppin' Us Now."
It may be the first time the Phils have looked down at the whole NL East since Sept. 5. But it sure didn't inspire anybody to furiously figure out their magic number, A half-game up with 13 to play – insurmountable, it ain't.
"A half-game out doesn't feel any different to me than a half-game up," said Mike Schmidt after the Phillies had passed Montreal with a 3-2, 10-inning win over the Cardinals last night. "If the world ended tomorrow, we'd win the division, right? But I don't hold out much hope for that.
"I think we're in good position, though. We're healthy. We're keyed up. We're on the road. We're winning. But I'll tell you, those last 10, 12 games are going to seem like an eternity."
Only two, or possibly three of them are going to feature Steve Carlton as the pitcher, too. And while Carlton may not be Mr. Automatic Win Night anymore, he is still Mr. Keep You in the Game Night.
He almost got bombed in the first inning last night. He also came close to letting a 2-1 lead turn into a painful loss in the eighth.
But in the end, he allowed two runs or fewer for the 21st time this year, raided his record to 23-8 and beat the Cardinals for the sixth straight time this year. The last Phillies pitcher to beat the same team six times in a season was Robin Roberts, who went 6-0 against Brooklyn in 1952, when Carlton was seven years old.
"He started a little shaky," Dallas Green said of Carlton, who was down, 1-0, after six pitches and had to pitch out of a bases-loaded jam in the first just to keep it that way.
"I don't think he had himself together those first couple innings. But then, it just came. If you can explain that, you can make a lot of money."
The night's great trivia question was: How many straight times has Carlton beaten the Cardinals, and when was the last time they actually beat him? (Winners get a free copy of The Julian Javier Story or complimentary tickets to all of the California Angels' 1980 playoff games.)
And the answer is: St. Louis beat him, 8-1, on opening day, 1979. And since then Carlton is 9-0 against his old teammates. Before this year, nobody had defeated the Cardinals six times in one season since Warren Spahn did it back in 1955.
But to get this one, Carlton needed help. He needed a monstrous 435-foot homer from Schmidt. He needed a couple of marvelous defensive plays from Pete Rose, who found a way to be invaluable on a night in which he went 0-for-5.
He needed Keith Moreland's pinch double in the 10th. (He especially needed it because Moreland was hitting for him at the time.) And he needed the Cardinals to load the bases three times and not score.
After he got behind in the first, Schmidt tied it for him off the dreaded Pete Vuckovich in the fourth. Vuckovich tossed him a 3-2 pitch. Then those wrists were flicking, and the baseball was taking off like an L-1011.
Back floated centerfielder Tito Landrum to the 414 sign. Then he just stopped and watched, head pointed straight up, like a guy catching a Blue Angels show.
The ball clattered two-thirds of the way up the green seats in center for the most awesome Phillies homer since Greg Luzinski nailed a grand slam nearly under the scoreboard in Pittsburgh last year. Nobody else, Cardinal or non-Cardinal, has deposited one in the green seats this year.
The Phils made it 2-1 in the fifth on singles by Larry Bowa (3-for-4) and Bob Boone, and Carlton's double-play ball. Then they went about the business of holding on.
A week ago Green vowed he wasn't going to intentionally walk anybody for the rest of the year. But apparently he meant only people with fewer than 100 RBIs, because with men on second and third and one out in the sixth, he decided to walk George (105 RBIs) Hendrick with nary a second thought.
Landrum bounced the next pitch into a double play, so that ended that mess. Then in the seventh, Carlton had more difficulties – man on second, two out, Ken Oberkfell (.310) the hitter.
Oberkfell ripped one toward first. It took a tough hop off the Astroturf seam. But Rose knocked it down stylishly, successfully raced Oberkfell to the bag and gave it a classic spike.
That held off the Cardinals for an inning. But Garry Templeton and Keith Hernandez started the eighth with singles. Then Ted Simmons moved Templeton to third with a fly ball to deep left.
There was no walking Hendrick this time. Hendrick squashed a 1-0 pitch to deep right-center for a ground-rule double, and it was 2-2. Had the ball not bounced into the stands, Hernandez doubtless would have scored the go-ahead run.
He didn't, so Carlton had a shot to pitch out of it. He had two outs, the bases full again and rookie Keith Smith at the plate. Smith thumped a chopper down the third-base line. Schmidt backhanded it but bounced his long throw to first. Rose made a difficult, critical scoop, and that preserved the tie until Moreland could double in Bowa in the 10th.
"I fielded the ball sort of in a funny position," Schmidt said. "So the best I could do was kind of underhand it to first. Pete made the play. I had the easy part.
"I'll tell you what. That man went 0-for-5, and he won the game for us. That's unbelievable, isn't it?"
It was observed to Schmidt that Rose doubtless would rather have gone 3-for-5 and won the game for them.
"Yeah, I'm sure he would," Schmidt conceded. "But if he'd gone 3-for-5, those plays wouldn't have mattered, would they?"