Philadelphia Daily News - October 14, 1980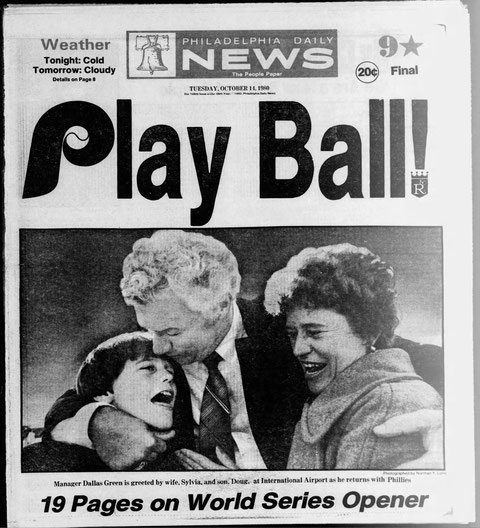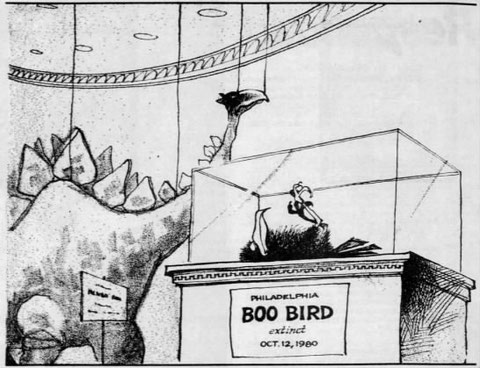 Phils Trot Out Walk
By Stan Hochman
The Phillies crawled barefoot over hot coals to get here, across a gravel pit laced with broken glass.
Won the division on the next-to-last day of the season. Won the pennant in the 10th inning of the fifth game of a nerve-fraying, teeth-grinding playoff.
Kansas City clinched the woeful West on Labor Day or thereabouts. Beat the Yankees in three straight, wham, bam, thank you ma'am.
The World Series opens tonight at the Vet. Do the weary Phillies, their pitching staff tattered, their nerves frayed, their teeth ground, have a chance against the well-rested Royals?
"When you put 66,000 people in the stands." Pete Rose said, "you could tie me up to a pole for two days and they say 'Play Ball' for one game and tbere's not gonna be one guy in the clubhouse tired.
"Schmidt, Bowa, Luzinski, Maddox. Boone, these guys have never played in one. They're gonna enjoy it."
That's Pete Rose, always talking about the autumn classic, baseball's showcase, having fun.
But not everyone is built like Rose, thinks like Rose, plays like Rose.
"THE EMOTION we've got " said rookie Manager Dallas Green, "the momentum we've got. it can't help but help us. We know how to play the tough games."
"I don't think it means anything," countered K.C's rookie Manager Jim Frey. "There's the idea you have to be in a dogfight to win the playoffs.
"In terms of the World Series, it will be the same old story. The team that gets the best pitching will win."
It is a brand-new story in Philadelphia. The last time the Phillies got to the World Series, the Whiz Kids put them there in 1950.
They got blitzed by the Yankees in four games, in tough, low-scoring well-pitched games.
Jim Konstanty started that tournament for the Phillies because they'd run out of regular starters in the September dogfight with the Dodgers. (Some dogfights are more damaging than others.)
This time, the Phillies go with a young, lean rookie, Bob Walk. Walk finished 11-7 after an 8-1 start. He is the only pitcher Green did not employ in the playoffs.
"I've got no qualms about putting him out there." said Green. "He's got good enough stuff to beat any team."
The Royals are not just any team. They have never played in a World Series. They share the dismal memories of three playoff losses (76-77-78). making them a mirror image of the Phillies.
THEY DEPEND on speed and defense and pitching. They have Dennis Leonard (20-11) primed to go tonight. His last appearance was last Thursday, beating the Yankees in Game 2 of the playoffs.
If Frey is right, and the pitching is the key, the Phillies will have a slight edge in Game 2. tomorrow night. Steve Carlton (24-9) will oppose a lefthander, Larry Gura (18-10).
This is a fascinating matchup, two teams taking different routes to get here. Two rookie managers. Two national media heroes in George Brett, who hit .390 after flirting with .400 in the stretch... and Mike Schmidt, who crashed 48 homers to lead the world.
"You're gonna see a great Series." said Detroit Manager Sparky Anderson, a cockeyed optimist of the first order.
"You've got two second basemen in Manny Trillo and Frank White who are outstanding.
"You've got a centerfielder in Garry Maddox. I swear to God. as good as there is.
"You'll see a leftfielder in Willie Wilson who is as good as you're gonna see. Two third basemen in Schmidt and Brett who are outstanding.
"Two good shortstops, although once in a while, U.L. Washington gets a little careless. Two very good catchers in Bob Boone and Darrell Porter."
ANDERSON couldn't compare designated hitters because the Phillies have never had a designated hitter. And Green was guarding the identity of their first one.
"I never announce my lineup in advance," he grumbled. "Call it superstition, call it what you want."
He did admit he had five options as the DH. He could use Greg Luzinski in that spot, or Lonnie Smith, or Greg Gross or Del Unser or Keith Moreland.
In case you missed it, in even-numbered years, the championship is played according to American League rules. The pitcher doesn't have to hit.
His place in the lineup is taken by a guy who just hits, but is not asked to play defense. Hal McRae does that job splendidly for K.C.
It was McRae who put the whole tired vs. rested squabble in perspective.
"Psychology is for people who don't believe in themselves," McRae said bluntly. "Psychology is for people who have a lot of doubts... who can't figure nothing out."
We now know what McRae does not do between at-bats. He does not read Freud. But then again, who did Freud ever beat?
Who are these guys, anyway? Wilson, the leftfielder, was a terrific basketball player at Summit, N.J. He stole 79 bases this year and got thrown out only 10 times.
McRAE WILL bat second. He hit .297 as the DH after a struggling start. He is also the guy who once lost a baiting title on the final day. under curious circumstances.
Brett, who won the third playoff game with a mammoth homer off Rich Gossage, hits third.
Willie Mays Aikens, the first baseman, bats cleanup. He was named after an Atlantic City casino employee.
Darrell Porter, back from a nightmarish bout with booze, is the catcher. Frey platoons his rightfielders. using Clint Hurdle against righties, John Wathan against lefties.
Frank White, the second baseman who was MVP of the playoff series, hits eighth. And U.L. Washington, the shortstop, hits ninth.
The Royals hit 115 homers, stole 185 bases. That sounds as though they run a lot, but some players grumbled about not running enough.
The Phillies hit 117 homers and swiped 140 bases.
Enough stats? Try a couple more to support the intangible factor of momentum. The Phillies won six of their last seven regular-season games and 19 of their last 27. They won 21 of 28 road games.
The Royals are healthy. The Phillies have a couple of trouble spots.
Tug McGraw pitched in all five of the playoff games and is understandably weary. "Hey. I wasn't throwing that bad Sunday," McGraw warned.
"A BROKEN BAT and a couple of flares. It feels all right. Tired, maybe. But the day off will help."
And catcher Bob Boone was limping with a battered left foot. Early X-rays yesterday were inconclusive because the nurse did not get the complete picture.
"They showed up negative," Boone said, "but she didn't get the whole toe. Ah, it's not broken, and that's all that matters.
"I've had lots of practice with pain. I couldn't believe one of the Houston guys took himself out Saturday.
"I won't come out. I'm not gonna miss any of this."
You'd have to tie Bob Boone to Pete Rose's pole to keep him from competing in this one. He has waited too long for the chance. 
Start the Victory Parade Without Me
By Stan Hochman
Since 1972, in his eight years with California and one year with Houston, Nolan Ryan had a record of 112 wins, three losses and five no-decisions in games in which he took the lead into the eighth inning.
That's 112-3.
You've got a better chance of stealing the diamond out of Roberto Duran's earring than you have of beating Houston when Nolan Ryan's got you three runs down in the eighth inning.
The Phillies did it Sunday.
"Those last two weeks," Dallas Green growled yesterday, "we had some intense, grind-it-out baseball games with extreme peaks and valleys.
"A team not as tough could have quit on a couple of occasions.
"Nolan Ryan gets you down, 5-2, in the eighth inning, it could have been a disaster. But we didn't quit."
Why is it OK for managers to sermonize after victories? Why are they allowed to brag about how the team didn't quit when it's unlawful for writers, after losses, to suggest that indeed, a team did quit?
WHY MUST WE assign glowing intangibles to winning teams? Character? Courage? Discipline? Togetherness?
Those five games with Houston were wonderful, crammed with drama, littered with bizarre events. But the baseball purist had to puke, watching them, listening to that wimpy trio on ABC-TV.
There was more than skill demonstrated. The playoff pressures warped performances out of shape.
Houston lost its best pitcher at mid-season and its best hitter in mid-playoff. The Astros didn't quit.
It wasn't character that created the rally that blotched Ryan's brilliant late-inning record. It was a flare by Larry Bowa, a hard grounder by Bob Boone that clanked off Ryan's glove.
Give Boone points for playing hurt. He was hobbling on one leg and he thumped to first base, blocking out the pain.
Greg Gross beat out a lovely bunt. That's grace under pressure, that's technique, that's terrific.
And then Pete Rose grinned back at Ryan and fretted him through a 3-2 count and walked. Nothing that happened after that qualified anyone for knighthood or sainthood. Spare me sermons about character and columns about courage... we're talking about professional athletes who are paid to play well.
AND, AFTER 30 years, the 1980 Phillies have played well enough to win a pennant.
So thousands of people cram an airport to catch a blurry glimpse of returning hung-over heroes. And the Pulitzer Prize-winning morning paper buries the Nobel Peace Prize story below the fold. And I will write 4,500 words on the World Series.
It sells papers. I know that.
People would rather read about Greg Luzinski than Iraq and Iran. It helps them forget high taxes and lousy schools and crime and grime.
Sports is the opiate of people. Bowie Kuhn said that. Or Pete Dexter. I have trouble telling those guys apart.
The Phillies dont personify the city any more than that toothless bunch of Canadians did a few years back.
The city celebrated because thE Flyers played relentless, belligerent hockey. And they celebrate the Phillies winning a pennant because the came from behind, during the season, during the playoffs, and the citizens can relate to that.
Hey, some guys play better in September and in October. But that has more to do with muscle fiber than moral fiber.
SPARE ME THE search for tin deeper meaning of what the Phillies have accomplished. A bunch of pampered overpaid athlete-entertainers put aside their petty grumblings for five weeks and played some intense, alert baseball.
Give Dallas Green credit for screaming that message all summer. But be aware that it was easier for Green to do it, because he's got a better, guaranteed job with the organization.
He was the right man for this bunch and he tongue-lashed them right into a World Series. The players resent that image, they resent the critical press, they resent the short tempered fans.
They've got enough resentment stored up to melt Alaska. And the showed it by brushing by the hero starved fans who trudged to the airport to greet them.
The guys who best understand the game. Tug McGraw and Pete Rose, had the most fun in the playoffs. They will have the most fun in the World Series.
They are not afraid to show emotion, not afraid to laugh in public, to do cartwheels in public.
It is a joy to watch Rose clatter home, rumbling into the catcher. It is a pleasure to watch McGraw dance that screwball past one more grim hitter.
I HAVE BEEN covering this team only since 1959, so I was spared the gloom of the mid-'50s. But I have chronicled Tony Curry and Roberto Pena and B.C. Smith and Billy Smith and Charley Smith and Ron Stone... and I covered a 23-game losing streak... and I covered the collapse in '64 and the playoff nightmares in 77 and 78.
What the Phillies have done this year is nice, because it's been so long since they won a pennant, and because there are some older, hard-grinding guys on the team who may not have more chances to play in a World Series.
But next weekend is Parents' Weekend at Yale and I have not seen my daughter in seven weeks. And that is where I am going to be.
And if the Phillies win, as I expect them to, go ahead, start the parade without me.
Walk-ing into the Series Spotlight
By Ray Didinger
The first time the Phillies made it to a World Series was 1915. Their starting pitcher in the Series opener was Grover Cleveland Alexander, a future Hall of Famer coming off his greatest season.
Alexander won 31 games that year, pitched 12 shutouts, worked 376 innings and compiled an astonishing 1.22 earned-run average. His strikeout total (241) was impressive even by today's slider-aided standards.
The next time the Phillies made it to the World Series was 1950. Their starting pitcher in that opener was Jim Konstanty, the wondrous palm-baller who wore thick glasses and looked like a high school physics teacher.
Konstanty was the National League's Most Valuable Player that season, appearing in 76 games, winning 16 and saving 22. In a one-month period (July 23-Aug. 23), Konstanty pitched in 14 games and did not allow a single run.
TONIGHT, THE PHILLIES return to the fall classic against the Kansas City Royals at Veterans Stadium. Their starting pitcher will be Bob Walk, a rookie who has won just two of his last 13 starts, a kid who was working in a California service station this time a year ago.
From Grover Cleveland Alexander to Jim Konstanty to Bob Walk... from Hall of Famer, to MVP, to Mr. Goodwrench. I've heard of the generation gap, but this is ridiculous.
The Phillies get to a World Series once every three decades and they hand the ball to some kid just off the bus from Sticksville? What's going on?
Well, it seems Dallas Green asked for volunteers to pitch this game and Bob Walk was the only one who was able to lift his arm up over his head. He was the only one who could pick up a baseball without using two hands.
Dallas Green burned out his pitching staff in that savage five-game Championship Series with Houston. He used six pitchers on Saturday and six again on Sunday. He wore out more arms than a little old lady on a slot machine binge.
GREEN ORIGINALLY had planned for Dick Ruthven to open the World Series. But he needed Rufus to put away the last six outs in the Astrodome Sunday. That move, though successful, left Green's starting rotation in a shambles.
His only choice was to pitch Walk against Kansas City tonight. But sending a kid just one year removed from Double A ball into the heat of a World Series' opener is like shoving a toddler into the middle of Market St.
Walk, you might recall, got off to a sensational start after being called up from Oklahoma City on Memorial Day. He ran off eight wins in less time than it took to sew his name on the back of his jersey.
He was 8-1 on Aug. 1 and he was considered a prime candidate for National League Rookie of the Year.
Since then, however, Walk has won only three games, lost six, and failed to survive the fourth inning in five of his starts. He went almost a month between victories (Sept. 4 to Oct. 2) and he was the one eligible pitcher Green did not use in the Houston series.
BUT YESTERDAY, Dallas Green dusted the 23-year-old Walk off and introduced him to the assembled media as his Game 1 starter. When someone asked Green if he bad any qualms about pitching Walk, the Phillies' manager bristled.
"No, I don't have any qualms about pitching Bob Walk," Green said. "He did a heckuva job when we really needed help early in the season.  He helped get us over the hump in June and July. I don't know where we'd be without him.
"He struggled for awhile (later) but he pitched a real big game for us the final week, beating Chicago when we were trying to keep pace with Montreal.
"He's a tough kid, a competitor," Green said firmly. "He'll give us everything he's got (tonight), I know that."
Bob Walk did not seem particularly overwrought by the news of his starting assignment but, then, he never seems overwrought by anything.
THE ROOKIE THE other Phillies call "Whirlybird" (he always seems to have his head in the clouds) handled his first World Series press conference as if it were, well, just another tire change and lube job.
"I guess it will probably hit me when I go home," Walk said. "I'll be watching television and I'll think about it. Right now, I'm still emotionally drained from the Houston series... from the party and the trip home.
"I didn't even think about pitching this game until (Sunday) night when a few people said, 'Hey, are you gonna start the opener?' My first reaction was, 'Why would (Green) start me?" Then I thought about it and I realized, hey, he might need me, after all.
"I didn't find out for sure until an hour ago," Walk said. "Dallas came over and told me I would pitch the first game."
"What did you say?" someone asked.
"I said, 'OK, fine,' " Walk replied. He looked at his questioner curiously. "What was I supposed to say?" Walk asked. "No?"
WALK FEELS CONFIDENT he can do the job, despite his shaky regular-season finish. Like Green, he points to his last appearance, a strong seven-inning effort against the Cubs, a proof he has overcome his control and concentration problems.
"My problem his year has been inconsistency," Walk said, his 4.56 ERA reflecting that.
"I'll throw one game well, then I won't even feel like the same pitcher the next time out. I'll feel clumsy, sluggish. It's all mental. I'm sure.
"Stuff-wise, there's no adjustment going from the minor league to the big leagues. The same stuff that wins for you in the minors will win for you up here.
"The adjustment you have to make is mental... coping with the fans and the media.
"I feel pretty confident now," Walk said. "I haven't pitched in a while so I can't go out there and try to muscle the ball past these guys. I'll just have to stay loosey-goosey and work like it's just another ballgame."
OF COURSE, THIS is not just another ballgame. This is the first game of the World Series, the ultimate showcase where players become national celebrities overnight, where guys appear out of nowhere to become superstars.
There will be some 60 million people tuning in when Bob Walk winds up to throw his first pitch tonight.
Most of those people never heard of the Whirlybird, the kid who started this season ticketed for a summer in the minors, then rode in to rescue Green's tattered staff.
If Bob Walk pitches a terrific game, he could wind up as part of our World Series lore, right there with Don Larsen and Whitey Ford and a the rest. He might even wind up on a beefcake poster like Bucky Dent.
Walk isn't thinking about any of that. He is basically the same easy-going kid who pitched last season in Reading, then went home to Newhall, Calif., and worked pumping gas at the local filling station.
HE IS NOT MUCH for pretense, he cares little for mystique. When someone asked what he knew about the Royals' George Brett, Walk shrugged.
"I saw him hit in one (playoff) game against the Yankees," Walk said. "I was in a bar and the game was on the TV. I glanced up and he was at bat. That was when he hit the home run off (Goose) Gossage."
"What will you be thinking when George Brett steps in to hit against you?" someone asked, clearly expecting the rookie pitcher to hold the game's top hitter in the proper awe.
"I'll probably think, 'Hey, that's George Brett,'" Walk said, smiling. "Then I'll think, 'I'm gonna get him out.' "
Grover Cleveland Alexander and Jim Konstanty couldn't have said it any better.
The Year Green Saw Red
By Rich Hofmann
"I would rather be kicked with a foot than be overcome by a loud voice speaking cruel words." – Elizabeth Barrett Browning
Oh. Elizabeth, even if you could have hit the curve ball, how you would have hated spending the 1980 season with the Philadelphia Phillies.
Dallas Green, the Phils' farm director-turned-manager, is the man with the loud voice and the cruel words whom you would have hated. Loud is self-explanatory; cruel takes a little time.
The talent-laden Philadelphia Phillies won Eastern Division titles in 1976, '77 and '78 under the protective stewardship of Manager Danny Ozark. Never was a discouraging word heard during Ozark's time. The manager fiercely protected his ballplayers, turning all criticism of them upon himself. His players, understandably, liked the situation. They were comfortable with it, and with Ozark.
And they never got into a World Series.
When the roof fell in last year, and the Phils ended up finishing fourth, Ozark was jettisoned to the third-base coaching box at Dodger Stadium and Green was brought in to spend September on the field with the troops. He didn't like a lot of what he saw, but agreed to stay on to try to make things better.
His methods were hardly Ozarkian, and this is where the cruel words fit in.
WHEN DALLAS GREEN saw something on the field he didn't like, something he thought was unprofessional or unthinking or uncaring, he spoke up about it in the newspapers. And some of his players, used to the days of Oze, thought Dallas Green's comments were cruel and counter-productive.
But, as it turns out, they are in a World Series.
Now, this is an incredible oversimplification, but almost anything one can say about an entire baseball season is an oversimplification. It is impossible to accurately describe eight months of spring training, regular season and playoffs in one sentence. Yet this, the year the Phillies made the World Series for the first time in 30 years, seems best characterized as the year the manager opened his mouth.
One of the first pronouncements of the "We, Not I" regime, way back in spring training, was that all pitchers would run together. When Steve Carlton didn't, everyone watched expectantly. But Green deftly turned it into a non-issue, explaining that Carlton's training program with Gus Hoefling was far more rigorous than anything the rest of the staff was doing. Green's refusal to blow this thing up into a test of wills earned him high marks early.
But there was a preoccupation this spring training. It wasn't caused when Larry Bowa complained about how Ruly Carpenter wouldn't renegotiate his contract, then recanted, saying he didn't mean to sound ungrateful. The struggling pitching staff wasn't the culprit, either. The cloud was formed by strike talk and the controversy over compensation for free agents. The players struck the last few days of camp, and threatened to strike the regular season just before Memorial Day if things weren't satisfactorily settled.
A SWORD OF Damocles – Marvin "Damocles" Miller – hung over baseball.
Nevertheless, it didn't bother the new-look Greg Luzinski that opening night at the Vet. After Kiteman III successfully negotiated the stadium air currents, the slimmed-down Luzinski launched a three-run homer into the jet stream his first at-bat. Carlton went nine innings, struck out six, and everyone went home happy.
The rest of April was mostly a .500-ish jockeying for position. Garry Maddox signed a six-year, $4.2 million contract. The Phils lost a one-run game to the Mets in which pitcher Randy Lerch was the only pinch-hitter Dallas Green had left to send up for Dickie Noles with bases loaded in the ninth. And two days later came the first eruption.
Pete Vuckovich and the Cards beat the Phils, 3-1. Green got on Bake McBride for not going from first to third on a single to right, and really got on the team as a whole.
"I don't want to know any more bullbleep," the manager said. "I read all last year how great we'd be if we were all together. Well, we're all together now... We're going to have get some things together early if we're as good as we think we are."
As April ended, the Phils were in fourth place. 4½ games out.
May was a good month. The Phils went 17-9, flirting with first place for two days. Steve Carlton threw a no-hitter at the Braves for 7⅔ innings before Bill Naharodny's clean single broke it up. The month ended with Carlton's record at 9-2, but the rest of the pitching staff was inconsistent, openly worrying many.
IT WAS ALSO A month of battles. Off the field: The negotiators fought right to the deadline over the compensation issue, and the players came oh so close to going out on strike before what amounted to an agreement to disagree was signed by both parties.
On the field: The Phils and Pirates, in their first meeting of the season, got into a brush-back war. Mike Schmidt, the league leader in homers with 14 (Luzinski was second with 12), got knocked down by Bert Blyleven, charged the mound and started a minor skirmish. Three innings later, Kevin Saucier retaliated with a fastball to Blyleven's hip, and an uglier scene developed. There were no casualties.
May ended with the Phils in second, one game out.
Carlton won his 10th game on June 4. Two days later, the worry about the rest of the starters manifested itself in youngsters Lonnie Smith and Keith Moreland being showcased against the Cubs. Smith went 3-for-5, and the trade rumors were flying. But about a week later, after a few false starts, it was decided that the kids would stay and the present staff would have to do.
Other June highlights: the seven-hour, 36-minute rain-delayed game that ended at 3:11 a.m., with the Phils losing, 3-1 to the Giants; Carlton's 13th win; Schmidt's 21st homer, and more of Green speaking his mind.
On the subject of Randy Lerch, who on June 11 was 2-8 with a 5.01 ERA: "Maybe we've been too nice," Green said. "... Instead of getting hissed off in the clubhouse and tearing the clubhouse up, maybe he's got to get hissed off on the mound, show some of that fire and ginegar out there."
Green never defined "ginegar."
THEN, A FEW DAYS later: "Some of our guys are giving up on infield practice already," Green said. "I'm seeing some laziness from guys who need to work hard to be at their best... It's got me a little upset."
June ended with the Phils in second place, two games out.
July. Oh, July! It was "Les Miserables" – in spades.
July 8: The drug scandal, implicating several Phils but never proving anything, drove a huge wedge between the players and the press, who didn't get along very well to start with. Larry Bowa remained incommunicado until very recently to almost all reporters.
July 10: No Bull. Luzinski's knee acts up and he's forced out of the lineup, Lonnie Smith taking his place.
July 11: Bob Walk, the rookie with control problems who knew how to win, went 5-0. The whole month couldn't be bad.
July 15: Del Unser's failure to bunt over a runner, a Dick Ruthven balk and a throwing error occasioned this outburst from Green – "One of these days, our guys will start listening to me about grind-it-out, team baseball. I don't know when, but they will listen if they want to win."
July 17: Tug McGraw comes off the disabled list and Lerrin LaGrow gets exiled to make room on the roster. He doesn't go quietly. "I'm not surprised at all," he said. "It's no longer fun to walk into the clubhouse and put on this uniform."
JULY 23: THE big one. Luzinski, home in Philly while the rest of the team is in Cincinnati losing its sixth straight, blasts Green's telling it like it is. "The thing is," he said, "Dallas has said himself that he's got some shortcomings... and one of them is his mouth."
Green's reply: "I love these guys. You know what I think of Greg Luzinski. But that shouldn't make them immune to criticism that is honest." Then, later: "If they can handle our performances lately without doing some soul-searching, then we're worse off than I think we are."
July ended with the Phils in third place, 3½ games out.
August was the turning-point month, and the 10th was the turning-point day. The Phils hit bottom that afternoon in Pittsburgh. A four-game sweep by the Pirates left them six games out and falling. But then Dallas Green cleared his throat, and the mouth roared.
"You gotta stop being so bleeping cool," he screamed at the team. "Get that through your bleeping heads. If you don't, you'll get so bleeping buried it ain't gonna be funny. Get the bleep off your asses... You tell me you can do it but you bleeping give up."
Let it be noted that on the day of that speech, the Phils were 55-52 and dead in the water. But the rest of the way, they played 36-19 (.655) baseball and won the whole thing. There were more ups and downs those last eight weeks, and there was more controversy, but the whole turnaround can be traced to that debacle on the Monongahela.
TWO-OUT-OF-THREE in Chicago, five-in-a-row in New York. Schmidt climbs out of a 1-for-23 hole with a 12-for-19, four-homer (31 total) explosion. Manny Trillo keeps playing second base like the pro he is, Luzinski comes back, Carlton wins his 20th, the Pirates start falling apart.
Chipping away, little by little, by the end of August, the Phils were in second, one game out.
September opened up with a new raised voice – that of GM Paul Owens – and the Phils responded by taking first place for four days. In many ways, the month was a classic pennant-race closer, the Phils and Expos battling each other to the final weekend while the Pirates faded. But there were some unique things, too. There had to be.
Marty Bystrom: called up after the month began, he merely went 5-0, earning NL Pitcher of the Month honors.
Tug McGraw: simply outstanding – nearly flawless, in fact – he finished the season with a 1.46 ERA.
Bake McBride: his knee drained regularly, he still hit .309 with 87 RBI.
The Benchings: In the last week of the season, Green sat down slumping veterans Bob Boone, Garry Maddox and Greg Luzinski. Larry Bowa, on his radio show, ripped the move. Maddox confronted a Philadelphia reporter and blamed him for his benching. Green, going into the crucial final series with the Expos, exploded again.
"I GET THE FEELING we're not all together in this thing." he said. "I wouldn't be surprised there aren't a few guys out there who aren't rooting against us... not to win this thing."
That kind of blast, at that time, might have been devastating. But it wasn't. The Phils went into Montreal and took the first two games of the series to win their fourth pennant in five years.
How? Well, the guys who were benched contributed, and the guys who replaced them contributed, just about everybody contributed. And when it was over, the embattled manager raised his voice once more.
"We won," Dallas Green shouted. "Goddammit, we won."
Ozark, Lucchesi Cheer Phils
By Bill Fleischman
You can fire the man from the Phillies' organization, but you can't dim the Phillies' fire in his heart.
Two of the Phillies' biggest supporters in the World Series mission against Kansas City are in Florida and Texas, but their hearts will be at Veterans Stadium tonight.
"I'll definitely be rooting for them." Danny Ozark said yesterday from his Vero Beach. Fla.. home. "I still feel part of them."
"Sure I hope they win it." said Frank Lucchesi from Arlington. Texas, which is near Limbo. "Some people are dismissed from an organization and are bitter, but I have nothing but praise for the Philadelphia organization.  I still have Phillies blood."
LUCCHESI, IN Limbo as a Texas Rangers coach because Pat Corrales was fired, managed the Phillies from 1970 into the 1972 season after a lengthy career as a minor-league manager in the club's system. Under Lucchesi the Phils won 166 and lost 233. Following his firing, Lucchesi has managed and coached with the Rangers, which gives him as good a view as anyone of the Kansas City Royals.
"They're not flukes." said Lucchesi. "They've got good speed and defense. They're tough to beat, especially in their own ballpark. They believe in themselves.
"Quisenberry. of course, is their stopper in the bullpen. Some people think their bullpen is suspect after Quisenberry, but I think it's still fairly decent."
Following Ozark's firing late last season, he returned to the Los Angeles Dodgers where he coached third base and was reunited with his favorite ex-Phillie, Jay Johnstone. Ozark, who steered the Phillies to three NL East titles and a 594-510 overall record, hasn't been as close to the Royals as Lucchesi, but he also gives the American League champions a good rating.
"They're a great running team with a good offense." said Ozark. "They don't have too much power, with the exception of Brett. McRae, Porter and Aikens hit one out now and then.
"THEY'RE KIND of like Houston, but with all-around better hitters. They're contact hitters – they don't strike out too often."
When Ozark turns his attention to the Phillies, his enthusiasm rises like a Mike Schmidt home run – remember them?
"Garry Maddox is as good, if not better, than Amos Otis. Otis has some age on him – Garry can out-run him. Bowa and Trillo have been outstanding the last month. Tug McGraw recuperates last – hell be all right by tomorrow. And they have two great, reliable guys in Unser and Gross. The Phillies' bench possibly is a little better than Kansas City's."
When Ozark managed the Phillies, he was criticized for not introducing more young players to the major leagues. A caller wondered what Ozark thought of Dallas Green starting Marty Bystrom in the series finale against Houston.
"I would have done the same thing." Ozark replied, as the caller almost choked on his third cup of coffee. "He was the guy who could go out and do the job. They (Astros) had never faced him and he has good control. I'll tell you, I'll bet the kid grew up that night. He probably aged five years."
With all the turmoil involving the Phillies this season. Dallas Green aged at least five years. What did Ozark and Lucchesi think of Green's managing style, a style regarded by many sensitive Phillies as early Gestapo?
"HE DID WHAT he thought was right and it worked out." said Ozark, a man some observers think would still be managing the Phillies if he had adopted Green's tougher approach. "When you have 25 guys there's always going to be some dissatisfaction. There was dissatisfaction when I was there. I'd rather hear from a guy who's not playing. If he's complaining, he wants to play."
"Dallas is one of my guys." said Lucchesi. "He was my pitching coach at Reading and played for me four or five years. He's very intelligent.
"I've read about some of this stuff with Dallas and Bowa and the Bull. I hate to see this. I just hope it's overplayed. Larry Bowa and I go way back. Seeing him make it is my second-biggest thrill in baseball."
In case you've forgotten, Lucchesi's biggest thrill in baseball was the standing ovation he received in his debut at Connie Mack Stadium on opening day 1970.
Eddie Sawyer's biggest thrill was managing the Phillies to their last pennant. But that was 30 years ago and the 70-year-old Sawyer, a Valley Forge resident, says he doesn't know the current Phillies. But Sawyer, who will throw out the ceremonial first ball tonight, does know that "Dallas Green did a remarkable job under very trying circumstances."
"I KNOW DALLAS didn't have that much experience as a manager," added Lucchesi, "but I've said a manager only makes a difference of six percent in the American League and eight percent in the National League. It's a little higher in the National League because there's no DH so there's more strategy.
"To me, the most important thing a manager does is relate to his ballplayers. You don't have to tell the players why you're making a move, but if, for instance, you're sitting them down for a reason, it makes sense to talk to them."
A lot of things about managing don't make sense. Just ask Danny Ozark.
"It's kind of strange, isn't it both (Whitey) Herzog and I got fired and both teams wind up winning."
That's just the kind of anecdote Dallas Green and Jim Frey need to hear as the World Series begins.
For NBC's Coyle, a Series of Challenges
By Gene Quinn
Harry Coyle remembers Don Larsen's no-hitter in Hie 19S6 World Series like it happened over the weekend.
"It got to be scary," says Coyle, who directed his first World Series for NBC television in 1947. "An odd thing happened during Larsen's no-hitter. An electricity went through the stadium in about the seventh inning. Everybody in Yankee Stadium began to feel it.
"The feeling grew. And my crew began to feel it, too. In the eighth inning, I'm getting scared because the reaction of my crew is slowing down. They're too into the game. I'd look up (at the monitors) and without me telling a cameraman to be on Larsen there'd be three cameras on him.
"I said to myself, if somebody breaks this no-hitter, I'm gonna miss it. My whole crew's watching Don Larsen." I mean, there were network executives walking around in the control room saying, 'No-bitter, no-hitter.' I had to keep after my guys to concentrate."
HARRY COYLE IS a walking World Series encyclopedia: Besides Larsen's no-hitter, entries in his memory bank include-Carlton Fisk's game-winning home run in Game 6 that brought Boston even with Cincinnati in 197S and the Dodgers' Bob Welch striking out the Yankees' Reggie Jackson to end Game 2 of the 1978 Series. Coyle won Emmy Awards for his artistic direction in '75 and '78.
Still, there are those who are blind to his mastery.
Before coming into Philadelphia for the National League 'playoffs, Dennis Lewin, producer of of ABC's baseball coverage, said NBC's approach to the game was outdated by 10 years. Well, if mindless babble in ABC's broadcast booth and a deluge of confusing, insignificant replays is Lewin's idea of ahead-of-its-time baseball coverage, I'll take the Stone Age anytime.
NBC's approach to the game – be it by design or stubbornness – is uncomplicated. Sometimes it's even on the hokey side. (You'll see that tomorrow when Ron Luciano dresses up like Darth Vader for a World Series pre-game segment called "The Umpire Strikes Back.") But NBC's penchant for using the right replay instead of every replay and its emphasis on fundamentals of the game by announcers Joe Garagiola and Tony Kubek keep people coming back.
"THE EFFORT IN the World Series is a little different than during the regular season," says Coyle, who along with producer George Finkcl will orchestrate tonight's opener between the Phils and Royals at the Vet (Channel 3, 8 p.m.). "This is the one time we owe the public. We have an obligation to the public to do the best job possible.
Our approach to the game at NBC Js, the play is the things. Piay m oame in wnicn tne Astros oary wooas was canea out When we seTup cameras for the World Series the basic thought lor leaving third base too soon on a ny bail. in our mind is cover the action. After we're sure in our mind, that the game is covered, then well say to ourselves now there's other factors, other important factors. Like what's happening in the dugouts, what's happening in the bullpen.
"What we do," says Coyle, "is take our cameras that are set for the ballgame and see if we can cover everything. If we're missing something, we'll add a camera. We don't discount that there are many areas in the game besides game action, but those areas are secondary."
ABC's philosophy differs in that it hypes the importance of those "other" factors. ABC often makes a big deal out of banners hanging in the stadium, or stars dropping by the booth, or the reaction of players' wives. The problem there is, the banners shown usually are self-serving "We Love ABC" stuff, the stars in the booth have no bearing on the game, and the wives aren't always reacting to something. That may be why ABC blew the play in Game 4 in which the Astros' Gary Woods was called out for leaving third base too soon on a fly ball.
"WE SAY YOUR first obligation is to cover the play." explains Coyle, "but we carry that obligation a step further. I hate using a shot from a bad angle. In the World Series, we add a lot of replay equipment, but not to say we can hit you four or five replays. The main thing is covering it from different angles so we can find the real one, the important one.
"Like the Reggie Jackson play in 1978 when the throw bounced off his hip between first and second. We had three replays on it, but there was really only one – the shot from the outfield where you could see down the line between second and first. You have to be careful. You know it's the World Series, it's exciting, your adrenalin's pumped up. But you can't over-produce, overkill. I'll admit that when a sensational play occurs, a controversial play, we'll hit you four times with it. But then it's worth it."
Even then, there's a danger of confusing the viewer. During Game 4 of the NL playoffs last Saturday, ABC did just that. Garry Maddox popped a bunt to Astros pitcher Vern Ruhle with runners on first and second. Ruhle stabbed at the ball and the ump ruled he caught it. ABC showed the play head-on, even blowing up the picture and showing how obscure a play it was. Bui then ABC showed a replay from center field, and with Ruble's back to the camera, there was absolutely no chance to see what happened. The guys in the truck were shooting in the dark, confounding an already confounded audience.
•
What are the key areas Garagiola, Kubek, Tom Seavtr, Coyle and Finkel will examine during the Series.
"We're looking at the excitement of George Brett and the sheer velocity of Willie Wilson for the Royals," said Finkel, who used to work Phillies baseball for Channels 6 and 17.
"We're looking at the question mark of Mike Schmidt during the playoffs. At Greg Luzinski and – despite all the booing – his amazing consistency over the years in the playoffs. At the incredible pressure ability of Pete Rose. At Dennis Leonard (Royals' starting pitcher) finally finding himself in post-season. At Tug McGraw proving he's only human with his tired arm. And at – other than Steve Carlton – the questionable Phillies pitching."
And if something else develops?
"You have to adapt to what happens," says Finkel. "Who knew Bucky Dent would be the MVP for the Yankees in the '78 series? Who thought Manny Trillo would be the MVP of the National League playoffs?"
Who knew the Phillies would come back against the Astros?  Certainly not Howard Cosell, or he wouldn't have built up Houston as the Comeback Cinderella Story and be at a loss for words when the Astros didn't have a happy ending.
How Our Experts See the Series
Sentiment, and mental flashbacks to the weekend in Houston – where they seemed equal to any challenge – are the two most compelling reasons to guess that these Phillies will go on to accomplish what no other team in the history of the franchise has managed.
Logic suggests that it will be the weekend before the Phillies' mangled rotation and weary bullpen achieve any sort of order. By then a Kansas City club which has the look of quality in every area of its game should have opened too much ground.
Prediction: Royals in six.
           - Tom Cushman
Kansas City would appear to have the edge over the Phillies in pitching, speed and defense. So much for appearances.
Danny Ozark is long gone, but he left his abacus behind. Now, Dallas Green is talking about using Steve Carlton "two-and-a-half times." How can you argue with arithmetic like that?
I like the Phillies in 6½, with Carlton winning two games, with Mike Schmidt doing splendid things and Warren Brusstar scowling holes in Kansas City bats with those gunfighter eyes.
OK, round it off to the nearest number.
Prediction: Phils in six.
           - Stan Hochman
The Kansas City Royals were the best team in baseball when they had George Brett in the lineup. They have him now and, judging by the ball he hit off Rich Gossage, his hand has healed nicely.
The Royals have a well-balanced offense and great speed. If Bob Boone's bad foot gives him any problems setting up, the Royals will run and run.
The Phillies have to be drained after their tough LCS series. The pitching staff is worn out. Not having Dick Ruthven to open the series hurts.
Prediction: Royals in six.
           - Ray Didinger
General Consensus:  Royals Will Win
"A quick poll of some of the visiting baseball writers who were at yesterday's workout turned up only a gentleman from St. Louis willing to pick the Phillies to win the World Series. Here's what they had to say:
Joe McGuff
Kansas City Star
Royals in six. As far as pitching and defense are concerned it's about even, but the Royals have more ways to score. They also have the advantage that their pitching staff is more rested and set up.
Charlie Feeney
Pittsburgh Post Gazette
Kansas City in five games. 1 think the Phillies will be drained, and with the condition of Their pitching staff, having come through that Houston series, it will be tough on them. And. I have to go with the stronger club.
Peter Gammons
Boston Globe
Royals in six. Because of their offensive ability and ability to take advantage of the Phils' outfield. People are underestimating the Royal pitching, which is why I say six instead of seven.
Alan Abel
Toronto Globe and Mail
Royals in six. Split here, win two out of three at home and wrap it up back here. Royals are rested and healthy. Phillies have to feel, after the weekend, that their season is over.
John Schulian
Chicago Sun-Times
K.C. in six or less. They're just a better ballclub. Phillies don't have the pitching to stay with them. It's just a year when the American League has been better, although maybe it just seems that way after covering the Cubs.
Dick Young
New York Daily News
Royals in six. The American League is just playing better ball this year.
Jack Lang
New York Daily News
Kansas City in five. More speed, pitching is better rested. A Willie Wilson, can turn it around and George Brett will do what he's done all season long.
Bob Marcus
Chicago Tribune
If Phillies win one of the two games here they'll win it in seven. If not the Royals will win in five. The Phillies pitching staff is shot to hell, but if they can get by these two days, with an off-day. they still have a chance.
Ken Nigro
Baltimore Sun
Royals in six. Because they don't bunt. I'm with Earl Weaver, it's an overused play. The Royals also got a break that Carlton can't pitch the first, fourth and seventh games.
Randy Galloway
Dallas Morning News
Got to go with K.C. in six. It's the best starting eight in baseball and the way they smoked New York after the slump at the end of the season, it's obvious they can get up when they have to.
Ross Newhan
Los Angeles Times
K.C. in six. Because of the Phillies pitching situation, and the Royals are probably better anyway.
Phil Hersh
Chicago Sun-Times
Royals in six. They do everything so well on AstroTurf and their pitching is in much better shape right now.
Milton Richman
United Press International
Kansas City in five. I'd say four, except for Pete Rose. Not only do they have the best club in baseball right now. I have the feeling they're star-kissed the way the Mets of "69, the Bucky Dent Yanks of '78 and last year's Pirates were.
Rick Hummel
St. Louis Post-Dispatch
Nobody picked the Phils? All right, I'll take them. Somehow, I can't see Carlton pitching only two games in the series. If there's a seventh game, you know he'll be in there. That's why I'll go with Philadelphia.
The Party Is Just Beginning
By Phillie Phanatic
As Phillie Phanatic. I'm only a youngster. Three years old. A newcomer to big-league baseball. Since I was born in the mind of Bill Giles in 1978, I've seen a lot. I traveled to Japan with the major league All-Stars. I've watched Mike Schmidt and Greg Luzinski smash back-to-back-homers more than once. I've seen Lefty Carlton make hitters look like something out of my pre-game act with his crazy breaking ball.
But even if I'm still dancing on the dugout roof when my green feathers start to turn gray. I'll never again experience the emotions of last weekend. Have you ever seen a five-game playoff series you thought no one would win? I was there in Houston, on the Phillies' bench, in the clubhouse, at the hotel party and still I think I'm dreaming.
THERE ARE DOZENS of events frozen in my mind from the Phillies' come-from-behind victory over the Astros. Like when Lee Elia didn't send Bake McBride home in Game 2. Or when Pete Rose was out by a mile at the plate in Game 3. Or when Doug Harvey and the rest of the umpires my pals huddled during a 15-minute stretch of insanity in Game 4. Or when Larry Christenson wild-pitched across the second run in Houston's big seventh inning in Game 5. Or when Manny Trillo slashed a triple inches inside the left-field line and Garry Maddox later followed with the pennant-clinching hit that scored Del Unser.
Regardless of how, the Phillies got the job done, and now it's on to the World Series for the first time in 30 years. But first. Sunday night's party. Wow, what a party!
•
The celebration in Montreal after we clinched the Eastern Division was a funeral compared to Sunday night. It was amazing, incredible, exciting, emotional, wild – what else can I say.
I drank a bottle and a half of champagne in 10 minutes and that made me sit down. Then I just started looking around at the guys who got us here.
Bob Boone was sobbing like a baby in the trainer's room. He had a foot that could have been broken (just bruised, as it turned out). He played a lot of the game in pain, and when the Phils won it. here he was on the training table in tears while everyone else was celebrating.
I HAD PEOPLE come up to me and say. "Phillie Phanatic. great job this year." I mean, Pete Rose comes up to me and says, "Phanatic, you were terrific." Here's the greatest baseball player in the world acknowledging me, whether I had anything to do with it or not. It just brought tears to my eyes.
And anybody who thinks Schmitty is a super-cool, unemotional superstar should have been with the team that night. Let me tell you, Mike Schmidt went crazy. He comes on the bus leading cheering and kidding people, like when he said, "Let's hear it for Lee Elia for not sending Bake home." He was screaming at the top of his lungs, pouring champagne on people's heads. There was no super-cool Sunday night.
The whole evening was a blur, but there are pictures that stick out in my mind. Tug McGraw talking to the press for the umpteenth time this month. Warren Brusstar crying but ecstatic that he could come off the injured list and help the team win this thing. And Garry Maddox hugging Dallas Green at the party afterward, talking over that controversy late in the season. I'll tell you, winning erases all the problems.
•
Sunday night was fun, something I'll never forget, but now it's time to put it aside. The Kansas City Royals are in town and they are the only thing standing between the Phillies and the biggest party to hit this town since the Flyers won the Stanley Cup.
I'm looking forward to performing in Kansas City. They have a beautiful ballpark. The fans have supported their team and now the Royals are in their first World Series. George Brett and Willie Wilson are exciting ballplayers and K.C. must have a great pitching staff to set down the Yankees in three straight.
IT'LL BE FUN to go to an American League city and perform. I had people tell me in Houston that they liked my act. But I'm really looking forward to being at the Vet. The fans in Houston are great. They cheer base hits, stolen bases and RBIs. But they don't know baseball like Phillies fans. Our fans read the papers, they have the inside info. To be at the Vet will be more fun because the fans know what's going on.
I'm only allowed on the field before the game and during the fifth-inning break – just like during the playoffs. I'll be leading cheers, that's for sure. If the game gets tight, I'll be out of sight so people can get into the action.
The Phanatic is where he belongs and the Phillies are where they belong – in the World Series.
•
Phillie Phanatic has joined the Daily News for the World Series. Follow his column every day.
DHing Out of Phillies' League?
By Jay Greenberg
We're as new to designated hitting here as we are to World Series. In 1915, they had just begun wearing gloves, and were not interested in designating one guy who didn't need one. In 1950, Manager Eddie Sawyer only designated his best reliever as a Game 1 starter, opening another of this town's open baseball sores which will fester until the 1980 Phillies finally close them.
Anyway, now two leagues have designated two separate sets of rules. This being the year they use the designated hitter in the Series, a writer was designated yesterday to find out about how all this designating is done. It was assumed Dallas Green already had hidden Greg Luzinksi's glove and that would be that. But apparently there's a lot more to it than that.
Magicians and baseball managers don't tell their secrets.
"AW C'MON," said Green when the subject led off yesterday's press conference. "I just got off the plane. I'll figure it out tomorrow. I'll meet with the scouts and figure out how best to use it to attack K C."
He could, with righthander Dennis Leonard going tonight, put the Bull in left field, batting cleanup, and use one of his lefty pinch-hitters – Greg Gross or Del Unser – further down in the lineup. When lefty Larry Gura goes tomorrow night, he could DH Luzinski and use righthander Lonnie Smith in left. Or he could go to Hal McRae and ask the Royals' designated hitter what he should do. And get no answer.
McRae is a pleasant sort, but DHing is serious, secretive business. Slips of the lips could cause some Phillies' rips, and whomever Dallas designates tonight will not read any advice in today's paper.
"I wouldn't tell him nothing," smiled McRae. "I'm not giving out any ideas."
Which was a terrible blow. McRae has been a DH as long as the American League has had the rule and his refusal to cooperate could set research in the field back two more years.
What about the difficult mental adjustments? How long does it take for the reflex of reaching for one's glove after making a last out to disappear? And the physical ones? Which ointments are best to dissolve calluses on rear ends? Is it best to smoke cigarettes or run up and down the tunnel between at-bats? Is it easier to catch cold when you can't catch fly balls?
"IT TOOK ME a while." offered Hal. "to feel like I was still part of the team. And I had to work out a routine. No. I'm not going to tell you what it is."
Are you reading. Bull? If not, at least one of the potential Phillie DHers, Del Unser, says he remembers enough about it from spring-training games against AL teams to get by.
"It puts you a little more in the game than just pinch-hitting," said Unser. "You don't have to get that one hit whenever you get that one at bat. You can afford to take a strike or two, if only for the next time up, so you can see some of the guy's pitches.
"Pinch-hitting, you hack at the first thing you see that's good to hit. You have to stay loose, keep your legs loose so you can score from first on a double, that type of thing. But I'm always in the game anyway. You have to be. even as pinch-hitter to know what the guy's throwing. That's half the battle."
The other half might involve being the American League team in a year the DH is part of the Series, but Royals Manager Jim Frey said he has too much respect for the Phillies' bench to see much advantage in that. And McRae has too much respect for himself to see himself just pinch-hitting if the Royals finally had made it to the World Series last or next year.
"I'D PROBABLY be playing anyway." said Hal. "I drove in 83 runs missing almost 40 games and hit .297, you'd think they'd find a place for someone like that. I did play the outfield once (that's how he hurt himself early this season) and I could throw the ball before my shoulder operation."
Neither Lonnie nor Greg had that excuse after their Houston left-field follies, nor do they have Hal McRae's expertise in his specialty. Which end of the bench do you sit at? Is it proper for a DH to warm up a pitcher or is it tacky?
Once Dallas Green designates his men, that's something they're just going to have to figure out for themselves.
NL Ump Has Pryor Series Experience
National league umpire Paul Pryor has the most World Series experience of the six umpires named yesterday by Baseball Commissioner Bowie Kuhn to work the Series with the Phillies and Kansas City Royals.
Pryor will be working in his third Series. He also served in the 1967 Series between Boston and St. Louis and the 1973 Series between Oakland and the New York Mets.
The other umpires assigned are Harry Wendelstedt and Dutch Rennert of the NL and Bill Kunkel, Don Denkinger and Nick Bremigan of the American League.
RENNERT AND Bremigan each will be working his first World Series.
Kunkel and Denkinger each worked the 1974 Series between Oakland and Los Angeles. Kunkel also made it to the 1963 Series as a pitcher for the AL champion New York Yankees, but he did not pitch.
Wendelstedt worked the 1973 Series along with Pryor.
In Game 1, Wendelstedt will be behind the plate; Kunkel at first, Pryor at second, Denkinger at third, Rennert in left field and Bremigan in right.
White Rates Royally at Second
By Stan Hochman
The very best second baseman in baseball west of Manny Trillo has a smile so bright, so white, you half-expect Van Cliburn to pull up a stool and play Liszt's Third Piano Concerto on it.
Frank White is the very best second baseman west of Manny Trillo. You might not have noticed, because White does his thing in Kansas City, which is not exactly Carnegie Hall.
Sure, sure, the kid had his shot at the bright lights. In 76, 77, 78 he showed up in the Big Apple and the Yankees slammed the lid on his fingers and his World Series dreams.
"This time," pitcher Paul Splittorff recalled yesterday, "White told me, 'We're gonna beat their butts and I'm gonna be the star.'"
KANSAS CITY beat the Yankees' butts three in a row and, ta-daaaaaaaa, Frank White was the series MVP, batting .545 and hitting notes in the field Cliburn couldn't reach with a stepladder.
"These," White said afterward, blinding the media with his smile, "were the three happiest days of my life. I'm a fierce competitor. Sometimes I wish I were 6-2 and 220 and a home-run hitter.
"You play a team three years and get beat three years, you just don't want to lose anymore. It was something the whole team felt.
"Being MVP in anything, that's something you dream of, you fantasize about. I can remember the All-Star Game in 79. We had runners on first and third, I was the hitter. Sixth inning, tie game, nobody out. And Bob Lemon pinch-hit for me. I remember thinking, how can a little man ever become a star when's he pinch-hit for all the time? MVP, that usually goes to a home-run hitter or a top pitcher.
"Me, I wanted to be in the center of things. I kept wondering why he kept batting me ninth. Three left-handed hitters in a row in front of me, and I was still ninth. But, the manager, Jim Frey, he's pretty superstitious."
A manager can be superstitious when his second baseman has rabbits' feet and a lion's heart. And White's selection as the playoff MVP is advance warning to America that the Kansas City lineup is not George Brett and the Seven Dwarfs.
YOU COULD have made a good case for George Brett as MVP. He squelched a Yankee rally with a sizzling relay throw in the second game. And he did hit that monstrous three-run homer off Rich Gossage in Game 3.
But White banged out six hits in the three games and made a play in the sixth inning that was part-rabbit, part-lion and all-incredible.
"The best play I ever made in my life," White called it.
It happened in the sixth inning of Friday's game at Yankee. Stadium, which is the Carnegie Hall of ballyards. The Royals led, 1-0, because White hammered a Tommy John pitch into the bleachers in left.
With one out, Reggie Jackson, weary of trying to power tantalizing outside pitches into the seats, slapped a double to left. Oscar Gamble pinch-hit and bounced a single up the middle. White scrambled after it, caught it, knew he had no play on the swift Gamble, and elected to throw to third, hoping to catch Jackson taking a nonchalant turn.
The damp baseball soared over Brett's head, clattered against the box seats and skittered through the mud. As Brett chased it down, he slipped and flicked it into the dugout. The umpires awarded Gamble third base and he scored on Rick Cerone's single to left, putting the Yanks in front.
"I think I made a good play," White said. "But the ball slipped out of my hand. I learned from Cookie Rojas, that when a play is over, don't think about it, don't talk about it. 1 was out there, disappointed in myself, disgusted with myself. But on the next play, adrenalin took over."
ON THE NEXT play, Lou Piniella chopped a ball past Splittorffs right side, the shortstop side. White darted out of the Bronx mist, sprinting in front of shortstop U.L. Washington. He threw across his body, across the diamond and Piniella was out.
"I wanted the ball," White said, grinning that Steinway grin. "I sort of stole it from U.L. You know, sometimes, you're out there and you wonder, 'How am I gonna cover all that ground?' You want 'em to hit the ball right at you.
"But that time, the adrenalin took over. Until then, I guess the best play I ever made was the fifth game of the 77 playoffs.
"Chris Chambliss hit a ground ball up the middle and I forced Jackson at second. We went into the ninth leading..."
That was the middle year of the sad trilogy of playoff losses to the Yankees. This time, a scrawny side-armer named Dan Quisenberry squelched one last rally, squirming out of a bases-loaded, nobody-out firestorm in the eighth inning.
Cerone lined to Washington, who threw to the wig-wagging White at second to double up Jackson.
"Everybody was a little bewildered, wondering how that inning would end up," White confessed. "Most cases, base hit, that's it, you're out of the ballgame.
"But Quiz has done it all year. I remember when he had 26 saves and only 26 strikeouts. We said, 'Hey, don't forget the 26 great plays we've made behind him.'"
QU1SENBERRY wound up with 33 saves arid only 37 strikeouts, and speaks blandly of his "at-em" ball. He is the American League's Kent Tekulve, lean as a barbed wire and just as tough.
"We're a lot like the '69 Mets," White warned. "Pitching and defense. That's what baseball is all about."
That sounds like a formula he learned in some baseball school. White did not attend just any baseball school, he was a two-year scholar at Kansas City's innovative Baseball Academy. His memories are mixed.
"I was married, the only married guy there," he recalled. "They didn't let us go home for 10 months. They paid us $100-a-month.
"They did find a job for my wife, Gladys, at the stadium back home. Receptionist. But what if she had said, 'How can you go from a $100-a-week to $100-a-month?' She didn't. She said to go, that she didn't want me living the rest of my life wondering what might have happened.
"They kept us cooped up. They let us go to town once a week, Wednesday nights. I remember Sid Thrift (the director) kept me from going home two or three times.
"The one bad thing they did was they'd bring in people and we'd do things their way for a while. Bring in Jim Lemon and do things his way. Then bring in Ted Williams and do things his way.
"THEY HAD football players, weight-lifters, all kinds of guys. I think you've got to have natural ability to play this game.
"I look at it as a school of fundamentals."
He put up with the drills, the tests, the experiments, including the one where you read from an eye chart while bouncing on a trampoline.
The Academy shut down a few years ago, but a half-dozen graduates made it to the big leagues and White and Washington are in a World Series, so the idea wasn't all bad.
Two years after he got his diploma, he was in a Kansas City uniform, fulfilling a dream that sprouted growing up near the old K.C. stadium.
He is 31, tired of playing concertos in drafty little places. Now, at last. White gets to play in prime time... maybe even gets to tell his terrific story close up and in person.
What makes it even more wonderful, he is going to share the same stage with Manny Trillo, who is the best second baseman east of Frank White. America does not know that much about either guy.
"That's OK," said White, who has been rehearsing for five years for this moment. "I know who Frank White is."
Leonard Not Your Average Pitcher
By Stan Hochman
Ask Dennis Leonard about the Dow-Jones averages and he'll probably ask you what team they play for.
Kansas City's pitching staff is that way, full of dry humor and secret handshakes and terrific earned-run averages.
But there was a time when tonight's World Series starter knew more about E.F. Hutton than Tommy Hutton, when the bull was someone who bought risky stocks and not a leftfielder for the Phillies.
He was a sophomore at lona. His elbow ached. The school sent him to an orthopedist and the guy asked him what he was taking in college.
"So I told the doctor I was taking economics," Leonard recalled, "and he said, 'Well, concentrate on your studies because you're not going to be pitching anymore.'"
INSTEAD OF A different career. Ieonard chose a different doctor. The next year, the Royals drafted him on the second round. "I got to spring training and let them know my elbow hurt." Leonard said. "They had a physical therapist who put me on a program with rubber bands.
"They were inner tubes, cut down and linked together and he gave me an exercise program. Thank God for that."
Of course, Leonard can't pass a surplus-tire outlet now without his arm flexing 20 times, but the program did pay off.
He has won 20 games three of the last four seasons, and no other pitcher in the big leagues can make that statement. Not that Leonard goes around making that statement.
He is an earthy, solemn guy. content to hide behind that red bushy beard, especially in the early season, when he traditionally gets hammered.
Even this year, when he finished 20-11. At the All-Star break he was a sluggish 7-7.
"I always get off to a horrendous start." Leonard said. "If I were in New York, let's say, they'd rip me apart. That would be uncomfortable and put pressure on me, on my family.
"So. in Kansas City, maybe you don't get the recognition when you do good, but when you do bad you don't get chopped to bits."
JIM FREY, THE rookie manager, was aware of Leonard's slow-start history. He tried to talk him out of it.
"I started talking to him in Florida," he recalled. "About throwing more. About getting more innings in. I talked in terms of him not talking himself into convincing himself he always got off slow.
"I tried all the psychology I knew. And then, after a month, he just started winning."
Leonard has a theory about his laggard starts, and it carries the seeds of hope for Phillies fans who will come to the ballpark bundled against the cruel winds and the 45-degree temperature.
"I grew up in New York and always lived in cold weather." Leonard said. "When I signed in 72 I stayed in Sarasota that year.
"It was a choice of going back to college or staying in Florida. The decision took about 30 seconds.
"The next winter I pitched in Puerto Rico. Then Sarasota, then Puerto Rico. My winter home is in Sarasota, so I've been in warm weather continuously now for seven years.
"So. lots of times, when it's cold. I don't pitch as well."
If indeed, the frost is on the pumpkin tonight, will Leonard's fastballs shiver up there looking like pumpkins?
"THE THING IS." Ionard said bluntly, "in playoffs, in the World Series, you don't feel the cold. The blood circulates a little faster."
He is a power pitcher. Struck out 155 to lead the Royals' staff, started 38 games, but finished only nine.
"Saw him in Japan," said Pete Rose, who has a scouting report on everyone who has ever thrown a baseball in anger. "Reminds me of Steve Rogers, but without that sinker."
Oops. Wasn't that a sinker Leonard starting throwing this year? A dirty sinker. How dirty was it?
"I've been on the cover of the Sporting News once." Leonard said, shrugging. "But recently they ran a story about me. Said I was scuffing baseballs.
"It was just after Honeycutt got caught. He had a thumbtack taped to his finger.
"They said 1 scuffed balls? I said. 'What?' They can check me out all they want. It shocked me.
"They told me Ray Miller, the Baltimore pitching coach, had a collection of scuffed balls. He said I was a two-line scuffer.
"I asked Jim Frey about it. and he said Ray is like that. If their hitters are making out. he says the other team is scuffing the ball.
"IF THE OTHER team's hitters are belting the ball, he says they must be corking their bats. Ah. the whole thing might be a blessing in disguise, give the hitters something to look for."
Leonard, like a few Phillies pitchers, has some playoff scars he'd like to forget. He says he does not look back, for fear of tripping over something.
"I'm fortunate in the attitude I have." he explained. "I go out and give it 100 percent. If I win, fine, I go have a beer.
"If I lose, fine, I go and have a beer.
"I'm lucky. I can blot things out, things that happened in the past. And in games I pitched bad, there had to be one thing I did well.
"So I take that one thing and accentuate the positive."
Someone mentioned the forecast, windy, frost in the suburbs, temperature in the low 40s.
"Hey," Leonard countered, "I'd much rather be pitching in it, than be somewhere else watching it."
Brett's Ready to Have Fun
By Jay Greenberg
If you didn't know this guy was a professional athlete, you would have sworn he was enjoying himself. "Like Marty Pattin"s son said the other day," remarked George Brett, "this is the World Serious."
Rising fittingly to the occasion, most of the Phillies had regained their stony cool by the time they got to the Vet for their abbreviated workout yesterday. Whether it was the World Serious in front of them or the Great Western champagne behind them that was causing this behavior was a point, in their defense, which must be considered.
The Royals had their catharsis last Friday night, ending their five-year, four-try siege on the New York Yankees, and were coming down now. looking forward to another series. The Phils, understandably, were first looking forward to a good night's sleep.
THE ROYALS' enthusiasm was catching enough, though, for both teams. George Brett, was led into the interview room somewhat like your dog goes to the vet, but soon warmed to the occasion. For a guy who almost hit .400, Brett looked remarkably well preserved. Unlike Ted Williams, the last guy who did it. Brett was still talking to writers at the end of the season. Unlike Roger Mans after his chase of Babe Ruth's 60. George still had his hair.
"No questions?" said George. "Great." He then made a mock move to depart, but when the questions started coming, he almost looked like he was having fun. Jim Frey, his manager, says George is a cuddly guy, and the Royals, as a result, are a huggable team.
"Aside from all his ability." said Frey. "the thing I appreciate the most about George is how open he is about his emotions. He's as excited and thrilled about all the stuff that's happening as anybody. There's a lot of good players who are reluctant to show emotion, they're kind of blase. But not George.
"Not only when he does something, but when somebody else does something. Frank White hit a home run the other day and George was like a little kid on the bench, screaming and hollering. For a guy like George to be that way helps everyone on our club. He simply enjoys being a ballplayer."
Which explains everything about how he kept his cool in his attempt to become baseball's first .400 hitter since 1941.
"A LOT OF pressure was put upon me to hit .400," said Brett. "And that was more nerve-wracking than going out and playing the Yankees in the playoffs. That was easy compared with what I was trying to do. Other people who have been to the Series say the real pressure is in the playoffs. I don't feel any right now. I didn't even feel any in the playoffs. All mine is gone. It doesn't matter if I hit home runs now. as long as my team wins."
But of course, they would not be here, without him. The home run against Goose Gossage to win Game 3 Friday night was legendary stuff. Baseball's most feared pitcher, was met, and conquered, at showdown time by its best hitter.
"I remember thinking." said the Royals' ace reliever, Dan Quisenberry. "'That's unbelievable." He crushed it. Just turned around the guy who throws hardest in the league."
And as last year's climax moved inexorably toward Willie Stargell. so does this year's toward Brett. The .390 season was not a failure by 10 points, it was the best batting average in 39 years.
"It wasn't the pressure I got from the media that got to me," said Brett. "It was the pressure I put on myself. At first I didn't think I could do it, then everyone started talking about it and all of a sudden, talking about it so much. I found out I wanted it.
"I knew every time I didn't get a hit it was hurting my chances. So I started getting impatient, swinging at bad balls. I put the nail in my own coffin.
"I HOPE I GET another shot at it. Maybe I will. But the one thing I had going for me this year was those three hot months. I went from .240 to .404 and that would be awfully hard to do again.
"The Series isn't a showcase for me, it's a showcase for the whole Kansas City ballclub. The organization. Even the city. We haven't been back, but I bet they think back there that they've already won the World Series, beating the Yankees. That's not the players now, that's the fans."
That town, given major-league baseball in 1955. has waited almost as long, through just as many recent playoff failures, as this one. It watched its first team, the A's, leave town and become a champion three years later in Oakland. It watched the Royals start from scratch in 1969, although it could be said until Brett arrived for good in 1974, Kansas City was only marking time.
The Royals had to do some of that this year, too, as George sat out two stretches with injuries. He's not their whole show, but he's a good place to start.
"The stats tell how we played with him and without him," said Frey. "He's one of the best players ever. To hit .455 for six-to-eight weeks, if there's a better player than him right now, I don't know who."
Editorial:  After 30 Years
She's 12 years old, and sometime in July she got interested in the Phillies and Greg Luzinski. She calls him Lou Zinski. It's hard to say what she would have called Gehrig. And she hollered her heart out through the bad days of August and the sweet days of late September.
When she found out about the playoffs, there was an immediate family conference. Subtle efforts iwere made to talk her out of her fondness for the Phillies and Lou. Why add an innocent child to the thousands upon thousands whose psyches have been torn to ribbons by Phillie failures in the fall?
But a filly won the Derby this year. The last time that happened – 65 years ago – the Phillies managed to slip into the World Series.
And besides, this was not a typical major league baseball team. It was not even a typical, weird major league baseball team.
It was sort of like Philadelphia City Council in spikes, with Milton Street batting third and Marge Tartaglione in the cleanup spot.
But while fighting with each other, the press and anything else that moved within range, they won six straight ball games that had to be won to get them into the playoffs.
The fans, of course, were in a constant state of shock. Born and bred to expect only the worst, they waited patiently for the ultimate disaster.
And as far as they were concerned, it came Sunday night in the form of three, seventh-inning Astro runs. But for a weird baseball team – weird and magnificent – a three-run deficit is merely an invitation to get the damn thing over with.
Which they did.
It was wonderful for them and, perhaps, even more wonderful for a town which had waited 30 years and 35 years before that. Thank you, Dallas. Thank you, gentlemen. Thank you very, very much.
In a darkened bedroom Sunday night, the game had just ended, the Philadelphia Phillies were in the World Series, and they were shouting the names over the radio: "Garry... Manny... Rufus..." But from the bed a small voice was repeating over and over again: "Lou... Lou... Lou..." 
We Are a New & Proud People
By Chuck Stone
Up yours, W.C. Fields.
Stick it in your ear, Johnny Carson.
And you, columnist Benjamin Taylor of the Boston Globe, may the bluebird of happiness lavish blue ointment all over your ice cream.
Philadelphia speaking. No, scratch that. Philadelphia exulting!
Spell us, N-a-t-i-o-n-a-1 L-e-a-g-u-e .C-h-a-m-p-i-o-n-s, 1-9-8-0.
Delirium, thy name is taking three out of five right down to the filament and doing it the hard way coming from behind, not once, not twice, but three times.
Bam, bam, bam, thank you, ma'am.
Phenomenal Phillies, "you give me fever, fever all through the night."
Forgive us. world, if we freakish fans flip our frenzied fronts after having been denied the frivolity of feasting on the fervid fecundity of first place.
But that "do" make it nice.
ESPECIALLY AFTER STOICALLY suffering the slings and arrows of outrageous late-night television comics who made Philadelphia the Polish joke of cities.
Nothing cures the stench of an inferiority complex faster than the sweet smell of a national championship.
Suddenly, everybody is wearing a crown of jubilation and inhaling a new high from the mountaintop oxygen of being numero uno.
Conversations turn into Phillies non sequiturs.
To an inquiry about the weather, a woman replies, "All 1 know is the Phillies are hot."
The Inquirer's Murray Dubin gets into the elevator and grins, "city of champions."
It's like sex. When you've had so little of it, that's all you talk about.
NAPOLEON THOUGHT HE COULD conquer the Russians, but they perfected the scorched earth tactic and starved his armies into retreat.
Philadelphia adopted the same policy for its sports teams. The last time our town romped in a World Series was 1950. Our flag of baseball supremacy was last flown by the Athletics in 1930. Philadelphia likes to achieve things in multiples of 10 – 1930, 1950, 1980.
In this presidential year, first of the new decade, the Phillies made the impossible dream come true with its own mini-United Nations – Bowa, Luzinski, Maddox, McGraw and Trillo – Italian, Polish, black, Irish and Hispanic.
The real world and other baseball teams are more representative and I still yearn for a little more affirmative action on the Phillies.
BUT I LONG MORE FOR A distinction this city's self-conception needs to renew its moribund spirit.
Success is contagious. Once a team starts hurdling insurmountable obstacles, other teams get infected. Fans help to spread the disease of invincibility.
For a variety of reasons, some of you haven't been Phillies fans. There weren't any ecstatic celebrations in North Philadelphia Sunday night, although television sets were tuned in just as dutifully as in the rest of the city.
But we're all Philadelphians.
We live here, work here, play here, go to school, church or temple, marry, raise a family and die here.
All of us are as uplifted by this city's success as we are mortified by its failures. And in the past eight years, we've had enough failures to qualify us for life membership in a world court of bankruptcy.
WE'RE SLOWLY TURNING A corner. Winning the first half of a world championship is a tentative step forward.
Once a city becomes a sanctuary of world champions, its citizens swagger with a new self-assurance and respond with bountiful confidence.
Visitors begin to feel the attitudes percolating. Suddenly, Philadelphia becomes "the place to be."
So, let's applaud and cheer and hail our National League champions of 1980 – warts and all – because right now, they're best in the league.
In this World Series, when Garry "The Cheetah" Maddox lopes across the Vets' veldt to pilfer a sure hit, or Manny "Most Valuable Player" Trillo makes the impossible peg, or Larry Bowa defies gravity and Mike Schmidt crashes one into the stands, let's yell our hysterical lungs out.
BUT MOST OF ALL, let's remind our Phenomenal Phillies how much we appreciate what they did Sunday night.
They made us all young again. And that is life's loveliest gift.
Today, we are a new and proud people.
Tonight, accompanied by my son, this wavering Yankee fan will attend his first world Series game in 56 years.
Who says prayers aren't answered for a born-again Phillies fan?
Phils Don't Touch Base with Fans
By Jill Porter
It felt like a day meant for football homecoming – a sharp chill invading your sweater, stinging your face and making it cold to the touch. It was the color of January, gray and gloomy, and it drizzled now and then. But a crush of people oblivious to the weather pressed op against a chain-link fence at International Airport yesterday afternoon.
They were fans. Thousands of dedicated, loud, enthusiastic fans. Waving banners. Wearing baseball caps. One man playing a guitar and singing a song he had written at 6 that morning. For the Phillies.
Finally, after years of disappointment, after the longest letdown since Rapunzel unraveled her hair, the Phillies were coming home triumphant. They hadn't just won the pennant They'd survived a bruising, nasty scramble with the Astros to claim it. And they'd claimed back skeptics like me who had stopped watching until the playoffs, on the theory that one more year of disappointment was too much to bear.
But disappointment was cut from the Phillies rosier this year. This team had only a physical resemblance to the Phillies of playoffs past. These ballplayers had spunk; they didn't drop their heads to their chest and give up when they dropped behind; they didn't choke. Every action of theirs defied the outrageously biased, anti-Philadelphia broadcast by that Master of Obnoxiousness, Howard Cosell. While Cosell was busy attributing every masterful Phillies play to some mythical mistake of Houston's, while he mentioned a grim Phillies "destiny," and misquoted the players, the Phils were on the field force-feeding him his words. Now the job was done and they wee were coming home to be adored.
•
While Mayor Bill Green waited for the plane from Houston to land, he walked up and down the fence, greeting people on the other side.
"Hey, Green!" someone with a youngish male voice shouted from deep in the crowd. "What about the potholes?!
"We're going to dump Kansas City players in them!" Green laughed back.
Green said he had a bet with the mayor of Kansas City over who was going to win – "we bet 12 of their very best steaks against six of our soft pretzels. We think that's a fair bet," he said with a grin.
The mayor said he watched the nail-biting games at home and "1 thought about issuing a medical bulletin: Urgent! The fairhearted should not watch the Phillies!"
There was as much good will aloft at the airport as there were red and white Phillies banners. Enough so that a police officer guarding the fence shook hands with Green and smiled – forgetting momentarily, it seemed, the mayor's conflict with police over the issue of the deadly force directive.
•
It's trite to consider it an omen, I know, but when the chartered United jet landed at the airport, the light of the sun had displaced the colorless clouds, and it became pleasant and warm.
Three helicoptors hung precariously close in the air as the airplane weaved across the landing field to deliver its precious cargo.
The Phillies Phanatic was the first familiar physique off the plane – followed by manager Dallas Green. Green took great, hurried strides right to his wife, and held her in a tight, long, heartfelt embrace. Then he and some of the players mounted a platform to face the cheering crowd.
There was Pete Rose in a black velour shirt and gray pants, his shoulders hunched in the cold. Tug McGraw in a cowboy hat. Manny Trillo in a cowboy hat, holding the MVP trophy that last night had held champagne. Del Unser. Bob Boone.
But where were the others? Larry Bowa? Mike Schmidt? Greg Luzinski? Where was Bake McBride? Garry Maddox? Steve Carlton?
They were on the bus. Waiting to leave. Shunning the festivities.
"I waited here four hours. The least they could have done was come out and say hello" complained Mrs. Rose Burg, of Cheltenham, standing against the fence.
"It's a very big disappointment. They could have just walked by and waved. They have a hell of a nerve."
Others in Mrs. Burg's vicinity grumbled agreement.
An hour and a long traffic jam later, the press milled on the field of Veterans Stadium as the players walloped balls into the park, at barring practice.
As Larry Bowa. finished and, walked to the dugout, I asked him why he hadn't gone to the platform to join in the homecoming.
"I wasn't asked to go to the stand. The front office probably asked some people to go up and say something. All of us can't talk at once," said Bowa, leaning against a wall.
Bowa said he and the other Phils didn't ignore the fans – they waved as they walked from the airplane to the bus.
"We had to work out here (at Vets Stadium). We had to go right on the bus. Some of the guys hadn't even seen their wives. The families were on the bus."
Bowa has been explicit in the past in describing his feelings about Philadelphia fans. So how did he feel when he saw the roaring crowd?
"It was a great feeling."
Had he expected it?
"You really don't know what to expect in Philadelphia... We've lost in playoffs and come home to nothing… the Houston fans ended the game with a standing ovation, even though they lost the game."
Bowa said the fans ought to know now that the two finest teams in baseball are going into the series, and the Phils are one of them.
Nearby, Mike Schmidt was getting more and more defensive as reporters, one after the other, badgered him about his ice cold bat. And when he began pounding out the balls in batting practice, some fans in the stands urged him on in less than polite terms.
It certainly isn't easy for Bowa or Schmidt or any of them to be pieces of public property. It isn't easy to be criticized or jeered when you're out there, trying your best and as mystified as anyone else when your best isn't good enough,
But it is easy to be big when you're a winner. The Phillies – all of them – should have been big yesterday. They should have come out and acknowledged the fans with more than a brief wave.
It's unfortunate that this bit of dissension should mar the good will that has intoxicated this city since that ball landed in Garry Maddox' glove Sunday night.
Food, Beer, Wine and Horns Aplenty
By Mike Freeman
It started somewhere along Island Avenue near the airport, a three-note symphony written by the baseball fans of Philadelphia and played on horns of every description: shattering air horns, American-made types, foreign honkers, fancy horns, horns played in staccato on top of long blasts that didn't end until I-95.
The sound was very loud and somewhat startling, as if anarchy bad hit the streets, and if it wasn't as pretty as "Joy to the World" the same feeling sure was there.
This came at the end of a brief outpouring of love and adoration at Gate 55 of International Airport's Overseas Terminal, where the Phil lies arrived yesterday afternoon to a crowd that had been waiting for them for 30 years.
About 4,000 were there behind a fence that separated the runway from the sidewalk, and the only thing that was flowing more freely than the booze was talk of a World Series win. Banners and signs were everywhere, all proclaiming a feeling for the Phillies that went far beyond the usual "We're No. 1" cry.
SPORADIC CHEERS came up from different parts of the crowd before the plane came in. As soon as one would die down, another would start. When the distant rumbling of a plane could be heard, shouts of "Here they come!" filled the air. When it turned out not to be the plane, the excitement and anticipation only grew.
The lucky ones closest to the fence clung to it, holding their positions. Little kids were on top of their parents' shoulders, and even big kids clam bored up on friends' backs to get a look at anything.
And the cold wind and occasional rain was not noticed much at all.
Bernadette Dillon of South Philadelphia brought her sons down to meet the plane. She was armed with two pens and a pack of index cards for autographs, and one of the kids, Michael. 6. was wearing a ring that said "The Force." Michael said that whatever The Force is, the Phillies must have it. Mrs. Dillon said she just wanted Bob Boone's autograph.
MIKE RAFFERTY of Eddystone, Delaware County, was there with his wife, Denise, who said, "I lost him to the Phillies." But there she was, as excited as the rest of them.
Craig Kelly of North Philadelphia had to be there, because anyone who waits 14 hours at Veterans Stadium for World Series tickets is not going to miss anything.
"There was food, wine, beer, kids, adults, everything," said Kelly, 24, of the Sunday night he spent at the stadium listening to the game on the radio and waiting. "The city just came together all of the sudden, like a family."
Kevin Gomez, 23, said he moved here from New York two months ago and that it "was like New Year's Eve on Broad Street (Sunday night). The believing of the whole city helped the team."
Greg Ley, 12, had one message from the folks back home in Woodbury Heights, N.J.: "Tell the Phillies that my mom, dad and brother-in-law are in love with them."
THEN THE PLANE touched down and the roar of the crowd easily doubled the scream of the jet's engines. The Philly Phanatic, in costume, bounded down the steps first and the crowd was ecstatic.
The Phillies came off, some going straight to a line of waiting buses (something which disappointed more than a few people) and others heading for a platform facing the crowd.
Dallas Green embraced his wife, went up to the platform and spoke of the team's "character." Pete Rose. Del Unser, Manny Trillo and Tug McGraw said a few words. Mayor Green said, "It is a great day for the city and the team," and that "it's warm out here."
There was some milling around on the platform and then it was over. The buses pulled away and the people went headlong into that street symphony of car and truck horns.
LATER, AT VETERANS Stadium where the Phillies practiced in front of a few hundred fans and about a million reporters of every variety, a few of the players were still glowing about the welcome the team received.
"It's always nice to see people out there," Trillo said, his voice strained from nonstop interviewing. "It feels much better when you got people waiting for you."
Del Unser, another hero of Sunday's game, said, "I thought it was wonderful, it was super, it was exciting."
First base coach Ruben Amaro, a member of the Phillies team that collapsed in 1964, said it was "beautiful. These people are emotional. They have been waiting for a long time – longer than I have."

The World $eries
There's Profit in the Pennant
Compiled by the Daily News
The World Series means big bucks to the players for both teams, and even more to the city of Philadelphia:
•  Winning players get $35,000.
•  Losers get $27,000.
•  To Phillies management, it means $200,000 in profits for Games 5, 6 and 7. (On the earlier games, the Phillies break even because of the expense of opening Veterans Stadium).
•  It means $3.7 million to the city's restaurants, museums, nightspots and hotels if the expected 10.000-12.000 out-of-town guests show, according to published reports.
Green's a Pro at Con
If the Phillies are able to con the Royals as easily as Mayor Green apparently has handled the mayor of Kansas City, the title is ours. Easily.
Doing the traditional thing. Green called Kansas City Mayor Richard Berkley early yesterday, about an hour after the Phillies had beaten Houston to wrap up the National League title, and suggested a wager on the Series.
Berkley said he'd put up a dozen Kansas City steaks for his part of the bet. OK, said Green, who offered to put up "an equitable amount of soft pretzels."
Asked later to define an "equitable amount." Green said he thought six was about right.
Litter Leaguers
Dogs.
Over the years the Phillies have been called worse. But this time it's a compliment from a Northeast Philadelphia family who chose Phillies names for a litter of pups born just as the Phils won the National League pennant from the Astros Sunday night.
"It just happened at the same time," said fan David Edwards. 31.
Honored were Dallas Green, Pete Rose, Manny Trillo, Garry Maddox, Bake McBride, Mike Schmidt and Larry Bowa. "They're our favorite players," said Trudy Edwards.
Five of the mixed-shepherd pups are males, and two are females. "The female could be Pete Rose. Then, you could just call it Rose," said Mrs. Edwards, whose husband has offered the Phillies first pick of the litter.
Chilly Phanatic
If you're among the 65,700 lucky people to have tickets for tonight's World Series opener, dress warmly.
Accu-Weather says the temperature will be in the low 50s when the game gets under way, but should drop to about 40 by the end of the game and colder still if it goes extra innings. Skies will be clear, with a light breeze.
A gradual warming trend will boost the temperature to the low 50s for tomorrow night's second game.
Friendly Skies
Denise Tullio, 23, is a United Airlines flight attendant who was born and raised in Chicago. She has been flying with the Phillies since last week, when the National League playoffs started.
So she's sick and tired of them and is really a Cubs fan at heart, right?
Not so, says Tullio.
"It's been absolutely fabulous," she said yesterday after the Phillies plane arrived at International Airport's Overseas Terminal. "We (the crew) went to the games Friday, Saturday and Sunday. We sat with the players' wives."
On the ride back yesterday, she said, the team was "so happy. Everybody was in a great mood. When we looked out the windows and saw the crowd, they (the players) were very enthusiastic."
One Phillie stands out in Tullio's mind. "Steve Carlton is awfully nice, and his wife's super," she said.
Stars Skip the Shining Hour
By Robert Strauss and Julia Lawlor
Ah, it was a fine night. Jay Jerome's Musical Associates playing "Wrap All Your Troubles in Dreams" by the Franklin Institute pendulum stairway. Hot-pantsed Phillies usherettes standing at the top of a canopied stairway handing out scotches and chablis. Ben Franklin, in his stone visage, beaming down on all those who came to the science museum at 20th and Ben Franklin Parkway to honor the Phillies' ascendancy to baseball's grand finale – the World Series.
But something was missing – the Phillies.
"EH, I DON'T think they'll come," said Phils Executive Vice President Bill Giles, who rented the first floor of the institute for the "celebrity" catered bash. "There will be about 1,000 people here. But the players probably want to be home."
Imagine an Inauguration without the President; a Mickey Mouse Club reunion without Annette Funicello; an election without Harold Stassen.
But last night's non-story about the classic coming to Philadelphia for the first time in 30 years was that the Phillies didn't bother to come to their own bash.
Oh, the other typical Philadelphia see-I'm-here-at-am-important-function showed up: Mayor Bill Green, Managing Director Wilson Goode, Chamber of Commerce President Thacher Longstreth, Tastykake Corp. president Paul Kaiser, Phils announcers Harry Kalas, Andy Musser and Tim McCarver and all the newspapers and TV cameras.
"I think the players are coming," said manager Dallas Green, who has certainly become notorious in recent weeks for not speaking for his players. "But you'll have to ask them."
WELL, SO LARRY and Lefty and Bull and Mike and the gang didn't show up. But just about every baseball advertiser and sportswriter in town from around the country did. And Jimmy Duffy's provided quite a spread for them in red-and-white-clothed tables spread around the 20-foot-high statue of Ben Franklin.
"Let's just say we've got a lot of it," said Chris Duffy, the third generation of Chester County Duffys in the restaurant biz. "Eight steamship roasts, a few thousand clams and oysters, 150 hoagies, lots of pizza and chicken tetrazzini and cold glazed ham with Cumberland and mustard sauce and all the salads and cookies you can think of."
Sigh! And all this to the tune of the Red Garter Band playing on the steps of the institute – a tuba player, a few clarinets, a trombone or two and an 11-year-old ragtime singer named Renee Veneziale of Roxborough.
"I sang at a Variety Club Telethon and the bandleader (a friend of her dad. Robert)... He liked the way I sang." said Veneziale. And she sang for an hour-and-a-half with such before-her-time favorites as "Five Foot Two," "When You're Smiling" and "Bye. Bye Blackbird."
THE FIRST FAN of the Phils, Mayor Green, delivered his best non-political pitch.
"What happened is great for the city." said Green. "I'm especially happy for the players – they have great character and a never-say-die attitude."
After he was done with the clichés, Green broke down a little and talked of his own baseball-watching habits He said he was sitting on the floor at home before the TV during Sunday night's pennant-clincher in Houston, banging his elbows on the floor at tense moments.
"If you have a weak heart you can't watch them." he said. "I was thinking of putting out a medical bulletin. I was going to order the faint-hearted not to watch the game." He said he was happy to go out to see the Phils come in during the afternoon at International Airport and laughed, "My Uncle Dallas was there."
"Uncle Dallas" was over at another table sitting with his boss. General Manager Paul Owens, and the man who may take over his job next year, Coach Bobby Wine. They greeted everyone heartily and signed the obligatory autographs. But the other real stars of the show weren't there.
"I guess they have better things to do," said one Phillies security guard. "But the party would have been a blast with them."
If You Don't Have a Ticket, Yer Out!
By Julia Lawlor
"We had seven lines, at about five of two (Sunday) afternoon," said Vet Stadium manager Pat Cassidy, describing the calm before the storm. "Everything, was real nice, everything was great. But then we won..."
But then we won – and what a difference the pennant made.
There are no tickets to be bought, no hotel rooms to be had – no peace – in this city, until the Phillies win the World Series. The question that tumbles constantly now from the lips of Phillies fans from Wilmington to Cherry Hill, from Manayunk to Marcus Hook, is this: "Do you have a ticket?"
THIRTY-TWO THOUSAND of us do. Between 6 52 a m. and 2:50 p.m. yesterday, 8,000 tickets costing $15 and $20 each were sold for each of four World Series games against the Kansas City Royals to be played in Philadelphia if the Series goes a full seven games, a Phillies spokesman said. Only "a few" for Game 7 were" available late yesterday afternoon, according to one ticketseller.
First-game tickets were sold out by about 10:30 a.m., tickets for Game 2 were gone by 11:45 a.m., and by then most of the Game 6 seats were gone.
After yesterday's terrifying crush at Veterans Stadium – 75 people were treated at the first aid center for fatigue, exhaustion and minor injuries – it was evident that some of those who had managed to get tickets turned right around and sold them for a tidy profit.
Scalpers who had bought the maximum allotment (eight tickets each) walked to the back of the crowd as early as 9:30 a.m. and sold them for double the price. Instead of facing the pushing, shoving, sweating crowd, one man simply bought four $20 tickets from a scalper – for $40 each – and left.
THE OPPORTUNISTS DID not confine themselves to the Vet. As the Phillies flew in from Houston to greet a crowd of 4,000 at International Airport, a man stood in the terminal hoping to make $75 – on each ticket. He had no takers.
Center City ticket agencies were sold out long before noon. The Midtown Ticket Office at 14th and Locust streets hung a sign oh its door to discourage World Series ticket-hunters, and the Center City Ticket Office at 14th and Chestnut had only a few Series tickets and they were grabbed up – for an undisclosed sum.
"We could have sold those tickets a hundred times, so many people wanted them," said a clerk.
Fifty people were treated at hospitals throughout the city for minor injuries relating to Sunday's spontaneous celebrations, but police yesterday said there were no arrests. Fans treated at the Vet's first aid center left within 15 minutes after resting, or being given oxygen. One officer sprained his knee trying to control the stadium crowd.
PAT CASSIDY SAID the crowd appeared to be calm until the Phillies won, and by midnight Sunday there were 600 people at the stadium. Within an hour the crowd had swelled to about 1,500, and although almost 100 police officers were called to the scene, it was not until about 2:30 a.m. that barricades were erected.
Cassidy said police were called when the crowd, estimated at about 8,000, began "getting out of hand here. It was all over the city, you know." Ticket windows were opened two hours earlier than scheduled.
There were no serious injuries.
Royals a Big Yolk At Breakfast Time
By Joy McIntyre
What do the Kansas City Royals eat for breakfast?
Phillies, breathe easier.
It's not nails and broken glass.
It's not even raw eggs, liver tonics, or steak.
Would you believe Eggs Benedict was the favorite from room service at the newly opened Franklin Plaza, according to the hotel staff. That's where 75 of the Royals, their wives and entourage are staying in Philadelphia.
ANOTHER COMMON order was two eggs, said hotel employes. That's what catcher Darrell Porter and reserve infielder Dave Chalk ordered. Canadian bacon also was on the most wanted list – even though the Montreal Expos are out of the picture.
Third baseman George Brett, who finished the season with the highest batting average (.390) since Ted Williams stepped up to the plate in 1941, didn't order breakfast at all – at least not from room service.
Whether that means he's so tough he doesn't need it is something the Phillies will find out tonight at 8:15.
The Royals hit town from New York yesterday at 1:30 a.m. They had been waiting – along with everyone else – to find out whether they would play the Phillies or the Houston Astros.
When the Phillies won, the only hotel in town that could accommodate such a large number of people on such short notice was the Franklin Plaza whose official opening is not until Oct. 21. Until that time, only the first six of the hotel's 25 floors are open for business.
"It was the fastest check-in ever," said guest services manager Marie Porter. Porter said some of the players went straight to bed, while others ate cheese offered by the hotel in the lobby.
"EVERYBODY WAS very excited and everybody was extremely nice – no swelled heads," she said.
The lobby has been full of autograph hounds. But instead of freckle-faced boys with baseball caps on catcher's style, the lobby was packed with well-dressed businessmen and women trying to appear nonchalant.
Sportswriters and sportscasters have trickled in from all the major newspapers and networks and were treated to a banquet lunch – chicken with mushrooms, ham with pineapple, cold cuts, salads – served in a setting of chrysanthemums and silver candelabra.
And two cakes – one with a baseball bat with Phillies written on it in red, and another cake with Royals written in blue – just in case.
It's October 1, 1950 and… Whiz Kids Win the Pennant!
Phil Jasner
Oct. 1. 1950...
Sometimes, Dick Sisler begins to think it was the only home run he ever hit.
"As I get older now," he was saying on the phone from his home in Nashville. Tenn.; "the ball seems to have gone further and further, was hit harder and harder.
"Sure, it wasn't the only one I ever nit, but it was certainly the biggest. And. through the years, it's the only one anybody ever asks me about."
Oct. 1.1950...
Robin Roberts, the pitcher, has grounded a single up the middle. Eddie Waitkus has looped a single to center, and Richie Ash burn has bunted into a force, wiping out Roberts at third.
It is the top of the 10th inning of a 1-1 game in Brooklyn's Ebbets Field, the last day of the National League season, and the Phillies – who once had a five-game lead with six to play – need one more to win the pennant.
The Dodger pitcher is big, burly Don Newcombe.
"We got to a 1-2 count." Sisler recalled, "and he threw me a fastball, high and away.
"I knew I hit it well, but I didn't know if it could go out. Duke Snider (the Dodger centerfielder) kids about it even now, cause it barely made it over the wall. I tell him he still would've had to buy a ticket to catch it."
Sisler had four hits that incredible day. He'll be 60 on Nov. 2, has become a veteran baseball man of impeccable credentials and has just walked away from his job as a coach and batting instructor with the New York Mets.
"I've just been away too much." he said gently. "It's getting to a point where I can't enjoy a job when I'm only really home five-six days a year. I suppose there are other, personal reasons, but that's one of them anyway.
"AND I FEEL like I did my job well. The Mets' team average is the highest it's ever been. That's rewarding, because it's a daily job, something you have to work at, over and over."
He hit.298 that championship season, with 13 home runs and 83 RBI. bat the statistics arent necessarily the first details to jump back into his consciousness.
"I remember that spring." Dick Sisler said, as the Phillies prepared for their first World Series appearance in 30 years.
"I remember that the club told us they didn't want wives or cars in camp. Said it would be too distracting. As I recall, it didn't do us any harm, but it was unusual.
"We had a good year, struggled at the end, lost Curt Simmons (activated by the National Guard), but battled every day. Nobody else thought we could win that pennant, but we thought we could. And we did.
"Jim Konstanty, our relief pitcher, was the MVP and he deserved it. He'd come in. in unbelievable situations, and get us out of them. He was phenomenal. Getting into that Series was a thrill you never could have anticipated. Now, looking back. I guess it's been a long time. I count up the years, and I realize that life can tend to go by in a hurry."
Oct. 1,1950...
The seasons have slipped past more smoothly for some. Simmons and Bill Nicholson missed that World Series, Simmons going into the service and Nicholson coming down with diabetes on Labor Day.
Jackie Mayo, an outfielder, replaced Nicholson on the roster, and Dick Whitman, another outfielder, found himself in a Series for the second year in a row, having been traded from the Dodgers.
Three decades later, Konstanty, Waitkus and pitcher Blix Donnelly have died, third baseman Willie Jones says he is back from some serious surgery in Cincinnati, and infielder Jimmy Bloodworth is recovering from a heart problem in Apalachicola, a fishing village in Florida.
"Sisler hit that home run, I heard it on the radio, in my National Guard barracks in Indiana," said Simmons, now the manager and part-owner of the Limekiln Golf Club.
"THEY ALL CALLED from the party afterward, and I appreciated it, but I'd rather have been there. I remember that, partly because I was gone and a couple of others were hurt, Robbie pitched just about every other day for a while (four starts in nine games).
"I felt the Dodgers had more talent, but we had a whole team of guys having good years. Robbie had a fine one and Konstanty (74 appearances, 16 wins, 22 saves) an excellent one. You never really know if you're gonna win it. but you can't do it without the pitching.
"The team this year is the same way. Steve Carlton, Tug McGraw, Marty Bystrom in September, even the kid. Bob Walk, winning 11, hanging in there when they needed it. When other things weren't working, those guys were at least able to take the sting out of the opponents' bats.
"Me, I wound up in Indiantown Gap on August 1, activated for the Korean War. We were sent out, shuffled around, so much happened over a period of time that the disappointment of missing the Series was eased. I mean. I knew I wasn't gonna be there. But I liked being part of it... because that was a battling bunch of guys."
Nicholson was 34 that year, having already spent 10 seasons with the Chicago Cubs. He lives on a farm near Chestertown, Md., now semi-retired, appreciative when anyone pauses to remember that he once played major league baseball.
"I DIDN'T CONTRIBUTE a whole lot." he said. "I was ailing a lot of that season. Didn't feel well, lost weight. I went in sometimes for defense, or I'd pinch-hit. But I wasnt what you could call a kid by then, so I enjoyed whatever I did.
"Labor Day, they diagnosed me as a diabetic. I spent a month in the hospital, and a nurse brought me to Connie Mack Stadium to see the first game against the Yankees. I remember that we just didn't hit, and it was a shame, because we sure had the pitching.
"I still send Christmas cards to some of those fellas, because that's the kind of club it was. I liked everybody there, enjoyed myself. I don't get out to the games much anymore, but I have the farm – about 128 acres, good for goose and quail hunting. I'll see 'em on TV, root for "em."
Mayo, now successful in real estate and land development in Akron, bounded onto the post-season roster, but Dick Whitman was the guy feeling the pangs of deja vu.
"I played in the '49 Series, for the Dodgers against the Yankees." Whitman said. He's 59 now. the maintenance manager at the San Jose (Calif.) Water Works.
"I hit against Allie Reynolds in '49, in the dusk. I don't think I ever saw the ball. I struck out.
"AFTER THE SERIES, I headed for home, which at the time was a town in Oregon. I was on the road, stopped at a friend's place in Bend, Ore., and he asked me how I felt about being traded.
"Traded? I guess they were trying to find me, to tell me. So I wound up in Philly, where I didnt think we had an outstanding club, but Konstanty was stopping everybody in the eighth and ninth, and we were winning. We thought we were good, but looking back now, I'm not so sure how good we really were."
Oct. 1,1950...
Robin Roberts retired Carl Furillo and Gil Hodges with the bases loaded in the ninth, then got Roy Campanella and pinch-hitters Jimmy Russell and Tommy Brown in the 10th. Brown, hitting.294, looped a foul pop to Waitkus, the first baseman, for the final out.
"It's the single greatest memory I have in baseball," Roberts said. He's 54 now. is in the Hall of Fame, and will throw out the ceremonial first ball at the Vet tomorrow night.
"We were young, excited, thought we'd win a lot more. But we never did.
"We finished the season under tremendous pressure, the way Houston did with LA. this year. We didn't get blown out much, but the pressure built and it got harder and harder.
"Comparisons? Baseball's changed. We had 16 teams in both leagues back then, there was no West Coast. It was like a different world, but one I appreciated very much at the time. I never had many complaints.
"I THINK THE team this year has more talent, but we had a dedicated bunch. Another difference was, management had a solid hold on us, we didn't make that much money. We were ordinary guys who happened to play ball. Now, there's so much more money invovled, so much more coverage..."
Robbie coaches the team at the University of South Florida, fighting off leg problems that developed from an old staph infection.
"I missed Willie McCovey Day in San Francisco because of that," he said, "and I wanted to be there, because Willie got his start against me. But otherwise I'm fine. I'm starting my fifth year at the college, and I think we're gonna get better. We were 20-34 last season, a bad team. We just couldn't handle Florida State and Miami, two schools that went to the College World Series. Ahh, we played 'em nine times, finished 0-9."
Oct. 1,1950...
There never would have been a 10th inning that day, except that Richie Ashburn, the young center-fielder, handled Duke Snider's line-drive single on one hop and threw out Cal Abrams at the plate.
"I roomed with Richie for eight years, and I love the guy, but he couldn't throw me out from 10 yards away," said Putsy Caballero, the old infielder who now has a pest control business in New Orleans.
"But that day, on that play, he threw out Abrams, a guy who could run pretty good. I thought it was amazing then, and I still do.
"i watch that team on TV now, I think they're terrific. I signed right out of high school, had a career, but I sometimes wonder could I do it today? I talk to my kids about those years, I tell 'em, baseball's only an easy game when you're watching somebody else play it."
HEY, WILLIE JONES grumbled on the phone from Cincinnati, it's still easy. Jones was the third baseman, a free spirit, the guy who did the commercial for Boyd's a few years ago.
"I still play," Willie insisted. "Softball, though. On a celebrity team that helps raise money for charities, mostly for a Christmas fund for kids in the hospital.
"We play Little League coaches, fire departments, anybody. Mostly, I catch now. But I'm happy to be out there at all, after what I've been through.
"I was in the hospital... thought I was a goner. Nobody knew, but 1 had a pretty good size operation... blocked bowels, colon, gall bladder. I was in for six weeks, in bad shape.
"Am I OK now? Tell those guys I was a reserve outfielder with Houston this season. See if they believe that.
"But '50 – that was a hectic time. One guy was at bat, everybody rooted for him. Whatever one guy did. everybody felt. We weren't family, not the way Pittsburgh says it is now, but, God, we loved each other.
"I watch 'em play now, I rooted so hard for 'em I got a hernia. I know the years have gone by, though, because I don't run too fast any more. Ahh, hell, I didn't run too fast then, either.
So who says, 30 years later, you've gotta run?
"ME, I WALK... three-four miles a day," said Jimmy Bloodworth. "I've got to... I'm trying to stay alive.
"I had a severe heart operation, they told me part of the heart is dead. So I walk. I haven't hunted or fished in four years, but I'm still here, and I'm grateful.
"Every day I was in Philly is a favorite memory. 1 enjoyed the team, the town, saw all the sights...
"We had Hamner, Ashburn, Roberts, Seminick, guys who could've played for anybody. A fella like myself, though, I don't know if I could make it again. There are so many teams now, but so many players to choose from.
"One thing I miss is, where I live now there are no old folks to talk baseball with. And the ones there are, they're mostly Dodger fans, so I end up listening a lot. Once in a while, though, Seminick and a few others visit, and we wind up talking way into the night.
"It's funny, but I still have my World Series uniform. I took it out the other night, while Kansas City was beating the Yankees on TV. I couldn't help but remember some things. I still get some cards and letters from card collectors, asking for autographs. I always answer 'em, because it's nice to know that somebody remembers, even if it's only from a record book or a card collection."
SOME MEMORIES ARE sweeter than others. Russ Meyer, the pitcher they called "the Mad Monk," remembers an arm injury that limited his effectiveness. Others remember that Meyer had a volatile, unpredictable temper, but that's another story.
Russ will be 57 this week. He's coaching the baseball team at Illinois Valley Community College, having sold his bowling alley in Gary, Ind.
"We've already got a great football team out here," he said from Peru, Ill., "and now we're trying to develop the baseball team. We were 13-10 last year, had one kid (Brian Suarez, a pitcher-first baseman) sign with the Phillies.
"That was a thrill, but what I'd really like is to get back in the game myself. I've talked to Paul Owens, to the Dodgers, but so far I haven't gotten anywhere. My reputation? I watch Billy Martin, his reputation didn't stop him, did it?
"Anyway, I won 17 games in '49, had the pest earned run average in the league for righthanders, then hurt my arm and only won nine in '50. But at least I won four of 'em in the last three weeks.
"I had 18 kids out for the team here the first year, now I've got 61. I want to do a good job, but I'd jump at the chance to get back. People say the game passed me by, but, hell, the game doesn't change. It's still nine innings, three outs an inning. All that changes are the individuals."
AND MAYBE A little more. Del Ennis hit.313 in '50, had 31 homers and 125 RBI on 186 hits.
"We had three-four good pitchers, and it made the difference," Del said. "Now, with expansion, some clubs are lucky to have one good one, and the rest of 'em are like fishcakes.
"Back then, if you were an outfielder hitting.240, there was a chance you'd be gone. Now a guy hits.220, he has a big contract, he's a star. You see things like that, you tend to wish you were playing now instead of then, but, of course, that's impossible.
"I think the money tends to take the desire, the incentive away. It robs you a little of your ability. Listen, when I played, if you didn't produce, they'd knock you down the next year. Now the money's guaranteed. It can't be the same."
Not that it worked for all of them.
"We had a pitcher named Ken Johnson, won four games for us in '50," recalled Ken Silvestri, the No. 3 catcher behind Seminick and Stan Lopata.
"One of my jobs that year was to handle Kenny, make him the pitcher be could be. I mean, he had the stuff to be another Robin Roberts, he just didn't pay enough attention."
If you're exceptional, if you accomplish the unexpected, people never forget.
Ask Stan Hollmig, an outfielder in '50, now a scout for the Astros.
"YOU THINK THE years have gone by," Hollmig said, "and then you get a surprise.
"I went into the hospital in San Antonio once, and the doctor came in to talk. He looked at my name, told me what position I played, who the other Whiz Kids were. I was amazed.
"Another guy was visiting from Philly, he knew who I was, too. I'm another guy who still has his Series uniform. I remember those guys, the circumstances under which we won... I wouldn't take any amount of money for that uniform. It just means too much to me."
Oct. 1, 1950...
The voice is the late Gene Kelly's, culled from an old recording...
"... Phillies are one out away from the 1950 National League pennant... and Tommy Brown is the one hurdle in their way right now. He's hitting for Newcombe and baiting.294... "Brown bats right handed... nothing and one...If you had told most Phils fans last night that they would do it, they would smile weakly, say, 'Gee we hope so'...
"Now the 0-1 pitch, change, fouled off, in play, first-base side, Waitkus under, the Phillies win the pennant!"
Those were the days, baseball fans. Store away enough memories. visualize the tough, young Whiz Kids in the distant recesses of your minds...
Robin Roberts is on the mound. Jim Konstanty's in the bullpen, Richie Ashburn is in centerfield.
It's Oct. 1, 1950.
Remember?
Memories?   They're in the Cards
By Phil Jasner
A Robin Roberts bubblegum card from 1950 could bring as much as $15 today. You might be able to get $5-$10 for, say, Del Ennis or Richie Ashburn.
"The 1951 set, the year after the Phillies won the pennant ... all 324 cards ... is worth anywhere from $1,200 to $1,500," said Ted Taylor, a vice president at Spring Garden College, a dealer in memorabilia and an inveterate fan.
"That '51 set is nice, because it includes Willie Mays and Mickey Mantle as rookies. I know people will be asking when we have our next card show in March. Especially if the Phils go on to win the World Series. People'll be ferreting things out of attics, striking responsive chords."
That's where Taylor started, too, with toys in the attic.
"I USED TO buy all the cards I could, eep 'em in a box in the attic, like it was a time capsule," he was saying. "My mom was always trying to convince me to clean the place out, but now she sees the business we do, she kinda glows. She's 71, and I think she's proud of me.
"Del Ennis was my favorite player, and in '51 he was a hard card to get. I finally got one, and another kid on the street wanted it. Funny, now he's a college professor, but back then he really pestered me, finally offered me 40 cards, including Whitey Ford and Mantle, for Ennis.
"So I gave in, made the deal. Then I went to the store in Glenside where I bought most of my cards, bought a pack and there was Del Ennis. Right on top. Hey, I was 10. That was a big deal."
Taylor knows, for example, that there were Whiz Kids beyond the 27 included in the 1975 reunion at the Vet.
"HANK BOROWY, A pitcher, started the year here, then went to Detroit," Ted said. "And there was Paul Stuffel, Jack Brittain, Steve Ridzik, for one game. There was even an outfielder named Eddie Sanicki. who was with them in '49 and '51, but broke his ankle in '50. They won the pennant the other night, I looked at a big rollout I have from '50 and said, 'Well, you guys can finally rest now.'"
Whiz Kids Have to Grow Up, Too
By Phil Jasner
What happened to the Whiz Kids:
PITCHERS
Milo Candini: 1-0 in 18 games. Now 64, retired, living in Manteca, Calif.
"I was 32 in 1950, meaning Bill Nicholson, Ken Heintzelman and I were the old guys," he said. "Dick Sisler hit the home run in Ebbets Field to put us in tne Series, I jumped off the dugout bench, hit my head on the roof. I was so happy, I never felt it."
Bubba Church: 8-6 in 31 games. Now 56, operating a successful linen service for physicians' offices and clinics in Birmingham, Ala.
"In mid-September," he said, "(Cincinnati's) Ted Kluszewski hit me with a line drive. I gave him a fastball, it came back at me, hit my glove, then my cheekbone. I remember looking up and seeing Del Ennis field it in right field. Anybody asked, I said you couldn't hurt me by hitting me in the head."
Blix Donnelly: 2-4 in 14 games. He was 62 when he died in June 1976, in Olivia, Minn.
Ken Heintzelman: 3-9 in 23 games. Now 65. retired, living on a farm near St. Peter's, Mo.
"It was a wonderful year, and Del Ennis and Robin Roberts did a terrific job," he said. "I was just happy to be there."
Ken Johnson: 4-1 in 16 games. Now 57, he's a part-owner and senior vice president of Harris-Burns and Co. Inc., a general insurance agency in Wichita, Kan.
"My job was to help make him a better pitcher," said Ken Silvestri, the team's third catcher.'"He had the 4 stuff to be great, but never paid enough attention."
Jim Konstanty: 16-7, 22 saves in 74 games, the first pitcher to be named MVP. He was 59 when he died at Fox Hospital near his home in Worcester, N.Y.
Russ Meyer: 9-11 in 33 games. Now 57, the coach at Illinois Valley CC in Peru, Ill.
"I've been trying to get back into baseball," he said, "but I haven't had much success. I know I was known as 'Monk,' but I don't think my reputation precedes me. It didn't affect Billy Martin, did it?"
Bob Miller: 11-6 in 35 games. Now 54, has spent 18 years coaching the baseball team at the University of Detroit, 20 years with the New England Life Insurance Co.
"I can still see the last game, at Ebbets Field, the bases loaded, Roberts getting Gil Hodges and Carl Furillo to save us," he said. "I can close my eyes and see it like it. was yesterday."
Robin Roberts: 20-11 in 40 games, a team-high 304 innings. Now in the Hall of Fame and coaching the baseball team at the University of South Florida.
"We were young, excited, and thought we'd win a lot more," he said. "To this day, though, that season is my single greatest memory."
Curt Simmons: 17-8 in 31 games before being activated by the National Guard. Now 51, lives in Meadowbrook and is manager and part-owner of the Limekiln Golf Club.
"I have a bad memory as it is," he said, "but I seem to recall that the Dodgers had more talent. The difference was, we had a good year together and Konstanty had an excellent one. You never know when your big years are coming, but in order to have them, you have to have the pitching. That, we had."
Jocko Thompson: 0-0 in 2 games, 4 innings. Now 60, sales manager for General Binding Sales Corp. in Rock-ville.Md.
"What raised a lot of eyebrows was Monk Meyer." he said. "On and off - the field. He always liked the limelight. But my best memory is that Konstanty was my roommate and eventually became a legend."
CATCHERS
Stan Lopata: .200 in 58 games. Now 55, living in Abington, working as the sales manager for J.D.M. materials company, dealing in redi-mix concrete.
"Every time they get close, all the memories come back," he said. "But you cant describe what it's truly like until you've been there."
Andy Seminick: .288, 24 homers, 11 game-winning hits in 130 games. Now 60, living in Melbourne, Fla., working as a Phillies scout.
"I always thought a key was Eddie Sawyer (the manager) using Curt Simmons for the first time in relief, in St. Louis," he said. "Curt got Stan Musial and Enos Slaughter, got us out of a real jam."
Ken Silvestri: .250 in 11 games. Now 64, working as a minor league instructor in the Chicago White Sox organization.
"I always thought Mike Goliat and Granny Hamner was the best shortstop-second base combination I ever saw," he said. "I still feel that way "
INFIELDERS
Jimmy Bloodworth: .227 in 58 games. Now 63, retired, living in Apalachicola, Fla., where he's recovering from heart surgery.
"I still have my World Series uniform," he said. "I was watching the Yankees-Royals in the first playoff game, thought about 1950 and took it out. Every day I spent in Philly is a favorite memory."
Ralph (Putsy) Caballero: .167 in 46 games. Now 52, living in New Orleans, where he owns a pest control business.
"I thought Willie Jones was as good a third baseman as there ever was," he said, "and Richie Ashburn told me a fella named Mike Schmidt was gonna be better. And he was right. What gets me now is when the kids see a game and say 'Dad, that's what you did for a living?"
Mike Goliat: .234, with 13 home runs, a team-high 13 game-winning hits in 145 games. Now 55, retired from the trucking business in Seven Hills, Ohio.
"I remember the 13 homers, which was a lot for the second baseman to have." he said. "We had more guys who could hit it out than the '80 team."
Granny Hamner: .270 in 157 games, with an imposing 638 times at bat. Now 53, working as a roving adviser in the Phillies system.
"I remember a game where we came from eight runs back to beat the Cardinals," he said, "but it seems longer than 30 years ago."
Willie Jones: .266, with 25 home runs and 88 RBI, scoring 100 runs in 610 at-bats. Now 55, living in Cincinnati, where he's in the oil waste business.
"Russ Meyer must've had 32 suits, but he got 'em all at Robert Hall," he said. "Ahhh, tell those guys I'm a reserve outfielder now with Houston. See if they believe that."
Eddie Waitkus: .284 in 154 games, team-high 641 at bats. Missed much of the 1949 season after being shot in the chest by a woman in Chicago. He died in September of 1972 in Boston.
OUTFIELDERS
Richie Ashburn: .303 in 151 games, threw out Dodgers pinch-runner Cal Abrams at the plate on the last day of the frenetic season. Now 53, he's a newspaper columnist and one of the Phillies announcers.
"Richie was my roomie," said Putsy Caballero, "and there were times when he couldn't have thrown me out from 12 yards away, but he threw out Abrams when we really needed it. I always thought that was amazing."
Del Ennis: .313, leading the team with 186 hits, 31 home runs and 125 RBI in 153 games. Now 55, living in Jenkintown, operating a bowling alley.
"I led the league in RBIs, but winning the pennant meant more," he said. "One thing I remember about those days is, if you were an outfielder and hit .240 you were gone. Now, with expansion, guys who hit .220 are stars."
Stan Hollmig: .250 in 11 games. Now 54, living in New Braunfels, Texas, working as a scout for the Houston Astros.
"I wouldn't take any amount of money for my '50 uniform," he said. "It means too much to me."
Bill (Swish) Nicholson: .224 in 40 games. Now 65, semi-retired. lii:; on a 120-acre farm in Chestertown, Md.
"I wasn't really what you could call a Whiz Kid," he said, "because I had spent 10 years with the Chicago Cubs, then got traded to the Phillies. I came down with diabetes in September of '50, spent a month in the hospital. A nurse brought me to Connie Mack Stadium, so I could at least see the games at home."
Dick Sisler: .298 in 141 games, hit the resounding home run that beat the Dodgers and gave the Phillies the pennant. Approaching his 60th birthday, he lives in Nashville, Tenn.
"Sometimes I thought nobody else thought we could win, but we thought we could, and we did,' he said.
Dick Whitman: .250 in 75 games. Now 59, he's the maintenance manager at the San Jose (Calif ) Water Works and lives in Campbell, Calif.
"Looking back now, I'm not sure how good we were," he said.  "But we certainly thought we were good at the time. I remember Sisler's home run... I was sitting on the bench, praying."
Jack Mayo: .222 in 18 games, added to the World Series roster as Nicholson's replacement. Now 55, he's a real estate developer in Youngstown, Ohio.
"In '49," he said, "I lived in the Ashburn family's home with Richie, Robin and Curt. I've never forgotten how nice those folks were to me. My youngest son, now a junior in college, is named after Richie." 
His Heart's Not in Baseball
By Gary Deeb
HOWARD COSELL, the relentless jerk who doesn't understand the first thing about baseball, showed his true colors last week during ABC's telecast of the Houston Astros-Philadcl-phia Phillies playoff game.
Philly slugger Greg Luzinski had been pulled in favor of a late-inning defensive replacement. But Cosell was so busy inflicting his awful, stuffed-up voice on us that he didn't even notice the giant's absence for two innings. At one crucial point, he said Luzinski was in the on-deck circle, despite the presence of a decidedly smaller man there. Somebody finally pointed out his mistake and Cosell, typically, blamed it on an "incorrect" scorecard that he'd been handed.
He then uttered that oily, nervous, insincere laugh he occasionally resorts to when he's cornered like a rat.
Mind you, catching Howie the Shill in a gross error or outlandish statement isn't all that difficult. It happens all the time, especially when he tries to comment on baseball, a sport of which he's both ignorant and hateful.
Last year, for instance, during the World Series, Cosell kept jamming both feet into his mouth. He once declared: "Willie Stargell has sent word to me that his hotel room was robbed last night. The wires will soon have the story."
THE TRUTH WAS that the wire services transmitted that story hours earlier. So did hundreds of print reporters and dozens of TV and radio stations. Cosell's absurd claim of a Stargell "exclusive" touched off gales of laughter and such deadpan one-liners as: "Howard's latest scoop is that the Pope recently visited America."
In any event, Cosell was back this year – not on the World Series itself (which will be televised by NBC this time), but on the pennant playoffs. And as usual, his presence was intolerable to anybody who holds any affection whatsoever for the Great American Pastime.
For years Cosell told anybody who'd listen that baseball was a colossal bore, that the game was "too slow," and that the only folks who enjoyed it were "old men and small children." All that changed, of course, as soon as ABC landed a piece of the network TV contract for baseball.
Now Howie whips himself into fits of slobbering ecstasy while saluting the beauty of the sport – and while offering valentines to the Brooklyn Dodgers of the 1950s.
BUT BESIDES COSELL'S two-faced commentary, there are other problems that rendered ABC almost unwatchable for baseball. The worst was the network's visual coverage.
I know I sound like a broken record on this, but it's indisputably true: Producers Chuck Howard and Dennis Lewin and director Chet Forte still don't understand that the best way to follow a fly ball is to train your camera on the outfielder. That's exactly how the knowledgeable fans do it at the ballpark. But ABC persists in treating home runs and fly outs as if they were 9-iron shots to the 17th green at the U.S. Open.
When camera operators are directed to "go to the sky" for fly balls, the viewer loses all visual perspective, the essential ingredient to baseball appreciation.
Lewin admits that he and his ABC cohorts were "butchers" when they first began televising baseball regularly in 1976. But now he claims: "We're on an even par with our competitors at NBC."
THAT'S FUNNIER THAN some of 3 Rodney Dangerfield's material. The fact is that ABC's baseball coverage continues to stink. The too-frequent switching between cameras strictly for effect; the constant bombardment of phony "crowd noise" when things actually are quiet; and the generally unrevealing replays combine for a sluggish and infuriating evening of baseball on TV.
Naturally, ABC makes a big to-do about the logistics of covering a ballgame. The network continually brags about its 13 cameras, its three mobile units, its 100 technicians and yes, that ubiquitous Goodyear Blimp.
"ABC goes absolutely crazy with 'beauty shots,'" said Vin Scully, who might be the greatest baseball announcer of all time. "They're in love with that blimp. In fact, ABC's peak performance at a sports event would be to have the Goodyear Blimp take a picture of the other Goodyear Blimp."
Sad to say, but that's about all we get out of ABC's baseball work – a few "beauty shots" interwoven with the uninformed commentary of Cosell and some herky-jerky camera work that gives you a headache.
It's unfortunate that ABC owns even a slice of the network baseball pie. But after enduring Cosell & Co. through the remainder of the weekend, we know the real fun will begin next week when (1) the World Series starts and (2) the action switches over to the professionals at NBC.