Wilmington Morning News W.S. Special - October 14, 1980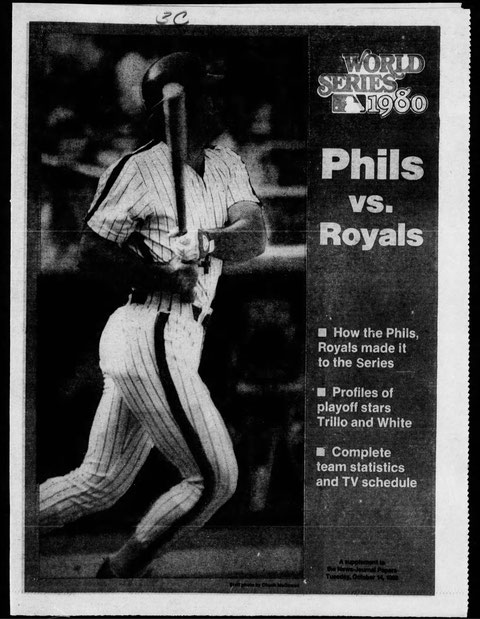 Photo Album
It's been a long time coming for Phils
By Hal Bodley, Sports Editor
After 30 years, it's happened!
The frustration and near-misses are over for the hard-luck Philadelphia Phillies.
Too many times the doormat, and/or the court jesters, of the National League the Phillies have landed in the World Series for the first time since 1950. And they have done it with a team few thought would even win the National League East, let alone make it to the October classic.
Now, they're in the World Series for only the third time in the franchise's not-so-proud history. In 1950, the Phillies defeated the Brooklyn Dodgers on Dick Sisler's dramatic home run to win the National League pennant on the final day of the season. The Phillies then went quietly in the World Series. They lost four straight to the New York Yankees.
In 1915, their only other appearance in the Series, the Phillies dropped four of five games to the Boston Red Sox. - Grover Cleveland Alexander pitched the Phillies only World Series victory.
But the 1980 Phillies have become a team of purpose, dedicated to erasing memories of those two World Series and failure in the National League Championship Series of 1976, '77 and '78.
The Phils won their fourth National League East in five years after faltering in 1979, an unexpected fall that cost Manager Danny Ozark his job after nearly seven years at the helm. In came brash, tough Dallas Green from his farm director's chair with the assignment of halting the tailspin. He managed the club during the final month of 1979, then signed for 1980.
Green never wanted to be a career manager. Ever since the 46-year-old Delaware native retired as a journeyman pitcher in 1967, he had his sights set on a front-office position. His mentor, Player Personnel Director Paul Owens, refused to let Green take an administrative job fresh out of uniform. instead, Owens ordered him to manage minor league teams in 1968 and 1969.
But when it became obvious Ozark was losing control last year, Owens felt Green was the man to salvage something from the team he had built.
In the beginning, the players did not accept Green's team concept. They snickered when they arrived at spring . training in Clearwater, Fla., and saw large signs in the clubhouse proclaiming the "We, Not I" theme.
"When are the pompon girls arriving?" blurted shortstop Larry Bowa, which just about summed up many of the players' reaction to Green's philosophies.
Criticism didn't bother Green. He, stuck by his guns. He hurt a few feelings, dented a few egos and returned the Phillies to the No. 1 perch in the East.
Was Dallas Green's way the right way?
"I think the end results speak for themselves," he said.. "I think now there are more people in our locker room who understand what I am trying to do with this team than were there in March – or even July. I think there are a lot of guys who were tired of fighting me. I might get caught a few times, but I'm certainly going to get my licks in."
How did the Phillies, who were picked by very few to win their division, do it? They did it with a marvelous blend of multi-talented veterans and eager youngsters.
They did it with Steve Carlton winning 24 of 33 decisions, posting a 2.34 earned run average and almost certainly winning his third Cy Young Award.
Without him, the Phils would have gone nowhere, especially in the early weeks of the season when the pitching staff was still the team's Achilles' heel.
Dick Ruthven, coming off 1979 elbow surgery, started slowly, but ended with a 17-10 record and 3.55 ERA. Injury-prone Larry Christenson was out much of the year, but gave the Phils three strong starts the last month of season.
Aside from Carlton, the Phils' starting corps got a big boost from rookie righthanders Bob Walk and Marty Bystrom. Walk, with the team most of the year, was 11-7. Bystrom, who arrived with the September 1 callups, was 5-0 with a 1.50 ERA. He was made, eligible for the playoffs and World Series when Nino Espinosa was placed on the disabled list and Randy Lerch was dropped in favor of lefty Kevin Saucier.
During the offseason, Owens' and Green searched high and low for bullpen hungry, help. They came close to landing Sparky Lyle from the Texas Rangers during the winter meetings, but the deal was snuffed because of a clause in Lyle's contract that guaranteed him a broadcasting job with the Rangers at $50,000 a year for 10 seasons after his retirement as a player.
There was much irony attached to that no-trade. First, two of the players mentioned on the Phillies' side of it had great years.
Veteran Tug McGraw gave the Phils more relief than they ever dreamed he could deliver. After coming off the disabled list on July 17, McGraw worked 52 innings in 33 games, allowing just three earned runs. He was 5-1 during that span and picked up 13 of his 20 saves. During the Phils surge to the top the last five weeks, Tug allowed just one earned run, that on September 2. From that time on, he was in 15 games, had five saves and five victories.
Bake McBride, also mentioned in the original Lyle deal, was probably the most consistent offensive player. He hit .309 and drove in a career-high 87 runs.
Finally, there's Lyle himself. Owens managed to pry the lefthanded reliever from Texas on September 13 for a player to be named later. Although Lyle was not eligible' for postseason play, he took some of the heat off McGraw down the stretch.
Mike Schmidt, leading candidate for the NL Most Valuable Player award, gave the Phils his best year ever. The third baseman led the majors in homers with 48. He led the league in runs batted in (121), slugging average (.624) and total bases (342). His .286 batting average was his best ever and far above his career mark of .255.
"Winning the. division title this year meant the most to me, said Schmidt. "There were times during the season when people gave up on us. Yet we came back and won it. We made believers of a lot of people.
"Plus we had to battle to win it. We had more problems. We had to have intensity throughout the year. We'd never really been in a tough pennant race before. We never had to play great baseball in September before. The other years when we won, all we had to do was just hold on."
The Phils ran up a 23-10 record from Sept. 1 to Oct 4 when they clinched it on Schmidt's two-run homer for a 6-4, 11-inning victory over Montreal in the rain and cold at Olympic Stadium.
That victory was the Phils' sixth in a row and climaxed a week during which the Phils' backs were repeatedly against the wall because the Expos were also winning .
On Monday night, Sept. 29, the Phils wiped out a two-run deficit and defeated Chicago, 6-5, in 15 innings.
"That was what got us started to the wire," said Green. "Montreal had already beaten St. Louis and we're looking at a two-run deficit. That, to me, was as important as any win all year."
The next night, the Phils blew out the Cubs, 14-2.
The Phils might not have made it without brilliant performances from the youngsters, such as Walk and Bystrom, Lonnie Smith, (a leading candidate for rookie of the year), Keith Moreland and George Vukovich.
Just as important were two highly emotional events involving Green and Owens.
The low point of the season came on August 10 when Pittsburgh swept a double-header to drop the Phils six games back with 55 to play. Between games, Green exploded in an emotional tirade. The Phils then won 36 of those 55.
On Sept. 1, it appeared they were falling back into their old habits. Owens called a team meeting before an afternoon game at San Francisco and let the players have it.
He criticized Bowa and Maddox in front of the team, then shouted, "You've been wanting to win this thing for yourselves and for every other reason the last five months. I want you to win this thing now for Ruly Carpenter (owner) and me, the guys who put this team together."
The Phillies won that day and moved into first place. They didn't hold it for long, but they were on their way.
Now they're hoping they can give the often-deprived fans something to make them forget all those depressing years. A world championship will do.
Managers: Green preaches teamwork to Phils
By Hal Bodley, Sports Editor
Dallas Green, his eves red from celebrating, walked down the aisle of the Phillies charter yesterday afternoon as it jetted the National League championship back to Philadelphia.
"Start the first week of September," said the manager. "You'll probably never be able to find a more exciting finish to a baseball season. Oh, there have been teams that have made up a lot of ground, but I don't think you'll ever find as many tense, close games as there were for us down the stretch. There was never any breathing room."
And for Dallas Green, there was never any breathing room off the field. He preached "grind-it-out" baseball and took almost the whole season for his sermon to sink in. He preached the "we, not I" philosophy and even today as the Phils prepare for their first World Series since 1950, it's not certain if all his players subscribe.
But no matter what happens in this World Series, you have to give Dallas Green credit. Thirteen months ago there were hints the thing was going up in flames. Danny Ozark, a great, great human being, had lost control. He had given up trying to get this multi-talented group of super egos to do it his way.
When Green took over on Aug. 31, 1979, his basic responsibility was to save what the Phils had, evaluate it and prepare for 1980. Nobody, including owner Ruly Carpenter, thought Dallas would stay around for this year. His goal was to succeed Paul Owens when Owens retired as player personnel director and a stint as manager seemed to be a detour to that ambition.
Green, however, felt he was the man for the job and stayed on and today the Phils have their first National League pennant since 1950.
How did George Dallas Green do it?
First of all, the fact he could not and would not be fired gave him power. Secondly, Owens and owner Ruly Carpenter gave him a free hand to run the ship the way he thought it should be guided.
But maybe the most important single thing Green did was blend the youngsters with the veterans. This has been said many times, but if the rookies had not brought on the veterans, it's doubtful the Phils would have won.
And, finally, Dallas Green caused just enough turmoil in the clubhouse to keep everyone on edge. He got some players so angry that they played beautifully. Just consider how well Larry Bowa, Garry Maddox and Greg Luzinski did after they had their differences with the manager.
"I think the reason I came back for 1980 was the faith Ruly and Paul showed in me," said Green. "The last weekend of 1979 in Montreal, Paul asked me if I had thought about 1980. I told him that was his decision. He said he wanted me back. I thought about it, talked about it with my family and came back."
As late as his Aug. 10 outburst, Green said he was not satisfied with the character of the team. Later, he said he suspected there might be some players who could care less if the Phils won or lost. He yelled and screamed.
In the end, though, the Phillies did something no other team here has done since 1950 and Dallas Green deserves much of the credit.
And when the World Series ends in a week or so, look for Dallas Green to step down – or up. He will call it a career as a manager, something he never really wanted to do in the first place, but did better than most anybody else around.
Managers:  Jim Frey wins while keeping low profile
By Rod Beaton, Sports Correspondent
The two managers matching wits across the foul lines tonight when the Phillies host Kansas City are rookies. The resemblance ends there.
Oh, to be sure the Royals' Jim Frey and Dallas Green of the Phillies are baseball men of long standing and high regard. But while Green is an avowed "cusser and a screamer and a yeller," Frey's profile is so low he almost makes Bill Virdon look glib.
Green commands respect from his very presence. He's 6-foot-5 with a voice that could shatter a bulletproof shield. Frey will intimidate no one at 5-9, and his words of wisdom are always muffled by a bulging plug of tobacco.
But he whipped the Royals into runaway winners in the AL West. They sagged briefly in September, but still won by 14 games and did not let down against the New York Yankees. The Yanks had kept their edge by fending off the pursuit of the Orioles, Frey's old club. The Royals had every reason to be bloated and sluggish in the American League Championship Series.
Yet they swept.
"We had a bad three-week stretch there," Frey said. "But we won five of our last seven games. Our pitching, was good."
That pitching was at its best for the Yanks, holding one very potent lineup to two runs in all three games. Frey's handling of the staff was rewarded.
"As of right now, I'm gonna use three starters," Frey said yesterday during the Royals' relaxed, jovial workout at the Vet. His ballclub smiled more in an hour than the Phillies would in a month.
"We're gonna go with (Dennis) Leonard, (Larry) Gura, and (Rich) Gale, in that order. We'll probably come back with Leonard and Gura. What happens after that depends on what happens on the field."
He'll field a lineup substantially like the one that pounded the Yanks.
"In terms of the names of our guys, the exact order I don't know."
Willie Mays Aikens and Darrell Porter will play against tonight's starter, Bob Walk, and Steve Carlton tomorrow. They will not sit for a left-hander as they sometimes did in the season.
Frey is confining his platooning to right field.
"Against their right-handers it'll be (Clint) Hurdle," he announced. "If they pitch a left-hander, it will be (John) Wathan."
Hurdle runs like Greg Luzinski, but he has home run capabilities, despite settling for just 10 in 395 at-bats this year. Wathan, a utility man, is from the Lonnie Smith School of Outfielding, but he hit .305.
When he is subjected to second-guessing, possible even with a season like the one the Royals had, Frey goes on the offensive.
"You do what you can with the personnel you have. This team is quite different from the Orioles," he said, recalling 15 years as scout, hitting instructor and coach with the Birds.
Frey shares one problem with Green – keeping his irregulars active and content. He rankled some of his players in the ALCS by vascillating on his starting pitching. He isn't now.
Frey's experience with Earl Weaver has developed several of his strategic tendencies. He has considerable contempt for the sacrifice bunt, disdaining it like his mentor. The Royals bunted only 34 runners over this year.
He also does not like letting others call his shots.
"Only Wilson has a green light," he said. Frey has a team that stole 186 bases, with seven players in double figures. Yet only the best, Wilson, could go when he chose.
"No tricks, no surprises," he promised. We'll do the things the Royals can do. We're a good offensive club, get a lot of runs, some stealing, some hit and run."
He works his bullpen like Green, for the same reason. Just as the Phils have no stopper from the pen once Tug McGraw is gone, the Royals are thin behind AL Fireman of the Year Dan Quisenberry. So Frey calls on the submariner. And calls on him. And calls on him...
"His arm is strong and he doesn't wear himself out," said Frey. "He was the difference between this team and the one they had last year."
Quisenberry responded to Frey's summons 75 times, throwing 128 innings. Then, in Game Three of the playoffs, Frey stuck with him through a shakey but ultimately successful effort to protect a 4-2 lead.
"At one point this season I used him almost every day (15 times in 24 games) and not once did he complain and say his arm was tired or stiff."
Frey also has shown a stubborn streak. He is patient with players he trusts, like Quisenberry. He leaves the unnatural talents, the George Bretts and Wilsons, alone.
Manny Trillo:  A change for the better
By Hal Bodley, Sports Editor
Manny Trillo was 17 years old and so skinny he had to worry about heavy winds.
When Manny Trillo strapped on catcher's gear, he disappeared. All you could see was a little head sticking out of the armor.
Dallas Green took one look at Manny Trillo, the catcher, and shook his head. Then, he called Paul Owens.
"Pope," Green remembers saying. "This kid is just too small to be a catcher. I'm going to try him at third base because he has good moves and a great arm."
That was the summer of 1968.
Dallas Green, his major-league pitching career over, was in South Dakota managing Huron in the Northern League. Among the prospects sent him that year by Phillies' Farm Director Owens were Greg Luzinski, a first baseman, and Jesus Manuel Trillo, the skinny catcher from Venezuela.
Nobody bothered to ask them, but as Green and Owens celebrated the Phillies' first pennant in 30 years Sunday night, thoughts such as Green converting Trillo to the infield had to flash through their minds. Green, of course, managed the Phils to their National League championship, Owens in the player personnel director and Trillo became the most valuable player in the best-of-five series climaxed by Sunday's 8-7, 10-inning victory over Houston in the Astrodome.
At Green's suggestion, Trillo shifted to third base and after the 1969 season at Spartanburg was drafted by Oakland during the winter baseball meetings. In October of 1974, he was traded to Chicago where he was to become one of the best second basemen in baseball. On Feb. 23, 1979, the Cubs dealt him back to the Phillies.
"I might not have ever made the major leagues if Dallas Green did not move me to the infield," said Trillo, who batted .381 with eight hits in the five playoff games. "I don't think I would have made it as a catcher."
"I knew he wasn't going to be able to stand the beating that an everyday catcher has to stand," said Green. "With his actions and his abilities, I just felt it would be better to move him. He had good running speed and that great arm."
"I played him mostly at third base and a little at shortstop. It was not until he went with the Oakland organization that he started playing second."
As an infielder, Trillo was a prospect and just to back that up, Green checked his reports when Manny came back to his original team.
"We liked him, but were unable to protect everyone from the draft," said Dallas. "I think we lost him that winter because a numbers developed."
"I was 6-foot-1, 130 pounds," said Trillo, who hit .292 for the Phils this past season and now weighs 164. "Can you imagine Dave Parker hitting me at home plate then?"
Trillo, who will turn 30 on Christmas Day, managed to get in one playoff game when he was with Oakland. He was a pinch runner and scored a run against the Orioles in 1974. He did not get in the World Series.
"I don't remember very much of that," he said. "All I know now is we're going to play Kansas City in the World Series starting tomorrow night. I'm happy. I've never been happier."
"The whole time Trillo talked, he was still clutching the sterling silver cup awarded him as MVP in the playoffs. He was presented it Sunday night and as far as everyone can determine, was still holding it when he left Veterans Stadium late yesterday afternoon.
And had it not been for Dallas Green's idea to have Trillo give up catching, that scene certainly wouldn't have taken place.
Frank White:  An MVP in any disguise
By Rod Beaton, Staff Correspondent
He's the Gold Glove second baseman, tremendous range, faster hands than a Casanova, strong arm. He runs well and hits even better, leading his team to the pennant with a Most Valuable Player effort in the League Championship Series.
Manny Trillo, right? Only half right.
If you forgot about Kansas City's Frank White, your lesson starts at 8:15 tonight when the Royals visit the Phillies for Game One of the World Series.
White is 30 years old, 5-foot-11, 170 pounds, a craftsman of subtle talents.
The American League Championship Series changed that. White played the Royals Stadium green concrete and the guaranteed organic Yankee Stadium grass equally magnificently. Moreover, he hit .545, with a home run, three runs batted in and a stolen base.
George Brett's game-winning, three-run homer in the clincher notwithstanding, there was little doubt White deserved to be MVP.
He refuses to consider this World Series a showcase for the two MVPs, possibly the best second basemen in the game.
"A showcase? That's up to you guys," he said yesterday, between swings at the Royals' Veterans Stadium workout. "The opportunity thing brings a person out. I might go the whole series and just get a few balls."
That isn't likely. If they don't come to him, he goes and gets 'em, from first base to shortstop. White would run down a grounder to Bryn Mawr if the Stadium didn't hold him back.
"I just try to make the routine play and let the great plays take care of themselves," he said.
He makes the great play routine. He made just 10 errors this season, and but four after the All-Star break. He was errorless for 37 straight games until he made a dazzling stop behind second in Game 3 of the playoffs and threw the ball away.
Nobody noticed. He was hitting too well.
"When people look at me, they look at the batting average," said White, who grew up a line drive away from Municipal Stadium, the Royals' first home. "My best year was .275 (1978).
"But I bat eighth or ninth all year and drive in 50 runs a year. That's production. People put too much faith in batting averages."
He also claimed people put too much faith in comparisons.
"I don't like them," he said, proceeding to make one. "I think there are better second basemen in the American League. There are more guys who can really play like (Willie) Randolph, (Paul) Molitor."
White recognizes that Trillo "can really play." They go a long way back – a long way away.
"We played together," he recalled. "In winter ball in Caracas (Venezuela). It was '75. Manny played second base. I was shortstop."
It was not a case of Trillo winning out, White explained.
"I didn't really become a second baseman until '73," he said. "Really I was a utility man. I wasn't full time until 76."
He saw enough of Trillo, a converted catcher, to admire his counterpart.
"Manny has good hands, good feet. He's always strong on the relay. I don't think the Phillies would give him a $2 million contract if he wasn't worth it.
"I think the Cubs made a mistake letting him go."
A lot of teams made a mistake not signing White, grabbed at a tryout by Kansas City.
"That's because I didn't play high school ball and hit .600," said White, a career .252 hitter obviously sensitive about his punchless past. "I played sandlot ball and didn't put an emphasis on how high I hit."
He's hitting like he never has. The .231 post-season average in the Royals' three playoff losses ('76-78) provided no precedent for the sack of the Yankees' staff.
"Whether I'm the best or Manny's the best, I'll leave to you baseball experts," said White. "It doesn't bother me if I'm not recognized as the best. The only people I want to respect me are the people I play for and against."
He has already won over the former. This week he should take care of the latter."
On The Air
Tonight's Game
Kansas City at Philadelphia, 8 15 p.m.
Tomorrow's Game
Kansas City at Philadelphia, 8:15 p.m.
Thursday's Game
No Game scheduled
Friday's Game
Philadelphia at Kansas City, 8:15 p.m.
Saturday's Game
Philadelphia at Kansas City, 1:15 p.m.
Sunday's Game
Philadelphia at Kansas City, 4:30 p.m., if necessary
Monday's Game
No Game scheduled
Tuesday's Game
Kansas City at Philadelphia, 8 15 p.m., if necessary
Wednesday's Game
Kansas City at Philadelphia, 8:15 p.m., if necessary
TELEVISION
Channels 3, 17, 11.
RADIO
WCAU, KYW, WOEL, WBOC, WAFL-FM
Franchise History:  Phils have won only one World Series game
By Izzy Katzman
Now that the Phillies have won the National League pennant, they will be seeking their first World Series success.
If you go by past history, it won't be easy. In the two Series in which they've participated, in 1915 and 1950, they've won a total of only one game.
The Phillies won that one game in the opener of their 1915 Series with the Boston Red Sox. In 1950, they lost four straight games to the New York Yankees.
Now the Phillies enter their third World Series, with the Kansas City Royals at Veterans Stadium tonight. Like the Phillies, the Royals never have won a World Series. In fact, they never before won the pennant. But, in comparison to the Phillies, who were a charter member of the National League in 1876, Kansas City never had a major-league franchise until the 1955 season after acquiring Connie Mack's Philadelphia Athletics.
All three Philadelphia pennant-winning clubs have had young managers in the point of experience and great pitchers. The first two managers were Pat Moran, who took over as the Phillies pilot in 1915 after finishing his playing career, and Eddie Sawyer, who worked his way through the Phils' farm system as a manager before taking control of the parent club midway in the 1948 season. Dallas Green, the current manager, stepped down as the Phils' director of minor league personnel to assume command of the Phillies late last season.
Grover Cleveland Alexander and Robin Roberts were the pitching greats – both now are in the Hall of Fame at Cooperstown, N.Y. – on the first two pennant-winners and Steve Carlton, the current Phillies ace, is a good bet to join them in the Hall in the future.
Alexander and right fielder Gavvy Cravath were the outstanding players on that 1915 team which won the pennant with a percentage of .592, the lowest to win a National League title up to that time. Other Phillies included shortstop Dave Bancroft, also now in the Hall of Fame, first baseman Fred Luderus, second baseman Bert Niehoff, third baseman Milt Stock, center fielder Dode Paskert and right fielder George Whitted.
The Red Sox were managed by Bill Carrigan and their lineup included what is generally considered one of the greatest outfields of all time – Duffy Lewis in left, Tris Speaker in center and Harry Hooper in right.
Alexander spun that lone Phils' World Series victory. After winning 31 games, including 12 shutouts, during the regular season, he beat the Boston Red Sox in the opener 3-1, with an eight-hitter. Among the Red Sox he retired on a groundout was Babe Ruth, then a young left-handed pitcher, who was used in that game only as a pinch hitter. That was Ruth's only appearance in the Series, even though he was the American League leader in games won that season with 18.
The Red Sox then won four straight by one run – three in a row by 2-1 and the finale by 5-4.
Alexander also pitched the third game of the Series and was a 2-1 loser, allowing six hits.
A pinch hitter for the Phils in the final game was Bill Killefer, who spent his last years at Blue Rock Manor before dying at Veterans Hospital in Elsmere in 1960. Killefer, batting for another Phillie pitcher later elected to the Hall of Fame, Eppa Rixey, grounded out.
The Red Sox outhit the Phillies, .264 to .182. Luderus, who hit .438 and socked one home run, was the Phillies' only effective hitter.
In 1950, the Phillies, after a terrific battle with the Brooklyn Dodgers down the stretch, lost each of the first three games to the Yankees by one run and the fourth 5-2.
Because Roberts was overworked in the final days of the regular season, pitching in three games in the last five days, Sawyer surprised everyone by selecting outstanding relief pitcher Jim Konstanty as his starter for the opening game. And Konstanty almost came through, being beaten 1-0 by Vic Raschi after allowing only four hits in eight innings before being lifted for a pinch hitter. Bobby Brown's double and two outfield flies produced the Yankees' run in the fourth inning.
Roberts hurled the second game against Allie Reynolds, and was beaten 2-1 on Joe DiMaggio's lOth-inning homer into the left field stands at Connie Mack Stadium. Roberts scattered 10 hits.
The Yankees won the third game 3-2 in which Phillies' shortstop Granny Hamner was the goat. Hamner, who led the Phillies in batting with a .429 average, made an error in the eighth inning that allowed the Yankees to tie the score at 2-2 before they won it in the ninth.
The Phils held a 2-1 lead with two out in the eighth when pitcher Ken Heintzelman suddenly lost control and filled the bases with three straight walks. Konstanty relieved and induced Brown to ground to Hamner, but the shortstop bobbled the ball as the tying run scored.
In the ninth inning, with Russ Meyer pitching for the Phillies, Jimmy Blood-worth, who had been inserted at second base after Mike Goliat was lifted for a pinch runner, figured in two straight plays that resulted in infield hits for the Yankees. Bloodworth first fumbled a tricky grounder by Gene Woodling and then couldn't hold a line drive by Phil Rizzuto. Jerry Coleman followed with a single to left-center to score Woodling with the winning run.
Tom Ferrick was the winning pitcher after starter Ed Lopat was yanked for a pinch hitter in the eighth.
Rookie Bob Miller was given the Phils' starting assignment for the fourth game and was knocked out with two runs in the first inning. The Yankees added three more runs in the sixth off Konstanty.
The Yankees' Whitey Ford blanked the Phillies until the ninth when Woodling's muff of Andy Seminick's hit with two out paved the way for two runs.
The Phils' Willie Jones led off the ninth with Willie Jones' single. Del Ennis was struck by a pitched ball and, after a forceout by Sisler, Hamner struck out. Seminick followed with a long fly to left which Woodling dropped and Jones and pinch-runner Ken Johnson scored.
Goliat kept the rally going, but Yankees Manager Casey Stengel then called in Allie Reynolds who fanned pinch-hitter Stan Lopata for the final out.
Like the Phillies of 1950 who were unable to use Roberts in the opener, the current Phillies are going into the Series with Carlton unavailable for the first game because of that crazy five-game National League playoff series with the Houston Astros.
Franchise History:  Kansas City baseball history bizarre, colorful
By Dan George
There have been sheep in the stadium, uniforms that seemed to glow in the dark and a mascot who expressed himself by braying.
There have been minor league teams that looked like they could play in the majors, and major league teams that appeared to belong in the minors.
There have been speedsters, sluggers and flops. Pitchers who weren't old enough to vote, and at least one who wasn't far away from Social Security.
There has been baseball in Kansas City off and on since 1884, and five different leagues have been represented at one time or another.
But there has never been an American League pennant in this city on the Missouri River – at least until the 12-year-old Kansas City Royals shocked the New York Yankees by sweeping the AL Championship Series last week.
"It's been a long, long struggle," said Royals General Manager Joe Burke Friday night after Kansas City clinched the pennant with a 4-2 victory over the Yankees. "I just feel numb."
The triumph sparked a city-wide celebration among weary residents who had witnessed just about everything in baseball – except a league championship.
Kansas City's first professional team was an 1884 entry in the Union Association; it finished 11th. There also have been teams in the old American Association, the Federal League and the National League; none did better than fourth.
In 1901, the Kansas City Blues were formed and went on to win seven American Association pennants as the Yankees' prize farm club. The Kansas City Monarchs began playing in the Negro National League in 1920 and produced such greats as Jackie Robinson and Ernie Banks.
Major league baseball returned to Kansas City in 1955 when Arnold Johnson bought the A's from Connie Mack and moved them from Philadelphia.
Mediocrity was the A's byword in the early years; their best finish was sixth and most of their top players seemed to end up in Yankee pinstripes via ill-advised trades.
But in 1960 came a new owner, businessman Charles O. Finley, and innovation to the point of eccentricity.
Finley introduced fireworks after night games, flashy Kelly green and Fort Knox gold uniforms. He put multicolored sheep beyond the outfield fence to graze. He made a Missouri mule the team mascot, named it after himself and sent it on tour with the team.
Pitcher Lew Krausse was 18 when he made his debut with the A's in 1961 as part of a Finley promotion; veteran hurler Satchel Paige returned at the age of 59 to pitch three innings for the A's.
The A's also boasted such future stars as base thief Campy Campaneris, slugger Reggie Jackson and pitching ace Catfish Hunter, but Finley's tempestuous reign and the team's poor showing took its toll on the city's patience.
Finley obtained permission to move the team to Oakland after the 1967 season – but Missouri Sen. Stuart Symington successfully lobbied for an expansion AL franchise in 1969 and an era was born.
From the beginning, Ewing Kauffman's team was among the most successful of expansion franchises, finishing second in only its third year in existence.
In 1 970, Kauffman opened the Baseball Academy, the Royals' innovative effort to groom youths for baseball careers. The most prominent products are second baseman Frank White and shortstop U.L. Washington.
Player drafts yielded the likes of 20-game winners Steve Busby and Dennis Leonard, and hitters George Brett and Willie Wilson.
The Royals also built from the outside, trading for such players as Amos Otis, Hal McRae, Fred Patek, Larry Gura and Darrell Porter.
In 1973, the team moved into Royals Stadium, a spacious ballpark with artificial surface tailored for their speed-oriented attack. Busby pitched no-hitters in 1973 and '74; Jim Colborn tossed one in 1977.
Under the direction of Whitey Herzog, Kansas City ended Oakland's reign as AL West champions in 1976 and began its own string of three division titles.
Brett emerged as one of the game's best hitters, winning batting titles in 1976 and 1980.
In 1973, the Royals began a streak of eight straight seasons of over 1,000,000 attendance. They have drawn more than 2,000,000 the last three years.
But frustration loomed for the Royals in the form of three straight playoff losses to the Yankees – in five games in '76 and '77, in four in '78.
After the Royals finished second in 1979, former Baltimore coach Jim Frey took over the Kansas City managerial duties – and the Royals won the AL West by 14 games.
Now they are just four victories away from their first World Championship.
"It's great for Kansas City," said Burke. "They way the fans have supported us, they deserve it."
Series matchups
FIRST BASE
Kansas City's Willie Aikens (.278, 20 HRs, 98 RBIs) started slow but finished fast for a big offensive year. Philadelphia's Pete Rose (.282, I, 64) has less power but runs faster, fields belter and has a history of coming, up roses when the spotlight is on. Advantage: Phillies
SECOND BASE
Philadelphia's Manny Trillo (.292, 7, 43) is one of the few second basemen in the majors who can field with Kansas City's Frank While (.264, 7, 60), and he's a slightly tougher out. While runs better. Advantage: Even
THIRD BASE
Kansas City's George Brett (.390, 24, 118) and Philadelphia's Mike Schmidt (.286, 48, 121) both had awesome years at the plate. When the situation calls for a long ball, Brett is as dangerous as Schmidt. Both are underrated fielders and run well. Advantage: Kansas City
SHORTSTOP
Kansas City's U. L. Washington (.273, 6, 53) can do more things offensively than Philadelphia's Larry Bowa (.267, 2, Bowa gets points for experience and a steadier glove. Advantage: Even
LEFT FIELD
The best leadoff man in the majors is Kansas City's Willie Wilson (.326, 3, 49). When he gets on base, he often steals (79 for 88) and usually scores (134 runs). Defensively, he's a center fielder playing left. Philadelphia's Greg Luzinski (.228, 19, 56) has struggled with the bat all season. Rookie sub Lonnie Smith (.339, 3, 20) has less power and much more speed (33 stolen bases). Both are weak defensively. Advantage: Kansas City
CENTER FIELD
Philadelphia's Garry Maddox (.259, 11, 73) slipped in all departments this unhappy season. He's a super glove with a nasty habit of botching plays at the worst possible times. Kansas City's Amos Otis (.251, 10, 53) is fading, too. He'll never run into a wall or get a hit off a power pitcher, but he's still a resourceful base runner (16 steals in 17 fries). Advantage: Philadelphia
RIGHT FIELD
Philadelphia's Bake McBride (.309, 9, 87) is a dangerous all-around player with the talent to turn a World Series around. Kansas City's platoon of John Wathan (.305, 6, 58) and Clint Hurdle (.294, 10, 60) hits well but can't match McBride in the field. Advantage: Philadelphia
CATCHER
Kansas City's Darrell Porter (.249, 7, 51) is capable of better things after a disappointing year. Wathan is an excellent backup. Philadelphia's Bob Boone (.267, 2, 39) has a bad wheel and his production has suffered, but his experience gets the starting nod over Keith Moreland (.314, 4, 29). Advantage: Kansas City
DESIGNATED HITTER
Kansas City's Hal McRae (.297, 14, 83) is a professional designated hitter and one of the toughest outs alive. Philadelphia figures to fill the spot with Luzinski, Smith or Del Unser. Advantage: Kansas City
STARTING PITCHERS
Philadelphia's Steve Carlton (24-9, 2.34 ERA) is by far the best starter on either team. The other Phillie starters include Dick Ruthven (17-10), Larry Christenson (5-1) and rookie Marty Bvstrom (5-0). The only lefty is Carlton. The Royals could have fun against, the others. Kansas City's starters figure to be Dennis Leonard (20-11), Larry Gura (18-10), Rich Gale (13-9) and Paul Splittorff (14-11). Advantage: Philadelphia
BULLPEN
Philadelphia appears to have more bullpen depth. The long men are rookie Bob Walk (11-7) and Dickie Noles (1-4). Warren Brusstar (2-2) and Ron Reed (7-5) are the right-handed short men. Kevin Saucier (7-3) is the ordinary lefty short man. Tug McGraw (5-4, 20 saves, 1.47) is the extraordinary lefty short man, but he could be fatigued after his heroics in the playoffs the past week. Kansas City is weak in second-line pitching. Renie Martin (10-10) Is the best bet in long relief. Marty Pattin's roundhouse curve doesn't fool hitters for long. Ken Brett and Jeff Twitty are your basic mop-up men. No wonder Dan Quisenberry (12-7, 33 saves, 3.09) keeps so busy. Advantage: Philadelphia
BENCH
The best sub on either team is Kansas City's Wathan. The most experienced infield sub is former all-star Dave Chalk of the Royals. Philadelphia has two classy lefty bats in Greg Gross and Unser. Rookie Moreland can hit. The team's top infield reserve is Ramon Aviles. Advantage: Even