Montreal Gazette - October 21, 1980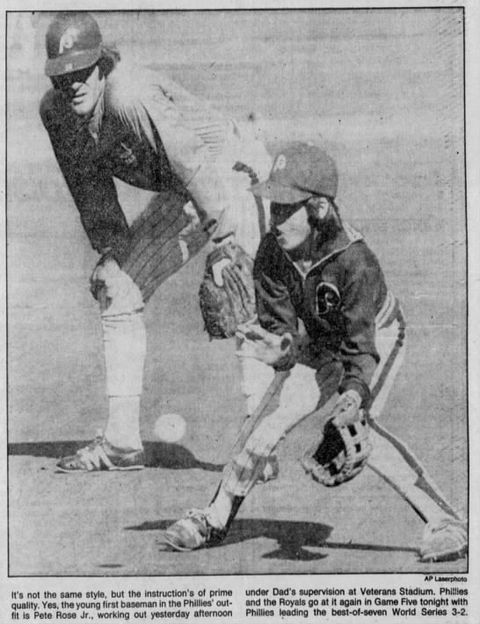 Phils can wrap up Series despite clubhouse strife
By Michael Farber of The Gazette
PHILADELPHIA – The Philadelphia Phillies may not win the World Series, but manager Dallas Green will go down kicking and screaming.
Mostly screaming.
Green, you see, can't help himself. He is afflicted with these awful attacks of truth, this terrible compunction to speak his mind. Loudly, of course.
After Game Four:
"We didn't come ready to play."
After Game Five:
"Nobody loves Greg Luzinski (who missed Game Two with intestinal flu, Games Three and Four because he was benched) more than I do, but we're not falling back into the old syndrome of the tail wags the dog of the last five years in Philadelphia. Isn't it time we looked for production? If he does that, I'll be glad to play Greg Luzinski. But he's the one who hit .229, not me. He can use all the rationalizations he wants."
Well-aimed kicks
George Brett, move over. You're not the only one with problems. The Phillies have taken a few well-aimed kicks in the rear from a man who at 6'4", 230 pounds, is still heard more than he is seen.
"I still think a lot of guys believe we could have done it without my methods," said Green, whose team can complete the task by winning Game Six of the World Series against the Kansas City Royals at Veterans Stadium tonight at 8:15. "And to the extent that they have to hit and catch and throw the ball, they're right. But I got 25 players with a pain in the butt. It's just me, good ol' Dallas Green – pain in the ass.
Four or five key guys
"Maybe four or five key guys and the majority of the pitching staff agreed with what I was trying to do. Lefty (Steve Carlton, who starts against Rich Gale tonight) was one. Pete Rose is another. Schmitty (Mike Schmidt), too, although we've had our pros and cons. Deep down I think he believes in it, although he didn't always co-operate."
No, Schmidt didn't. He labelled Green's statement about the Phillies not wanting to win Game Four "ridiculous." Nor did Larry Bowa, and Luzinski ("he's the Gestapo") and Garry Maddox and Bake McBride and Ron Reed and...
This hasn't been a pretty season, not with Green vs. The Boys – the clubhouse Iran-Iraq. The Phillies – whose average salary of $189,000 is the highest in baseball – aren't the warmest group of fellas (old joke: what 27 baseball players were named for parts of the body? Rollie Fingers, Barry Foote and the 25 asses on the Phillies), but then Green isn't Miss Congeniality, either.
"I did it my way," Green said. If there is one thing Dallas Green wants you to understand, it is that. Somebody should write a song about it.
"Winning or losing isn't vindication for my methods. I know what I've done, and I've always tried to do what's right for the organization. I'd like to be liked, but if a player doesn't like me because I'm trying to get him to do things the right way, then I couldn't care less.
"I could have quit on this team several times, said 'the hell with it.' But I haven't quit anything in my life. Like Dallas Green's baseball career. I was here in 1964 (year of the final week fizzle). We were going to win a championship, and I was going to be part of it. I didn't pitch well and they sent me down in August. It was a cruel thing to do, and it ended up killing my dad (who was dying of cancer). I could have quit baseball, but I stayed and became part of this organization. The organization... that's what's the important thing."
Green, the Phillies' farm director, took the job the last day of August, 1979. He took it after a sunset-to-sunrise session discussing the Phillies' shortcomings with general manager Paul Owens, "He got enough firewater In me," Green said, "to make me think I was the greatest manager alive." Green didn't want it then. He says he doesn't want it after the World Series, although he and Owens haven't discussed the matter. But in 1979, with the Phillies 63-67, Owens was convinced Danny Ozark, a Dutch Uncle, was too amiable for his and everyone's good.
"I knew I'd be tough about my beliefs," Green said. "Other guys talk about what they'd do if they were managers, how they'd have discipline and teach fundamentals and insist on unselfishness. Then they get the job and become the biggest nambie-pambies of all.
"It's taken a long time to get even close to where we are. When we started this spring, I told them a lotta guys in this room were on their last hurrahs, and they ought to realize it. Paul and I felt we'd give them one more chance to overcome their ghosts.
"The one thing players don't like to do is look in a mirror. Some players think they have more talent than they do. They won't play within themselves. Other players have talent and don't use it... The world's full of em."
He reminded them – with a touch of barnyard added to his boot – in the famous Aug. 10 between-games-of-a-doubleheader Mount St. Green eruption, whose epientre was Pittsburgh.
Here's the seismographic report from that day:
"You gotta stop being so bleeping cool. Get that through your bleeping heads. If you don't, you'll get so bleeping buried it ain't gonna be funny. Get the bleep off your asses... You tell me you can do it but you bleeping give up."
The Phillies were so inspired, they went right out and lost the second game and Reed and Green had a dugout confrontation about an ordered intentional walk ("I'm not proud of that," said Green).
But then Philadelphia, six games behind the first place Expos and Pirates, won eight straight and things were fine...
Unless you count Green's run-ins with Maddox, McBride, Luzinski and Bowa and his claim in the final week of the season that 10 per cent of his players were rooting against the Phillies to win the National League East.
"Now, only in the last 10 days," Green said, "have they started to sniff it. Only since then do I think they want to win sincerely."
Gale faces Carlton
PHILADELPHIA (Gazette) – Here is a thumbnail sketch look at the starting pitchers for Game Six of the World Series tonight.
ROYALS – Rich Gale, righthander, 13-9, 3.92 ERA... starter in Game Three, no decision, allowed two runs and seven hits in 4⅓ innings, walked three, struck out three, gave up one home run... was nervous for his first post-season start, could be unnerved again by raucous Vet crowd...
PHILLIES – Steve Carlton, lefthander, 24-9, 2.34 ERA... winner of Game Two... allowed four runs, 10 hits in eight innings while striking out 10 and walking six.. going with five days rest...
Nice California kid has never wavered
By Tim Burke
The most refreshing young superstar in baseball in many a moon has to be George Brett. Under constant pressure for months as he tackled that most difficult of all baseball summits – the .400 batting average the pleasant kid from California never wavered in his good humor towards everyone. Contrast this with Roger Maris' ordeal when he was closing in on Babe Ruth's season record of 60 home runs, a record which he surpassed by one. Turned out to be a Pyrrhic victory for Maris, whose hair fell out from the tension and whose career dissolved in lasting bitterness towards the media and public.
George Brett is obviously made of sterner stuff than Maris. Not only did he bear up wonderfully under the media pressure and the injuries that kept him from being the first hitter to reach .400 since Ted Williams batted .406 in 1941. He came back to be the hero of the playoffs when Kansas City beat the Yankees in three straight. And then he was able to weather the embarrassment of a severe attack of hemmorhoids with a cheery acceptance seldom to be found in the coddled professional athlete of today.
Sure-fire flameout
He admitted to celebrating the Royals' first pennant by consuming large quantities of champagne and Mexican and Italian food – a surefire mixture for a flameout but after corrective surgery, laughed that his problem was now "behind" him. "Why couldn't this have happened to a sportswriter?" he asked.
On the field, his attitude is just as wholesome. When Philadelphia reliever Dickie Noles missed him by a whisker Saturday with an obvious knockdown pitch – the count was no balls, two strikes – he said the following day that he didn't know if the pitch was intentional and he didn't care. "It's happened to me before, and it's going to happen again," he said. "I'm not going to let it bother me... anyway, I can take care of myself."
World Series jerk
Contrast this with the reaction of Dickie Noles, the guy who threw at him. When reporters went to ask him about the pitch, he started waving a bat menacingly at them, a gesture that earned him "the biggest jerk of the World Series" from columnist Mike Lupica, of The New York Daily News.
Whether Kansas City wins or loses the series, George Brett has established himself as one of the great sports figures of the '80s – and baseball sure needs one.
•       •       •
This series is on the verge of being one of the great ones – if it goes seven games it will be – and one of the main reasons is the extraordinary play at second base by the Phillies' Manny Trillo and the Royals' Frank White. In the field, second basemen are usually eclipsed by their more polished mates at shortstop. Second basemen usually are noticed only when they err or when some lumbering giant upends them to break up the double play.
Not so in this series. The shortstops are almost invisible as we marvel at White's extraordinary range and grace and Trillo's great arm. Also, it seems impossible to get Trillo out when he comes to bat in a clutch situation.
I can't remember when a World Series featured such artistry at second. Dick Green of Oakland was fabulous in the '73 series against the Mets, but who played second for the Mets?
Next to catching, second base is the toughest, most thankless job in baseball. It's nice to see two guys giving it the recognition it deserves.
•       •       •
Willie Mays Aikens may be Kansas City's hitting star so far, but as one of the worst first basemen I've seen, his goofs come close to cancelling out his heroics at bat. Now that the Phillies are throwing him breaking stuff, you wonder if he'll ever get a hit again... Without a doubt, Kansas City has the best starting eight players in baseball, an ideal blend of speed, power, good defence (except at first base), left-handed and righthanded batting. But when you have to send ancient, undisciplined Jose Cardenal to bat with the bases loaded and two out in the ninth and behind 4-3, your BUS squad needs an overhaul.
•       •       •
When utility man Del Unser, whose bat has now won .three postseason games for the Phillies, was with the Expos, he was a great favorite of management because he was always hustling and never complained. Watching him going full-out at spring training one day, assistant GM Danny Menendez said: "If attitude and character counted for everything in this game, Unser would be a superstar."
•       •       •
A bone to pick with the researchers of CBC-TV s The Canadian Establishment series: On your installment on CPR president Ian Sinclair, you said his nickname "Big Julie" derived from Julius Caesar. Wrong. I was at the CPR when the name was coined – 1965 – and it was from a Damon Runyon character named "Big Julie", a torpedo who would roll the dice into his hat in a crap game. Only Big Julie would dare look into the hat – and so they had to take his word for whether he had made his point or not.
Glamor of World Series exaggerated – Schmidt
Series Notes
PHILADELPHIA (Gazette) – The view from the penthouse, Philadelphia third baseman Mike Schmidt says, is not as glamorous as the view from the television set.
Schmidt – on the eve of World Series Game Six, a possible Phillies clincher – was musing about the Octobers he spent as a civilian.
"I'd spend the morning tinkering with my handicap, but every night, I'd watch television," Schmidt said. "Every day, all day, I'd tell myself not to watch it, but I'd watch anyway.
"I'd second-guess the whole game, wondering how that team ever beat us. There are a lot of teams which must be thinking that this year. The Expos were just a hair from getting here."
"It really appears more exciting than it is. Honestly, this is nothing of what it appears to be when you're not here. It's like if you work a long time for a Cadillac or a sports car or a yacht. Once you get it, you want to move onto something else. All materialistic things are like that. I always wanted to win the home run, RBI and MVP crowns, but once you do it, it's, not as important or big as it looks."
•       •       •
You think you've got problems. The Kansas City Royals trail the Phillies, three games to two, and face Steve Carlton at Veterans Stadium tonight in Game Six.
"Our backs are to the wall, the Berlin wall, Eastern half," said Royals' relief pitcher Dan Quisenberry.
•       •       •
Hitting has dominated the Series, the Phillies batting .298, the Royals .301.
But the Kansas City hitting has been concentrated on its No. 3 through six hitters – George Brett, Willie Aikens, Hal McRae and Amos Otis – who are 35-for-78 (.449) with 19 runs-batted-in. The whippets – Clint Hurdle (a respectable five-for-12), Darrell Porter, Frank Whlte, U.L. Washington and Willie Wilson – are 18-88 (.205) with two RBIs.
Only Pete Rose (.158) and Garry Maddox (.167) are having poor offensive series for the Phillies.
•       •       •
Why hasn't Carlton talked to the press since 1975?
Well, according to the Philadelphia media – who are the assumed catalysts – Carlton was unhappy with what had been written when he went from 27-10 in 1972 to 13-20 the following season.
Never comfortable with the press even in his talking days, the silence has become part of his persona – all of which is geared towards intimidation, usually of opposing hitters. His martial arts training program has become an extension of that.
Actually, he has talked with writers three times since: after his 200th win, after winning a playoff game in Los Angeles in 1978, and last July 5, 1979 with a Philadelphia columnist.
•       •       •
Phillie shortstop Larry Bowa on Philadelphia fans as opposed to Kansas City fans: "The K.C. fans don't know how to be mean. Oh, they try, but they just don't have it. I guess that's just Middle America. Now the Philly fans, they know about mean."
Indeed. Last month, Bowa called them "the worst bleeping fans in the world."
•       •       •
Royals' manager Jim Frey took responsibility for having third baseman George Brett play, even with the bag with Mike Schmidt leading off the ninth in Game Five, Sunday.
Schmidt almost beat the Royals with a bunt which rolled foul in Game Three and had a bunt hit in Game Four, and did beat them in Game Five with that single off Brett's glove. If Brett were in a normal spot, it is a routine play.
•       •       •
You've noticed U.L. Washington's ubiquitous toothpick by now, right?
Don't worry, he changes them frequently. He keeps two boxes of 2,000 toothpicks in his locker.
•       •       •
Rose on the boos he receives on the road: "They're not booing me because I'm a felon or anything, they're booing me out of respect.
"I've had a lot of firsts around the league. I'm the reason they put that barbed wire up around the outfield wall in Chicago, why they stopped selling beer in the left field pavilion at Dodger Stadium, why they didn't sell tickets in left at Shea Stadium on our (Cincinnati's) first visit in '74 (after the tumultuous playoff against the Mets). They made me stay in my hotel room during the playoffs, it was too dangerous to go out. Had room service. The damn chef burned my steak."
•       •       •
Bowa on trade rumors: "I won't be here next year if they don't want me: (He is a 10-and-five man and must approve any trade). But I've given enough service to this club that I won't go to non-contending clubs. I won't end up in Toronto."
Wise man, Bowa.
•       •       •
Update on the Fred Lynn trade: He may wind up in a Los Angeles Dodgers uniform next year, but it may be a week before the news is released. However, there's still a hitch to the deal. The Red Sox are asking Los Angeles to include third baseman Mickey Hatcher in the transaction before they trade away their star centrefielder.