Philadelphia Daily News - October 21, 1980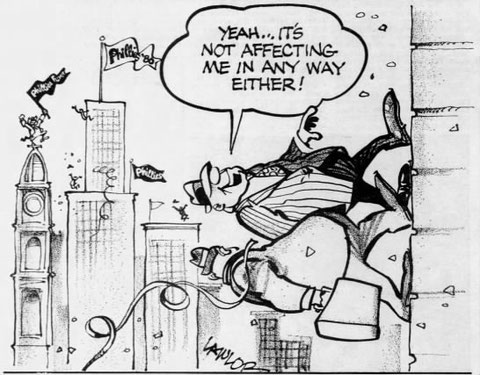 Is Tonight THE Night?
Tired Carlton Ready to Try For Clincher
By Bill Conlin
The Phillies dragged into the Vet yesterday like 25 survivors of a three-day Polish wedding reception.
Many of them didn't reach their homes until after 2 a.m. following the flight from Kansas City and a mini-mob scene at the Vet. Here they were, straggling into the clubhouse 11 hours later for a workout that at this stage of October could only be termed as redundant.
Dallas Green has established a reputation as a Simon Legree in pinstripes, but this was ridiculous. While the Royals were getting a good night's sleep, taking a leisurely afternoon flight here and skipping a workout, the National League champions were facing the equally weary press through eyes that looked like road maps of West Virginia.
"NOT COMPLETELY MY idea." Green said, running a hand across the sandpaper growth on his chin while the Phillies ritualized what was roughly their 220th batting practice since late February. "1 was for not having a workout. Some of the guys told me they'd be out at the ballpark anyway. So I figured if some of 'em were coming out, we might as well all come out to keep 'em company. Hard work was one of the things that has been stressed as a necessity for this team to be successful and they're determined to stay with the program."
Green laughed. "Maybe I created a monster." he said.
If Steve Carlton's left arm was talking to the media, it would tell you that it is very tired, precisely as weary as the arm of a 35-year-old pitcher should feel when it is closing in on 320 innings pitched. Even the rigors of Gus Hoefling's program can only slow down the march of the calendar. It cannot turn it back.
Carlton will oppose Kansas City righthander Rich Gale tonight in the ticking time bomb the Vet will be when the Phillies try to nail down their first World Series championship in Game 6.
And when historians write the bottom line on Green's typhoon-lashed rookie season as a manager, hopefully they will record that the single most important thing he did was handle his pitching staff with virtuosity. And now, 172 games into the season, he has Carlton and Dick Ruthven, No. 1 and 1A, rested and ready to help produce one more victory.
"HE'S TIRED, THERE'S no question about it." Green said while Carlton contemplated his navel or whatever it is he contemplates the day before he pitches. "He has every right to be tired. But he's also got the quality of a champion who's able to come back and get it one more time. All we need from him is one more time."
Without the darting slider which terrorized the National League, with a fastball that never exceeded 89 MPH on the suspect radar gun NBC is using, Carlton managed 10 strikeouts in his 157-pitch Game 2 struggle. Lefty couldn't get on top of his slider using the super-slick and insufficiently rubbed-up baseballs provided for the early games of the Series. He was forced to drop down a little on his delivery and Bob Boone picked many of his sliders out of the dirt. The Royals' potent left-handed hitters have not seen the real Carlton. And whether there is enough left of his very best to dazzle hitters at this late October date will provide the most fascinating aspect of an evening which many veteran watchers of the town's victory-famished fans view with genuine apprehension.
"We'll make sure the balls are rubbed up pretty good," Green said. "After that little controversy in the second game they've been rubbed up much better. I've been making more trips to the mound lately than I like to make and I'm always checking them. I think they should be OK."
The Phillies clogged the bases with runners against Gale in Game 3. But they stranded them in clusters on the way to a 4-3 loss in 10 innings.
"I THINK WE WERE confident we could handle him," Dallas said. "We got enough runners on base. We just didn't get enough runs in. Hopefully, this time if we get the same opportunities, we'll have enough juice left in us to do it. God knows these come-from-behind things are great for TV and the fans, but they're hell for the manager and the players."
To keep everything in perfect balance, there was adequate grumbling and enough rancor to go around for an off-day.
Greg Luzinski still is wounded over the way Green has used and abused his mind, bat and body. The shortstop, Larry Bowa, gave NBC's Tony Kubek a good airing out concerning the former Yankees' opinion that he has lost range and strength of arm. Bowa then proceeded to give the national media his views on how the local press handled Speedscam during the All-Star break. Pravda has given the Free World press better reviews.
In other words, it was a normal workout, despite the athletes' lack of sleep.
And it took on a vintage bouquet when Green whittled away at what little is left of former Phillies lefthander Randy Lerch, who was last seen being sacrificed on the altar of post-season expediency.
Green was talking about how in past seasons the extra guys just sat there like old men on St Petersburg park benches waiting for their next Social Security check.
"IT WAS A BENCH, period," Dallas said. "It was not a participant. These guys are participants and they earn their dough; they'll earn their rings if we win it and they'll earn whatever else is gonna come with it."
Green praised John Vukovich's ability to get on anybody from the opposing pitcher to his own teammates, depending on the needs of the moment. And he spoke of how the organization never forgets guys whose loyalties run as deep as the utility infielder's.
"It's the same old thing," he said. "If you do something for the organization we don't forget those kind of things. But there again, and I don't point fingers, but Randy Lerch is a case in point. Randy Lerch left us. OK, I know it hurt and I know the decision that I had to make hurt a guy that has made his liveli hood in baseball and that hurts in itself.
"But Nino Espinosa 's very much a part of this team because he got over the hurt and he's part of it now. He's yelling and screaming as loud as everybody else and he's gonna earn his money and his ring. The other kid left us. And that we don't forget, either. That's pouting and baby stuff and that's not 1980. This is not a baby team. We're not going to put up with that stuff."
And with that said, the Phillies seem ready to go brawling into action.
In a World Series context it is Game 6. The way Dallas Green has viewed the season, though, it is merely the 193rd game and the Philableepingdelphia Phillies are one victory from entering a Promised Land that has eluded them longer than it eluded the Children of Israel.
Stories Galore in Phils' Clubhouse
By Bill Conlin
Steve Carlton doesn't talk to people who peck out their meager livings chronicling the deeds of athletes. And except for a few isolated audiences grudgingly granted and almost immediately regretted, Lefty has not addressed the literati at large since that shambles of a 1978 playoff mass interview in the cramped bowels of Dodger Stadium.
Ron Reed would rather go one-on-one with Dr. J than cooperate with a profession he feels has treated his relief career here with injustice.
Nino Espinosa has embargoed his thoughts to large segments of the local press for disseminating remarks by Manager Dallas Green which were unflattering to his valor and pain threshold during a long bout with shoulder bursitis.
Larry Bowa made a great personal sacrifice when he took a vow of silence after July's clumsy drug expose, a third-rate journalistic burglary. Nobody in the history of the game enjoys the media give-and-take more than Bowa and it is nice to see him back at the top of his abrasive, needling game. Mr. Bowa has been in excellent voice.
BAKE McBRIDE has been mute during periods of semi-seriousness. Much of the time, however, the rightfielder has been making an eloquent point with his sporadic silences: That a lot of writers ignore black and Hispanic players as if they were invisible, honoring them with their questions only when an interview is necessitated by a game-winning performance.
Gentlepersons of the media gathered here for the World Series carnival figured the Phillies clubhouse would be a cross between a Trappist monastery and a convention of Mafia hit men. But those who have done their work with an open mind have discovered that there are plenty of available talkers in the Phillies clubhouse, some of whom are among the most articulate and entertaining in the game.
Who's going to top Tug McGraw's blend of irreverent wit, baseball knowledge and patience? Any Pete Rose interview is like dialing up a recorded passage from the Baseball Encyclopaedia.
And any writer who can't put a column together from a Mike Schmidt interview is advised to re-evaluate his career goals.
Schmidt has been marvelous. In another life, the third baseman might have been Will Rogers. He's been on a hot streak of folksy philosophizing about his game and the role he plays in it.
Before yesterday's workout, Schmidt was detailing the difference, mental and physical, between the life of a professional football player and his baseball counterpart.
"I THINK THE biggest difference between the games is the mental toughness it takes to play baseball," Schmidt said. "You don't have to be as physically fit or as strong to play baseball. You don't have to want to hit something as hard as you can all the time. But football is all that preparation each week for one big game. I guess the baseball equivalent would be practicing all week then playing a 27-inning game on Sunday. But those guys don't fell too much like moving every week until Wednesday.
"There probably are only a few guys on this team who could last 10 plays in a pro football game. Keith Moreland is one because he's done it in college.
"But the Eagles are sitting over there and they don't know how in the hell we play this game every day for eight months straight. We're working on 190 baseball games right now, counting spring training and the playoffs. That's what's bothering me right now, putting these socks and pants on again."
Somebody told Schmidt to be happy he wasn't a catcher.
"Boonie," Mike said. "He's one of the guys who could last 10 plays in a pro game."
SO MUCH FOR the mental grind that is baseball's long season vs. the battering physical ordeal of the NFL. Somebody asked Schmidt if this was the Phillies' best team and he shifted gears to another topic as smoothly as a Formula One driver running the esses at Watkins Glen.
"If you judge teams by wins and losses and how far they go, yes," Mike said. "Obviously, the team in '76 was pretty good. Bowa had his best year. Dave Cash had his best year. I had a pretty good year. Luzinski had a good year. A lot of guys had good years offensively and we just got overwhelmed in the playoffs by the Reds. The Reds would tell you they were just a step above everybody else.
"I guess '77 was the year we should have been in the World Series. This year is the year we've been able to find a way to win. At important times in the season we've been able to find a way to win. That's more important than having a bunch of guys having great years, having great statistics and not finding a way to win. The other teams always found it and we couldn't. You can search all you want for that characteristic, but that's what every team wants, to find a way to win. Baseball teams that have that label are the ones that people talk about for a long time."
It was just a brief segment in an afternoon that became a non-stop interview for Schmidt. He supplied more angles than a geometry professor in a clubhouse which is supposed to have less good copy in it than the Moscow Public Library.
"EVERYBODY TELLS me we don't have talkers on this team," Green said while the media herd grazed on the AstroTurf. "I don't believe that. I think we've got some damn good talkers on this team, a lot of guys who will cooperate. One of the problems as I see it is a lot of writers think a player should talk when they want him to talk instead of waiting until the piaver wants to talk.
"It's not easy for a guy to play a three-hour gut-buster and go right to his locker and have guys firing questions at him. I notice the guys who consistently get the best quotes are the ones who hang back and give the players time to get settled."
Most of the guys who want players at their lockers immediately are a.m. writers lighting the impossible deadlines forced on them by made-for-TV starting times, but that's another story.
The deadline-whipped morning paper guys are the ones who will remember the patience and availability of Schmidt, Rose, McGraw, Bowa, Bob Boone, Del Unser and Manny Trillo when this writable and quotable tournament is history.
Bowa Rains of Fans' Parade
By Dick Weiss
The champagne has been ordered. And so have extra security guards, just in case the Phillies clinch their first World Series championship ever tonight at Veterans Stadium.
If everything goes as Dallas Green expects, the celebration could spill onto Pattison Avenue, erupting up S. Broad Street. Fans in this town have had 97 years to prepare for the party.
Larry Bowa says to excuse him if he doesn't help blow out the candles on their cake.
"We're well aware the fans want a championship," Bowa admitted yesterday as the Phillies took some off-day batting practice. "They are very much a part of this and I realize how important they are. But I only want to win it for myself and the Phillies.


"I'M AWARE OF all I've gone through to get to this. I remember all the things when I came up. that I was a Little Leaguer who would never amount to anything. There were a lot of other things said, and those have never left my head. It s pretty hard not to have a chip on your shoulder."
The 34-year-old Bowa has been the nerve center of this overly sensitive team ever since he broke into the lineup 11 years ago. He is a high-strung, highly competitive man who has achieved excellence by leading the National League in fielding five times. Bowa, whose lifetime bating average is .263, has been selected to the All-Star team five times.
This season, though, the storm that rages inside him broke loose, sometimes lashing out with uncontrolled fury at those around him.
His outspoken nature led to a temporary problem in spring training when he sounded off about his salary not being on a par with other top shortstops, a statement that evoked anger from management and led to an apology by Bowa.
Then, in July. Bowa and several of his teammates were the subjects of a published report about a drug investigation. Although nothing ever came of the story. Bowa was so incensed that he refused to talk with the press for nearly three months.
FINALLY, DURING the last week of the season. Bowa was quoted as saying Phillies fans "were the worst bleeping fans in the world" following the team's come-from-behind 15-inning victory over the Chicago Cubs. He later amended that statement, claiming he meant only the fans for that particular game. But, as a result, he has been booed recently.
"They (boos) don't bother me." he said. "I get motivated a lot of times by negative things. Reading negative articles, getting negative reactions from fans. I ain't going to get in no shell because they boo me."
Bowa has responded admirably in the last two weeks when the Phils were getting brush-burns from having their backs pinned to the wall. Bowa hit .316 in the playoffs and has batted .400 so far in the Series.
"We want this more than anything," Bowa said, when asked what motivates him. "We read in the paper if we didn't do this year that we wouldn't get another opportunity, that this was the end of the Schmidts, the Bowas, the Luzinskis. the Maddoxes. That they had given us a chance four times and we had failed. I'm sure guys embedded that in their minds.
"It wasn't just written from August on. We heard it since spring training."
Whether Bowa will be traded is debatable. He and his teammates are just one game away from planting their flag at the top of this Everest. "Greg Luzinski has had a bad year. Boonie has had a bad year." Bowa said. "But you overlook that The ultimate goal is to try to win everything. Then, the bad years just seem to disappear. They talk about the 1980 world champion team, they don't talk about a guy hitting .220."
AND HOPEFULLY, in Bowa's case, a brass or gold ring will wipe out a lot of bitter memories. "You don't forget about them," he said. "You just put them aside."
"A lot of people think we have dissension on our team. We don't have dissension on our team," Bowa claimed. "We can needle each other and we can also take it. I've seen guys come out into our clubhouse from opposing teams saying they don't see how they could put up with what goes on in our clubhouse. But we've learned how to accept it.
"We can take criticism from amongst each other. I'll be honest with you. This team doesn't take too much stock in criticism from the press. But we do take criticism among our peers. I think you can accept it a little more when a guy who played big league baseball rips you as opposed to somebody who has never played."
"Would you accept it if it was fair and correct?" one writer wanted to know.
"Yeah," Bowa shot back. "If it was all fair and correct. I know one story written about me wasn't fair and correct. And I'm supposed to accept that. And you wonder why I have a guard up.
"I'm telling you why. I used to get along better than anybody with the press. And, now, all of a sudden, I'm supposed to be a drug addict.
"I'VE DONE something my entire career and built up a reputation in this community going to the child guidance clinic and going to hospitals and visiting people and I'm a drug addict. I don't need that. And I'm respected in this game, believe me.
"I don't need that stuff. And then somebody writes something on hearsay. And the next day, they say, 'Oh, we made a mistake.' That's after it goes from here to Japan. I don't need that. And they wonder why I don't talk. All I'm asking is a fair shake. Call me at my house if you have a story and ask me my opinion. Not the next day after all the damage is done.
"It's one thing talking about a guy messing up a ground ball. It's another writing about a guy's personal life when there's no merit behind any of the accusations. I imagine you'd react the same way. This never happened to you. It's hard to relate."
Bowa was ripped up by the story when it exploded in front-page headlines. He admits it definitely affected his play.
"It just didn't affect me," he said. "It affected my family, my wife and her family. It took a long time to get over it. Mentally, I was not playing baseball. If I was Dallas Green, I would have benched me. That's how bad I was playing."
Bowa has since pulled out of that tailspin. But he is still riding the winds of crisis. "Until we got to the World Series," he said, "we had the label of choke artists because we won the division three times and never got to the Series. If I'm a fan, I think three division titles are pretty good. We've always had a very good team but the label hangs on our backs."
The Phillies get a chance to rub it off for good tonight.
Father Knows Best What Makes Bowa Tick
By Dick Weiss
What makes Larry Bowa tick?
His father, Paul, probably knows better than anyone. Paul Bowa, a one-time minor league third baseman and a former manager in the St. Louis Cardinals' chain, has been in town ever since the World Series began, watching his son, the fiesty Phillies shortstop, play some brilliant stretches of baseball.
"Larry was a good kid." Bowa said. "He never fooled around. He was in bed at 9 o'clock. He's just dedicated to the game. He ate and slept and everything was baseball, baseball.
"I helped him a lot. But I wasn't the type of father who made him play ball. I wanted him to play. But I didn't make him play. When I'd come home from work, he'd be waiting for me. I'd have to pitch him batting practice, hit him ground balls. Just the two of us. I'd have about 25 or 30 balls. He'd hit 30 of them, then we'd go out and pick 'em up. Then hit again. About 60 to 70 ground balls.
"I WASNT THE type of father who made him work. A lot of the guys made the kids get paper routes. But I knew he wanted to play ball. So I wanted to give him every opportunity in the world. And he appreciated it."
Larry Bowa has more than paid his father back for those hours he put in on a vacant ballfield in Sacramento. Paul Bowa helped transform Larry from an undersized kid who couldn't make his high school team to a five-time National League All-Star selection.
Say what you want about the guy's personality off the field, Bowa is one of the great competitors in the game, a player who has worked to get the most out of his skills.
"Larry had natural baseball instinct." Paul Bowa said. "Even in Little League. He used to cut off balls or cut guys off trying to go from first to second if he knew a guy wasn't going to get out of the hole. He had that instinct right away.
"When Larry played City College, I had a hunch he was going to make it. He was small and he had disadvantages but he made it. Now, he's done it all. Playing in the World Series, he's put the frosting on the cake. He's got Gold Glove, lifetime average of .263, All-Star and he's hit .300.
"HE COULD QUIT tomorrow and be happy. But 1 think Larry's going to hang on. Larry is a young 34 years old. He takes good care of himself. I think he's got three-four more years left in him."
Bowa probably will fight to stay in the game as long as he can. The game is his life, which might explain why he was emotionally torn to pieces when a published report last July linked him to a drug probe.
It certainly didn't take the tremors long to reach his parents' home in Sacramento.
"It crushed my wife and I," Paul Bowa said. "I got I don't know how many phone calls from relatives. 'What is this? What is this?' I just told them, "You know just as much about this as I do.'
"I didn't believe it. I know Larry. Maybe he's done some things he shouldn't have. But I don't think he'd do anything like that. Then, we were vindicated. But they never put it on the front page. They find out they make a mistake, they put it on Page 30.
"I think they should have come to him first, said, "We got some stuff, Larry.' That's what got him bitter, a little bitter toward the fans. He don't mean that stuff. He just gets mad, then he's sorry afterward."
Bowa's temper is legendary. But he seems to react better in adverse situations.
"HE'S A PRESSURE player, no doubt about that." Paul said. "He played ball one way, like I did. He played to win. He played to win. I played against my brother. He played second base and I played third base. And if I had to knock him down on a double play, I did. A lot of times, we knock each other down. I'd say, 'Are you all right?' He'd say, 'Yeah. Are you?' And we'd walk off together. I taught Larry to play that way, though. And afterward, the guys you're playing against are your friends."
Larry Bowa comes from a baseball heritage. Both his father and his uncle Frank played minor league ball in the California League. "And," Paul pointed out, "my wife was a good softball player. She was a better shortstop than I was a third baseman. She had a good glove."
When Paul Bowa looks out on Veterans Stadium tonight, he will be able to see a little bit of himself in Larry Bowa. "We've waited 25 years for this," he acknowledged.
"I'm going home Thursday. Hopefully, I'll get a day in-between to relax."
A Subtle Playoff Influence on Phils
By Stan Hochman
Billy Sunday once played here.
Maybe Ruly Carpenter thought he was getting another evangelist when he hired Pete Rose?
Maybe he thought Rose was going to rasp through that thick veneer of indifference that had settled on his team like nine layers of shellac?
With a sandpaper tongue? With fire? With brimstone?
"I ain't a preacher." Rose said yesterday. "I'm not a teller. I'm a doer."
COULD HE DO, do, do what he did, did, did before? Last year he hit .320 and the Phillies finished fourth. This year he hit .282 and they finished first.
He played every game both years including the very last, meaningless game in Montreal because he wanted to.
"I'm just not the type." he explained, "who can come to the ballpark on a Sunday and do nothin'."
But he is 39 and he is hitting only .158 in the World Series, which resumes here tonight. It may look like he's doin' nothin' if your research stops at the box scores.
But the other night in Kansas City, when Dickie Noles knocked George Brett down and Jim Frey came bellowing out of the dugout like he'd caught Brett's hemorrhoids, that was Rose who swapped unpleasantries with the manager.
"I WAS THE closest." Rose said at first. Then he rattled off a catalog of reasons why he confronted Frey.
"First of all," he said. "A. I didn't think Dickie was throwing at Brett. Why wait 'til 0-and-2 if you're gonna throw at him?
"Hey, I'm the guy who calls the pitcher's attention to it when it gets to 0-and-2. I tap my forehead and holler. 'Think.' 1 want 'em thinking what they're gonna do with the ball.
"And. B, I've been in baseball 18 years and I've never seen a manager do that to a pitcher.
"C. I had to get there because I know Dickie Noles. That's one guy you don't want to mess with. If you get in a fight with him, you'd have to shoot him to stop him.
"People say I should mind my own business. But that's one of my young pitchers out there. He's gonna try and help me win a World Series. He don't know what to do. He's never been in a World Series before. He's never seen a manager come out hollering like that."
SOME OF THE Royals took some feeble swings after that. That's another thing the box scores won't show.
Hal McRae doesn't use numbers to measure Rose's impact on his team. He played with Pete in Cincinnati. Nobody rumbles into second base harder, nobody on Kansas City is having a better Series, nobody in that dugout has a better appreciation of Pete's value to a team.
"Nobody has more drive than Pete does." McRae said. "He picks up a ballclub, not by what he says, but by the way he plays.
"He inspires you just by watching him. the way he never gives in to the pitcher, the way he slams the ball down after the third out. Day in and day out. I don't think anyone consistently gives as much of himself as Pete does."
In the beginning, too many Phillies treated Rose like the new kid in town, instead of the mortal-lock Hall of Famer he is. Only a grumpy handful of those cynics remain cynical.
"PETE NEVER HAD anything to prove to me," said Garry Maddox. "I automatically felt comfortable around him. But if anyone was 'waiting to see,' they have now seen it, in the way he took over down the stretch and in the playoffs. He's a great player and he inspires guys.
"You could see it in his actions. The hits he got. the aggressiveness he showed. He may not run faster than anybody, but he looks like he's running hard."
Ask Bruce Bochy how hard Rose runs when he gets up 270 feet of steam. But Mike Schmidt doesn't think that collision at home plate shook up Rose's teammates as much as it shook up the Houston catcher.
"Everybody on this team," Schmidt insisted, "would knock the catcher over, given the same opportunity. That's nothing new. Do Pete's characteristics have an effect on the other guys? That's been written a few times. The first time was a week after he got here.
"I consider him a good friend, a fun guy to be with, a great example on the ballfield. He pumps me up a lot. He respects my ability. I know we're each other's biggest fans. That's a good feeling that Pete Rose feels that way about me."
AFTER THE PLAYOFFS, Rose told some guys to relax, to have some fun. The message was lost on Schmidt. There are some guys on the Phillies who couldn't spell fun if you spotted them the f-u.
"He said the team that has the most fun will win," Schmidt said. "That's easy to say. Turn it around. The team that wins will have the most fun."
Schmidt spends so much time looking at the other side of coins, he should have been a numismatist. But if Rose pumps up Schmidt's fragile ego, he deflates Larry Bowa, allowing the scalding steam to escape by jabbing him with a well-placed needle.
"Pete gets his little quips in," Bowa said. "Guys are playing cards and he'll drift by and say, 'Oh, cards are more important than the game?' And then he'll laugh.
"He told me to have fun after we beat Houston. He told me not to worry if I went 0-for-20 or 10-for-20. He said it will be something to look back on. He keeps encouraging me. Tells me I'm having a helluva series, to go out and get some more hits.
"SO HE'S HITTING under .200, he don't care. He's not showing it. And me, I don't care if I hit zero the rest of the way, just so we win.
"You see Pete's enthusiasm every day. He acts like he's 23. Plays 162 same way. Spring training, same way. Playoffs, same way. It's got to rub off on you."
It's got to rub off on you unless you've got an armadillo's skin and a personality to match.
"This ballclub..." Rose said, rubbing a hand through his bangs. "Hey, it has nothing to do with the town, the people, the press.
"It's just the different personalities on the team. But, on the other hand, this team took on a different personality the last six weeks.
"As far as knowing who they are, what they are, what they're supposed , to do. It's different now, it's confident."
DIFFERENT IN some ways, the same in other, arrogant ways. Rose looks around, blinks in disbelief.
"All you can do is thank the media for making you money," Rose said. "Especially in a big town like this. What has the media done for Jimmy Connors but make him money? For Muhammad Ali? For Reggie Jackson? Me, I was a good player in a small media town.
"I talk to Mike Schmidt, has a chance to be MVP. I tell him you gotta cooperate. Same with Lonnie Smith. For a while, he wasn't talking. I sat here and talked to him. He had his sights set on being rookie of the year.
"I told him he had to talk to the press. It's not brown-nosing or kissing ass. These are the people who vote on that. Doesn't it make sense to cooperate?
"The trouble is, in this town, there's too much controversy. The Kansas City papers were full of nice stories, glad to be here, nice going, that kind of thing. Here, if we lose, we've choked.
"I THINK IT comes from all the newspaper competition. Everybody's looking for scuff."
Scuff? "Yeah, you know, dirt," Rose said, sighing. "The article about us coming home Sunday night, that was hideous, unjustified. The club told those people not to come out to the airport."
Rose talked softly to Smith about dealing with the media. He talks softly to Bowa about having fun, softly to Schmidt about using all his dazzling skills, softly to Maddox about blocking out distractions.
For all his brash swagger on the field, he has trouble scolding guys or nagging guys, even when he sees a career dissolving in booze.
"Sparky Anderson told me," Rose recalled, "that if I took care of myself, when it came time to retire, I could play a few more years. He knew I didn't smoke, didn't drink. He told me that when I was around 28. I've seen guys retire at 30, retire at 25. You've only got one body.
"I'LL TALK TO some guys. If I see a guy who drinks a lot, I'll tell him there's no sense in it. I'll tell him in a nice, polite way. You see some guys 24, 25, they've got to have a drink in their hands all the time. They're not dumb, but they're not smart enough to think about when they'll be 35.
"It's the same thing about salting away some money. I've played with a lot of players, great players, who ain't got a pot to pee in now. They call me, ask me when am I gonna be a manager, so they can come work for me. And that's sad."
Rose will have pots to cook in, to pee in. Different pots, of course. Meanwhile, there is a World Series to be won, some base hits to be stroked out of that unique crouch.
"Look at my whole career," Rose suggested. "I've been very unsuccessful against pitchers I don't know. That's why I haven't got a good World Series record or Ail-Star game record. I don't enjoy hitting off guys I don't know. But, the second time around...
"Sunday, I hit it hard a couple of times. The night before I hit it hard three times. And... I expect to hit the ball hard Tuesday night."
If Phillies Win, Let Vet Stadium Stay Where It Is
By Tom Cushman
Patrick J. Cassidy stood near the batting cage in Veterans Stadium early yesterday afternoon, looking out over a scene of pastoral quality, perhaps committing to memory for a final time the orderly arrangement of a ballpark which – by even the most optimistic assessments – is in some peril. Like a general in the pre-dawn hours at Bastogne, Cassidy seemed outwardly relaxed but was betrayed by his words, reminders always that there soon would be the rumble of Panzers in the distance.
Pat Cassidy is the director of stadium operations at the Vet and a recognized expert in the commando raids which isolate small disturbances in the stands before they reproduce. However, because of the previous habits of his summer tenants, who usually are on safari in the Canadian woods by World Series time, Pat has had no practice at containing widespread lunacy.
"This field is worth a great deal of money," he was saying yesterday while the Phillies practiced in the leisurely manner of a team certain of its destiny. "We have to protect it, and the only way to do that is to try and keep people off of it."
THE WORDS, NOBLY offered, had a hollow ring as they settled onto the carpet.
With the Phillies at the threshold of the first World Series championship in the 97-year history of the franchise, the prospect of watching the door swing open is not altogether pleasant when one considers what probably is waiting on the other side. The cleansing effect on the battered psyche of the Philadelphia fan is a positive result... the concern here is for all the other things which figure to become battered during the celebration process.
Having watched the loonies at work on occasions far less inspirational than the one nearly at hand, there is an understated fear among civic officials that the Phillies will win and that the city will then promptly make an ass out of itself on national television.
I had the feeling all day yesterday that the streets were too quiet, that the fans must be home studying films of the 1973 (Mets) and 1977 (Yankees) New York crowds. On both occasions, the citizens of that town rejoiced by field-stripping the stadiums, attempting to dismember their heroes and, failing that, doing a fair job of bloodying each other. Sod from both Shea and Yankee Stadiums may still grow today in Brooklyn, Queens, and Staten Island, too.
"The majority of our fans are good people," Pat Cassidy insists, "There will be a few-who get out of hand, but we can handle them if the rest of the crowd doesn't try to turn them into heroes, and then join them. The important thing to understand is that those kind of heroes go to jail around here."
TO AID IN THE defense of the property, Cassidy has recruited additional squads for his security forces, has added approximately 100 ushers, and has been assured by the city that the number of policeman available will be increased substantially. None of this will matter, of course, if there is a resolute charge by the drunk and the demented, who always seem to have an overwhelming supply of reinforcements once the battle is joined.
Pat Cassidy's only real hope, thin as it may be, is that Philadelphia profited from watching the conduct of the Kansas City fans over the weekend. As feverish in their own manner as the ones here, having had to put up with Charlie Finley, his mule, losing to the Yankees in three previous playoffs, never before having reached the World Series in the 25 years since professional baseball came to town, offended by the demonstrative antics of Pete Rose and Tug McGraw, they still managed to deal with both success and failure over the weekend with class. And the image of their town profited accordingly. And if that sounds almost like a hint, so be it.
Having witnessed several of these coronation ceremonies in other communities, there are a couple of other suggestions which I thought should be passed along.
(1) It probably would be a good idea not to boo Larry Bowa during the introductions tonight. The guy is hitting .400 for the Series, has played a decent shortstop, and before yesterday's workout showed a flash of the old spirit by hanging a few lines on NBC's Tony Kubek, whose assessment of Larry's work in the field has been less than flattering. Beyond that, baseball protocol says you should not boo guys who are wearing your colors, and are one victory removed from winning the World Series.
(2) This same rule, then, should be applied to the others among the Phillies who have been in disfavor this summer. Applaud tonight, tomorrow if necessary. Wait and boo them when they return next season, with whatever club they happen to be representing at that time.
(3) Since most people enjoy having the most complete record possible of great moments in their city's history, say a prayer that Steve Carlton does not emerge as the hero tonight. A recurring nightmare among the several hundred media people on campus is that Carlton pitches a three-hit shutout in the final game, which is won by the Phillies, 9-0, with nine different guys driving in the runs. Meaning that the next morning the journalists will be able to offer the world the results of an interview with Steve Carlton's back.
(4) Presuming that the World Series championship comes to Philadelphia cither tonight or tomorrow, do not expect to wake up the next morning and discover that the hostages have been released. Exxon will not provide free gas for the city in 1981. And if you throw empty beer cans out into your street during the celebration, they probably will still be there next week. They might still be there when the Phillies win their next pennant.
(5) Should they become champions, do not expect the Phillies to undergo a personality-lift as a result. Many of them still will brush by kids with autograph books, few of them will invite Dallas Green to dinner. The price for speaking engagements and shopping center appearances will accelerate sharply. There will be new contracts to be negotiated, and there remains the impasse between the owners and Major League Players Association, which means the only thing flying at the Vet next opening day could be the flags collected during this remarkable summer.
Also be advised that winning the Series will not cause the rest of the nation to forget the boorish behavior of several of the athletes involved. It would be a comfort to think that the fans will have better manners, but I'm not very optimistic and neither, really, is Pat Cassidy.
Still, we'd like to suggest that if the moment does arrive, you leave the stadium where it is... for a practical reason if none of the others seem attractive. The Eagles, remember, will need it on Sunday.
Players' Hectic Road Life Not Easy
By Phillie Phanatic
"It's been so long since I've seen my little girl I'm starting to forget what she looks like." - Keith Moreland
People sometimes can't realize what it's like to spend more than half of every year as a baseball player.
From March until October, they're never away from it. Except for the All-Star break, there's not a day that goes by when they don't put that uniform on. Even on days when there's no game, there's always something, like a workout.
Just three days off in all those months. It has to take a tremendous physical and mental toll. The Phanatic, who's only really involved at the home games, is just starting to realize what it takes out of them, and what it takes to win a World Series.
The teams that win have to have luck, stamina, physical health, mental health and determination. It's really an accomplishment.
•
"Hey, what'd you say my wife's name is?" – standard joke on Phillies' bus
It's got to be a strange feeling. They're always packed, their clothes in a suitcase, going somewhere else. They're never settled, always running here and there.
It's always make this bus at 3.30, make that meal by noon, be at the airport by 6:30. From spring training 'til the World Series, their whole life has been an itinerary.
The whole process is very unforgiving. Sure, it's not like they're not rewarded for what they have to put up with, but the life is still a hard one.
And they live it for six months a year, until they quit the game or the game quits them.
•
"Well, another laugher." – Greg Luzinski
After the long season, and the tough win in Kansas City the other night, Greg said that. It's kind of funny – we never win one easy.
During the year, if you're up on a high point, there's usually a letdown. Well, we were on a high point after those wins in the first two games, and we didn't really have a letdown. You might say those two losses were a letdown, but they really weren't because we were in both those games.
If the Phils were ever going to have a letdown, it was after the Houston playoff series. Those five games had to suck every bit of emotion out of everybody. I know the Phanatic and the fans were certainly drained – imagine what it did to the players.
But they came right back and won the first two games of the Scries. No letdown at all. And now, they're looking at one more win for the whole thing. The feeling is, we've got to pull together one more time. It'll be an absolute tragedy if they can't.
•
"Make one a laugher." – everybody
That's the theme – "Make one a laugher." And it looks like we have all the right ingredients. With Steve Carlton as the starting pitcher for tonight, we've got the right guy in the right spot. We're due to see a super game from the Lefty we all know. And the rest of the guys – Schmidt, Boone, Unser, all of them – have pulled together so well. That's why there's no overwhelming choice for MVP of the Series – they've all done it.
If a scriptwriter were putting this down on paper, he'd probably have the Series go to a seventh game, it's been so close all along. But nobody wants that here.
Six will be just fine.
The Wit and Wisdom of Quisenberry
By Ray Didinger
Apparently, Dan Quisenberry has come to grips with himself and his life's work. I mean, if he hadn't, you would be reading about him on the obituary page at the moment.
You see, Dan Quisenberry used to be the Samurai Sidearmer, a relief pitcher who felt the only honorable way to deal with defeat was to commit hari-kari.
He recalls a time in high school when, after a particularly distressing loss, he attempted to kill himself in the locker room. Well, sort of.
Quisenberry tried to drown himself in the shower. He stuck the shower nozzle in his mouth and let the water gush down his throat.
NEEDLESS TO say, it did not have the desired effect. All it did was make him sick. His teammates considered his behavior, well, bizarre.
"That's just the way I was," Quisenberry was saying as he awaited tonight's sixth, and possibly climactic, World Series game against the Phillies.
"Very high-strung, very intense. I used to get upset over everything. I had a terrible temper. I didn't know how to handle situations.
"I guess I was just immature." Quisenberry said. "You can ask (Royal Coach) Gordon McKenzie about me. He managed me in the minor leagues. He did a lot to settle me down."
Quisenberry looked up, his eyes twinkling merrily. "That is, if you consider this settled down," he said.
Yeah, Dan Quisenberry has settled down. He has developed into one of baseball's finest relief pitchers, winner of the 1980 Rolaids Fireman of the Year Award with 12 wins and 33 saves.
He is one of the main reasons the Kansas City Royals won the American League pennant. He entered 41 regular-season games with the Royals leading and Kansas City won all but two of those games, a remarkable figure.
FROM JUNE 24 through Aug. 5. when the Royals were opening up their insurmountable lead in the Western Division, Quiz appeared in 32 games without a loss. He won six and saved 20 in that stretch.
In the American League playoffs against the New York Yankees, Quisenberry saved Game 2 and won Game 3. pitching five innings and allowing no earned runs.
The World Series, however, has been a different story. Quisenberry has appeared in all five games, working effectively in three, going up in a mushroom-shaped cloud of runs in the other two.
Quiz was the losing pitcher in the second game, when he gave up four runs in the eighth inning, watching helplessly as Del Unser and Mike Schmidt rattled his sinkerballs off the Veterans Stadium fences.
As appearances go, this was a relief pitcher's nightmare, a game that not only slipped through his fingers but almost amputated them. A few years ago, Quiz would have headed... you guessed it. straight to the shower nozzle.
Not this time. When newsmen visited the Royals clubhouse after the game, they found the lanky 26-year-old red-haired pitcher in remarkably good spirits. He said he actually "threw the ball pretty well."
"Schmidt must be a heckuva golfer, the way he hit that pitch," Quisenberry said, shrugging.
TWO NIGHTS later, the Kansas City players showed up at Royals Stadium for Game 3 and they found Quisenberry walking through the clubhouse with two Band-Aids taped to the front of his blue-and-white sweatshirt. Band-Aids, you say?
"There is an expression in baseball," Quisenberry explained as gently as possible, "that if a pitcher gets hit hard, we say he had his T's knocked off.
"Well, I had my T's knocked off in Philadelphia, so I was wearing the Band-Aids to protect the damaged area. A few of the guys noticed and they thought it was funny.
"I thought it was funny." he said, "but, then, I think most things are funny."
That night, Quisenberry pitched 2⅓ shutout innings and picked up a 4-3 victory. The next day, he pitched two shutout innings to save a win for Dennis Leonard.
After Saturday's game, someone asked Quisenberry how long he could go if Manager Jim Frey needed him in Game 5. After all, he had pitched in six straight pressure games, counting the American League Championship Series.
"How long?" Quisenberry said. "Oh, about 45 minutes."
HE WAS ONLY joking, of course, but it turned out to be almost exactly what he pitched Sunday as the Phillies – and Schmidt and Unser – again cuffed him around, like bullies working over a choirboy.
The loss put the Royals in a difficult position, down three games to two with the Series returning to Philadelphia. If there was ever a time for Quisenberry to revert to his old manic-depressive ways, surely this was it.
He didn't. He described the Royals' predicament in the most graphic way imaginable.
"We have our backs to the wall." he said. "The Berlin Wall... East side."
It is a fascinating evolution for this pitcher just two years out of the minor leagues, this guy who looks very much like a cartoon character come to life.
Quisenberry is no longer the jittery perfectionist with the cyanide capsule taped under the brim of his cap. He is a poised professional, a man who has come to accept bad-hop singles and 10th-inning losses as an occupational hazard.
Quisenberry understands the business now. He knows if he steps onto enough swaying flagpoles, sooner or later, he's gonna wind up splattered on the sidewalk. He knows if he walks enough burning buildings, eventually he's gonna get his red moustache singed.
But, for every disappointment, there are five triumphs, five times he comes off the mound, dusting off his hands, leaving the other team chewing on its bats, leaving the fans sagging limply in their seats.
LIKE HIS counterpart on the Phillies, Tug McGraw, Dan Quisenberry has two things going for him. First, he has a trick pitch. Actually, not a pitch as much as a delivery.
Quisenberry throws that deep side-arm, almost underhand, style which made Pittsburgh's Kent Tekulve so effective last season. In fact, Tekulve worked with Quisenberry last spring and converted him from an orthodox sidearmer to a so-called submarine pitcher.
Quisenberry now throws a baseball . like an arthritic grandfather skipping stones across a lake, like a kid bouncing a rubber ball off a South Philadelphia curb.
The ball comes at you from somewhere south of his kneecap, it seems to appear out of the resin bag and, for a right-handed hitter, it is very difficult to hit.
"It's made all the difference in my career," Quisenberry said. "Now my fastball is a natural sinker. I never was much of a strikeout pitcher, so now I'm getting them to hit more balls on the ground."
Quisenberry is not exaggerating about his inability to strike out hitters. In 128 innings of pitching this season. Quiz struck out just 37 batters.
In fact, several Royals were betting Quisenberry would finish the year with more saves than strikeouts. They formed the "30-30 Club" with catcher John Wathan as the unofficial president and insult-hurler.
The other thing Quisenberry and Tug have in common is an extraordinary wit. Considering their occupation, it might qualify as gallows humor but it is worth repeating.
THE FOLLOWING are excerpts from the Wit and Wisdom of Dan Quisenberry:
•  "I don't like to make a big deal about my job. I'm just a garbageman. I come into a game and clean up other people's mess."
•  "I don't think God really cares about baseball. He's got more important things on his mind."
•  (About being compared to Yankee reliever Rich Gossage) "I don't feel comfortable being compared to a guy who throws harder than God."
•  (About retaliating for the brush-back of George Brett) "Could I scare the Phillies? If I threw grenades, maybe."
•  (About his wife, Janie) "She was gonna be a teacher, until I incarcerated her."
•  (About his daughter, Alysia) "She has my coloring. None."
•  (About his modest lifestyle) "I've got no dreams of a palace. I will not get a moat. I can't afford alligators. I don't like drawbridges. There's always that wasted dungeon."
This is all funny stuff but the Quiz won't be in any laughing mood if Jim Frey calls him into tonight's game, as he almost surely will. After all. the Royals have their backs to he Berlin wall, East side.
If they lose this game, somebody had better follow Dan Quisenberry into the showers, just to be sure.
Can Royals Win with Gale Force?
By Jay Greenberg
With all hell scheduled to break loose at a party tonight at the Vet, Rich Gale looks the part of the bouncer.
He goes a fearsome 6-7, 225, and has a red beard that's bright enough to pass for a stop sign. The World Series is at its intersection tonight, and if the Phillies run Gale, that's it for the tournament.
Rich pitched in Game 3 for 4⅓ innings, giving up 7 hits, 2 runs, 3 bases on balls, 2 strikeouts, and one throw to a wrong base that allowed one of the runs to score.
It was a struggling kind of performance, one that could suggest Gale is an accident waiting to happen. It has also been suggested that Manager Jim Frey has made the wrong choice for the do-or-die game.
If Frey has any tricks in his managerial bag, he hasn't used many over the first five games. Reaching in deep as he faces the end of the line, the Royals manager could pull out only a Gale or a Paul Splittorff.
So do you go with a 26-year-old fastballer of four years' experience, a guy capable, on the right night, of shutting the Phillies down? Or do you want a 34-year-old curveballer and control specialist with 10 years' experience and a 2-0 record in League Championship Series? Splittorff would have less chance to be spectacular, maybe more smarts to keep the Royals close while they try to defuse Steve Carlton and the bomb they sit upon.
FREY WANTS GALE because he's right-handed. Mike Schmidt and Greg Luzinski both bat that way, if Manager Dallas Green chooses to have Luzinski bat at all. The Royals manager won't buck the percentages, and Gale obviously won't disagree with the decision.
"I'm thankful for the opportunity," said Gale. "I can empathize with Splitt and his feelings. He's kind of hurt.
"But I can't argue. What am I going to say to Jim Frey? 'Jim, I really don't think I should pitch?' I'm not in a position to do anything about it.
"If a guy is throwing good, it shouldn't matter whether it's a righty or a lefty. Willie Aikens can hit anybody, when he's hot. It's the same way with Schmidt.
"It's an important game, but it's not life or death. If I succeed, the sun's coming up Wednesday morning. If I lose it'll be too bad and the sun's coming up, well, Wednesday morning anyway.
"I'm trying to take this in stride. Obviously I'd like to go out and pitch a great, strong game."
The decision to go with Gale arched a few eyebrows in the Royal locker room. And produced a semi-explosion from Splittorff. It is one of the few bubbles from the undercurrent of dissatisfaction with their manager's Series-long decisions that has surfaced.
ONLY THE DIRECTLY slighted – Clint Hurdle, who was pinch-hit for by Jose Cardenal Sunday, and Splittorff – have let their anger boil publicly. But a lot of Royals think Frey has overused Dan Quisenberry. And a few wondered why Pete LaCock, a season-long defensive replacement for Willie Aikens, was not at first base in the ninth inning when Del Unser's game-turning double came calling.
But no one is as mad as Splittorff.
"I understand that (right-lefty) idea." Paul was quoted as saying. "But I've been a front-line pitcher my whole career and pitched against every club in every situation. If he (Frey) doesn't feel that's my role, I'll leave here.
"I'll make so many waves they can't keep me here. But not this week, it's too important."
Asked whether he had discussed his feeling with Frey, Splitorff said, "I don't talk to him. I don't think anybody does. We've kept our distance all year."
Splittorff was 5-6 at the All-Star break but 9-5 the rest of the way. In the third and clinching game of the Yankee series, he pitched 5⅓ innings of five-hit ball. Which was plenty to keep the Royals competitive until George Brett unloaded on Rich Gossage. The Royals would surely take their chances with something like a good six innings tonight.
BUT THEN GALE, who finished 13-9 with a 3 92 earned-run average, had his moments of brilliance this season, too. After a flare-up of tendinitis contributed to Rich's 0-5 start, he then won 13 out of 15 decisions over a two-month stretch.
He allows that his mediocre showing in Game 3 may-have been caused by inactivity. "It was 12 days since I had last pitched," said Gale. "I don't want to use any excuses but 1 only pitched 9⅔ innings the last month of the season.
"A layoff, though, shouldn't affect me as much as it does a Larry Gura, a control pitcher. Hopefully, this time (with three days rest), it should be just about right.
"If it happens, it happens. I'm trying not to put too much pressure on myself. I'm just happy for the chance.
"Hopefully I'll be a little more relaxed, it being the second game I've pitched. I think I was overthrowing a little bit Friday night.
If Steve Carlton is right tonight, more than 60,000 people coming to the Vet will overthrow a party. Gale will have to be cool. That means pitching against the Phillies batters and not playing mind games that pit him against Carlton.
"He happens to be the guy pitching the sixth game," said Gale. "That's the way I have to look at it. Whether it's Ruthven or Marty Bystrom or Bob Walk or anybody. We have to beat anybody who goes up there.
"I said before the Series if we were going to win it, it would probably mean beating Carlton once. We didn't do it the first time. We'll just have to do it now."
Phils to Reign in a Parade
City officials are girding for pandemonium tonight if the Phillies win the World Series, but they hope the fans cool their jubilation until the victory parade tomorrow.
The parade will begin at 11:30 a.m. if the Phils take it tonight. If they win in seven, the parade is scheduled for Thursday morning at the same time. If the worst happens and the Royals win, there will be no parade.
The parade will include 13 vehicles, among them a flatbed truck carrying the mayor and Phillies starters. The procession will begin at 18th and Market streets, turn at City Hall, and head south on Broad Street to JFK Stadium, where there will be a victory ceremony.
Stadium gates will open at 9 a.m. the day of the parade.
Hoodoo You Think Wins for Phils?
By Maria Gallagher
It's the top of the ninth inning, Game Five, World Series, Phillies trailing Kansas City by a run. You:
A. Hide in the bathroom.
B. Change your T-shirt.
C. Break out the champagne.
D. Refuse to move a muscle.
E. Tug on your Miraculous Medal.
Mike Schmidt, Del Unser, Manny Trillo and Tug McGraw have gotten all the credit for moving the Phillies to within a heartbeat of a world championship.
BUT WHERE WOULD Dallas Green & Co. be without the folks who help win games without even showing up at the ballpark? We're talking about people like Joe Coleman and his lucky Chicago White Sox hat, Ben Johnson and his bubbly, and New TP Tavern patrons, who hex the Royals with hard rock music.
The name of their game is superstition, and the devotees swear it works.
Coleman, 21, of 24th Street near Lombard, wouldn't think of watching tonight's game without his chapeau. He still feels bad about one loss in Houston, which he watched hatless.
"My mother just won't answer the phone during a Phillies game. She thinks it's bad luck," one fan told another between innings in a Fairmount bar Sunday.
AT THE SAME BAR, a passionate Phillies fan slipped into the ladies' room as the ninth inning began and stayed there when roars told her the Phillies were rallying. She didn't return until the Phils were safely ahead. (Score a sacrifice on that.)
Lawyers A. Benjamin Johnson and Tom McGill think they uncorked that ninth-inning victory at Johnson's Bucks County home.
Johnson – who once picked a jury according to their Zodiac signs – noticed during the season-ending series with Montreal that the Phillies made a comeback each time he poured a round of champagne for his friends.
"We've been drinking Mumm's and some other brand. Ben is the connoisseur," said McGill. "It doesn't work every time, but we're ahead of the game."
Johnson's "other brand" is Dom Perignon. At $47.22 a bottle, it's an appropriate beverage for toasting the high-priced Phillies.
"Of course it doesn't have any effect on the game, but it makes us feel better," Johnson laughed. "You want (tonight's) score? 1-0. Home run by Schmidt. We may start drinking from the beginning.
THE MAGICS IN the music at the New TP Bar, Aramingo Avenue near Willard Street in Richmond, where the favorite juke box selection these days is "Another One Bites the Dust" by the rock group Queen.
"It seems to bring the ballplayers luck when they play it," reported the bartender.
The rest of you out there know who you are, and what it will take. This is no time to choke.
Brett at the Plate:  Eatery Hits a Warm Spot
In case the Royals do take the next two World Series games here, we shouldn't begrudge them their celebration, and Vincent Cipollone, the owner of Chips Italian restaurant at 1122 S. 8th St. will be ready for a Royal onslaught.
Royals third baseman George Brett was taken to Chips by his buddies, Frank Lemaster and John Sciarra of the football Eagles, before the Series started last Monday night, and found it scintillating. So scintillating, in fact, that he's made it the Royals victory headquarters – and the Royals will have their victory celebration there Wednesday night if they win the Series.
"We sort of helped him along on his ailment, though," joked an employee, referring to Brett's infamous hemorrhoids. "But when he came back (last night), we told him we would cut down on the spices and he said, 'No way.'"
Last night a dozen Royals went to Chips for dinner, eating specialties like the Italian mixed salad bowl Chips and mussels posillipo (mussels mixed with marinara sauce, wine, garlic and hot peppers).
•
You never know what you're going to pick up on a flight from St. Louis to Philadelphia.
Yesterday evening found a few Phillies fans coming in from the "other" Missouri town for the final game(s) of the World Series.
One of them, Ian Dogole, was wearing his outsized Phillies cap when he was met at International Airport by his brother, Jim, of Merion.
"I came all the way from Palo Alto (Calif.) for this." said Dogole, who calls himself a "studio entertainer. "I wouldn't miss it. I have tickets for the sixth game and hopes for the seventh... but I really hope there's no need to worry about the seventh game."
On the same flight was Bertram Schader and his son, Marc, 11, who had taken in the games in Kansas City, stayed overnight with friends in St. Louis and were going out to visit Bertram's brother, Byron, in Rydal, Montgomery County, before going to tonight's game.
They seemed your typical fans, with Phillies caps and shirts. Typical until you read Schader's business card:
"Touristauto Francauto, S.A. Concesionario Citroen, Victor de la Ser-na, 39, Madrid."
"I came here from Spain to see the games when I got tickets," said Schader. "It's been worth it. And I want to see the victory parade before I go back."
•
The World Series returns to Philadelphia tonight under partly cloudy skies and cool temperatures.
Accu-Weather says there is virtually no chance of rain. The temperature at game time will be about 52 degrees, dropping into the 40s by late in the evening.
The weather for Game Seven tomorrow night, if necessary, will be about the same, Accu-Weather said.
•
Anchors aweigh for Phillies Fever.
An 1,800-horsepower, 93-foot tugboat will be rechristened "The Tug McGraw" today at Penns Landing in honor of the veteran relief pitcher who has starred in the team's late-season pennant drive, the playoffs and the World Series.
•
Pennsylvania Banking Secretary Ben McEnteer has authorized Philadelphia banks and other financial institutions to close all or part of tomorrow or Thursday if the Phillies win the Series.
McEnteer said the financial institutions may decide to close if "their normal operations, particularly those in Center City Philadelphia, may be interfered with as a result of the anticipated crowds assembling to celebrate should the Phillies win the series."
Frey Won't Change Royals' Strategy
United Press International
Jim Frey knows the hour is far too late for changing strategy.
The Kansas City Royals manager finds his club trailing the Phillies, but Frey, far from urging caution on the part of his players, is urging them to play the same aggressive style they played all season long.
Frey specifically mentions the club's base-running. The Royals have had four runners thrown out on the bases in critical situations during the Series but Frey, far from being intimidated, wants them to run more than ever.
"Our baserunning has been more cautious than during the regular season," Frey said yesterday when the Royals arrived at their hotel.
"I'VE HAD THE steal sign on in several situations and they say they just haven't been able to get the jump. This didn't happen during the regular season. Maybe in the Series there's a tendency to be a little more cautious. But now we've got to figure, 'What do we have to lose?"
The latest baserunning casualty occurred in the sixth inning of Kansas City's 4-3 loss Sunday. With one out, Willie Wilson doubled off the right-field wall and outfielder Bake McBride's relay to Manny Trillo and Bob Boone caught Darrell Porter out trying to score a run that would have given the Royals a 4-2 lead. Instead, Wilson was left on second when Frank White fouled out.
Frey regretted the fact that the Royals had once again missed an opportunity to blow the Phillies away with one of their patented big innings.
IN ADDITION to reminding his club to stay alert on the bases, Frey must also contend with a Philadelphia crowd that can be far more intimidating than the one that the Phillies faced in Royals Stadium.
"I think the first two games here kind of conditioned them to it," said Frey. "I think they'll feel much better about it now."
Frey said he noticed some of his players showing signs of nervousness in the opening games at Veterans Stadium.
"You know, when a ballplayer is young he won't admit that he's nervous," said Frey. "But later on, after a few years, they'll say that they hardly knew where they were. This is not unusual for the first two games."
A Konstanty Memory of Relief
By Phil Jasner
Jim Konstanty Jr. is an attorney in Oneonta. N.Y., where his sister. Helen, is an elementary school librarian, his mother runs an antique shop, and his brother-in-law operates what was once Jim Konstanty Sr.'s sporting goods store.
"My memories of 1950, the year the Phillies won the pennant, are through the eyes of an 8-year-old, which is what I was at the time," Jim Jr. was saying the other day.
"I was a kid going to the ballpark with my dad. who happened to be a player. Every day they were home, I'd shag balls during batting practice, help out around the locker room, then sit in the stands and watch. I was in my glory.
"It's funny as I think about it now, but as they made their pennant drive, it was just another day at Connie Mack Stadium for me, something I was used to doing. But in retrospect, it's thrilling to think about. When people kid me about it. I suggest that it's like limping: if it's something you've always done, you probably never realize you're doing it"
JIM KONSTANTY SR, who died in 1976, became in 1950 the first pitcher ever named a major league MVP. He appeared in 74 games, won 16, saved 22. and went from July 23 to Aug. 23 giving up no runs and seven hits in 22⅓ i innings. Years later, when the Whiz Kids gathered for a reunion, the Phillies brought him in from the bullpen in a helicopter over the rightfield wail.
"Then, in 75. when they had a Silver Anniversary reunion." Jim Jr. recalled, "they introduced all the players, saving my dad for last. They brought him out in a fire engine, because that's what he was, the Whiz Kids' fireman. I don't know if the crowd sensed that he was in ill health, but my children were with me, and they saw their grandfather get a standing ovation."
Jim Jr. has a 16-milimeter film from that championship season, but never tries to measure comparative success.
"I would think, given spending power and inflation," he said, "that my father did pretty well.
"One thing I remember, though, is that he came from a poor, Polish immigrant background, and he knew what it meant to be careful.
"They didn't calculate 'saves' for a relief pitcher back then, but he always kept track of what he considered a game he saved. I think that's where the team got the statistics they use on him now. When it got to be contract time, he was his own best negotiator."
LET THE RECORD show that Konstanty finished 62 of the 74 games in which he appeared in '50, that he started the first game of the World Series against the New York Yankees, that – in the Phillies archives – only Dick Farrell, Tug McGraw and Jack Baldschun are formally credited with more saves.
"That was one of those years that just seem to sneak up on you," recalled Mary Konstanty, Jim's widow.
"At the beginning, it was just a good combination of things, a lot of players having good seasons. Then, all of a sudden, they were the Whiz Kids, and things were rising to a fever pitch.
"It seemed like Jim was in almost every game, pacing himself to be available. Relief pitching was rather new territory at the time, and Eddie Sawyer (the manager) had geared him for it.
"I watch Tug McGraw now. I can appreciate the way he's been putting out the fires, and I know if a team intends to go all the way, they need that ingredient.
"But my husband was the first to do it for the Phillies. He'd almost always be throwing in the seventh, eighth or ninth, and sometimes even as early as the fifth.
"HE HAD SLENDER, sinewy muscles, and he was able to do that.. I remember, a little earlier in his career, the Boston Braves had passed him over because they were more interested in another young pitcher they had. His name was Warren Spahn.
"While he was at Toronto, then in the Phillies system, he decided it'd be important to plan for the future, so he started his sporting goods store. He did it on a shoestring, but it was important to him, felt it would give us security later on."
And then Sawyer suggested becoming a specialist.
"Eddie had Jim in the bullpen 13 straight days. He'd come home at night, his arm would be all red and sore, but telling the manager was the last thing he'd ever do. Instead, he learned to throw less hard when he warmed up, he began to understand how to save himself. He didn't throw in the bullpen as if it was the first pitch of the game."
And yes, Mary Konstanty still responded like a baseball wife when NBC's cameras scanned the wives in the stands during the weekend games in Kansas City.
"I remember how I tried to be cool, calm and collected, but I saw how each player's wife would concentrate, pause in conversation, when her husband would be hitting or making a play. Your heart tends to catch each time, but then it becomes a norm, something you learn to live with. I'm kind of glad I never had to worry about the TV cameras being on me, because that must make it even more difficult."
WHEN THE PHILLIES reached the playoffs in 76, Mrs. Konstanty says she was asked to throw out the first ball at one of the projected World Series games.
"That happened a couple of times," she said, "but then they didn't make it. This year, they're in the Series, but nobody asked me.
"I don't mind, though, because I was so pleased to see Eddie Sawyer and Robin Roberts involved in the first two games in Philadelphia. And to see my husband's old team in it is a special thrill... it makes me relive all the feelings of breathlessness, apprehension and pure joy that I first experienced 30 years ago."
Later on, Jim Konstanty became the athletic director at Hartwick College, helping develop pitcher Dave Lemanczyk, who eventually graduated to the American League. And Jim also hired a young soccer coach named Al Miller, who came to Philadelphia in 1973 and won the North American Soccer League championship with the Atoms.
"I still get a few letters a month from fans and card collectors, asking for autographs," Mary Konstanty said. "Most of the people who write don't realize that Jim's not alive anymore, but I still answer their requests.
"I usually write a note explaining the situation and say that I know Jim would've have wanted them to have something. Before he died, he autographed a lot of photos, and I still have some. I'll continue sending them out as long as the supply holds out. It's nice to know that people other than his wife and family remember him."
Giles Thinks Third Time's Not a Charm
By Phil Jasner
Sure. Bill Giles, the Phillies VP in charge of such things, thought about inviting Mary Konstanty to throw out the first ball of the first game of the World Series.
"We had invited her in '77 and '78, to represent her late husband, who started the first game of the '50 Series." Giles said. "Then we never got there.
"I'll admit it, being superstitious might've had something to do with not calling her this year. We asked Eddie Sawyer, the '50 manager, and Robin Roberts to do it this time. Now we've asked Tony Taylor to throw out the first ball for Game 6."
Taylor played here from 1960 to 71, then again in 74 and 75, becoming one of the Phils' most popular personalities. He finished his career with 1,511 hits, made the All-Star team in '60, and is in the team record book for being hit by pitches 13 times in 1964. 
Baseball Telecast Produces a Smile
By Gene Quinn
Don Ohlmeyer says he's a hard man to please.
"I've been in this business for 13 years and there have been three shows where I walked out of the truck happy," said Ohlmeyer, executive producer of NBC Sports. "Saturday I added a fourth."
Ohlmeyer was talking about Game 4 of the World Series, the Willie Mays Aikens Home Run Contest, Kansas City's 5-3 victory over the Phillies. He used words like "flow" and "rhythm" and "feel." Funny, but even in the business of instant replay, audio quality and camera, things like "flow" and "rhythm" are just as important.
"It wasn't the best game," said Ohlmeyer. "The Royals took the lead early. But you won't see a better telecast than Saturday."
What are Ohlmeyer's other best three? "The show called 'Triumph and Tragedy' that I did on the Israeli massacre at the Munich Olympics; a Monday Night Football game, and the 1975 Indianapolis 500."
THERE'S NEWS IN that revelation – all three were ABC productions. So Saturday's World Series telecast is a first in Ohlmeyer's eyes.
"I usually walk out of the truck and the first thing I talk about is what we screwed up," said Ohlmeyer, whose troops go to work again tonight (Channel 3, 17, 8 p.m.) "Like Friday night. The reaction to Friday night (Phils 4-3 loss in Game 3) was, it was a terrific telecast and a terrific game. I didn't think so. Out timing was off, there were things we could have done better. We went back to the hotel and had discussions about it until 4 o'clock in the morning.
"It's not so much mistakes. It really is, how can we get a better flow in the booth, how can we get better replays and get into the replays faster. Little mechanical things that I don't think the people at home would notice. It's just fine tuning
"Every time I step into the truck I'm trying to do a perfect telecast. And you're never going to have a perfect telecast. You're never going to go for three hours without making one, single, bleeping mistake."
How true. The most significant lapse – and maybe the only lapse – in NBC's usually excellent camera work came during Game 5 when Bake McBride disappeared into the corner chasing Hal McRae's foul fly. NBC's camera cut baffled viewers, but Ohlmeyer came back with replay after replay. Ohlmeyer took a chance staying with the action. He cut out between-innings commercial time worth about $250,000, which – to the relief of the advertising department – was restored during a pitching change later in the game.
ITS ALSO NO surprise NBC's announcers have struggled somewhat maintaining the "rhythm" Ohlmeyer talked about. There are six of 'em – Joe Garagiola, Tony Kubek, Tom Seaver, Bryant Gumbel, Merle Harmon and Ron Luciano – a big jump from the usual two in the booth. Garagiola and Kubek are used to arguing back and forth during the game, and Tom Seaver – who's supposed to be on hand for more than just pitching analysis – obviously was on the outside early in the Series. Gumbel hosts the pre-game show and updates the action from time to time – a service to late-comers, but unnecessary for the rest of the audience.
Merle Harmon roams the stands, talking most often to wives. He approached Phyllis McGraw during Tug's pressure-packed, ninth-inning victory Sunday and the interview went over like a lead balloon. Mrs. McGraw had more trouble handling the pressure than her husband, but the sequence resulted in some terrific pictures of her staring at the stadium floor saying to herself, "Come on, Tug, Come on. Tug." Even though she was in no shape to talk, "That's the risk you take" to get the picture, said Ohlmeyer.
The use of Luciano has been spotty, but so has the need to turn to the former umpire. Luciano sounded as if he was caught unawares Sunday when the guys threw it to him following Aikens' strikeout on an attempted checked swing. Aikens took few steps toward third base ump Bill Kunkel – who made the appeal call. Luciano easily could have developed the challenge.
A KUBEK IS KUBEK, and that's OK with me. He talks a lot, but it's not drivel. He gives opinions – even if they are straigh from the hip. Kubek can talk about great glove work being as important as great hitting. And how the writers overlook defense when they vote for MVPs. And how, if the Royals had won Sunday, these were his choices for MVP.
Ohlmeyer calls Garagiola a great traffic cop. I'll call him good one. And we could do with fewer baseball sayings like, "Don't be in a hurry to lose, be in a hurry to win." Sayings aside he's a baseball fan's baseball announcer.
"I think Joe and Tony have done a tremendous job assimilating Seaver into their rhythm," said Ohlmeyer. "Tom brings something to the Series. He brings the current ballplayer's view. Who's better to talk about how to pitch Schmidt and Luzinski than Tom Seaver? But you have to temper Tony and Joe at the beginning and tell Tom to talk in two sentences instead of two paragraphs. Look at how concise he's being now. He's going to be a very good professional announcer when he hangs up his spikes."
Ohlmeyer is especially proud – and rightly so – of the times when his announcers have said nothing. Two that come to mind are: immediately after Aikens' second homer Saturday when he alone owned the audience in the stadium and at home, and Sunday after McGraw got the win and the camera zoomed in on his wife crying and hugging other Phils wives.
"I tell the guys, when the crowd's going crazy don't jump on top of the moment," said Ohlmeyer. "They recognize that people are here to watch the game. Those pictures at the end of the game (Sunday) tell the story."
SOMETIMES THE opinions are wrong – dead wrong. Like Garagiola's raving about Willie Wilson's over-the-shoulder catch Saturday, mistakenly equating it to Willie Mays' great catch of Vic Wertz' fly ball at the Polo Grounds in 1954.
Sometimes the pictures are botched. Like McBride's great play-in Game 4.
But the only alternative is ABC and Howard Cosell, missed replays and "story lines" that don't pan out. Who can forget the crucial appeal play involving Houston's Gary Woods that was missed by ABC? And Cosell's "story line" about the come-from-behind Astros that fizzled in a late-innings Phils comeback making Cosell limp and lifeless during the wrapup at the Astrodome.
Count your blessings.