Kansas City Times - October 17, 1980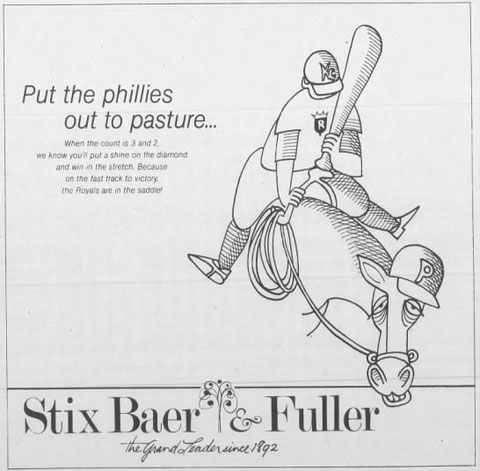 The World Series arrives at last
KC gives fans a Royals welcome
By Paul Vitello, A Member of the Staff
With a stiff upper lip and some unconquerable Midwestern hospitality, Kansas City opened its doors to the nation Thursday for Game 3 of the World Series.
The weather perfectly articulated the mood of a city that lost some of its wind but none of its spirit after the Royals' two losses to the Philadelphia Phillies: It rained all morning and then it got clear and blue in time for the afternoon's business of preparing for the first World Series game ever held in Kansas City. The game gets under way at 7:15 tonight.
There were no hordes to greet, exactly — just the Philadelphia Phillies and their guests, a few hundred American league and National League officials, maybe a thousand out-of-town fans and 650 members of the working press.
But what they lacked in numbers these visitors made up for in presence.
The Crown Center and Hyatt Regency hotels, the hosts for most of the baseball types, were crowded with large men who fit into elevators only in sets of three or four. The Alameda Plaza Hotel, where the media people gathered, was fanned all day by the revolving doors.
"Well, they're big," said one star-struck bellboy at the Hyatt Regency hotel where the Phillies stayed. "I never saw ballplayers close up before."
At City Hall, plans were completed for a "Royals Appreciation Day" parade, to be held whether or not the Royals come back to win the Series.
"We're going on the assumption of a victory," Mayor Richard L. Berkley said after a meeting with police officials, businessmen and city parks and recreation officials. The assumption made him smile broadly.
At Royals Stadium, where everyone from the NBC camera crews to the hot dog sellers was fine-tuning his equipment, there was no room for assumptions.
"We do the camera checks at 7 tonight, OK?" Director Harry Coyle said to a team of NBC assistants huddled beside their equipment truck outside Royals Stadium.
The chain-smoking ex-bomber pilot has directed the televising of every World Scries since 1947 except two. But he took nothing for granted.
"When you are filming live, you are either there when something happens or you are not. There are no do-overs," said Coyle, a soft-spoken man who looked as if he had missed more than one night's sleep this week.
The stadium gets high marks from the television world. "Absolutely one of the best in the country for television," said Michael Weisman NBC's producer "It's got a nice dean design. No obstructions. It was built for TV."
Once the cameras were stationed, the crews would leave them in position overnight, ready for another round of checks before the start of the game today. For that luxury, Coyle said NBC hired a 24-hour security service.
And while TV crews laid cables and hoisted more than a dozen cameras around the field in preparation for their audience of 50 million or more, concessionaires up in the stands were making preparations on a smaller scale for the biggest event in Royals Stadium's short history.
They seemed to be taking the same cool, professional attitude as the TV crews; they were perhaps even more detached.
"There is really nothing different as far as feeding 42,000 people. We've done it before, when we had capacity crowds in July and August," said Chris Bigelow, manager of the concession firm Volume Services. "The fact that this is a historical event really doesn't change the popcorn trade."
It does not change the price of popcorn, either, he said. "We don't raise prices in the post season."
Raising spirits is another story — and there was a lot of it going on Thursday night among fans great and small. The most publicized was a cocktail party and dinner reception for baseball officials, media representatives and invited guests held at the Royals Stadium Club. The official Royals bash kicked off a long parade of parties planned for Kansas City's World Series weekend.
Many of the parties are planned by the Royals organization. Many more are being planned by just plain fans. And many, many more probably will happen spontaneously if the Royals win tonight.
Another party, with Kansas City businessman John Latshaw playing host, promised to be the social event of the week among the wealthy set. Latshaw, owner of a local cable television franchise and an investor who has tried to bring professional soccer to Kansas City, included on his guest list Berkley and Philadelphia Mayor William Green, both of whom consider themselves their cities' No 1 baseball fans.
Diplomatically, Latshaw planned a before-the-game affair.
But perhaps nowhere in Kansas City was the preparation as serious or rigorous as in the minds of the Royals.
"We're mentally beat and a little physically beat," Royals pitcher Dennis Leonard said during a a brief afternoon visit to the stadium.
"It felt like we were on the road three months. It's good to be back in Kansas City. We've had enough running around for a while. We got a lot on our minds."
Phillies' Schmidt seeks spot near head of parade
By Mike Lupica, New York Daily News
PHILADELPHIA - For a week that must have seemed like a season, Mike Schmidt could only watch the parade go by. He heard the pounding of the drums, watched the batons fly through the air, and marveled at the precision of this crazy band called the Phillies. And it was as if Mike Schmidt, the man who hit 48 home runs, the man who will be Most Valuable Player in the National League, was running alongside trying to find his place, trying to fit in again. Trying to take his accustomed place at the front of the parade.
Schmidt knows the Phillies would tie watching the Expos play the Royals in the World Series had it not been for his mighty accomplishments all season, especially down the stretch. This is a verity in which his teammates are very well versed. But things move quickly in October. Decisions must be made on heroes and bums. Everything is played out in prime time with Keith and Howard and Joe and Tony There is a tendency to forget the great deeds of summer when the full spotlight hits in the playoffs and the World Series.
Even if you are Mike Schmidt, and have brought the Phillies most of the way on your back, there is a nasty tendency to hear this sort of October question: What have you done for me lately, big fella? Like in the last eight days? People look at the boxsoore and see 4-0-0-0 after Schmidt's name and they say: When will he produce in the clutch?
The picture of Schmidt clinching the National League East with a monstrous home run in Montreal is still vivid for Philadelphia fans. But the Astros series is more alive, more vivid, and so is the picture of Schmidt twice striking out in big moments last Sunday, with a pennant on the line. The fans try to remember those home runs down the stretch, but that 0-for-5 on Sunday rudely crowds those memories away.
"The champagne would have tasted a hair sweeter on Sunday if I could have gotten my uniform dirty, and gotten involved, and gotten a big hit," Schmidt said on Wednesday night after he joined the post-season parade, knocking in the winning run as the Phillies beat the Royals, 6-4.
Earlier in the game against Larry Gura, Schmidt had tw ice flirted with home runs to left field.  Both times, the ball grinned at the foul pole, then ducked into the seats foul. Now, in the eighth, as the Phillies were in the midst of yet another comeback, Schmidt came to the plate against Dan Quisenberry. The score was 4-4. Bake McBride was on first, having just swung his bat like a tomahawk and chopped a single into right, scoring Del Unser with the tying run.
Another big situation for Schmidt. Another chance to recapture his regular-season glory, or imitate his failure against the Astros. In the press box, men who have watched Schmidt play a lot of baseball were wondering if he liad ever delivered a big post-season hit. When you have put serious home run numbers and serious runs-batted-in numbers into the records as Schmidt has over the past several seasons, this comes with the territory. In Boston, they still grumble about a lousy World Series Ted Williams had in 1946.
Quisenberry came from the side. Schmidt hit a line drive toward right center that must have sounded like a police siren as it buzzed over Frank White's head. The ball rolled to the wall. McBride scored what would be the winning run. Schmidt ended up on third. His uniform wasn't dirty. But he had his big hit. You had the feeling there will be more.
"I guaranteed that before the Series was over, I'd hit some balls hard," Schmidt said in the interview room. "I didn't guarantee any home runs."
Someone asked him if the two long foul balls he'd hit helped bring some of his August -September confidence back.
"I think it was important for me to drive the ball," Schmidt said. "I had gone two or three days without stinging the ball."
He stung the ball twice Wednesday night, once with the double, once with a single up tne middle that nearly performed some surgery on Larry Gura's face. Schmidt, with his bat, became a part of the Phillies magic. For days, the understudies had been stepping forward, grabbing center stage, hearing the applause, becoming October heroes. Del Unser, again and again. Greg Gross, Keith Moreland. Bob Boone, a .229 hitter during the regular season, got two big hits against the Astros and another in the first game against the Royals. Greg Luzinski, another .229 hitter, drilled a big homer against the Astros. Schmidt did little. He struck out in the second game when the Phillies had a chance to put the Astros away, set themselves up for a sweep. He was a tremendous load, nothing less on Sunday. He was 5-for 24 against the Astros and was invisible.
Late in the fifth game, he was putting his bat in the bat rack when little Del Unser came through where he could not.
"To go 0-for-5 in the final game of the league championship series, and still have your team win, well, there's nothing wrong with that," Schmidt said Wednesday night. "But it still was a humbling experience."
Did he feel more pressure in the Series because of his performance against Houston?
"Listen," Schmidt said, "every time at bat in a World Series is something you're going to remember for the rest of your life." Now, at least, he has an at-bat that he'll remember a little more fondly. He was a leading man again, after a short hiatus.
He had 48 home runs and 121 RBIs during the regular season. He had 17 game-winning hits. He batted .286 and had 342 total bases. Over the past several seasons he has hit more home runs than any other man in baseball. But his lifetime batting average in the playoffs before this year was .182. He still has not hit a home run in postseason competition. He had a tremendously mediocre series against the Astros. Getting a gamer had to mean a lot to him. He is a smart, quiet man and guards his words carefully, and his emotions. The gamer had to be special.
"Everyone is part of this now," said Schmidt. "We are finding out why people become champions at this time of year We're doing the things you have io do."
Mike Schmidt, the big man all year long for the Phillies did what he had to do Wednesday night. He won a baseball game with his bat; another baseball game with that bat. He took his place at the front of the Phillies parade, where he belongs. Before this Series is over you know lie will take someone deep.
Carpenters relish Phillies' big days
President emeritus Bob lets son Ruly run NL championship club
By Red Smith, N.Y. Times News Service
Mrs.. R.R.M. Carpenter Jr. is the only person, living or dead, who suffered through a World Series with her husband and now 30, years later, is suffering through another with her son. She is the wife of Bob Carpenter, chairman of the board of the Philadelphia Phillies, who lost the baseball championship of North America to the Yankees in four games in 1950, and the mother of Ruly Carpenter, president of the club that leads the 1980 tournament with the Kansas City Royals two games to none.
Has it been an ordeal?
"An ordeal?" Mrs. Carpenter said. "Yes, and worst of all was Houston." In Houston last weekend, the champions of the National league came clawing, scratching, cutting and slashing from behind to win the third pennant in the club's 98-year history, twice in extra innings, and always in wildly improbable fashion.
"It was torture," she said.
In 1950 it was fun. Bob was the youngest owner in the major leagues then; the team they called the Whiz Kids was a young, exciting team that wasn't supposed to win a pennant. The kids made it close against the defending champions of creation, losing by 1-0, 2-1, 3-2 and 5-2, as the pinstriped tyrants took their 13th title.
"It was fun," Mrs. Carpenter said, "but it was short and to the point — one, two, three, four."
Her husband didn't go to Houston for the playoffs; friends said he couldn't take it and went instead to Florida to shoot doves. He hasn't come out here for the third, fourth and, if necessary, fifth game of this Octoberfest.
"It's not that I couldn't take it," Bob said Wednesday night at Veterans Stadium. "I hardly ever go to games on the road. I never make suggestions. It's been Ruly's job since I turned the club over to him eight years ago, and he couldn't do the job with anybody looking over his shoulder."
Mike Schmidt, the third baseman, is the head honcho of the Phillies' batting order; he led the world with 48 home runs during the season. In the first game with the Royals he struck out, walked twice and scratched an infield single. Now, as Bob watched and chatted, Mike had a useless single to show for three times at bat in the second game.
The Phillies led 2-1, but the Royals scored three runs and went to the front 4-2. Then, in the eighth inning, Philadelphia tied the score and Schmidt went to bat with a runner on first base and one out. Mrs. Carpenter fidgeted. Her husband watched moodily.
Schmidt sliced a lofty drive against the wall in right field for two bases, tying the score. He went to third on the throw to the plate. He got home on a single by Keith Moreland, and the second game went to the Phillies 6-4.
It was the team's third victory in a World Series game, the second one having come 24 hours earlier and the other having been registered Oct. 8, 1915, when Grover Cleveland Alexander pitched the Boston Red Sox into submission. Never since the club joined the National League in 1883 had the Phils beaten an American League team twice. Nobody now connected with the club had ever seen them do it once before Tuesday night.
Now the show reopens in handsome Royals Stadium, where waters dance and cascades plunge beyond the outfield fence. It is probably the finest outdoor ballpark in the world, the noblest setting for championship play, and it has never presented a World Series match.
Winning has brought a glow of health to the cheek of Philadelphia's pitching corps. Dallas Green, the manager, dared open the competition with Bob Walk, a rookie, and he got away with it. Ron Reed picked up Steve Carlton in the second game, shut out the Royals in the last inning, and put the Phillies in the saddle.
Now Green can start Dick Ruthven, who is tall and tough, while Jim Frey turns to Rich Gale. With a day open for travel, Green has been able to rest Tug McGraw for two days after six consecutive turns on the mound. When he finished the first game in Philadelphia, he merely thrust a fist aloft in triumph. His right fist. He couldn't lift the one he throws with.
"This team plays tough," Green said after the Phils rallied for their fourth straight victory in the homestretch.
His team is sitting pretty, but the job isn't done; seven clubs have won World Series after losing the first two. Kansas City is good enough to make it eight.
Wednesday night, Pete Rose dined late in a Chinese restaurant. He munched fortune cookies avidly and scrutinized the little messages inside. They didn't say a word about four straight.
Phils' 'reluctant dragon' manager puts fire in players' eyes
By The Associated Press
Dallas Green might best be described as the reluctant dragon.
The 6-foot-5 manager of the National League champion Philadelphia Phillies didn't want the job.
He still doesn't want it.
Green, however, is a 25-year career man with the Phillies, a personal friend of owner Ruly Carpenter, a soldier who does what he's asked.
So when he was asked in the final month of the 1979 season to leave his post as director of the farm system and succeed Danny Ozark as manager, he accepted. His task: see why some of the best talent In baseball wasn't producing.
The coming of Green waa a shock to the troops. The change from the do-as-you-please Ozark to a rough-and-tumble guy whose whisper was a scream almost produced a palace revolution.
Green insists he wasn't on any ego trip. All he wanted was a winning effort from players among the highest salaried in baseball.
While he did not come to the job with any eye-opening credentials as a player, he did, however, bring a knowledge of the game acquired as a player, minor league manager, coach, an assistant and finally director of the minor league system.
Green took the job with the understanding that Carpenter, almost a father-like image to his players, would turn the other cheek when he saw his children being spanked.
When he gathered his team in spring training last March, Green wasted no time letting the players know the party was over.
"You gotta stop being so cool. Get that through your heads. If you don't, you'll get so buried it isn't going to be funny. Get off your rears. You tell everybody you can do it (win) but you give up," Green admonished.
Green told them he wouldn't stand for anymore nonsense, that he wanted a "We" team, not an "I."
Many of the players were bitter over Green's high-handed tactics. They thought he would back off, but if anything he got tougher.
Through the season Green criticized his players in the media. They didn't like it. There were a number of private meetings between the manager and players.
Green even said he felt some of his players were rooting against the Phillies in the pennant race. He didn't name names, but made it plain that if this team didn't make it this year, there would be a wholesale shakeup.
Although they fought him all the way, the Phillies got the message. They became a team under the whip. They won their division, beat Houston in the National League playoffs, and hold a 2-0 lead over the Royals in the World Series.
But Green does not want to manage. He prefers to step up in the organization as general manager or assistant, until Paul Owens retires.
"I prefer not to manage," he said recently. "Enjoyable ia not an adjective I'd used to describe this job."
Green does want a say on his successor. He doesn't want what he's accomplished to vanish. Neither do his players.
Mike Schmidt, one of baseball's brightest stars, put it best: "We're now doing to teams what they used to do to us."
World Series arrives at last
Midwest struck by baseball fever
By Dick Haws and Fred Mares of the Mid-America Staff
Breathes there a Flatlander with soul so dead, who to himself hath not said: "Dial it long-distance, Willie baby."
From mid-Missouri to the Rockies, from South Dakota's Vermillion to Oklahoma's Panhandle, that prayer is being whispered by the multitudes during this magical World Series season, proving once and for all that the Kansas City Royals aren't simply a metropolitan phenomenon — they belong to the Midwest.
"We don't draw geographic lines around here," summed up Andy Andersen, manager of a radio station in Shenandoah, Iowa. "The Kansas City fever is high here."
Near Milan, Mo., the folks on the farms are upset because the one television signal they receive doesn't carry the World Series.
In Missouri's Philadelphia, a hamlet of about 400, Acting Postmaster Loretta Bevill cautions that you can't judge a book by its title.
"I know that everybody here is proud the Royals are in the World Series," she said.
The fever seems to burn hottest in outstate Kansas.
A baseball autographed and donated by George Brett is expected to be the most treasured item sold Saturday at the Marion Senior Center auction. The Royals are front-page news in Hutchinson. And in Ottawa, a local bank is holding a drawing for a single World Series ticket.
A Lawrence teacher, Tom Christie, explained that the "World Series Learning Center" he helped set up at Deerfield Elementary School has drawn more student interest than anything he has worked on in five years of teaching.
And in Galena, the small southeast Kansas community snuggled up against the Oklahoma border, Bill Hamlin, who drives a fire truck, reported that the town was "filled with a bunch of baseball fiends."
Royalmania has reached such proportions across the Midlands that University of Kansas officials are worrying that attendance at Saturday's Homecoming football game with Iowa State will plummet because of competition with the fourth game of the World Series.
And area high school coaches are fretting because tonight's football games are opposite the third game.
Radio station KIKS in Iola, Kan. has recommended a compromise: Listeners should take a portable radio to the high school football game and tune in the Royals on the radio.
For Saturday, however, KIKS had to bite the bullet, bumping the Kansas State-Oklahoma football game in favor of the Series.
"They may come down from Manhattan and lynch me," said station manger Mike Russell, "but there's just so much more Royals' interest."
Certainly, one reason the Royals have captured the hearts and minds of Mid-America has to do with their radio network. Royals' baseball games are broadcast throughout the Midwest over 115 stations, more than any other major league baseball radio network m the country.
"The interest is much more widespread than when the Chiefs were in the Super Bowl," said Ed O'Donnell, operations manager for the radio network. "I've been around here for 20 years and this is the most excitement I've seen."
Baseball's intelligentsia point to geograpby as one of the main reasons that Mid-America has gone bonkers over the Royals.
Far lo the north are the Minnesota Twins, to the east and northeast are the St Louis Cardinals and Chicago's Cubs and White Sox, and much to the south are the Texas Rangers.
But there's nothing — except the Royals — to claim the allegiance of the heartland.
It has meant that, for the vast center of the country, this year's World Series ranks as the first time the Midwest has stood so near the top of the major league baseball heap.
And there are even some who feel that failure to reach the summit, if that occurs, may not be so intolerable.
"If you are consistently successful," said Bill James, a baseball writer living in Lawrence, "it can lead to a kind of colorless fan support." In James' opinion, the teams that struggle and overcome create the must excitement and dedication among their fans.
One of Christie's elementary students in Lawrence put it somewhat differently.
"At least the Royals played in four World Series games," Christie quoted tin student as saying.
Brett expected in Royals' lineup for third Series game tonight
By Mike Fish , A Member of the Sports Staff
George Brett is expected to be in the lineup for the third game of the World Series tonight at Royals Stadium.
The Royals third baseman underwent hemorrhoidal surgery at St. Luke's Hospital Thursday, and is expected to be released this morning. Brett is 3-for-6 in the two Series games, both of which were lost by the Royals. Game 3 begins at 7 30 tonight.
"We lanced a blood clot in his external hemorrhoid and removed the blood clot," said Dr John Heryer, the proctologist who performed the 20-minute surgery. "Hopefully, that will relieve the pressure and pain."
The ailment can be excruciatingly painful, a physician said, particularly if the blood clot becomes swollen.
Brett left Game 2 after six innings. He checked into the hospital shortly after the American League champions returned from Philadelphia early Thursday morning.
"We expect to have him able to play" said team physician Dr. Paul Meyer. "He might not be up to peak performance. Running and sliding might irritate it, but it shouldn't do any permanent damage."
No one at the hospital was permitted to reiay information about the Royals' third baseman. However, staff officials took care of a huge number of telephone calls, cards, flowers and get-well posters.
If Brett can't play, Royals Manager Jim Frey will probably start Dave Chalk at third. Chalk walked and scored a run after replacing Brett in Game 2.
Clearly, the Royals need Brett in the lineup. The Royals played .500 baseball (22-22) when Brett was out of the lineup during the season because of injuries.
"You could see by the way he was walking that George was in pain," said catcher John Wathan. "But then he goes out and gets on base three times (two singles and a walk). That's just George."
The Phillies don't have problems as serious as those of Brett, but the National League champions have some injuries.
Dr. Phillip Marone reported on outfielder Greg Lunnski's flu, outfielder Garry Maddox' damaged knee, catcher Bob Boone's bruised foot, and pitcher Dick Ruthven's cold.
Luzinski, the designated hitter in Game 1, didn't make the trip here with the team. He has been in bed since Wednesday, missing the Phillies' 6-4 victory that night.
"He was running a fever of 103 yesterday (Wednesday)" Marone reported. It was down to 101 today but when I visited him he looked sick. He had aches and chills, the whole bit."
Marone added, however, that if Luzinski improved, he would come here late today.
But Phillies Manager Dallas Green was asked if it was fair to assume that he wouldn't start Luzinski, coming off a bout with the flu. The manager responded: "Keith (Moreland) probably will be the designated hitter."
Moreland a rookie catcher and pinch hitter, got two hits in Game 2, including one in the winning 4-run eighth-inning rally.
Maddox fouled a ball off his left knee in Game 2 and had to be replaced in the late innings. He underwent X-rays in Philadelphia Thursday morning, which were negative. Marone said it was a bruise and the knee had about 10 to 15 centimeters of water but that Maddox could play without any problem.
Ruthven, the starting pitcher tonight, has a cold and a sore throat, but Marone said he, too, would be ready to play without any adverse reaction.
Boone has been playing with a severely bruised left foot, the injury suffered in Game 5 of the NL Championship Series. He played in the first two Series' games, and Marone said the catcher could continue.
Boone said he felt fine, that the foot was black and blue, but getting better
Gale free of pain for Series start
By Mike Fish, A Member of the Sports Staff
Just a few weeks ago, Rich Gale wondered aloud if, at the age of 26, not only his baseball season but his career might be over.
On the eve of his first World Series appearance, as the Royals loosened their arms and took batting practice, Gale was blissfully free of any pain in his right shoulder. If his shoulder was still bothered by tendinitis, Gale had more pressing worries.
The 6-foot-7 pitcher is the Royal on the spot in Game 3 tonight. Through the first two games of the 1980 World Series, the Royals have displayed an ability to score runs, but the pitching has twice come up short.
In the first game, starter Dennis Leonard let a 4-0 lead slip away. Larry Gura hurled six effective innings in Game 2, only to have relief ace Dan Quisenberry blistered by a Phillie comeback.
It will be a battle of right-handers at Royals Stadium — Gale, 13-9 against Dick Ruthven, 17-10. The Phillies' starter made two appearances in the recent National League Championship Series, including a 2-inning stint in the fifth game that earned him a victory.
For Gale, post-season play is a new experience.
"This is the chance of a lifetime, actually," Gale said. "The first time out I'm pitching in a World Series. I'll pitch in a World Series before I've pitched in the playoffs."
Gale was scheduled to start the fourth game of the American League playoffs. But when the Royals swept the Yankees in three straight, Gale was left with some idle time.
Royals Manager Jim Frey elected to go with Leonard, Gura and then Gale against the Phillies, so it's been 12 days since Gale pitched four innings in the season finale against the Twins.
On that afternoon, he and left-hander Paul Splittorff one-hit the Twins. More importantly, it was a game that proved Gale fit for post-season play.
"I even had a lot of discomfort after that game," Gale said. "It's been totally absent the last two times I've thrown on the sidelines.
"My arm was OK at best the last part of the season, but I can be effective. The only problem I might have is control because I haven't pitched. Obviously, I'm trying to keep any negative thoughts out of my mind.
"I don't want to think about control problems. It might hurt Larry Gura or Splittorff more because they're control pitchers. I just need a good fastball."
The scouting reports have already told the Phillies about Gale's stuff. Earlier in the season, his fastball was clocked in the mid-90s.
"He's got a very good fastball — an excellent fastball," said Phillies shortstop Larry Bowa. "But the scouting report says he might be up with it a little. You have to make him throw strikes."
Outwardly, at least, Gale hasn't shown the effects of starting Game 3. He talks about the Phillie power boys — Greg Luzinski and Mike Schmidt — and also the idea of not overlooking the rest of the lineup.
After all, in Game 1 it was Bake McBride's 3-run homer that killed the Royals. And in Game 2 the key hit may have been veteran Del Unser's double.
There's a nervous, excited feeling," Gale admitted. "This is different, quite a lot different, from the regular season. This presents a different situation, with 200 people around you." Most of those 200 people, of course, are reporters.
It might be a blessing for Gale that he didn't pitch in the playoffs. Just what effect 12 days rest will have on his control is another question. But pitching coach Billy Connors has had Gale pitch in simulated game conditions two or three times during that span.
"It might do him good," said Connors. "If anything, he needed a rest at that time.
"All we're looking for is six or seven good innings. If he can do that we can get somebody else in there. We think he's healthy and strong enough. If we didn't he wouldn't be in there."
The Royals are also aware of Gale's ability to come back from injuries. After sitting down earlier in the season because of tendinitis, Gale returned to win 11 straight games — a team record.
The Royals will settle for just one victory tonight.
Otis no longer bears burden of being Royals' 'name' player
By Mike Fish, A Member of the Sports Staff
The burden has shifted from the shoulders of Amos Otis. In the infant years of the Royals, Otis was the man.
If the Royals had a name player, it was Amos Otis. George Brett hadn't yet graduated from El Segundo High School, Willie Wilson's speed was still a national secret and future students Frank White and U.L. Washington were not yet enrolled in the Royals Baseball Academy.
And Otis was establishing the offensive standards by which future Royals would be judged. He was the legitimate star, a 5-time All-Star.
Now Otis is just another Royal. Brett, Wilson and the late arrivals have a hold on the spotlight.
"There's a little bit of pressure when you're the name player," Otis said Thursday afternoon in the Royals clubhouse. "People said I was the leader, but I'm no leader. I never said I wanted to be one.
"When I first got here in '70 (from the Mets) there weren't any names. Now we have a load of name players. It's not one or two guys anymore. But we've only got one (Brett) who's a world name, really."
Now Otis, at 33, is the old man. No one has been a Royal longer. And now he's a secondary figure on an American League championship club.
They've talked about taking his job away, of giving center field to Wilson. At each turn, the veteran has resisted the move, fought off the challenge.
"I might be the elder statesman, but you look around the clubhouse and I'm in as good a shape as these young guys.
"Seems like once you reach 30 it starts coming from all directions. People say you can't do things you used to do.
"Now it's kind of a joke that I'm the old man. The coaches call me 'Old Man,' and they're all older than me."
Otis laughs at the 'Old Man' talk, but when people infringe on his territory — centerfield — the smile disappears.
"I don't really know if I'll be back next year," Otis said. "I want to play center field, that's my position. If they don't want me in center I'd just as soon go somewhere else and play.
"You ask the pitchers on the club who they want in center field. They appreciate me out there. Willie (Wilson) has the speed and all, but I think I still have the experience. I know how to play the position.
"You hear rumors that they're gonna move this guy there and that stuff. Willie is the heir apparent. Maybe he'll be ready for it in a year or two, but I still want to play in center field."
If Otis is the 'Old Man' now, he was 'The Kid ' when he spent part of the '69 season with the World Champion New York Mets. He was a raw-boned rookie. Worse, he shuffled between third base and the outfield. He was a kid in a man's game.
"I spent the early part of the season with the Mets, went back down (to Tidewater) and got called up Sept. 1," he said. "I wasn't really thinking about the playoffs and Series 'cause the team was still 12 or 13 games back in August. I got called up too late, anyway.
"Back then I was too young. I didn't realize it at the time, but I wasn't ready. Defensively I was OK. But the first thing they mention in the big leagues is hitting.
"I wasn't ready for the majors. You can see that by what happened last night (Wednesday) against (Steve) Carlton. Back then he just embarrassed me. I didn't want to be embarrassed, but I wasn't ready."
It was during the '69 season that Carlton, then a Cardinal, struck out 19 batters in a game against the Mets. Otis was fanned four times during the contest.
More than a decade later, Otis gamed some revenge in Game 2 Wednesday when he reached the Phillies' left-hander for a single and a 2-run double. The night before, Otis hit a 2-run homer in his first World Series at-bat.
Entering Game 3 tonight, Otis is hitting .556 ( 5-for-9).
"I never really thought I'd get in one of these things," he said. "We'd come so close against the Yankees ('76, '77, '78) and then we'd get shot down.
"It came to a point where I started to wonder if we'd ever get here."
The 'Old Man' in center has made it.
Cardenal's lifelong dream comes true at 37
By Brent Frazee, A Member of the Sports Staff
He's one of baseball's senior citizens, a star who has reached the twilight zone.
The roars of the crowd, the days when he dominated the headlines, the years when he was a feared player… they're all in the past.
Baseball's official scorer has ruled that Jose Cardenal is no longer a young man. Through the aches and pains of seniority, he has earned his reserved seat in the whirlpool.
But the mind… it has stayed youthful. A World Series can do that to a man. Even one who is considered old in baseball's record books.
"When I was a little kid growing up in Cuba, the World Series was always something I waited for," said Cardenal, a 37 year-old outfielder for the Royals. "The Yankees and the Dodgers, Don Newcombe Whitey Ford — those were names that meant a lot to me.
"I always told everybody that I wanted to be in one of those World Series games. It was one of my biggest dreams."
Through 16 full major league seasons, Cardenal never gave up hope his dream would become a reality. Granted, a Greyhound tour through the major leagues — complete with stops in California, Cleveland, Milwaukee, San Francisco, St Louis, Chicago, Philadelphia and New York — served as a detour to his original goal. But Tuesday night he reached his desired destination — the World Series.
"When the Royals signed me as a free agent (Aug 21), it was probably one of the best things that ever happened to me," he said. "I had just about given up hope of ever getting in a World Series. I mean, I'm not getting any younger.
"The Mets weren't playing me very much and I didn't know what would happen. But when I came over here I knew that I would get a chance to play with a very good team.
"This is almost too much to believe. It had been my dream to be in just one World Series, just one. And now, I can just thank God my dream has come true."
One might think Cardenal's dream turned into a nightmare Wednesday night when the Royals lost to the Phillies 6-4 in Game 2. Starting in right field, he struck out twice, grounded into a double play and ended up 0-for-4. But Cardenal didn't see the game as a total loss.
"I was so excited, I just tried too hard," he said. "Like on that 3-2 pitch with a man on third when I swung at ball four (in the sixth inning). That wasn't Jose Cardenal.
"Sure, I was disappointed with the way I played. But it was just a thrill to play in that game."
Indeed, after a number of near-misses, Cardenal was able to see the World Series banners in living color.
"In 1971 when I was with the Cardinals, we were leading the division and then we collapsed," Cardenal said.
"The same thing happened in '72, '73 and '74 when I was with the Cubs. Then in 1978 when 1 was with the Phillies, I thought, 'This is the year I'll get into a World Series.' We won the Eastern Division, but lost in the playoffs. That hurt. I thought that was my last chance."
Midway through the 1979 season, Cardenal was sold to the Mets, and it appeared the dream had died. But it was quickly revived when the Royals signed him to bolster their bench strength.
"I can still play. What do they say? Wine gets better with age? Well, so do I," Cardenal said, laughing. "A lot of people think when a ballplayer gets to be 35 or 36 it's over, but I've never believed that. Look at Tony Perez or Gaylord Perry — they're still playing good baseball.
"I might be a half-step slower and maybe I can't do some of the things I used to, but I can still play ball. I think I still have some good years left."
If his batting average with the Royals is any indication, Cardenal could have a point. Used as a utility player, Cardenal hit 340 in 53 at-bats.
And, his experience is being put to use.
"Since I played with most of these guys on the Phillies, I know what they can do," Cardenal said. "I know how to pitch them, where they can hurt you.
"Before last slight's (Wednesday) game, a couple of us had a little meeting and I pointed out some things.
"I'm good friends with Manny Trillo; we played together at Chicago. I was kidding him before the game. I told him I hoped he went 0-for-4 and had three errors.
"We get along real well. But if I have to come in hard and break up a double play at second base when he's standing there, I would. And I'm sure he would throw low to force me to slide if I were coming in on him.
"You have to play to win in the World Series."
And no one wants to win this World Series more than Cardenal. After all, he has waited 16 years to get there. 
Serenity one road to relief
The Morning Line By Mike McKenzie
The airplane jetted smoothly, 35,000 feet above landscapes between Minneapolis and Kansas City. Dan Quisenberry had a fixation on the cloud formations off the starboard wing.
"Look how even the rows are, and calm," spoke the Royals' prime-time relief pitcher. "God, grant me serenity… those are the kinds of thoughts I have going between the bullpen and the mound."
This season, once on the mound, Quisenberry has calmly, serenely blown opponents away. Not blown away in the sense of a Yankees' Goose Gossage, with the whoooommm fastball. Whereas Gossage is the role model for the song "Monster Mash," Quisenberry is the 90-pound weakling on the beach who hasn't had sand kicked in his face.
Quisenberry blows batters away with a helicopter-blade delivery of a meek pitch that falls to earth, he knows right where. When it falls sharply, which is usually, it is converted into harmless toys for infield ers to piddle with.
But the sinkerball is not Quisenberry's foremost key to success. Composure is. Inner peace.
And he hasn't always had it. As a schoolboy pitcher, he was a walking storm. "He was a madman," said Tim Kelley, former college teammate of Quisenberry's and now pitching coach at Arizona State.
Madman? The DQ who quietly sips milk before a game? Softly bounces his baby daughter on his knee while babysitting for a shopping wife, Janie? Speaks never harshly? Teammate Clint Hurdle sets Quisenberry's shoe strings afire during interviews "trying to make him swear, I've never heard him swear!")
John VerHoeven, a reliever with in Twins who also played with Quisenberry at La Verne (Calif.) College said, "I can't believe it's the same guy when I watch him."
This expressionless Quisenberry who has trotted out to protect or obtain victory 47 times this season, including the playoffs, works that right flipper from the same body as the Quisenberry who once tried to drown himself in the shower.
Who threw everything in sight out of the dugout because he couldn't find a ball to warm up with. Who screamed at schoolmates any time he heard them talking about something besides baseball during a game.
Who bowed to Mecca and extended his foot above his head to touch his toes when he entered a game. Who left the mound to chase a foul ball out of the park.
Who was an ever-splitting atom at Costa Mesa High, Orange Coast Junior College, and LaVerne.
As he spoke by telephone, Kelley was watching Quisenberry on TV, pitching against the Phillies in the World Series. "Once he was up one in the ninth inning and gave up a home run that beat him," Kelley recalled. "When we got in the clubhouse, we heard this choking and coughing. We found Dan in the shower with the nozzle in his mouth."
Quisenberry laughs at the recollection. "I guess I really wasn't thinking suicidal, but I definitely thought I could drown myself. But I found out you can't in the shower. The water pumps back up out of your stomach. All you do is throw up."
Kelley recalled in Quisenberry a dear friend with schizoid-like tendencies between social life and baseball competition. "He has an effervescent personality," said Kelley, who played four years in the minor leagues with Orioles and Padres teams. "But when he got in a dugout — pandemonium. He was hypered, and he felt he had to hate everybody he pitched against. Or when he heard someone on the bench laugh, he'd go nuts and scream, 'Pay attention to the game!' On the mound, he'd do knee bends and touch his toes and bow, and the opponents were sure he was Muslim.
"I think his long wait in the minors, and meeting Janie, forced him to be calmer."
As a schoolboy, Quisenberry described himself as "an ooh-ooh.. you know, a jerk. Letterman's jacket, thinking you're hot.'"
Quisenberry drove a '68 Toyota. "It had four retreads, and three were bald with cord showing. The turn signal had to be going to keep the headlights on. At 35 miles an hour, it would shudder. And when it rained, the wipers provided a 2-inch spectrum to see out of."
He ran with Kelley, and invariably they'd wind up at Coco's Restaurant at 5 a.m. "looking for something else to do" after cruising.
Baseball was Quisenberry's release valve, and personal harbor in which he was was the indestructible battleship.
"I couldn't handle defeat," he said. "It was life and death. I hated everybody when I pitched, teammates, family, everybody. I guess because it was the only thing I was good at.
"I was skinny, came from a broken home, and had a lot to prove. My whole identity and personality were wrapped up in baseball. It was a survivor thing. There, I was a somebody, not a nobody."
Always, he dealt with pressure. Now, he deals with it in a different manner. Before, with a rage, attacking. Now, placidly, aggressively without the temples throbbing.
Besides, Quisenberry said, no pressure he faces in the big leagues can measure up to the tight situations he encountered while pitching to Willie Mays. Harmon Kiliebrew. and Hank Aaron — all of whom were his brother, Marty.
They had a strike zone taped on a wall of the house, and a tennis or whiffle ball was used to create games of stars. Dan would be Don Drysdale facing Marty as Kiliebrew. "That was the most pressure I've ever known," Quisenberry said. "His swing was so disciplined."
Marty, who threw sidearm when Dan was an orthodox overhander, thought he was going to be signed by the Royals, too, but didn't get drafted; he quit baseball, and is studying marital counseling. Dan moved onward, upward on the Royals' ladder.
Because of his puny-looking method, Quisenberry had to be an over-achiever to advance from Waterloo to Jacksonville to Omaha, and last year to the Royals.
Along the way, he married. Last year, the Quisenberry became parents. His religious beliefs, spawned by VerHoeven, also still the current of Quisenberry 's life style.
His countenance is necessary to Royals success. His ability to come back strong from a shelling by the Phillies likely will affect the Royals' slaying power. Quisenberry is self-assuredly at ease with his ability to keep on an even keel after adversity has stricken.
"Because," he said, "there are no Star Wars going on inside me."
Tonight's forecast: clear but cool
Fair skies and westerly winds gusting 10 to 20 miles an hour should greet the Royals and Phillies when they play the third game of the World Series at 7:30 tonight at Royals Stadium.
The National Weather Service forecast calls for temperatures in the mid-50's at game time, before falling to the lower 50's late in the game.
The rain that fell earlier this week as the Royals lost two games to Philadelphia should be out of the picture tonight, said Fred Ostby, director of the National Severe Storms Forecast Center.
"It looks quite good for the ball game," Ostby said Thursday. "Not quite as warm as we'd probably like, but dry."