Montreal Gazette - October 17, 1980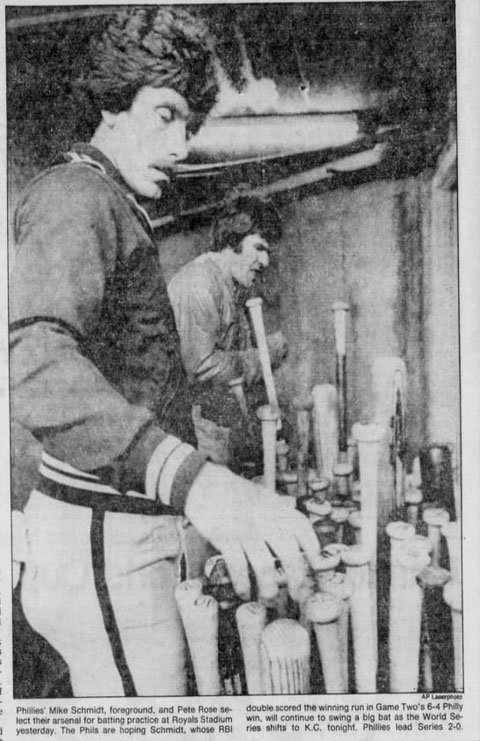 Dull Series needs heroes to inject character, spark
By Michael Farber of The Gazette
KANSAS CITY – The Philadelphia Phillies have a two games to none lead in the World Series, and if they are at all honorable, they'll win the next two games and finish this thing.
Perhaps something will happen in Game Three tonight against the Kansas City Royals which will give this series its own tempo, its own character. Maybe, after Game Seven next Wednesday, this will be hailed as one of the classic Fall Classics.
But when George Brett's hemorrhoids are the most compelling element of the Series, then bring on a series like The King of Kensington.
Brett underwent a 20-minute procedure for the lancing of an external hemorrhoid yesterday at St. Luke's Hospital in Kansas City. Dr. John Heryer, a local proctologist, performed the minor surgery.
Should ease pain
"Essentially what happened is that an incision was made in the external hemorrhoid to remove a blood clot, said Dr. Heryer. "The blood clot was taken out, which should ease the pressure and therefore the pain."
So far, so good. Heryer said he expected Brett, who remained in the hospital to play against the Phillies tonight at 8:15, assuming he could tolerate the discomfort.
But this stirring announcement could not be left alone. At a Marxian (Groucho, not Karl) press conference at Royals Stadium yesterday afternoon, the press insisted on knowing the time of the operation (about noon), the method (a simple lancing) and even how large was the "small" incision Dr. Heryer made.
"About this large," said the good doc, holding up a thumb and forefinger.
That's about as compelling as matters have become as this 77th World Series has become very much of a private affair between two cities labelled as losers.
Obviously, that is unfair as dubbing Montreal a loser because Mike Schmidt beat the Expos – our local Californians – with home runs on one very Lost Weekend.
Phils have changed
True, the Phillies have changed, but everyone in the Olympic Stadium sensed that before the playoffs and World Series. For the Phillies, the late innings are no longer looked upon as an inconvenience, something which gets in the way of dinner reservations. They proved that in Montreal on the final Saturday when they tied the score in the bottom of the ninth and added two runs in the 11th to win the National League East.
And for anyone who happened to be too involved in the post-mortems for the Constitutional Convention that weekend, the Phillies have repeated themselves during the playoffs and World Series – rallying to win all five games.
Philadelphia – which came back from 1-0, 2-0 and 5-2 deficits in its three wins against Houston – has taken a two-game Series lead by overcoming 4-0 and 4-2 Royais leads. That Phillie character and heart stuff is trotted out after each win as manager Dallas Green keeps beating the horse.
"I'd really like to put it to bed, said Green. Amen, pleasant dreams. "But the fact is, we've proven we can win. I don't see anybody calling the Yankees 'chokers', and they didn't get here. The Yankees were supposed to wipe people out, and that man (principal owner George Steinbrenner) really threw a few bucks out to build that team. We had to get here to earn that kind of respect, and now we have to win."
Haven't compelled
But even in winning, the Phillies have not compelled. They have failed to give us a hero, which is really what this best-of-seven series is about.
Sure, it's early. Tylenol Tug McGraw still has a chance, but consider the other candidates. Bake McBride won the first game with a home run, and then placed a piece of adhesive tape over his mouth after Game Two. Schmidt won the second game with a double and claimed Del Unser, who pinch-hit a leadoff double in the same inning, was the hero. Unser, a wonderfully self-effacing man who spent 2½ years with the Expos playing some outfield and backing up Tony Perez at first base, said an articulate, "Aw, shucks." Steve Carlton just isn't out of the Frank Merriwell cookiecutter and Pete Rose's (0-for-seven) contribution to this thing has been being hit by a pitch.
Perhaps somebody will emerge from the Royals, a team which unofficially adopted the attitude it had won the World Series by disposing Steinbrenner's mercenaries in the American League playoff.
George Brett, who rates with nachos as a mid-America heartthrob, could have been the man, but the World Series has been nothing but a Royal pain for him.
So you look elsewhere. Like to the swift Willie Wilson, of whom it has been said that when he shuts his light at night, he is in bed before the room is dark. But Wilson, the Kansas City catalyst, has one hit in nine-at bats while striking out five times.
Willie Mays Aikens – what a fine name – had a chance, hitting a pair of two-game home runs in the first game. Oh, how far he might have gone, if only he hadn't mentioned he would like to meet Willie Mays before Mays dies ... or before he dies.
That's just not legendary stuff.
Dan Quisenberry, the Royals reliever, was going to save us all. Thirty-three saves, 12 wins, a Woodie Allen-Everyman angst. Trouble was, Quisenberry couldn't even save Game Two, blowing a two-run lead in the eighth.
Well, we have at least two more games. Maybe the Phillies will come back as often as Muhammad Ali and make that the story of the 77th World Series. Perhaps the Royals – inspired by their jewel of a stadium (although the centrefield waterfall only inspires long lines at the rest rooms) – will seize the moment and be as dynamic as they were during the regular season.
Phils' success mirrors mystery of baseball
By Tim Burke
"The longer I'm in baseball." Duke Snider said in the heat of the pennant race, "the more mystifying it becomes. That's why it's such a great game."
Seldom, if ever, has there been stronger evidence to support the Duke's theory than in the past three weeks during which the Philadel phia Phillies have, to borrow Churchill's phrase about Stalin, emerged as a riddle wrapped in a mystery inside an enigma... And in the process, produced maybe the most exciting succession of games in the history of the baseball.
If the Phillies were a football team, the dissension which ripped through their clubhouse all season would have resulted in wholesale dismissals, to say nothing of bloodshed. If they were hockey players, or basketball players or soccer players, they mightn't nave played out their schedule. In short, if they were playing any game other than baseball, the franchise today would be in ruins.
Right down to the final weekend of the season, the Phillies were filled with recriminations. Their manager, Dallas Green, publicly castigated some of their stars, reiterating earlier charges that they didn't care about winning. And by the way they sometimes dogged it in games, not many of the tans or the media were ready to disagree with him. Only the players at whom he was directing his invective cried foul and charged Green with giving an extra edge to the opposing teams.
'Me Generation'
The consensus about the Phillies was that, barring exceptions such as Pete Rose and Tug McGraw, they were the classic examples of today's overindulged athlete: selfish, whining millionaires who couldn't give a hoot about the team or their fans, the ultimate harvest of the "Me Generation".
A ballplayer who used to be with the Phillies and knows all of them well told me this season: "They have a very sick situation on the Phillies, and they've had it for years. All those big names who came up together have been jealous of one another since they arrived. That's why the club has never fulfilled its potential."
Even when they came here for the final series against the Expos, writers covering them were telling you that, win or lose, management was going to get rid of a lot ot the "stars" before next season."
Now, less than two weeks later, the same club represents the essence of grit and togetherness. Their refusal to quit when they are behind in the late innings – which they inevitably have been in the post season – is right out of Jack Armstrong, the Ail-American boy. What's more they are fashioning their legend at the expense of clubs – Houston and Kansas City – which are exemplars of camaraderie and team play.
When one beheld the towering Dallas Green rushing out at the conclusion of the series with Houston to hug and then help carry Garry Maddox off the field in triumph – a week earlier he had benched Maddox, and successfully resisted an impulse to throttle him – one realizes what little meaning is attached to any kind of emotional outpouring in baseball.
At NHL meetings, I've seen old hockey players after a couple of drinks renew vendettas that had been put to rest 30 years ago. But in baseball, yesterday's heel is today's hero – if he delivers.
The sullen, suspicious Phillies of two weeks ago, now that they're only two games away from their first World's Championship since 1915, are lavishly protesting their unbounded affection tor one another.
Which makes you wonder whether the best formula for success in baseball is the one laced with large doses of sulphuric acid.
It surely wasn't for the happy-go-lucky Pirates of '79 ("We are fam-a-lee!") or for the harmonious Cincinnati Reds of '75-'76.
But bitterness against Charley Finley united the Oakland A's into winning it all in '72-'73-'74 and the Yankees won in '77 and '78 in spite of, or because, Reggie Jackson, Thurman Munson, Mickey Rivers and manager Billy Martin all were feuding.
More elusive
Thus, as Duke Snider suggests, the elixir for success in baseball only becomes more elusive as the years go by. And Chuck Tanner, the manager of the Pirates, told me this season: "If anybody could ever determine the patterns of baseball, his team would win 140 games a year. The trouble is, there are no patterns in baseball."
This, doubtless, is because they play so many games and because the nature of baseball is so individualistic compared to other team games.
It is this impenetrable veil of mystery that gives baseball so much of its excitement. And therefore we can only wonder at what dark powers are behind the Phitful Phillies' thrilling and uncharacteristic heroics.
Recent history favors Royals despite World Series deficit
KANSAS CITY (Gazette) – If Philadelphia doesn't repeat itself with a win in Game Three of the World Series tonight, then history might.
Prior to 1980, teams which had taken 2-0 leads won 26 of 33 times. But in recent years, the early leader hasn't been as fortunate.
Since 1955. 11 teams have won the first two games but only five of them won the Series. In the mid-1950s, there were three-straight losses by the "2-0" team: the 1955 Yankees lost to the Dodgers, the 1956 Dodgers lost to the Yankees, and the 1958 Braves lost to the Yankees.
The Yankees rallied again from a two game deficit by beating Los Angeles four straight to win the 1978 World Series.
•       •       •
Philadelphia centrefielder Garry Maddox had x-rays taken on his left knee yesterday before the Phillies flew to Kansas City. The x-rays were negative, and doctors decided not to drain the 15cc of fluid on the knee which accumulated after Maddox fouled a ball off his knee in Game Two. He is expected to start.
Greg Luzinski, who missed the second game with a virus, is questionable. His temperature dropped from 103 to 101 yesterday, but he remained in Philadelphia. He is scheduled to join the team today.
After the first two games, the Phillies and Royals were batting a combined .302. Philadelphia already had scored 13 runs, having amassed just 15 in the club's previous nine World Series games.
The flip side of that – the teams have a combined earned run average of 5.82.
•       •       •
The supposedly weak Philadelphia bullpen has played a prominent role in the Phillies' seven post-season games. Phillie relievers are 2-2 with four saves, and have had a decision, save or both in every game.
Tylenol Tug McGraw has appeared in all but one of them and is 0-1 with three saves and a 3.60 ERA.
Ruthven meets Gale
KANSAS CITY (Gazette) – Here is a thumbnail sketch look at the starting pitchers for Game Three of the World Series tonight.
PHILLIES – Dick Ruthven, 29, right-hander, 17-10, 3.55 ERA... throws fastball, slider and curve... good control, made more effective by funky delivery... started slow after off-season arm surgery, but established himself in second half as best Phillie righty... 17 wins was career high... pitched well against Expos in stretch, holding them to one run in 12 innings...
ROYALS – Rich Gale, 26, righthander, 13-9, 3.92 ERA... throws heat and more heat, natural for a 6'7", 225-pounder, although has a curve and slider... is a question because he has thrown just 14 innings since Sept. 1 because of tendinitis in shoulder... last pitched on final day of season, four hitless innings Oct. 5 against the Twins... Lost five of first eight decisions, but won 11 straight from June 17 to Sept 1... had streak of 12 straight wins as starter...
Kansas City's Brett maintains low profile
By Dink Carroll
Super ball player though he is, George Brett has somehow been able to maintain a low profile. He never seems to have any disagreements with management and you never hear of him being involved in trouble of any kind, either on or off the field.
He was dragged into a controversy several years ago, though he was more the innocent bystander than anything else. Gene Mauch, former manager of the Expos, was a major participant.
In a game between the Kansas City Royals and the Minnesota Twins on the last day of the 1976 regular schedule, Brett hit a fly ball in the direction of the Twins' Steve Brye that went for a hit and enabled Brett to beat out his teammate, Hal McRae, for the American League batting championship by one point.
It did look as if Brye had a good chance to catch the ball and that it should have been scored as an error instead of a hit. McRae, a black, then charged that Mauch, who was managing the Twins, had ordered Brye to drop the ball so that Brett, a white, could win the batting title.
The charge was ridiculous, as McRae would have realized if he'd used a little common sense. But he didn't and the furore that ensued went on for days, even weeks.
"If I thought Brye hadn't lost the ball, I would make a campaign to run him out of baseball," said the infuriated Mauch. "I don't know how anybody could believe I'd do anything to hurt this game. It took me out of the dust storms of western Kansas and made it possible for me to live in Palm Springs and play golf the rest of my life without even working, if I wish."
Straight talk
When Brett was asked his opinion of the controversial play, he replied, "It looked to me as if Brye let the ball fall safely on purpose."
Brett was being honest when he said that's what it looked like to him, though it couldn't have been the case. Brett hits to all fields and there would have been no point in Mauch instructing one man to misplay the ball if it was hit to him.
If Brett had been a racist, he could have made life with the Royals difficult for McRae. But he did just the opposite and he may be the reason that McRae is still with the Royals and playing in the current World Series.
Brett won the batting title again this year with a mark of .390 and his bid to become the first player to hit .400 since Ted Williams did it in 1941 was a highlight of the season. After the Royals beat the Yankees in the playoff for the pennant, he alluded to it.
"Hitting .400 was one of my priorities," he admitted. "I wanted it, but not as bad as I wanted this."
Hitting .400 may be one of Brett's priorities for years to come, as it has been with Rod Carew, who batted .388 one year. Carew is now beginning to think it's impossible.
Impossible dream
"To hit .400 now," he says, "you have to swing good every day and that's not possible. As the season drags on, you get tired, your muscles ache and you just can't swing good every time."
Right now, the thing Brett wants most to do is win the World Series. Last week it was to win the American League pennant and it was his three-run homer off Rich Gossage, a great relief pitcher, that enabled the Royals to beat the Yankees 4-2 in the third and final game of the playoff series.
"I feel I'm the best around and he's the best around," said Gossage. "He beat me this time. It just came at an awful time – the worst time."
Brett was stricken with such severely painful hemorrhoids that he was forced to leave the game in Philadelphia on Wednesday in the sixth inning. The Royals are trailing in the scries, 2-0, and if Brett can't play tonight they could fall further behind.
As for his ailment, Brett could paraphrase Rich Gossage and say, "I just came at the wrong time – the worst time."