Philadelphia Daily News - October 7, 1980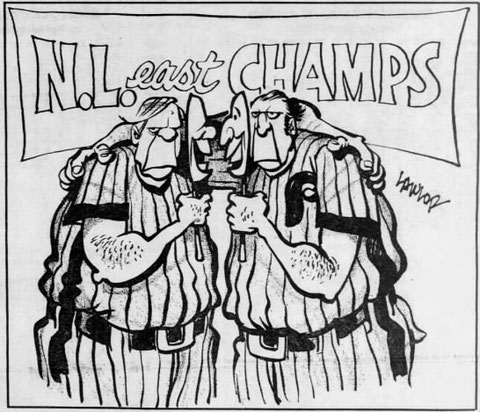 A Guide to Scribes
By Bill Conlin
The National Media will descend on the Vet tonight and here are some things a working stiff should know about surviving in the Phillies clubhouse.
Flak-jackets are unnecessary and please check your sidearms at tle door. Nobody will run up and punch you in the mouth. In fact, when you arrive, chances are excellent that the only player in sight will be utility infielder John Vukovich, who is to clubhouse imitations what David Frye is to White House imitations. Vuke might choose to do his Larry Bowa bit, since his Trainer Don Seger number is probably a little too subtle for a new audience. If Vuke starts hollering, "Look at all these bleeping press bleep-bleepers," do not be alarmed. Walk on by.
This will come as a surprise, but the Phillies' bodies are virtually unmarked, save for old surgical scars. There are no black eyes, cauliflower ears, broken noses or bloodied lips. The athletes don't spend their idle time punching each other or Manager Dallas Green, who is 6-5.
IF YOUR BUSINESS takes you into the coaches' office, don't be alarmed if an exceedingly -handsome Mexican gentleman appears to be unconscious. That will be first base coach Ruben Amaro, who has been known to nod off during white-knuckle landings and Green shouting sessions.
If you've got sensitive eardrums, bring cotton. When Green hollers, "Bushie, bring me a cold one!" the Walt Whitman Bridge shakes and windows rattle in Marcus Hook. During his famed Pittsburgh eruption on Aug. 10, Mount St. Helens spewed an ash column 50,000 feet high and the famed Fordham University seismograph registered 4.5 on the Richter Scale. The epicenter of the unusual harmonic activity was located at the confluence  of the Allegheny, Monongahela and Ohio Rivers.
A writer standing on the other side of a sturdy, bolted steel door outside the Three Rivers Stadium clubhouse switched on his tape recorder at the first explosion of sound. Although every writer within a 100-foot radius was blown away, the tape survived. Experts say it is impossible to tell which voice is the Memorex.
Although Larry Bowa is still not standing still for mass interviews, he's loosened up to the point where hell throw you an aside like, "Damn right we want to win. You better believe we're psyched." When Bowa took his vow of silence July 9, it was like Don Rickles promising never to insult another ethnic group.
TO SAVE Tug McGraw's breath for more germane topics, here is a list of the fastballs he is currently throwing: the Peggy Lee ("The hitter asks, 'Is that all there is?' "), the Cutty Sark ("It sails"), the Bo Derek ("It's got a nice little tail"), the Frank Sinatra ("Fly Me to the Moon") and the Titanic ("It sinks").
If you want a good interview with Bob Boone after Steve Carlton pitches, don't belabor him with questions about Lefty's stuff, his slider, how he sets up hitters, etc. Boone doesn't enjoy playing the role of Carlton's alter ego the way Tim McCarver did. Try pitching coach Herm Starrette, a good old boy who will be happy to tell you all about Carlton's performance.
Don't play gunfighter and try to be the guy who shoots the first hole in Lefty's cloak of silence. It won't work. Before an early-season game, a visiting writer caught verbal shrapnel from the lefthander for taking notes on the contents of his locker. However, I guarantee Carlton will grant you an exclusive interview if you present him with a magnum bottle of 1887 vintage Chateau Laffite Rothschild Bordeaux.
The Players' Lounge is off-limits. That's the room with the skull and crossbones on the door. An out-of-town writer who blundered in there in May is still on the Missing Persons List. The Trainer's Room is on-limits but it is diplomatic to enter only for the purpose of interviewing athletes who are actually being treated. Why risk wearing an ice pack yourself?
BAKE McBRIDE'S LOCKER is the first on your right. Give him a smile and say, "Hi, Bake." He's really a friendly man. But he's shy around big crowds of media, and if he plays a hero's role, expect Manny Trillo, who dresses at the adjoining locker, to say, "Bake says he's sorry, but he's not talking to the press tonight." Manny will play the role of protesting traffic cop while Bake talks.
If you're a smoker, try to hold that light. Clubhouse man Kenny Bush does not appreciate ashes on his rug.
Tape recorder-users are advised it is not necessary to set their units on Dallas Green's desk or to push a mike under his nose unless you need FM broadcast quality. You can stand at the back of the crowd and your unit will pick np every word, even if the manager is whispering. If your batteries are low and the recorder doesn't pick up everything, youll probably still recognize key words and phrases. Some key words and phrases are: character, grind it out, mirror, measured up, belly, don't give a damn, nail the thing down, shut the door, tomorrow.
With that framework it is possible to accurately quote Green by filling in the blanks. To wit: "Our guys showed me some character out there. They know they gotta grind it out. When they were going bad I told 'em to look in the mirror and see who measured up. Now they've showed me some belly and I don't give a damn what we have to do to nail the thing down. I'd like us to shut the door tomorrow."
AS THE ROOM fills up with the media horde, expect to hear a background chorus of, "bleeping frontrunners, where were all these censoreds when we were going bad?" OK, Muzak it ain't, but it beats hell out of 200 decibels of Willie Nelson blaring in your ear.
Some final hints:
Don't ask Pete Rose why he got only 185 hits.
Don't ask Lonnie Smith why he falls down so much.
Don't ask Keith Moreland if he thinks he should be the No. 1 catcher.
Don't ask Kevin Saucier if he intentionally throws at hitters.
Don't ask Green his opinion of Eric Gregg's umpiring – not until the $200 check he mailed Chub Feeney yesterday clears.
Don't ask George Vukovich if he's related to John Vukovich or Pete Vuckovich, or the late lndy 500 driver, Bill Vukovich. Ditto John Vukovich.
Don't ask Del Unser if he's related to Al Unser or Bobby Unser.
Gentlemen, start your ballpoints.
Bystrom Can Pitch
By Bill Conlin
In a joint decision, Baseball Commissioner Bowie Kuhn and National League President Chub Feeney announced today that Philadelphia Phillies pitcher Marty Bystrom is eligible for post-season play through the World Series.
Pitcher Nino Espinosa has been disabled due to chronic bursitis in his pitching shoulder.
The decision was made after extensive examination of the medical reports on Espinosa and after direct conversation with Espinosa by the commissioner's office.
Both Kuhn and Feeney were satisfied that Espinosa is injured and unable to perform.
The Phillies also announced that pitcher Randy Lerch will be dropped from the post-season roster and pitcher Kevin Saucier will take his place.
•
Nino Espinosa stalked into the clubhouse carrying a rolled-up newspaper.
Besides telling the unhappy righthander that the Phillies were petitioning to replace him on their post-season roster with young, healthy and unbeaten Marty Bystrom, the newspaper said that the Phillies had asked him to take one for the club – a dive in boxing parlance – and declare himself injured.
That was preposterous, because even if National League President Chub Feeney declares Bystrom ineligible – hopefully before tonight's national anthem – Dallas Green had already decided that Nino is out for the playoffs against the Astros.
If that happens, Espinosa will be deleted from a list of 26 Phillies eligible for post-season play, which means Kevin Saucier will be available for bullpen duty.
BUT IF FEENEY lets the Phils replace Espinosa with Bystrom, Randy Lerch will be placed on the ineligible list to make room for Saucier.
Paul Owens didn't want Espinosa or Lerch to read about it in a newspaper, but that's another story, the moral of which is that loose lips sink ships and there are different degrees of "off the record," including a degree where what is off the record for one guy is on the record for another.
Green and Owens vanished into the coaches office with Nino at about 1 p.m. Espinosa, who shut out the Cardinals for seven innings in his last appearance on Sept. 12, was still clutching the newspaper.
"He took it professionally," Green said late yesterday afternoon after pouring over the Astros scouting report with his advance men. "Nino's arm was never there this season. He went out there with a lot of professional pride and used his excellent knowledge of how to pitch to achieve some successful results. But his fastball had lost so much velocity Herm Starrette could have warmed him up with an infielder's glove. We don't want Nino to jeopardize his career any further. He's only 27 years old with a lot of pitching ahead of him if he can lick this shoulder thing."
Green told Lerch of his conditional status just before the Dodgers and Astros began their sudden-death playoff in Dodger Stadium.
"RANDY TOOK IT fairly hard, as I would expect a young man who has had a very frustrating season would take it." Dallas said. "He'll probably rip me in a couple of days."
Green and Owens waited all afternoon for word from Feeney, who discussed the Bystrom matter over lunch in New York with Commissioner Bowie Kuhn. About 3:45 p.m.. Dr. Phillip J. Marone. the Phils team physician, and trainer Don Seger were called to Owens' office to provide Feeney with more details about the chronic shoulder bursitis which kept Espinosa on the disabled list until the All-Star break.
"Chub wants Dr. Marone to supply a few more details on Nino's case," The Pope said. "We're not trying to pull any fast ones. We feel we have a legitimate case that should be decided in our favor on the merits of the medical evidence we've provided. Nino is not able to throw with anything approaching major league velocity."
To Espinosa's credit, he went through the workout as if nothing had happened. And since he is not sharing his thoughts with the media-at-large, nobody bothered him when he dressed afterward.
OWENS SAID HE was expecting a phone call from Feeney at 9 last night, but shared Green's view that the league president will give them the news in person sometime today.
"I think Chub wants to remain incognito until after the Dodgers-Astros game," Paul said.
Incognito? That's what Feeney was here in 1977, when he showed up in a driving Saturday night nor'easter as the only one of 61.000 people without a raincoat.
Meanwhile, righthander Bob Forsch will oppose Cy Young Award winner-apparent Steve Carlton, who will be working with five full days of rest. The Astros are the ultimate grind-it-out team. They can, must and almost always do perform all the small tasks necessary to translate a lack of power into enough runs to make their outstanding pitching hold up. But Bill Virdon's staff could be stretched thin if righthander Vera Ruhl is still hampered by a freak cut he suffered on the index finger of his pitching hand last week. Ruhl was forced to leave Sunday's game in the third inning when the stitches began tearing.
Green didn't tip off the identity of the opponent he preferred until the Astros took a 2-0 lead in the first yesterday. Dallas grinned and waved a fist in the air, an understandable gesture by a man whose team enjoyed a 9-3 edge over Houston in the regular season. It was a wafer-thin edge in competitive terms, however; hardly dominance.
EXCEPT FOR knuckleballer Joe Niekro, the Astros staff comes at you with power and hard-breaking stuff. The Phils' offense fares much better against challenging pitchers than it does against off-speeders. Even Joe Niekro throws his knuckler hard and has an excellent fastball and slider to back it up. After Forsch. they will face Nolan Ryan in Game 2 tomorrow.
The Phillies will be out to end a 65-year home shutout in post-season play. They are 0-10 at the Baker Bowl (1915), Connie Mack Stadium (1950) and the Vet (76, 77 and 78). They are 0-6 at the Vet in the two-division era.
Tonight, a team which strung together a six-game winning streak to eliminate Montreal Saturday night will attempt to prove once more that history is bunk.
"We'll be all right tomorrow," said Professor Pete Rose. "We'll win a game here. I just think our team shapes up better against Houston. That don't mean you can beat 'em now, but we did beat 'em nine out of 12. Psychologically, all of their good hitters, Terry Puhl, Jose Cruz, Joe Morgan are all left-handed and they're going to have to face the best left-handed pitcher in the world twice to go to the World Series. They'd have to sweep us, which is highly unlikely, not to happen.
"YOU GET A TEAM going through a four-game trip like they've gone through in L.A. and they don't even get to go home, which is not how you like to approach a playoff – going from West Coast to East Coast."
Rose predicted a Houston victory in Dodger Stadium with confidence hours before Davey Lopes began the shambles for the Dodgers by booting Puhl "s leadoff grounder.
"I just think Niekro is gonna win his 20th game," Pete said. "It'll probably be low-scoring in. the playoffs. You expect that because teams with good pitching get into the playoffs and we both have good pitching. Our games during the season were low-scoring. And nobody ever scores much in the Dome."
Green's lineup has been a daily focal point since the manager took Greg Luzinski, Bob Boone and Garry Maddox out of it before the four-game sweep of the Cubs. Dallas is not tipping his hand.
"Boonie will catch," Dallas said.
Will Luzinski be in left field ?
"Boonie will catch," he said.
Will Maddox play center?
"Boonie will catch," he said.
THE GUESS HERE is that Green will go with his veterans against Forsch. Tomorrow night, against the high-smoking Ryan. Green is more likely to go for Lonnie Smith's contact-hitting and speed in left and, perhaps, Del Unser's left-handed bat in center.
This is the Phillies best shot in four division titles to win a pennant and that assessment is not made with lack of respect for the Astros. In 76, the Reds had the Phils overmatched. In 77 and 78, they shot themselves in the foot, losing to inferior Dodger teams. For the first time, the Phillies are going into a playoff after a blazing stretch run which saw them run down two excellent clubs in a much tougher division than they dominated in their first three title years.
"Momentum is a factor," Rose said, "but I also think this a better team than those Phillies teams. The pitching is definitely better and I think the bench is better. They had a veteran, experienced bench, but now we got some kids who can really play, plus veterans like Del Unser and Greg Gross. This bench can do more things."
IF BYSTROM IS ruled eligible, Green says he will get the ball in Game 4.
"Marty will be my swing guy," Dallas said. "Larry Christenson will start the third game and Marty will pitch the fourth game."
"Swing guy" means Bystrom will pitch if the Phillies, are up 2-1. If they are down 1-2 in Houston, the pitcher Friday night in the Astrodome will be Steve Carlton.
And if Chub Feeney sends Bystrom regrets, Bob Walk will be working the fourtb-game swing shift.
Boone's the Clutchest .220 Hitter Around
By Ray Didinger
The celebration had finally splashed itself out and the Olympic Stadium work crew was beginning the mopping-up operation.
Four glum Canadians in gray T-shirts were sweeping up a locker room that looked like Times Square on New Year's morning. Empty bottles, empty beer cans were scattered everywhere.
Dallas Green was sitting wearily in an adjacent office, quietly savoring the warm glow of the moment with his coaches. Bob Boone was one of the last Phillies left in the clubhouse, tip-toeing through the puddles of Cordon Rougue in his shower slippers.
Boone stuck his head in the room and offered his congratulations to Dallas Green for winning the National League's East Division pennant. The Phillies manager looked up from his beer and smiled.
"Hey, Boonie," Green said. "Why don't you get a clutch hit before the year's over?"
"It's early yet, Dallas," Boone replied. "It's still early."
FOR BOB BOONE, this season might have only just begun. It might have begun Saturday in the cold, damp Montreal night, with a two-out, ninth-inning single off Woody Fryman which tied the score, 4-4, and kept the Phillies clinging to postseason life.
Mike Schmidt won the game, and the pennant, with a two-run homer in the 11th but, as he pointed out, his dramatic blow would never have taken place if Boone had not stroked his gutsy single off ol' Woody.
"Biggest clutch hit I've ever seen," Schmidt said. "That one and the one Garry (Maddox) got in the 15th against Chicago last week... If Boonie doesn't get that hit off Fryman, we lose the game and who knows what happens on Sunday (in the finale)?"
There is a delicious irony in the sequence of key hits which led the Phillies to this National League Championship Series. Maddox, Boone and Greg Luzinski, the veterans Green benched "to generate some offense," delivered the three big, late-inning singles in the final week.
"What would you call it?" Boone said yesterday as the Phillies practiced at the Vet. "Poetic justice? Predestination? I don't know if I'd carry it that far. Let's just say I'm glad it worked out that way.
"If Garry, Greg and I hadn't come through in those situations, everyone would have said, 'Yeah, that's the kind of year they've had.' Now at least we've done something to get the goat horns off ourselves for a while.
"WAS IT THE biggest hit of my life? Oh, I don't know. I remember hitting a two-run homer in the bottom of the ninth to beat Southern Cal, 3-2. We beat Jim Barr (now with California) that day. The Stanford-USC rivalry was almost as big as the Dodger-Phillie rivalry."
Come on now. It's nice to win one for the Gipper and all that but how can anyone compare an undergraduate home run with a hit that keeps you in World Series contention?
I mean, who remembers college baseball games? It's just something to break the monotony between Beowulf lectures. The major leagues, the pennant race... hey, now that's Americana.
Besides, Saturday's landmark single had to be particularly gratifying for Boone since he had been delivering about as often as the pony express all summer. Boone wasn't in a slump, he was in a coma.
His batting average had skidded into baseball's tenderloin district, the .220s. He was 0-for-23 in one September stretch. Boone was so messed up, he could have swung and missed trying to beat a carpet.
"This will sound surprising, considering the way I've hit the ball this year," Boone said, "but I had absolute confidence when I went to bat in that situation (in Montreal).
"I wasn't nervous, I didn't feel a lot of pressure. I knew I was gonna get a hit off Woody Fryman. I was looking for a pitch out over the plate. 1 got one and I just stroked it to center.
"I WAS FEELING a lot more comfortable up at the plate right before that," Boone said. "The last few times up, I topped a couple balls that I just missed crushing. I knew (the stroke) was coming around, it was getting close.
"Right now, I feel good up there. Better than I have all year. I'm finally starting to develop some good swing habits. I'm keeping this (left shoulder) closed and, for me, that's the key to hitting. Everything else flows from that."
Boone took batting practice with the other Phillies yesterday and Billy DeMars leaned against the cage, scrutinizing each movement. He harped on a few little things ("keep those hands back") but, generally, he seemed pleased.
When Boone concluded his round with a screeching line drive off the left-field wall, teacher and pupil looked at each other and nodded. Tin pieces, they agree, are slowly slip ping back into place.
"This has been a disappointing year for me, personally." said Boone, who will catch Steve Carlton in tonight's Championship Series opener at home against the Houston Astros.
"I could rationalize it away by talking about the physical problems I've had (bad knee, hand injury). I could say I felt persecuted by the fans wher they booed me. I could say that took away from my performance.
"BUT I'M NOT going to make excuses. Why? Because I feel, as a major league ballplayer, I control my own destiny on the field. All the external things, what the fans say, what the press says, should have no bearing on what I do during a game.
"The fans boo me. Hey, that's external. It really doesn't bother me. In much more upset with myself for say, popping out than they (the fans) are upset with me.
"I know I'm a better hitter than I've shown," said Boone, who hit between .283 and .286 each of the previous three years.
"I just got off to a slow start this spring (with his knee rehabilitation) and never caught up. It's been frustrating but frustrations art pan of this business. You just have to fight your way through it, as best you can.
"The thing is, the success of the team keeps me going. September was a very exciting month. It was a great feeling being back in contention, playing a big game every night, looking at the scoreboard.
"I had fun in September, even though I wasn't exactly tearing it up. We were winning and 1 was contributing what 1 could, catching games, calling games. I gave it my best shot.
"When Dallas benched me and played Keith (Moreland), it was probably the best thing could have done for me. It enabled me to get away from the daily struggle (at the plate) and just relax. That's what I needed.
"When Dallas put me hack in the lineup, I felt better and I started swinging the bat better. Now I'm looking ahead to the playoffs... (smiling) I'm as optimistic as a.220 hitter can be.
"If 1 have a good post-season and we win," Boone said, "nobody's gonna remember, or care, what 285 hit in April and May A couple (clutch) hits like the one Saturday can turn a (disappointing) season around real fast."
Someone asked Rob Roone ll he considered the big hit off Fryman an omen of things to come in the playoffs.
"I don't believe in omens, as such," Bob Boone said. (* believe in confidence, concentration and a good, sound swing. You have that and you make your own omens."
Drysdale: Green's Got Right Idea
By Gene Quinn
Don Drysdale doesn't vote for the National League's Manager of the Year, but if he did, Dallas Green would receive serious consideration. Drysdale, ABC's expert commentator for the National League playoffs, says Green has the Phillies chomping at the bit for a crack at the Astros.
Why? The reason is not only Green's smart managing of the pitching staff during the pennant drive, but, according to Drysdale, Green's candor during a tumultuous season.
"Philadelphia definitely is sitting in the driver's seat as far as their pitching staff is concerned," said Drysdale, who will work tonight and tomorrow (Channel 6, 8:15 p.m.) with Keith Jackson and Howard Cosell. "Any time you get into a short series, if you have capable pitchers, the advantage should be to you.
"The biggest thing that happened to the Phillies was that they clinched their division Saturday instead of Sunday, when they would have had to use Steve Carlton to come back. That would have meant Dallas Green would have been able to use Carlton only once in the playoffs.
"IN A SHORT series, pitching is magnified a little bit more," said Drysdale. "The Phillies should be sitting in perfect position, because they'll have the off-day today (Monday), the travel day Thursday and Carlton (fresh from) not pitching Sunday."
Credit Green for magnificent manipulation of his pitching staff. Of course, rookie Marty Bystrom's whirlwind September and Tug McGraw's spectacular second half of the season had something to do with it, too. But, said Drysdale, Green's success has been as much the result of his character as it has the strength of the starting rotation and bullpen.
"No question about it," said Drysdale, a former Dodgers righthander who respects a "pitcher's manager." "He's done an excellent job.
"Green has taken something into major league managing today that I believe you have to do, and that is to chew somebody's ass out. Everyone says – and I hear it from every organization as I go around, 'It won't work for the kids today.' That's bullbleep. I don't believe in that. I don't think Dallas believes in it. I've never sat down and really talked to him about it. But I've read the stories and quotes and beard people talk about him.
"I think he's got enough grown men on that ballclub – veteran players – who realize it isn't all that bad. It's a throwback to years ago, it's still not that bad to have your butt chewed out or have it chewed out in front of somebody.
"ITS JUST GETTING it off your chest," Drysdale continued. "There's no grudges that way. There's a lot more in life than to carry a damn grudge around. You can carry a fever blister, but you know you're going to get rid of it. I think that's healthy.
"It probably took the players a while to get to know Dallas Green. He probably had a helluva lot better idea of how those players were and what they were about than they gave him credit for. He's no dummy."
You bet Green is no dummy. He knows he can yank Greg Luzinski when the Bull is slumping because Lonnie Smith is there to pick him up. Likewise Garry Maddox in favor of Del Unser and Bob Boone for Keith Moreland.
"It's an advantage to Dallas to have the type of club he has – a pennant contender, now a division winner," said Drysdale. "But I still think you can do the same damn thing if you're in Toronto or Seattle. The sooner the better some of these young kids grow up and realize that this isn't Sunday school, this is a business.
"You're in a business to make as much money for as short an amount of time as you can. Some of them should sit down and thank the Good Lord that there was expansion, because there's some who don't belong in the major leagues. You see it more in the American League than the National League because of expansion. Players damn sure better bust their butt for you."
GREEN CALLED IT his "90-10" problem, with 90 percent of the Phils trying hard and an unnamed 10 percent slacking. But the Phils acted like one big happy family last Saturday in Montreal when they clinched the division.
"They knew they were good," said Drysdale, "but they weren't sure how in the hell to go about getting it out in the open. And I think Dallas brought it all out in the open.
"I still believe that day when he chewed their butts out in Pittsburgh – even though they went on to lose the second game of the double-header – all of a sudden they started saying, 'Wait a minute, maybe Pittsburgh isn't gonna win this thing. Maybe we're not supposed to finish fourth or third or wherever they picked us.' All the pieces of the puzzle started falling into place and they end up winning."
In the race for Manager of the Year, Dallas Green could use a campaign manager lihe Don Drysdale.
Collins Found a Green Kid Named Dallas
By Phil Jasner
Jocko Collins watches Larry Christenson pitch for the Phillies, and in the deep recesses of his memory he really sees young, tough Dallas Green.
"At Blue Rock Park, down in Delaware," Collins was saying last night, after watching Houston bury Los Angeles in the playoff to reach the National League playoffs.
"I saw him lots of times, because in those days a scout had a smaller area to cover, he had time to check and doublecheck the guys he liked.
"With Dallas, we're talking about a 6-5 kid throwing at 88-90 miles an hour, with a ball that just jumped. He was loose, free, a good athlete, a tough competitor.
"I look at their pitchers now, Christenson is maybe the most like Dallas was. Only Dallas was a little quicker, had a little better curve. And he was always challenging everyone."
COLLINS SIGNED GREEN off the University of Delaware campus in 1955, taking him to Connie Mack Stadium to finalize the deal, carrying an instinctively good feeling.
"He was a prize catch," recalled Jocko, who works now for the Milwaukee Brewers and the 76ers. "But he went up to Buffalo, in the system, and hurt his arm in the cold weather. By the time he got to the big leagues, he was a control pitcher, not the power pitcher we had signed."
While Collins stayed busy searching for baseball and basketball prospects, Green moved skillfully through 185 major league games with the Phillies, Washington Senators and New York Mets, then stepped into the Phils' organization and, eventually, the front office.
And when he became the varsity manager in the summer of 79, Jocko Collins had that same instinctive feeling.
"When I sign a guy," Jocko said, "I tend to stay interested, watch his development. Even later on in his career, I feel like I have an edge, because I might know more about him than the next guy.
"He didn't do just a good job with this team, he did a great job. He took guys who were apparently hard to handle and made 'em do things his way. Danny Ozark's a good baseball man, but I don't think he got as much out of them as Dallas has.
"THERE HAVE BEEN years when the Phils have had good young players and haven't used them. But he had Lonnie Smith, Keith Moreland, Bob Walk, Marty Bystrom... and he got them out there. But, more important, he took the veterans and turned them around.
"One thing that hasn't changed is, nobody bulldozes Dallas. I grew up with those kind of people. The philosophy is, do your job and nobody'll bother you. Don't do your job, though, and somebody is gonna bother you.
"That meant he had to holler, to wake some guys up. And some of them seemed to take a long time, but they did and the team won the division. Now it seems like they're all on his bandwagon. I felt good watching the Montreal series on TV, seeing them win, because I knew I had played my hunch, and that it was right."
Collins has had his share of hunches in other seasons, signing Del Ennis, Earl Rapp, Chris Short, Johnny Briggs and Lee Elia (now the Phils' third base coach), among others. Even now, ha has Bobby Bailor in Toronto and Larry Milbourne in Seattle.
And, in 1944, there had even been a pitcher named Tom Lasorda.
"My wife reminded me while we were watching the Dodgers-Astros," Jocko said. "If it had been the Phillies and Dodgers, I could've claimed a manager on each team."
The Long Wait Is over for Pete Rose
United Press International
Pete Rose loves to tease people.
For two years now, or ever since he signed with the Phillies, he has been teasing guys like Larry Bowa, Greg Luzinski, Mike Schmidt and Garry Maddox.
"Just get me in the playoffs and I'll take over from there," he has been telling them.
They did their part by getting the Phillies into the playoffs with the Houston Astros. Now it's up to Rose to do his, and when it comes to something like the playoffs, he has a way of taking charge of them the same way Reggie Jackson, Mr. October, does the World Series.
"I'm ready," Rose bubbled yesterday. "I feel great and I'm swinging good right now."
THIS IS ROSE'S sixth playoff, and if past performances mean anything, Houston's pitchers should have a big problem with him. For one thing, Rose's 31 hits in the five previous playoffs he's been in constitute a National League record. For another thing, Rose is the youngest 39-year-old you ever saw.
"Everybody just waits for you to get old," he frowned. "I'm 39, but I haven't missed a game in a Phillies uniform yet.
"People ask me what happened this year because I hit only .282 compared to .331 last year. They don't take into account I batted in more runs this year than last; had more game-winning hits; more doubles; more runs scored and made three less errors. The only thing was I had less hits and less walks than last year, but my 185 hits this season still were fifth best in the league."
Rose feels the Phillies will beat the Astros and then do the same thing against the American League entry in the World Series.
"THIS TEAM HAS SO many things going for them right now, it's scary," he said. "Our pitching is just the way we want it. The best pitcher in the league (Steve Carlton) will be going for us against Houston with five days rest. That's one plus.
"And we have the right guys swinging the bat right now. Schmidt, (Bake) McBride and myself."
Truth-Telling Expos Refuse to Use Alibies
MONTREAL (UPI) – The Montreal Expos have enough alibis to get through a winter of misery. But, much to their credit, they refuse to use them.
The Expos lost a thrilling 11-inning showdown to the Phillies Saturday, bowing out of the National League Eastern Division pennant race on the final weekend of the season for the second straight year.
THE LOSS WAS VERY MUCH a microcosm of the Expos season... a season of crippled wrists and jogger's luck undermined their hitting, their pitching, and their speed.
Manager Dick Williams, who had the club on the verge of the first title in its 12-year history, made little reference to the broken wrist that limited premier base stealer Ron LeFlore to a pinch-runner's role or the wrist which Ellis Valentine said was "too sore" to swing the bat for the second half of the season.
"The Phillies deserve so much credit for fighting as hard as they did," Williams said. "We gave our best too and if we were going to lose I am glad it ended the way it did in extra innings. We went out fighting."
There was also Bill "Spaceman" Lee's second jogging crash of the year which kept him put of the pitching rotation for two months with an injured back.
Williams, seeking his first division title since guiding Oakland to consecutive World Series triumphs in 1972-73, said the Expos have managed only to build the core of a championship club. He hinted that changes are coming in the winter.
"WE WILL BE SOON considering what changes we are going to make. We do have the nucleas of a good club." he said.
Morgan Leads Astros by Example
By Stan Hochman
LOS ANGELES – The Astros blew three games to the Giants and plummeted out of first place. It was mid-August and Joe Morgan could see the season turning to dust.
He was hitting .200 and change, small change, at the time. Most guys hitting .220, you can't pry an "ouch" out of them if you hit them across the instep with a crowbar.
But Joe Morgan went front and center at a players-only clubhouse meeting.
"I've always said," Morgan explained, "that you really can't worry about yourself.
"I WAS NOT THINKING in terms of Joe Morgan. I was thinking about the players, the team.
"A leader has to stick his neck out. Sometimes it gets patted, sometimes it gets chopped off.
"Sure it was tough. But I wasn't thinking about Joe Morgan. I was thinking about 24 other guys. Guys I happen to care about. I wanted us close together. I felt I could help.
"What I said involved my whole philosophy. You have to be willing to pay the price.
"You have to sacrifice a little of yourself. You can't be concerned only with getting a base hit, stealing base. You have to think about what's best for the team... and if it's taking the damn walk, then you do that.
"I was including myself. I told them I knew I was lousy.  
"It was a very, very satisfying thing, the feeling I got when the meeting was over. We went out there and the Padres had no chance that day. And then we won 10 in a row."
IT TURNED THE season around for the Astros, who drifted into Los Angeles three in front with three to play, and wound up in a sudden-death one-game playoff.
First prize was a trip to Philadelphia. Second prize was a long winter.
Morgan struggled through the four games, hitless in 13 at-bats, after wrenching his left knee scurrying back to first base his first time up Friday night.
"If I'm looking for a silver cloud," he said, "I have to be lucky it didn't happen two weeks ago. I was really swinging the bat, really sharp."
In the previous 27 games, Morgan was 30-for-94. The hot streak stretches back further than that. Since Bill Virdon stuck him in the leadoff spot, Morgan's on-base percentage (hits and walks) was .414.
"In the other spots, I felt he was pressing a little," Virdon explained. "He was trying to hit pitches he doesn't normally hit.
"To get him back in the groove, he needed to be in a position where he could relax. The last month, leading off, he got a lot of bg hits, key hits."
SUNDAY NIGHT, Morgan's telephone jangled with sympathetic calls.
"I heard from Willie Stargell, from Tony Perez, from Dave Concepcion and from Pete," he said. "Four of my favorite people.
"Pete said, 'Me leading off, you leading off, how mad do you think Dick Wagner is gonna be to see that?'"
Wagner is the hatchet man who waved goodbye to. Rose and Morgan in Cincinnati.
It looked for a while like Morgan would wind up with the Dodgers, but Dave Lopes resisted a move to center field, and that dream died.
"Coming back to Houston, that felt good," Morgan said. "A chance to repay them. When I was 5-7 and 140 pounds, not too many teams were pounding down Joe Morgan's door.
"In those days, the Astros lost. But I considered myself a winner. The only problems I had were with one man, Harry Walker. But that's life.
"I told the writers to go back and look at the papers when they got rid of me. I said that some day I'd like to come back and win a championship for them."
HE HAD TWO struggling years in Cincinnati and at 37, he could feel the beady stares of cynicism.
"Those guys have helped me," Morgan said. "They've been in my corner, pulled for me, from the first day I walked in the clubhouse.
You can feel things like that. They were concerned for me, Joe Morgan, the individual.
"And the first time we went to Cincinnati, that was the best feeling I've ever had. They booed me.
"And I got the feeling these guys said, 'We're gonna win this series for him.' Luckily I hit two homers and we swept 'em.
"This team had never swept a series in Cincy. It was the only time in history they ever did it."
Morgan responded to his new spot in the lineup by regaining the stroke that made him MVP twice. He rediscovered it on videotape.
"I found out what I was looking for in Joe Morgan," he said. "I found out what I was doing wrong.
"THE LAST YEAR and a half I'd gotten into bad habits. And they can become comfortable. "I had been hurt, so my front side was collapsing. To compensate I was holding my hands further back. That made my swing four inches longer.
"My strength has always been in my quickness with the bat. I brought my hands forward four inches and I started driving the ball again."
Sure, baseball is a game of inches. And the inches above the eyebrows may be the mosi important inches of all.
"He's intelligent, he's dedicated, he's experienced," said Tal Smith, the GM who was willing to meet Morgan's free-agency price.
"He helped from the start. In spring training, the work stoppage, he and J R. Richard ran through the airport, making sure that Enos Cabell didn't catch a plane home.
"You can't measure the effect of keeping the entire team intact, but you know it helped."
CABELL IS ONE of those Houston players who urged Smith to go after Morgan.
"I talked to Joe, told him we wanted him," Cabell said. "And the last month or so, he's taken over. Base hits to win games, homers to win games.
"He changed our whole offense around, from a team that scored 2-or-3 runs a game to a team that scores 4-or-5.
"He's someone to lean on. Man been in the playoffs, the World Series, been MVP twice.
"We both come out of ghetto backgrounds I'm a hard person, I cuss. I'm blunt. But Joe is a diplomat. He can get a point across where I'd just be harsh and holler. When Joe talked to the team that didn't surprise me.
"You can't fool ballplayers. You can't fool your own teammates. Everybody knew he was speaking from the heart.
"If Joe hadn't had that meeting we would have been out of it long ago. Guys were going different ways, pulling apart.
"And now we've become a team that doesn't have highs and lows like it used to. Used to be, we'd win a big game and we'd be high as a kite for a week.
"MEANWHILE, WE'D LOSE a couple of games we should have won. Now, we're older, we don't panic."
Swept by the Dodgers in the final three games of the regular season, the Astros did not panic.
"We came in on Sunday," Morgan said, the 'Live, Love, Laugh' pendant jiggling on his chest, "and I told the guys they weren't beating us.
"They hadn't run us out of California. They won three one-run games. If they were the better team they'd be beating us bad.
"No one else in the league is a better team than we are.
"Maybe this whole thing is good for us. Maybe we felt like we had it made. Then the pressure came back on us. And this team plays a lot better under pressure."
His knee is gimpy. That limited his range and warped his batting stroke.
But there was nothing wrong with his mouth and he kept on talking, preaching powerful positive sermons. He has this Houston bunch believing in themselves and that makes him the most dangerous .250 hitter in the playoffs.
Howe Astros Won Is Nice Work of Art
By Stan Hochman
LOS ANGELES – Art Howe had handled champagne before, when he managed Bayamon to a winter-league championship. But maybe the champagne in Puerto Rico came in screw-top bottles.
Yesterday. Howe struggled with the foil wrapper, fumbled with the twisted wire, and wrestled with the cork before finally popping it toward the clubhouse ceiling.
"I'm on cloud nine," explained Howe, taking a small tug at the bottle of Kornell bubbly before his teammates began to pour the stuff over his slick head.
Howe got to cloud nine by rapping out three hits, including a two-run homer, by driving in four runs, as Houston finally ended the National League West season with a 7-1 thumping of the Dodgers in the one-game playoff shootout.
He is 33. bald, gaunt and has the indoor pallor of a computer guy.
"I WAS A systems analyst for Westinghouse," Howe explained, "and a friend of mine arranged a tryout with Pittsburgh. I was 23, all the other guys were 16 or 17."
Howe played a little third, a little first, pitched a while and lashed out some line drives. The Pirates signed him. He took a tremendous pay cut to play in Class A. The rest is history.
Houston had lost three screechy one-run games to plop into a tie, forcing the seventh playoff in big league history.
Friday, Joe Ferguson homered to win it for the Dodgers. Saturday, Steve Garvey homered to win it for the Dodgers. Sunday. Ron Cey homered to win it for the Dodgers.
Yesterday. Houston scrounged two shaggy unearned runs in the first inning. And then Howe hammered a Dave Goltz curve ball into the bleachers in left-center to make it 4-0.
At second base, Howe stuck one skinny finger into the smoggy sky. Halfway between the second and third, Howe pounded his palms joyously.
"I hit a hanging hook," Howe said afterward. "He got it up in the strike zone. I was ecstatic.
"They were pretty happy when they hit theirs. So I was happy too. Hey, it's the first time I've ever been in a game this big. Big game, you get a little excited.
"I CAN'T describe how high I was. Maybe two feet off the ground. I thought. 'Finally... we hit a homer.'"
Why not? Why not have the hitting hero be a guy who didn't sign until he was 23 ... a guy who took a cut from $l,200-a-month to ride the grimy buses in Class A... a guy who hobbled both Achilles tendons by running Puerto Rican streets in an effort to stay in shape last winter... a guy who spent most of spring training on crutches.
This is Hollyweirdsville and the first three games were written by Aesop with Hitchcock directing.
"I had been playing summer ball, semi-pro," he said. "For the Northside Mets. He hit close to .500. My friend went to the trouble of getting me the tryout so I felt I had to go.
"Nobody had been interested when I was in college. At Wyoming, we played in Prestone commerical weather. Once broke my finger on a two-hooper, it was so cold.
"Played football my freshman year, slipped a disc. I'd hurt one in high school. The doctor said if I hurt it again I'd never play any sport. So I gave up football and switched to baseball."
He starts at first base for the Astros, switches to third in the late innings, which makes him unique.
HE PLAYS FOR a unique team, a team that has to get tough pitching, has to make the plays, has to sprint around the bases to win.
They did it all yesterday, breezing behind a six-hitter by the knuckle-balling Joe Niekro. The lone Dodger run was unearned.
It came in the fourth and Niekro squelched that threat by striking out Joe Ferguson with the only curve ball he threw all day.
"The big thing was I showed 'em early in the game I was getting the knuckleball over." Niekro said.
"We got the lead. I got hurt on some fastballs. but then I went back to the bread-and-butter pitch."
So, Houston knuckled down, the Dodgers knuckled under, and the fans displayed knucklehead tendencies. They pelted leftfielder Jose Cruz with so much garbage in the fourth inning the umpires waved the Astros off the field and had the announcer threaten a forfeit.
"They threw oranges, apples, pineapples," Cruz said. "I didn't mind that, until they hit me in the back with ice."
The Dodgers were down by six runs at the time, and there had been a bitter episode at home plate in the previous inning.
After Howe's homer. Alan Ashby singled and Craig Reynolds hit a gapper to right-center.
RICK MONDAY RAN it down, and started a splendid relay by 'hitting Davey Lopes with his throw. Ashby was out from here to Cucamonga and he came in, low and hard.
Ferguson, who had dropped a throw earlier in the game, handled the crunch. But when the players untangled, Ferguson put his knee in Ashby's back.
The Houston team swarmed toward home plate and the Dodgers grumbled out to meet them.
Plate umpire Doug Harvey negotiated a quick truce and only snarls were exchanged.
"For four days," Ashby explained, "with 50,00 people going crazy every day, the media attention, national TV, we were both excited."
Nobody was more excited than Howe, who clutched his champagne bottle in front of a locker that was marked "Mrs. Betty Howe."
"Last year I had hamstring problems," explained Howe. "Earl Campbell had some, too, and he started wearing pantyhose. So I got some, too.
"The clubhouse guy here got on me a little, and he put up the name tag and it's stuck."
A 33-year-old guy with creaky Achilles' tendons gets three hits, drives in four runs, plays two positions, why shouldn't he do heroic things to give Houston its first championship in 19 years?
"I lived and breathed the game as a kid, studied it." Howe said. "I just love the game."
Nothing Fazes Virdon
By Stan Hochman
LOS ANGELES – Bill Virdon stood ankle-deep in spilled champagne and his words were just as pale, just as flat.
Virdon hides his feelings so deep inside, you need a search party to find them. He is about as emotional as those monuments he used to play in front of at Forbes Field, when he was the Pirates' centerfielder.
But if Virdon was placid, his team was jubilant at winning its first pennant in Houston history. Could it get cranked up again tonight in Philadelphia, after a damp, partying plane ride?
"I DONT KNOW if it hurts or helps." hedged Virdon. "What hurts is having to face Steve Carlton and he has a good game. That's what hurts.
"It won't be easy. But it's a new ballgame. Everybody is interested in getting to the World Series. That's enough incentive."
But after three days of nerve-grinding one-run losses, followed by the joyful lopsided playoff victory, wouldn't his guys be content just to have come this far?
Virdon stared at the noisy, champagne-splattered scene and actually said. Oh, no, Mr. Bill. 'We aren't happy yet.'
ASTROISKS: Joe Niekro was 21-12 last year but got snubbed by Tom Lasorda in the All-Star game. Yesterday Niekro got even, snuffing out the Dodgers' season with a splendid, fluttery six-hitter. "Yeah, this was special," Niekro said. "Look, he's got his ideas about All-Star games and I've got mine. I felt I should have pitched In that one. But this wipes out 50 All-Star games."... The Astros set club marks in total wins (93), home wins, saves, stolen bases, triples, team ERA, home attendance, and road attendance... Enos Cabell has hit safely in 10 of his last 12 games... Cesar Cedeno has hit safely in 22 of his last 30 games... Joe Morgan's fourth-inning walk was career walk 1,559, tying him with Harmon Killebrew for eighth place on the all-time list... Ken Forsch tonight with Nolan Ryan tomorrow... The Dodgers used six pitchers, with starter Dave Goltz getting pelted out in the fourth inning The crippled Dodgers had to get along without Ron Cey when his left ankle came up swollen... Crowds for the four games totaled 199,193, and the Dodgers soared past the 3,000.000 mark again.
Astros' Road Anything but Easy
By Harry Shattuck, Houston Chronicle
They're not your routine championship team.
A club built on pitching, they lost the best in the business July 30 when J.R. Richard was felled by a major stroke.
A team dependent on defense, they had made 96 errors by the end of July and Manager Bill Virdon admitted, "Those figures don't even show how badly we've played in the field."
Players themselves known for base-thievery, they allowed the opposition to steal 84 percent of its attempts at second base.
A manager who prefers a set lineup. Virdon used more than 100 combinations, not including pitchers.
They didn't start a left-handed pitcher for 213 games over two seasons. None of their players hit even 15 home runs. Tied with Los Angeles for first place Sept 17, they were dispatched on a murderous road trip, with no days off. from Houston (CDT) to Cincinnati (EDT) for two games, to San Francisco (PDT) for three games, to San Diego (PDT) for two games, to Atlanta (EDT) for two games, then back to Houston for a big series against the Reds.
BUT THE HOUSTON Astros survived. They had a winning trip. They beat the Dodgers and Reds down the stretch and won the first championship in the city's 19-year major league history.
As the National League West race wound to a conclusion. Cincinnati's Ray Knight offered a comparison between his team's rivals:
"The Dodgers beat you with ability." Knight said. "The Astros beat you with heart."
Indeed, the 1980 Astros did have to reach deep inside for something extra after losing Richard near mid-season.
"We could've quit then," second baseman Joe Morgan said. "We lost not only our best pitcher but the most dominant pitcher in baseball. The fact that we stayed in first place shows you the character of this team. We've overcome adversity all year."
Character. Heart. The Astros did win partly because of those qualities. But. with appropriate apologies to Ray Knight. Houston also won because of ability. Good pitching. Good defense (only 34 errors in August and September combined). Good speed. Enough hitting to prevail in the spacious Astrodome. And good managing.
"We miss J R. and with him we'd have won much easier, but people are finding out we're not a one-man team." Astro third baseman Enos Cabell said. "Nobody believed we could win it. I hope they keep second-guessing us all the way through the World Series."
"THERE IS A LOT more talent on this team than some people realize." Morgan said. "The pitching is excellent, both starting and relief. We've played good defense the second half of the season. And we've got good hitters. Home run hitters, too. I know it doesn't show up in the statistics but that's because of our ballpark. Put the Dodgers in the Astrodome and see how many home runs they hit. Put the Reds in the Astrodome and see how many they hit. We've hit more homers than our opposition, and that's what matters."
An improved offense may have marked the difference between Houston's 1979 second-place finish, 1½ games behind West champ Cincinnati, and this season's title. The Astros' batting average was .261, good for a team residing in the Dome. The home run total was 25 ahead of last year.
Jose Cruz, who surely is one of baseball's most unsung heroes, again was a leader. "He has been our most consistent player all season," Virdon said. So what's new? Cruz had averaged above .300 the four previous seasons, had averaged almost 80 RBI and 37 stolen bases. Not until this year was he even noticed enough to make the National League All-Star team.
Cesar Cedeno said in spring training, "If I stay healthy all year, I'll be the CC of old. People wonder why I haven't had a great year in a while but they don't understand I've had four surgeries, three on my hands and one on my leg. If I'm well this year, there will be no excuses."
CEDENO WASN'T well all season – he missed 26 games because of an assortment of maladies – but no excuses are necessary. Until the final week, he challenged for the batting crown. He stole 48 bases. He played a Gold Glove-caliber center field down the stretch.
The Astros' championship surge included other heroes offensively. For instance, Morgan, who reached base about 40 percent of his plate appearances after Virdon moved him to the leadoff position in mid-August; for instance, Art Howe, who batted above .400 in September and had four big RBI in yesterday's playoff game; for instance, Gary Woods, who spent until Aug. 31 in the minors, then drove in a run in 10 of his first 11 Astro starts; for instance, Cabell, who batted safely in all but about a dozen games during the second half of the season.
Terry Puhl led the Astros in home runs with 13, Denny Walling hit .299, Rafael Landestoy stole 23 bases, Craig Reynolds survived a terrible start to deliver several key hits near the end, Dave Bergman was 9-for-13 at one point in September, Overbrook High's Jeff Leonard contributed two game-winning hits, Danny Heep hit .276 and Alan Ashby and Luis Pujols provided 68 RBI from the catching position.
More than eight men, you say? Right. A big reason for the Astros' success? Right. "We feel depth is one of our biggest assets," Virdon said. "We've got a lot of versatility. For proof, count the lineups. Or watch Cabell shift from third to first base, Puhl from center to right field. Walling and Leonard from first base to right field, Landestoy from second to third to shortstop.
HOUSTON'S CHIEF weapons were not bats, however. Not speed either, even though more than 180 bases were stolen for the second straight year. The Astros won primarily because of arms and gloves.
Morgan spoke for the latter at the All-Star break when he said, "I'm disappointed in our defense. We've got to play better. I've found that in August and September, when the pitchers and hitters are tired, if you concentrate extra hard in the field you win games with your defense." The Astros heeded Morgan's words and played superbly the rest of the way.
The team's stellar pitching staff was steady all year. Call Joe Sambito, Frank LaCorte and Dave Smith the best bullpen trio in the league and you'll get no argument in Houston. Call Smith Rookie of the Year and you'll get no argument in Houston. Call Vern Ruhle, who missed most of last season after back surgery, the Comeback Player of the Year and you'll get no argument in Houston.
Call Joe Niekro baseball's next-best to Steve Carlton over the past two years and you'll get no argument in Houston. Call Richard, Niekro, Nolan Ryan and Ken Forsch the league's best rotation the first half of the season. Call Niekro, Ryan, Forsch and Ruhle the best rotation the second half. Call Joaquin Andujar erratic but call him brilliant at times, as in a 21-inning shutout string in late August when other pitchers were in a rare slump.
The Astros, as usual, received little national acclaim. "We don't play in the media center of the world," Niekro said.
BUT THEY BELIEVED in themselves. "I honestly believe we're the best team," Morgan, a veteran of five divisional titles and two World Series championships at Cincinnati the last decade, said a month before the finish.
"We're not scared of anybody," rightfielder Puhl said.
On the next-to-last Saturday of September, J.R. Richard, walking well, speaking eloquently, made his return to the Astrodome. He took the Astro lineup card to home plate and was greeted by a five-minute ovation. "Ill be back (as a spectator) at the World Series here in Houston," promised Richard, who watched Niekro beat the Reds, 2-0.
"I was trying hard not to cry." Cabell said.
"Most of us had tears in our eye," Virdon said. "I had a lump in my throat so big I couldn't talk."
"It was a chilling experience," Niekro said. "I consider it an honor to pitch a good game with J.R. here."
Character. Heart. Depth. But ability, too.