Wilmington Morning News - October 7, 1980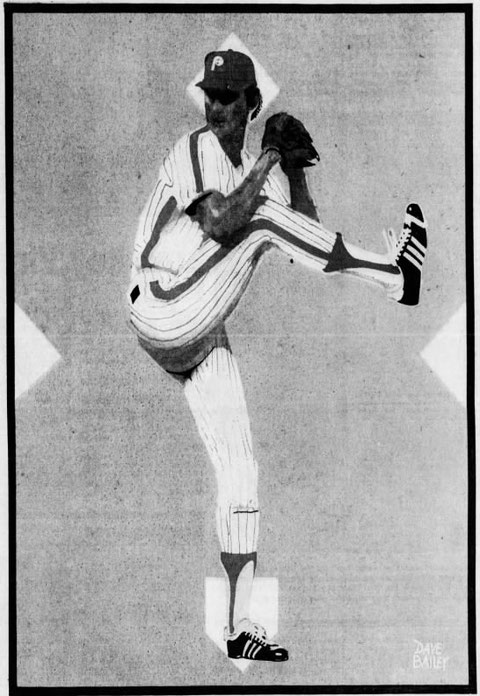 Phils ready to take step to 'Big One'
By Ray Finocchiaro, Staff Correspondent
PHILADELPHIA – Emotion may have gotten the Phillies past the Montreal Expos and into the National League playoffs, but past accomplishments now take a back seat to the job at hand – making the World Series.
"Nothing's wrapped up at all," said Phils' MVP candidate Mike Schmidt at yesterday's Veterans Stadium workout for tonight's National League playoff opener with the Houston Astros.
"You've got to wrap up the division title before you can play where you want to play, the League Championship playoffs and the World Series. We've got to put the rest behind us because it's a whole new season now."
That new season, and the Phillies' chance to make up for three lost playoff chances from 1976 to 1978, begins tonight at 8:15 when Steve Carlton (24-9) takes on Houston's Ken Forsch (12-13). The Astros needed a 7-1 victory over Los Angeles yesterday to advance this far – and they used Phillies-nemesis Joe Niekro in the process.
Pete Rose, who'll be making his first playoff appearance in anything but a Cincinnati uniform, wasn't about to count any postseason chickens yesterday.
"We haven't accomplished anything yet, as far as I'm concerned," said Rose, who holds five LCS records, including a.450 batting average in 1972. "The Phillies have been here 3-4 times, but you haven't done anything until you've been to the Big One. Anybody can win a division. Hell, the California Angels won one last year and look where they finished (sixth) this season. We'll see what everybody's made of now."
It promises to be an interesting view. The first two games will be played here, followed by however many are needed for a team to wrap up the best-of-five set in Houston. Rose likes the Phillies' odds.
"We've got so many plusses now, it's scary," he said, noting the Phils' 9-3 record vs. the Astros this season. "We've had the rest, our pitchers are set up, we have the home-court advantage and the right people are swinging the bats now. We've got everything in a positive way now.
"I called up Joe Morgan this morning and told him 'We're saving Carlton for you.' We've got the best pitcher in baseball with seven days' rest."
That confidence extends beyond the ever-optimistic first baseman. Schmidt, whose homers won the two games in Montreal that carried the Phils past the Expos, says he – and the entire team – feel mentally prepared and confident" about the job at hand, which is bringing the first World Series to Philadelphia since 1950.
"We've talked about character and adversity before," said Schmidt, whose 48 homers and 121 RBI led the league and make him the Phils' marked man tonight. "But the other times we won the division, all we had to do was hold on and win a few games at the end. We could do that because we were tough at home. It was different this year. We played great ball on the road and respectable baseball at home."
Rose's "home-court advantage" hasn't helped the Phillies so far in the playoffs, where they have yet to win at home in six tries. But nobody's worried about past history. Or are they?
"It seems we were dealt a freak blow every time we've had to play in one of these," said Schmidt, shrugging his shoulders. "Garry Maddox dropped that liner in Los Angeles the last time we were in it (1978). Then Manny Mota's fly ball in the rain forced us to go against Tommy John. We've had our share and fill of crazy, freak breaks."
And Schmidt feels the Phillies can handle any curves Lady Luck throws at them tonight.
"In the worst possible times, we'll find a way to win," Schmidt said. "We may give them the best-pitched game they've ever seen or the ugliest game in the world, but somehow we'll come up with the win – and that's all that counts."
Manager Dallas Green wouldn't announce tonight's starting lineup during yesterday's workout, but no surprises are expected. Bob Boone will catch Carlton, Greg Luzinski – who has hit safely in all 11 LCS games for the Phillies – will be in left and Garry Maddox is likely to open in center, despite right-hander Forsch.
Like Rose and Schmidt, Green turns his shoulder on the division chase behind him and is only eyeing the job at hand. "You gotta take the first step before you can take the next two," he said, "but I feel very confident right now."
Green's confidence was achieved at the cost of severely irritated vocal cords, which reached Richter-scale levels at various stages of the season. But Green says any suspicions he fostered about some players are gone now, replaced by emotion and unity.
Green wouldn't say this year's Phillies are a better team than the previous division champs, but would admit "there is a difference in this team. Some goals have been achieved. We have a better feel as a team. We're going into these playoffs with much more intensity, much more desire.
"I'm not saying they didn't want to win before," Green added. "I'm sure that, in their minds, they did. But now they know what it will take to win. It will take the same intensity and desire it took in Montreal."
And that, Green smiles, was something he still feels.
"I'm much more at ease with the team now than I have been all year," the manager told the media at the sunny workout. "I've never seen a bench with the intensity, the wanting, yelling and screaming, the sheer desire we had in Montreal. It was very gratifying."
Somebody wondered about how many years this team has left to win a world championship and Green admitted to similar thoughts.
"The time; is fast approaching the critical stage in terms of age," he said. "Some of our key guys have to be looked at They don't have many years left But some of those veterans have been very key guys for this team this year."
"The whole team is looking at these playoffs differently than it's been looked at before," said Schmidt. "The team itself feels different. Oh, it's the same team except for some young kids. This is ' the same bunch of guys who've had a great deal of adversity in common. Everybody in the starting lineup has been through a season of boos here.
"But this team has character. The way we're playing now, the team has proven to me that they're ready to play the best teams in baseball."
Bystrom is big question mark for Phils' roster
By Ray Finocchiaro, Staff Correspondent
PHILADELPHIA – The National League playoffs are ready for the Phillies but are the Phillies ready for the playoffs? Good grief, they aren't even sure who'll be on the roster for tonight's opening game.
The primary question mark is right-hander Marty Bystrom. The Phillies want to get Bystrom and his 5-0 pitcher-of-the-month record on the roster but the National League office is balking at the move.
Bystrom was called up on Sept. 1, making him ineligible for postseason play. But the NL office said that a legitimate injury to a pitcher already on the roster would allow Bystrom to be activated.
Nino Espinosa is the Phils' designated pitcher. He isn't injured, exactly, just ineffective because of ' injury and hasn't pitched since Sept. 12. And he won't go on the disabled list voluntarily. The ball is now in NL President Chub Feeney's court.
Paul Owens, the Phils' player personnel director, phoned Feeney for an answer yesterday but Feeney, who discussed the situation with Baseball Commissioner Bowie Kuhn over lunch, said the decision would be made sometime today.
"We tried to be honest with them," said Owens of the Phils' medical report to the league. "Nino's not really hurt, he's just been ineffective. It's nothing we're making up. He's had bursitis in his shoulder since last September. We've explained the whole thing to them and we've given them the medical reports. I guess they just want to check out the situation on their own."
Besides the Bystrom dilemma, the Phils also have to lop off a player to make left-handed reliever Kevin Saucier available. Saucier was on the DL on Sept 1, so the Phils would have to trim another player to put him on the 25-man roster. Randy Lerch, whose appearance in Sunday's rookie showcase in Montreal was onlyhis second outing in three weeks, is a strong candidate for the player-to-be-trimmed-sooner-or-later.
EXTRA INNINGS – Carlton was 2-0 vs. the Astros this season, beating Nolan Ryan 3-0 and Joe Niekro 2-1. The two-time Cy Young winner is the all-time left-handed strikeout leader in baseball history with 2,969... Rose's five LCS records are: highest batting average in a five-game league championship series, .450 in 1972; most hits in a five-game playoff series, 9 in 1972; most total bases in a series, 15 in 1972; most hits in championship series play, 31, and most singles, 20.