Wilmington Evening Journal - October 7, 1980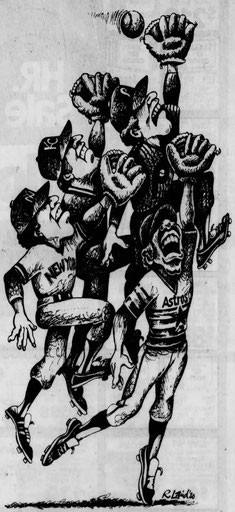 Phillies 'September Song' in tune
Green has team ready to take the BIG step
By Ray Finocchiaro, Staff Writer
PHILADELPHIA – Dallas Green's "September Song" Is not a hymn to lost youth but rather a rousing Sousa-style tribute to the Phillies' 1880 comeback.
"It's one thing to say you want to win," the Phillies' manager said on the eve of the National League playoffs that open tonight at veterans Stadium, "but another thing to show it. And we showed it. It was a great, great September."
The Phillies went 20-9 in September to overtake Montreal and Pittsburgh for the NL East title. Dallas Green called it the greatest September ever but there were some doubters.
Still, it took Houston until yesterday's playoff game with Los Angeles to win the West, so the test of great Octobers still lies ahead. One thing no one has confused the Phillies with in the past has been a great October team.
But the Phillies, to a man, Insist things will change this time. They say they can – and will – go all the way. Tonight's 8:15 matchup between 24-game-winner Steve Carlton and Houston's Ken Forsch (12-13) is just the first
"We've all got a confident, positive attitude," said Mike Schmidt, the Phils' MVP candidate with 48 homers and 121 RBI, including the two homers that beat the Expos over the weekend. "We feel we can continue right on."
Dallas Green did a lot of prodding and hollering at high-decibel level to mold the current crew into division winners. The manager doesn't take the credit but it's there. The Phils' great September, punctuated by a tirade or two, is statistical proof.
"Dallas has a strong feeling that this club likes to resist authority and he likes to tell the media that," said Schmidt, who advocates other approaches. "Maybe there's something to that. You don't know what's best for you until you win the World Series – and this team hasn't done that yet."
But Schmidt feels this could be the year it all comes together.
"The whole team is looking at these playoffs differently than it's beer looked at before," he said. "The team itself feels different. Oh, it s the same team except for some young kids. This is the same bunch of guys who've had a great deal of ' adversity in common. Everybody in the starting lineup has been through a season of boos here.
"But this team has character. The way we're playing now, the team has proven to me that they're ready to play the best teams in baseball."
Green no longer subscribes to hit suggestion, made after last Monday night's crucial 15-inning victory over the Cubs, that certain members of the team may not have wanted the Phillies to win.
"I'm much more at ease with the team now than I have been all year," the manager said. "I've never seen a bench with the intensity, the wanting, yelling and screaming, the sheer desire we had in Montreal. It was very gratifying."
Green came into the manager's office, vacated by Danny Ozark after a seven-year residence, with a wrecking ball, intending to break up cliques while blending young kids with seasoned veterans.
"Before, there were great separations on this team," Green said during yesterday's low-key workout. "There were the eight regulars, the extra men, and the pitching staff. We didn't have that this year. When we did, we made sure it didn't last long.
"That was one of the problems from the beginning when I took over. We tried to do it through trades. We wanted to change the face of our bench. When we couldn't do it that way, we stayed within the organization. We got kids with juice and talent to fit in – and contribute."
The kids will have to wait their turn to contribute in these playoffs. Green will be going with the veterans again, Bob Boone (.229) and Greg Luzinski (.228) will be back in the lineup, Boone to handle Carlton and Luzinski because he's hit in all 11 LCS games the Phillies have played. They've only won two, none at the Vet.
Garry Maddox is expected back in center field, even though left-hand-hitting Del Unser might fare better against Houston right-hander Forsch.
And, of course, the hot-hitting Schmidt, ,309-hitting Bake McBrlde and the reliable Pete Rose, who holds five LCS records, all as a member of the Cincinnati Reds, will be in there, with shortstop Larry Bowa, who's talking again, and second baseman Manny Trillo, who never stopped.
"This is probably a better team that the other three," said Rose of the Phils' 1976-77-78 division titlists, the Bicentennial edition of Which was beaten by Rose's Reds. "The pitching's better and there are lot of good young players here, And the whole attitude is better than last year's team."
When somebody asked about the ' Phillies' accomplishments yesterday, Rose seemed less than impressed.
"We haven't accomplished anything yet, as far as I'm concerned," said Rose. "The Phillies have been here 3-4 times, but you haven't done anything until you've been to the Big One.
"Anybody can win a division, Hell, the California Angels won one last year and look where they finished (sixth) this season. We'll see what everybody's made of now."
Playing the Astros could be a bonus, Rose feels. "We played so well against Houston (9-3) and our team shapes up better against them," he said. "They've got a lot of left-handed hitters who'll have to face the best left-hander in baseball (Carlton) twice.
"I called Joe Morgan this morning (Monday) and told him 'We're saving Carlton for you.'"
Schmidt isn't convinced that Spending the weekend in the Dodgers' Chavez Ravine pressure-cooker, plus last night's transcontinental flight to Philadelphia, will hurt the Astros tonight.
"No big deal," Schmidt shrugged. "Once the first pitch is thrown, nobody will know if they've travelled across the world."
EXTRA INNINGS – The NL Office won't give the Phillies a decision on whether they can substitute 5-0 Marty Bystrom on the roster for the ineffective, unused Nino Espinosa until Chub Feeney arrives in town today... Carlton was 2-0 vs. the Astros this season (28-9 lifetime), beating Nolan Ryan (who'll face Dick Ruthven tomorrow night at 8:15) and Joe Niekro... Carlton struck out 18 Astros in the two games.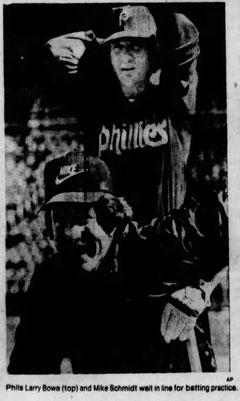 Drysdale makes his pitch against championship series
By Hal Bodley, Sports Editor
PHILADELPHIA – If Don Drysdale thought a batter was edging too close to the plate, he'd come in high and tight. In fact, he plunked 154 batters during his career and that's still a National League record.
If Howard Cosell or Keith Jackson ask him tonight what he thinks of major league baseball's league playoffs, Don Drysdale will probably come in high and tight. Very tight.
For the next five or six days, Don Drysdale will slip on the yellow blazer, slide in between Cosell and Jackson and offer his expert commentary on the National League's best-of-five Eastern Division tournament between the Phillies and Houston. Drysdale, however, Is not so sure the playoffs are the correct way to choose the pennant winner.
"I never pitched In the playoffs; they didn't have them when I was around. I know that if I'm management, I've got to like the playoffs because you're looking at dollars and cents.
"As a player, I don't like them. I don't like to get to the point where you have to win three games to prove yourself all over again and go to the World Series. In a short series, anything can happen. You hate to see the whole year, from March to the first week of October, go by and have some little fluke thing cost you a chance of getting into the World Series."
Once a team gets past the playoffs, Drysdale" believes the pressure is over.
"The World Series becomes almost anti-climactic," he said. "I've talked to the players and they agree. Yeah, they're happy to get to the World Series, but just getting there is like climbing to the top of the mountain and after that It's downhill. It still attracts all the fan attention, the media the public relations stuff. But If you're in uniform, it's damn near anti-climactic. I hate to see it that way because the World Series should be the big thing. I know people will argue with me, but If you ask the players, and they're honest, they'll agree."
Drysdale called it a career with the Dodgers at age 33 in the fall of 1969 because his right shoulder ached and he was tired of gulping down pain killers.
"I knew when it was time to quit," said Drysdale, who put together a streak of 58⅔ scoreless innings which included six straight shutouts.
"I guess that was quite a test of consistency and durability," he said. 'Today, there just aren't that many complete games. You get six innings from a guy and they call in the stoppers. Drysdale's top salary with the Dodgers was $115,000. When he hears and reads about the millions players are earning today, he wonders.
"First of all, I'm for every player getting as much as be can let because you're not in the game that long. I think Joe Louis is a great example. He made all that money and could not keep any of it. I think the government in that one respect could do a helluva lot more for professional athletes than what it does. How can it tax a guy the way it does when he might only have five years to earn good money?
"But I think baseball salaries in certain cases are exorbitant. I don't think some of the players getting paid huge salaries are worth it. But like I said, nobody is sticking a gun against management's head and saying they have to pay that kind of money. I think it's easy today for any former athlete to sit back and compare today's athletes and the money they are getting as compared with the guys we played with or against. You're never going to be able to answer that argument.
"But the only thing that concerns me, and the only reason I say this is because whenever you get the human element or the human factor, things can happen. You know what I'm talking about. During my playing days, we had something called the salary drive. A player would bust his butt even if the team was out of the race so he could get a better contract next year. Today – and I'm not putting everybody in the same bowl – you have a tendency to wonder if when the club's completely out of it does a player really care."
Drysdale knew his indictment was strong, so he chose his words carefully.
"Let's say a player is hitting .240, having a lousy year and is still going to make $240,000 next year regardless of what happens. Is he going to bust his butt in every game. Yet on the other hand, a guy may have a guaranteed, long-term contract and if he turns around and has a great year or two, he wants to renegotiate. I just don't understand that. In other words, what that's showing me is that the days of the handshake are over and I think that is sad."


Drysdale says he can't picture himself playing out his option.
"I don't think Walter O'Malley would have ever let that happen. I was very fortunate I got to stay with the Dodgers my whole career."
Since he retired, Drysdale has worked his way up the broadcasting ladder. He paid his dues by doing play-by-play with Montreal, Texas and California. Now, he's one of ABC's top commentators.
"I do baseball, some college football, some tennis and the Superstars show," he said. "I refuse to do any event I know nothing about. For the first time since I started playing baseball, I have most of my mid-weeks free. It's a great way to live.
"I'll tell you one thing: It looks a lot easier up here than it did when I was on the field. But I'll guarantee you one thing, the Phillies and Astros have a ton of pressure on them right now. The whole season rides on a best-of-five series and I'm not sure that's right."
Phils next for happy Houston
Associated Press
LOS ANGELES – Right-hander Ken Forsch, soaked in champagne, predicted his Houston Astros would beat the Phillies in the National League playoffs – yet he was so excited he couldn't predict what he would do.
Forsch, 12-13 on the season, will face Philadelphia ace Steve Carlton tonight in the opener of the best-three-of-five series for the title.
"I'm so excited about our beating Los Angeles that I haven't even thought about the next game," said Forsch. "I'll think about it on the plane trip to Philadelphia."
He doesn't think the West's single game playoff after a deadlocked finish would hurt the Astros, explaining, "We might have arrived in Philly and got all nervous waiting for the game."
Houston finally, after 19 years, won its division with a convincing 7-1 victory over the Dodgers, who had beaten the Astros three straight to knot the regular season at 92-70 and force the single game playoff on Monday afternoon.
"I've been waiting for this 14 years," declared an equally champagne-soaked Joe Niekro, who pitched the victory and allowed only six hits.
"I started out with my knuckler, went to the fastball and then back to the knuckler."
He befuddled the Dodgers, who had won the past three games with home runs but didn't get a ball to the fence this time.
Niekro's teammates had jumped on Dodger starter Dave Goltz for four runs in the first three innings and added three in the fourth. Four were driven in by first baseman Art Howe, who hit a two-run homer in the third and a two-run single in the fourth after Rick Sutcliffe had relieved Goltz.
The Dodgers never could fathom Niekro, who notched his 20th victory of the season, and even the fans became frustrated.
In the last of the fourth, as the Dodgers scored their only run, debris was hurled onto the- field. ' When a roll of toilet tissue was hurled out of the left field bleachers, home plate umpire Doug Harvey sent the Astros to their dugout and halted play.
The suspension lasted only three minutes as fans were warned their conduct could bring a forfeit in the playoff game.
Earlier, the entire Houston club had charged to home plate after Dodger catcher Joe Ferguson kneed Astro Alan Ashby after tagging out the Astros catcher in a play at home.
Second baseman Joe Morgan of the winners, and twice the National League's most valuable player with champion Cincinnati teams, commented, "We've been through it now. We've shown poise and determination and refused to let the Dodgers take it away from us. I think we'll beat the Phillies."
Manager Bill Virdon added, "The Phillies are a fine team, and In Steve Carlton we'll be facing one of the best if not the best. It will be rough starting this playoff so soon, but this team is more capable than anybody gives it credit for."
Howe said he hit a hanging curve for his homer and a fastball for his two-run single.
The Astros already had attacked starter Goltz thanks to inept Dodger fielding in the first inning.
Second baseman Davey Lopes bobbled a grounder from leadoff hitter Terry Puhl and then Enos Cabell singled him to third.
Morgan struck out before Jose Cruz hit to Mickey Hatcher at third for a throw to home in plenty of time to get the runner. However, catcher Ferguson emulated a grounded whale and dropped the ball, allowing the run to score. Cedeno's sacrifice fly brought in he second tally as both runs in the inning were unearned.
Outfielder Rick Monday of the Dodgers said he was proud to have . been a member of a team "held together with tape, bandaids and wraps.
"This bandaid brigade never gave up," he said in reference to the comeback by the injury-riddled club. "We came back here (Los Angeles) trailing by three and talk ing about winning it People looked at us like we were crazy. We came close."
Among the Dodger wounded was third baseman Ron Cey, whose two run home run in the eighth inning won the season finale for Los Angeles and forced the tiebreaker. Cey missed Monday's game because of an injury suffered when be fouled a pitch off his left foot just before slugging the homer.
After the finish, several of the Dodgers, including pitcher Don Sutton and injured outfielder Reggie Smith, went to the Astros' clubhouse to congratulate the winners and wish them success against the favored Phillies.
Rose uses long distance to spur Astro's Morgan
By Hal Bodley, Sports Editor
PHILADELPHIA – Pete Rose thoughtfully picked up the telephone Monday morning and called Joe Morgan. What else are old friends for?
"Get your tail to Philly," was Rose's message to his old locker neighbor of seven summers and nine champagne celebrations In Cincinnati. "We got (Steve) Carlton waiting for you guys."
The gimpy-kneed second baseman and spiritual leader of Houston Astros laughed or something. Rose can't remember. But somehow he remained untroubled and upbeat despite three straight losses to the Los Angeles over the weekend.
"I also got phone calls from Tony Perez, Davey Concepclon and Willie Stargell," Morgan said Monday night. "I needed It. I was a little down. I appreciated it."
Then before baseball could brand them as lifetime "chokers," the Astros went out Monday afternoon and ended 19 years of nothingness and three days of nail-biting, stomach-churning, game-blowing disbelief with a 7-1 victory over the Dodgers in a sudden-death playoff game.
Now It's Morgan-Astros vs. Rose-Phillies in a best-of-five National League playoff series, beginning tonight, with Ken Forsch facing 24-game winner Carlton at Veterans Stadium.
"Not that I want Houston to win (the National League West) more than LA," Rose tried, to explain before the fact. "It's just that Joe Morgan helped me a lot through my baseball career and, naturally, I'd like to see him get into the playoffs.
"It'll make Cincinnati fans watch closer. They can see who does the best... (smiling) and who should've been the lead-off man for the Reds in the "70s."
When asked about playing against Rose, Morgan said, "It feels great I would rather play against him than anyone. Pete Rose is special to me and to baseball."
The prevailing opinion among the Phillies is that Houston spent a lot to win the West.
"We had the day off and now we have the best left-hander in baseball ready with seven days' rest," Rose pointed out. "Those guys (Astros) had to use their best pitcher (Joe Niekro) today; they had to win, drink champagne and travel all night."
Rose, tuning up for his sixth NL Championship Series, is pumped up and primed to a playoff pitch.
"I always play good In the playoffs," observed the Philadelphia first baseman whose .378 career batting average (31-for-82) In playoff competition includes a .429 series against the Phillies in 1976.
"The only pressure in baseball is the playoffs," Rose continued at Monday's early afternoon workout at Veterans Stadium. "There's no pressure in the World Series. Either you win or you lose, but you're already there."
Pete Is a pressure player. By comparison, his accumulative World Series average is a modest .264 over 23 games.
"I'VE HAD only one good World Series (.370 vs. Boston in 1975) and that's because I'd seen some of their pitchers... such as (Luis) Tiant... In All Star games," he reasoned. "What I'm saying is that If I haven't faced a pitcher, I have trouble with him."
Not only has Rose seen Forsch before, but the Phillies owned the Astros this year – winning 9 out of 12.
Morgan pretended not to be aware. "I don't know what we've done against Philadelphia," he maintained. "All I know is that we're going to win."